Social media can feel like an unnavigable maze, especially for brands that are just starting out. Plus, with over 4 billion people using social media every day, making your brand's voice heard and building a strong social presence can be challenging.
However, it is worth the effort. According to estimates, the average user spends nearly 2.5 hours on social media. Additionally, a staggering 98% of people access social media, and 90% of them actively engage or contribute to social platforms. Clearly, not capitalizing on this huge target base can be a missed opportunity of gigantic proportions.
Enter: Social Media Virtual Assistants.
You can think of social media virtual assistants as remote employees who work towards building your social media branding from the ground up.
In this blog, we will look at what we mean by a social media assistant, why you should hire one, and the benefits of hiring a social media virtual assistant. Let's get going.
What is a Social Media Virtual Assistant?
In simple words, a social media assistant refers to an employee who works remotely. It has the requisite skills, training, and knowledge to drive and guide your brand's social media tasks. This includes managing the social media handles and scheduling posts, posting quality content and engaging your user base, and social media virtual assistants.
Additionally, with the advent of AI-powered chatbots, companies can augment their virtual social media campaigns. How so? For starters, these chatbots can answer customer queries posted on social media in real-time, as Fandango's chatbot demonstrates below: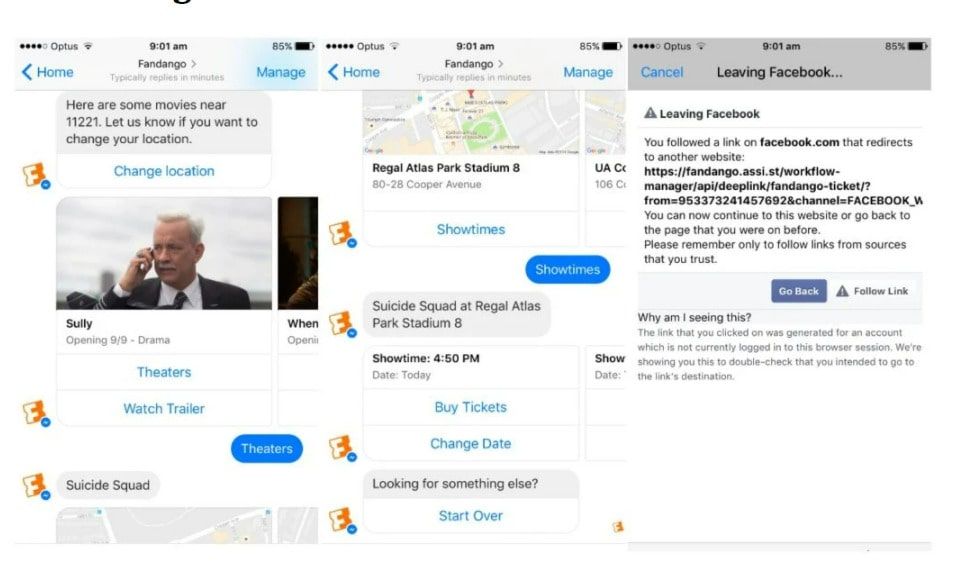 All the user has to do is start a conversation with the brand's Facebook Messenger bot and buy tickets, find a local theater nearby, watch the latest trailers, etc.
In addition to addressing user queries, these 'smart' chatbots can drive traffic to other social media channels, the brand's website, the Blog section, among others, and boost user engagement from a cross-channel perspective.
The takeaway: In addition to hiring a virtual social media assistant, brands should look at investing in the right tools to augment their social media efforts and give it a 'personal touch at scale.'
So Why Do You Need to Hire a Social Media Manager?
With the basics underway, let's quickly understand why remote social media managers are all the rage now:
Social media is no longer an 'on-the-side' job: In today's Digital (Work-from-Home) Age, brands not active on social media risk getting branded as outdated and archaic by customers. In fact, according to research, around 57% of consumers will follow a brand to gather information about new products or services, while 47% follow the brand to stay on top of company news and updates. So you need to have a full-blown, hyper-active, and relevant social media profile that caters to your target audience's needs, 24x7.
Social media is ever-evolving: Unlike other channels of communication, social media trends are constantly changing. For instance, Forbes claims that in 2019, Facebook incorporated updates that significantly reduced the organic reach of businesses, redirecting brands to engage in 'expensive' social media ad campaigns. Hiring a social media assistant allows your brand to stay ahead of these changes, which can negatively impact your bottom line and hurt your business' revenues.
Social media does not follow the standard 'performance' rules: It is not enough to constantly post and drive campaigns on social media. You also need to be measuring the efficacy of your campaigns. However, gauging how your social media campaign is faring takes more than counting up the number of likes and comments involved. There are numerous Key Performance Indicators and metrics to follow--all of which can expertly be handled by your social media assistant.
Long story short, brands looking to build a credible and long-term social media presence need to augment the combined benefits of a virtual social media assistant and the proper social media monitoring tools.
The final section will look at the top-4 benefits of hiring a virtual social media marketing assistant.
Top-4 Benefits of a Social Media Virtual Assistant
1. They help reduce costs:
Hiring a virtual social media assistant is a cost-effective alternative to hiring full-time employees. Here are four compelling ways in which they help lower costs:
One, you do not need to provide them with any training as they come with a specialized skill set and on-hand experience, having worked with a multitude of brands before.
Two, since these assistants work remotely, they usually charge by the hour, ensuring that you only end up paying for the work done.
Three, you can outsource virtual assistants from anywhere around the globe--depending on your social media budget.
Four, you can leverage improved business efficiency by delegating everything social media-related to the assistant while you focus on getting new customers, retaining the existing ones, and driving profits.
2.   They can engage your target audience organically and sustainably:
As per research, an overwhelming 91% of customers visit the brand's website or app after following a brand on social media. Plus, 89% will buy from the brand, and 85% will recommend the brand to a family or friend. In other words, your social media pages need to stay active and have a consistent dialogue going as Starbucks' Twitter page demonstrates below: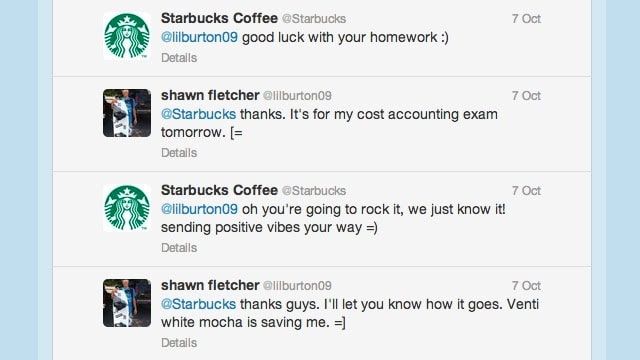 Driving narratives on social media is not about promoting in-your-face branding and annoying customers. Instead, it's about being relevant to the user's everyday life and driving slice-of-life conversations that promote the brand to have an emotional and more intimate connection with the customer (as opposed to having a purely transactional one). This is where the role of dedicated social media assistant starts. They can respond to each and every post in real-time and boost the engagement rates through the roof.
This is where a dedicated social media assistant can come in handy as they can respond to each and every post in real-time and boost the engagement rates through the roof.
3. They can tackle the top challenges customers face on social media today:
As per data, here are the top reasons why customers unfollow brands on social media: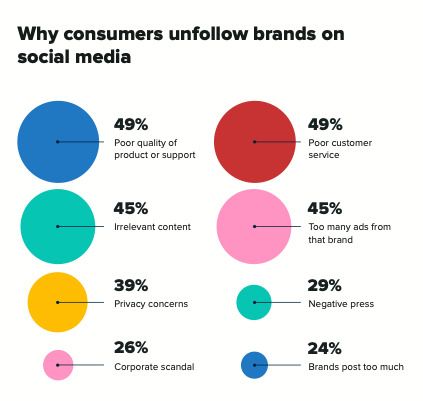 If you look closely, you'll realize that all these factors can be effectively managed and monitored if you have a dedicated social media assistant in place. Moreover, with business owners and startup founders already donning a thousand hats--from entrepreneurs and marketers to salespeople and financiers, they will have one less thing to worry about with a social media assistant in place.
4.  They can map out an in-depth social media strategy and constantly update it month on month:
Posting a series of random social media posts will not fly for your social media campaigns to be viral. You need to move ahead strategically, keeping in mind your business goals, social media goals, and user needs, as well as demands. Take a look at the following winning social media content plan for inspiration: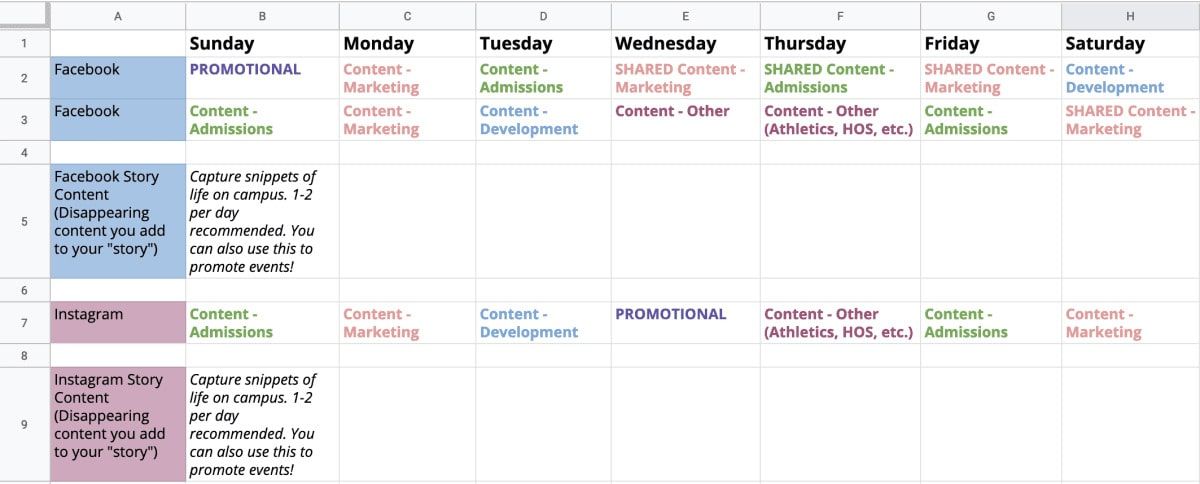 Here's another example to get your creative juices flowing: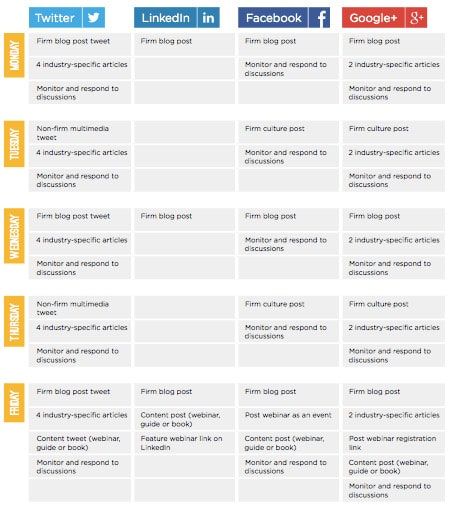 A strategically aligned social media strategy can pay off huge dividends. However, it requires plenty of time, effort, and commitment - all of which you can do by hiring a seasoned social media assistant.
However, it requires plenty of time, effort, and commitment--all of which can be leveraged by hiring a seasoned social media assistant.
The Takeaway
If you are looking to hire a virtual assistant, make sure to do your homework. First, understand why you need a virtual social media assistant in the first place. Next, think about your social media goals and how they can align with your business goals. And finally, put the word out on the right hiring platforms.
Our final two cents: Hiring a social media assistant will make your social media strategy more organized, goal-focused, user-centric, and results-driven. What's more, it will provide a massive ROI in the long run. Try to believe it.
Author Bio:
Ashwini Dave
Ashwini is passionate about Business, Entrepreneurship, E-commerce, emerging technology, and Digital Marketing. She is working with Acquire as a digital marketing expert. She is a free soul and adventurous scholar who spends her free time with herself and loved ones, music and watching & playing sports. She is ocean addicted and on roads being a thrill-seeking traveler to get new experiences as she looks at life as our very own works of art.
Subscribe to Wishup Blog | Remote Teams | Remote Employees
Get the latest posts delivered right to your inbox