What the future is like for small businesses in the US
Over 57% of small business owners believe that remote work will continue. Small businesses in the US that have undergone transformation are the ones that are also steadily growing.
The pandemic has had a disastrous effect on the small business sector of the US. According to the Office of Advocacy of the U.S. Small Business Administration, small businesses make up 99.9% of ALL businesses in the US.
Come to think about it, small businesses are a major contributor of revenue and a major source of employment. According to the same agency, small businesses are responsible for 44% to 50% of the economic activity in the country. They also employ about 47% of the workforce.
With roughly half the economy and employment dependent on the success of small businesses, a downturn of luck due to the pandemic and its continued aftermath has been harsh on them.
Small businesses, the mom and pop stores are an essential fabric of American life and economy.
But all is not lost. Slowly, but steadily, small businesses across the country have shown that they are back on the road to recovery. Mind you, the growth and revenue for most are nowhere near the pre-pandemic levels. But we are getting there. One day at a time.
The recovery is uneven
Not all businesses and sectors are recovering at the same pace. For obvious reasons, businesses that cater to a large group of people at the same time have taken the biggest hit. Think theatres, restaurants, bars, gyms, salons, hotels, among others.
But there are other industries that not only survived the pandemic but have also been able to grow their revenues. These industries are less affected by the needs of social distancing and safety protocols.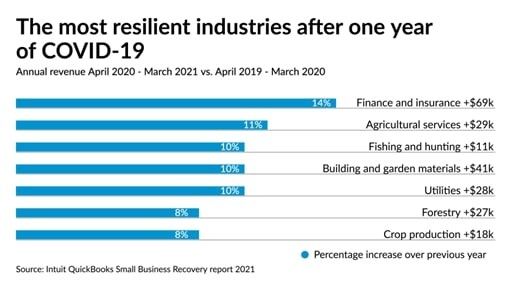 Now since the lockdown and the safety measures to prevent the spread of Covid 19 have to be implemented, businesses dependent on people being in close proximity cannot operate at their original capacity.
It is not possible for these businesses to be running the same way as before the pandemic struck. With safety precautions, come the added costs of providing and enforcing the safety rules.
Owing to that, there are many sectors that have seen a consistent fall in revenues over the past few months.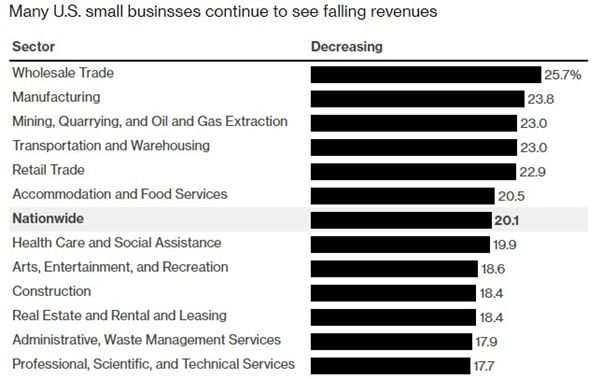 Source: U.S. Census Bureau
Remote work likely to continue for small businesses as well
While we may go back to working in a physical office environment eventually, it is not going to be the same as before. Remote work will remain a huge component of how we work even in the future. Full-time in-office work is never going to come back.
In fact, 57% of small business owners believe that remote work will continue and they themselves will have that as an option in their businesses.
Hiring remote employees is a real boon for small businesses in times such as these. When small businesses hire remote employees:
They can increase their productivity
They get to hire talent from a larger pool
They reduce their costs related to operations, administration, and overhead
They can offer a better work-life balance to their employees
And if they hire from a remote employee marketplace, it works out even better for them. They can choose to have wide-ranging global talent working for them, instead of being restricted to talent in the city they are headquartered in.
This also comes at a reduced cost – because they no longer have to spend on candidate sourcing, screening, training, etc. It is already done for them. This makes small businesses in the U.S. more efficient since they can now focus more on growth.
What does the future hold?
Agreed, there are small businesses that are shutting down because they can no longer sustain themselves and be profitable. But small businesses are still the future of the country. They have shown resilience in these trying times, and a lot of them are recovering.
The biggest winners have been those that have been able to adapt to the sudden and rapid changes. Small businesses in the U.S. that have undergone transformation are the ones that are also steadily growing.
Focus on online growth, and improved customer experience have been one of the drivers for a section of small businesses. Going digital is not only important but is also now necessary for survival for many small businesses.
Without a digital component added to their business, small businesses cannot hope to continue growing on the backs of the conventional methods and channels alone.
But an important point to remember is that the charm of small businesses is the human touch that they offer when selling their products and services. So it is essential that exceptional customer service has to be built into how small businesses operate.
Adopting online and digital practices are great for business, but not without great customer service care. In fact, it becomes even more important in such a case.
Small businesses are at the center of the American economy and value system. Their success is the nation's success as well. It will be interesting to see the transformations small businesses in the US go through in the coming months and years.