Fancy Hands alternative - Why Wishup is the Better Choice for Businesses.
Looking for a better alternative to Fancy Hands? Look no further than Wishup. Our virtual assistant service is the perfect solution for busy professionals who need a reliable, efficient, and cost-effective way to manage their workload. Learn why Wishup is the better option for businesses.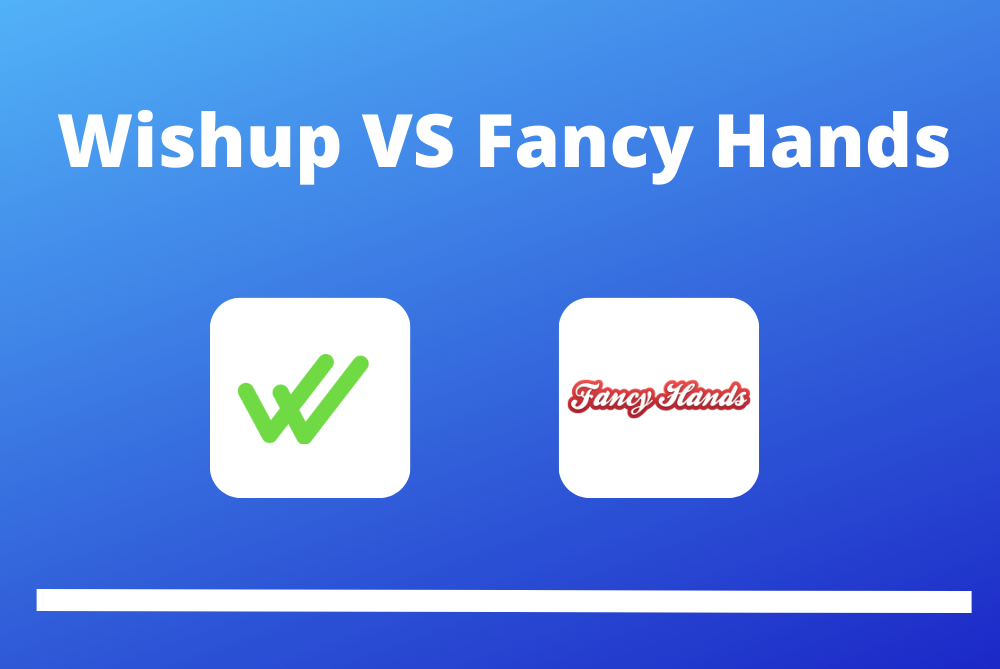 Often with so much work on your plate, there might be times when you wish to clone yourself.
From managing customer support to handling your inbox and whatnot – you have bucketloads of tasks to complete in a day that is significant but might not need your direct intervention.
So how do you rise up from these tasks and focus on the bigger picture?
There's a way. Hire a virtual assistant.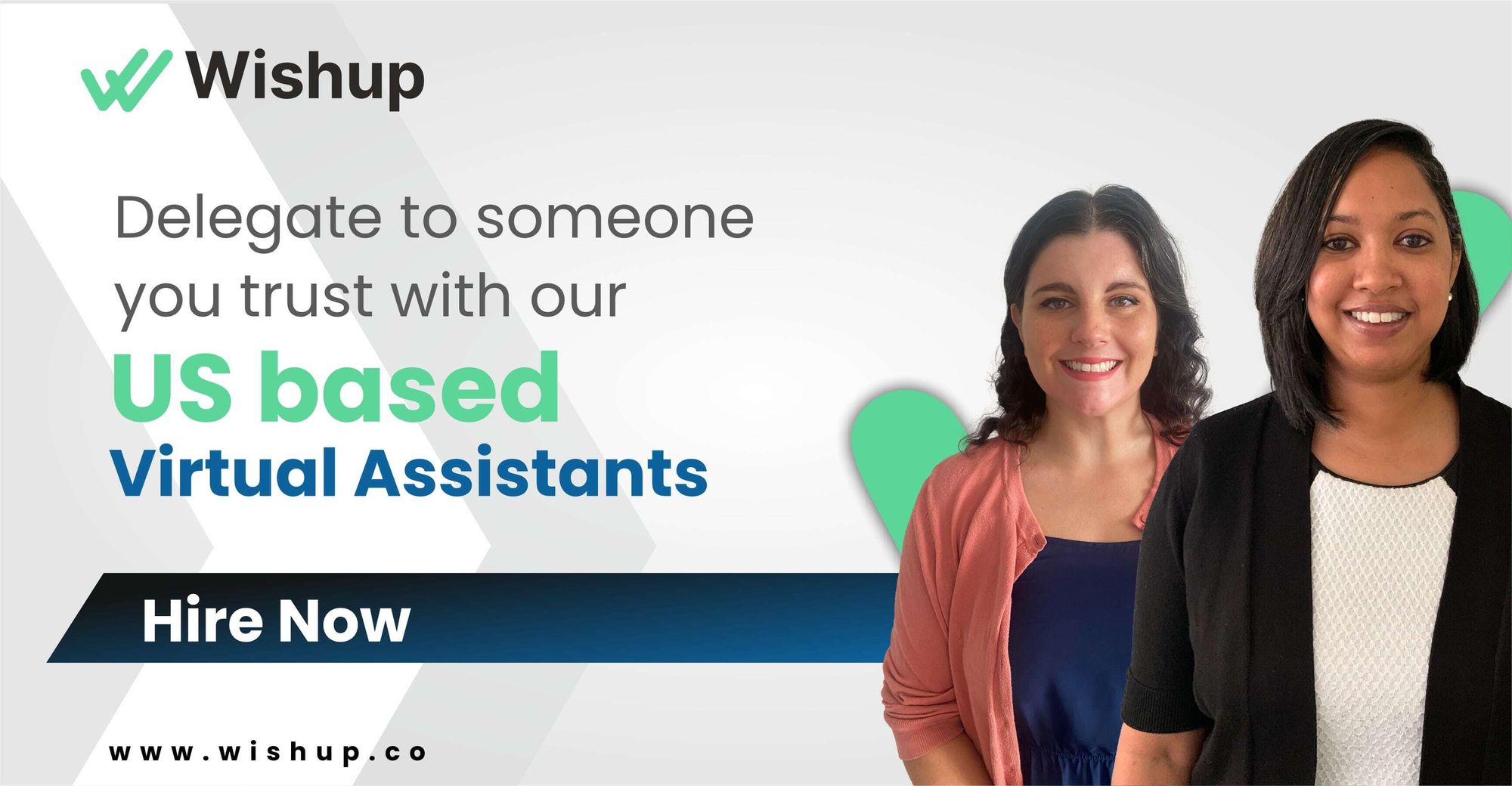 Unlike regular employees, virtual assistants work remotely and can be hired for a fraction of the price. Because of this, businesses worldwide are turning to VAs as their go-to option when they need more staff but want to stay within budget to do so. And hiring from virtual assistant companies has advantages beyond just financial ones.
But with hundreds and thousands of virtual assistant service providers worldwide, how do you choose the one that fits your organization flawlessly?
This blog will walk you through the features of Fancy Hands, and also compare their services with one of the top Fancy Hands alternatives - Wishup.
But first, let's start with what is a virtual assistant.
What are virtual assistants?
The term "virtual assistance" refers to several services that can be provided to business owners. The primary categories are management, sales, data, creative, and administrative.
Simply put, a virtual personal assistant provides a service remotely to another business owner.
Virtual Assistant companies like Fancy Hands have been around but is becoming more popular these days. Hiring a virtual assistant and delegating tasks can help you save money while making your business and personal life more manageable.
Services offered by a virtual assistant
Making phone calls
Content writing
Scheduling meetings
Digital marketing
Bookkeeping
Offering customer service
Database creation and upkeep
Carrying out research
Creating social media accounts
Proofreading and editing critical internal and external documents
Logistics administration management
Assisting with online orders, invoices, and payments
Helping with transcription
Benefits of hiring a virtual assistant
Reduce your operating costs
Virtual assistants can provide your company with low-cost but valuable services, allowing you to cut costs. With no infrastructural or administrative costs being spent, building a long-term relationship with a virtual assistant is the go-to option for hiring specialized services without breaking the bank.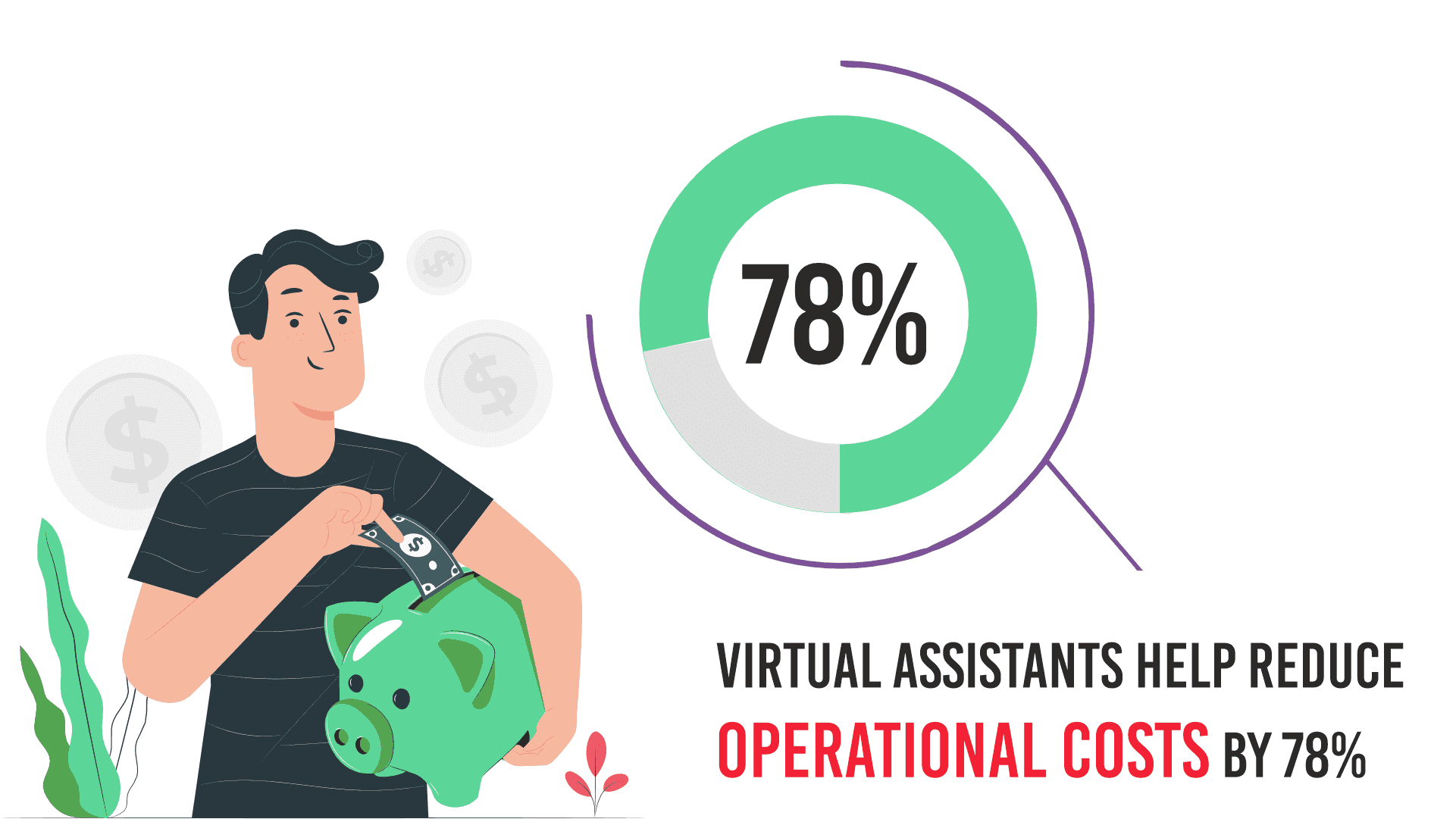 Spend less time on projects and initiatives
Virtual assistants frequently perform tactical or recurring requests, like taking notes or submitting weekly or monthly expense reports. These duties may take time away from more critical tasks, like client meetings or lead generation. Leaders can concentrate on the more crucial tasks on their agenda when they assign time-consuming tasks to their qualified assistants.
Increased work efficiency
Not just leaders gain from this; other team members may also have to wear multiple hats and require either temporary or ongoing assistance. Accountants, for instance, can be most productive and efficient when they assign the task of expense reporting and bill payments to virtual assistants, allowing them to focus on the heavier financial load.
Access to specialized knowledge and skills
You might be the best in every area but that one! You may have an ambivalent relationship with money management, or perhaps the demands of your schedule and inbox are too much to manage while keeping your sanity. You might need help with research or customer support.
You can find the VA whose knowledge matches your specific needs. Virtual assistants can easily upgrade their services to suit the demands of your company. As the business grows, virtual assistants can easily take on more responsibilities and provide more support.
Now that you know about VAs, let's delve deeper into the Fancy Hands alternatives comparison to help you find which virtual assistance service provider is right for you.
Fancy Hands vs. Wishup; a Quick Comparison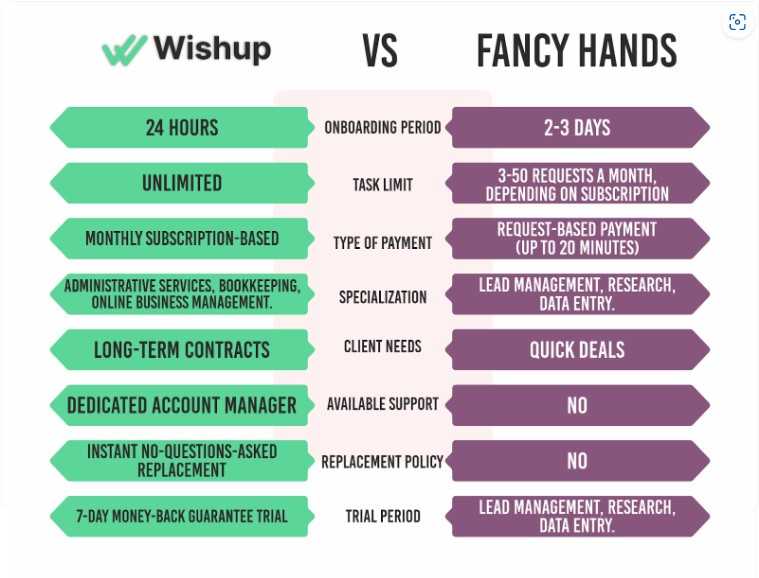 Fancy Hands
Fancy Hands is a virtual assistant company that provides on-demand assistance to individuals and businesses.
The company was founded in 2010 by Ted Roden and currently has its headquarters in New York City.
Fancy Hands offers a range of services such as scheduling appointments, making phone calls, research, data entry, and more.
The company operates on a subscription-based model, with customers paying a monthly fee for access to a certain number of tasks.
Fancy Hands has a large network of assistants, all of whom are based in the United States, and prides itself on providing high-quality, personalized assistance to its clients.

Wishup
Wishup is a virtual assistant company that provides on-demand assistance to individuals and businesses.
The company was founded in 2015 by Neelesh Rangwani and Vivek Gupta and is headquartered in New Delhi, India.
Wishup offers a range of services such as scheduling appointments, managing emails, social media management, bookkeeping, and more.
The company operates on a subscription-based model, with customers paying a monthly fee for access to a certain number of tasks.
Wishup has a large team of virtual assistants, based in India and the US, and aims to provide affordable, high-quality assistance to its clients.
Fancy Hands vs. Wishup: an in-depth analysis

In this section, we will conduct an in-depth comparison of various features between Fancy Hands and Wishup. We'll explore factors such as price, services offered, benefits, and the process of hiring to help you make an informed decision.

Fancy Hands

The VA company was founded in 2010 and only hires native speakers from its home country. Fancy Hands provides virtual assistant services to clients worldwide from its headquarters in the United States. It enables users to request quick or recurring tasks and offers dedicated virtual assistants at a low cost.
Fancy Hands accepts two kinds of requests. A typical request is for work to be completed in less than 24 hours with a maximum of 20 minutes of work. These requests work best for projects requiring extensive back-and-forth communication or for research.
If a request occupies more than 20 minutes, the virtual assistant will contact the client to ask permission and discuss how many other requests it will consume. For a standard request requiring up to 10 minutes of work, users can connect with an assistant via text or web chat using live requests.

Services offered by Fancy Hands

Lead Management
Phone calls
Targeted outreach
Emails
Consistent follow-up
Proprietary Technology
Testing and optimization
Capture feedback and valuable insights
Monitor results in real time with your dashboard
Weekly reporting
Research
Phone calls + emails
Web research
Consistent follow-up
Testing and optimization
Automation and scale
Weekly reporting
Document Formatting
Contracts
Invoices
Training Manuals
Operations Templates

Benefits of hiring from Fancy Hands

Expert US Callers
Fancy Hands provides Americans with the professionalism and critical thinking skills needed to pique prospects' interest, perform nuanced qualifications, and conduct meetings.

Ongoing Optimization
Its exclusive CRM platform has real-time automatic timing, cadence, messaging, and worker performance optimization capabilities.

Requests Rollover
Fancy Hands will also send an email one day in advance, allowing users to skip or cancel the request entirely. In addition, unused requests from the previous month are carried over to the following month.

Fancy Hands Pricing Plans

Despite its US-based workforce, Fancy Hands offers some excellent rates for its quick tasks. Instead of paying per hour, you pay monthly based on the number of requests (up to 20 minutes) you require:
$17.99/month for three requests ($6/request).
$29.99/month for five requests ($6/request).
$74.99/month for 15 requests ($5/request).
$249.99/month for 50 requests ($5/request).

How to hire a virtual assistant from Fancy Hands?

Sign up in a flash on their website and give the company your assignments. From there, they will take your request and carry it out.
If you want to change your plan, go to your billing information page and choose the desired option from the drop-down menu. Click the "cancel your account" link to end your account.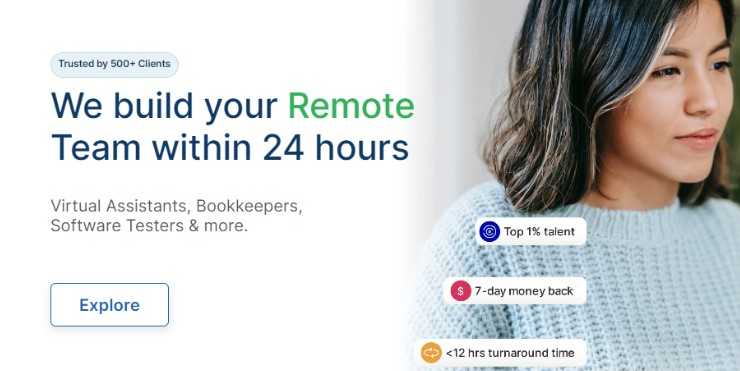 Business experts and college mates Neelesh Rangwani and Vivek Gupta joined to create Wishup, a virtual assistant company that links American business owners with pre-screened and pre-vetted assistants.
This cutting-edge business was founded in 2015 and has its headquarters in Delhi, India. It is gaining popularity in the United States and other parts of the world. It hires experienced and dedicated virtual assistants to supplement its unconventional talent pool and trains them to work as virtual assistants for businesses all over the world.
It provides dedicated and experienced virtual assistants to help with data entry, customer service, bookkeeping, and other administrative duties. In addition, the company assists independent contractors and small business owners in successfully running their businesses.
Services offered by Wishup
Wishup connects aspiring entrepreneurs with devoted professionals who can plan and prioritize their workload. By offering their insights and completing your unfinished, repetitive tasks, these professionals assist you in managing your business two times better.
Hire a virtual assistant from Wishup for the tasks listed below:
Administrative Assistance
Your virtual assistants from Wishup can help you with all of your administrative duties, including:
Managing your inbox
Managing the calendar
Setting up appointments
Data entry
Internet research
Travel planning
Project management
Voicemail management
Transcription
Customer support
Creating a to-do list
Customer engagement
Event planning
Updating databases
eCommerce record keeping
Making presentations
Keeping meeting minutes
Gift selection
And a lot more!
Bookkeeping Assistance
The Wishup advantage makes keeping track of your finances much more effortless. You can get help from our virtual assistants with the following:
Bill payments
Creating invoices
Payment reminders for customers
Management of payables and receivables
Financial statement creation
Completion of year-end paperwork
Taking care of rogue or delinquent accounts
Assisting with tax returns
Developing sales tax reports
Data upkeep in your preferred software
Making general ledger entries
Reconciliation of bank and credit card statements
Project Management Assistance
The following are some things Wishup VAs can assist you with to handle your project management needs efficiently:
Quality assurance
Maintaining project schedules
Controlling project participants
Monitoring work progress
Bringing the project to a close
Report formatting
SOP development
Creating spreadsheets and PowerPoint presentations
Managing Deadlines

Social Media Management Assistance
Managing your social media postings while running a business can be a nightmare. Take advantage of this opportunity to delegate the following tasks to a Wishup dedicated virtual assistant:
Post Scheduling
Internet research
Setting up accounts
Tracking metrics
E-commerce Assistance
Hiring virtual assistants from Wishup can help you with the following duties:
Having your entire product line available on your online store
Sorting out the listings
assisting with exchanges and returns
Processing orders
Management of shipments and invoices
Writing product descriptions
The advantages of using Wishup virtual assistants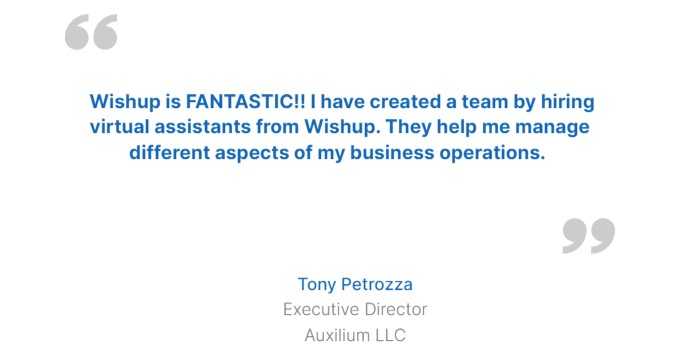 Quick and easy hiring within 24 hours
The VAs employed by Wishup have undergone thorough background checks and verifications. As a result, you will save time on the drawn-out interview and onboarding processes because they have already been pre-interviewed and vetted. Instead, just hire a virtual assistant in a matter of hours.
Top-notch talent
Wishup connects you with virtual assistants from the top 1% of candidates. These specialists hold advanced degrees. You only need to select a qualified candidate; you don't need to consider taxes, relocation, or other employee perks.
Test before you try
With a free 7-day trial, you can see how the company's virtual assistants work and how well they fit in at your workplace. In the event of dissatisfaction, the company offers a prompt, no-questions-asked refund.
Experts in over 70 different no-code tools
Wishup virtual assistants are trained and certified in over 200 specialties before working with clients. Furthermore, they are up-to-date on the most recent no-code productivity tools.
Full-time assistance
Wishup promises customers will consistently have access to a virtual assistant; if the VA assigned to them isn't available, a replacement will be given immediately. The result is that customers never have to worry about their virtual assistants not being available when they need them.
Dedicated management
To ensure you have ongoing support for problem-solving or process management at every stage, Wishup assigns a dedicated account manager to guide you through the hiring process from beginning to end.
Global Resources
Depending on where you are and what your business needs, you can pick a virtual assistant from Wishup. Wishup provides both Indian and US based virtual assistants.
Ensured confidentiality and safety
To protect the privacy and security of client data, all Wishup VAs sign a Non-Disclosure Agreement before being assigned to clients.
Wishup pricing plans
Wishup offers very reasonable pricing options for its users. Monthly plans of 4 or 8 hours are offered, with hourly rates beginning at $10
A 4-hour/day plan costs $999 per month.
A monthly 8-hour/day plan costs $1799
How to hire an assistant from Wishup?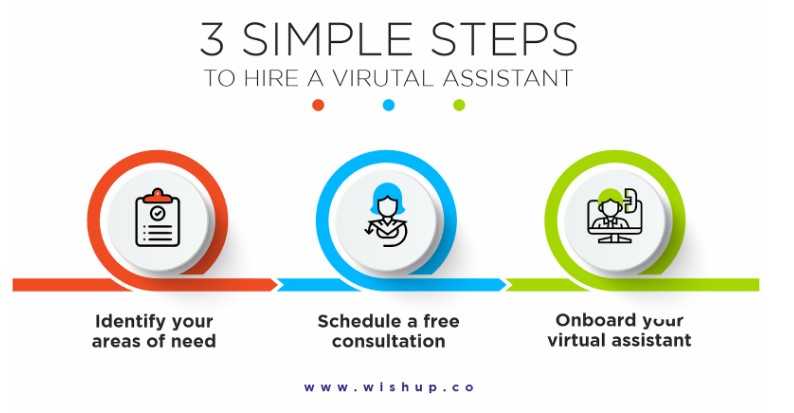 In just three steps, you can hire a virtual assistant from Wishup:
1. Free consultation
To begin with, you must schedule a free consultation with the Wishup team. Next, you will be assigned a customer success manager to help you with this step.
2. Tell us your requirements
You can now discuss your company's specific needs with the success manager and share your task list with them.
3. Select a profile
Wishup will carefully match your requirements with virtual assistants and shortlist the best for you. Your chosen virtual assistant will be prepared to join your team within 24 hours after you make your choice.
You need to follow these 3 simple steps, then relax as Wishup finds the perfect virtual assistant for you!
Our verdict
Wishup and Fancy Hands offer their services in unique ways. While the former offers you a virtual assistant to do all the work for you, the latter completes your requests by the minute.
Although Fancy Hands is an excellent choice for some business owners, there are a few issues to be aware of.
Their pricing strategies aren't particularly well-optimized. You need to assign tasks that can be completed in less than 20 minutes because their plans are request-based. However, not much can be done in that time unless you just need an assistant to perform a quick research task.
Not to mention that it may take longer to explain the task to the VA than it would to complete it yourself.
Additionally, there's no guarantee that you'll work with the same assistant, so you'll have to explain your expectations each time, which is not a sustainable working model. You can also hire a dedicated assistant, but people choose Fancy Hands mainly because of its cost-effective requests.
Here, Wishup can help you better. With the prices starting as low as $10 an hour, you can hire a fully-qualified virtual assistant to complete all your tasks. So, you can hire Wishup's services for the longer haul.
Moreover, the company offers a seven-day free trial for you to be confident about what you hired!
Another advantage that makes Wishup the clear winner is that you don't just get virtual assistance for the basic tasks (like with Fancy Hands), but you also get assistance in specialized tasks such as bookkeeping and software development.
Get It Done with Wishup!
The most valuable resource you have as a busy professional is time. The time you spend helping your clients is money in your pocket.
Every hour you spend on office work, such as taking calls, scheduling appointments, and filling out paperwork, has no positive financial impact. When you hire a virtual assistant, they can take on any tasks you give them, even the tedious ones you've been wasting time on.So, hire a VA for all your administrative hassles. Partner with Wishup to boost your business' growth. Email us at or book a free consultation with our experts.