If the ongoing pandemic we're facing has taught us anything, it's that when work needs to be done it is done regardless of where it's from. But this trend of remote work was well established before the Covid-19 pandemic too due to the numerous benefits it provides such as flexibility, better productivity, work-life balance and well-being.
But no it's not just restricted to perks for employees but for entrepreneurs and managers too. With a 2019 study by Society for Human Resource Management(SHRM) stating that 83% recruiters finding difficulty to obtain qualified talent, virtual teams might be exactly what they need with a talent pool available from across the globe. Check out the benefits of virtual teams in Figure 1.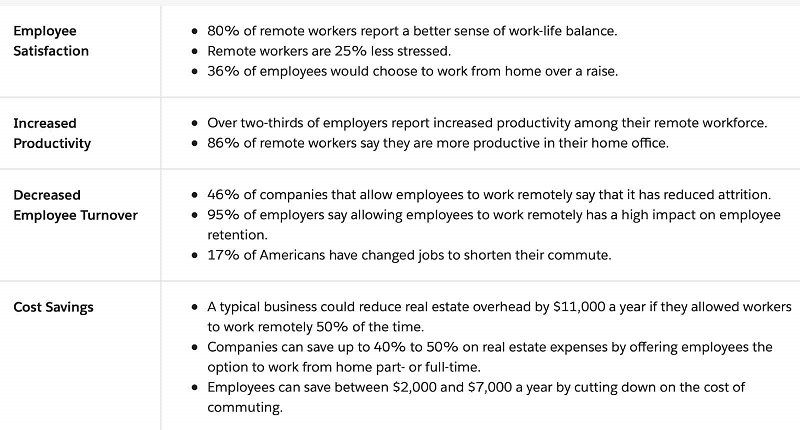 But with managers being hard on themselves and only 15% feeling like they're effective in normal times, creation of virtual teams can often be quite daunting to them with a new set of leadership skills required and no training on best practices to do so.
However since virtual teams have become a necessity and no escape but to wrap your heads around it, we've got you covered with an easy to follow guidebook to help you build your successful virtual team.
Firstly, know whom to look for:
Sure, everyone wants to be working out of their pyjamas and in their bathroom slippers, out of their comfort zone with no constant monitoring over their heads.
But everyone is not meant for remote working.
It requires a personality and one that can communicate crisply.
So when you're looking to hire, hunt for a great communicator because it calls for the foundation of remote work. The advantage of having employees spread around the world can follow with barriers of time zones and cultural barriers, so their communication game has to be nothing short of A1.
Also make sure that your worker is highly motivated because you won't be there to clench them when they are gossiping in the cubicle. Especially with Netflix being an easy distractor, find someone who doesn't require to be micromanaged.
Secondly, customize your team size:
If you have a larger project at hand, a bigger team will be helpful only if you decide the roles and respective tasks beforehand or else due to diffusion of responsibility people often don't perform their very best. So making sure as an entrepreneur you keep a check on the  functioning of the teams and ensure that everything is in sync is more so important with remote teams.
Pay regular attention to the routine and how well it's working for the team and set up a small business phone system for streamlining all communication with your remote team members, as it allows you to have international regular calls regardless what part of the world they are in. Utilizing such tool also makes staying in-the loop much easier with the help of shared dashboards, as well as increases productivity through more effective use of time for feedback from the team and helps in improving team cohesiveness.
Thirdly, set up an effective communication strategy
With communication being the most pivotal in remote work, technological tools should be your best bud. Make sure to invest in a functioning communication toolbox that includes:
Video conference tools for conducting virtual meetings to compensate for the lack of face to face interaction, some great ones are Zoom and Google Meet.
Chat tool to allow for relationship building and virtual knowledge sharing. With remote employees claiming loneliness as one of their biggest challenges, feelings of isolation are bound to happen, but make sure to incorporate virtual collaboration tools for follow ups as well as informal conversations in between. A separate channel or group on Slack/Whatsapp curated for the specific topic can do wonders to boost collaboration, team spirit and productivity, but make sure to enforce guidelines in your work policy to avoid these channels becoming distractions.
A virtual meeting scheduling app (such as Google Calendar) for remote team members to stay updated on each other's schedules.
Document/Resources accessibility- applications to allow sharing of documents, the popular choices are Google Drive and Dropbox.
Lastly, track goals and commitments
A study of 70 virtual teams revealed that almost 82% felt short of their goals and 33% rated them as unsuccessful mainly due to lack of productivity measures.
A virtual team doesn't signify the absence of accountability, in fact it's even more relevant, for which managers should set clear employee goals and be aware of expectations. What's more so important is to have a precise tracking system to assess their progress and performance to allow for maximised productivity. Tools like Sharepoint, Google Docs, and others have helped people make smooth transitions to virtual work by letting all team members view and make changes to documents in real time. Posting a document that shows all action items and each team member's responsibility for those items makes accountability easy for managers and remote workers.
Conclusion
With opportunities to use global expertise and collaborate at the touch of a button, there's never a better time to collaborate virtually than right now. To build your quintessential virtual team, remember to establish ground rules, respect time zones, check in from time to time and watch them provide you with impeccable results in return.
Bear in mind, the art of life is a constant readjustment to our surroundings.   - Kakuzo Okakaura
Subscribe to Wishup Blog | Remote Teams | Remote Employees
Get the latest posts delivered right to your inbox