Hire Transcriptionists in 2023: A Comprehensive Guide
In the digital age, businesses need efficient and accurate documentation, whether recording a meeting, interview, webinar, or having a written transcript of the proceedings.
This is where a professional transcriptionist comes in.
These professionals transcribe audio and video recordings into written form, ensuring that every word and detail is accurately captured.

Hiring virtual assistant transcriptionists can be a game-changer for businesses of all sizes and industries. With their help, businesses can streamline their documentation process. As a result, they can enhance productivity and make better-informed decisions. In addition, transcriptionists can help businesses meet regulatory requirements to avoid legal disputes and improve their customer experience.
Finding the correct transcriptionists can be challenging, especially in today's competitive market. In this blog, we will walk you through all that you should know about hiring a professional transcriber, from the skills and qualities to look for in a transcriptionist to the best ways to source and test candidates.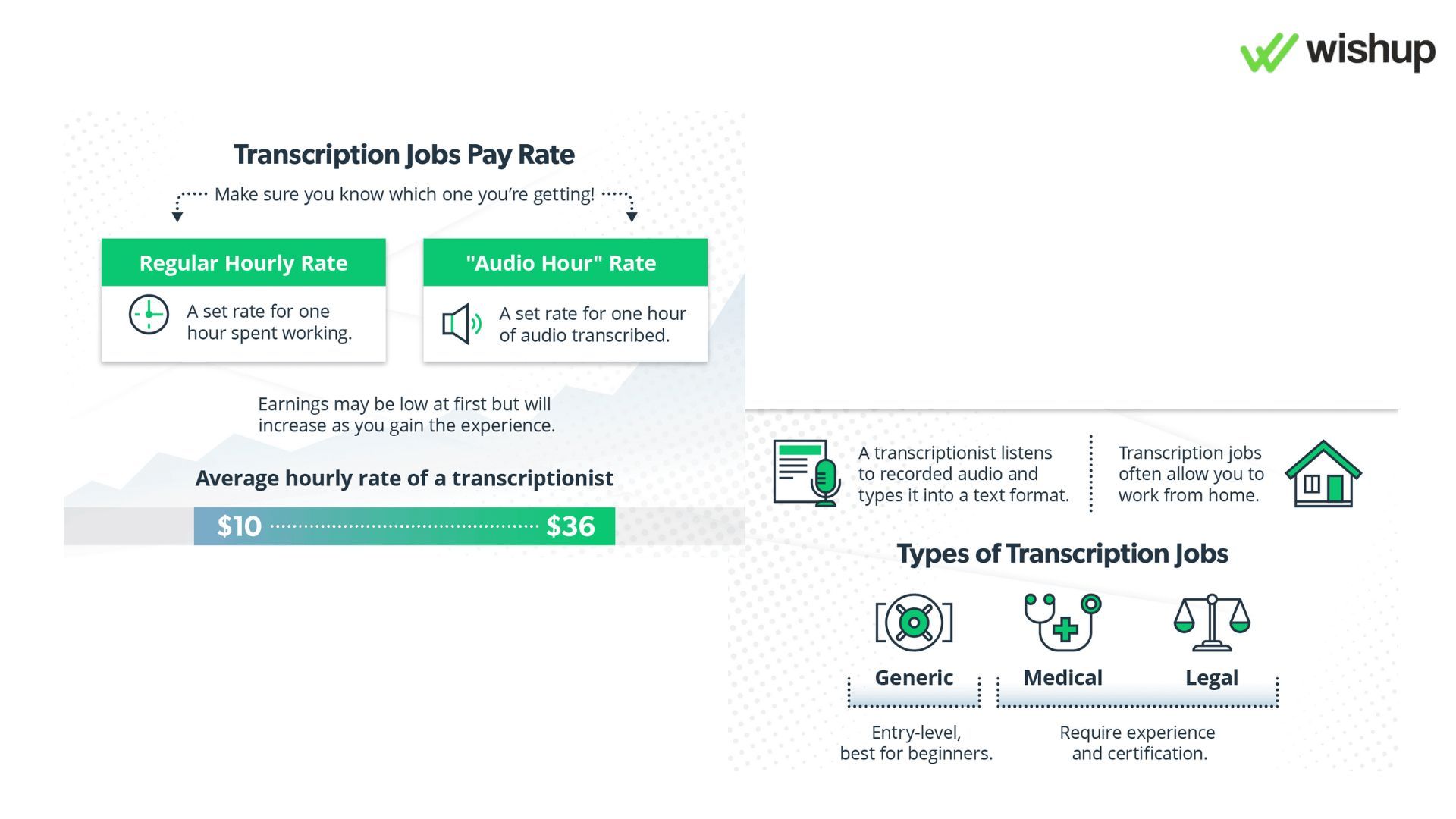 Who is a Transcriptionist?
A transcriptionist converts recorded or spoken information into written format. They are skilled in listening and interpreting audio and video recordings. Then they transcribe them into written documents or transcripts. Transcriptionists can help businesses by providing accurate, timely, and cost-effective transcriptions.
They can type quickly and have excellent listening and writing skills. In addition, a transcriptionist is proficient in using transcription software and tools. Therefore, by outsourcing transcription services, businesses can save time and resources.
As a result, they can focus on core operations. Transcriptionists play a crucial role in maintaining records and improving efficiency. They also improve overall accuracy and productivity.
What is the role of a Transcriptionist?
As an entrepreneur, you are aware of how important it is to create engaging content. The content that resonates with your audience. However, generating high-quality content can be challenging, especially when dealing with audio and video recordings or handwritten notes. This is where a transcriptionist can help. Here are some of the primary ways in which general transcriptionists can help businesses create compelling content.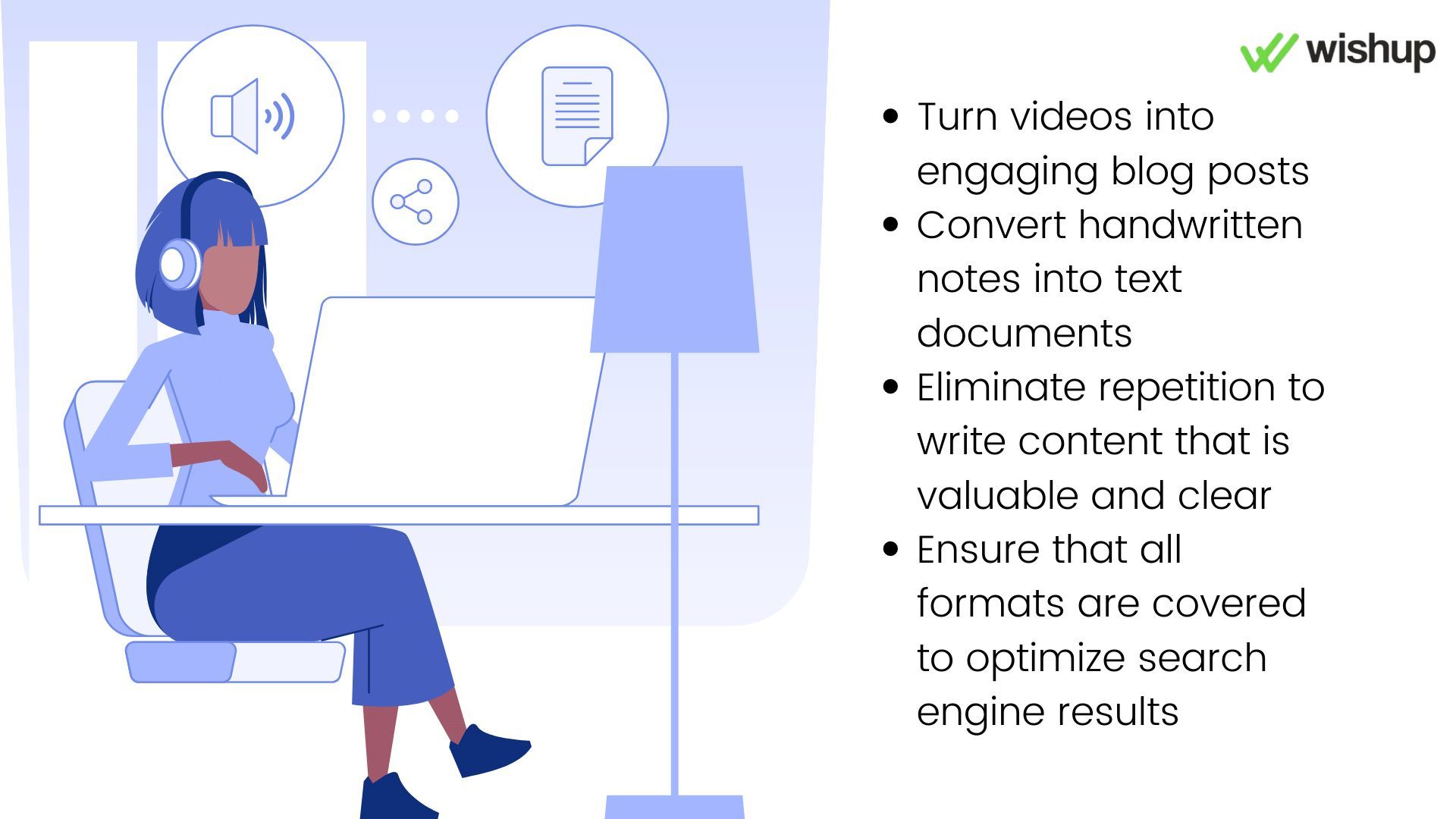 Turn videos into engaging blog posts
Videos are a popular medium for businesses to convey their message to their audience. Unfortunately, not everyone has the time or patience to watch a full video. By transcribing the video, a transcriptionist can turn it into an engaging blog post. This post will be easy to read and understand. This allows businesses to repurpose their video content and reach a wider audience.
Convert handwritten notes into text documents
Many businesses still rely on handwritten notes to record important information, such as meeting minutes, ideas, and plans. These notes can be challenging to organize and access. A transcriptionist can convert handwritten notes into digital text documents. Making it easier for businesses to store, search, and access important information.
Eliminate repetition to write content that is valuable and clear
Repetition and filler words can detract from a piece's overall content quality. A transcriptionist can identify and eliminate repetition and filler words. Ensuring that the final product is valuable and clear. This helps businesses create polished and professional content that resonates with their audience.
Ensure that all formats are covered to optimize search engine results
Search engine optimization is critical for businesses that want to reach a wider audience. A transcriptionist can ensure that all formats, such as audio, video, and text, are covered to optimize search engine results. In addition, transcriptionists help businesses improve their visibility on search engines by including important keywords. This helps in attracting more traffic to their website.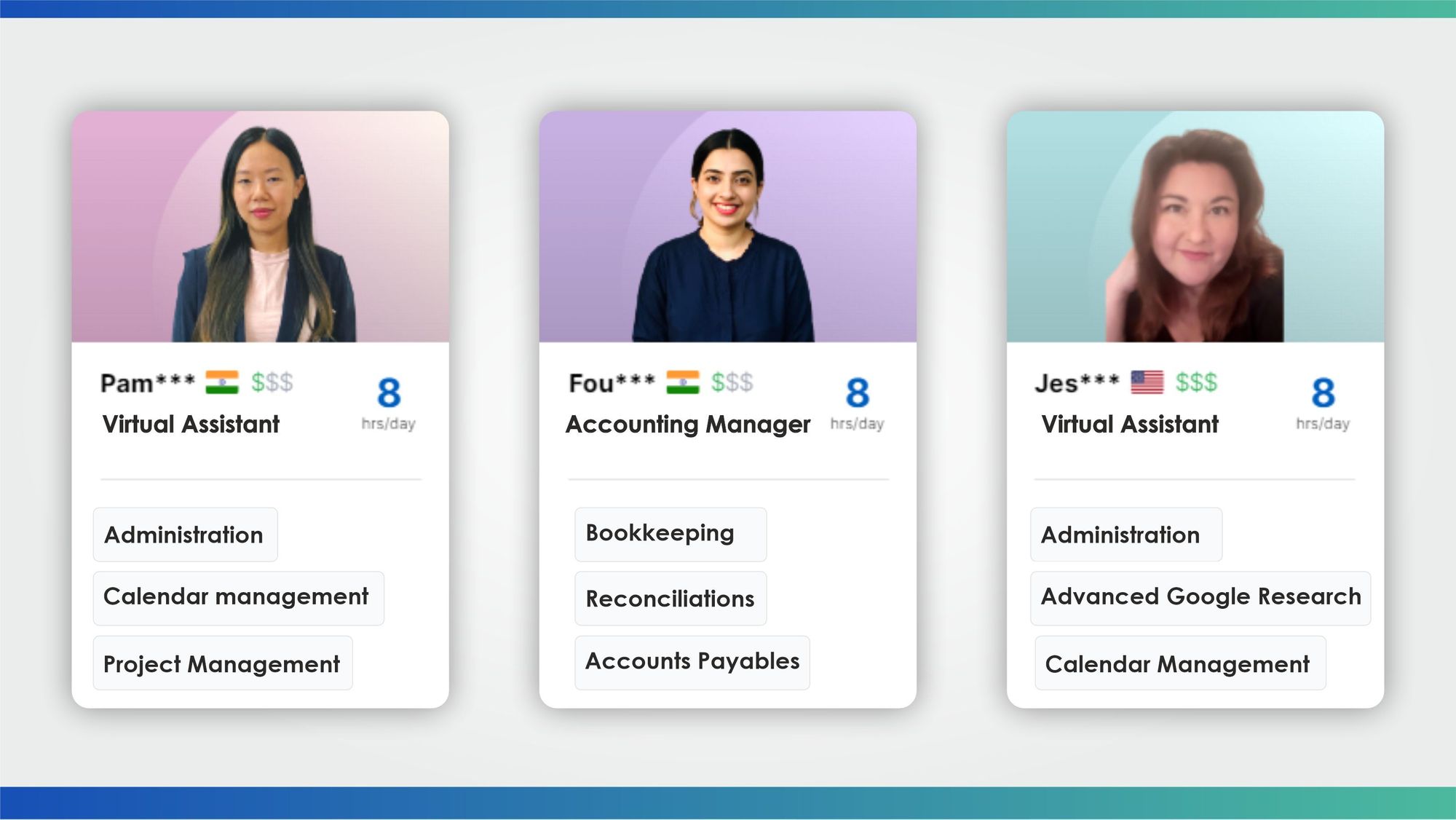 Benefits of hiring Transcriptionists for your business
Transcriptionists can bring many benefits to your business. Here are eight reasons you should consider hiring one:
Essential documents and meetings are preserved
Businesses can ensure that essential documents and meetings are preserved. For example, the transcriptionist can accurately transcribe interviews, conference calls, and board meetings. This provides an accurate record that can be referred back to as needed.
Streamline voicemail response times and workload
A transcriptionist can transcribe voicemail messages. This allows businesses to read and respond to important messages quickly. Streamlining response times and workload. This is helpful for businesses with high call volumes. Or those that receive a significant number of messages.
Better availability of content for the audience
A professional transcriber can be provided transcriptions of audio or video content. Businesses can make the content more accessible to a broader audience. Some individuals may prefer reading over listening. These transcriptions make the content available to those who are hard of hearing.
Boost SEO
Businesses can improve their search engine optimization efforts by transcribing audio and video content. As a result, search engines can crawl and index the text on the page, making it easier for potential customers to find their content.
No need to buy or maintain equipment
Transcriptionists have their equipment and software. As a result, businesses do not have to invest in and maintain expensive equipment. This can save businesses a significant amount of money in the long run.
Increased accessibility
By transcribing documents, businesses can ensure everyone can access the information, regardless of hearing ability. This can also help to ensure compliance with accessibility laws and regulations.
Lesser but more effective meetings
Businesses can refer to minutes and action items from previous meetings by transcribing meetings. This can help ensure everyone is on the same page and lead to more effective meetings.
A suitable level of comprehension
Transcriptionists can adjust their work's complexity level to suit a business's needs. This means businesses can receive a transcription tailored to their intended audience. In addition, this provides the necessary level of comprehension.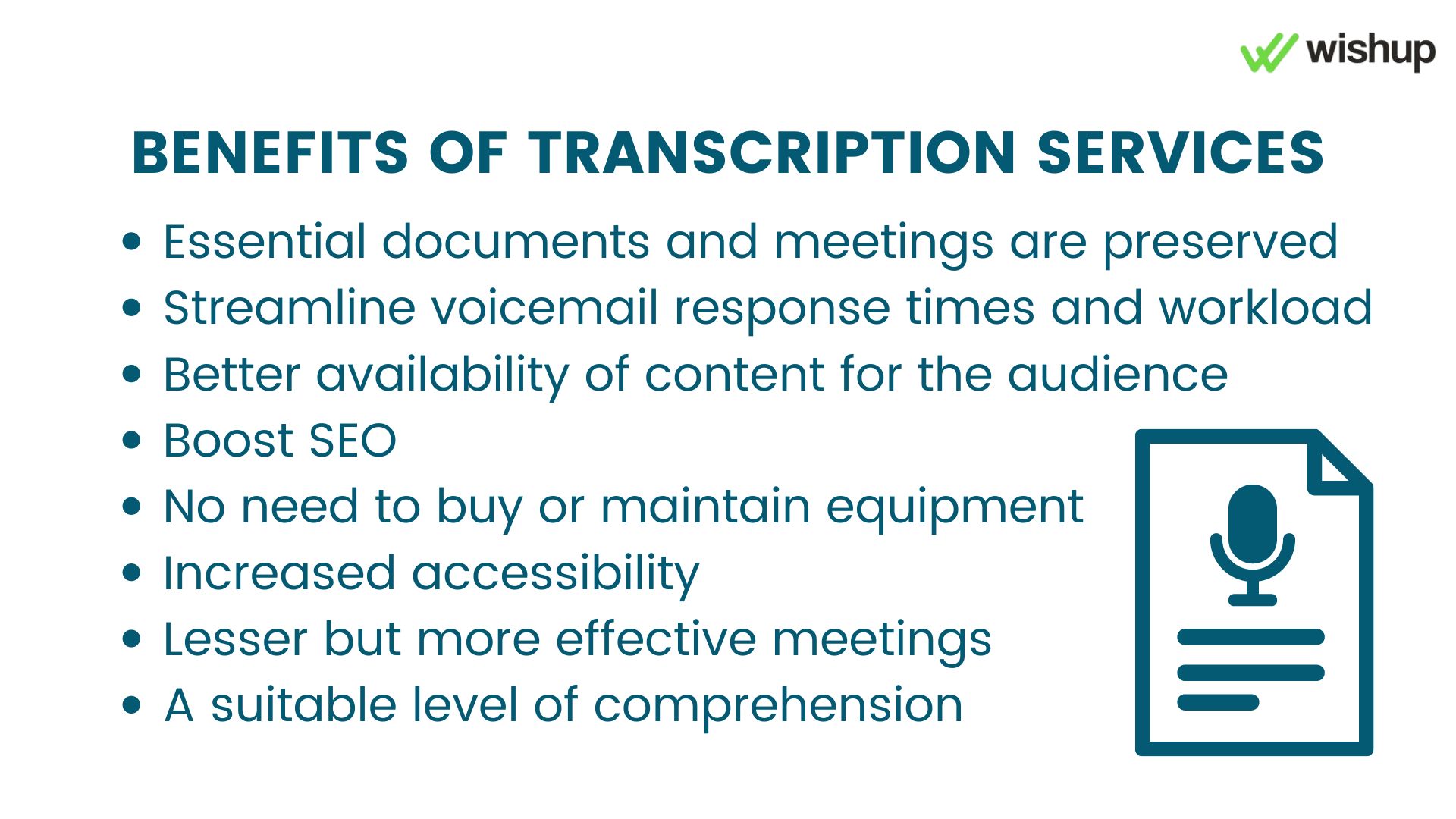 How to hire Transcriptionists in 2023?
In today's digital age, transcription services have become essential for businesses. To effectively hire transcriptionists, there are three primary avenues business owners can pursue. Here are three options for you -
1. Through an agency
2. Hiring an independent transcriptionist
3. Seeking referrals and networking.
Through an agency like Wishup
The first option is to go through an agency like Wishup, which can provide reliable transcriptionists with a proven track record. These agencies have a pool of highly skilled professionals selected for accuracy and speed, saving business owners the time and hassle of conducting their searches.
Hiring an independent Transcriptionist
Another approach is to hire an independent transcriptionist. This may involve more effort on the part of the business owner. But it allows for greater control over the hiring process and can be cost-effective. Freelancing platforms like Fiverr and Upwork are excellent resources for finding experienced transcriptionists.
Referrals and networking
Finally, referrals and networking can also be effective ways to find skilled transcriptionists. Business owners can contact their professional network or industry associations to find individuals with relevant skills and experience.
Considering factors such as experience, accuracy, turnaround time, and availability is important. Additionally, communicate your expectations and project requirements to ensure a smooth working relationship. By following these guidelines, business owners can successfully hire transcriptionists. And effectively manage their transcription needs in 2023.

Why hire Transcriptionists from Wishup?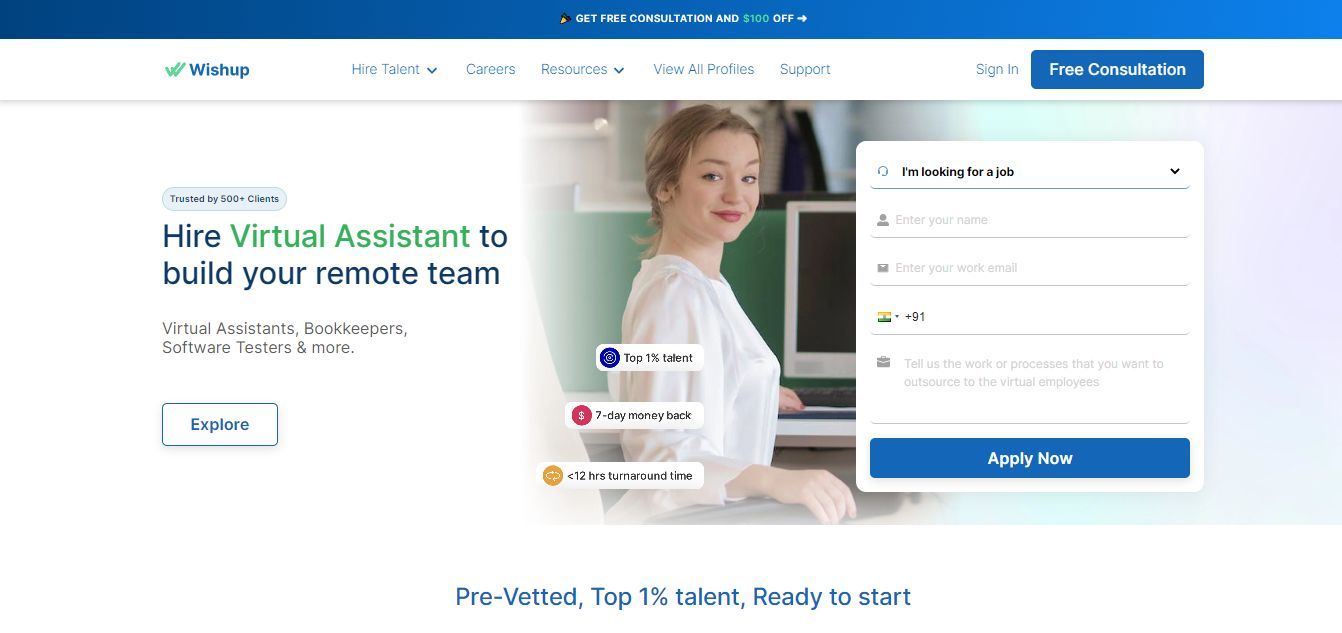 Wishup is a virtual assistant service provider. We offer various administrative, personal, and business support services. We provide these services to individuals and companies worldwide.
The company also uses advanced technologies such as artificial intelligence and machine learning to ensure clients receive the best possible service.
Wishup has served over 1000 clients across various industries. This includes healthcare, finance, real estate, e-commerce, and more. The company's goal is to help clients save time and increase productivity. This is done by taking care of their routine tasks, so they can focus on growing their business or enjoying their personal life.
Understandably, you must juggle multiple tasks, and transcription work can be time-consuming. That's where Wishup comes in. We provide cost-efficient transcription services that cater to your business needs.
Cost-Efficient
Our transcription services are designed to be cost-effective, with a monthly fee of just 999 for a 4-hour package and 1799 for an 8-hour package. With our services, you can save your hard-earned money and focus on growing your business.
Easy 24-hour onboarding
Our onboarding process is fast and easy. With 24-hour availability to ensure that your needs are met, We'll get you up and running in no time, without any hassle.
Top 1% of applicants
Our stringent selection process ensures that we only work with the best transcriptionists. In addition, we hire only the top 1% of applicants, ensuring you receive top-quality work.

Upscale and downscale with ease
Your business requirements can change anytime. That's why we offer flexible transcription services that you can easily upscale or downscale. In addition, you can adjust our services to match your business requirements.
Instant replacement
We have a policy of instant replacement in case one of our transcriptionists is unavailable. We'll ensure that your work continues without any interruption.
Data Security
Data security is critical, and we take it seriously. All our transcriptionists sign non-disclosure agreements (NDAs). This ensures that your confidential information is safeguarded.
Dedicated account manager
We believe in personalized service. That's why we provide a dedicated account manager to meet all your needs.
A 7-Day trial with a money-back guarantee
We offer a 7-day trial with a money-back guarantee, so you can test our services before committing. We're confident you'll love our services and become a long-term client.
In-house training in 70+ no-code tools and 200+ skill sets
Our transcriptionists are trained in over 70 no-code tools and 200+ skill sets, ensuring we can cater to all your needs. We believe in providing the best quality work. That's why we invest in our transcriptionists' training.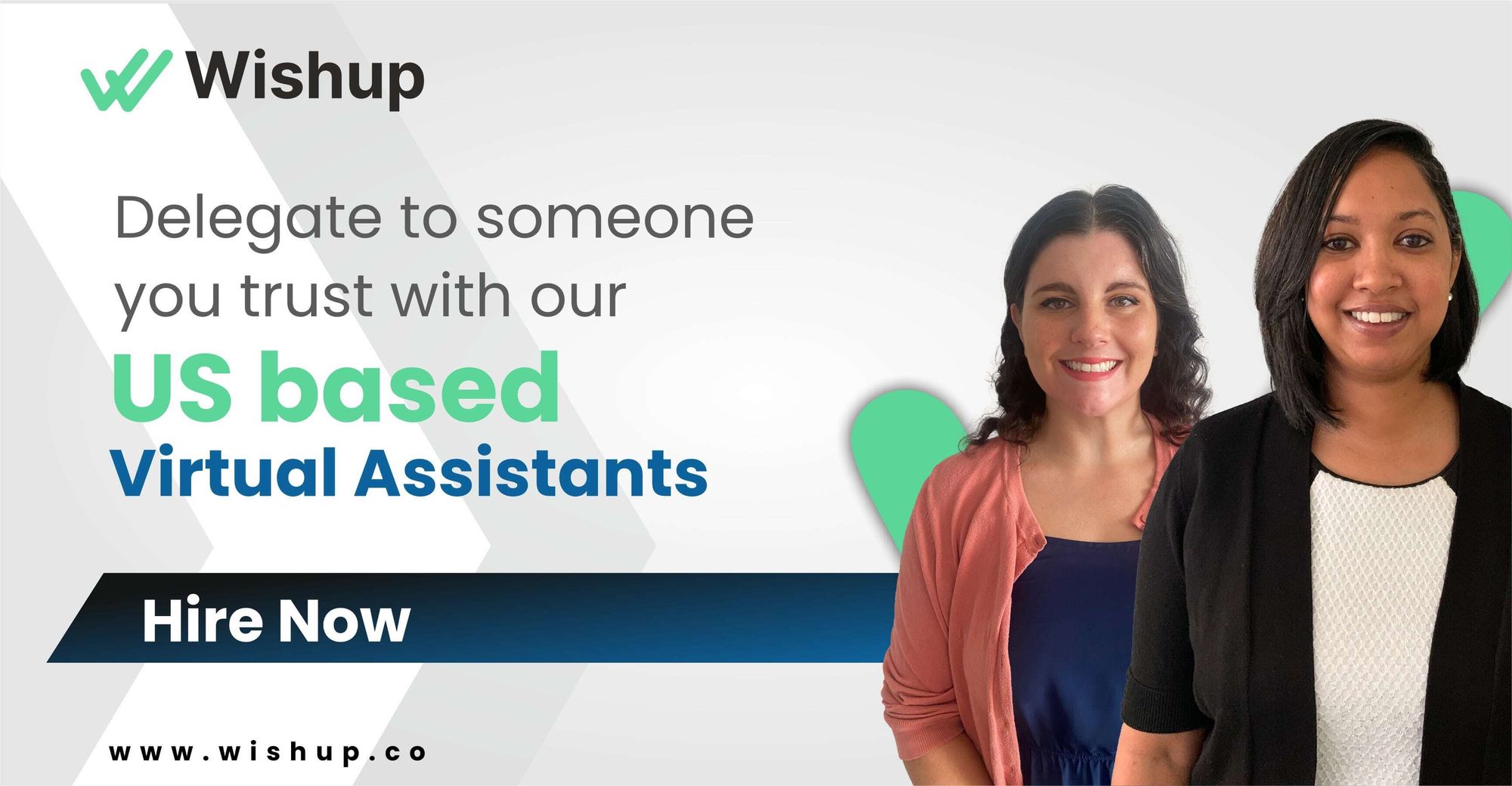 Conclusion
In conclusion, hiring a virtual assistant transcriptionist can be a valuable investment for businesses in 2023. Transcriptionists offer a range of benefits, including increased productivity, accuracy, and improved accessibility.
In addition, transcriptionists can help businesses with different needs, from transcribing audio recordings to captioning videos or creating transcripts. Finally, they can help businesses for legal or medical purposes. Therefore, finding a reliable and qualified transcriptionist is essential to ensure high-quality work.
To achieve this, businesses can partner with transcription agencies like Wishup. Wishup can help connect businesses with professional transcriptionists with the right expertise. By hiring transcriptionists in 2023, businesses can save time and increase efficiency. In addition, they can enhance their overall workflow. As a result, businesses can lead to better results and increased customer satisfaction. Schedule a free consultation, or drop a mail at [email protected] for any queries.
Frequently Asked Questions
How much does it cost to hire a transcriber?
As a general guideline, the cost of transcribing a one-hour audio or video recording can range from $60 to $200, with an average rate of around $80 to $120. The best solution is to hire a VA from a reputable service provider like Wishup.
Can you hire a transcriber?
You can find and hire a transcriber on many websites and platforms. Some popular websites include Upwork, Fiverr, Freelancer, and TranscribeMe. There are also dedicated transcription companies and services that offer professional transcription services.
Does transcription pay?
Yes, transcription can be a paid profession. Many businesses, individuals, and organizations require transcription services, such as creating video captions, creating written records of meetings or interviews, and transcribing legal proceedings.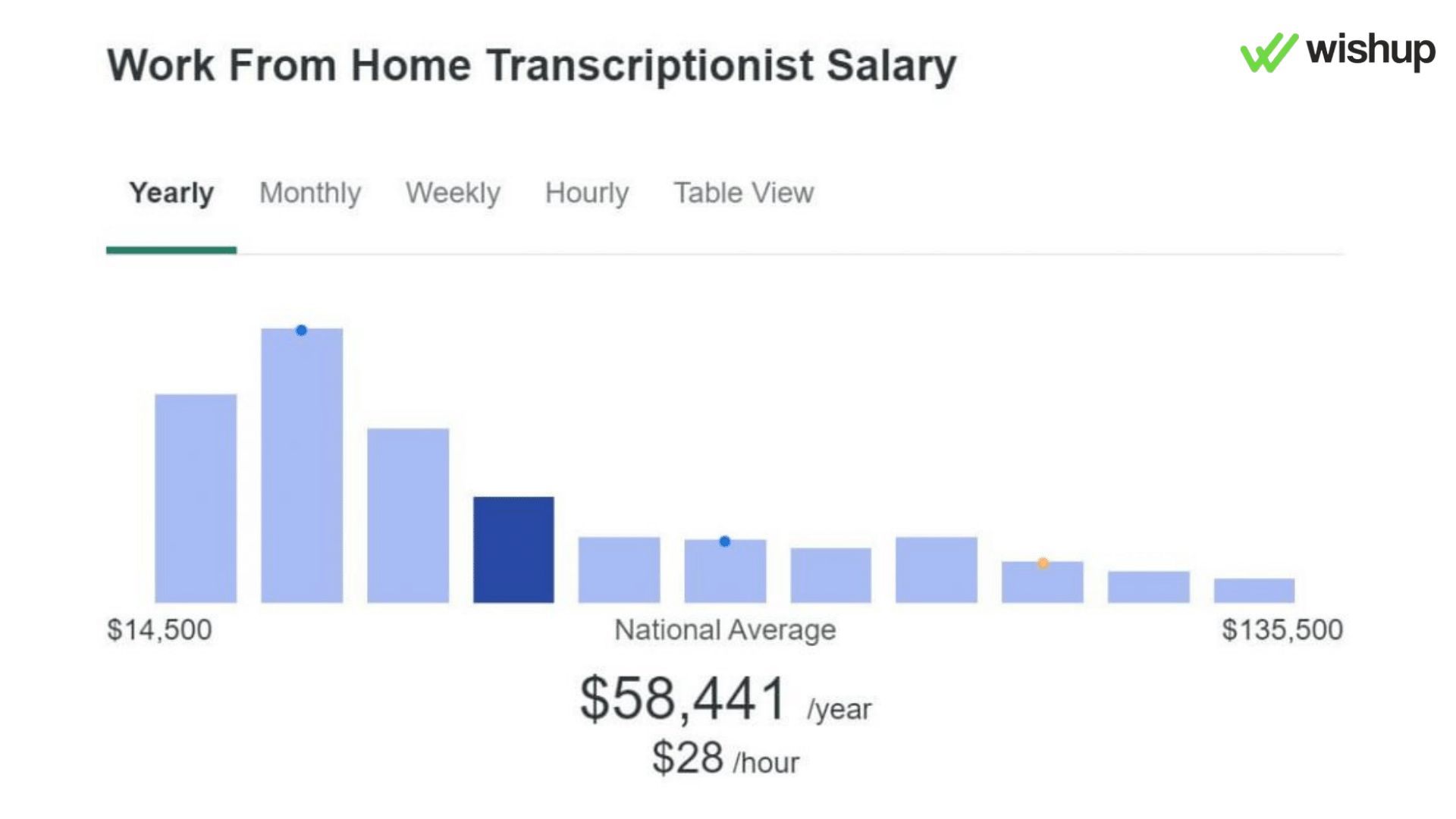 Freelance transcriptionists can find work through job boards and online marketplaces. They can also work by networking with potential clients. The pay for transcription work varies depending on the industry. It also depends on the transcription's complexity and the transcriptionist's experience level.