The Top 5 Market Research Companies
In a world where everything constantly changes, changing human behavior is a given!
This means that your consumers, too, are going to be fickle-minded. Not only that but your markets and products also tend to evolve and change over time.
So, staying ahead of the competition necessitates more than intuition and experience—it demands data-driven insights. Your company cannot navigate the ever-changing marketplace unless it understands business landscapes, consumer needs, and purchasing habits.

Finding and leveraging market trends before your competitors requires thorough market analysis. But let us face it: making data-driven decisions is a lot easier when you have top market research firms on your side.
If you are tired of sifting through thousands of market research firms, this article will direct you to the best ones available. These top market research firms provide various services for B2B and B2C brands, from wholly customized services to expert reporting on the most critical topics to your target audience.
First, let's dive right into the basics: market research!
What is Market Research?
Market research is the business world's Sherlock Holmes. The dependable sidekick assists businesses in unraveling the mystery of what their customers want, need, and desire.
It all comes down to understanding people, their passions, and their constantly changing moods and behaviors so businesses can make one well-informed decision.
Consider organizing a surprise birthday celebration for your best friend and striving for perfection. You would probably start by getting feedback from their family and friends, right? For businesses, market research essentially accomplishes that.
So, market research is this fancy term for determining what makes people tick, what gets them excited, what makes them reach for their wallets, and what makes them flee. It is all about getting to know your target audience - the people you want to sell your products or services to - on a personal level.
The market researcher's toolbox contains numerous tools. Surveys and questionnaires are like friendly interviews that you can conduct from the comfort of your couch. You have most likely received one in your inbox or while online shopping. They assist businesses in gathering your thoughts and opinions without bothering you too much.
Focus groups are similar to brainstorming sessions with strangers. You get to share your thoughts and hear what others have to say. It is similar to chatting with people who could become your new friends. This allows companies to test their ideas and products on a small scale before going big.
Observational research is similar to being a secret spy in a retail store. Researchers observe people shopping to see what they buy, what they ignore, and how they behave. It is all about uncovering those hidden behavioral patterns.
But wait, there is more. Deep online research is another aspect of market research. Reviews, blogs, and social media are like a gold mine of feedback and opinions. Companies sift through these digital footprints to learn what customers like and dislike about their services.
Benefits of Market Research
Understanding your audience is like having a superpower. That is how market research works. It helps you:
Understand Your Customers: Market research lets you get inside your customers' heads. It is as if you are having a heart-to-heart with them. You learn about their likes, dislikes, and dreams. This understanding is a secret weapon, allowing your products or services to fit them perfectly.
Get Out of the Guessing Game: Without market research, you are throwing darts in the dark. But with research, it is like turning on the lights. You can make informed decisions, which means you are not just hoping for the best but planning for success.
Keep Your Customers Happy: Happy customers are your best cheerleaders. Market research can help you determine what makes them happy and irritates them. This information can improve your offerings and keep those smiles coming.
Keep One Step Ahead: The business world moves quickly like a train. Your ticket to getting on board and staying current is market research. You will be informed about trends, what your rivals are doing, and how you can differentiate yourself.
Save Money and Time: It may seem counterintuitive, but conducting research saves you money. It keeps you from investing in ideas that will fail. Imagine building a massive sandcastle only to have it crumble - research is like having a blueprint for building a strong one from the beginning.
Connect with Your Audience: Market research is not just about numbers; it is about people. It enables you to establish a genuine, emotional connection with your customers. They are more likely to stick with you in the long run if they see that you understand them.
Reduce Risks: Running a business is a gamble, but researching can help you set lower barriers. Knowing that you have done your research and are better equipped for whatever comes your way, you can make thoughtful decisions.
What is a Market Research Firm?
Market research organizations gather and examine information on consumers, rivals, distributors, and other market participants.
Services offered by Market Research Companies
There are numerous services that market research agencies offer. Some of them are as follows:
Analyze the business's trouble spots.
Determine shifting market trends, related business opportunities, and potential new areas for growth.
Recognize the needs of the current clientele and evaluate the services provided compared to rivals.
Create sensible plans and make informed choices regarding the services.
Set attainable goals for your company's growth, sales, and newest product releases.
Top Five Market Research Companies
After extensive research, we have hand-picked the best market research companies.
Wishup is a leading virtual assistant company that connects you with over 500 dedicated professionals trained in over 200 skill sets. Wishup's virtual assistants are an excellent choice for businesses needing market research assistance. Their wealth of experience makes them qualified to carry out different market research tasks with accuracy and knowledge.
Every virtual assistant is prepared to use their years of experience to support you in achieving your market research goals. Over 500 companies have already entrusted them with critical market research projects.
Wishup is distinguished by its simple onboarding process. Your new market research assistant can quickly integrate into your team and provide valuable assistance. Their understanding of market research methodologies and tools ensures a smooth transition.
The best part? You get all these services virtually without paying for additional infrastructure or overhead costs! Furthermore, our virtual assistants have been pre-interviewed and vetted, ensuring you only work with highly accomplished and experienced professionals.
Market research services offered: Client research, customer follow-up, competitor analysis, product research, and market survey.
Pros
Wishup only hires the top 0.1% of professionals worldwide.
It provides bilingual and multilingual virtual assistants.
All assistants are graduates with at least three years of experience.
A seven-day trial period is offered without charge.
Dissatisfied? They arrange for an immediate replacement.
A Non-Disclosure Agreement guarantees data security.
A dedicated account manager aids the hiring process.
Cons
The assistants might not be available on weekends.
Pricing: The plans range in price from $999/month for the 4-hour/day package to $1799/month for the 8-hour/day package.
How to hire: Schedule a free consultation with Wishup's experts, and you will have a virtual assistant working for your law firm in no more than 24 hours.
You can use Nielsen's specialized research solutions to find audience intelligence across channels and platforms. Nielsen is a global leader in analytics and audience measurement. More than 750,000 people participate in its surveys and panels globally, giving the company the representative data that media companies around the world have come to rely on for more than 50 years.
Nielsen aims to provide its clients with valuable consumer behavior and marketing data insights. This is accomplished through data collection and measurement methods that assess what consumers watch and buy.
The company is best known for its Nielsen ratings, which determine the audiences for television, radio, and newspapers in various media markets.
Nielsen also assesses the shopping and media behavior of millions of consumers worldwide through its market research tool, the Homescan Consumer Panel (now known as the National Consumer Panel (NCP). Homescan records all retail and grocery store customer purchases, allowing researchers to correlate purchasing habits with household demographic data.
Market research services offered: Media planning, content metadata, marketing optimization, and audience measurement.
Pros
You can benefit from its effective Scenario Planning.
Its extensive Competitive Intelligence provides access to competitive insights.
Its offerings are distinguished by their accuracy in audience segmentation.
It provides a comprehensive measurement of your audience across multiple platforms.
It provides an in-depth performance analysis.
Cons
Their pricing is not mentioned on the website.
There is no single comprehensive package for primary market research services.
Pricing: Available upon request.
How to hire: You are required to contact the company through its website.
Ipsos is a market research firm trusted by leading brands and corporations in the Americas, Africa, the Middle East, and Europe.
The market research firm assists businesses in connecting with online communities. You will be matched with a community of people who share characteristics with your ideal customers when you work with Ipsos. These similarities help identify potential responses from your perfect user or customer.
For more information about your market, you can also consult with an Ipsos strategist. Ipsos provides services in various industries, including retail, healthcare, transportation, politics, and automotive.
The company recruits panelists and community members through various advertising channels, and participants are not compensated for their participation. Instead, members receive points that they can later redeem for prizes.
Market research services offered: Audience measurement, media development, customer experience, mystery shopping, automotive and mobility development, and employee relationship management.
Pros
You can put together custom consumer panels.
It lets you record interviews and mystery shopper journeys to document retail experiences.
You can view reports on key consumer insights and demographics.
You can test your brand, packaging, and products.
It provides message-testing services for public affairs projects
.
Cons
Their pricing is not listed on their website.
The information may not always be accurate or reliable.
There have been some complaints about the research agency being too expensive.
Pricing: You must contact the Ipsos team to discuss your requirements and receive a price quote.
How to hire: To get in touch with Ipsos, you must fill out a form on the company's website.
Gartner provides IT-related insights that can assist you in making technology decisions and developing business plans to improve operations and increase stakeholder value.
Ipsos and Gartner both provide market research services, but Gartner's services extend to a few more sectors, such as education, energy, and finance.
The organization combines professional advice and tools for more informed business decisions and successful strategy planning. They use tools like the Gartner Score Benchmark and Gartner Digital IQ Index to monitor the effects of your online initiatives on your sector. The Gartner Magic Quadrant is another tool that assesses the ability of technology and marketing service providers to meet your needs.
The Hype Cycles offered by Gartner also help you choose which emerging and existing technologies to invest in and which to avoid by letting you know which ones are overhyped or anticipate accelerated adoption.
Market research services offered: Management and technology coverage, a global network of peers, data-based tools and guidebooks, and personalized, expert advice.
Pros
Expert advice and resources help organizations make quicker, wiser decisions and perform better on mission-critical priorities.
They have a user-friendly user interface.
You can network with colleagues and Gartner professionals to improve performance on your most important priorities.
Cons
When a role is transferred to a different country due to organizational changes, Gartner does not allow clients to reallocate seats to new users.
Their focus is primarily on the top leaders who stand to gain from the changes taking place on a global scale.
The amount of time it takes to download a file is considerable; occasionally, this causes anxiety.
Sometimes, the incorrect file is downloaded.
Pricing: You can sample some of Gartner's reports for free on their website, giving you a sense of what the company offers. If it seems to fit your requirements, you will need to contact the Gartner team to obtain a price estimate.
How to hire: You must fill out a form on the website and wait for them to contact you.
Dynata is a first-party data platform that enables you to collect and analyze business intelligence for effective decision-making. The entire research workflow is streamlined by their platform, allowing you to concentrate more on insights. With Dynata, you can ask their 67 million users questions and quickly visualize their answers.
The founders of Dynata were among the first to use surveys to examine consumer attitudes through phone polls and online panels. It takes pride in being home to the biggest first-party data and insights platform, which encourages inclusivity among researchers and diversity among respondents. It has 70 million consumers and business professionals in its data set.
Additionally, its patent-pending Dynata Insights Platform, integrated with the AI-powered Sharpr knowledge management tool, enables you to compile, search for, and publish content from various sources and share real-time insights with your internal and external audiences.
The agency's experts are available worldwide to assist you with designing and developing mobile-ready surveys. Additionally, Dynata collaborates with Neutronian to confirm data privacy and quality—a crucial component of audience targeting for better campaign outcomes.
Market research services offered: Survey creation for concept testing, creative testing, ad-hoc market research, market segmentation, brand health monitoring, and campaign measurement.
Pros
The data is presented clearly and straightforwardly, making it simple to share.
It provides a selection of panelists and targeting.
Dynata makes it simple to gain practical data insights with real-time dashboards and research reports.
Cons
Content delivery and reporting/analytics are both slow.
Their customer service has drawn much criticism from customers.
Pricing: The information is available upon request.
How to Hire: Fill out a form on the website and wait for them to contact you.
Key factors to consider before selecting a marketing research company
There are a plethora of considerations for choosing the best market research company for your business. Below are some:
Reputation and credibility: Select a business that has a proven track record of offering accurate and dependable research results. To determine their credibility, look at their past performance, client endorsements, and industry awards.
Knowledge of your industry: A market research firm with experience in your particular industry is beneficial. Industry expertise enables more pertinent insights and a quicker understanding of your needs.
Research methodologies: Be familiar with the company's techniques and resources for its research. Ensure that they align with your goals and your target audience's characteristics.
Flexibility and customization: Look for a business that will adapt its research strategy to meet your particular needs. Avoid one-size-fits-all solutions.
Data accuracy and quality: Data accuracy and quality are critical. Inquire about the company's data collection processes and data integrity measures.
Client-centered approach: A successful partnership requires a company to prioritize client needs and maintain open communication throughout the research process.
Budget and pricing: Consider your budget and if the company's services are cost-effective while maintaining the desired level of quality.
Technology and innovation: A modern research approach that employs cutting-edge technology and innovative tools can yield more accurate and efficient results.
Client references: Ask for references from previous customers to get a firsthand account of their interactions with the research firm.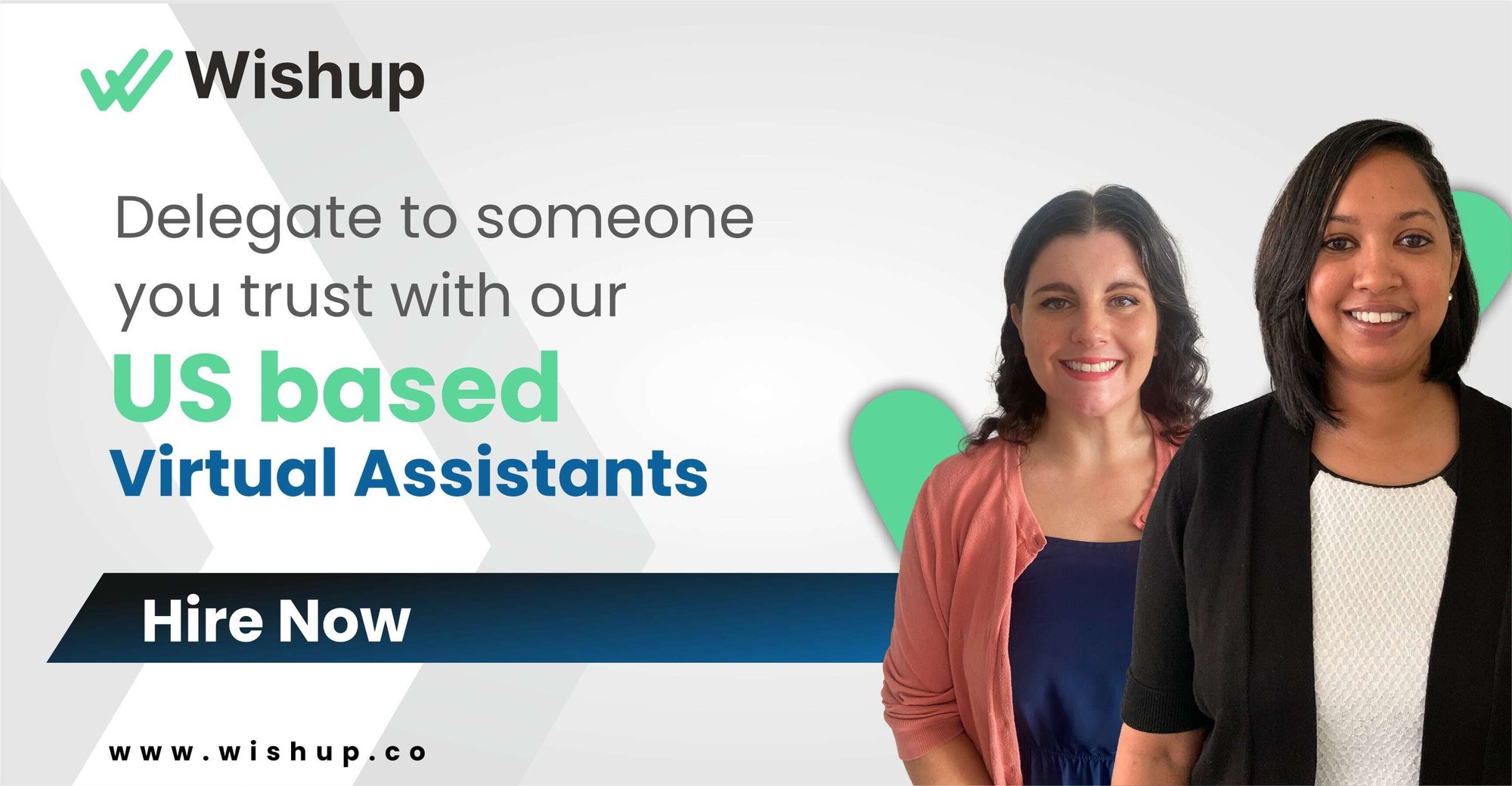 Key Takeaways
We all know it gets hard to do all that analysis ourselves!
But finding a market research firm doesn't have to be as daunting.
Wishup is there to solve all these problems for you. With our cherry-picked top 0.1% virtual assistants, you can easily streamline your marketing research efforts. Get in touch with the Wishup experts via [email protected] or book a free consultation.
FAQs related to Top Market Research Companies
Why must companies conduct market research?
Market research is critical for many businesses in developing marketing strategies because it provides a fact-based foundation for estimating sales and profitability. It can mean the difference between making wise decisions that propel your business forward and making poor decisions that harm it.
What questions should I ask a market research company?
It is critical to ask several key questions when evaluating a market research firm to ensure they fit your needs well. Begin by asking about their experience in your industry and the methodologies they employ for data collection and analysis. Seek clarification on previous projects and client success stories to assess their track record. Understanding their approach to sample size and representation is critical to ensure that it is compatible with your target audience.