2023's Most User-Recommended US Virtual Assistant Companies!
Once you are convinced of a Virtual Assistant as a great addition to your business, the next step is to look for a credible source to hire one. We are here to help you choose from the multitude of options. Here's a comprehensive list of the trending Virtual Assistant Companies of 2023.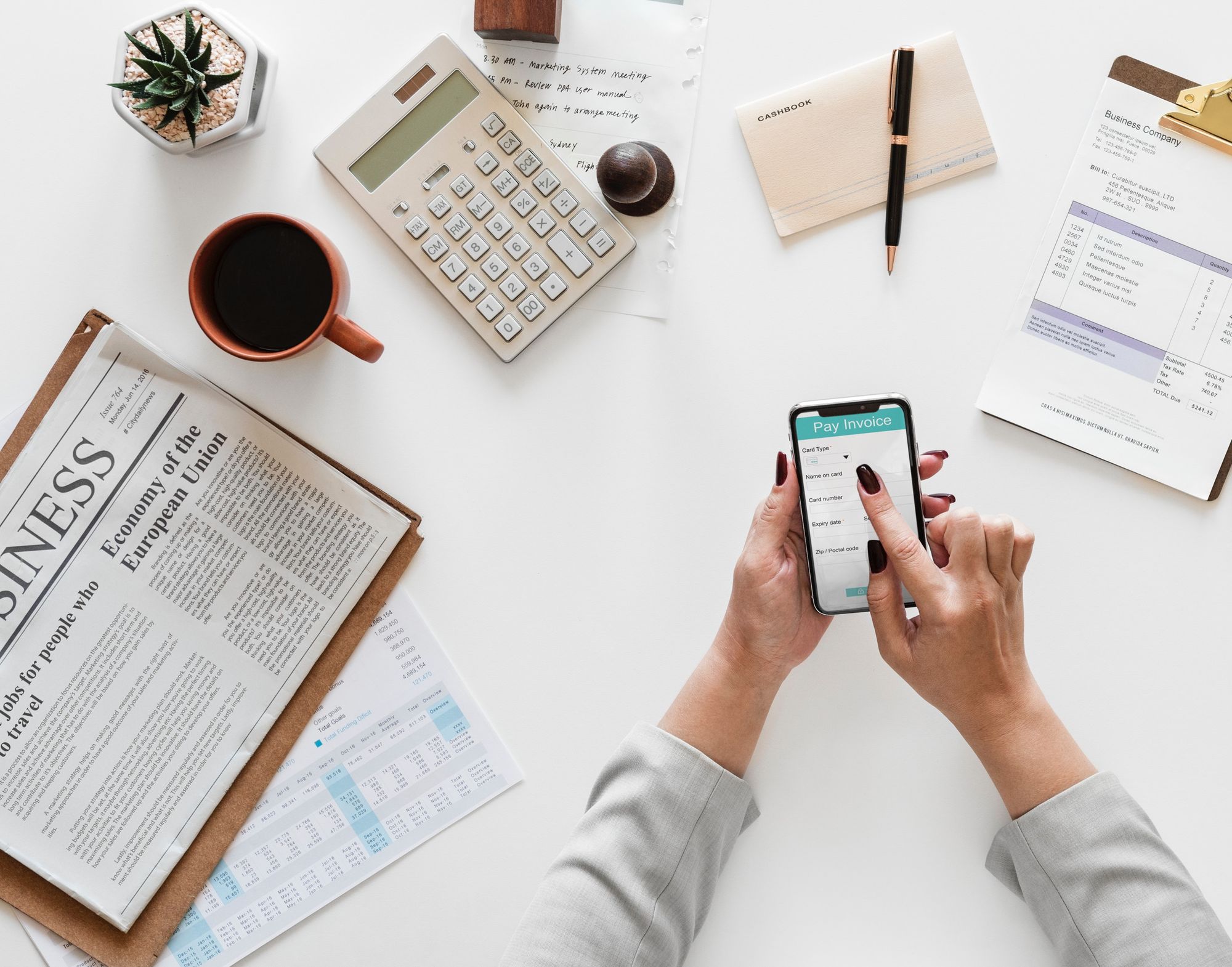 Virtual assistant companies enable executives and entrepreneurs to focus on their core business growth operations by offering assistance for all the tedious admin tasks. Using the help of a virtual assistant helps them free themselves from routine work. A virtual assistant can offer administrative support and even marketing and research work. A business would thrive if it hired virtual assistants for routine jobs.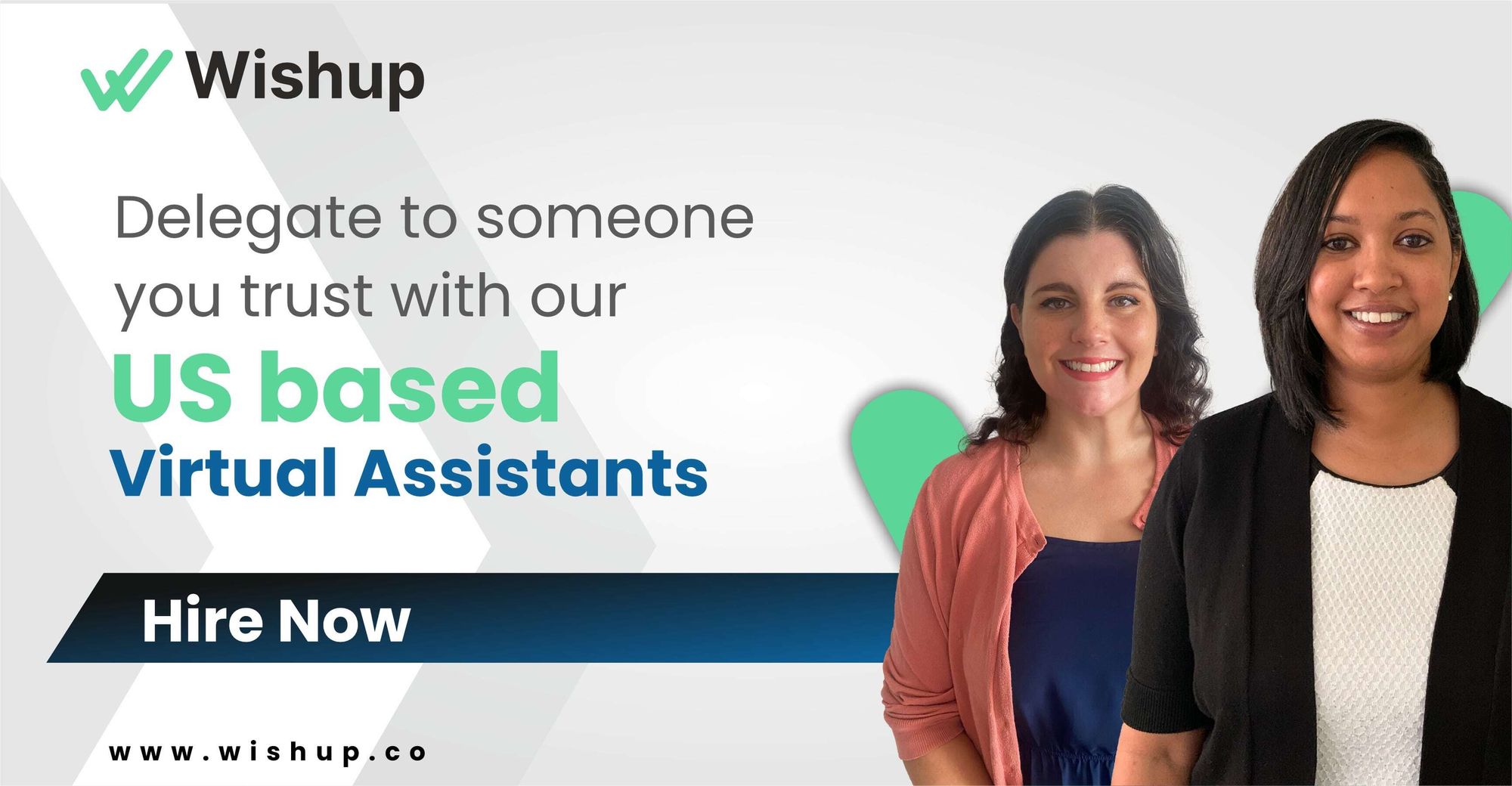 Virtual assistant companies offer VAs for hire. Hiring a virtual assistant allows you to get your work done while saving money. This blog has a guide that gives you an overview of the best virtual assistant companies in the market. The blog will help you decide the company from whom to hire VAs.
Top 10 Virtual Assistant Companies in 2023
Virtual assistant companies offer virtual assistants for hire. Their services are the best option if you want to hire a virtual assistant. Such agencies have websites that list the profiles of candidates available for hire. They also help you find a candidate who matches your requirements. With so many agencies in the market, choosing one takes time and effort. To simplify your work, we have curated a list of the top 10 virtual assistant companies. You can go through the details of all these companies to know more about them to help you make an informed decision.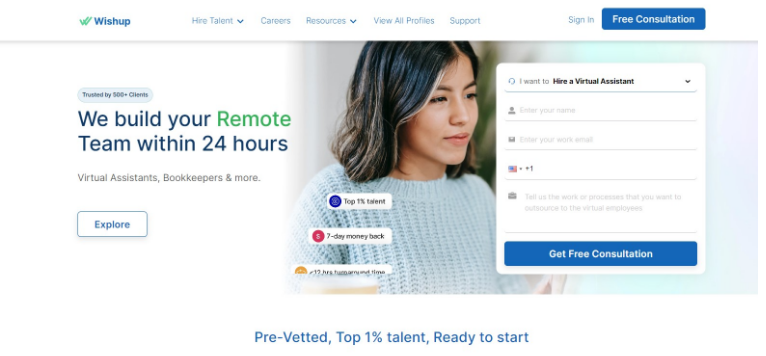 Wishup is one of the top virtual assistant companies, having served more than 500 businesses with 200+ specialized offerings. Wishup offers virtual assistants for hire and is known for the quality of talent it offers. Their VAs provide a range of services to meet all your needs. All the virtual assistants at Wishup are trained on various no-code tools and different skill sets.
Pros
Only the top 1% of applicants are selected, ensuring you get the best talent.
They offer an instant replacement if you are not satisfied with the VA.
Their robust processes ensure onboarding happens within 24 hours.
Wishup offers a free consultation with $100 off on signing up.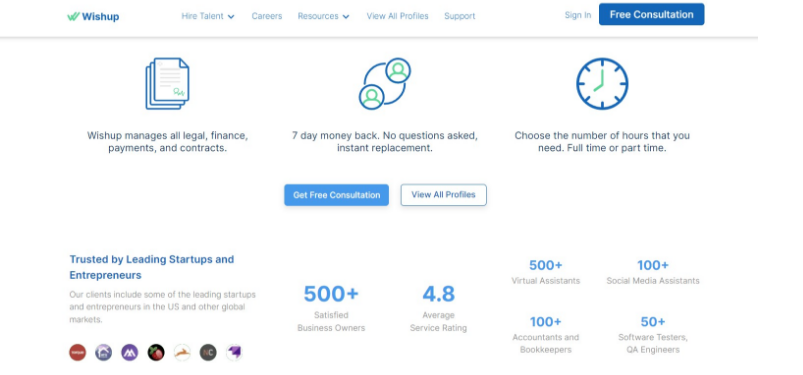 Cons
Their website does not provide details of the pricing plans.
Pricing
4-hour package; The VA works for 4 hours daily, and pricing is $999.
8-hour package; The VA works for 8 hours daily, and pricing is $1799.
How to hire
Decide your requirements for a VA.
Schedule a free consultation, and Wishup will find a match for your needs.
Complete onboarding within 24 hours, so the VA can start working.
Fancy Hands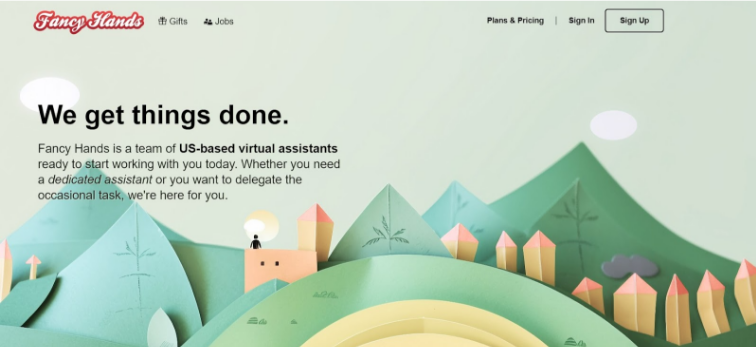 Fancy Hands specializes in providing virtual assistants who can do single tasks. Their focus is on tasks that take 20 minutes or lesser time. You can either choose the same VA for all your tasks or go with a different VA each time you allot a task. They focus more on simple tasks such as making calls, customer service, scheduling, etc.
Pros
They offer services for official work and personal tasks (like grocery shopping).
They claim to be the fastest to respond to client needs.
Their pricing structure is simple and clear.
Cons
They only take up simple tasks. If you have a complex task, you must break it into simple tasks, and the costs would become high.
Pricing
Their pricing starts at $17.99 per month for completing 3 tasks.
How to hire
Sign up for Fancy Hands.
Submit a task with the details of the work you want.
You will be assigned a VA who will start work on your task.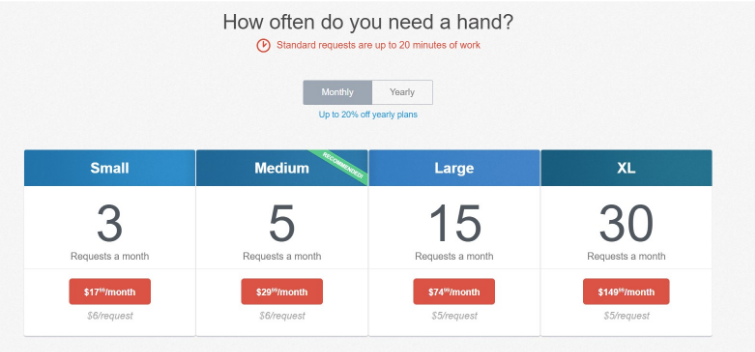 Prialto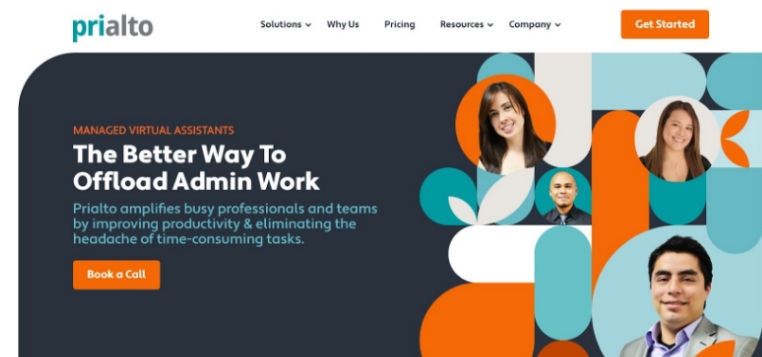 Prialto offers virtual assistants for hire who operate from other countries. The trained and competent VAs can speak fluent English and can handle all your requirements. All the VAs are tech-savvy and can use the latest technologies to carry out their work effectively. They are the ideal providers for small businesses and for solo entrepreneurs.
Pros
They provide various services, including sales, operations, and administrative support.
Backup services are provided to take care of the absence of a VA.
All the VAs get training and ongoing education.
Cons
It is a bit expensive compared to other providers.
They do not operate from the US.
Pricing
$1450 is the monthly fee per VA with 55 hours of support.
Pricing can be structured depending on your needs and the number of VAs you need.
How to hire
The first step is discovery needs assessment to know your requirements.
Based on your needs, one or more VA is assigned.
The VA(s) will start working on the tasks you assign.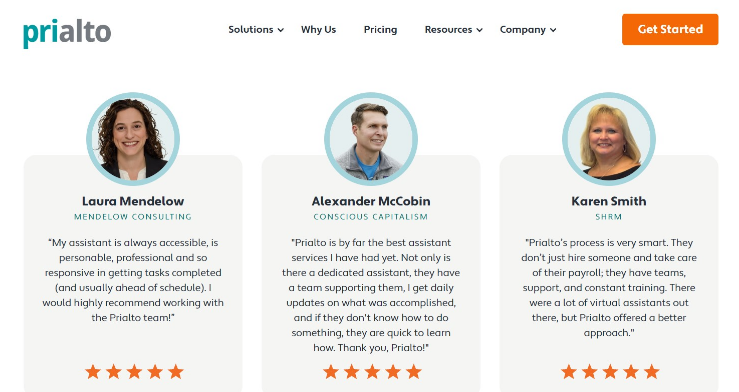 WoodBows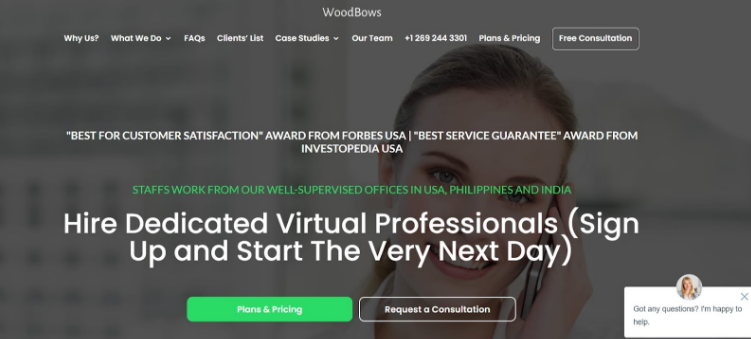 WoodBows is known for its commitment to quality. The VAs working for WoodBows operate from India and the Philippines and are fluent in English. They specialize in digital marketing, web design, customer support, app development, and other services. WoodBows claims a 98% client retention record.
Pros
Service guarantee promises double the free hours if you are not happy with their work.
Positive reviews from clients.
Cost-effective pricing for their services.
Cons
VAs are not from the US.
Prices vary depending on the task taken up.
Pricing
$599 per month for 40 hours of work.
$999 per month for 80 hours of work.
$1499 per month for 160 hours of work.
How to hire
WoodBows offers a free personal interview.
Based on your needs, they suggest a plan.
Within 24 hours, a VA is ready to start your work and will get in touch with you.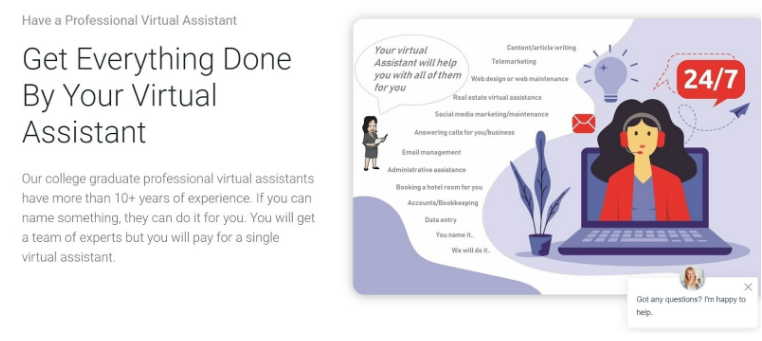 Transactly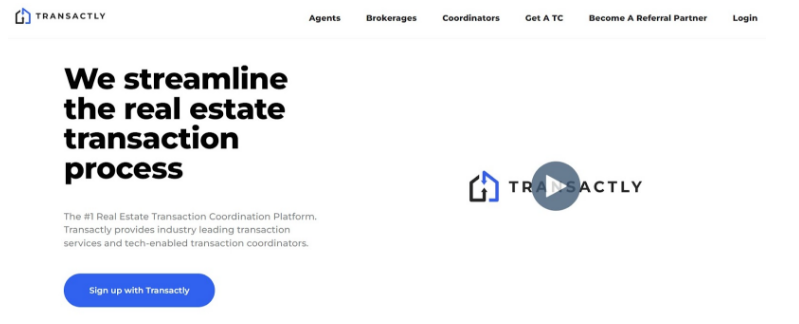 As their name suggests, Transactly offers transaction coordinators for the real estate sector. They work only for real estate firms and help realtors with routine tasks. The transaction coordinators can handle all tasks related to closing. Their specialization in real estate ensures they add value to the realtor's operations.
Pros
They offer real estate virtual assistant services to the firms.
The coordinators can handle all real estate transactions.
They offer a success coach to work with your firm.
Cons
They work only with real estate firms and do not offer services for other firms.
You cannot use their services for general virtual assistant jobs.
Pricing
Pricing for transaction coordinators' services starts from $99 per month.
For 6 transactions, they charge $179 per month and $339 per month for 12 transactions.
How to hire
You must contact Transactly by providing your details.
They will provide a demo of their services.
If satisfied, you can choose a pricing plan and start work.
Virtudesk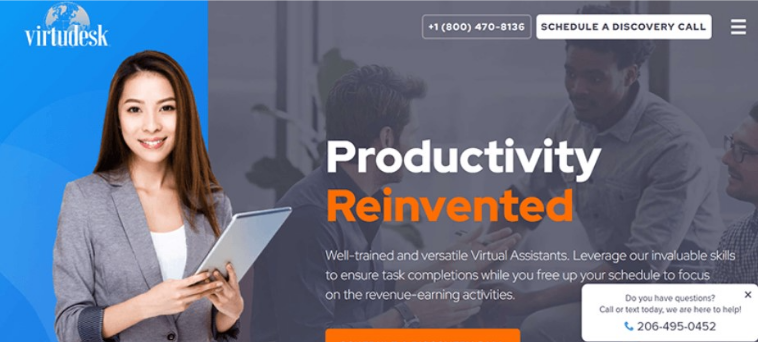 Virtudesk is a company that hires virtual assistants and provides their services to clients. They offer all services from customer service to lead prospecting and administrative support, to marketing. They operate from the Philippines, with their VAs offering services to clients in the US. They are known for offering competitive rates.
Pros
They offer a range of services for clients at attractive prices.
Their time tracker software helps you track the VA's work easily.
Virtudesk works with almost all industry sectors.
Cons
Their virtual assistants are not from the US.
They only offer a subscription model.
Pricing
Pricing varies depending on your ]task, starting at $9.55 per hour.
A $450 setup fee is included with a 3-month lock-in period.
VAs work for around 20 to 40 hours per week.
How to hire
Contact Virtudesk and let them know your requirements.
They will find a VA who meets your needs.
Sign a contract and start working with your VA.
Boldly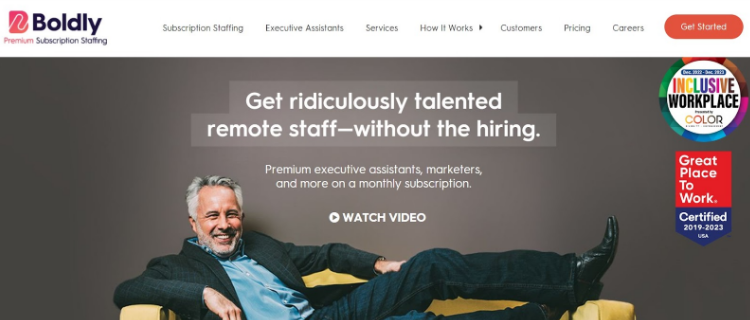 Boldly offers an alternative to conventional virtual assistant services by offering higher-end premium services on a subscription model. Operating in the US and UK, Boldly specializes in offering experienced virtual assistants. Their VAs have rich work experience at many Fortune 500 companies. If you want top-quality talent, you can work with Boldly.
Pros
Offers specialized services for those who want top-quality VAs.
They offer the best talent who can work on a flexible basis.
Cons
Their prices are high, and they work only on a subscription model.
It is not suitable for small and medium-sized firms.
The VAs do not work on weekends.
Pricing
The subscription model price depends on how many hours of work you have.
Pricing starts at $2200 per month for 40 hours of work.
How to hire
Let Boldly know your requirements.
An account manager schedules a meeting with you and suggests a VA.
Interview the VA, sign up, and start working.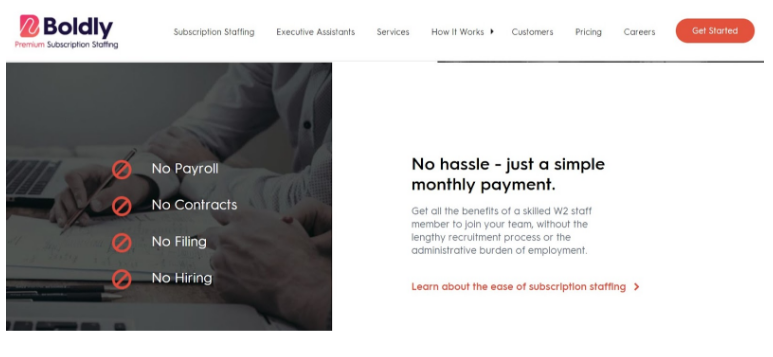 Time etc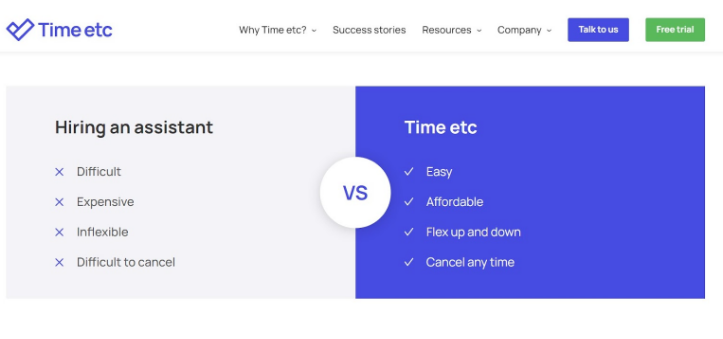 Time etc, is a virtual assistant company that has US-based VAs for hire. They offer various services, including general administration, social media marketing, research, etc. Their online platform allows you to post tasks and coordinate with the VA. They offer a free trial and a money-back guarantee for their services.
Pros
The VAs have a minimum work experience of 12 years.
They have worked with mega companies like Beta and Google.
A mobile app is also available to access their platform.
Cons
You have to use their services for a minimum of 10 hours.
They prefer long-term relationships rather than one-off tasks.
Slightly expensive.
Pricing
For 10 hours of work per month, you must pay $360.
For 40 hours of monthly work, the price is $1,360.
If you want the VA to work 60 hours monthly, you must pay $1,980.
How to hire
You can start by getting a free consultation. A VA will do your first task for free.
If you are happy, sign up, and they will assign you a VA.
Start assigning tasks, and the VA will work on them.

TaskBullet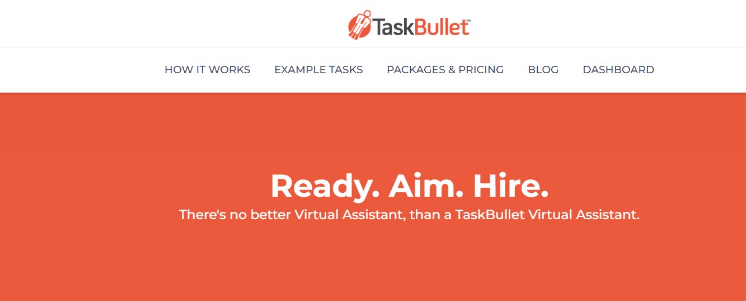 TaskBullet has made a name for itself among the top virtual assistant companies. While they operate from the US, their virtual assistants work from the Philippines. Their specialty is they have no contracts but work using a bucket system. Just buy the number of hours you want and pay for it. They have a powerful task management system for their work.
Pros
They offer a range of services to help you with your tasks.
Their flexible pricing is a major attraction.
They provide dedicated VAs to do your work.
Cons
Pricing
The Starter Bucket pricing is $11 per hour and has 20 hours of VA support.
For 60 hours of work, you can choose the Light bucket, priced at $9 per hour.
The Expert bucket offers 240 hours of work, and the price is $6.50 per hour.
How to hire
Sign up by choosing a bucket and get 5% off.
You will get a welcome call with instructions on using their task management system.
Assign tasks, and the VA starts to work on them.
Ossisto

Ossisto is a virtual assistant company that provides good services at competitive prices. They provide virtual assistants to take care of all your business needs. Their services include content writing, digital marketing, website design, and business consulting. They offer an initial trial of 5 hours for just $49.
Pros
Flexible monthly payment plans are offered.
They have more than 650 customers in 5 countries.
You can get a free consultation to start the hiring process with a 2-hour free trial.
Cons
They do not operate from the US.
Pricing is not mentioned on their website.
Pricing
You can opt for a membership paying $10 per month, and pricing for tasks is $12 an hour.
For 10 hours per month, you can pay $100.
For $1600 a month, you will get a dedicated VA to work for 176 hours.
How to hire
You can get a consultation for free to discuss your needs.
Talk to the Account manager and interview the virtual assistant before hiring.
Assign tasks, and the VA starts working.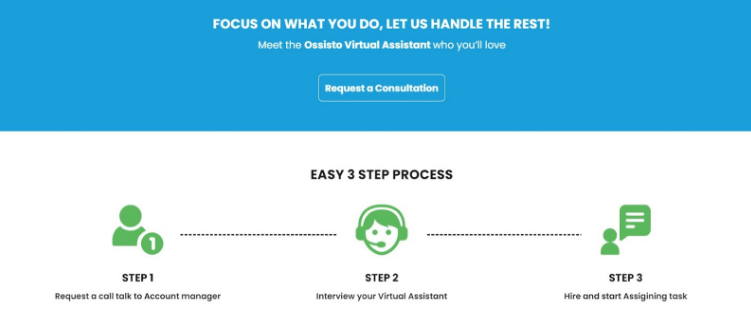 Tips to remember while hiring from Virtual Assistant Companies

Now that you know about the top VA companies, it is time to hire a VA. You can visit the virtual assistant websites to get a consultation or look for VAs. While hiring a VA, you must ensure that you find the right person. The VA you hire must be experienced, trained, and familiar with your work. You must ensure the VA can do all the tasks you assign. The following tips will help you hire the best VA.
Look for Career Advancement.
Look for a candidate who wants to advance in their career. Such candidates will put in extra effort to achieve their goals.
Look for Accomplishments and Achievements.
Find out the achievements and accomplishments of the candidates. Try to understand if these achievements help the candidate do their work better.
Ask Insightful Interview Questions.
The interview questions must encourage candidates to talk. You must ask questions that help you get an insight into their work and experience.
Consider Pre-Interview Tests.
A pre-interview test is a good way to assess a VA. The test can evaluate how competent or technically skilled the VA is. Such tests will help you find the best candidate.
Learn More Best Practices for Hiring People.
Study various best practices from your industry. Look for best practices others follow to hire virtual assistants. It can act as a guide for you.
Why Hire Virtual Assistants from Wishup?

Wishup is the best virtual assistant company in terms of quality talent. If you want the best VA you must work with Wishup. The following explains the benefits of working with Wishup.
Top 1% of applicants
Only the top 1% of applicants are hired to ensure quality.
24-hour onboarding
Once you choose a VA, the onboarding is done within 24 hours. Your VA can then start working on tasks.
Instant replacement
If you are unhappy with the VAs work, you can ask for a replacement. The replacement is given instantly.
Dedicated account manager
A dedicated account manager will handle your business. You can inform them of your needs and any problems and issues.
7-day risk-free trial
You can start with a 7-day trial to evaluate the VA's work. If you are dissatisfied, you can get your money back.
In-house training in 70+ no-code tools and 200+ skillsets
All the VAs receive training on 70+ technology tools that do not need coding. They are also trained in 200+ skill areas.

Conclusion
Virtual assistant outsourcing is a great idea for businesses. A VA performs various tasks and can reduce the workload of executives, helping them focus on growing their business. If you run a business, you can hire a VA from any top virtual assistant companies. Hiring a VA allows you to get routine and specialized tasks done at a cost-effective price.
Wishup is one of the top VA companies, and working with them will help you find the best talent. Schedule a free consultation today if you want to explore Wishup's services. You can also send a mail to [email protected] to get more information.
Frequently Asked Questions
Who is the most famous virtual assistant?
Other than human assistants, AI assistants have become popular. Siri, Alexa, and Google Assistant have become famous.
What is a virtual assistant company?
A virtual assistant company is an agency that enrolls virtual assistants. They offer their services to companies that can hire the VAs by paying hourly or monthly fees.