In today's fast-paced world, executives and entrepreneurs constantly juggle multiple tasks and responsibilities. It can be overwhelming to keep up with everything, which is where virtual assistants come in to save the day.
Virtual assistants provide remote administrative support to help professionals manage their workload effectively. With their expertise in various areas, VAs can handle routine tasks, specialized projects, and more. Hiring a virtual assistant can be a game-changer for anyone looking to increase productivity and focus on growing their business.
But with so many candidates available, it can be tough to know where to start. That's why we've put together a comprehensive guide with the top virtual assistant interview questions, tips for assessment, and the benefits of working with Wishup. Get ready to find the perfect VA to take your business to the next level!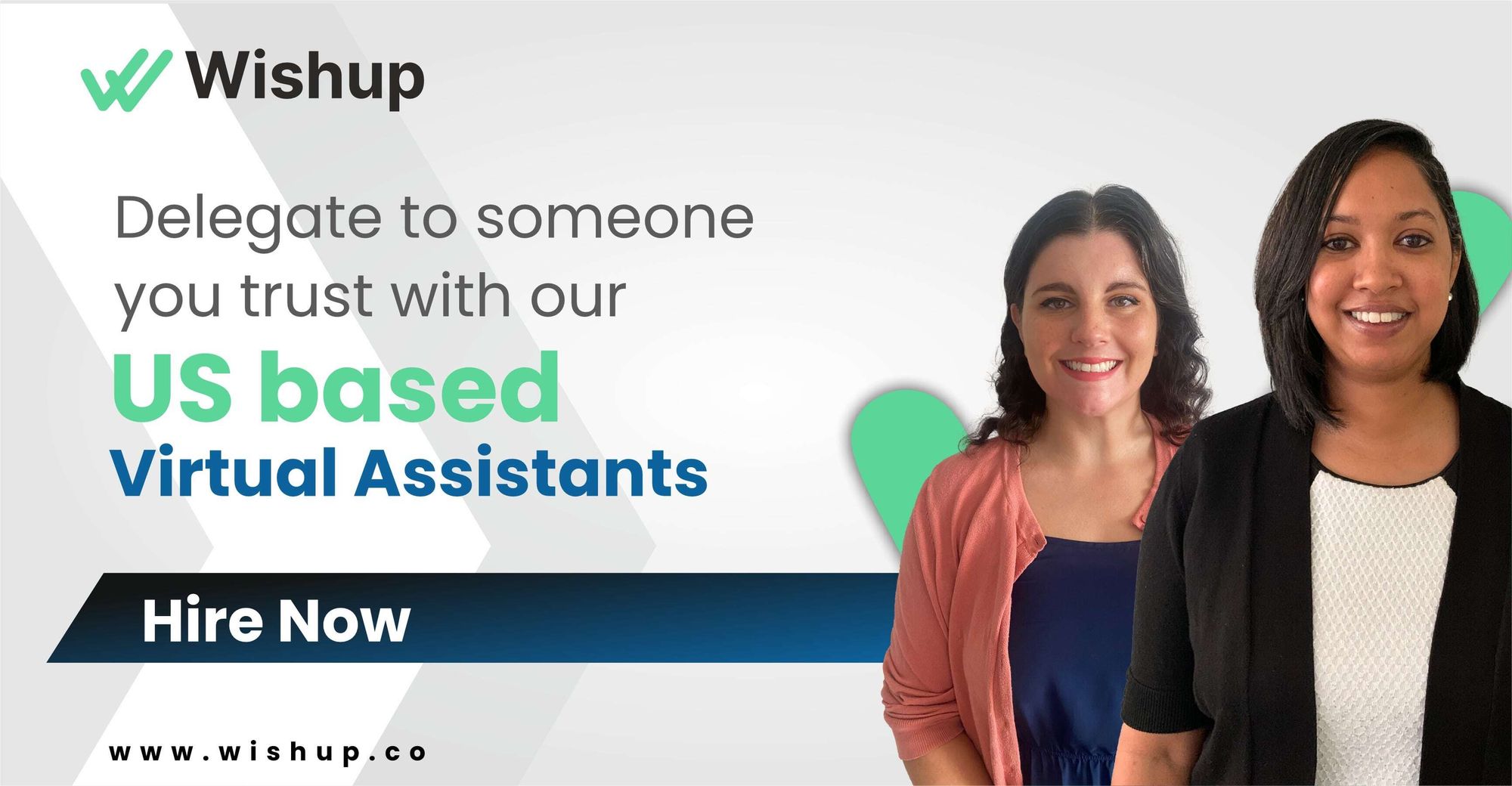 Who are Virtual Assistants?
Entrepreneurs and executives need assistants to help them work effectively. The assistants can do routine tasks and also a few specialized ones. The trend in today's market is to hire a virtual assistant instead of a full-time in-house assistant. A virtual assistant is an independent professional who offers administrative services to clients. If you hire an in-house assistant, you must provide them with office space, equipment, and facilities.
They also have to be paid a monthly salary and other employment benefits. Hiring a virtual assistant is great since it helps you cut costs. You only need to pay a fee for the services used. The virtual assistant (VA) works remotely and requires no office space or facilities. They are experienced professionals who can do the work assigned to them efficiently. Hiring VAs is a trend becoming popular and soon may become the norm.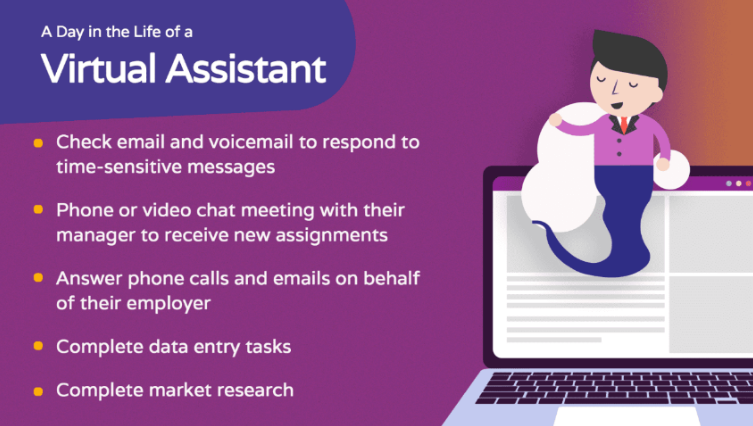 Virtual Assistant Interview Questions
The virtual assistant interview questions listed below will help you effectively interview candidates. These virtual assistant interview questions and answers will help you evaluate candidates and choose the best.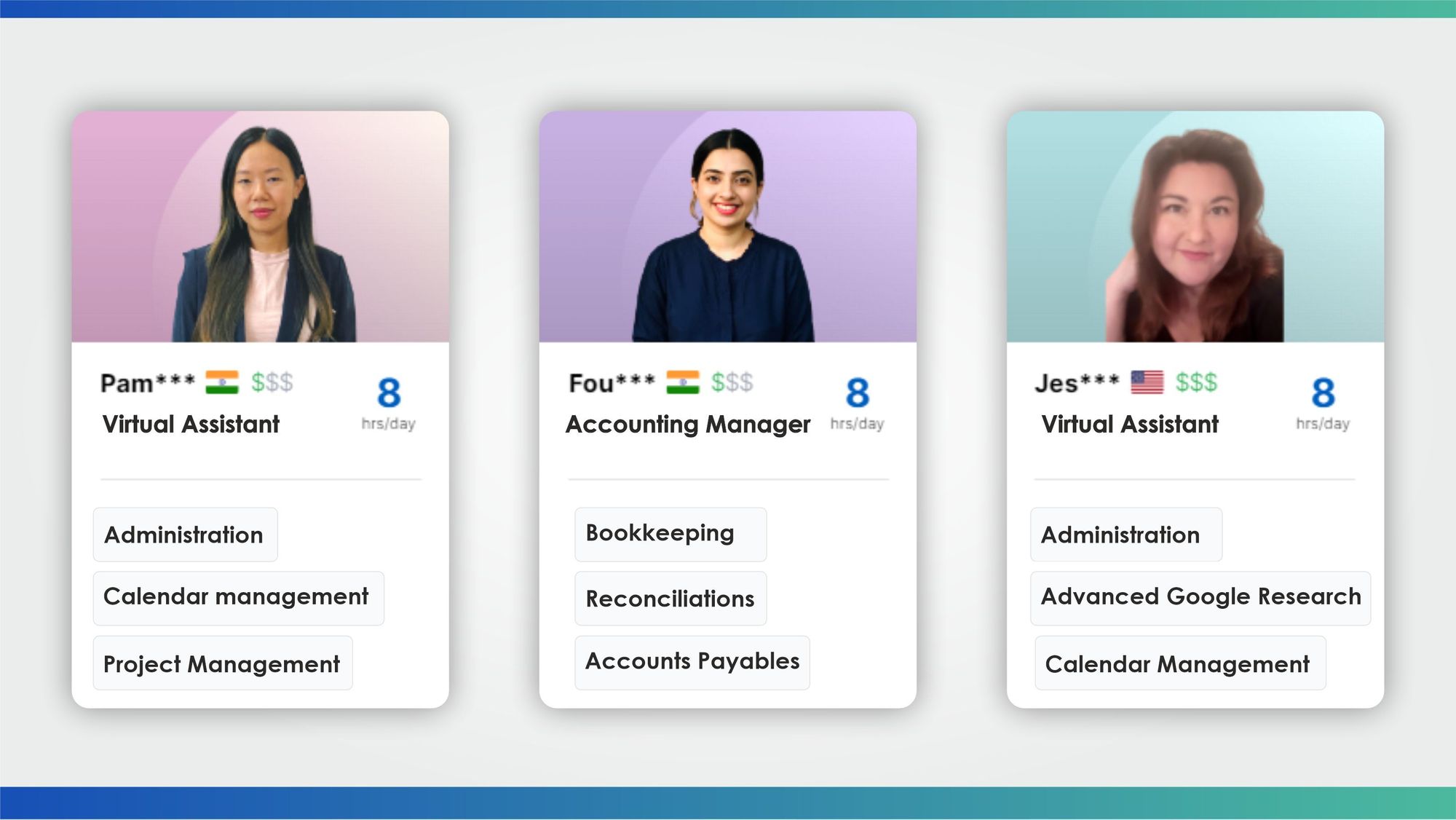 Question 1: Can you tell us about your previous virtual assistant experience?
When you ask this question, you encourage the candidate to discuss their previous work experience. The answer will help you understand how much relevant experience the candidate has. It will help you understand their previous tasks as a VA. You can also understand if their experience makes them suitable to handle your work.
Question 2: How do you prioritize your tasks and manage your time effectively?
Among the key virtual assistant initial interview questions to ask is this one. Time management is a crucial skill required by virtual assistants. When you ask this question, the candidate has to explain how they manage time and the methods they use to prioritize tasks. The answer helps you assess if the candidate is good at time management. You can also determine if they can complete your work on time. We have plenty of time-management apps to assist with our daily tasks.
Question 3: How do you handle deadlines, and what methods do you use to keep track of them?
A virtual assistant has to complete many tasks. They also need to multitask. All tasks must be completed on time to avoid missing deadlines. The answer to this question will help you evaluate how the candidate works. You can know how they manage deadlines and schedule their work. The answer will also reveal the process they use to keep track of deadlines. It is an important question since completing deadlines is essential to keep clients happy.
Question 4: Can you share your experience working with tools like Asana, Trello, or any other project management software?
Among the important interview questions virtual assistant should be able to answer is about project management. Some companies execute projects comprising different tasks. Project management is a key function where all activities must be scheduled and their progress tracked. A VA must be able to manage projects using tools like Trello or Asana. When you ask this question, you can understand the VA's experience in project management. You can also know how comfortable they are using tools for project management. It will help you assess if the VA can carry out project management in your company effectively.
Question 5: How do you handle communication with clients and ensure that you understand their needs and requirements?
Assessing the candidate's communication is essential. You must also assess if they are capable of communicating effectively with clients. The answer to this question helps you evaluate if the candidate can understand client needs and manage client communication effectively.
Question 6: Can you provide an example of a situation where you had to resolve a difficult client issue and how did you handle it?
Customer service is a key function in all businesses. You will expect your virtual assistant to handle customers. In particular, they should handle situations involving client problems. Such situations call for excellent communication and tact. By asking this question, you can evaluate the candidate's problem-solving abilities. You can also assess how they manage client problems and if their approach suits your company's needs.
Question 7: How do you stay up-to-date with the latest industry trends and best practices?
Good virtual assistants must update themselves with all that is happening around them. Through this question, you can find out if they do this. You also get to know how they do this. It could be by following the news, reading magazines, journal articles, etc. You can probe further by asking questions related to the latest trends. It will help you know if the candidate is really updating themselves.
Question 8: How do you handle confidential information and ensure the security of client data?
Handling client data calls for a lot of care. The information is confidential, and no one else must know it. Some client information may even be intellectual property. Through this question, you can understand the importance the VA gives to confidentiality and data security. You can know if they follow best practices while handling client data. It will also help you understand if they know about NDAs and their importance.
Question 9: Can you provide an example of a successful project you have completed as a virtual assistant?
You will want your virtual assistant to execute projects in your company. To determine if they can execute projects, you must know their related experience. The interview questions for a virtual assistant will help you learn more about them. You can understand their experience and their achievements. Through this answer, you will know how the candidate took up projects and implemented them.
Question 10: How do you handle a situation where you are unfamiliar with a task or software tool?
In today's world, people must be ready to learn. Whatever the job they are doing and their experience, the willingness to learn is a key trait. Virtual assistants need to be skilled in various areas. The candidate applying must be ready to learn new tools or new tasks. The question will help you assess if the candidate is eager to learn and improve themselves. An unwillingness to learn is a negative trait, and such candidates must be avoided. You can ask this question to filter out such candidates.

Question 11: How do you handle multiple projects or clients with conflicting deadlines or priorities?
VAs can have multiple tasks from multiple clients. These tasks may have deadlines that conflict. Also, both tasks may have a high priority. In such a situation, the VA must plan their work perfectly and manage time to complete both tasks. The question will help you understand the VA's time management and scheduling skills. There are different tools for managing work, like a photo editor for editing photos and so on.

Question 12: How do you ensure that your work meets the quality standards expected by the client?
Quality is imperative for success. Everyone working for a business must follow quality norms. Following quality standards laid down by clients is vital. When you ask this question, you will know the candidate's importance in following standards. You can also understand how they approach work and whether they can follow guidelines and standards effectively.
Question 13: Can you describe a time when you had to think creatively to solve a problem for a client?
Problem-Solving calls for the use of creativity and innovation. Virtual assistants deal with clients and need to resolve their problems. By asking this question, you can understand how well the candidate responds to client problems. You can also know if they have the creative ability to think of innovative solutions. Being able to think out of the box is the present need. You can assess if the candidate has this trait through this question.
Question 14: How do you handle constructive feedback or criticism from clients or supervisors?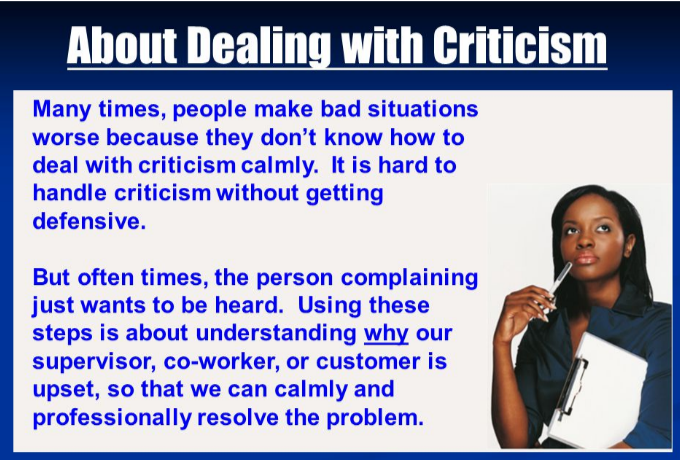 Criticism and constructive feedback are part and parcel of work life. The criticism can come from supervisors or clients. How a person responds to such criticism defines their personality. If your VA gets constructive feedback, they must respond appropriately to it. The answer to this question will help you determine how the candidate handles criticism. You will face difficulties later if they are intolerant to criticism and not ready to respond to feedback. Asking this question will help you decide whether they fit your needs.

Question 15: What motivates you to work as a virtual assistant, and what are your biggest strengths in this role?
A common question in interviews is to ask candidates to list their strengths. You must know the strengths of the candidate that make them suitable to work as a virtual assistant. This question will also help you understand the motivations of the candidate. You can understand why they want to be a virtual assistant by allowing them to answer this question. Their answer will help you understand more about their career plans for the future.
Tips for evaluating candidate responses
When a candidate answers questions in the interview, you must evaluate the answer carefully. You must use this answer to understand more about the candidate and their suitability for the job. The tips listed below will help you with this.
Look for specific examples and details in their responses
The answers they give must not be generic. They must be specific with examples from their experience. For example, when you ask about time management, the candidate must ideally give an example while answering. They must provide details by narrating how they follow time management principles in their work. Such specific responses help you know more about the candidate.
Assess their communication skills
Evaluate the candidate's communication skills during each answer. How the candidate expresses themselves helps you determine how good the candidate is in communication. They must understand your question and what you are looking for. The answer must be clear and understandable. Using words while framing the answer helps you evaluate if the candidate can communicate well.
Evaluate their problem-solving skills
Since problem-solving is a key trait of VAs, you must assess this ability through the answers. Look at the examples used to demonstrate their ability to solve problems. Use the answers to find out how the candidate approaches problem-solving. Check if they can get to the root of a problem before arriving at a solution.
Consider their technical skills
Along with communication skills, technical skills are essential for VAs. The technical skills of a VA include computer proficiency, e-mail management, basic bookkeeping, and research ability. Through your questions, assess if the candidate has these technical skills. You must also evaluate how proficient the candidate is in these areas.
Skip the Interviews - Hire from Wishup Instead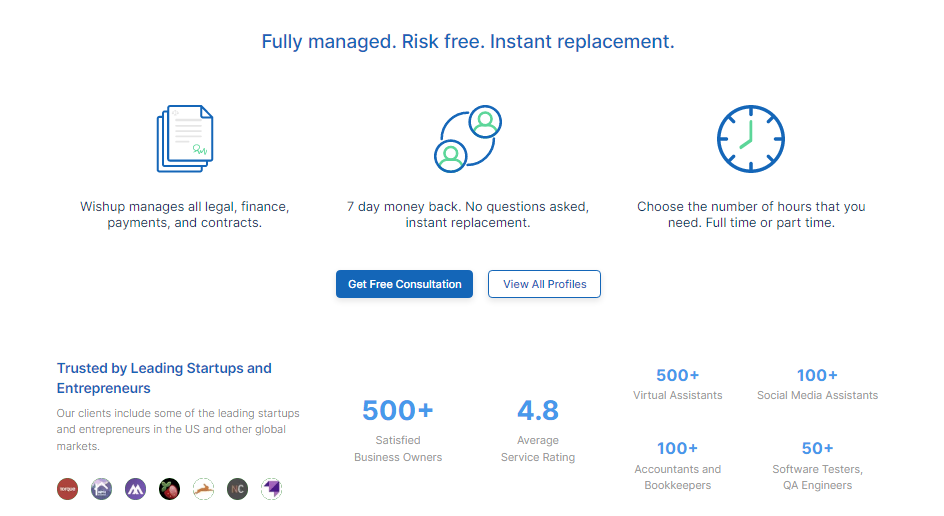 All the interview questions for virtual assistant listed above will help you assess candidates. The process of conducting interviews, asking questions, and evaluating candidates is time-consuming. As a busy entrepreneur or executive, you may not have time to spend on interviews.
A convenient option is to hire a VA from Wishup. Hiring a virtual assistant from a professional agency like Wishup that has already provided VA to 500+ businesses. The benefits of working with Wishup listed below will help you understand why they should be your first choice to hire VAs.
24 Hour Onboarding
Once you choose the VA, onboarding happens within 24 hours. It ensures the VA starts working immediately without wasting time on formalities.
Instant Replacement
If you are unhappy with the VA's work, let us know. They have a pool of competent VAs and will provide you with a replacement instantly.
Dedicated Account Manager
Wishup designates an account manager for each client. The account manager is the single point of contact for all your issues. In case of any problems, update the account manager. They will resolve your problem immediately.
7 Day Risk-Free Trial
You can start with a 7-day trial where a VA would work with you for 7 days. You can use this period to evaluate the VA's work and decide if you want to continue with them. It is a risk-free trial; if you are unhappy, you can get your money refunded without any questions.
Pre-Trained and Pre-Screened Virtual Assistants
All the virtual assistants on the Wishup platform are pre-trained. They are trained on various no-code tools and all skill sets needed for their work. All VAs are also pre-vetted. The screening process ensures only the top 1% are selected. It is Wishup's way of ensuring quality.
If you are interested in going ahead, we have a simple 3-step process to help you hire a VA.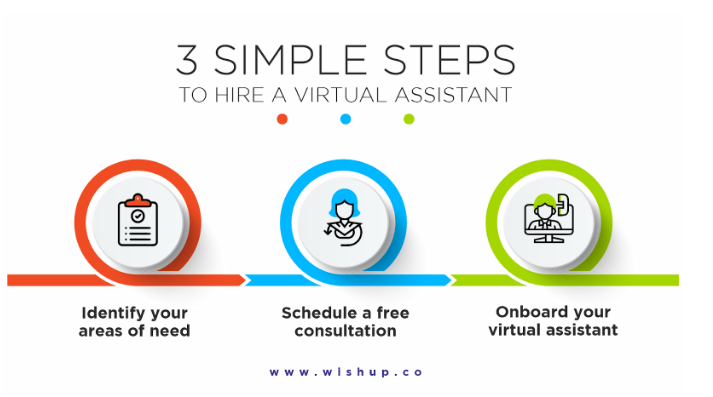 Decide your needs and the services you want from the VA.
Schedule a free consultation to kick-start the process. Wishup will then find a VA as per your needs.
Get started by selecting a VA and onboarding them. The VA will then be ready to start working.

Conclusion
Now that you have read the blog, you would have understood how to assess candidates while hiring a virtual assistant. The virtual assistant interview questions listed will help you evaluate candidates so that you can choose the best. Ideally, you must reduce your workload, so hiring from Wishup is beneficial. When you hire a VA from Wishup, you are assured of quality. You are also assured of cost savings while completing all your work on time.
Hiring a virtual assistant from Wishup has many benefits and is the best option. To get started, you can schedule a free consultation with Wishup today. You can also send them a mail to [email protected]. Make the right decision today to hire the best virtual assistant for your business.
Frequently Asked Questions
What are 3 important skills as virtual assistant?
The 3 most important skills for a VA are:
Communication skills.
Ability to multitask.
Planning and scheduling skills.
What is virtual assistant duties?
Virtual assistants can take up various duties and responsibilities. A few key duties include:
Managing calendar and schedules.
Managing contacts and handling phone calls & messages.
Research and compiling information.
Preparing reports and other documentation.
Social media management.





-->
Subscribe to Wishup Blog | Remote Teams | Remote Employees
Get the latest posts delivered right to your inbox