How to build a remote team - Podcast with Neelesh Rangwani
This podcast with Neelesh Rangwani will answer all your questions pertaining to remote work. Neelesh established wishup.co with his partner and friend Vivek Gupta in 2017 with a vision to help entrepreneurs and businesses build highly efficient and cost-effective remote teams.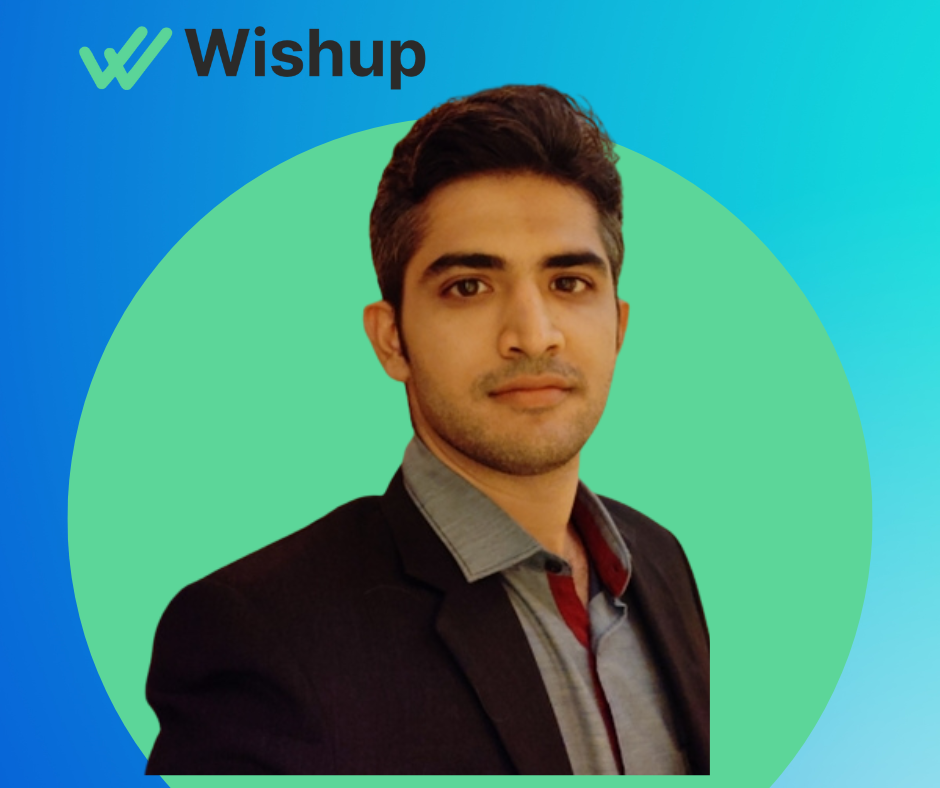 "People are more productive working at home than people would have expected. Some people thought that everything was just going to fall apart, and it hasn't."
This quote by Mark Zuckerberg aptly summarizes what business leaders think about remote working and its importance in boosting an organizations productivity.
Remote work is no longer just a trend or the privilege of a discerning few. It is here to stay, and the sooner organizations adapt to it, the better they will be able to focus on their growth.
However, setting up a remote team is easier said than done. It requires questioning existing work practices and ensuring that your organization's work culture and ethos are understood by every remote employee, no matter what time zone they work in or where they are located.
To get a better understanding of remote working and how organizations can build a successful remote team, we invited Neelesh Rangwani, the founder of Wishup, one of the earliest companies to adopt remote working (much before the Covid era), to our podcast. Wishup is a 100% remote organization focused on providing the Top 1 % virtual assistants to small businesses and helping them grow.

Here is the podcast transcript with Neelesh Rangwani, hosted by Crispino.
How did the idea of setting up a remote organization come into your mind before COVID?
This idea is actually a pivot from one of our previous models. During 2015-16, many hyperlocal companies started to function through WhatsApp.  While this idea has been relaunched recently, it originally came out in 2015-16.
The idea worked out, but there was no revenue, and gradually we realized that we would never make any. We loved the idea of funding, ecosystem, scaling the idea, keep funding the idea externally, but while we were in that loop, we realized that this was not us.
We didn't want to play the user acquisition and the funding game. But, on the other hand, certain aspects of the idea worked out for other companies like Dunzo. We realized that our customers were using WhatsApp services not for the purpose we created but for office-related work.
So we studied these clients in detail and found that most of them were entrepreneurs from India, and that's when the idea of a small organization came to us.
We researched a lot on this and found out that this is an existing idea where people work remotely as virtual assistants, software developers working from different parts of the world for clients in the US and other countries.
It made us realize that India is an excellent market for the same. With the number of people getting educated every year, this is a great way to make India an office for people in other countries. So we executed and started before COVID.
How did we end up making America our target country for clients? How did that transition take place?
In 2017, we started with clients in India and got good responses, but retention was a significant drawback with Indian clients. During that phase, we thought we didn't add value to these entrepreneurs, or maybe they had not realized how micro-outsourcing added value to their business.
Maybe they still don't value it, and a significant reason is the huge availability of employees in India. So we started it in the US to add more value to businesses, and it clicked instantly. We did some research about our clients and the retention rate, and based on that, we found that New York and San Francisco are the best markets for our business.
What are the benefits of outsourcing for a company from the US? Why should an entrepreneur from New York or San Francisco consider hiring from Wishup?
"You do not have to hire employees on a payroll. "
Along with this, you would not have to pay a recruiter to get through the hiring process and find the right candidate for you and fill the position. If you do not have an in-house recruiter, it will cost you both time and money.
During the process, if you select the wrong candidate or the person is not adding any value to your business, you must go through the process of parting ways with the employee and refiling the position, then recruiting again.
All this is solved by outsourcing in general, including time, money, and efforts which can then be diverted to growing your business.
There are no admin costs. You don't have to invest in systems for your employees, no spending on electricity, and an internet connection, save on travel expenses, and take the necessary steps to save the environment.
An American entrepreneur does not have to pay taxes to avail of our services as it is a service, and taxes are supposed to be paid when you pay an employee and not for a service. Therefore, when you pay for a service, it is considered to be an expense and not a payroll which is a great advantage for entrepreneurs and business owners.
It's risk-free hiring as no long-term commitment is required for outsourcing. An entrepreneur from America can avail of our services when they want and switch them on and off according to their convenience without worrying about commitments.
American startup owners and business owners can hire the best talents from across the world at a fraction of the cost. Outsourcing opens up a window of opportunities where you do not need to settle on the local talent available but the best you can get.
The virtual assistants are trained for about 4-6 weeks, depending on the candidate's performance, and only 1% or less than 1% of the applicants qualify to become virtual assistants.
Such measures are essential to ensure that the client gets the best quality when availing of virtual assistant services from Wishup.
What is it like to manage a remote organization?
There are many things to consider when it comes to managing a remote team, starting from the feeling that people who go to offices have more important jobs than us.
We slowly started seeing our team grow, and getting more attention from stay-at-home mothers. Our remote work option was a great advantage to them, and even right now, we have many stay-at-home mothers on our payroll. They are loyal, talented, proactive, and above all, the star performers in the company.
But as our team grew in number, it became difficult to manage. Many HR-related problems started to occur where people would not report on time, and other issues originated mainly because they were not physically present around each other.
During that time, many managers stepped up and started to micro-manage in a positive way where they would keep in touch with the employees. Things evolved over time as there were no time-tracking tools back then or the right software to manage such things.
Management is much smoother now; we have different software and tools through which the employees and managers communicate.
How is performance assessed in a remote setup?
In Wishup, the employees have two types of roles: client-facing and internal. In client-facing roles, the performance is based on the feedback mechanism that the clients provide.
Clients can give stars, testimonials, and feedback through client success calls based on the stars. We assess the performance based on that.
The internal team's mechanism for assessing performance is somewhat the same as other organizations.
The sales team has sales goals., while the marketing team has marketing goals. Based on the performance, it's the same as any other organization with little difference.
What attributes to growth in remote organizations? Wishup has seen tremendous growth over the past years. What do you think is the reason?
The primary reason for the company's growth was the process we had for everything. Each company has its process of working and growth, which seemed to work for us.
The second is that people started seeing the value of Wishup and our services on both sides: employees and clients. Employees who joined our team saw a hike in their pay in time, and clients got high-quality talent at an affordable price.
That made us stand out, and people started to notice us, which worked well, and that's when COVID hit, and remote work became a necessity.
That time was hard for everyone as we lost a few clients who lost their business, and on the other hand, we found new clients as well who wanted to build their team remotely.
Will remote work sustain?
When remote was a choice, not everyone took it seriously. Still, when it became necessary, people realized this was much better than being physically present in an office. When people realized this, the first people to opt for remote were the employees.
This is because they didn't want to go back to the office, but most of them didn't, while there are people who still like to work from an office. So when the market realizes the potential of remote, most companies and startups in their initial phase will be remote first.
Once people and organizations realize this, they will know that remote is the way to go as more employees will demand the same. Along with this, it has added advantages such as saving on infrastructure and travel and not contributing to environmental damage.
More than 67% of remote organizations fail to set up; what do you think could be the reason?
Many issues and concerns creep up for people who have never worked remotely and are used to the office setting.
However, the first and most important thing remote work needs is more trust within your organization. If an employer cannot trust their team in a remote setting, then they cannot be successful in setting up a remote team. Therefore, the people who are hired for remote work should have specific characteristics to be suitable such as being high on ownership.
Ownership is an essential factor that determines the success of remote companies. If an organization is built on the terms of a manager making the employees do their work, then those organizations will find it extremely difficult to be remote.
If everyone in the team does not own up to their responsibilities, it disrupts the organization's workflow.
What are the three important things for a remote organization?
A significant factor affecting remote teams' functioning is that people don't document things. Remote work culture highly depends on documentation, communication, and sometimes overcommunication.
While managing a remote team, you need to make process books for every department. This helps in guiding the new employees as well as the existing ones on how to manage a particular situation that has happened in the past as well.
In addition, everything needs to be documented, and remote demands this. Documenting is a good process for any organization and must be practiced.
Another thing to remember in a remote setting is that everyone cannot be in front of the screen all the time, which is where a lot of delays happen when you ask a person something and wait for them to reply in their own time.
So along with asynchronous communication with your team, you also need to over-communicate. You should not be simply typing a message and assume the other person understands, but you have to make them understand and explain the process so that you can be sure that the message is delivered.
What are the benefits of hiring from Wishup?
We hire only the top 1% or less talent to provide our clients with the best quality of work. We train our employees in many valuable tools, including remote tools, that are mandatory for any organization today.
Every employee has access to the team through Slack to upskill themselves and even solve their queries. Employees work as a community and help each other based on their knowledge.
Why did you decide to expand and hire US-based Virtual assistants?
Earlier this year, I went to the US and met many of our clients in person. The response to our services was really good; they loved our services and had nothing to complain about.
They only wanted to outsource tasks like customer services, where the assistant had to speak to customers over a phone call. Moreover, they wanted them to speak the native tongue, which was American English, for us. That's when we thought of giving US-based virtual assistants a chance and trying how it works out.
Get started!
If you want to build a remote team but don't know whom to ask, all you need to do is reach out to Wishup. With over 500+ small businesses served to date and an average service rating of 4.8, we know what it takes to build a remote organization.
To learn more about us and our virtual assistance services, visit our website, www.wishup.co, and avail a free consultation (plus a $100 off voucher) or write to us at [email protected].