Team Collaboration: 16 Best Remote Work Tools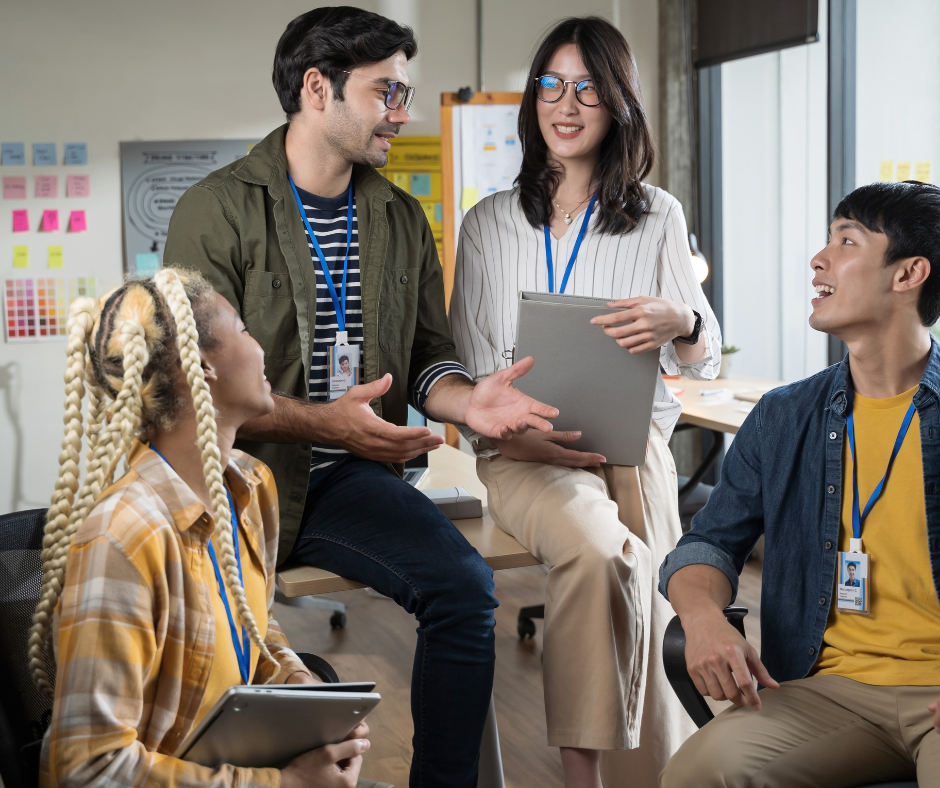 Remote work is the new normal and the trend with the start of this decade. Remote working has made most employees realize that it is always a better option to go for it since it helps balance work-life. Ultimately, it helps employees have a great time managing the stress of tasks and ongoing milestones of their lives.
Although working remotely is challenging, 77% of responders say they would be happier if they could work from home after COVID-19.
Remote work has its own positive and negative aspects. For example, employees can find more time to spend with family and friends or work from any place.
On the other hand, employees will be deprived of direct conversations with colleagues, management, and subordinates. That might hamper productivity and task management.
However, you will need different remote work tools to manage the team properly and get all work done. Also, the employment tendency has been slanted more toward remote positions, which is why the number of remote work tools has also increased vastly. Therefore, we bring you the best team collaboration tools with which you can manage your work.
Top Remote Work Tools
Tools that help manage a team of employees working from different places remotely are called remote work tools. These tools help track employee productivity and fill the communication gaps between the groups. The main motto of such tools is to enable you to distribute, measure, monitor, and track work remotely to the employees just as you would if working from an office.
Zoom
Source: https://blog.zoom.us/wp-content/uploads/2021/09/zoom-whiteboard-main-2.png
Zoom is one of the top known tools for working remotely. Zoom has been running successfully since its introduction during the pandemic lockdown. With the help of this tool, video conference has become so easy.
Along with all these features, this secure messaging app has a significant part in recording the meeting and whiteboard features. In addition, you can also organize webinars since the video quality of this tool is excellent.

Google Hangouts
Source: https://cdn.mos.cms.futurecdn.net/4b39FMBL9wGUHZWAFvJRF-1200-80.jpg
With Google Hangouts, you can chat with other Google users or make voice/video calls. Mobile apps and the web version of Google Hangouts are available. In addition, in the bottom left corner of the Gmail home page, users can access Hangouts directly.
Google Hangouts is a free, simple communication tool ideal for independent users. However, this isn't the best software for video conferencing for businesses.
Webex Cisco
Source: https://www.crn.com/resources/026a-12853941a7d5-288bffbd6842-1000/cisco-webex-in-meeting-gestures.jpg
WebEx Cisco is another popular remote work tool. It has unique features. For example, long meetings are effortless to access through this tool. Also, the video chat option makes this tool popular.
With Cisco's WebEx, users can create and attend meetings in customized video meeting rooms. Teams, webinars, training, and customer service can all be done using WebEx.
Friday
Source: https://friday-marketing.cdn.prismic.io/friday-marketing/6d599374-de10-41f4-ae5f-5ba77054fa7f_Routines+-+1.svg
Friday tool is one of the components of Microsoft teams or Slack. This one helps you automate meetings quickly and get updates for teamwork. In addition, Friday helps you process and create a structure of the meeting like you want on a weekly or daily basis.
It also has convenient features like creating team profiles, templates, and meeting check-in. In addition, Friday enables you to integrate with other work tools like Zoom, Trello, Google Meet, Asana, and GitHub. Finally, you can track your goals with this tool's help and access a handbook to connect values for your goals.
Slack
Source: https://a.slack-edge.com/c5da2d2/marketing/img/downloads/refreshed/slack-client-windows-desktop.png
Slack is one of the most popular tools for remote work, as it has features like using Facebook messenger while doing an office job, with integrated Trello, Google docs, and other tools. Also, this tool is a better option for 1-1 conversations, although you can still use it for a group discussion.
This tool makes it easy to create channels that seem like group chats. The drawback of Slack is that you need to set up boundaries, or several conversations can start at once, which might get difficult to track.
Also, this app shows a lot of notifications, which is not accepted for any job-related tool. Though for a feature like Facebook Messenger, this tool has received a lot of acceptance.
Trello
Source: https://images.ctfassets.net/rz1oowkt5gyp/4kCNudjaBYj90CGgG7Lict/cbafa67336b2007278f50d99ceabfb22/Boards_2x.png
Trello is one of the finest tools for project management. This tool is also a good option for productivity. With the help of its visual board, you can manage projects efficiently.
Trello is mainly used as one of the best project management software, as this can show different comments and tasks with a simple touch. However, being too organized for the users, this tool is easy to use and has various customizable options.
Tettra
Source: https://tettra.com/wp-content/themes/tettra-2016/images/features/feature-4.jpg
Tettra is one of the widely sharable tools for many people. This app is simple and has some essential features to help spread and share ideas and knowledge with people from anywhere. It has a feature for institutional knowledge and an option for file sharing.
You can use Tettra to answer your team's repetitive questions in Slack or MS Teams by storing your company knowledge in a centralized knowledge base. It also integrated well with Google Docs to reduce repetitive queries to respond to internally and externally.
GanttPRO
Source: https://www.predictiveanalyticstoday.com/wp-content/uploads/2018/07/GanttPRO-Gantt-chart-software-1000x538.png
A great project management program that uses Gantt charts is GanttPRO! Whether you report on percentages or visualize project management results, GanttPRO will be your best friend. Drag-and-drop simplicity enables you to create, structure quickly, and automate online project management.
Using the Gantt chart maker, you can track progress, assign resources, and manage teams. Cost estimates are also possible. In addition, you can trust GanttPRO because high-performing teams at Sony and Salesforce already use it.

Remote HQ
Source: https://images.prismic.io/remotehq/c04fe814-23d9-4216-8719-f50d0154198d_remote+browser.png
Remote HQ brings all the applications you use together. So, you can modify what you want in one place. This remote work tool gets used as a workspace for teams working remotely. Also, Remote HQ collaborates with other third-party rem progress.
With RemoteHQ, remote teams can browse the web in a new way. It offers a multiplayer cloud-based browser. With the everyday remote work stack, you can co-browse and co-edit any web app with your team or customers. Imagine it as an interactive screen-sharing experience.

ClickUp
Source: https://clickup.com/images/poster-images/videos/main/views.png
ClickUp is a great productivity tool. This project management software is cloud-based and helps a team to work collaboratively with different listed projects in one place. These projects can be enlisted depending on the deadlines and importance. Also, the documents under this tool can be utilized by multiple persons and can be edited while collaborating on the work.
All types of businesses can use ClickUp, especially those working remotely with clients. Setting up separate workspaces for different projects is easy, and adding team members is easy. In addition to providing many features such as time tracking, task dependency, etc., and an easy-to-use user interface.
Loom
Source: https://www.protocol.com/media-library/loom-hq.png?id=29611173&width=1245&quality=85&coordinates=0%2C0%2C0%2C0&height=700
Loom is one of the essential tools for screen sharing and team meetings, especially for remote teams. This tool has a feature to record the live camera while the laptop/desktop screen is shared. You can generate a different link for each video and share it with other people on the team to access the video easily.
You can access Loom from Google Chrome and store the videos in a library. But the only drawback of this tool is that it is not a freely accessible tool.
GitLab
Source: https://docs.gitlab.com/ee/user/project/img/issue_boards_core_v14_1.png
GitLab is a vital tool for engineers. With its DevOps platform, teams work together more effectively and develop faster. In addition, it helps the engineers to collaborate on the coding with the team. Utilizing this tool takes coding to another level, benefiting collaboration and well-organized systems.
The functionality and features of applications are the same as controlling different code versions. For example, version control systems like GitLab offer many features such as creating repositories, pushing/pulling the code from these repositories, merging the code into branches, etc.
PizzaTime
Source: https://assets.website-files.com/6218028627892908bf43b114/625e4215877c100cfccc54c1_pt-hero-laptop-p-800.png
As the name suggests, this tool not only helps during breaks from remote work. Pizzatime lets you share the refreshment time with your colleagues while helping order meals and coffee. Adding food, drinks, and unique experiences to team-building, brainstorming, product demonstrations, and virtual conferences is straightforward with them.
ProofHub
Providing a comprehensive set of collaboration and project management tools, ProofHub is a work management tool. Files and documents can be organized, projects can be planned and monitored, and you can discuss them with colleagues and stakeholders. A proofing tool is also available in ProofHub for reviewing and approving documents.
Milanote
Source: https://images.prismic.io/milanote/fe89acd7-6881-4ff3-923f-08fff37dfce0_Agency-design-brief-board+example.png?auto=compress,format
As a qualified blogging tool, Milanote serves several purposes. Firstly, you can create excellent visual boards by organizing creative projects with this tool. With this application, you'll feel like working on a wall in a creative studio. For designers who work remotely, Milanote would be a good fit.
Milanote has been designed to function more like a canvas than a legal pad when taking notes. But, unfortunately, there aren't enough features for it to be truly satisfying for visual people now.
Wimi
Source: https://www.wimi-teamwork.com/static/medias/wimi-teamwork-task-screenshotv6-01.jpg
The application offers users a unified workspace to manage projects and share files and calendars among teams. Workspaces in Wimi can be controlled according to rights. Cloud technology can be made the most effective with their file syncing software, Wimi Drive.
With Wimi, you get dedicated workspaces including social networking, file sharing, collaborating, calendar sharing, instant messaging, and video conferencing.
Thousands of businesses ranging from small and medium-sized businesses to Fortune 500 companies use this solution to save time and make their teams more productive every day.
So, while choosing your remote work tool, you need to focus on the tools that help in your type of work and the mood the best. There are different types of devices on the internet, so choosing them wisely after knowing all the features is imperative.
Fyle

Source: https://fylehq.com/

Fyle is a spend management tool that enables real-time expense management on cards you already have. Finances teams get notified of spend as soon as your credit card is swiped and can collect receipts in real-time via text. By gaining access to real-time data feeds, they no longer need to be dependent on bank feeds.
Conclusion
The world is leaning a lot more on the side of working from home or from anywhere but the office. Therefore, you need some different tools dedicated to controlling and managing the remote work for remote work. There are different types of remote work, so that you will find different types of remote work tools. The tools mentioned above are some of the most acceptable means to manage remote work. You just need to see which ones suit you the best per your work requirements.