The Benefits of Marketing Outsourcing for Small Businesses (and a Few Tips!)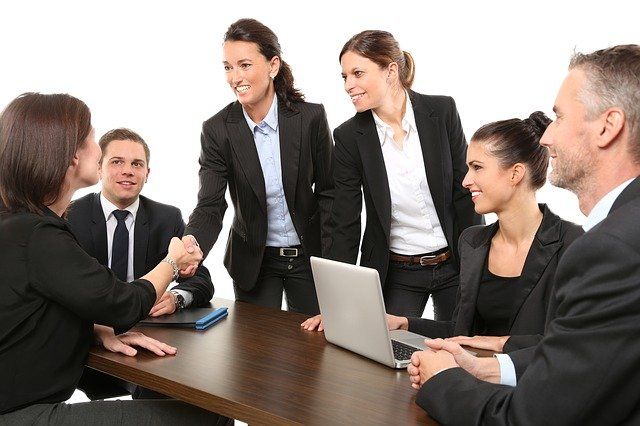 Did you know that according to Hubspot, global retail sales are expected to climb to a staggering 26 trillion dollars (19 trillion pounds sterling) entering into 2022? Harnessing your business' share of these conversions requires a masterful marketer who can take your business directly to your ideal client, boosting your authority and presence online.
A large number of businesses are choosing to put their resources into a hybrid marketing model, which many owners feel is overwhelming to learn.
The good news is that you don't have to work overtime developing your marketing plan - you can choose to outsource your marketing, saving you valuable time and money.
In this article, we'll be covering the benefits you gain from outsourcing your marketing tasks, popular areas in which to outsource, and top tips you can use to choose the best marketing agency for your business.
Benefits of Outsourcing for Small Businesses
Outsourcing your marketing brings many benefits for your business. Whether you're just launching or you're a seasoned business owner, marketing can be easily transitioned to an outside agency, allowing for several gains - including:
●     Saved time - No more burning the candle at both ends trying to train on SEO, copywriting, and graphic design concepts!
●      Saved money - Ad campaigns are expensive. Using a professional agency that knows various internet and print marketing platforms' guidelines, preferences, and styles, you can be efficient and targeted with your efforts.
●      Saved resources - Your skills can be more efficiently used in running your business and managing your team. In addition, a marketing agency can free up brainpower and other resources that you can use to pour into your business or yourself!
Despite these benefits, many business owners may still question delegating their marketing needs to a professional agency. One of the roadblocks for business owners regarding marketing task outsourcing for small businesses is a lack of clarity on what to delegate. The world of print and digital marketing is dynamic and requires a trained professional to execute properly. Below, we've summarized some of the most common tasks that you can outsource for your business.
Email Marketing Campaigns
If you provide a good or service, you've likely looked into creating a regular email list or newsletter service for your site subscribers. Email marketing can offer you a new method of reaching your target demographic and is one of the most commonly outsourced tasks. You can consider looking for a full-stack marketing agency to assist in creating the automation, design, and other components. Alternatively, you may only need a copywriter to assist with the content itself if you have email automation systems in place for distribution.
Social Media Content Creation
Social media is a broad term for the countless apps and platforms available to your business to market its products and services. As such you need to ensure that the content you put out is both interesting and engaging for your customers. It is a task best left to experts in social media content creation.
Small businesses with limited resources and manpower can benefit immensely by outsourcing their content creation to social media experts and also save their valuable time.
Ad Creation
When it comes to Facebook or Google Ads, many businesses choose to call on agencies' services for their needs. That is because Facebook, Google, and other similar ad platforms have very extensive and restrictive requirements for each ad - generally requiring a trained professional to help you save time in your business.
Focus Points for Business Marketing Outsourcing for Small Businesses
When evaluating what to outsource, you may choose to delegate one component of your marketing strategy at a time (such as social media management, and then ad creation, etc.) Alternatively, you may choose to delegate it in totality. In either case, some common aspects and tasks often get neglected when creating your marketing task list. When evaluating your delegation process, these elements of marketing can help boost your business: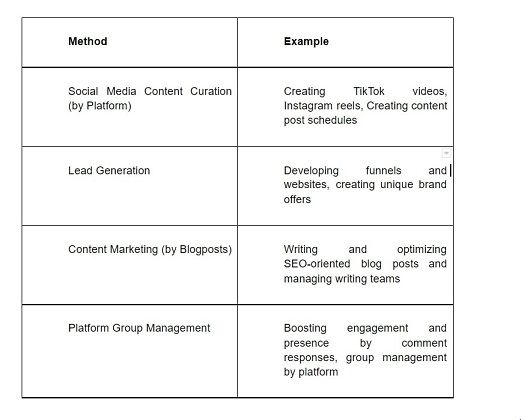 Marketers hold such value in the business space because they do more than simply market - they refine and perfect your unique brand tone and messaging in a way that will speak to your ideal customer on every platform they are on!
Content marketing and lead generation are just two of the most underserved business needs on the list that your agency can help with. The act of outsourcing in these two areas alone will allow for a greater brand presence and authority on a variety of new and relevant platforms. There are only so many hours in a day, and with a simple act of delegation, you can experience what a skilled marketer can do, tailored to the business's unique needs.
Tips for Choosing your Agency when Outsourcing for Small Businesses
Choosing your marketing agency is a process that requires careful time and attention. You want to choose an agency that will partner with you in your business and brand messaging and truly make your brand voice shine.
Below, we've compiled a list of the top tips you can follow when selecting your marketing outsourcing agency.
Research, and don't be afraid to ask questions. Your experts should feel comfortable providing you with samples and case studies to illustrate their abilities.
Search with a budget in mind. Marketing is a service, as well as an investment. It can help you narrow your search parameters if you enter the field with a budget in mind.
Create your list of marketing goals. Marketing looks different in every business. Therefore, it can be of value to you to pre-set your marketing goals and get your agency working on them as soon as possible.
Tips for Outsourcing Marketing to your Marketing Agency
The process for outsourcing can be greatly simplified with a predetermined plan and process. However, if you aren't sure where to begin, your marketing experts can help guide you through the process of creating a workflow. We've compiled three tips to help make this transition as painless as possible:
Have an open mind. While process adherence is a great idea for efficiency, you may need to continue adapting and refining the workflow throughout the process. That is perfectly acceptable and will lead to a process that works well for both your business and the agency.
Be communicative. Involve yourself in the process, and communicate any changes promptly. It helps your team of editors and writers adapt quickly and provide you with quality content. More efficiency for everyone!
Be organized. If you have a project management tool, research if they have any helpful templates specific to marketing. If you don't, nearly every project management tool has options that you can use to make your processes more efficient and organized.
About us
100 Pound Social offers done-for-you social media and blog articles, as well as effective B2B Lead Generation. Plans start from only £100 a month and are backed up by our 20-day money-back guarantee. We've worked successfully with a huge variety of industries, including SaaS, Finance, Marketing, Recruitment, and more.
Join a free, interactive demo to learn how we can build your company's social media marketing.
Facebook: @100poundsocial
Twitter: @100poundsocial
LinkedIn: 100 Pound Social
Victoria Lee co-founded 100 Pound Social in 2017. She began her career in Journalism before moving into digital marketing in 2021.