7 Reasons Why Coworking Space Services Can Help Your Business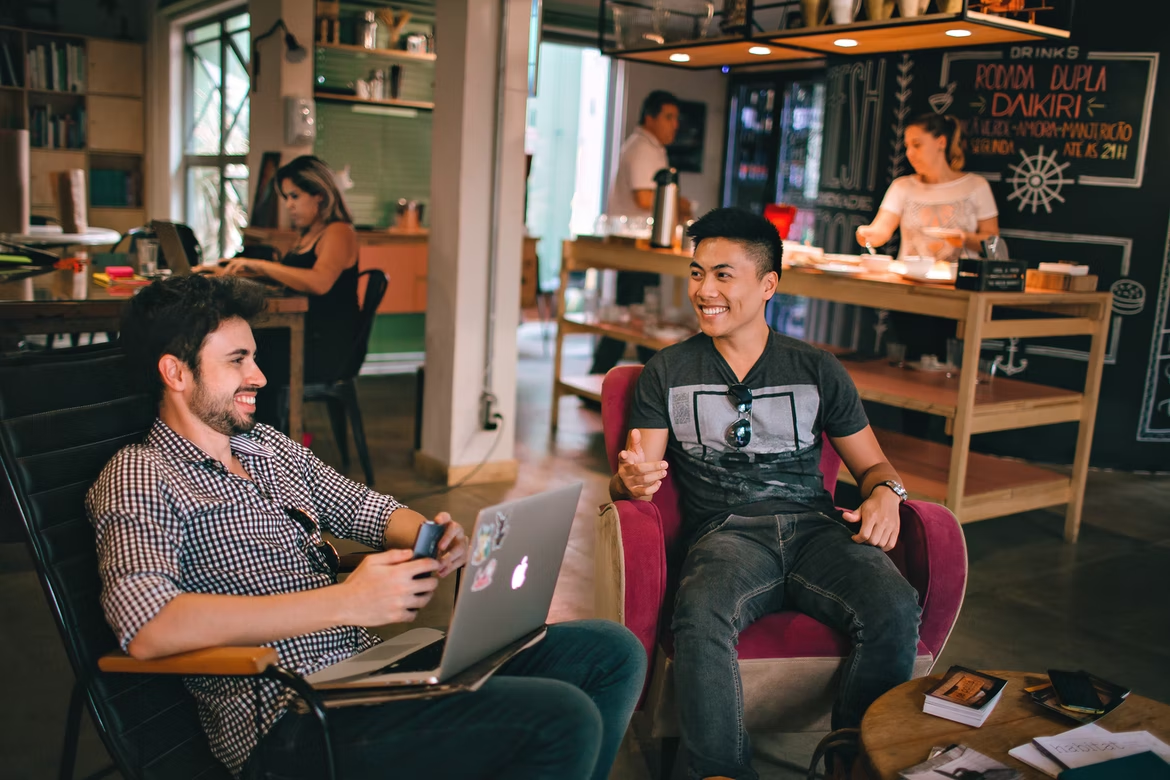 COVID-19 caused a global business model transformation. Due to the number of restrictions in communication and contact between people, it became clear that businesses need to adjust to the existing market conditions. Nowadays, we can see that remote work and hybrid work tends to be the most common means of organizing work.
A new study by global staffing firm Robert Half shows that 51% of all employees prefer a hybrid work arrangement, where they can divide time between the office and another location. But how to do it without increasing expenses? How to save an inspiring and motivating atmosphere in your team? It's a problem that can be solved with coworking spaces.
If you think that the idea of using a coworking space is a fiasco for your business type, you are mistaken. This article claims that coworking spaces are rapidly developing and can be used for every business model (e.g., did you know that Uber started its business in a coworking space? Or that there exist female-only workspaces, virtual coworking offices, and many other types?)
What is a coworking space?
So, what comes to your mind when you think about the coworking space? Of course, firstly, you thought about the ability to manage a cost-saving workplace. But this concept has a deeper meaning.
According to WeWork, a coworking space is an environment designed to accommodate people from different companies who come to work. These workspaces are characterized by shared facilities, services, and tools.
Coworking spaces are community centers, collaboration hubs, and social spaces where workers from different backgrounds can come together to share expertise and explore new ideas. Usually, talking about coworking spaces, we are talking about the community, flexibility, accessibility, and creativity.
Nowadays, many companies use coworking spaces as a substitute for the office or as an alternative for remote/hybrid work.
As a side note, if you want to learn more coworking and flex-space-related terms, you can find them here.
So, why coworking space services can help your business?
1. Investment in a coworking space will decrease your expenses
Thinking about a cost-saving way of organizing your work? Coworking spaces can deal with it.
If the business owner wants to re-evaluate his business model, it can be a perfect fit. With coworking spaces, you can organize your workspace purely for your needs. For example, it can be a place for meeting with clients or partners, a flexible office for your employees, or a base for your business. No matter what is your business reason for using coworking spaces, you will find a suitable solution for it.
The most tempting advantage of using it can be seen in comparing coworking spaces with a traditional office. First of all, you don't need to pay for the office rent (rent prices for the coworking space are more affordable, and there is no reason to commit to long-term leases). Next, look for the right place where it can be, and buy some furniture.
Then, you can just find a coworking space with the smart offices and furniture you need, book it with the booking system available online, and start the working process. By the way, it costs much less time than organizing the entire office.
Source: Unsplash
Usually, the price of the workspace is highlighted on a coworking platform so that you can choose the option that will fit your budget the most. Also, the price of membership in coworking spaces can differ from city to city. And, of course, if you want a luxury room or a workspace in the center of New York City, be ready to pay a higher price.
Coworking space is a perfect solution for startups and small businesses. It allows you to have a large number of workers and not worry about the office at the same time. Using coworking spaces can have an advantage for remote businesses as well. If you don't have an office and work remotely, a coworking space is a great way to change your work location and work more effectively.
2. Socialization
As it was said at the beginning of the article, remote work tends to be a trendy method for work organizing these days. It can be a great business model, but what will we do with the importance of socialization in the workplace?
Strong emotional connections between coworkers enable the team to trust each other and work effectively together. If you want to receive profit, the happiness of your workers matters a lot. So, make sure they can communicate openly in the real world.
Source: Unsplash
Many coworking spaces are located near coffee shops, sports facilities, and transportation hubs. Unlike remote work in coworking spaces, workers will be able to have a flexible and comfortable workplace and a chance for casual conversations from time to time to keep their necessity of socialization at the correct rate.
Sometimes a little conversation can save the day. Also, coworking spaces often organize many wellness activities (such as yoga and meditation classes) to help members stay healthy and balanced.
3. An ability for the new acquaintances
When you work from a coworking space, be ready to interact with other open-minded small business owners and professionals. It's an excellent chance for you as an owner of your business to develop your network, which can lead to new collaborations and partnerships in the future. It's always easier to function in a business field when you know that you are not alone. Also, new meetings can be very inspiring and motivating for you.
4. Find new talents
Do you need to find a new SEO specialist quickly? Or maybe you are looking for a new web designer? Coworking space is a big opportunity for you to search for new talents!
Due to an extensive network system that usually takes place in every coworking space, it's not a problem to find a person who will help you solve your problem (e.g., to take a view on content on your website and give some suggestions). Moreover, most of the time, people who attend a coworking space are freelancers who specialize in their niches. So if you need some fresh thoughts and views, it's a great way to get it.
5. Inspiring and thematic atmosphere
Tight office rooms with boring white walls are in the past. Nowadays, one of the most effective ways to increase your employees' motivation and boost their mood is to have a very creative environment. What about some art on the wall? Ergonomic furniture?
It's hard to organize something like this in the office, but coworking spaces have a lot of different variants that can touch your soul. For example, there is a trend for food coworking spaces, where you can find kitchen space fitted out with essential commercial kitchen equipment, coffee, hot desks, etc.
Source: Unsplash
Another benefit of using coworking spaces is that you can find a space that is relevant to your field. For example, there are a lot of coworking spaces for musicians, pet supplies entrepreneurs, rural coworking spaces, and female-focused hubs. Just choose the one that will be most suitable for you, and you will get an excellent opportunity to work in a cozy motivating atmosphere that reminds you about your field and can inspire you a lot!
6. Flexibility
With coworking spaces, it's easier to implement the hybrid work into your business. Coworking culture is an excellent solution for small businesses, freelancers, remote workers, and corporate organizations. Usually, coworking spaces are accessible 24/7, so your employees can work when they want, even at night.
Of course, it doesn't mean that your workers have to work night hours, but there can be such situations when you have a time difference with your clients or partners, and a coworking space can offer you a great workplace without interrupting your family members.
7. The simplicity of getting co-working space services
Nowadays, it's effortless to book a meeting room or a desk in a coworking space. There is a lot of modern coworking space software with great design and simplicity. Some vendors offer mobile apps, which are very comfortable if you want to book a conference room while you aren't at home or don't have access to your desktop.
Most coworking apps include the possibility to unlock doors with a mobile app, make payments, join events, apply for benefits, and more. Also, you can change your settings or have customer support 24/7.
Conclusion
To run a business is a hard job. You need to think through many details: choose the model of your business, how your employees will work, how to pay taxes, who is your target audience and how to attract them, where to find new partners for the new development, and many other things. It's hard to keep it all in your head. But using coworking space services can help you in solving most of them.
You can create a wide network, search for an additional view on your projects, and find a thematic interior - all these things just in one place. Coworking is not only about the way of using a workplace but also about strong friendship, teamwork, accessibility, and creativity.
—
Author's Bio
Helena Sorokina is a marketing associate at and cards, in love with modern coworking space software solutions, business development, literature, and everything in between.