Virtual Assistant Cost: A Detailed Cost Analysis for 2023
Cramped with work and need assistance but afraid of outsourcing due to the association of high costs? Well, a virtual assistant might just be right for your budget. Check out to find out how much does it cost to hire a VA in 2020.

As businesses work towards staying ahead of the game in terms of efficiency and productivity, virtual assistants have become an increasingly popular solution. Virtual assistants are self-employed individuals who offer administrative, technical, or creative services to customers from remote locations. In addition, they can help with work like appointment scheduling, handling social media accounts, and more.

Since they offer various services, virtual assistants also charge different rates. Knowing the right virtual assistant price ensures you aren't underpaying or overpaying your VA. In this blog post, the virtual assistant cost for 2023 and beyond.
Read on!
Types of Virtual Assistants
Before discussing virtual assistant rates, it's crucial to understand the different types of VAs you can find in the market today.
There is a variety of VAs available today, each having its unique skills and specialization. Let's have a look at some popular ones:
General virtual assistants
These virtual assistants are professionals who can perform various general tasks. For example, it can include data entry, handling emails, setting up appointments, and managing social media.
Specialized virtual assistants
As the name suggests, specialized virtual assistants specialize in bookkeeping, content writing, graphic design, and web development. These professionals have extensive experience and expertise in their niche and can bring exceptional skills.
Differences Between These Virtual Assistants
General and specialized virtual assistants have one big difference: their level of expertise. General virtual assistants can do many things, but specialized ones have a better understanding of one area, so that they can offer more specialized help.
AI-powered virtual assistants, on the other hand, are different from both of them. These VAs leverage artificial intelligence and machine learning technology to do their tasks instead of human expertise.
Industries that commonly use Virtual Assistants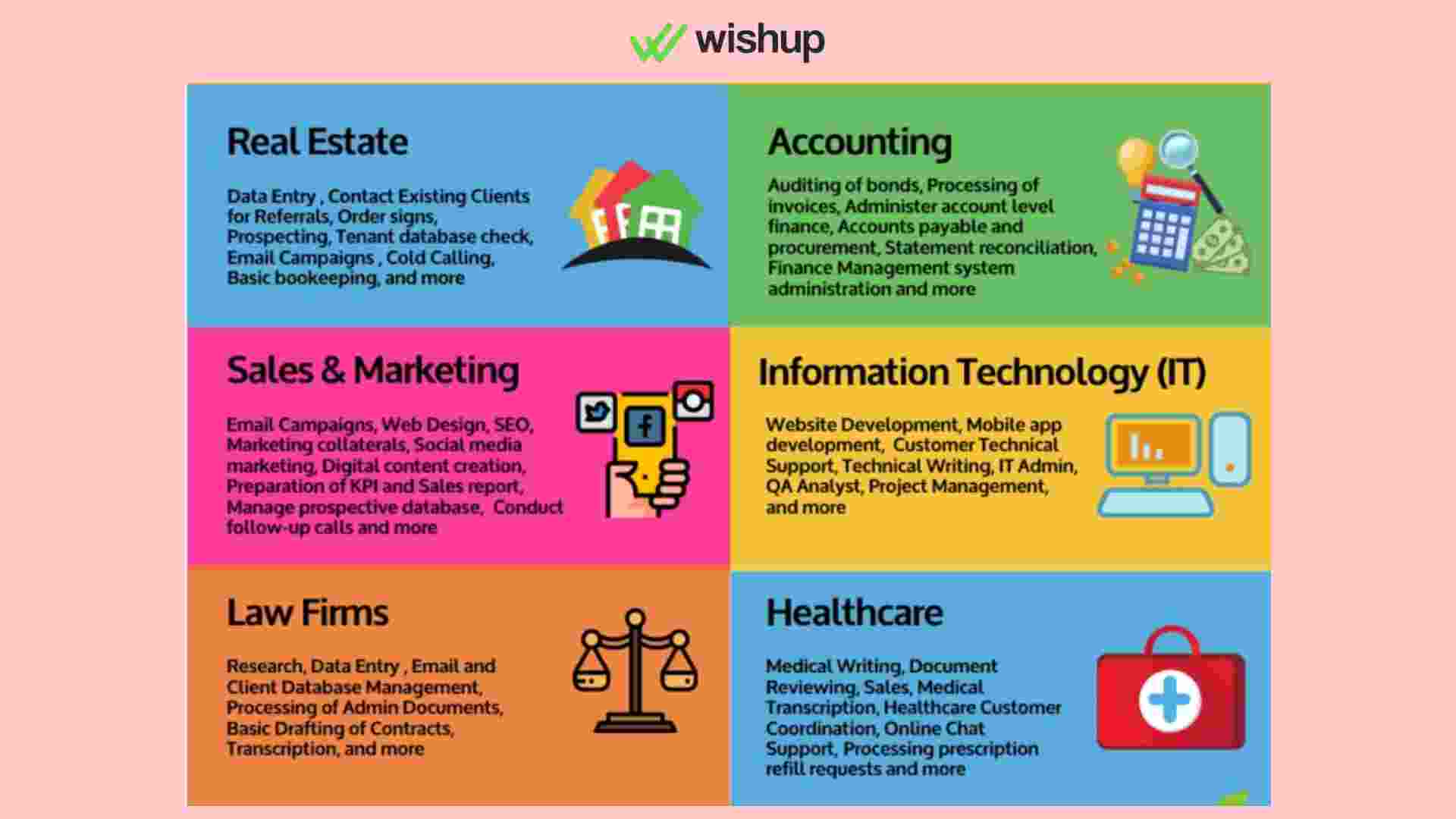 E-commerce Industry: In the e-commerce industry, ecommerce virtual assistants are usually hired to help with product research, order processing, and customer service.
Healthcare Industry: In the healthcare sector, virtual assistants help with appointment scheduling, data entry, and patient communication.
Real Estate Industry: Real estate virtual assistants can help with property-related tasks like researching properties, scheduling showings, and following up with customers.
Marketing and Advertising: In marketing and advertising, VAs are hired for their expertise in social media management, content creation, email marketing, and more.
Retail: Virtual assistants are used in retail to assist customers with product recommendations, answer questions about store hours and locations, and provide information about promotions and discounts.
Human resources: Virtual assistants are used in human resources to assist with recruitment and onboarding, answer employee questions about benefits and policies, and provide training and development resources.
Cost Of Different Virtual Assistant Tasks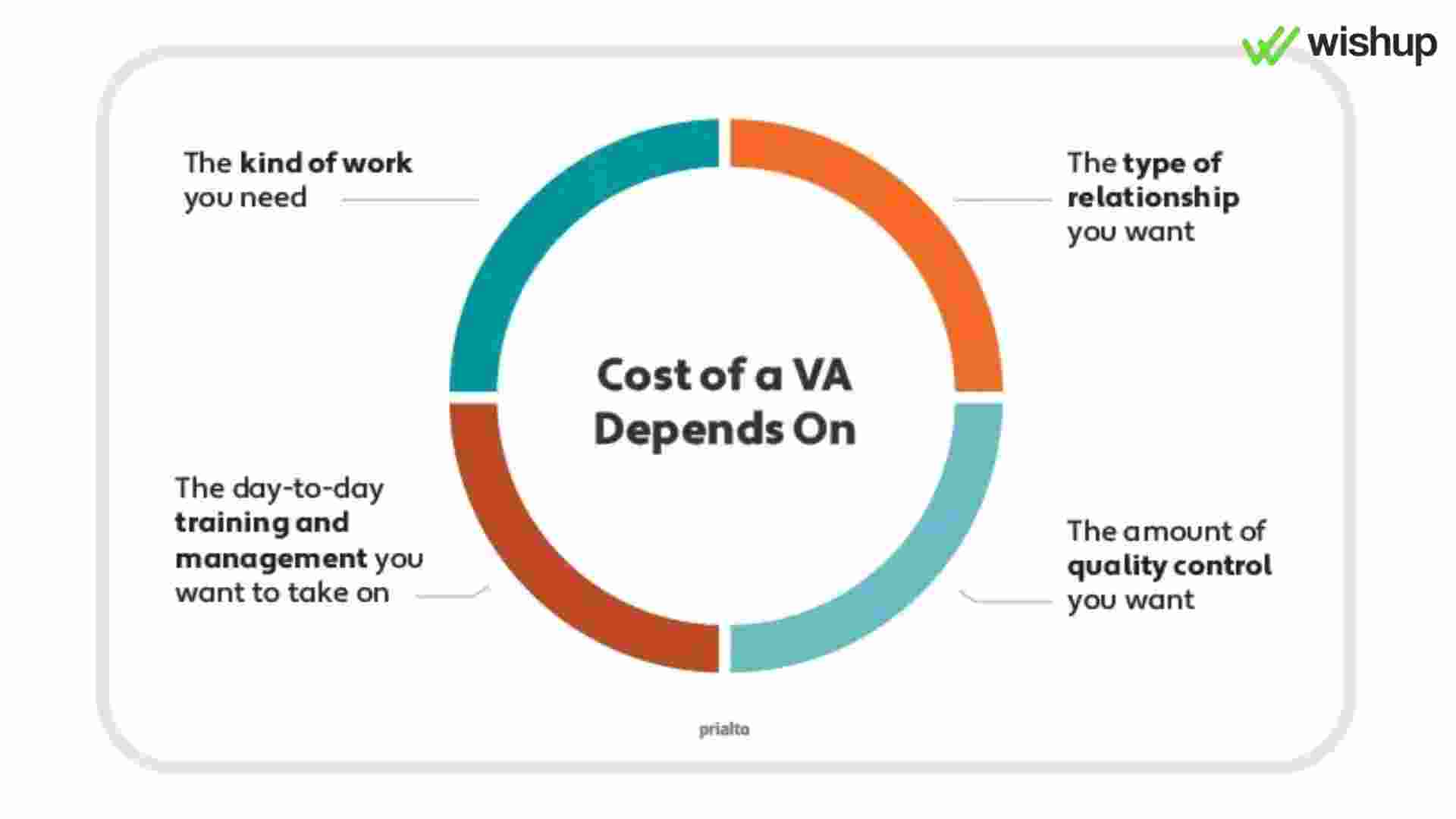 Data Entry
Upwork says the average cost of hiring a data entry specialist or VA is between $10 to $20 per hour.
Social Media Management
Depending on their skills and experience, a social media management VA can charge anywhere between $35 to $70 an hour.
Email Management
For basic email management virtual assistant tasks, VAs can generally charge an hourly rate of $20 to $50.
Customer Service
The average cost of a customer service virtual assistant is $10 to $60 per hour.
Calendar management
As per the data from Upwork, a calendar management specialist can charge an hourly rate of $12 to $40, depending on their experience.
Content Writing
The average hourly rate of an excellent content-writing virtual assistant is $25.
Research
The cost of virtual assistants for research-related tasks starts from $12 per hour.
Bookkeeping
The average hourly rate of bookkeeping VAs is $15 an hour.
Personal Assistance
If you need a virtual assistant who offers virtual personal assistant service, expect to pay an average of $15 to $25 per hour.
Project Management
As per PayScale, VAs with project management specialization average hourly rate is $19.74.
How to Determine the Cost of a Virtual Assistant?
Figuring out the virtual assistant pricing depends on several factors. You must consider their type of work, their urgent tasks, their skill level and experience, and their location.
Virtual assistant prices typically work hourly, per project/task, or a monthly retainer. Further, it's necessary to consider their expertise and experience since more complicated tasks usually come with a higher rate.
Here's an explanation of the factors that determine the cost of a virtual assistant:
The type of work they do
The cost of a virtual assistant often depends on what type of work they do. If it's a more specialized task like bookkeeping or content writing, you can expect to pay more since it requires higher-level skills. However, general tasks like data entry or email management don't require as much expertise and will generally be cheaper.
The urgency of the tasks
If a task is urgent, the cost of a virtual assistant's services may be higher due to the need to prioritize it over other tasks. But, if the timeline is more flexible, the cost may be lower as the assistant can fit it into their schedule.
The experience/skill they have
The cost of a VA also depends on their experience and skill level. Someone with lots of expertise and highly specialized skills will naturally charge more than someone with fewer years of experience and more general skill sets. Say, for instance, a virtual assistant with a background in project management may charge more than one with a background in Tele-calling.
Where they're based
Where a virtual assistant is based can also affect how much they charge. Generally, virtual assistants located in countries with lower labor, like the Philippines or India, are less expensive than those based in places with higher wages, like the U.S. or Europe.
Steps to Hire a Virtual Assistant?

Step 1: Identify areas where you need virtual assistance
Before you search for a virtual assistant, identify where you need the most help. Then, list the tasks you want to outsource and create a job description to match.
Step 2: Sign up for a free consultation
Once you've figured out which areas you need help in, research to find a virtual assistant service that fits the bill. Lots of virtual assistant services offer free consultations. During this chat, make sure you ask them about their background, skills, and fees.
Step 3: Onboard your executive virtual assistant
Now that you've chosen a virtual assistant, it's time to get them onboarded. This includes giving them details about how your company operates, setting them up with the systems they need, and giving them detailed instructions on their tasks.
How to pay for your Virtual Assistant Services?
Choose the Right Payment Structure
Choosing the right payment source is crucial for determining virtual assistant service rates.
Here are some famous structures on which payments to a VA can be made:
Hourly Basis: If you don't have a consistent workload week-to-week or month-to-month, this could be an excellent option. It includes paying a virtual assistant on an hourly basis.
Project or Task: If you've got a one-off project, paying the VA a fixed fee for that task could be a good option. It's an easy way to get a specific task done without worrying about hourly rates or anything like that.
Subscription: If you need regular help with something, choosing the subscription model is the best choice. In this, you pay a fixed fee each month for a certain number of hours or tasks – it's a great option for keeping up with ongoing tasks.
Monthly: You can also pay your virtual assistants a fixed monthly price for the tasks they perform. It's similar to a monthly salary but without any other benefits that full-time employees get.
Flat Rate: This structure is great for any projects needing consistent attention but with a set amount of work. You pay a fixed sum of money for a given time frame, like a week or month.
Popular Payment Platforms
PayPal: PayPal is the go-to payment platform for online transactions. It's super secure and fast, and you can easily keep tabs on your payments. The best thing about PayPal is that mainly all virtual assistant services accept it.
Payoneer: Payoneer is another excellent option if you're a virtual assistant looking for an online payment platform. It's got low fees and the ability to pay in multiple currencies, making it an incredibly convenient choice.
Wise: TransferWise (now Wise) is a great way to pay your international virtual assistants in their currency without breaking the bank. With low fees and competitive exchange rates, this platform offers excellent user-friendly features that make payments a breeze!
Why Hire Virtual Assistants from Wishup?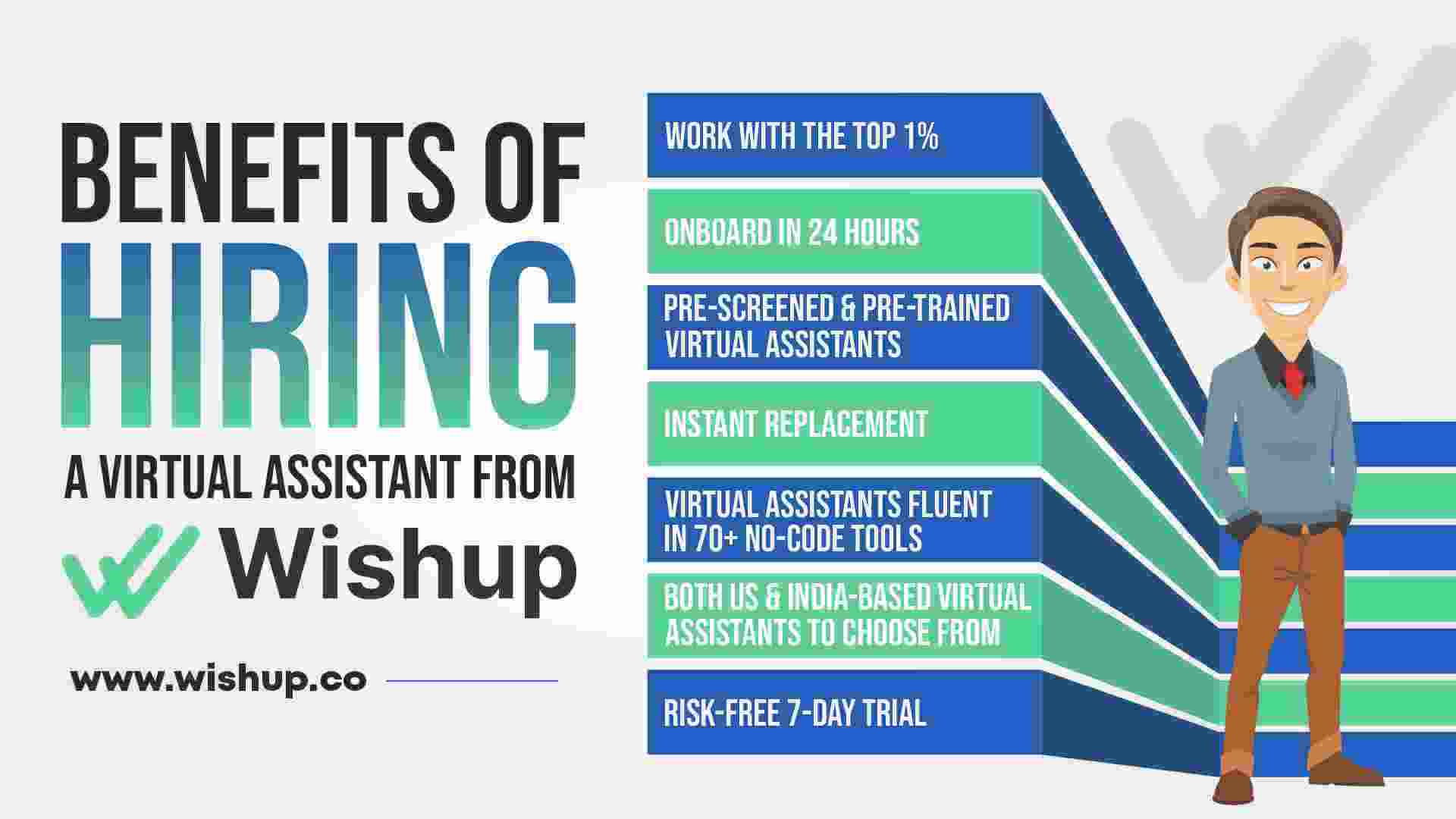 Now that you know how much virtual assistants cost, you might be looking for a reliable and efficient personal assistant, right? If yes, Wishup can be a terrific option.
With our virtual assistant service, you can enjoy a range of benefits. Here are the perks of hiring your assistant from Wishup:
Top 1% of applicants
At Wishup, we take great care in our hiring process to ensure that only the most competent professionals make it through. That's why the top 1% of applicants get to be part of our team of virtual assistants.
24-hour onboarding
With Wishup, you'll be up and running with your personal assistant in no time! Our 24-hour onboarding makes it, so you can start delegating tasks and getting things done immediately.
Instant replacement
If, for any reason, you are not happy with the job done by your VA, we have you covered! We offer instant replacement without asking any questions. So, you can easily switch to another VA that better suits your business needs.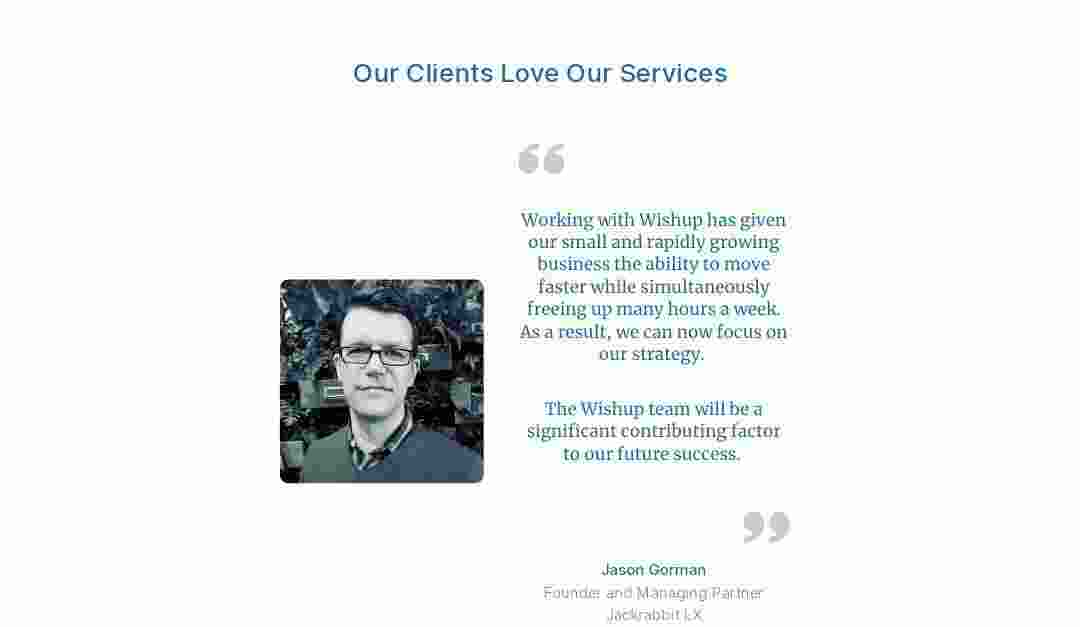 Dedicated account manager
With Wishup, we offer you a dedicated account manager. They will answer all your queries, resolve issues, and be there to help you with anything else.
7-day risk-free trial
Try Wishup for yourself with a 7-day risk-free trial! Take this opportunity to make sure that it's the perfect fit for what you need.
In-house training in 70+ no-code tools and 200+ skillsets
At Wishup, our virtual assistants receive in-house training in over 70 no-code tools and 200+ skill sets. So, you can rest assured that they're equipped with the latest tools and know-how to tackle any task you give them.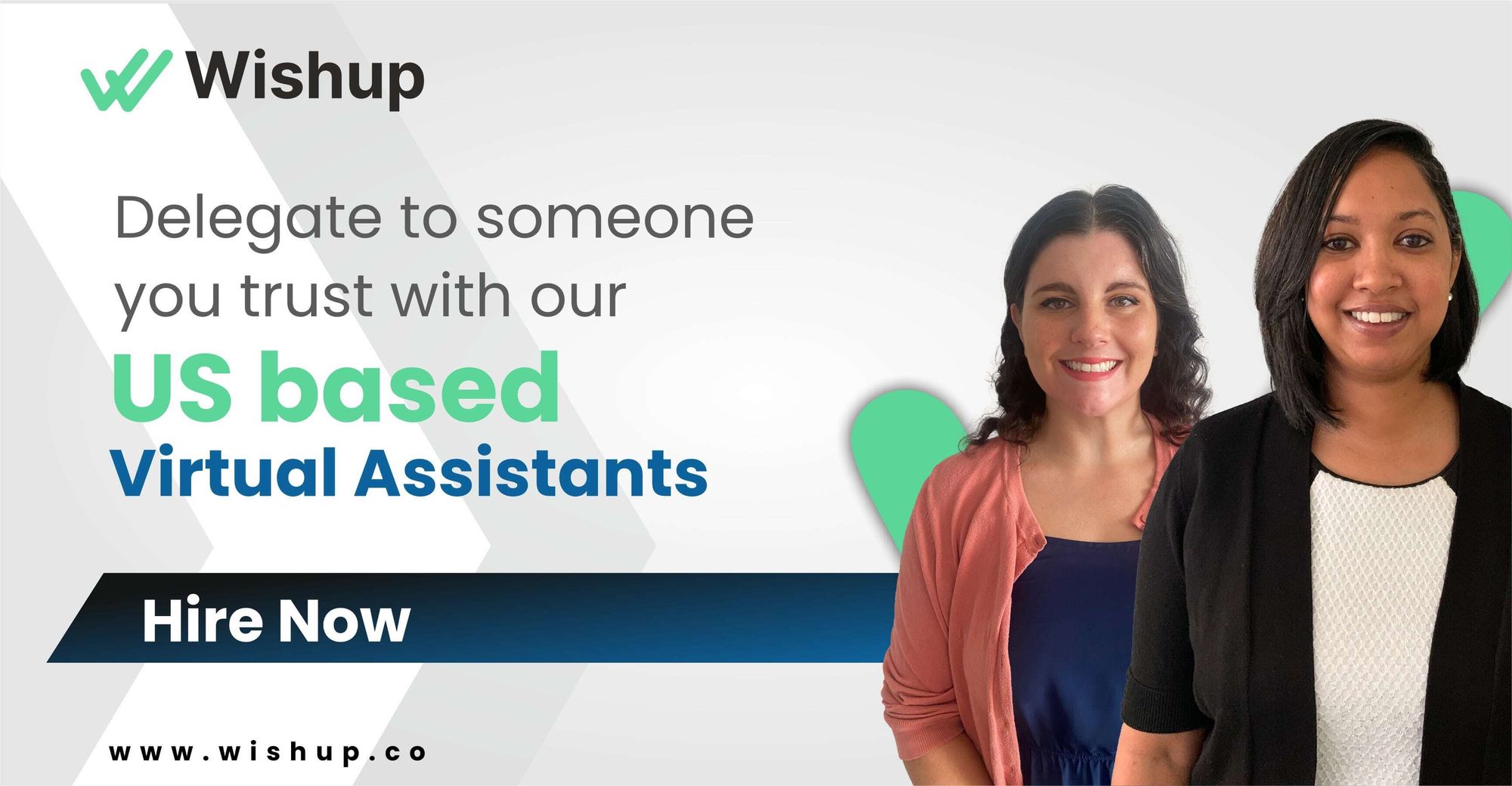 Conclusion
To sum up, hiring a virtual assistant can be a great way to save costs, increase productivity and efficiency, and get access to a diverse range of skills and expertise. A virtual assistant's cost depends on the type of work needed, how soon the tasks must be done, the virtual assistant's experience, and their location.
Businesses should take advantage of this and hire a virtual assistant to improve their operations and help their business grow. Through a trusted service like Wishup, businesses can have a reliable email assistant to take care of their administrative and other duties.
Are you looking for a virtual assistant? Reach out to Wishup and book a free consultation! Or, if you'd like more information, email us at [email protected].
Frequently Asked Questions
How much does virtual assistance cost?
Virtual assistant services rates can differ, depending on the type of job, their experience, how urgently the tasks need to be done, their location, and virtual assistant pricing structure. Some virtual assistants might charge hourly, a one-off fee for a project or task, or a regular fee each month. Prices can range from $5 to $50 an hour or even higher, depending on the factors mentioned.
Is virtual assistant worth it?
Yes, absolutely! They can help you save time, boost productivity, and concentrate on more meaningful activities. They can help you cut costs by taking care of administrative and repetitive tasks, so you don't need to worry about office space and equipment.