Entrepreneurship is challenging, exciting, rewarding, and much more.
It's what you always dream about!
But unfortunately, somewhere along the way, managing all your mundane, recurring tasks start taking up a significant part of your day, leaving you with very little time to do what you love, i.e., helping people (read customers) live better lives.
Well, it's never too late to get back to your first love, i.e., growing your business and networking with potential clients.
All you need to do is delegate your regular, time-consuming, essential tasks to a virtual assistant.
A virtual assistant is a preferred choice for many entrepreneurs and small businesses as their first employee due to the flexibility they offer and the multiple skillsets they bring to the business. Virtual assistant services help entrepreneurs like you be more productive and get the best out of your day.
Before we deep dive into how you can hire the best virtual assistance for your business, let's get more familiar with them and understand the tasks they can help you with on a daily, recurring basis.
What is a Virtual Assistant (VA)?
Virtual Assistants are professionals with multiple skill sets who help business owners and executives be more productive. Similar to administrative assistants, they are flexible with their working hours and operate from a remote location. In addition, virtual assistants manage tasks such as answering emails, scheduling appointments, data entry, travel arrangements, and more.
Virtual assistant services are so important and in-demand that the market for them is expected to grow by USD 4.12 billion, at a CAGR of 11.79%, according to Technavio's latest market report.
Why do you need a virtual assistant?
As your business grows, it's not easy for small businesses to manage everything independently. Administrative tasks, managing orders, and making payments can seem easy in the initial stages; however, the volume of these tasks will soar once your business thrives; that's when you need a virtual assistant.

Case Study: Dana Philips, Wishup Client since 2020
Three months after she started her SEO consultancy business, Dana Philips was overwhelmed with the number of inquiries her business was generating. Satisfied with the results, Dana's SEO practices were generating; her existing clients were recommending her to everyone they knew who could benefit from her services.
"I was lucky to get so many client recommendations," says Dana, based in Florida. "But soon, I realized I could not cope with the additional work pressures. It was challenging and often stressful to reply to customer queries on time, schedule appointments, and follow-up on payments, all on my own."
While hiring an answering service was an option, I still needed to spend time analyzing the calls they attended to and drafting appropriate responses. In addition, what I needed was someone I could trust and who could act on my behalf if the need ever arose.
That's when someone recommended I hire a virtual assistant. It's turned out to be the best piece of advice I ever got, for free!
"Today, my virtual assistant takes care of most of my daily, recurring tasks. She also handles customer queries and issues while I take care of revenue generation." Pleased with her virtual assistant's efficiency, Dana has hired a bookkeeping virtual assistant to manage all her expenses, follow up on payments, reconcile statements, etc.
That, in a nutshell, is how important a virtual assistant services role can be in your business and why you need to hire one.
What do virtual assistants do?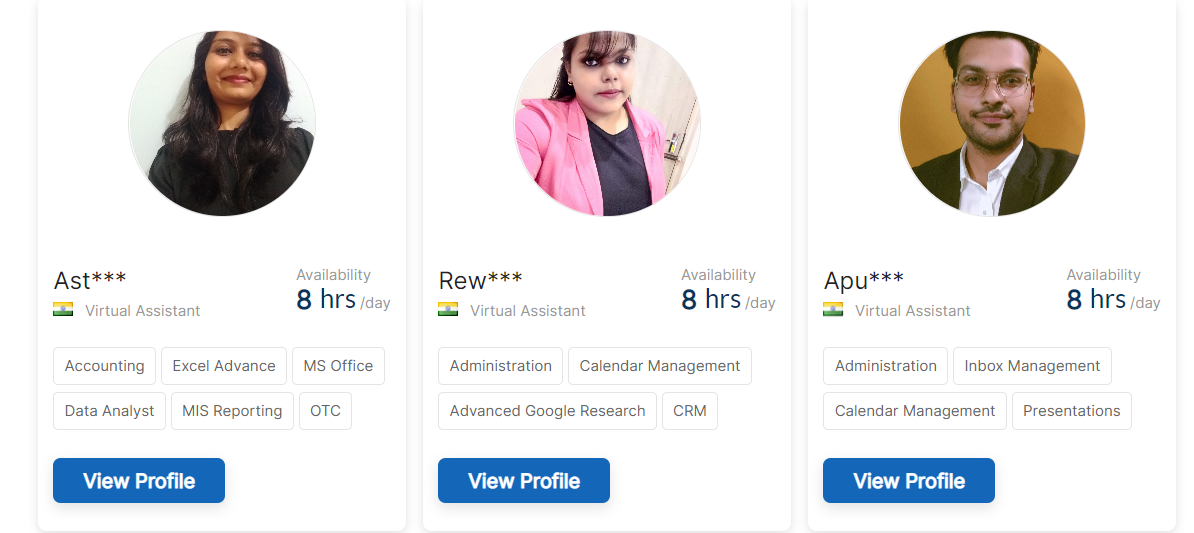 View More US Based VAs

Virtual assistants handle all the tasks that don't require your direct intervention. Virtual assistants can do everything from replying to emails, setting up meeting reminders, managing your schedules, and even booking your favorite restaurant for those important meetings.
Virtual assistants are multi-talented, highly enthusiastic individuals, making them an asset to any organization.
While their roles may differ in different industries, such as real estate, where they could be valuable in meeting follow-ups, or a media company wherein they could coordinate between the artists, they are highly flexible and quickly adapt to their client's needs.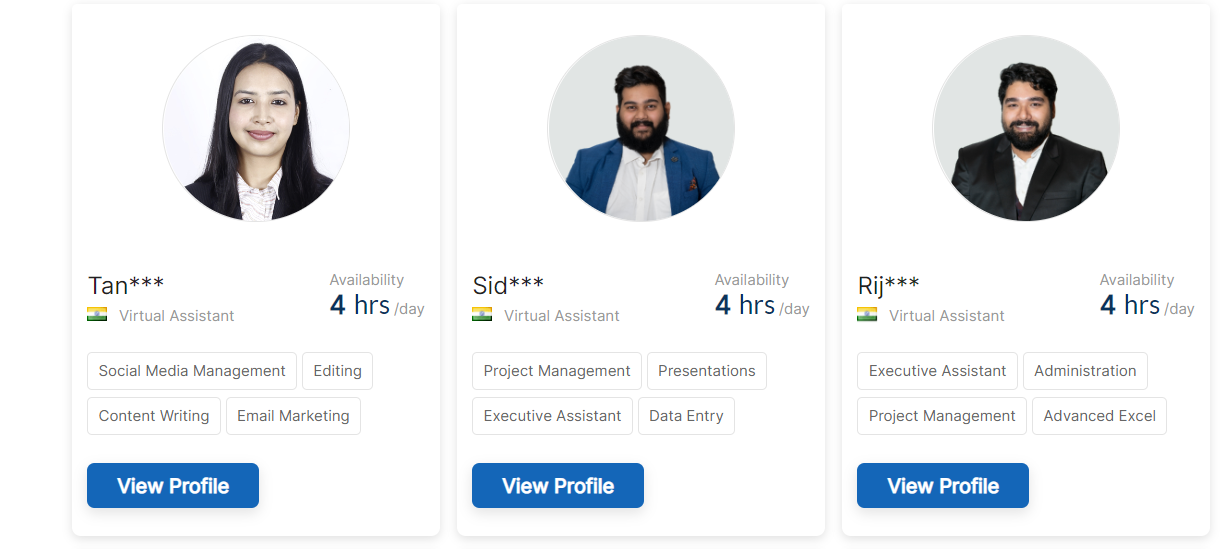 Virtual assistants directly impact your day-to-day productivity and help you scale your business. Being well-experienced, highly qualified, trained professionals, they can easily manage all your tasks. Here are a few benefits of hiring a professional for virtual assistance.
1.     More cost-effective as compared to hiring a full-time employee.
2.     No overhead costs, taxation, and 401 benefits.
3.     You can hire them for a few hours per week/month based on your requirements.
4.     Hire them for specialized tasks such as bookkeeping, project management, answering emails, recording meeting minutes, making travel arrangements, and keeping your social media profiles up-to-date.
5.     Professional and personalized approach as compared to answering services.
6.     Easy scalability – Hire virtual assistants as you grow.
7.     More dependability, trust, and confidentiality as compared to freelancers.
8.     Faster onboarding as compared to regular employees, who need to be inducted, trained, etc. A process that can easily take a couple of weeks.
9.     Get more time on your hands to focus on your business goals, clients, etc.
10. Enjoy a better work-life balance by delegating time-consuming, mundane tasks that don't need your direct intervention.
Tasks you can outsource to a Virtual Assistant
Given their multiple skill sets, no task is too big or small for professionals who offer virtual assistance. You can hire them for office administration work, follow up with clients, answer your emails and even coordinate on some of your large projects on your behalf.
Here are a few of the tasks you can outsource/delegate to virtual assistants:
Managing Emails
According to a McKinsey analysis, entrepreneurs and professionals spend about 28% of the workday reading and answering emails. That amounts to a staggering 2.6 hours spent and 120 messages received per day.
That's not all; it could take up to 16 minutes for you to start refocusing on the task you were doing before the email notification appeared and disrupted your attention. That's a substantial amount of time wasted that could be used productively elsewhere.
You can save this time and more by delegating this time-consuming but essential task to your virtual assistant.
Your virtual assistance professional will manage your inbox and ensure that no important emails are left unread or unanswered while keeping you updated on the ones that need your attention. They can also unsubscribe from irrelevant emails to keep your inbox free of spam and distractions.
And just in case you are worried about privacy and data security issues, you will be happy to know that virtual assistants provided by agencies such as Wishup are pre-vetted and sign an NDA before they start working for you. Isn't that awesome!
Manage your schedule
Every entrepreneur and small business owner knows and understands the difficulty in arranging, coordinating, and ensuring everyone required attends meetings. Sometimes, it requires sending emails back-n-forth and coordinating with people from different time zones.
While scheduling apps are a great help, you still need to update the meetings manually, which in itself can be a big time waster.
Here too, a virtual assistance professionals can play an important role and ensure that all your meeting requests & schedules are managed smoothly, along with timely updates and reminders to you.
As an entrepreneur or executive, your day is probably packed with meetings. A virtual assistant can schedule meetings, organize your calendar, manage your to-do list, and follow up with clients to ensure no missed meetings.
Workflow management
Virtual assistants are skillful, efficient organizers and can help you create a systematic workflow system to track your projects & team's performance. In addition, they are well versed with the latest software and tools to help you manage multiple projects simultaneously and track every team member's progress without having to follow up with them individually.
Data entry
Managing customer data and drawing helpful insights from it is essential for every successful business, but it's undeniably a time-consuming process and can leave you quite exhausted at the end of the day. Your virtual assistant can compile and sort out new data, cross-check existing data for errors, maintain records of projects and convert that data into in-depth reports for your analysis.
Invoice preparation
As an entrepreneur, you should spend more time closing deals than creating bills and invoices. Your virtual assistance professional can handle this task with accuracy and efficiency to ensure that all the invoices sent out to clients are accurate and precisely what they ordered, with no errors. Not only can they prepare the invoices, but they also send the invoices to clients and follow up on pending payments.
Travel planning
When you are an entrepreneur or an executive, frequent traveling becomes a part of your life as you grow your business. However, travel planning is tedious and requires considerable time researching the best travel, stay, and dining options. Here too, your travel virtual assistant can be immensely helpful by managing all your travel requirements right from booking tickets and arranging accommodation to guiding you to the best options in the city to impress your clients.
They can also schedule your meetings while giving you enough time to rest and settle between meetings. Additionally, if you have time to spare, they can research various restaurants or sightseeing places for you to visit on your travels.
Online research
Regular research on the latest trends, your competition, and industry happenings is crucial for every business. It's essential to stay updated with the latest market trends, customer behavior patterns, and your competitors' performance to create a winning strategy for your business.
A virtual assistant is skilled in advanced research techniques and can present their research reports in a simple and easy-to-understand manner.
Proofreading and editing
When dealing with important clients and associates, your communication must be free of errors to create a positive impression. A virtual assistant can proofread and edit your emails and other documents to ensure everything is grammatically accurate before they are sent out.
Minutes of meetings
With multiple meetings daily, it's not uncommon to forget information or miss out on important details. Your virtual assistant can attend your meetings virtually and send the minutes later in a detailed or brief format.

How to hire a virtual assistant?
There are two primary ways to hire a virtual assistant. One is to look for them on freelancing sites or entrust your requirements to a virtual assistant services agency and relax as they match you with the best candidate suitable for you and your business.
Obviously, working with a virtual assistant services agency such as Wishup is the best option, as their virtual assistants are more professional, well-qualified, and reliable. Moreover, they also take the utmost care of your data security and privacy, so you need not spend sleepless nights on the same.
Now that we've understood the role of a virtual assistance professional and the benefits of hiring one, including the tasks they can manage on your behalf, let's take an in-depth look at how you can hire a virtual assistant.
Identify the tasks that can be managed easily without your direct intervention and take the maximum amount of your time daily.
Calculate the ideal number of hours you require to complete the tasks. That will help you identify the number of hours you need to hire a virtual assistant.
Share the list of tasks with Wishup.
Once you have shared your task lists with Wishup, please sit back and relax as our team matches you with the best virtual assistants based on your requirements. You can also interview the candidate, if you wish, to understand their capabilities.
Prepare to onboard your virtual assistant within 24 hours as you don't need to worry about background checks, references, capabilities, skillsets, etc., as these VAs have already been pre-vetted and trained by Wishup.
Virtual Assistant FAQs
For how long can I hire a Virtual Assistant?
Wishup offers the flexibility of hiring a virtual assistant for a minimum of 4 hours per day to 8 hours and more based on your requirements. Depending on your project, you can hire them for a few weeks or months.
How Quickly Can I Hire A Virtual Assistant?
As soon as you sign up on our website, we schedule a free consultation with an account manager, who will collect all the necessary details required to match you with the best-suited virtual assistant.
We will then connect you and your VA via email or any communication channel suitable for you within hours.
Do I need to sign any long-term contracts?
Wishup offers the flexibility of hiring virtual assistants just for a few weeks or months based on your requirements. We do not bind you with any long-term commitments or contracts. Wishup also offers the flexibility to scale up your team as and when required within 24 hours.
What is your refund/replacement policy, just in case I am not satisfied with the services of the virtual assistant?
Wishup offers a no-questions-asked refund/replacement policy. The satisfaction of our clients is our utmost goal, and we take all steps to ensure the same. However, just in case you are not happy with the services of the virtual assistant allotted to you, give us a call or send us an email, and we will take care of it from there.

Hire a Virtual Assistant Today! Give your business a boost.
A virtual assistant is much more than just a personal or administrative assistant. They are cost-effective compared to regular office assistants and can help save time and focus on growing your business.
Virtual assistant services are perfect for entrepreneurs and small business owners who need help managing their everyday administrative tasks.
If you want to grow your business with our talented team of Virtual Assistants you can schedule a free consultation or send us a mail on [email protected]
Subscribe to Wishup Blog | Remote Teams | Remote Employees
Get the latest posts delivered right to your inbox