The USA has the most number of entrepreneurs in the entire world. The "land of opportunity" is indeed a well-deserved title.
In a startup, the business operations are limited and manageable. But when you scale up, responsibilities and tasks increase too. For example, there are many administrative jobs, like scheduling meetings and maintaining employee records.
A business leader like you cannot do them all on your own. This is where the benefits of a virtual assistant come into the picture.
Why hire a virtual assistant?
You should hire a personal assistant to perform your non-core but essential administrative tasks, giving you more time to focus on growing your business. Instead of spending your valuable time on administrative tasks, you will now have the time to focus on strategies to help grow your business.
Hiring a virtual assistant helps to organize and book meetings for you, replies to your emails, and provides other kinds of administrative support. They also work remotely and are more affordable than your typical employee.
This blog explains the importance of a virtual assistant. You will also learn why Wishup is the best place to get one in 2023.
Duties and Responsibilities of a Virtual Assistant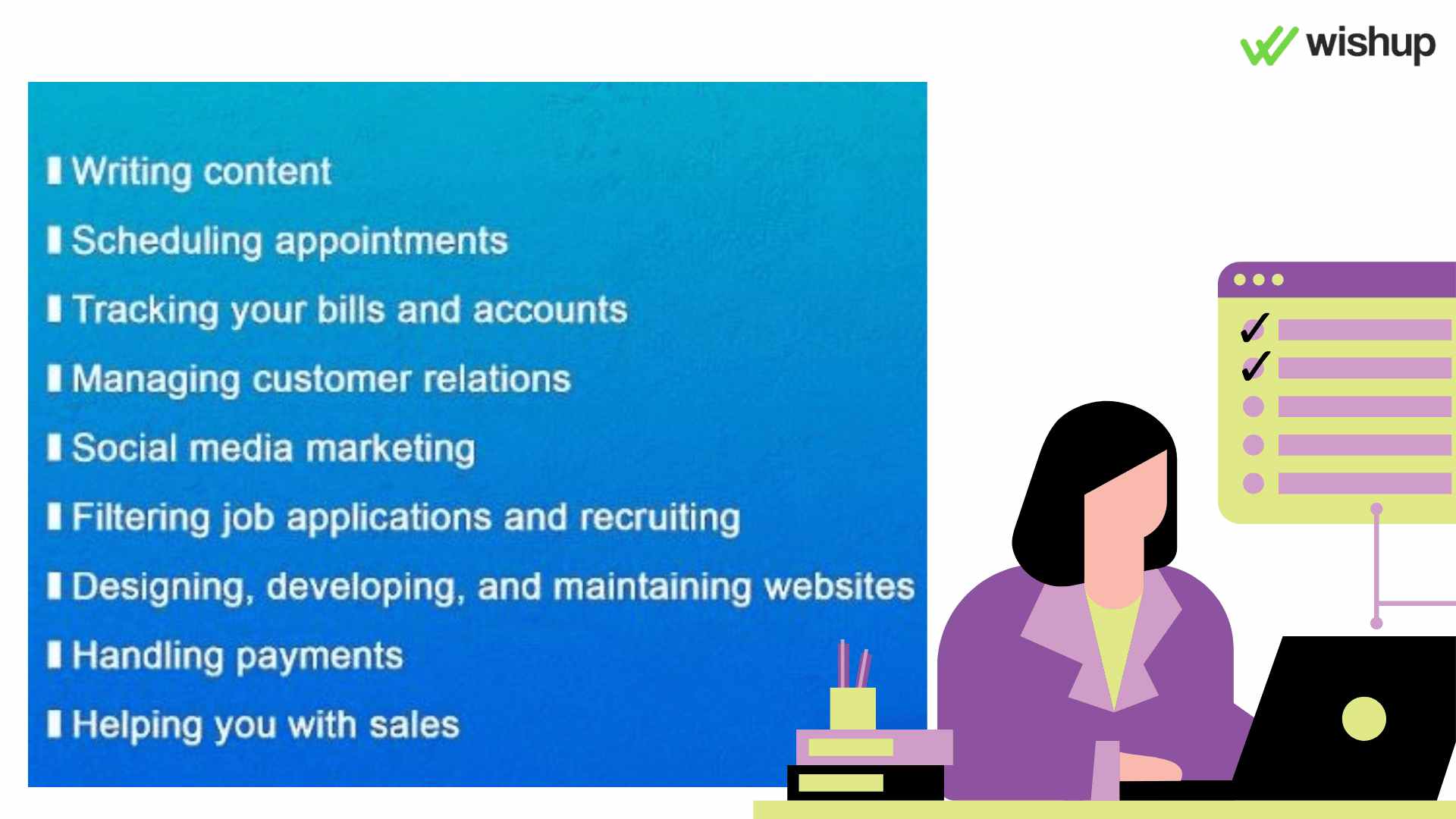 Virtual assistants form an essential part of your team. You can delegate many administrative responsibilities to them. From managing your calendar and meetings to researching a project, a virtual assistant can play multiple roles.
Some of the key responsibilities and duties of a virtual assistant include:
Managing schedules and appointments
As a business owner, you will spend your day meeting important people. These include clients, vendors, and heads of departments. A virtual assistant is responsible for booking your appointments and managing your schedule. They ensure that no two important meetings clash at the same time.
Making Travel arrangements
Your virtual personal assistant will arrange it whether you're traveling for work or personal reasons. They take care of your flight tickets, hotel stay, food preferences, and everything else, guaranteeing a comfortable trip.
Organizing meetings and events
Since you are the boss, you have many important meetings and events to attend. But which event or meeting do you go to first? A virtual assistant prioritizes the tasks on your schedule so you take care of important business first. In addition, they may discuss what's necessary with you before organizing your meetings.
Handling correspondence (emails, messages, and phone calls)
Multiple phone calls, emails, and messages come your way daily. As the leader of your company, you cannot afford to waste time in responding to every single one of them. That is the job of your virtual assistant. They will communicate with you and give you a rundown of the critical messages.
Provide administrative support
There are many types of virtual assistants. As administrative support, your virtual assistant will enter and manage data. They are also skilled at making expense reports and filing the necessary paperwork for you. In addition, the virtual assistant is at your service if you need someone to do a chore in the office.
Research
Want to know the latest trend in the market? Do you know what keywords are popular? Can't find the email of an important client? Your virtual assistant will research such queries for you. There are many other topics an assistant can research on. They also proofread your documents and emails.
Top Skills of a Virtual Assistant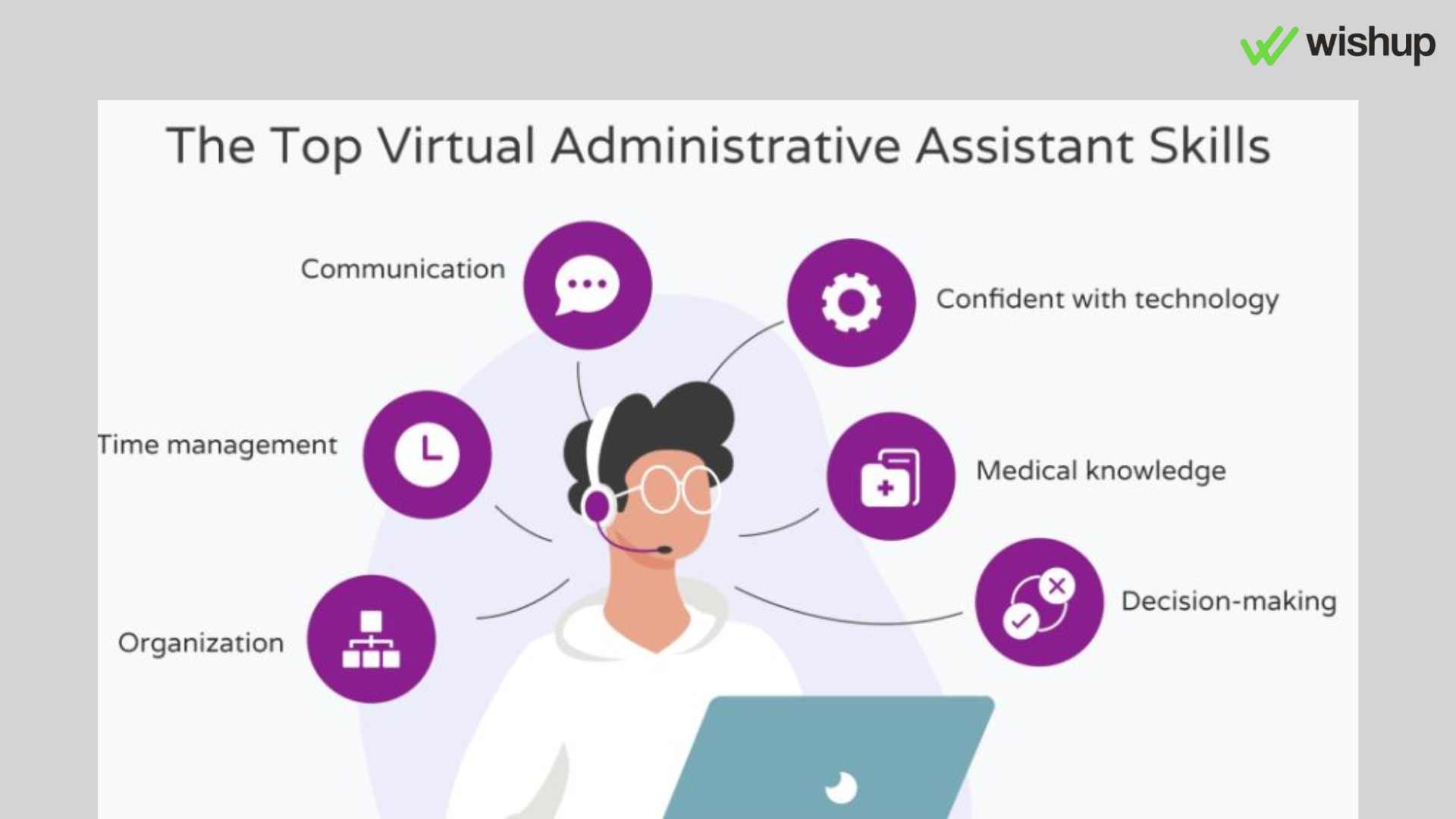 The benefits of virtual assistants are many. This is due to their impressive abilities. A virtual assistant brings many skills to your company, like multitasking, attention to detail, communicating, and organizing. Here are all the abilities of a virtual assistant:
Strong organizational skills
Virtual assistants are experts in completing tasks and meeting deadlines. This is because they are organized. A virtual assistant can manage many projects together. They use tools and apps which help them in performing their duties.
Multitasking and prioritization skills
Every day at work is different for a virtual assistant. Things keep coming up, and virtual assistants organize them as per their importance. Your schedule depends on it. They also handle multiple responsibilities at the same time without fail. This gives you more free time to focus on your work.
Attention to detail
Since they respond to important client messages and emails, virtual assistants pay great attention to detail. They also correct the grammatical and factual errors in your reports and payrolls. A virtual assistant has a list and ensures all tasks are timely done.
Proven ability to manage a flexible schedule
Your calendar is always full of events and meetings. New tasks are added to the list every day. So how do you keep up? A virtual assistant makes your schedule flexible. They arrange all the events and meetings based on what's possible and your convenience.
Always available
Businesses need team members they can trust and depend on. This means having people who are there in the hour of need. A virtual assistant is available to answer your queries and answer your questions anytime. They may even take up extra work during an emergency deadline.
Exemplary planning and time management skills
Good virtual assistants know their strengths and weaknesses. They know how much work they can do in a day. This helps them to manage their time, as well as yours. A virtual assistant plans and predicts results. Then, they make sure the work is completed without any delay.
Impeccable verbal and written communications skills
Since they communicate on your behalf, virtual assistants are excellent in written and verbal communication. They know their grammar and write effective emails that get the point across. In addition, a virtual assistant types fast and intelligent, sometimes even contributing to blogs, landing pages and articles.
Ability to interact with high-profile clients and executives
Virtual assistants exchange emails and phone calls with prominent executives and clients. They know the art of sounding polite but firm. In addition, a virtual assistant knows a lot about the company and its clients. This helps them communicate clearly and correctly.
Proficiency in computer applications (MS Office and G-Suite)
Your work revolves around giving presentations, creating reports, and sending emails. A virtual assistant can use computer applications like MS Office to help you with these tasks. They make your presentations and maintain reports for you.
Knowledge of office management systems and procedures
Sometimes you may need to enter customer or client data into the company CRM. A virtual assistant has the basic knowledge of such management systems. They can collect and enter data for you whenever necessary.
Virtual Assistant: Education and Experience Required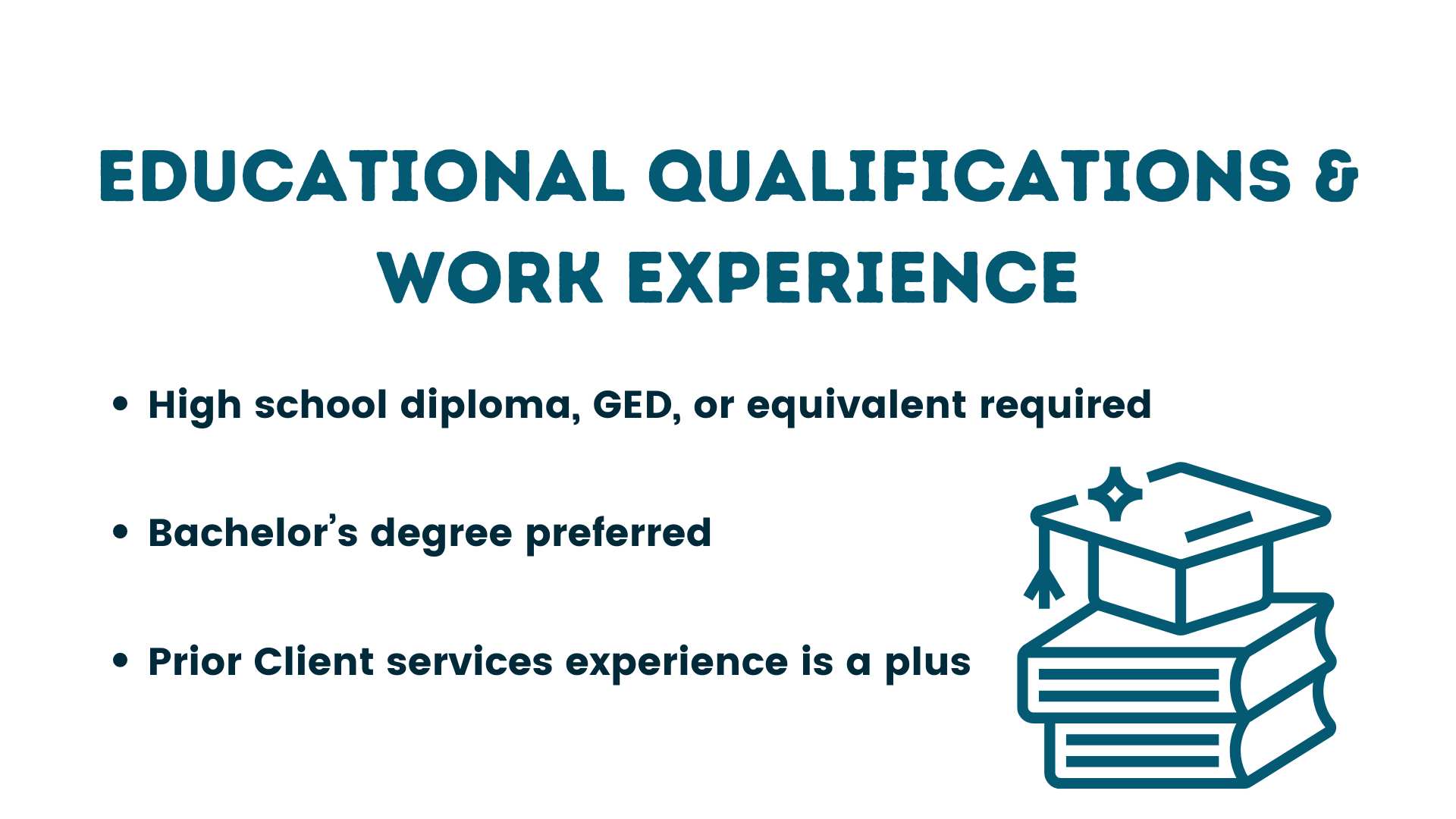 An excellent virtual assistant should have some form of education. Work experience also benefits virtual assistant in performing their job well. Look for these qualifications in a virtual assistant:
High school diploma, GED, or equivalent required
A suitable virtual assistant candidate should have a High School diploma. In addition, they should be driven to learn and grow to take on this responsibility.
Bachelor's degree preferred
College graduates make better virtual assistants. They have more knowledge, and some even take up internships while studying. A major in business studies should be preferred.
Prior Client services experience is a plus
Candidates with previous work experience are even better. They have more skills and know how to work in a professional environment.
Strong sense of responsibility and ability to complete tasks with minimal supervision
A virtual assistant should have leadership qualities. They must finish their tasks on time without having anybody to check on them.
Proficient in office management systems, Microsoft Office and G-Suite
Knowledge of office applications and management systems is a must. Virtual assistants need this skill to make presentations, reports, and documents for you.
Top Ten Advantages of Hiring a Virtual Assistant
For businesses, especially startups, hiring a virtual assistant is crucial for a number of reasons, including the ones listed below:
They are more affordable than a regular employee.
They help you save time.
You'll have increased organization and productivity.
Fewer hiring hassles.
More time for personal life.
Let's take a more detailed look at the advantages of hiring a virtual assistant below.
Efficient time management
They complete their tasks and plan promptly. Virtual assistants also help you manage your meetings and schedule.
Improved organizational productivity
They organize your calendar and schedule for you. This allows you to work without distractions and worries.
Reduced stress and increased leisure time
They take up many administrative responsibilities from you. This gives you more personal time to relax.
Increased scale of operations
They look after multiple projects at a time. This results in more output, increasing the scale of operations.
Expanded reach
They maintain your social media presence and reach out to your customers. Virtual assistants know how to create posts and use social media hacks to engage customers.
Improved customer service
They respond to all critical customer emails, phone calls, and comments. This deepens the bond between your company and customers.
Cost Savings
Virtual assistant outsourcing is cheaper than hiring an employee in your company. For example, assistants at Wishup charge a lot less than other platforms.
Enhanced emotional well-being
They look after both the repetitive and the crucial tasks. When you don't worry constantly about who you are meeting and when it allows you to relax.
Improved work-life balance
They look after your schedule and daily administrative tasks. This gives you enough time to spend on your personal goals.
A renewed focus on core business services
They keep you on track. You can concentrate on important business strategies and ideas when you have freed-up space on your task list.
How Can Virtual Assistants Help You Manage and Grow Your Business?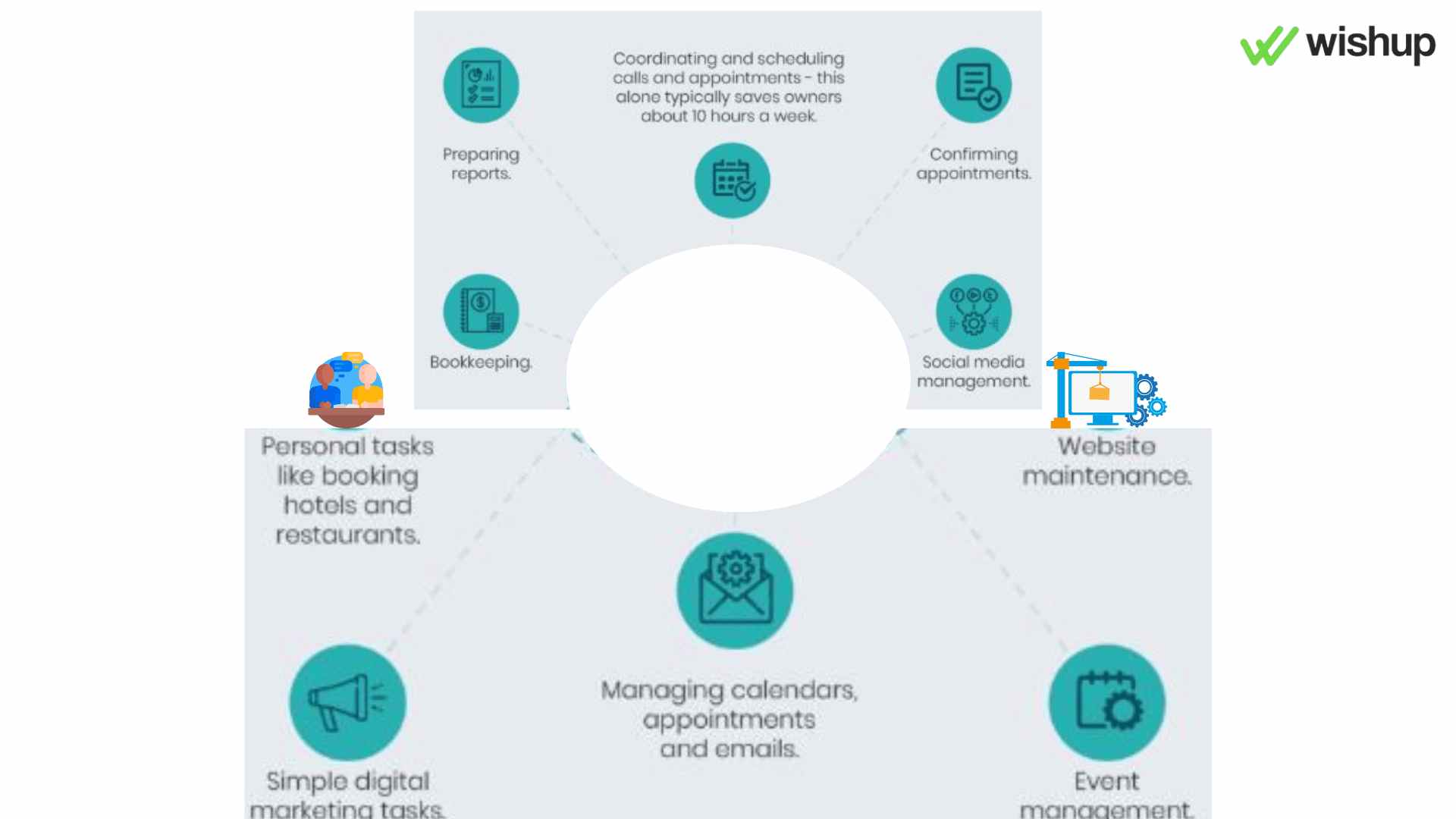 The benefits of virtual assistants help your business grow. Here's how:
Social media management
Maintenance of digital presence
Customer engagement through posts
Email marketing
Responding to emails
Mailing the latest offers to customers
Inbox and Travel management
Clearing and organizing emails
Booking tickets and hotel stay
Making other arrangements like food
Bookkeeping
Managing and bookkeeping financial records
Filing important expense reports
Customer service
Providing support
Solving queries through email and phone calls.
Calendar management
Booking dates for events and meetings
Sending reminders
Lead Generation
Analyzing market trends
Contacting customers with new deals and offers
Project Management
Managing timelines
Tracking the budget and expenses
Why Hire Virtual Assistants from Wishup?

With so many virtual assistant benefits, you must be excited to add one to your team. But wait! Not all virtual assistants are created equally.
Wishup, a virtual assistant company, provides some of the best virtual assistants in the market. Our candidates are affordable, flexible, and highly skilled.
Still not convinced? Here is why Wishup is the place to find virtual assistants:
Top 1% of applicants
Our candidates are the best of their kind. We follow a strict selection process to bring the most eligible candidates to you.
24-hour onboarding
After you pick your candidate, they will begin working for you in 24 hours. So you don't have to wait days for the virtual assistant.
Instant replacement
If you are unhappy with the virtual assistant, we will replace them immediately. You don't have to explain your reasons.
Dedicated account manager
We have a dedicated account manager to help you navigate our platform. They will answer your queries and questions.
7-day risk-free trial
With Wishup, there is no risk of losing money. Try our services for a week. In a case where you are not satisfied, we will give you your money back.
In-house training in 70+ no-code tools and 200+ skillsets
Even after a tight screening process, our candidates are given further training. They learn more than 70+ no-code tools to perform their jobs even better.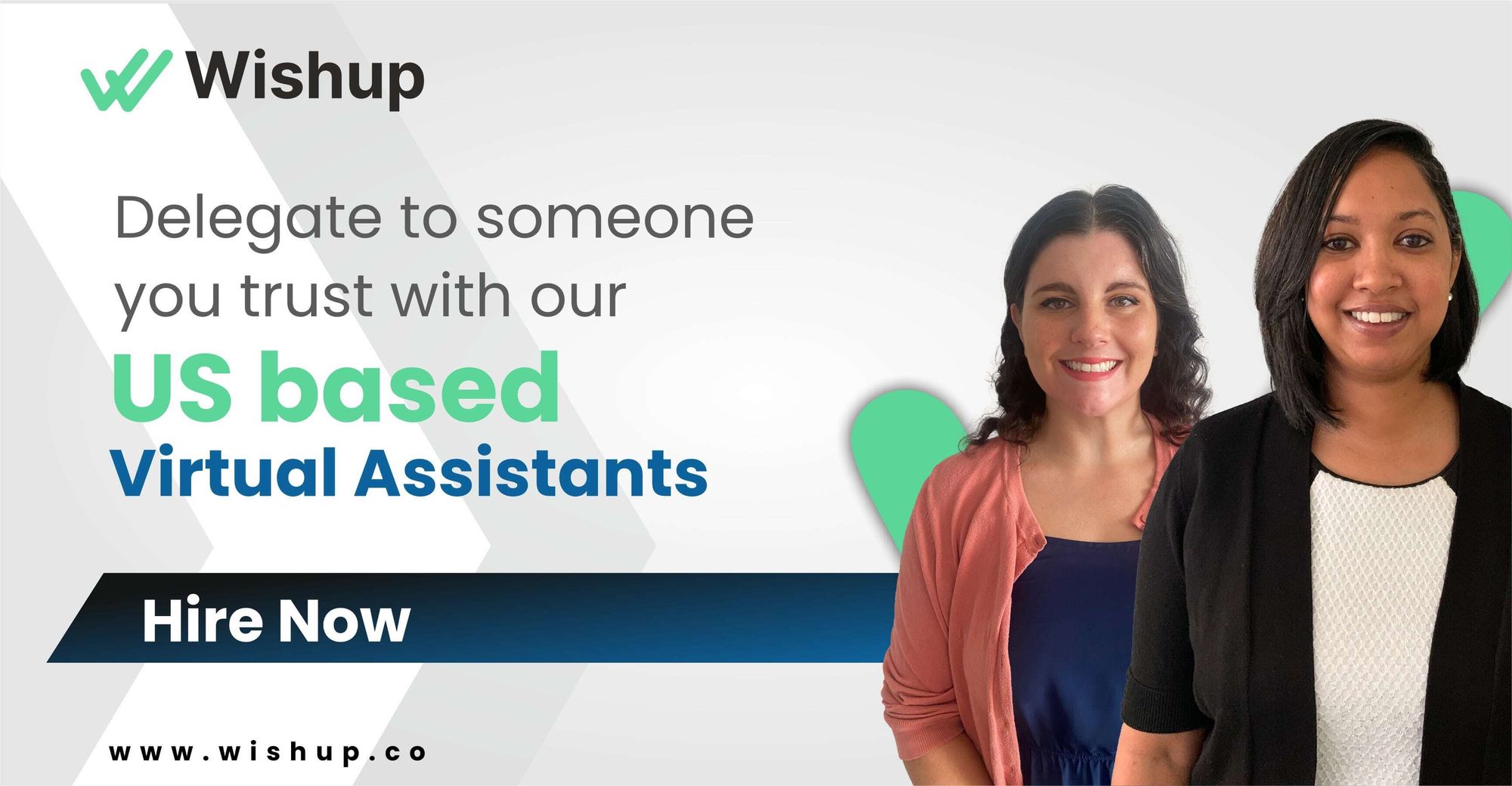 Conclusion
A virtual assistant makes your life easier. They handle your administrative tasks, so you can work towards growing the company.
Virtual assistants will communicate with you, schedule meetings, and perform bookkeeping duties. They become your right hand at work, allowing you to perform at your best.
There are many places to find a virtual assistant. But at Wishup, we give you the best of the best. Our candidates come with 200+ skills which makes them very efficient. They also cost much less than hiring an offline employee.
If you still need convincing, schedule a free consultation with us to learn more. You can also mail at [email protected].

Frequently Asked Questions
What are the pros and cons of a virtual assistant?
Some pros include calendar management, client follow-ups, and social media content management.
Some cons include the need for supervision and difficulty in communication.
What are the 3 important skills of a virtual assistant?
The three most essential skills a virtual assistant should have are communication skills, top administrative skills, and attention to detail.
What is the important role of a virtual assistant?
A virtual assistant's most important job is to handle the administrative tasks of their boss. This gives their boss more time to do their work correctly.