Why Wishup Is Better Than Time Etc?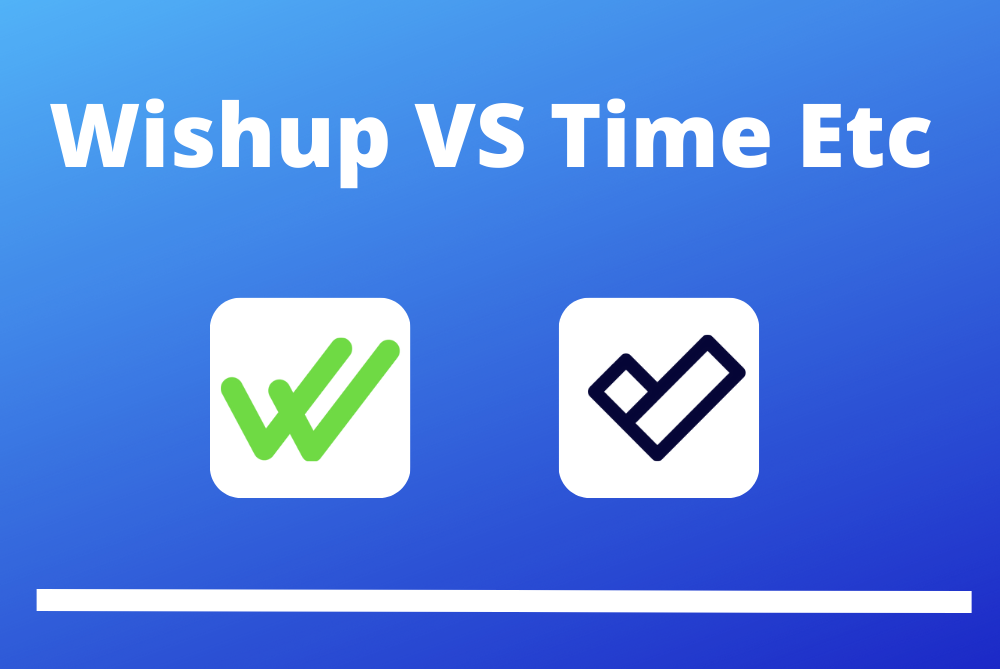 As a startup entrepreneur, you'll have to do many things yourself because you probably don't have a large team. From phone calls and office work to social media and content management, you might experience too much pressure.

As a result, you might not have enough time to concentrate on the essential tasks that directly affect your company's revenue.

Additionally, you won't have much time left to spend with your family because you'll find that by the time night falls, you still have some tasks to complete. Your physical and mental health could consequently deteriorate.

You'll need to find ways to streamline operations and boost efficiency without jeopardizing your mental health as the global competition rises.

Utilizing virtual assistants is one way to make this happen.

Virtual assistants have grown in popularity in recent years, and for a good reason. In today's quick-paced and constantly-evolving business environment, they provide several advantages that can help businesses of all sizes stay competitive.

These advantages include reduced costs, increased output, adaptability, and enhanced customer service. Virtual assistant investments put businesses in a strong position for future success.

However, the question that arises here is – how do I hire one?

Among hundreds of virtual assistant service providers across the globe, finding the one company that offers you the best-suited services is quite daunting. Furthermore, staying ahead in the game is of utmost importance in this competitive landscape.

We are here to help you do both!

In this blog, we will compare the virtual assistant services of two of the most famous names in the industry – Wishup and Time Etc.

But first, we will begin with who virtual assistants are and what they can do for your business.

Who are Virtual Assistants?

Virtual assistants, also known as VAs, are online employees who work remotely to assist with various tasks. Virtual assistants are typically hired on a contract basis, meaning businesses only pay for the work done.

The specific services of a virtual assistant can vary from administrative to technical, depending on the person's skill set. Some assistants work for a single staffing agency, while others hold multiple employment contracts.

Typical tasks performed by a virtual assistant include:

Taking calls
Managing schedules
Bookkeeping
Handling customer support
Building and updating databases
Conducting research
Creating social media profiles
Performing basic proofreading and editing on internal and external documents
Taking care of logistics administration
Helping with eCommerce orders, invoices, and payments
Helping with transcription

How can you greatly benefit from a virtual assistant?

Virtual Assistants offer many benefits that can help businesses of all sizes stay competitive in today's fast-paced and ever-changing business landscape. Listed below are some of them:

Saved money
Since the term "virtual assistant" refers to someone who will assist you virtually, you can significantly reduce your overhead expenses. For example, you will require no additional office space, morning coffee, or office supplies. Additionally, since they are regarded as contract employees, you won't be required to pay for other expensive extras like 401(k) benefits or health insurance.

Boosted productivity

Managing your email and maintaining spreadsheets are some tasks virtual assistants perform. Your workload will increase due to daily activities like data entry, phone answering, and communication with payroll, clients, and vendors.

Once you work with a reputable VA, you'll have more time to concentrate on business expansion. Freeing up time means freeing up resources, which is a win-win situation for everyone. In addition, an excellent virtual assistant will identify opportunities for increased productivity and time savings that you might not be aware of.

Better scalability

You can quickly scale up your business operations with the assistance of virtual assistants.

They enable you to quickly hire talent project-by-project, allowing you to meet rising workload demands without rushing your hiring procedure.

When the scope of your project suddenly expands, you can hire virtual assistants to handle it and end the agreement when your company needs to scale back.

Access to specialized skills

You might be the best at everything except that one thing! Perhaps it's your love-hate relationship with money management, or perhaps the demands of your inbox and your schedule are too much for you to handle while maintaining your sanity. You may require assistance with research or customer service.  

You can identify the VA whose expertise matches your particular requirements. Virtual assistants can upscale their services easily to meet your business's needs. Virtual assistants also have the flexibility to take on more duties and offer more support as the company expands.

Now that you are familiar with the role of a virtual assistant and how hiring a virtual assistant can help your business grow tenfold, let's look at the virtual assistant services offered by Wishup and Time Etc to help you hire the best of all.

Neelesh Rangwani and Vivek Gupta, two business wizards, teamed up to launch Wishup, a platform that connects US-based business owners with pre-screened and pre-vetted virtual assistants.

This dynamic business, founded in 2015 and based in Delhi, India, is becoming increasingly well-known in the US and other parts of the world. It hires seasoned remote workers to make up its unconventional talent pool and trains them to work as virtual assistants for businesses worldwide.

It provides devoted and knowledgeable virtual assistants who help with data entry, customer service, bookkeeping, and other administrative duties. The company's mission is to help business owners and sole proprietors run their businesses successfully and efficiently.

Services offered by Wishup

Wishup aims to provide budding entrepreneurs with dedicated professionals to streamline and prioritize their workload. These professionals not only complete your unfinished, recurring tasks but also assist you with their insights to make your business run 2X better.

You can hire a virtual assistant from Wishup for:

Administrative Services

Wishup's VAs can help you with all your administrative tasks, such as:

Inbox management
Calendar management
Scheduling appointments
Data entry
Online research
Travel planning
Project management
Voicemail management
Transcription
Customer support
To-do list organization
Client communication
Event planning
Database organization
Record maintenance for eCommerce
Creating presentations
Recording minutes of meetings
Gift arrangement

And more!

Bookkeeping Services

Managing your books can be a hassle, but not with the Wishup Advantage! Our VAs can assist you with the following:

Paying Bills
Creating invoices
Sending payment reminders to customers
Managing payables and receivables
Making financial reports
Year-end document completion
Handling deviant or delinquent accounts
Assisting with tax submissions
Preparing sales tax reports
Data maintenance in the software of your choice
Preparing general ledgers
Reconciling bank and credit card statements

Project Management Services

Wishup VAs can efficiently handle your project management needs by assisting you with the following:

Monitoring project and task quality
Ensuring projects are on track
Supervising members involved in a project
Monitoring work progress
Ensuring project completion
Formatting reports
Creating SOPs
Creating presentations and spreadsheets
Managing timelines

Social Media Management Services

It can be chaotic to manage your social media postings while also running your business. Here's a chance to offload this with Wishup VAs, who can assist you with the following:

Scheduling posts
Researching for relevant posts
Creating accounts
Tracking metrics

E-commerce Services

Hire a virtual assistant from Wishup to help you with the following tasks:

Listing all your products on your online store
Categorizing the listings
Assisting with Returns/Exchanges
Processing orders
Handling shipment and invoices
Writing product description

Benefits of hiring virtual assistants from Wishup

Hassle-less hiring within 24 hours

Wishup's virtual assistants have gone through thorough background checks and verifications. Additionally, you won't have to waste time on the lengthy interview and onboarding processes because they have already been pre-interviewed and vetted. Just hire a virtual assistant in less than a day.

Exceptional talent

Wishup connects you with virtual assistants who were among the top 1% of chosen applicants. These are highly educated professionals. You only need to select a qualified candidate without regard for relocation, taxes, or other issues.

Experience before you onboard

You can test out the company's virtual assistants for a week to see how they work and how well they fit into your work environment with a free 7-day trial. The business offers a prompt, no-questions-asked refund in the event of dissatisfaction.

Experts in 70+ no-code tools

Wishup virtual assistants have already undergone training and have more than 200 different specialties before working with clients. They are also well-versed with all the latest no-code tools to help you work more efficiently.

Full-time virtual assistance

Wishup promises that a virtual assistant will always be available to clients; if the one assigned to them is not available, another one will be given without hesitation. As a result, clients won't ever have to worry about their virtual assistants being unavailable when they need them.

Dedicated support

Wishup assigns a dedicated account manager to hand-hold you through the entire hiring process so that you receive constant support at every step of the way for query resolution or process management.

Global Resources

You do not have to Wishup offers both US-based virtual assistants and offshore assistants so that you can hire one as per your location and business requirements.

Assured privacy and security

To guarantee that clients' data is secure and safe, all Wishup VAs sign a Non-Disclosure Agreement before being assigned to clients.

Wishup pricing plans

Wishup offers quite pocket-friendly pricing plans for its clients. They offer monthly plans of either 4 or 8 hours, with hourly rates starting at $10.

The price for a 4-hour/day monthly plan is $999.
The price for an 8-hour/day monthly plan is $1799.

How to hire an assistant from Wishup?

Hiring a virtual assistant from Wishup can be done in three easy steps:

1. Consult

First, you need to set up a free consultation with the Wishup team. In this step, you will be assigned a customer success manager to help you proceed.
2. Share your requirements

You can now share your task list with the success manager and elaborate them on your business's exact requirements.

3. Select a profile

The Wishup team will closely match your requirements with the virtual assistants and shortlist the best ones for you. Now, you can select the virtual assistant of your choice, and within 24 hours, you will be ready to onboard them in your company.

With these three simple steps, all you have to do is sit back and relax while Wishup does wonders matching you with the dream virtual assistant!

Time Etc. is a virtual assistant service provider that pairs you with a VA based on the qualifications and experience needed to complete the required tasks. They will perform their duties for you remotely, with the freedom to be accessible as needed.

Time Etc, founded in 2007 by Barnaby Lashbrooke, hires virtual assistants based on high standards. To make the cut, each assistant must pass a 10-stage selection process.

The business has aided over 22,000 business owners by connecting them with virtual assistants in the US and the UK to boost their growth and productivity.

They offer various services, including marketing, social media, data input, administration, and research. The VAs are native English speakers with college degrees and are based in the United States, though you can find many who speak other languages fluently if that's what you need.

Services offered by Time Etc

General Services

To-do list assistance
Schedule management
Inbox management
Expense tracking
Data entry
Document editing
Transcription
Voicemail management
Travel booking

Research Services

Look into specific topics.
Discover facts and figures
Locate service providers
Look for products or gifts
Research potential customers
Look into content marketing topics
Find contact information

Social media and content marketing services

Postings on social media
Create content and articles
Find content ideas
Establish email campaigns
Make promotional and sales materials.

Sales administration services

General sales administration services
Scheduling and meeting arrangements
Database management
Invoicing
Follow up on late payments
Identify potential leads and prospects

Marketing administration

Create and organize content
Update your website
Research articles
CRM management
Proof your website

Benefits of hiring a virtual assistant from Time Etc

Numerous five-star reviews
When hiring an assistant, you must be confident that you are making the right decision. Hundreds of five-star reviews can be found on Time Etc's website.

No-risk free trial
Send the company the first task, and they'll do it for free.

Urgent requests at no extra cost

Urgent task requests are free of charge, and the company provides a money-back guarantee, same-day turnaround, and the option to cancel services at any time.

Time Etc Pricing Plans

The company charges for a monthly package of hours ranging from 10 to 60, and any unused hours are carried over to the next month. As a result, the hourly rate decreases as the package size increases.

The price for a 10-hour monthly plan is $360.
The price for a 20-hour monthly plan is $700.
The price for a 40-hour monthly plan is $1360.
The price for a 60-hour monthly plan is $1980.

How to hire a virtual assistant from TIme Etc?

Consultation
You must speak with a Time Etc. expert to discuss your needs and professional objectives.

Match
They'll pair you up with a virtual assistant they think will be the best fit for you (you'll get a chance to speak with them before approving the match).

Start
After receiving approval, your virtual assistant will begin working on your tasks.

Our Verdict

Both companies have their own distinct advantages that set them apart. For example, time Etc users have free access to dedicated VAs with specific skills, and clients can even invite friends and colleagues to use their accounts.  

However, its pricing structure is somewhat constrained, with only four tiers—10, 20, 40, or 60 hours per month. Additionally, the hourly rates for a virtual assistant may be higher than the industry standard. Even though the first task is free and unused time can be carried over to the following month, we found the service costly for the few hours you can use each month. Only 60 hours of assistance are available to users each month.

Another drawback of Time Etc. is that their virtual assistants don't have specializations. So although each assistant can handle administrative duties more generally, you won't find a specialized skill set here.

Wishup enjoys a clear advantage when it comes to budget pricing and specialized training. Wishup offers virtual assistants trained in over 200 specialized services, including bookkeeping and eCommerce. Furthermore, the pricing starts as low as $10/hour, which is hands-down a better option for your pockets.
To make you understand the price difference better, a 40-hour service from Time Etc would cost you $1360, and if you hire the same service from Wishup, it would cost you around $400. It's quite clear which one will fit your budget better!

Also, while Time Etc's free trial is limited to one free task, Wishup offers a 7-day free trial to enable better collaboration and communication between you and your virtual assistant.

Another area where Wishup has a clear edge over Time Etc is its top-notch talent, which is chosen from the top 1% of talent, whereas Time Etc selects from the top 2%.

Settling for the good should never be an option when you already have something exceptional, right?

Enjoy the Wishup Advantage now!

Virtual assistance is your own secret weapon for getting things done. Virtual assistant services can transform and streamline your business in incredible ways when utilized wisely.

Choose Wishup for the best-in-class services: you can actually try it out for yourself with the 7-day free trial and a money-back guarantee! Send us a mail at [email protected] or book a free consultation with our professionals to know more.