Starting a new business is easy.
Growing the business is a bit difficult, but possible.
Growing the business beyond expectations.
Now, that's when you need a little more help.

As your business grows, so do the associated tasks, such as billing, managing your inventory, placing orders with suppliers, ensuring timely deliveries, and, most importantly, replying to customer queries as soon as possible. Lastly, you must update your social media profiles regularly so that your customers have the latest information about your business.
But given the high costs associated with hiring a full-time employee, does hiring one in your initial growth days make sense?

How remote assistants is different from your full-time employee?
Unfortunately, for many small businesses across America, it does not. The overheads, medical benefits, and taxes associated with a full-time employee don't make hiring one viable.
The need of the hour is a solution that is easy on your pocket while offering the same benefits/workload management as a full-time employee.
Yes, businesses all over America and the world over are gradually recognizing the immense benefits and cost savings of hiring a virtual assistant for their business.
Virtual assistant services are the new magic mantra that businesses can depend upon to manage all their small but essential, recurring tasks and update their social media channels so that they can focus on growing the business just the way they envisioned it in their earlier days.
But how does one go about hiring a virtual assistant?
Do you hire assistants online or from an agency?
What is the difference between them, and which option is better?
Is using the services of a virtual assistant agency more expensive than working with a freelancer?
These and other doubt-raising questions often stop small business owners from making the right choice and hiring remote assistants for their business.
Well, in this blog, we help you understand online assistants better, how they can be beneficial for your business and how to hire a virtual assistant easily, with minimum effort and time.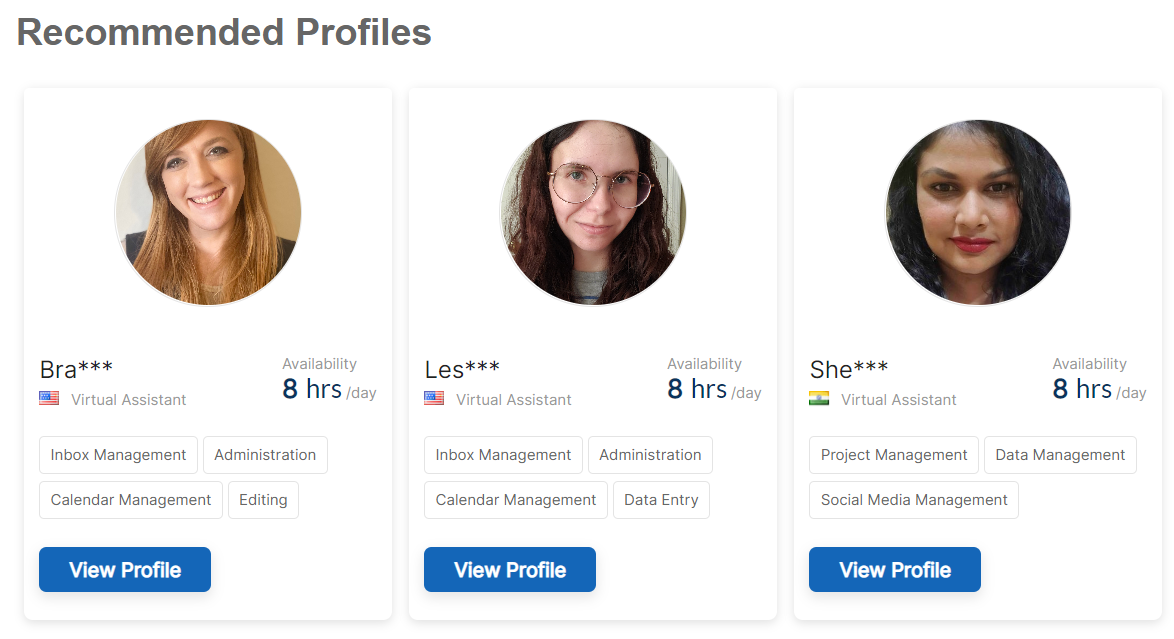 View More VAs


What is an Administrative Assistant?

A administrative assistant is a professional who usually works as a freelancer or for a virtual services agency to manage administrative and other tasks for companies. They are usually hired on an hourly basis and have their own setup, which makes hiring them very cost-effective for a business.

Compared to freelancers who may have multiple commitments and not be very reliable in some cases, it is better to hire a virtual assistant from an agency such as Wishup, a pioneer in the virtual assistant services space.

Unlike full-time employees who work on-site with you, a remote assistant works remotely for your business. When you use virtual assistance, you don't have to shell out a huge monthly salary and benefits. You also don't pay for vacation days, sick leaves, and taxes.

You simply pay a fixed amount based on the number of hours your VA works for you. Thanks to the benefits remote assistants bring to the table, many businesses are building entire teams by hiring virtual assistants! This model is perfect for growing an existing business and starting a new business.

Looking for virtual assistance services. Please read our blog: How to hire a virtual assistant: The ultimate guide for entrepreneurs

What are the tasks you can outsource to an administrative assistant?
While administrative Assistants have multiple skills, most tend to specialize in 2-3 tasks & fields so that they can become experts in that field. Tasks that you can outsource to administrative assistants are;
Office Administrative Tasks
Managing your Inbox
Replying to Customer Queries
Writing Minutes of Meetings
Scheduling & following up on Meetings
Making Travel Arrangements
Booking Restaurants
Sending Gifts to Clients, Associates & Employees
CRM Management
Preparing Reports & Presentations
Updating your social media profiles
Assisting with client followups
Following up on due payments
Managing your bill payments
Data Entry
Keeping track of expenses
Onboarding & training new employees
Updating your e-commerce listings
Coordinating e-commerce operations: deliveries, payments, refunds, etc.
And much more…


How to Hire a Virtual Assistant for your business
1.       Begin your search online

The first step is to start looking for the right plaform that provides online assistants. While many options are available, you need to check the credibility and reputation of the virtual assistance services you are considering.

Look for a virtual assistant agency that offers remote assistants with diverse skill sets such as administration, bookkeeping, project managers, business managers, etc.

2.       Compare the options

Once you've located VA services that work well for you, do a comparative analysis based on pricing, geography, quality of services, etc. You can even ask people in your professional network for reviews on different platforms. Only after you've thoroughly evaluated your options should you take the final decision.
3.       Set up a meeting with the Administrative Assistant you have shortlisted

The next step is to connect with the administrative assistant via an online video conference and understand their expertise and experience. That will help you clearly see whether they will be a good fit for your organization.

That is the most crucial part of hiring virtual assistant services, as you don't want to sign up and discover later that they don't have the skillsets they claim to have or are incompatible with your organization's culture.

To avoid hiring the wrong online assistant service providers for your company, working with a professional online assistant agency with pre-vetted and qualified assistants on their panel is better. Moreover, the agency should also offer you a refund or replace the assistant in case the remote assistant does not meet your expectations.

4. Get ready to onboard your new administrative assistant

Unlike recruiting employees, who need a couple of weeks to join your organization, and then need to be trained and bought up to date with the skills required to perform efficiently in your organization, executive virtual assistant can be onboarded in less than 24 hours through Wishup.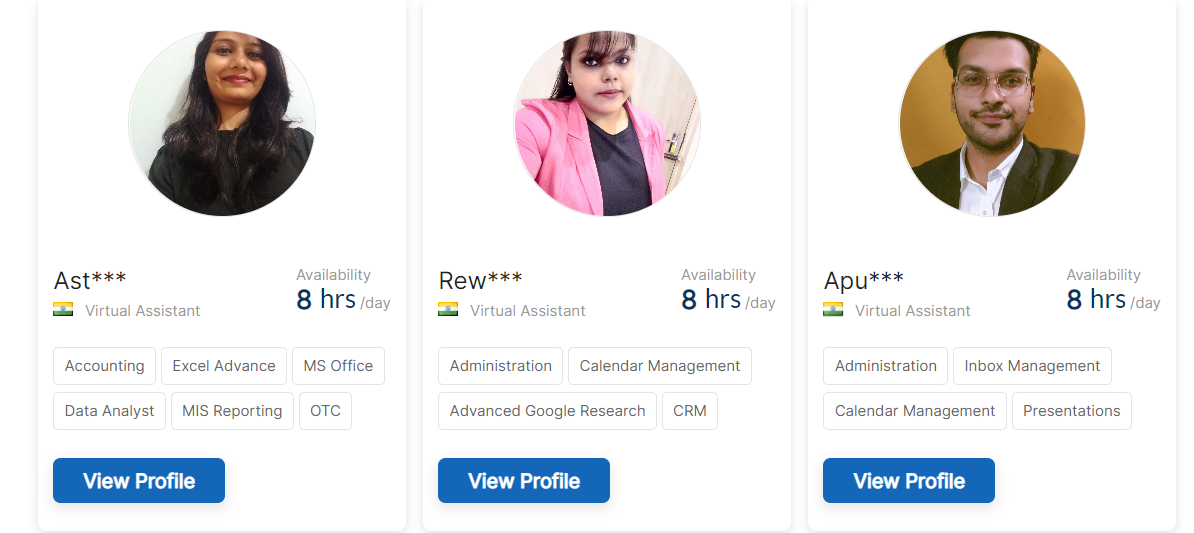 Book Now to save $100 USD

How Much Does Hiring a Virtual Assistant Cost?

Remote Assistants usually charge by the hour based on the skillsets you are looking for and the level of expertise your business needs. While freelancers may charge upwards of $25 and more per hour, they may not be available when you need them. Freelancers also usually charge much higher rates for social media related tasks, making them quite unviable sometimes.

The best solution is to hire a virtual assistant from virtual assistance companies such as Wishup, who provide administrative assistants who are pre-vetted and trained in more than 200 skill sets. It also offers a no-questions-asked refund/replacement policy and does not bind you with any long-term contracts.


Benefits of Hiring a Virtual Assistant

1.       Supercharge productivity
As a business owner, your primary job is to grow your business. When you hire a virtual assistant, you take the burden of managing routine tasks off your shoulders. As a result, you will have more time to work on the things you do best.
Your administrative assistant is also trained in multiple tools and skill sets to boost their productivity. In addition, they have many useful resources, such as tools to manage calendars, keep a record of your expenses, make travel arrangements, schedule social media posts, create free mockups etc., to manage their tasks more efficiently and quickly.

2.       Cost efficiency
Remote assistants work remotely, i.e., they operate from their own space, thereby cutting your costs. In addition, you don't need to pay your administrative assistant a fixed salary. Instead, because they work on an hourly or project basis, you pay them according to the quality and quantity of work done.
A full-time employee brings the economic strain of benefits such as healthcare and pension. A remote assistant does not need these additional benefits.
3.       Better Customer engagement
Constant engagement with customers through email, chat, and social media is necessary to maintain a healthy relationship with them. An executive virtual assistant assists you in staying connected with your customers and building profitable long-term relationships with them. They can also help you with marketing essay writing help. Because the professionals from such services are experienced, well-educated, and have the ability to multitask therefore they can help will different business issues expertly.
Hire a virtual assistant to focus on your businesses growth.

"Deciding what not to do is as important as deciding what to do."

The quote fits well with the situation of business owners, who must know when to hire a virtual assistant to help their business take off. When business owners hire a virtual assistant, they save time that can be used to focus on growing their business and enjoying a better work-life balance.

Once you start delegating your daily to-do list to your VA, you'll realize how much time you save daily. So stop killing your productivity and start focusing on the money-making aspects of your business.

Hiring a virtual assistant is relatively easy with Wishup; you can have one onboarded in less than 24 hours. All you need to do is email us at [email protected] or visit our website Wishup.co to get going.
Subscribe to Wishup Blog | Remote Teams | Remote Employees
Get the latest posts delivered right to your inbox