Workplace productivity doesn't depend on an employee's location. Work is possible even when employees work remotely, and being in the office doesn't equal greater efficiency—they're just physically present.

Still, as barriers to remote work continue to decrease, having a remote team isn't enough. Companies also need to provide employees with the right collaboration tools and cloud-based solutions to make their work easier and more efficient.

A digital asset management platform is one of the most critical tools a remote team needs that enables it to collaborate and work efficiently.

Eager to find out what this tool is and how remote teams can benefit from it?

Let's dive in.
What is digital asset management?
Digital asset management, or DAM for short, is the process of organizing, storing, and retrieving digital files for business purposes.

Think of it like a system that serves as a central location for all your digital assets—including documents, photos, illustrations, video, sound clips, and media in other formats. Much like how school asset management software serves physical devices.

A DAM system can help you:

Find the correct files you need, when you need them
Keep track of the file's usage across your enterprise
Organize files in an easily searchable way
Protect your files so you can securely distribute, organize and store them for required use

Digital asset management creates efficiency in your organization by giving you the control and flexibility to manage your assets throughout their lifecycle. This ensures you achieve an optimized workflow.
Anyone in an organization can benefit from a DAM solution, but let's see how it supports remote teams specifically.
How can DAM support remote teams?
Remote teams working in different locations often find it challenging to store files in the local system of an organization. As a result, they resort to tools like Google Drive or Dropbox for file management and storage.

But as your remote team grows or you begin to accumulate large files, these storage solutions become less than ideal. Also, most cloud-based storage cannot give top-level security to collaborative projects in a distributed workforce.

Here's where digital asset management for remote teams comes in.

It resolves these problems by allowing teams to store large amounts of files and set up automatic sync for any changes made. It also provides advanced user permissions for sensitive digital assets so that private files are not out there accidentally for everyone to see. This doesn't mean the underlying cloud architecture isn't important. In fact, for enterprises, building a convergent, hybrid cloud infrastructure is critical to enabling true DAM and making a smooth transition to remote and hybrid work.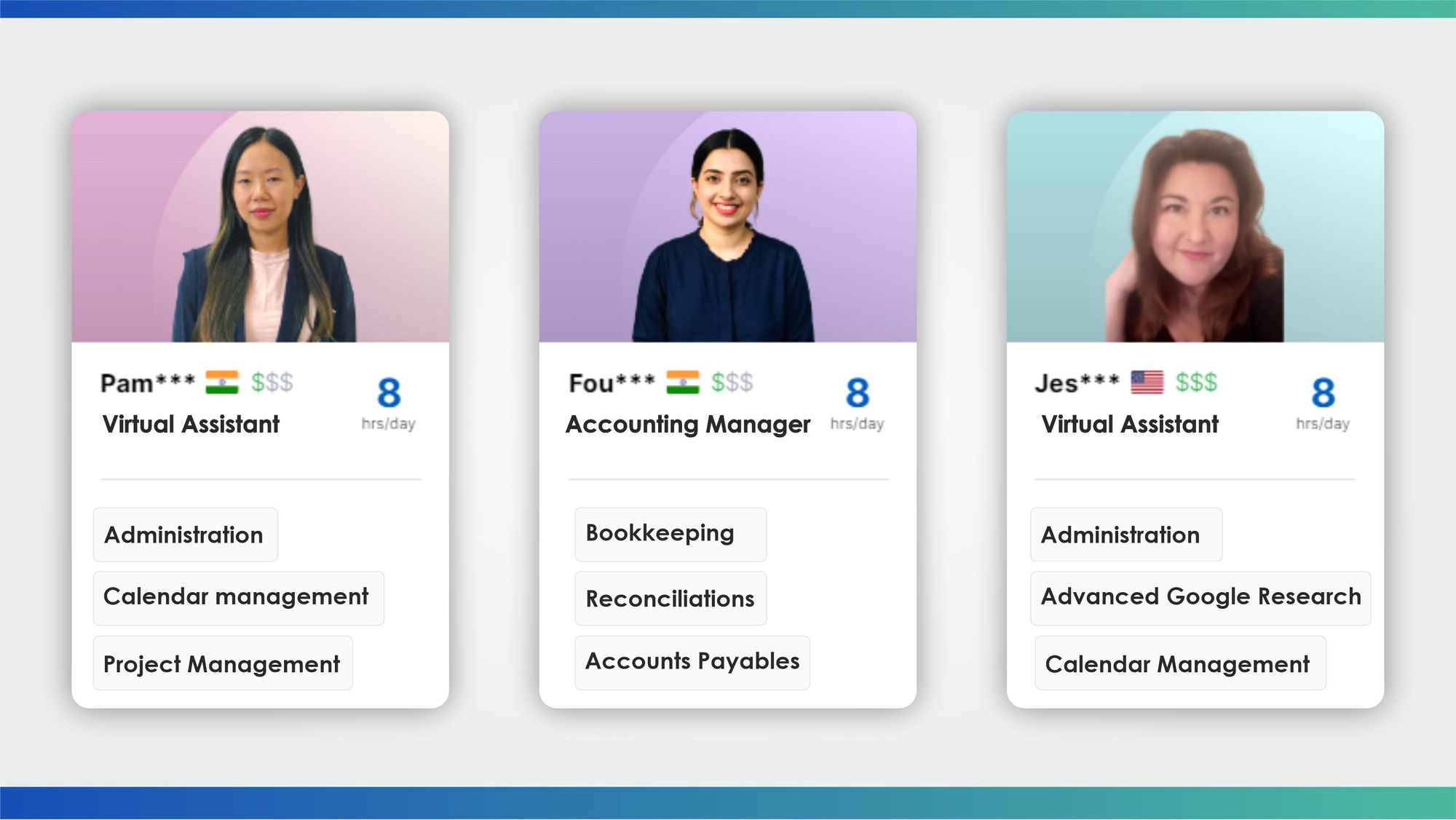 5 Benefits of DAM for your remote and distributed team
There are more benefits to gain by using a DAM for your remote teams. Here's how it helps them maximize success.
1. Constant access to all company digital assets
Your remote team should have easy access to company files and assets when needed.

But this can be a struggle if you use traditional or local servers. Finding, downloading, and transferring files becomes a hassle for everyone involved.

Even when you grant access through a VPN, the speed and performance of local servers are often so poor that the team ends up saving their work on their personal cloud storage or emailing themselves.

Yikes.

With a DAM system, you don't have to worry about sluggish VPNs or unorganized file storage. Instead, your remote employees can easily find and access files through the tool's powerful search features. No more bombarding co-workers with emails and chat messages trying to find what you're looking for!

What's more, DAM provides 24/7 self-service, so your team will have access whenever they need it. As a result, flexibility in all content operations is guaranteed, regardless of where they work or at what hour.
2. Consistency in branding
Imagine you're preparing for a product launch in one of the locations your company operates in. All your publications are ready to go when you suddenly discover your remote team used the old version of your company logo.

This may be because your employees are in a different time zone and were unaware that the required version of the logo had changed. Unfortunately, this will lead to the wrong marketing materials going out for publication.

However, this won't be a problem when you have digital asset management in place.

A DAM system gives you control over your digital assets and promotes band consistency across multiple creative and branding teams. An updated file or image, for instance, can be added to your DAM library and made available, so when next your remote team needs to download a file, the right one will be waiting for them.

This standardization is crucial when reaching out to certain branches of your customer base with specific messaging. In addition, a DAM keeps messaging strategies organized and consistent.
3. Streamlined content sharing and workflow collaboration
A distributed team always shares files, sometimes large ones, to collaborate on a project. File sharing is crucial because employees can't just call a colleague over to look at their screen. But due to download delays and broken networks, figuring out how to email large files becomes challenging.

A DAM streamlines the sharing process, enabling your remote team to achieve an optimized workflow. It eases the transfer of files to colleagues, management, clients, or whoever needs to see and use your files.

While some digital asset management platforms have quick links that let you share files with the click of a button, others enable you to curate content from your library or add collaborators to build or subtract content over time.
4. Improved work productivity
Another way you can improve your remote employees' productivity is by allowing them to access the files they need to perform their responsibilities effectively.

Rather than wasting time emailing colleagues or relying on other tools and platforms to validate assets, employees can quickly access what they need directly from the DAM. This reduces the friction of distributed teamwork, saves time, and improves organizational productivity.

That's not all—some DAM systems integrate with project management systems and other communication tools. This makes it easy for remote teams to attach assets to specific projects, provide edits, approve content, and collaborate with conversations.

Integration with Slack, for example, allows teams to view and comment on threads. Any comment on the thread is then added to the DAM automatically.

5. Improved communication
A DAM system helps everyone meet timelines and deadlines while keeping them up to speed on work initiatives.

Instead of sending lengthy emails or using numerous communication tools, a digital asset management platform streamlines communication. For example, it enables teams to approve and validate work processes from one central repository. This makes it easier for teams to share feedback and suggestions on projects on the DAM rather than relying on other communication apps.
How to implement digital asset management systems
Digital asset management enables you to build a successful digital marketing strategy by keeping your digital assets organized, removing clutter, and eliminating poor file management.

Here's how you can start implementing a marketing strategy for your company:
Audit your assets
Auditing current assets gives you an idea of the best ways to store and organize your assets. This makes your transition to a DAM system easier.

To do a proper audit, ask yourself questions like, "What assets do we have right now?" and "How many of them do we use?"

You may think you have 1000 assets, but after auditing, you could discover that only 800 are usable.

Going through your library with a keen eye will help you determine what should remain and what should not.
Choose your DAM provider
There are many DAM solution providers, but you'll need to test and decide which one fits your team the best. In addition, each DAM system has distinct features and pricing schemes, so their workflows may differ.

For example, a DAM provider may have a pricing scheme according to the number of users it allows. So, if you have ten members on your team, they would all have full access to the DAM.

When your team later doubles in size, half of your team members won't have access to all the DAM features. This means you would have to readjust your workflow if you don't plan to upgrade. Therefore, it's best to figure this out before settling with a DAM provider.
Distribute responsibilities and handling of assets
After procurement of your DAM system, determine which team members interact with the assets and what they can or cannot do. You can do this by assigning user permissions and use requirements.

For example, marketing and sales teams can only access — not upload — finalized versions of assets. On the other hand, designers can constantly upload and revise assets.
Connect your integrations
DAM interconnectivity with tools like Slack, Adobe, Google Analytics, Salesforce, and popular small business CRMs makes your workflow effortless.

Ensure you arrange your integrations before migrating your team to a DAM system to help your remote team get used to the workflow.
Gather user feedback
Implementing a DAM system is a work in progress, and its usability will grow and expand over time.

As your remote teams use the DAM system, they might come up with suggestions to improve existing workflows. Gather substantial feedback after your team has fully adjusted to the new workflow and use it to improve the DAM's procedures. This can include searching for assets, tagging, and organizing folder structures.
Use a virtual assistant to simplify your DAM systems
Adopting a DAM system for a distributed workforce comes with many benefits, especially centralizing assets in one location for easy access to all team members. It also allows you to secure the assets so that only permitted users can view or download files from the DAM.


If you're worried about implementing and transferring your assets to a DAM system, a data entry virtual assistant is what you need. Virtual assistants know their way around most software since it's their job to be the best in the field. They can help you maintain your DAM solution while providing the flexibility of paying for the time and support they offer.

Want to hire a reliable virtual assistant? Get started today.


Author Bio:

Rana Bano is a one-part B2B content writer and one-part content strategist. She uses these parts to help SaaS brands tell their story, aiming to encourage user engagement and drive traffic.

Subscribe to Wishup Blog | Remote Teams | Remote Employees
Get the latest posts delivered right to your inbox