5 Tricks & Treats Only VAs Can Help You With
For an entrepreneur, workload and stress are at extreme heights, for which VAs might just be the perfect solution. Check out 5 tricks and treats only VAs can help you out with.

Happy Halloween! The custom of trick-o-treat goes hand-in-hand with this super fun holiday, if there's no treats given, tricks are a necessary stunt that is to be followed. Similarly for entrepreneurs too, if they don't achieve their treats or "goals" then tricks or mishaps happen.
While entrepreneurs are superheroes, they have long days and long nights and a mission that they keep striving for each day. But being a micromanager might be necessary initially but with time passing maybe not so. Especially when you have hundreds of tasks on your plate to finish before the sun sets, it's essential to realise that assigning some tasks and outsourcing might just help immensely with success.
So how do you decide that the time has come?
Jot answers for the following questions:
Things you hate doing
Things you can't do yourself
Things you shouldn't be doing

And once you have those, you'll answer it for yourself if you need a virtual assistant for your business or not.
In other words, for an entrepreneur, a virtual assistant is a treat, but how would you know which one you need?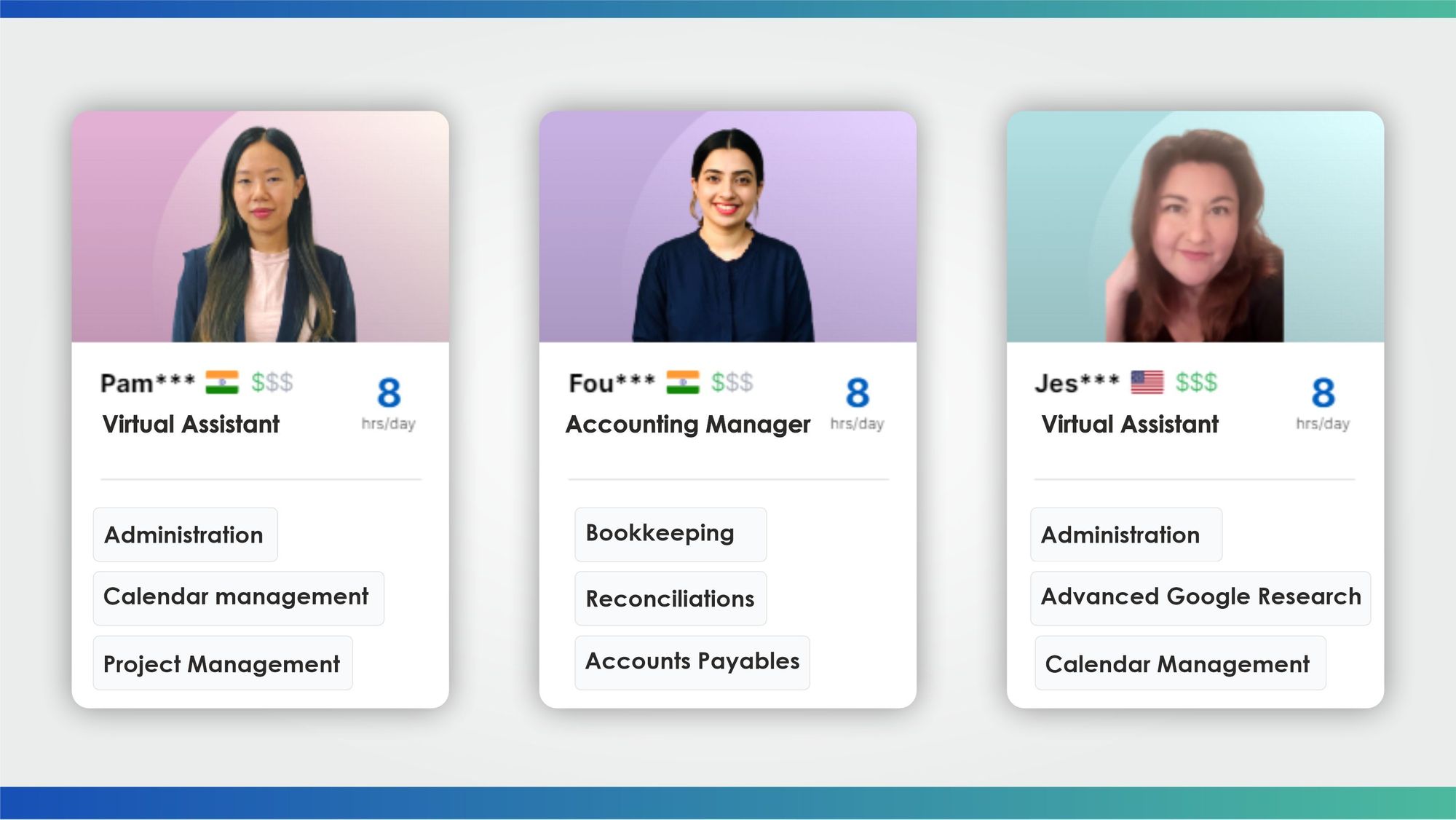 Well, Wishup's here to help you with our recommended treat suggestions for 5 different types of tricky situations:

Trick Situation #1: Too Caught Up Doing Tiny but Must Do Tasks and End Up Not Being Able To Focus on the Bigger Project
You've to review the marketing slogan for the upcoming product launch but before that if you've to finish off payroll. You need to prepare for an important meeting but you're busy answering calls. You're wanting to prepare a long term financial plan but unexpected visitors keep popping up into your office to chat. Do any of these situations sound familiar?
Sure they do, with office workers losing a third of their time due to administrative tasks and 36% spending between 3-4 hours on them, asides from personal productivity can impact the business too (now we're speaking more than $5 trillion annually!) Clearly a solution is needed:

Treat: Hire An Administrative Assistant
A successful business does require a bunch of administrative tasks to be handled but what all can one business owner do? Think managing time sheets, tracking reimbursements, setting up client calls, proofreading documents, managing calendar and the list goes on and on.
Well, how about an administrative assistant who handles all these things for you, let them work to their strengths, and in return will allow for you to focus on the business's growth. (Why hire a VA page) But you might think hiring an additional employee might follow up with extra costs? No, not with a virtual one! With no equipment costs, reduced training costs and no need to pay for additional fringe advantages: check out 40 benefits of hiring a virtual admin assistant.

Trick Situation #2: Struggling To Find And Hire Top-Notch Candidates For Your Business
According to a study by Glassdoor, an average company in the US spends about $4000 to hire a new employee, taking up to 52 days to fill a position. And if you're replacing someone, then the stakes get even higher, costing you up to 50-60% of their annual salary.
Clearly stating that mess ups by choosing a wrong candidate can cost you a fortune with costs like recruiter fees, advertising, promotions, training and not to mention the opportunity costs and lowered productivity or the "hidden" costs as you take out your valuable time to interview them. Clearly hiring takes a lot of patience, time and money, all that an entrepreneur cannot afford to lose.

Treat: Hire A Hiring Assistant
Let the experts take over and help you build you your ideal and super talented team. With trained VAs handling the candidate listings, responding on job portals, conducting screenings, you can save yourself the hassle of sitting amongst a million profiles and focus on the running of the business!
Well, why a Virtual assistant? A $2 mars candy or a $5 one? Like the $2 one more, well for the same reason, a virtual one is way cheaper than a full time employee or an HR manager to help you manage hiring. Just explain to our VAs your organisation standard, and let them filter and do the magic for you!
Trick Situation #3: Unable To Find What You're Actually Looking For
Is it taking you forever to look for a particular report or data to support your argument? You're not alone, it's common while researching to lose track of time and get drained out, but as a business owner that might not be the most efficient practice keeping in mind you have several other tasks lined up.
But that in turn doesn't mean you apply random statistics to your report because research of any sort is archetypal to business growth and success. It helps you understand market trends, analyse competitor markets or even help you develop new ideas or strategies, clearly a huge responsibility that cannot afford being messed up.
Fun fact: Price of quantitative studies can go all the way up to $55k, so imagine redoing it and the money lost!
Treat: Hire A Research Assistant
As an entrepreneur it's essential to realise that you won't excel in everything, and asking help in certain situations might prove to be the best. If you're struggling with finding adequate research, then let your virtual research assistant help you out with all online research tasks.
No shade, but they'll present a comprehensive report backed with data way more quickly and appropriately than you will. Check out the various research services they can help with ranging from travel, influencer, product and market, lead generation, trends, database and much more and the steps to hire one.
Trick Situation #4: Not Seem To Getting Enough Likes Or Organic Followers
A survey of small business owners by BIC found that 63% respondents spent 1-5 hours on social media each week and some even spending more than 20 hours. How much work are entrepreneurs getting done if they're busy managing their profiles and posting tweets? Not much work is the answer to that.
However with social media branding being the new thing and essential for growth of businesses, it cannot be ignored either. So what can be done?
Treat: Hire A Social Media Assistant
While the saying is overused and old, time is money and a business owner's biggest asset and handling social media when you're not very familiar with anything but hashtags on that space can be time consuming and costly. But imagine how dreamy a VA with a perspicuous understanding of social media takes over and you get noticed by extremely valuable clients.
Wishup's social media virtual assistant makes it a point to build a strong digital presence for your business keeping in mind the latest technology and tools and perfect SEO friendly content to make sure your business shows up first always.
Read more to find out the benefits and costs of social media VA and bid farewell to feelings of regret when you miss a posting date!
Trick Situation #5: Grappling Between Work & Private Commitments
With over 91% respondents claiming that they work on the weekends, spending more than 3 hours to respond to work emails and calls is expected to happen to an entrepreneur. Demanding schedules and busy families make it quite a task for them to support their personal lives and often one leaves being sacrificed. But you don't need to make a choice anymore!
Treat: Hire A Personal Assistant
While you may believe you're self reliant and want to do everything yourselves but as a business owner who wants to be successful, you need to realise the value of your own time and take assistance for certain tasks.
A virtual personal assistant is just the perfect mythical creature for you, leave aside the worry of booking your flights for your next trip or the adding in an appointment to your calendar, with Wishup's virtual personal assistants you can assure your other tasks are accomplished on time and you can focus on the other half!
Final Note
Remember time and money is the biggest indicator of success of an entrepreneur, so if you're stuck in a situation like those above, repeat "my time is worthy", and entrust certain tasks onto the experts and focus on growing the business and its endeavors.
"Master your strengths, outsource your weaknesses." - Ryan Khan, founder of The Hired Group