Virtual Research Assistant: A Detailed Guide For 2023
As important as research is to a business in order to evolve, it is equally cumbersome. The knowledge on internet is expanding, giving us limited number of hours to be able to focus on it. Ever heard of a Research Virtual Assistant? Read on to know more.

Research is essential for a successful business in today's competitive industry. The knowledge of the latest market trends enables you to evolve with the changing business landscape.
Research assistants have the necessary skills and expertise to conduct in-depth research. The data they collect is valuable in making productive business decisions.
While you can hire a research assistant in your company as an employee, virtual research assistants are a better bargain. They are as qualified and talented as traditional research assistants but offer much more. Affordability, flexibility, and quickness are just some of the many winning traits of a virtual assistant.
This blog will elaborate on many other benefits of hiring a virtual online research assistant. Before that, it is important to understand who a virtual assistant is.
Who is a Virtual Research Assistant?
A virtual research assistant works remotely and performs important online research for your business. They are equipped with the skills and experience necessary for conducting all types of business-related research.
The research assistant online scans the internet to collect important data and figures. They present that data in a comprehensive and easy-to-understand format. You can use this information to develop new ideas that improve your organization's performance, productivity, and outcome.
What can a Virtual Research Assistant do?
Products and Services Research
Researching a product or service includes conducting surveys and assimilating data from your target audience or customer. A research assistant may also study popular hashtags related to your product and social media comments for product research. They will use the information to determine whether a service or product will achieve success.
This process lets your company know the needs and expectations of your customers. With the help of online research assistants, you can understand market trends and consumer preferences. You can accordingly design products and services that guarantee customer satisfaction. This is why successful businesses hire a VA.
Travel and Holiday Planning
Research assistants can look up the best flight deals for your business trips. They can find the best hotels for you based on your needs and likes. A virtual assistant also helps you with your personal errands. This is especially true when it comes to planning a vacation.
Share your preferences, like the choice of food, activity, and interests, with your virtual assistant. They will browse the internet and find the destinations which accommodate most of your requirements. You can also ask them to organize the list in order of cost, distance, and weather.
Personal Research
A virtual assistant can also act as your online personal assistant.
Planning to renovate your house? The virtual assistant will form a list of the best architects in the city. It's possible that those architects manage projects with help from a VA too. They can also do some research on furniture design and interior decoration for your reference. Similarly, the virtual assistant will help you with other personal chores, like finding the best restaurant to eat at.
It is possible you have more business ideas than the one you are involved in. Your virtual assistant can take out the time to research those ideas while you focus on running your company.
Market Research
Research assistants are great at turning complex jargon into understandable concepts. They follow the latest trends in the industry, research your competitors, study consumer behavior, and more. You need to know what your consumers want. With accurate consumer demographics and psychographics, you can create the products that will sell. Collaborating with a research paper writer can significantly enhance the quality and depth of academic or professional studies, providing insights and analysis that are well-grounded in evidence.
Without understanding the market, you cannot take calculated risks. Research assistants provide you with important data using tools like focus groups, questionnaires, and online surveys. If you're conducting a research project that needs you to conduct surveys or interviews, your virtual research assistant will get the job done. Let them know the details of the task and they can distribute surveys over email or conduct interviews with focus groups on the phone or in person.
Real-Estate Research
You could be interested in real estate for a number of reasons. Perhaps you want to expand your business to a new office space or buy a new apartment for personal use.
Research assistants can find the best real estate agents based on your budget. They will also research key factors like amenities, locality, distance from the airport, etc.
Good research assistants can go a step further and study real-estate trends. They will give you a fair estimate of future price hikes in the area.
Virtual Research Assistant - Services Offered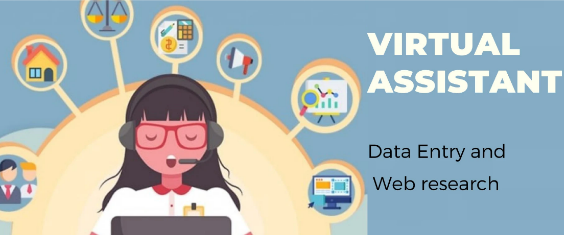 Data Visualization
Simply collecting data is not enough. You need a good virtual assistant to make sense of that data and present it in a catchy and palatable format.
There are many stakeholders in a business, like managers, executives, and partners. Not everyone understands data in its pure form. A virtual assistant makes the data easy to understand.
Here is how a virtual assistant visualizes data:
Analysis of the existing data and interpret it.
Creation of rich visualizations through graphs and reports of your choice.
Use BI (Business Intelligence) applications to extract data and streamline reporting.
Representation of the same data in different formats depending on the stakeholders.
Comprehensive Market Research
Market research is an umbrella term that includes important information on demand, competitors, products, trends and more. An accurate and comprehensive understanding of the market puts you at an advantage compared to your competitors. You can use this knowledge to come up with better products and business strategies.
Tools for comprehensive market research include:
Online surveys, questionnaires, and focus groups.
Studying online trends through comments, hashtags etc.
Creating individual reports based on demographics, psychographics, etc.
Collaborating with marketers, surveyors, and statisticians to interpret and compare data.
Using simple statistics or graphical representations to share the findings.
Archiving the findings safely for future reference and use.
Vendor Selection
No business operates in isolation. There are many stakeholders, including vendors. They provide the essential services and goods a company requires to function.
Many factors influence the process of vendor selection. A virtual assistant can make that process easier by:
Searching for the right vendors based on your business needs.
Preparing proposal documents for hiring vendors.
Analyzing proposals from different vendors.
Negotiating vendor contracts by evaluating risks and liabilities.
Competitor Analysis
To beat your opponent, you need to know what they are up to. Virtual research assistants analyze your competitors, so you can learn what products or strategies they are launching.
A virtual assistant studies competitors by:
Researching their products, market strategies, and presence.
Studying the impact of their products and target demographics.
Monitoring the competitors across platforms like websites, social media, etc.
Comparing your business strategies and goals against your competitors.
Internet Research
Online marketing and sales are the thing these days. In fact, most processes and operations happen online. A virtual assistant excels are performing research on the internet and other online tasks such as:
Updating client and customer database online.
Booking flight tickets, hotel accommodation, and other travel arrangements.
Keeping track of competitors' websites and social media activity.
Researching the latest technologies.
Business Research
This type of research helps you sell your products to the right people in the right location. Virtual research assistants are great at studying markets and identifying fertile grounds. They help you:
Understand the current market.
Analyze your competition.
Assist in country and industry profiling.
Help in target screening.
Data Research and Analysis
A virtual assistant can act as your data research assistant. They will help you collect and interpret important data by:
Researching industry trends.
Studying market trends.
Understanding company performance and output.
Things to Consider Before Hiring a Virtual Research Assistant
A virtual research assistant is a great addition to your team. But you must make sure that a candidate is perfect for the role before hiring them. There are some steps you can take to find the right fit.
Simply going through their resume and educational qualifications is not enough. You must check if the virtual assistant has effective communication skills. The candidate should also be good at researching, collecting, and presenting data.
Make sure you cover these key points in the interview. Also, be clear about your work culture and what you expect from the assistant.
Top Benefits of Hiring a Virtual Research Assistant from Wishup
Good research is the backbone of all successful businesses. Our virtual assistants at Wishup understand this.
From research to the presentation of data, our assistants are adept at every stage. They are versatile and can collect information on various topics, from niche market stats to lead contact information.
Keeping track of the latest market trends is important, and our virtual assistants always stay up to date. You can rely on them to make profitable decisions and calculated risks. Hiring our virtual research assistants comes with many more benefits.
How Much Does a Virtual Research Assistant Cost?
A virtual assistant for research draws about the same salary as an administrative executive assistant or general virtual assistant. But this changes if you are looking for a highly skilled data miner. Such a candidate will cost more because they will come with more experience and competencies.
With Wishup, it's a different story. Our candidates are at the top of their game, costing a fraction of what others charge. By paying as less as $9 to $11 per hour, you can hire a competent assistant from Wishup.
Why Hire Virtual Research Assistants from Wishup?
Top 1% of applicants
Our candidates at Wishup are highly qualified and skilled. They go through a meticulous selection process before joining our team. We ensure you get the best of the lot and never compromise on quality.
24-hour onboarding
Forget spending weeks looking for an assistant. Once you select the candidate of your choice, they will be onboarded in a day.
Instant replacement
If you are unhappy with your current virtual assistant, Wishup will change them instantly. We won't ask you for a justification. Our focus is on providing you with a skilled assistant.
Dedicated account manager
Our account manager will accompany you at every step of the hiring journey. Drop them a message with your concern, and they will address them as soon as possible.
7-day risk-free trial
If you are unsure about hiring a virtual assistant, try our 7-day risk-free trial. You get a week to see whether your virtual assistant is the right fit. If you are still unsatisfied, we guarantee your money back.
Low Cost
Hiring our virtual assistant will cost a fraction of what you would have to pay to an employee. Our proficient virtual assistants start at only $999/month. At Wishup, you can choose from a variety of hourly and monthly plans to suit your needs.
In-house training in 70+ no-code tools and 200+ skillsets
Our virtual assistants are trained in more than 70+ no-code tools. They also come with many other skill sets, so you don't have to waste time training them.

Conclusion
Virtual research assistants collect vital information and data to help businesses make important decisions.
Outsourcing a research assistant is better than hiring a research assistant at your firm. Take Wishup, for example. Our virtual assistants are affordable and offer the same, if not better, quality services.
Don't wait to start researching. Schedule a free consultation with Wishup or send a mail to us at [email protected] today.
Frequently Asked Questions
What does a virtual research assistant do?
A virtual research assistant assists in researching important data and information online. This information or data helps a company understand the market and its competitors. It enables a company to make important decisions that drive profits and growth.
What qualifications do you need to be a virtual assistant?
You do not need any advance or specialized degree to become a virtual assistant. However, you should know how to operate your company's software and tools to do your job properly.
What are virtual assistant skills?
A virtual assistant must possess some key skills and capabilities. They should be organized and good at communicating clearly. Being proactive and alert are also important skills necessary in a virtual assistant.