A complete guide to conducting remote interviews with candidates for remote positions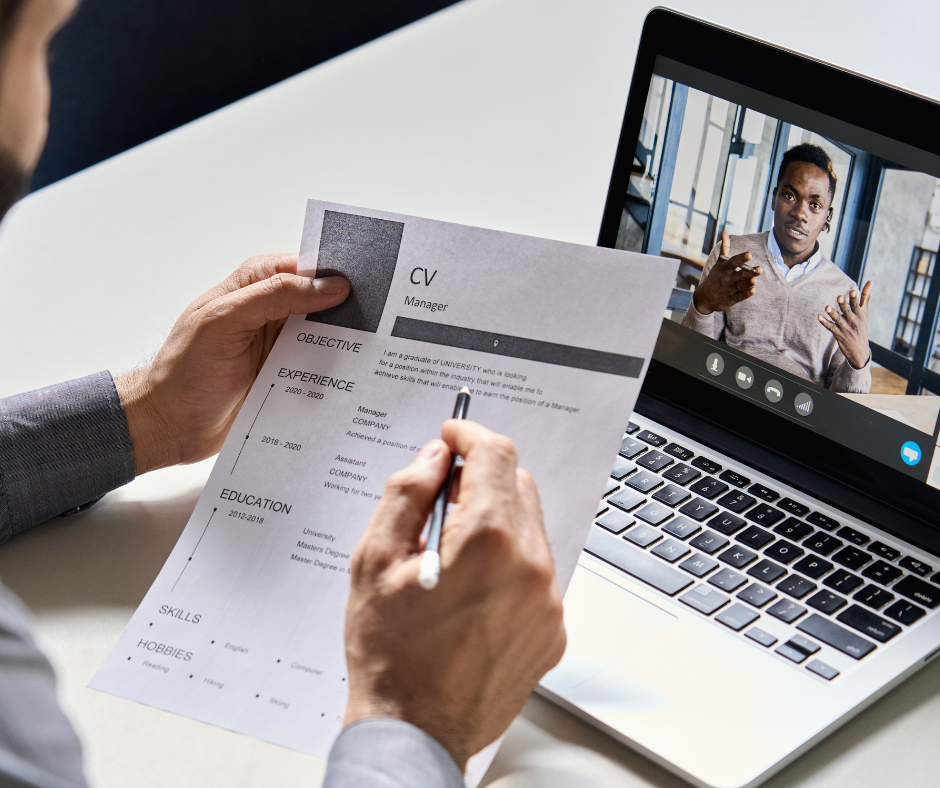 When the entire world has gone remote, all industries adopt a new way of working.
Remote work is the most challenging for teams and employees who have to collaborate with other team members and communicate all day. However, hiring new employees remotely is also a new challenge.

How to evaluate all the skills without having a chance to meet the candidate? What tools to use for conducting remote interviews and vetting? What steps to include? What's more, how to ensure that the candidate is a good match for remote work? Let's explore.
How do employers benefit from remote hiring?
Even after the pandemic levels became lower, many companies continued working remotely as workers prefer working from home, and employers see many benefits of this model. According to CNBC, almost 26% of employers worked remotely, and hiring remotely and having a remote or a hybrid team has become a more common choice of businesses worldwide.
Let's explore some advantages of remote hiring.
Wider talent pool. When you are not limited to one location, it's easier to find the best-matching candidates as remote hiring opens to you a pool of talented and experienced workers who live in different countries.
Cost-effectiveness. Remote work reduces extra expenses on keeping the office and providing additional devices for all employees.
Flexibility. Flexibility allows companies to have in-house workers and remote team members from other countries, which helps to have more experienced workers working on your business.
Time. When hiring remotely, employers can use a time&material model, which means they pay only for their employees' time at work. It's more convenient as it motivates workers to perform faster, and employers don't pay for the time their team spends in the office, only for their work.
A complete guide for conducting remote interviews
The traditional way of interviewing is slightly different from a remote interview, especially if you are looking for a remote worker. First of all, it is essential to find out how to manage the process, which tools to use, and what steps to make. Secondary, as remote work differs from offline work is, it may be challenging to evaluate the candidate's skills. However, HR onboarding software is a time-saving tool that will allow you to optimize your hiring  process to make sure that everything goes as smoothly as possible.
Finally, it is essential to assess if the person fits this position–if they are responsible and self-motivated to work remotely. Here we will discuss the crucial steps and remote interview tips for conducting interviews successfully.
Ask for a proper CV
Asking for a proper CV will save the time of both job seekers and companies and help find employees with appropriate skill sets. Setting up specific requirements (experience with technologies the company uses or ability to correspond with the set of soft skills) will filter and help select the best matching candidates.
To make it happen, you should decide for yourself the following things and include these details in your job description:
What working experience the candidate has to have?
How do they prefer to work?
What hard and soft skills should the candidate have to work in the company?
These simple questions will help you to understand what candidate you want to get, with what level of expertise, and for candidates to know who can apply for this position.
Schedule a call
After selecting the candidates, the next step is to schedule the call. It is essential not to make the interviewing process too long as with the high demand for qualified specialists, they can have more than one offer simultaneously, and it may play on competitors' hands.
To make this process faster, you should focus on the main things you need to discuss during the interview: getting to know the candidate and testing their soft and tech skills. Moreover, it is better to consider gathering all the necessary and decision-making people during one call. Although it may be challenging to manage free time for each person simultaneously, it is an excellent chance to interview one call.
It is also essential to find the most suitable tool to conduct interviews as being comfortable during interviews allows to get better personal contact with the candidate. Here are several tools you can use to conduct interviews for remote positions.
MyInterview. It is a cloud-based software for conducting interviews. Its main feature is that it uses integrated AI to provide analytics that helps acquire a better understanding of the candidate.
Zoom. It is a video conferencing platform that has such features as screen sharing, which can help candidates if they need to show some files from their screen to the recruiter.
RecRight. This tool is an excellent option if you need to fasten your interviews, as the main features of this app are interview management, a candidate portal, and one-to-one interviews.
Evaluate soft skills
After scheduling the call, it is essential to decide how to evaluate candidates' skills. It is the most crucial step during an interview for a remote position. You need to check if workers can maintain a good level of productivity when working remotely, have good time management, and be able to communicate with teammates effectively. If talking about soft skills, you may ask the following common interview questions:
Have you ever worked remotely? What were some of the challenges you faced?
These questions will help you evaluate if the candidate has the idea of remote work and understands how to solve problems they may face during such work. If the person didn't work remotely before, it is essential to ask why they want to try it. If a candidate has some experience in such work, ask about challenges they faced and how they overcame them.
How did you communicate with your coworkers, and what tools did you use?
By asking this question, you need to find out the most comfortable ways for the candidate to communicate and the tools they prefer to use. This will help understand how the candidate prefers to communicate and collaborate with the team.
How do you stay focused on your tasks?
This question refers mainly to the skill of self-discipline and what kind of things may distract the person. By asking this question, you can find out how the candidate faces the distractions of being a remote worker and how they deal with it.
What's the most challenging project you ever designed and executed?
Here you can evaluate the candidate's motivation and if they can finish the work even if there is no manager and the only reason is what they do.
How do you switch off from work?
This question will help you understand how this person manages their time (working hours and personal time). Knowing this information, you will be able to predict how they will work on you.
Evaluate tech skills
The next thing you need to check is the candidate's tech skills. The candidate will have to use your company's tools and work with the technologies you need, which may sometimes be challenging to use at first.
Therefore, you need to check if the person has a good understanding of technologies and can adapt to new trends, and they will not lose their productivity during the workflow. You also need to ask if the candidate had some experience with the tools your company uses and if not, ask what they used to have.
If taking as an example remote development teams, employers usually interview software engineers by discussing all the technologies they want to use during the interview and then evaluate the candidate's tech skills with online coding tests or test tasks they ask to prepare for the next call.
It helps to see if the candidate has the relevant skills, knows how to use them, and if they are a good match for the project.
Evaluate the alignment with the companies' culture
Alignment to the company's culture is also important to check while conducting the interview. Depending on the company's culture, people may fit or not, which also affects their productivity. Here are some questions to ask when interviewing remotely and evaluate how good their alignment to the company's culture is.
What was one thing you disliked about a company you have worked for?
With such a question, you will understand whether your company has some things the candidate dislikes that may affect their productivity and measure how they can fit into the company.
What do you value most in an organization?
This question is essential to see the person's ideal work environment and what they may expect from the company.
How do you maintain relationships with your coworkers?
By asking this question, you need to check how the person collaborates with others and if the person fits nicely into the company's environment.
In what environment are you most productive?
The candidate may have different from your type of work preferable conditions, so you also need to check it.
How do you reach out for help when you need it?
This question is essential as the candidate who will work for your company may have a different way of operating. You need to be sure that the candidate will work the same as the company does.
Summary
Many companies need to change their traditional way of conducting remote interview processes to make more profit to them by hiring the best candidates and saving a lot of time at the same time. Some companies even adopt an applicant tracking system to organize their entire hiring process. This requires them to optimize their hiring process.

This article covered all the necessary steps and information, provided some excellent tools for a better experience, and listed questions that you can use to conduct the interview and make it productive and fast for both you and the candidates.