Business Startup Costs: A Comprehensive Guide
A business is much more than its furniture and infrastructure.
Starting a business comes with several expenses. And it is much more than what you see on TV shows like Shark Tank.
So, how much does it cost to launch a company?
Numerous variables, including the nature of the business, its industry, location, and scale, influence the initial costs of starting a new venture. The amount can range from a few hundred to several thousand dollars. But if you are not careful, it could also be enough to drive you into bankruptcy.
For this reason, knowing all the expenses associated with launching a business—from marketing and advertising to research and development—is essential. That is the only way to make a budget that works and keep yourself out of debt later on.

We have compiled a list of the various business start up costs you must consider when launching your company. This guide will discuss everything you need to know regarding the costs of starting a business. It will include topics like how to calculate them and, most importantly, how to reduce them.
But first, let's comprehend what business start up costs for a business are.
What are business startup costs?
Startup costs are the expenses incurred while starting a new business. These are the outlay of funds and initial investments necessary to launch a new company. These expenses are incurred before the company's everyday operations and revenue generation.
Since every business is unique, they all need different startup expenditures. Brick-and-mortar stores and online retailers have different needs, just as coffee shops and bookstores have different needs. Nonetheless, the majority of business kinds share a few standard costs.
Importance of business startup costs
Startup costs for a business are the foundation of your company's financial planning. They give you a detailed road map that shows how much money you will need to launch your company. This financial transparency is crucial for obtaining the capital required to start your business, whether you are looking for loans, investments, or personal savings.
Moreover, thoroughly analyzing your start up expenses lets you make a precise and reasonable budget. Having a budget helps you manage your resources more effectively and prevent overspending. Early in a business's life, excessive spending can pose a severe risk and result in unstable finances.
Startup costs also influence resource allocation. You can effectively distribute your resources if you know the exact figures required for each aspect of your business, such as marketing, equipment, inventory, and staffing. This ensures that critical areas receive the funding they need to operate efficiently.
Furthermore, understanding your startup costs allows you to assess the financial risks associated with your business venture. It enables you to recognize possible obstacles and ambiguities and make backup plans. This proactive risk assessment approach can be a valuable tool in navigating the uncertainties often accompanying starting a new business.
Remember that launching a business comes with many ongoing expenses that can happen once a month, once a quarter, or once a year. These consist of costs for payroll, office supplies, and rent. However, some expenses—like the incorporation fee or office furniture—are one-time.
Plan to be able to pay for at least six months' worth of expenses upfront when calculating your startup costs. It is not advisable to depend on your company's sales to cover these expenses until after this first phase. This cash reserve can act as a safety net while you launch your company and cultivate your clientele.
How to calculate the cost of starting a business
One of the most important steps toward understanding the financial needs of your startup is to draft a well-thought-out business plan. The financial projections section of your plan is critical in estimating your income, profits, and expenses over the next three to five years.
You can also get valuable tools to help you estimate your startup costs, like this startup costs worksheet from the Small Business Administration. When looking for startup funding, templates such as this can help you figure out how much money you will need initially.
A methodical approach to identifying, estimating, and planning for various expenses is necessary when calculating the cost of starting a business. Here's a step-by-step guide to assist you in figuring out your startup expenses:
Clearly state your business concept, including the goods or services you plan to provide, your intended customer base, and your business plan.
Create a detailed business plan that includes a section on financial projections. This will serve as the basis for estimating startup costs.
List every possible expense related to launching and operating your company. A few of these are:
One-time costs: These are expenses like legal fees, permits, licenses, logo creation, website development, first inventory, and equipment purchases that are only incurred once.
Ongoing costs: These are recurring expenditures that include office supplies, marketing, insurance, rent, utilities, and employee salaries.
Working capital: The funds required to cover daily operating expenses until your business becomes profitable.
Contact suppliers, service providers, and potential vendors to obtain accurate quotes and estimates for your identified costs.
Look up industry averages and benchmarks for the beginning costs of businesses in your particular field. This can offer insightful information about what to anticipate.
Seek advice from professionals such as accountants, lawyers, and industry experts on potential costs specific to your business.
Consider using templates and tools like the Small Business Administration's (SBA) startup costs worksheet to estimate your expenses systematically.
Create a detailed budget by combining all of the expenses you have determined. Sort out your expenses and give each one a price. A thorough breakdown of your startup expenses should be included in this budget.
Set aside money for unforeseen events or unforeseen costs. A contingency fund should be included, usually between 10% and 20% of the total estimated costs.
Once you have gathered all the required data and estimates, decide on a starting budget. After looking at this budget, you will have a clear idea of how much money you need to start your business.
If the entire start up cost for business is more than your savings, you will need to figure out how to get the money. Personal savings, loans, grants, angel investors, venture capital, or crowdfunding are all options.
Maintain your budget as you refine your business plan and gather more accurate data. Regularly reviewing your financial projections is critical for effectively managing your startup costs.
The most common startup costs examples
While this is a general list of startup costs for businesses, your actual startup costs will be determined by your industry and type of business.
Here are some typical startup costs to consider:
Licensing and incorporation fees
Your chosen entity will impact your business's taxes, legal structure, and finances. You must file incorporation or organization articles with your state if you decide to form an LLC or incorporate. You could even form a C-Corp with the help of GovDocFiling for its limited liability protection, if interested. Although most states keep filing fees under $300, they can range from $40 to $500.
In addition to incorporation, you might need federal or state licenses and permits depending on the industry and area. Federal licenses are necessary for the agriculture and aviation industries, trade-specific licenses may be required by service-based businesses, and retail establishments frequently need sales tax licenses or permits.
Research and development (R&D)
Investing in R&D is crucial for prospective business owners. R&D expenditures can range from $100 to over $30,000. It entails setting aside funds for product development, identifying target markets, and conducting market research. Even well-known businesses like Alphabet and Amazon devote much of their earnings to research and development.
To begin your R&D, evaluate your objectives, financial constraints, and expertise. App or website development can be accelerated by hiring an internal software engineer. Consider the value of proprietary knowledge as well; external product development hires may raise data privacy concerns. Remember, R&D is not a one-time investment but a continuous process of improving features, innovating, and adapting to market dynamics.
Borrowing costs
A capital injection is unavoidable when starting a business, which can be accomplished through either equity or debt financing. The most common form of equity financing is the issuance of stock, but this is rare among small businesses, which are often sole proprietorships.
For many small business owners, debt, typically in the form of a small business loan, is the primary funding source. These loans are available from banks, savings institutions, and organizations such as the United States Small Business Administration (SBA).
However, it should be noted that SBA business loans, like any other loan, have interest payments. Including these interest payments in your financial planning is critical because the consequences of failing to do so can be severe.
Office space and infrastructure
Whether you buy or rent, a sizable amount of your fixed start up costs for business will go toward finding retail or office space. Office space starts at approximately $300 per month (per employee). However, the monthly cost of office space in bustling cities like New York or San Francisco may exceed $1,230 per person.
You can start working from home, look into coworking spaces, or go directly to the client to save these expenses.
The costs of office supplies and furniture can mount up quickly. Every worker in a conventional office needs a desk, chair, computer, and phone. There are also small office supplies, break room appliances, and necessary software, such as accounting programs. These expenses may differ according to your company's particular requirements and the number of workers that need to be outfitted. These costs can vary between $50–1000 per employee, depending on your company.
Licensing essentials
Virtually all businesses, even those that operate entirely online, require specific licenses to operate legally. Common types include:
Business Operation License: Required for conducting business within your city, county, or state.
Seller's Permit: Allows businesses to sell goods or services, including those sold online.
Zoning Permit: Required approval of your business location to ensure it complies with local zoning regulations.
Health Permit: Required for most food-related establishments such as restaurants and cafes.
Speaking with an expert lets you find out exactly which licenses you require. Remember that getting licenses usually requires paying fees, some of which can be high, so make sure you budget appropriately. Taking shortcuts when it comes to licensing can legally put your company's future in danger.
Technology and equipment
Purchasing hardware and software, including computers, internet subscriptions, and software, can be expensive. Costs for infrastructure, such as business internet plans, also apply to companies having physical offices.
Define your core business model and determine your essential technology needs first to make well-informed decisions. Sort your technological needs into "must-haves" and "nice-to-haves" categories. Prioritize cost-effectiveness in the early phases of your project.
Payroll management
Payroll management is a significant cost for most businesses, but it is essential to creating a solid and productive workforce. Remuneration for exceptional team members should be equitable and competitive.
Payroll costs can range from 15% to 30% of an organization's total budget, which is a significant amount. Businesses can devote up to half their budget—or even more—to payroll and still turn a healthy profit. In the first year, startups, on average, pay $300,500 for five employees in the United States.
Aside from salary and wages, other components of your company's payroll expenses, such as commissions, bonuses, benefits, paid time off, and overtime pay, must be considered. These components support an all-encompassing and open approach to workforce compensation, guaranteeing that your workers are engaged, devoted, and well-cared for.
Business insurance
New business owners must consider insurance. Depending on the risks and nature of your business, you may require different types of coverage:
Workers' compensation: It's a must if you have employees. It helps protect your company from future legal action and offers benefits for workplace injuries.
General Liability: Provides defense against third-party claims for property damage or personal injury, covering typical mishaps and accidents.
Business Owners' Policy (BOP): Provides small businesses with affordable, all-inclusive coverage by combining property and general liability insurance.
Professional Liability: Essential to service-oriented companies, it provides coverage for court costs and settlements resulting from professional mistakes.
For possible cost savings, think about combining policies with a single insurer. When planning your insurance budget, consider the unique requirements and hazards facing your company to select the right level of coverage.
How to cut down on business startup costs
Starting a business doesn't have to be scary! You can save the business start up cost that are emptying your pockets in several ways.
Virtual Operations: If you want to save money on rent, utilities, and upkeep, think about running your company from a remote location. Working remotely can boost flexibility and cut down on overhead.
Hire a Virtual Assistant: Rather than hiring internal staff, you might consider hiring a virtual assistant as a more affordable startup option. This approach has many advantages that can significantly reduce initial costs. Virtual assistants provide flexibility, allowing you to scale your workforce to meet the needs of your business. Furthermore, they eliminate the need for physical office space and the associated overhead costs, such as rent and equipment.
Leverage used equipment: Consider purchasing used equipment or exploring shared equipment arrangements with other businesses to reduce upfront costs. This approach is handy for expensive machinery or tools.
Prioritize Essential Expenses: Prioritize expenses such as business insurance, legal compliance, and necessary equipment. Setting these essential expenses as a top priority will guarantee that your company runs smoothly and keep you out of trouble with the law.
Grants and Crowdfunding: Look into different funding options like grants and crowdfunding websites. Long-term debt can be decreased by using these resources to provide financial support instead of taking out loans or investing in equity.
Cut Marketing Expenses: Use low-cost marketing techniques like content marketing, SEO, and social media marketing. With these strategies, you can effectively reach your target audience without incurring the hefty costs of traditional advertising campaigns.
How can Wishup help you save on overhead and payroll expenses?
Are you tired of spending a fortune on employees and managing payroll?
Wishup has the answer to help you save a ton of money, restore your peace of mind, and concentrate on your primary business goals. We will help you locate the ideal virtual assistant to take care of any task your company needs to be done.
Our team comprises professionals with specialized knowledge in the field who can quickly meet your needs, whether you need on-site help or remote support. Together, we will thoroughly understand your unique needs and provide customized recommendations to improve your ongoing business operations. We stay flexible and adaptive to meet your changing needs as your business grows.
Our virtual assistants can handle several duties, including data entry, research, and financial management. They are your administrative lifesavers. By hiring them temporarily, you can streamline your business operations without exceeding your budget.
Wishup provides several valuable benefits, including:
Our virtual assistants are among the top 0.1% of applicants, with expertise in over 200 skill sets and mastery of over 70 no-code tools.
If your virtual assistant is unavailable, we quickly provide a replacement to ensure uninterrupted support.
You have the freedom to select virtual assistants who are based in the US or abroad, according to your personal preferences.
We invest in rigorous training for our virtual assistants to help them improve their skills and stay current on industry trends.
Try our virtual assistants for seven days to ensure they meet your business needs.
Protecting your sensitive information is critical. To protect your data, all our virtual assistants sign non-disclosure agreements.
With Wishup's assistance, you can delegate tasks, improve efficiency, and propel your business forward while controlling your budget and resources.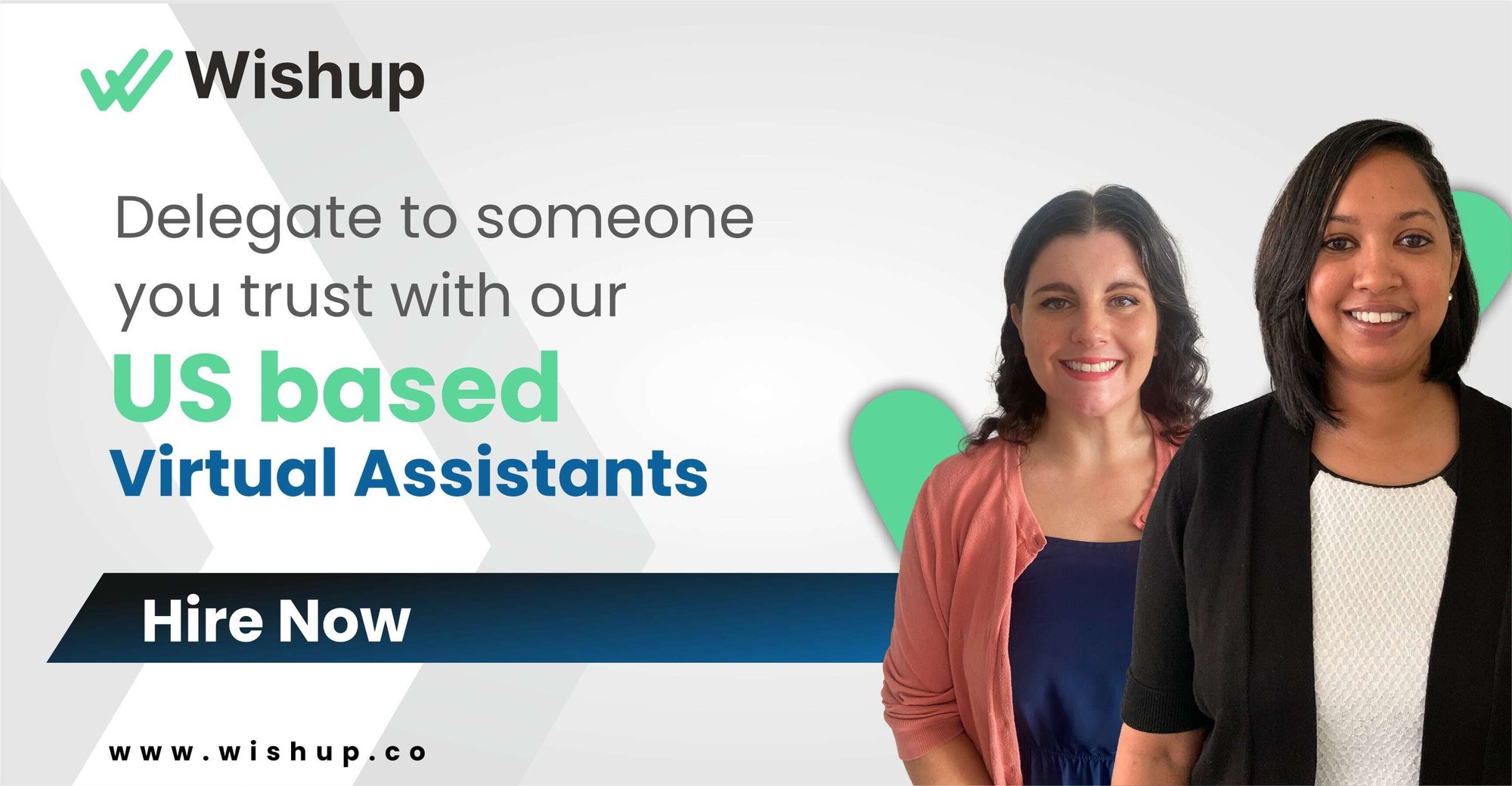 Key Takeaways
Unquestionably, one of the trickier parts of being an entrepreneur is coming up with a budget. But the real skill in business budgeting is knowing how to add a dose of reality to your initial financial planning and startup cost estimates. This strategy not only reduces the anxiety of starting a business but also plays a crucial role in advancing your enterprise's chances of success.
If you don't want to end up in such a situation, you can contact us by mailing at [email protected] or booking a free consultation with our success experts.