The Story Behind Canva's Success
The statement that Canva has captured the world's imagination would be quite an understatement given the fact that it has given wings to the creative skills of millions around the world.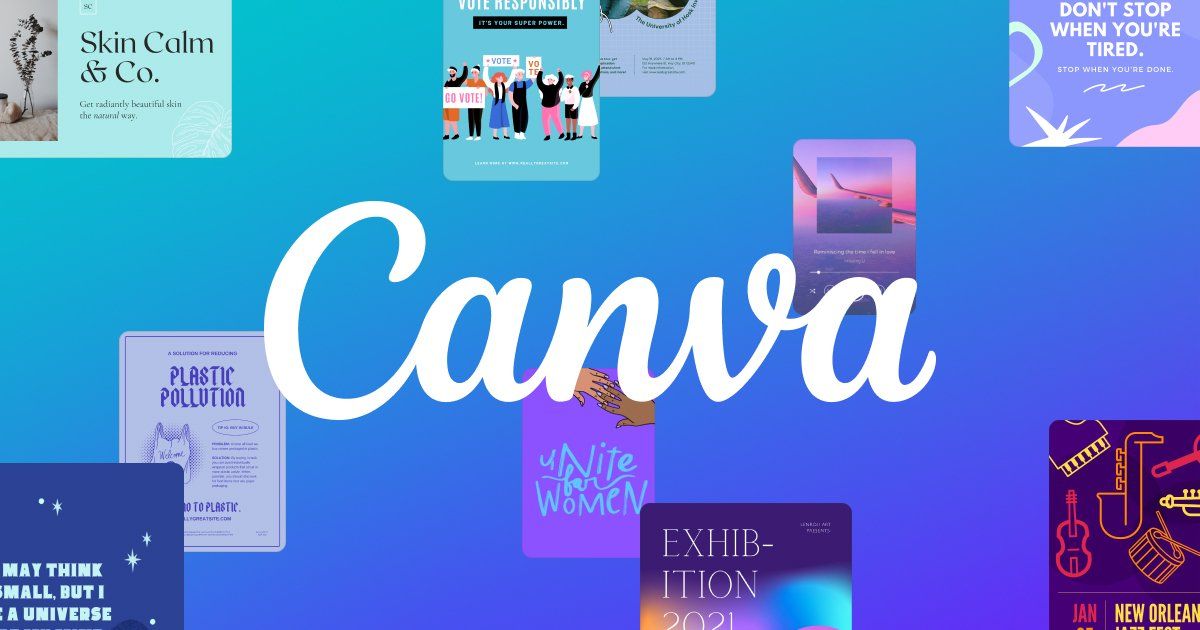 The statement that Canva has captured the world's imagination would be quite an understatement given the fact that it has given wings to the creative skills of millions around the world.
The achievements of Canva in making graphic designing easy and popular can be truly compared to the role mobile cameras had in making photography popular, even among those who had never seen a camera before.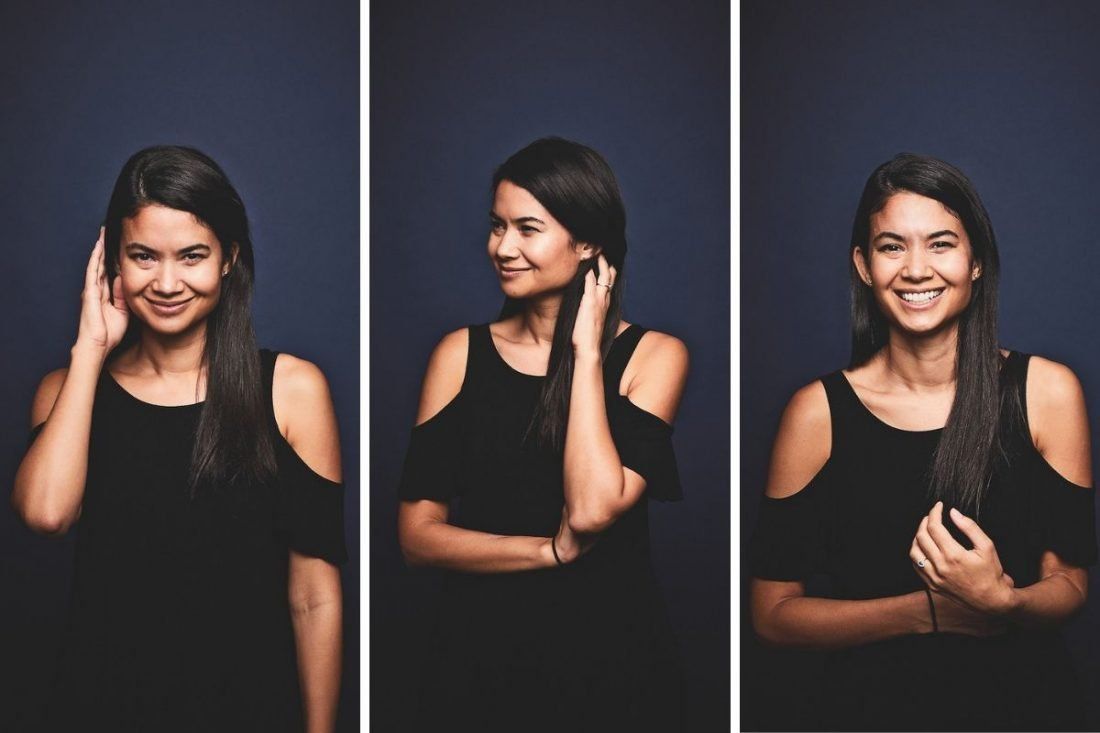 If the credit for this has to be attributed to one person, then that person undoubtedly would be Melanie Perkins, the Co-Founder of Canva, who, even after more than 100 rejections from investors, never gave up on her core idea.
A simple, transformative idea that took on desktop publishing giants such as Adobe and Microsoft to create a simple design interface that anyone could use without prior knowledge of designing software.
Melanie came up with the idea in 2007, when she was just 19, teaching graphic designing to a batch of students at a University in Perth, Australia. Not only were the graphic designing programs hard to learn, with months being required to understand the different configurations and buttons, but they were also prohibitively expensive.
The desire to create an online platform that would make graphic designing extremely simple for everyone and empower them to create incredible designs led to the birth of Canva.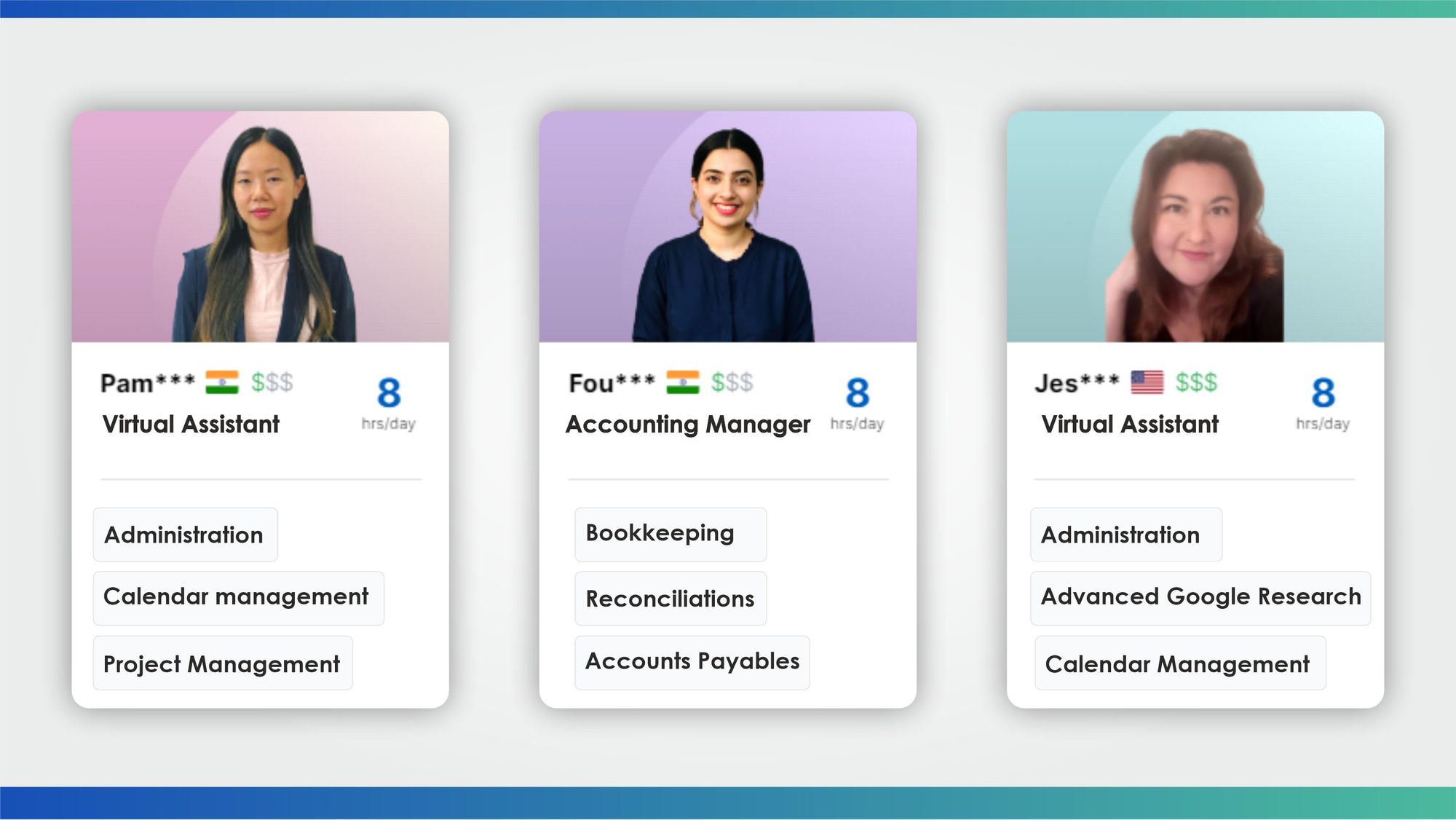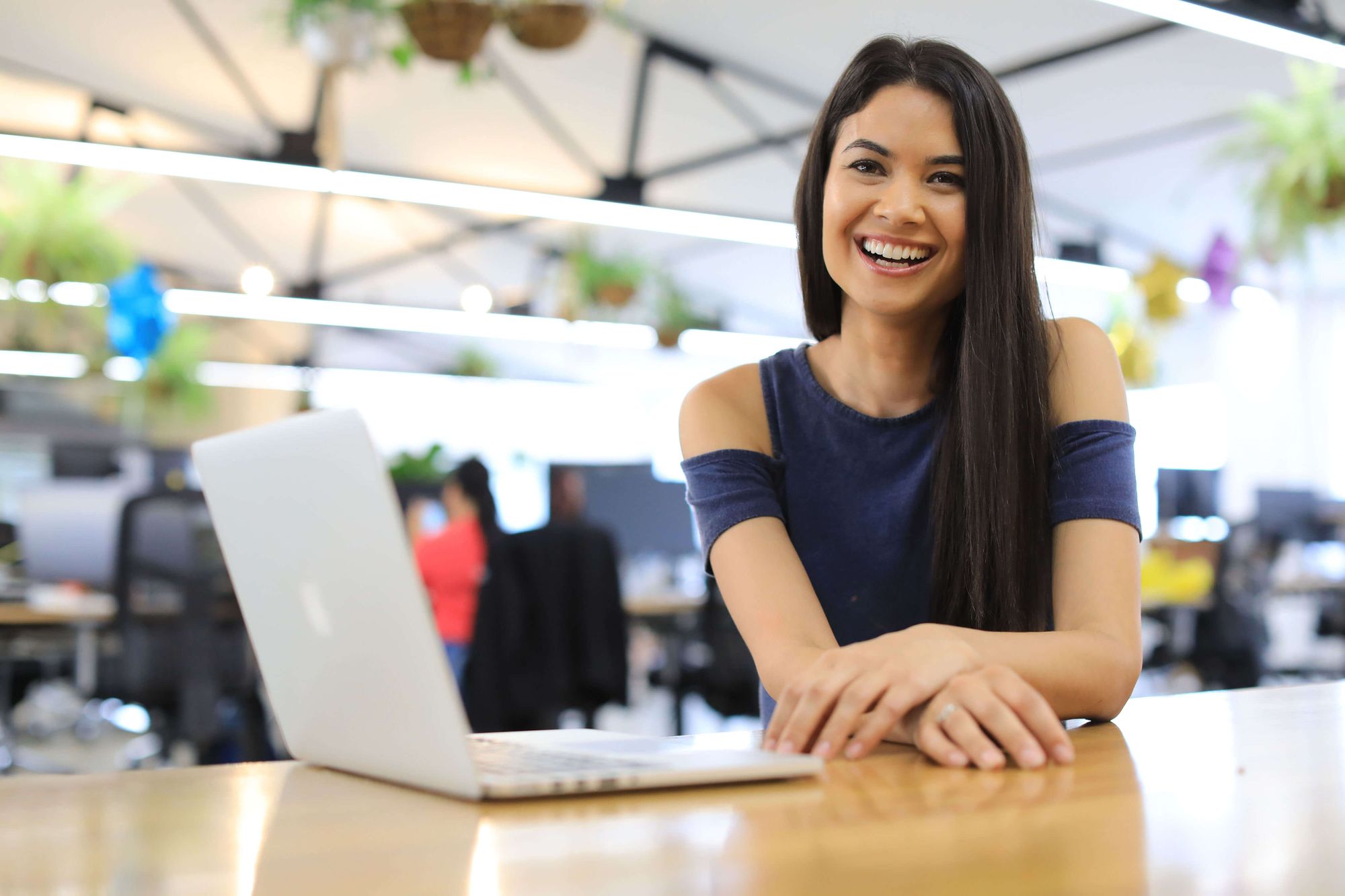 Starting small, aiming big
Melanie and Cliff Obrecht, her Co-founder and to-be spouse, started by creating an online school yearbook design business, "Fusion Books," to test their idea. Fusion books helped school students collaborate and design their profiles and articles. The yearbooks would then be printed and delivered to the students across Australia.
The business was soon a resounding success and the first step towards her dream of creating a completely integrated platform for designers.
Proof of its concept working is best illustrated by the example of At Realty Austin, a midsize Texas residential and commercial real-estate firm. Their marketing team was overworked and overloaded as they struggled to create printed handouts and digital assets for their agents to promote events like open houses.
Thanks to Canva, the company's 550-plus agents now create material for their listings, faster and at their own pace, without the need to go back-n-forth for approvals.

Making the most of the opportunities life threw at her
To launch her idea, Melanie started connecting with investors. However, her initial efforts were disheartening until she met legendary venture capitalist Bill Tai, who invited her to San Francisco to pitch her idea.
Along with meeting investors, Melanie also had to learn to kitesurf, of which Bill Tai was an ardent fan. Bill Tai often hosted kitesurfing and investor events together at MaiTai, one of his retreats, as a platform to bring like-minded people together. Melanie soon took to the sport and used it to build her connections in the investment world.
However, the task was easier said than done, as Melanie had to overcome the deep seas before getting a seat at the funding table. "It was like, risk: serious damage; reward: start company," Perkins says while recalling that experience. As an entrepreneur, she further adds, "If you get your foot in the door just a tiny bit, you have to kind of wedge it all the way in."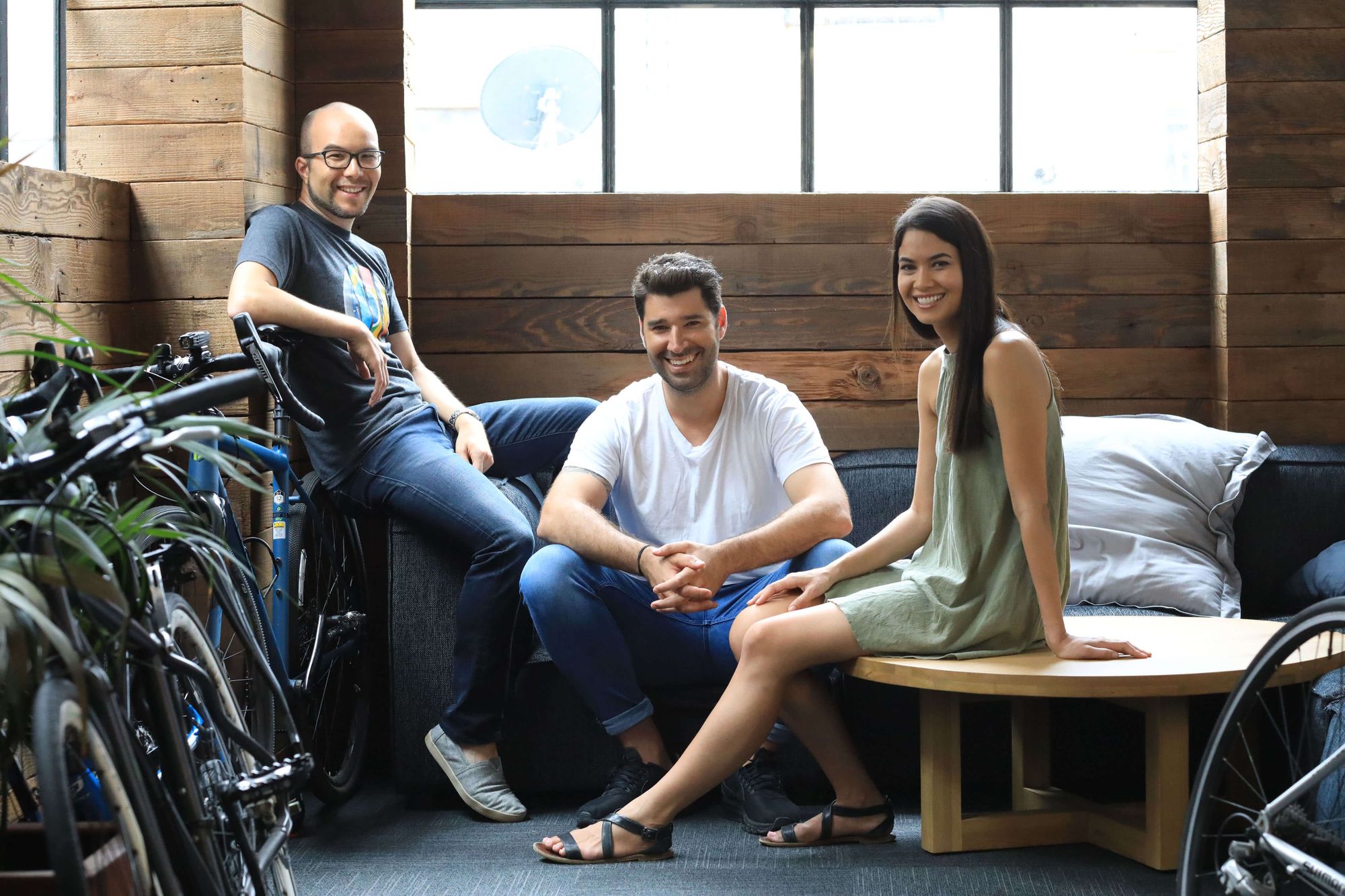 Putting the best team together
Canva soon attracted the attention of investors thanks to her networking and persuasion skills. As investments started flowing in, Melanie realized it was time to launch Phase 2 of her dream project, i.e., putting a team together to make it a reality.
With the help of common connections, Melanie succeeded in getting Cameron Adams, on-board as a Tech Co-Founder and Dave Hearnden as a Tech Developer.
The tech-duo worked cohesively with Melanie to build the Canva platform and put a team together that could help subscribers create a wide range of designs for free.
The Canva team is now 2000+ and continues to grow as Canva expands to new markets in China, Dubai, and the Philippines.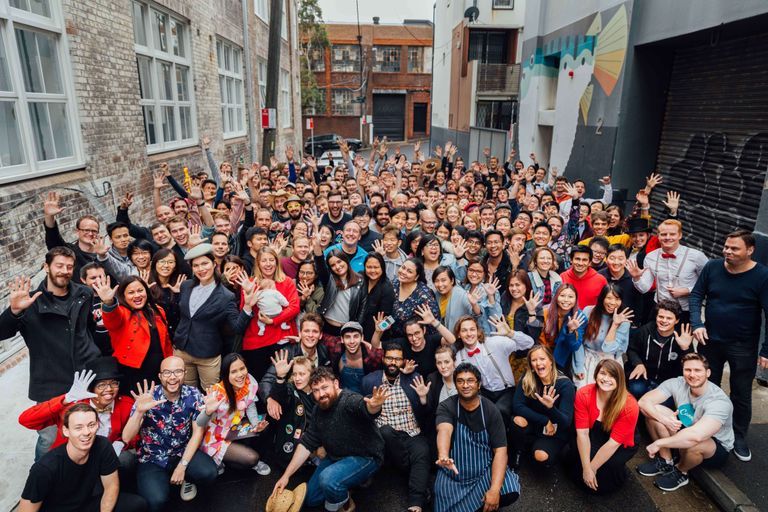 The steady growth
The Canva platform finally went public in August 2013 without much fanfare. It received a few reviews on tech blogs which did not add much to the expectations Canva had from potential users.
Adams and his tech team, which stayed up overnight during the launch to handle sign-ups, were dejected but decided to continue their efforts in publicizing the platform. Their efforts soon started showing results, with 50,000 users signing up in the first month itself. By 2014 Canva had over 600,000 users who created more than 3.5 million designs.
Today, Canva has a $40 billion valuation and 60 million + Monthly Actual Users from 190 countries. 7 billion + Designs have been created on Canva to date in more than 100 languages. All this has been made possible with a team of 2000+ employees who work entirely remote and depend on different remote tools for their productivity.

The success of Canva can also be attributed to its strong design principles.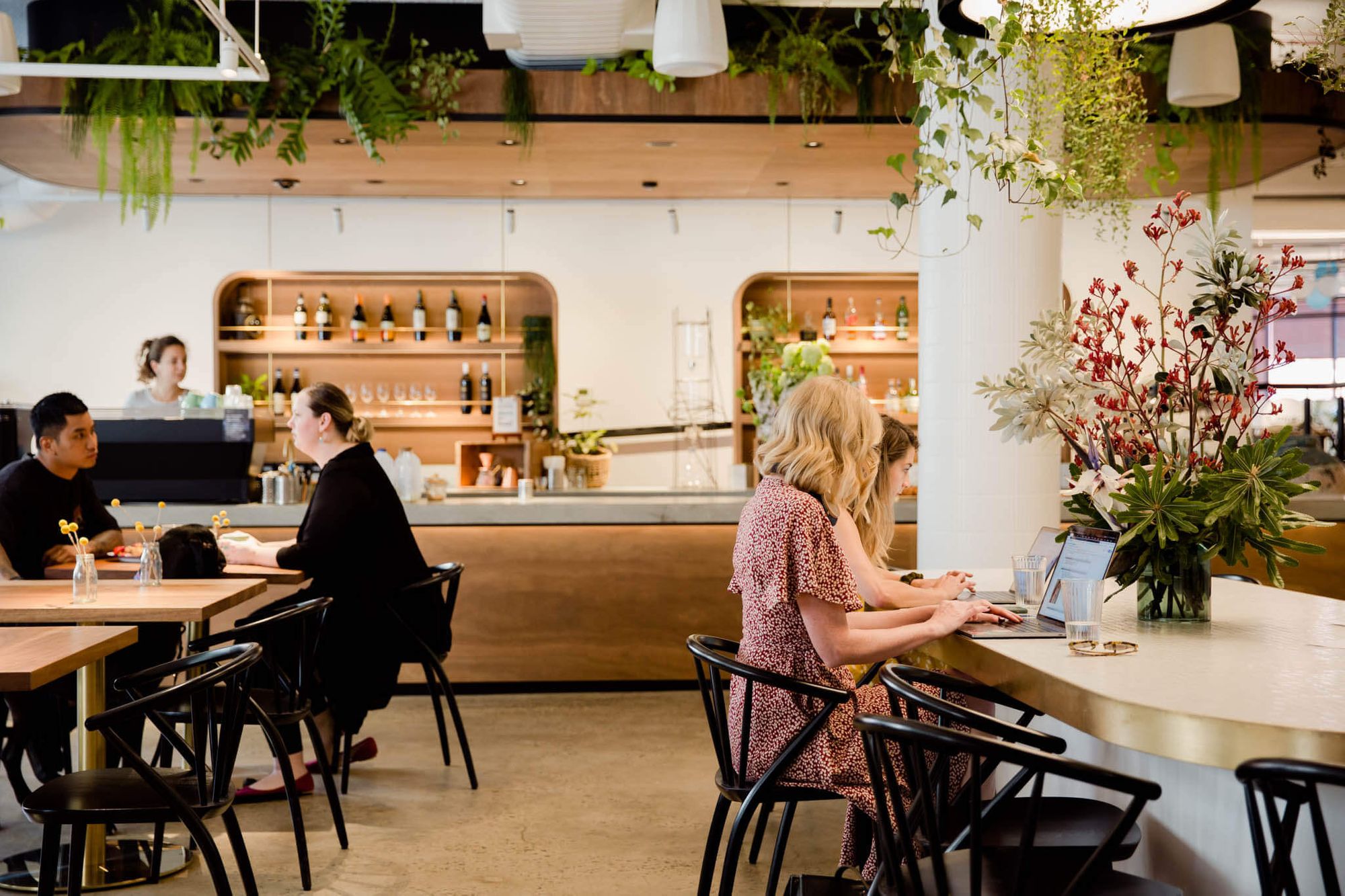 Being financially frugal & strong
One of the lessons Melanie learned during her initial days was to make the funds last long. That has stayed with her even after Canva achieved a $3.2 billion valuation in 2019 (closer to $40 billion as you read this article).
The power couple of Melanie and Obrecht, who are today worth more than $700 million, still prefer budget trips to private jets. Recently Obrecht proposed to Melanie while backpacking in Turkey with a $30 engagement ring.
So conscious is Melanie of financial numbers that she personally onboards each employee with a rundown of Canva's financial numbers and past pitching desks. For Melanie, it is more important to create value for the end-users than accumulate a million-dollar bank account. To show that they mean, what they say, the couple recently pledged 30% of their earnings to a charitable trust.
Despite its profitability, 200% growth, valuation, and cash-rich status, Canva continues its quest to raise funds. Melanie attributes this to the need to double its headcount and further acquisitions. For example, Canva recently acquired Pixabay and Pexels, image-sharing sites, to enhance its offerings.
She further adds, "I always like to have enough money in the bank, so that if the lights turned off tomorrow and everything disappeared, we've got enough capital to keep us together for a long time."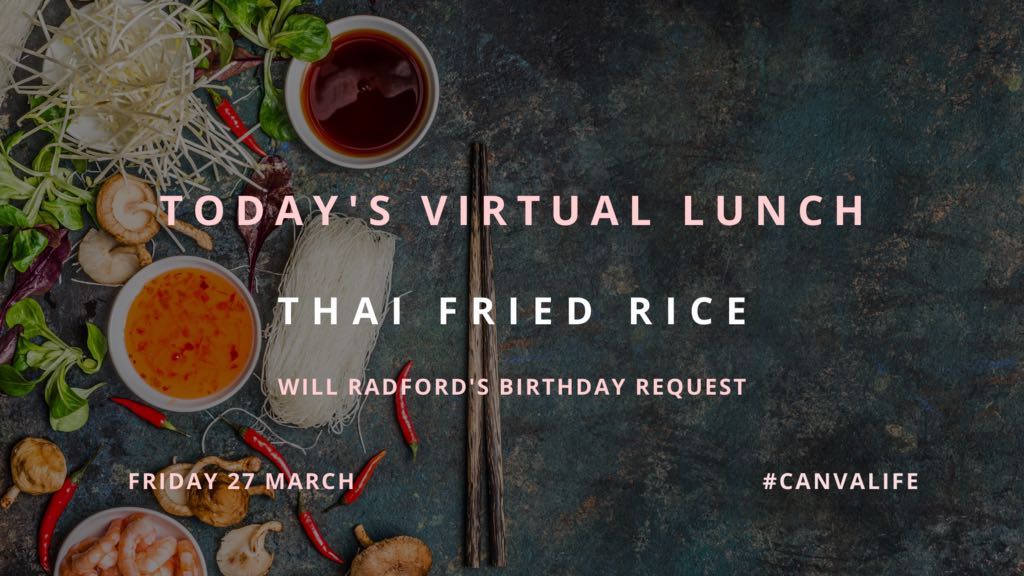 Canva and Remote Working
Like all companies around the world, Canva, too, felt the effects of the pandemic and had to realign its operations to ensure the safety of its employees. To ensure continuity of its culture, Canva started organizing company-wide events and celebrations online.
It relies on technology and creativity to ensure positive vibes throughout the organization.
It defined three priorities to maintain the continuity of its business.
To keep the team and their families safe by introducing work from home measures.
To do its part to slow community spread of the virus and help protect the most vulnerable.
Ensure Canva continues to serve the design community with the highest standards.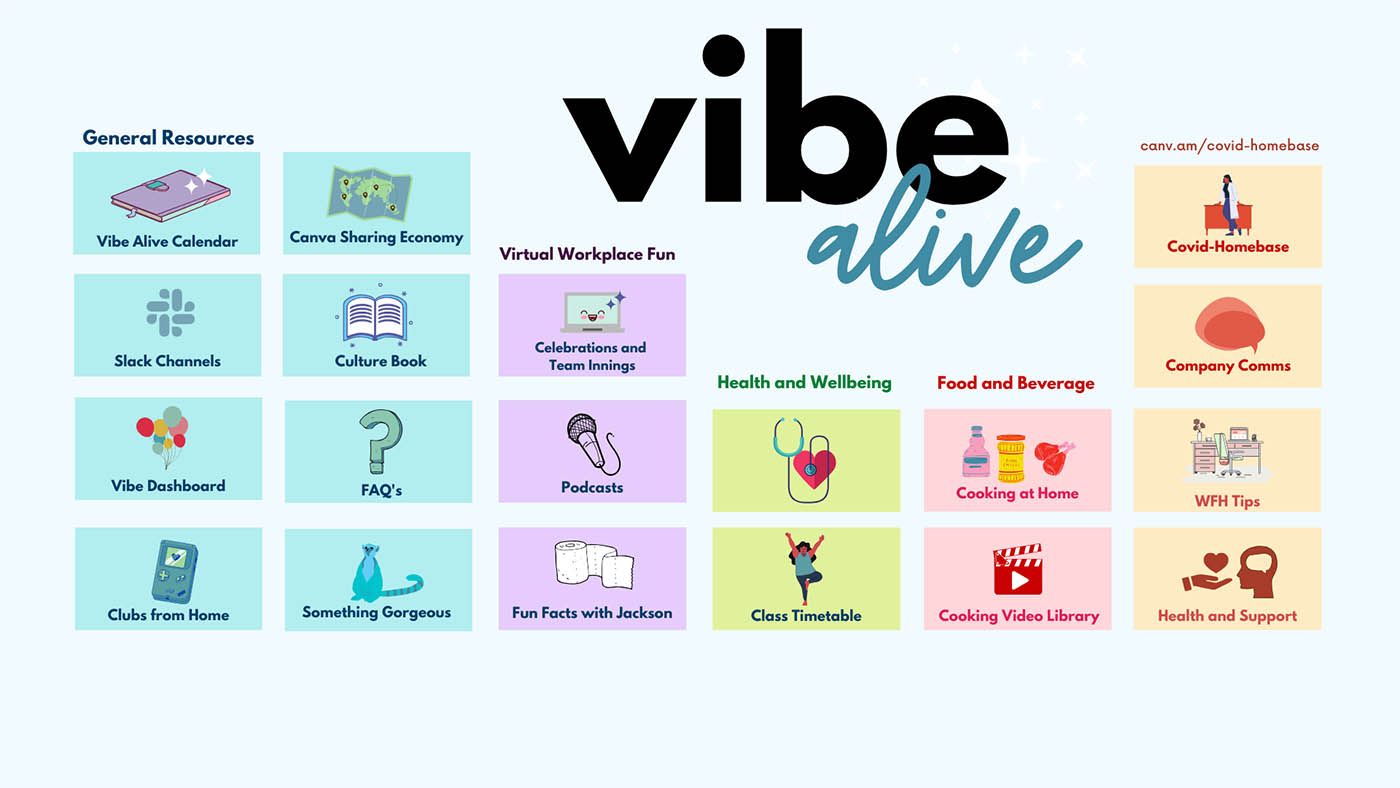 It also created a special Canva Vibe team to maintain and ensure the same culture that people previously experienced in the office while working from home or wherever they were comfortable.
The Canva Vibe team consists of 1 individual for every 25 employees whose sole purpose is to inspire the people and build a sense of belonging.
Canva also regularly shares tips on working from home, including how to remain productive while watching Netflix plus and more. It has also developed a 'Canva Remote Working Toolkit,' which has many resources for both individuals and teams, including guidelines for remote work, WFH reimbursements, and the best tools for startups available for remote collaboration, etc.
Another innovative step that Canva adapted to maintain team motivation and productivity is podcasts hosted by some of Canva's most inspiring team members.
Its "Friday Night Drinks" meeting is very popular with all the team members. Developed to support local entertainment artists, it features live performances over a Zoom call.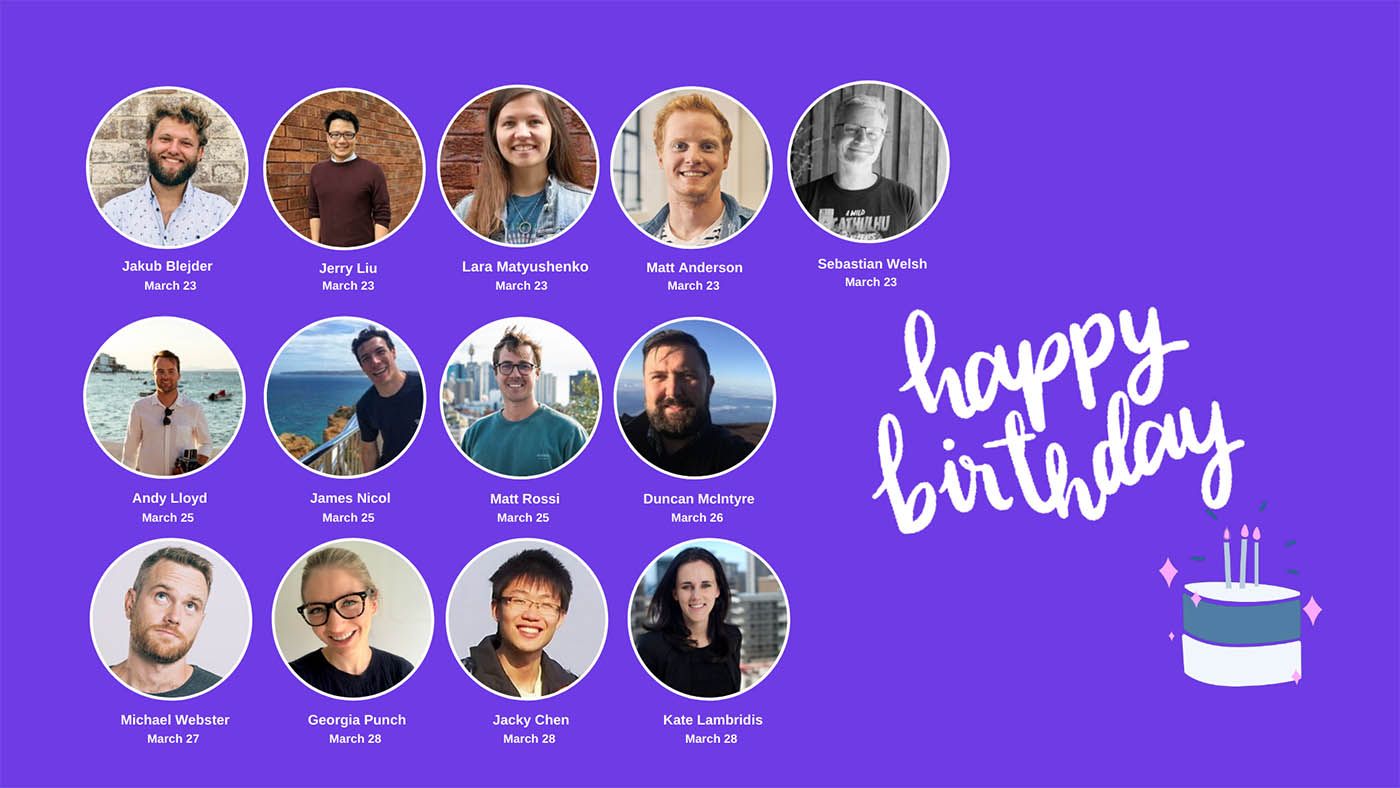 Canva's remote working initiatives are not limited to its employees but also the community. As a part of its social initiatives and to support the community, Canva is also looking at working with Public Health Specialists across the world by offering them free lifetime access to Canva Pro.

Cameron Adam's, Co-Founder Canva credits its success even during the Covid-19 pandemic to it's strong cultural values.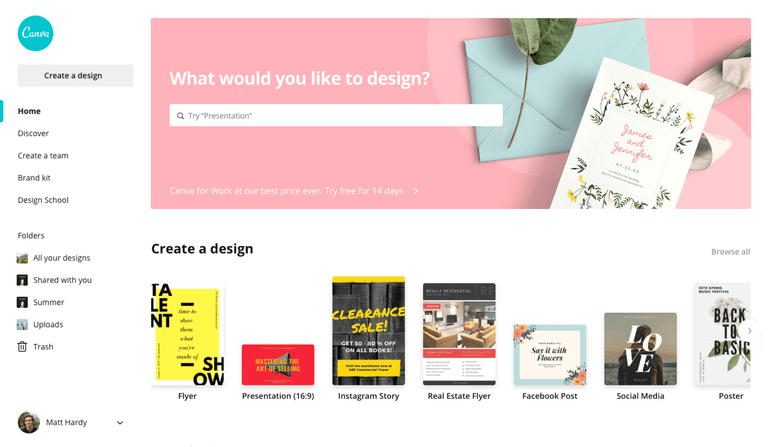 Canva and Virtual Assistants
For virtual assistants, Canva is an almost indispensable tool for designing social media posts, presentations, reports, and other documents. Moreover, the ease with which they can use the different features of Canva to spruce up their documents has led to its popularity among virtual assistants.

Small businesses and start-ups can benefit by hiring Canva virtual assistants. They can work with creative and experienced graphic design virtual assistants at a fraction of the cost they would other incur on hiring an internal creative team or outsourcing all their design requirements to an agency.
Moreover, by hiring Canva virtual assistants, business owners can save substantially on office overhead and equipment costs, as virtual assistants work from a remote location, usually their home, with their technical setup.
Canva virtual assistants can not only help you create outstanding designs but also manage administrative tasks that usually take up a lot of time. Due to these small but recurring tasks, many entrepreneurs and small business owners cannot focus on growing their businesses or networking with clients.
Some of the tasks that the Canva virtual assistants can help you with are,
·       Inbox Management
·       Office Administration
·       Bookkeeping
·       Scheduling Meetings
·       Sending gifts during festive occasions
·       Writing minutes of meetings
·       Creating and updating product catalogs
·       Manage and update property listings for real estate companies
·       Keep a tab on all expenses and budgets
·       Internal communication
·       Answer customer queries and more
Given the immense advantages a business can enjoy by virtual assistant outsourcing, it's high time you get one on board.

Hiring a virtual assistant is pretty simple. All you need to do is schedule a free consultation with a virtual assistant company, Wishup, or send them an email at [email protected]

What the future holds
"As a leader, I feel my job is to set the vision and the goals for the company, and then to work with everyone to empower them to dream big and crazy,"
– Melanie Perkins.
In 2019, Canva raised an $85 million funding round led by Mary Meeker's Bond Capital, which valued Canva at $3.2 billion. Canva will use the funds to expand its design offerings, launch Canva Pro and Canva for Enterprise.
Canva also plans to launch new websites tools, which Perkins hopes will help people do away with PDF resumes or event invites in favor of responsive sites complete with custom web domains. The Canva's library has more than 800,000 templates and 100 million photos, illustrations, and fonts.
With 120 new designs being added each second and more than 7 billion designs being created in Canva to date, the future certainly seems bright for Canva.
The success of Canva, has many learnings for start-ups, especially those who are considering remote working in their initial days. Being innovative, having strong cultural values and knowing how to successfully lead a remote team, will play a big role in ensuring an organizations success, in the days ahead.