Get a Virtual Bookkeeping Assistant to Create Efficient Budgets
With accounting and bookkeeping services, you can conveniently hire a virtual assistant to share your clerical and financial workload, thus freeing up your team's valuable time for core business activities. But what is a virtual bookkeeping assistant? And how does it benefit your business?
Smart business owners know that efficient financial budgeting is the key to strong business performance. From efficient budgeting and cost management to customer invoicing, a lot is going on for your growing business.
The problem: you and your small team are too busy to handle this tedious and complex task of bookkeeping. For a small business like yours, it is easy for the accounting workload to pile up as you grow. Not to mention, hiring full-time business accounting services might be a business expense you cannot afford.
But even if you're able to make do with your limited resources, mistakes can happen, further complicating the task of financial management.
The solution: virtual bookkeeping services for small businesses. If you run a small business, you shouldn't have to keep your hands full with administrative tasks and your head buried in accounting sheets. With accounting and bookkeeping services, you can conveniently hire a virtual assistant to share your clerical and financial workload, thus freeing up your team's valuable time for core business activities.
But what is a virtual bookkeeping assistant? And how does it benefit your business? Let's dig in.

What is a virtual bookkeeping assistant?
A virtual bookkeeping assistant is a trained professional and independent contractor who offers online bookkeeping services to manage a company's finances remotely. Being experts at what they do, bookkeeping assistants assist in strategic financial planning and budgeting using accounting software, helping you save time, costs and improve functional efficiency.
But that's not it. Hiring an online accountant for your small business offers you the flexibility you need to streamline your business operations for higher growth.

How can your virtual bookkeeping assistant help create efficient budgets?
Efficient financial budgeting is synonymous with high-quality bookkeeping. Organizing your bookkeeping practices gives you an accurate idea of your financial position – from your balance sheet to cash flow statements.
More so, it eliminates guesswork from budgeting, as you have all the critical information you need. But, all of this would not be possible if you don't have a dedicated person working to manage these tasks. Thanks to virtual bookkeeping services, your VA can perform a variety of tasks and help create efficient budgets by-

Offering budgeting advice
The key role of bookkeeping for your business is to help you make sound financial decisions. And if you don't have a skilled person looking over your accounts, it might be quite challenging to generate reliable estimates from financial data.
But you can do away with these concerns once you outsource accounting services. Your virtual bookkeeping assistant will bring their industry experience and expertise to the table, helping you with key budgeting decisions. They can offer you actionable advice based on your current financial situation, research industrial and government policy changes, and study data trends for better budgeting decisions.
Keeping your accounts up-to-date
For any new expansion plans for your business, you need a well-planned budget that acts as a financial roadmap. And having access to updated accounts is what makes budgeting a simpler process. But poor financial recording can keep your company from growing the way you want.
So, what do you do? You hire a bookkeeper to keep your business accounts up-to-date. A virtual bookkeeping assistant will handle end-to-end accounting for your business – from receivables management and cash-flow projections to data maintenance. This means your critical budgeting decisions won't be based on assumptions anymore, thanks to your VA!
Preparing easy-to-understand financial statements
When it comes to bookkeeping, nothing is more important than preparing actionable and comprehensible financial statements. And if you're a small business owner from a non-financial background, analyzing your financial statements to create effective budgets can be an uphill battle.
Instead, an experienced and knowledgeable virtual bookkeeping assistant will convert key financial statements into easy-to-understand formats and assist in analyzing so you can create a competent budget.
Still not sure if it's the right move for you? 37% of small businesses outsource their accounting tasks for improved financial management. And here's why you should do it too!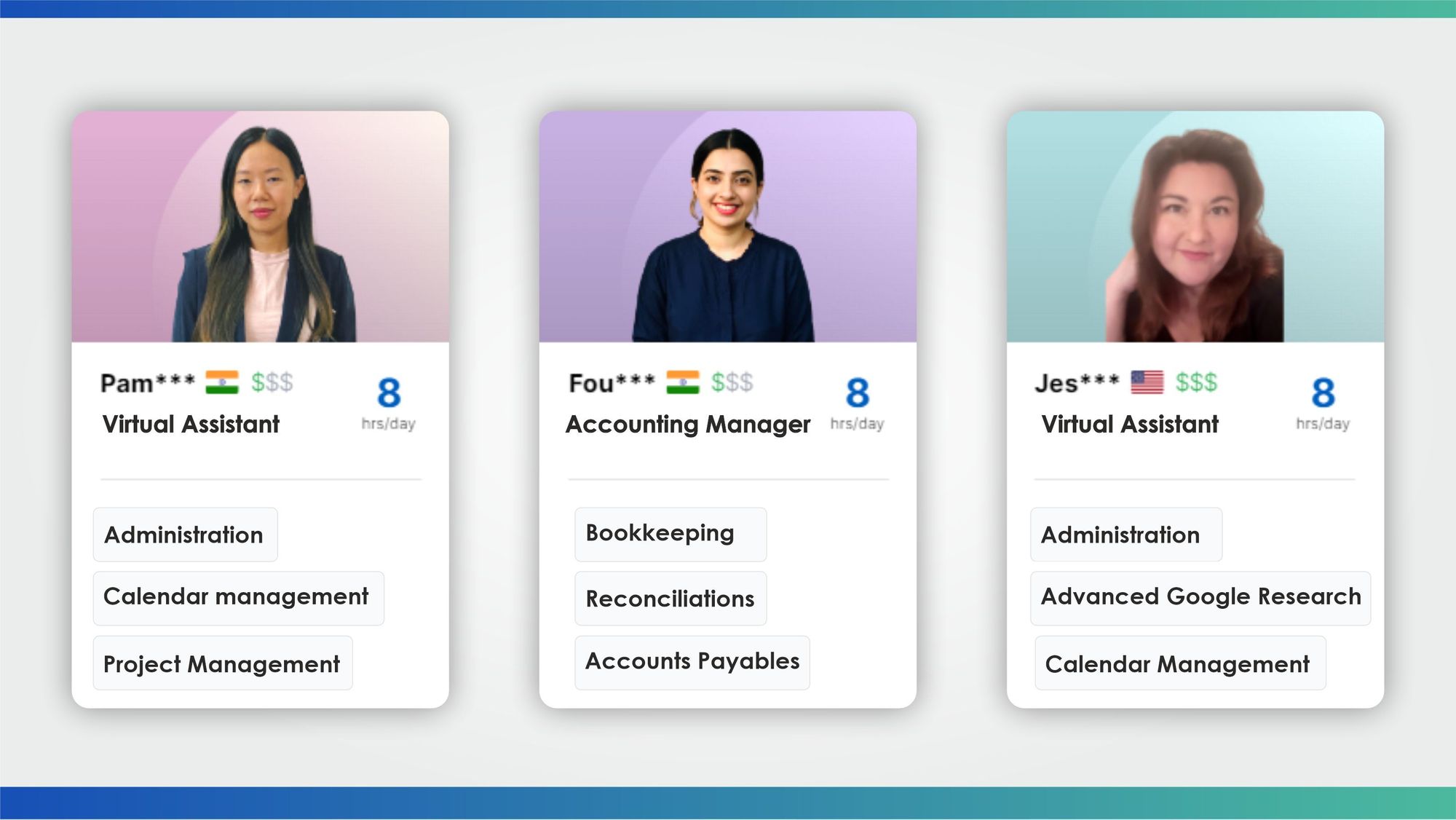 4 reasons to hire a virtual bookkeeping assistant
#1 Maintain and organize financial records
As your clientele grows, recording and maintaining your financial data can be a complicated task. Since accurate financial records are key to any business, a virtual bookkeeping assistant exists for one reason: to handle the tedious task of organizing your financial records.
Manage your company's day-to-day finances
Keep meticulous records
Maintain and update your general ledger
Maintain balance sheet, profit, and loss account, and cash flow statements as per accounting standards
Track client transactions and profit centers
Maintain employee invoices
And more. Besides, a qualified bookkeeping assistant will keep you up-to-date with the company's financial health and assist you during tax season for enhanced financial management. Rest assured; your finances will be in good hands.

#2 Save costs
What are the costs of hiring a new employee?
In addition to yearly salary and bonuses, you must account for health insurance, payroll taxes, sick leaves, paid time-offs, retirement benefits, and more. For small businesses, these can add up to considerable costs they just can't afford. But incompetent financial records aren't something businesses can afford either.
Then, hiring a virtual assistant becomes a cost-effective option for small to medium size businesses. Since they are outsourced contractors, you just need to pay for the services you use and cover their hourly wages.
Also, because they operate remotely, you save on office space, employee benefits, pensions, and other costs. And you don't have to equip them with the necessary hardware either. With outsourced accounting services, you'll get the work of a full-time employee without any of the added costs.

#3 Enjoy higher flexibility
If you're a small business working with international clients at unpredictable hours, hiring traditional 9-5 employees to handle business transactions will not be as feasible. But with business accounting services, you can hire a virtual assistant to work the necessary hours.
Moreover, you can onboard a bookkeeping assistant for the time period you need or even scale up your team when needed. Hiring a virtual assistant thus gives you the flexibility to scale and save costs to match the growing business demands.

#4 Focus on core business tasks
Employees working in a small business often wear multiple hats at once. Especially for a growing business with limited resources, their employees might be working beyond their designated roles, even if they don't have the expertise for it. But this also means being less productive at their core duties.
A virtual assistant brings immense value to your business by freeing up your time to let your team focus on core business activities. Since bookkeeping and accounting can be time-consuming, VA takes these repetitive tasks off your shoulders and handles them skillfully. With your finances handled by skilled professionals and your employees giving their 100% to their job, you will only enjoy higher business growth with time.

Wishup connects you with trained virtual assistants for bookkeeping services
According to a 2021 survey by Accounting Today, about 46% of small businesses don't rely on professional accountants to manage their finances. The reason? The higher costs and onboarding and training time of recruiting new employees.
Enter Wishup. Hiring bookkeeping services with us means you no longer have to worry about handling finances in-house. Outsource your bookkeeping and budgeting tasks to our highly-trained virtual assistants and introduce financial expertise into your business.
But that's not all. Here are a few more reasons to partner with Wishup for your virtual assistance needs-
Cost-efficient
For a small business, hiring new employees might not always be the most cost-effective idea. And if you plan on handling your financial tasks alone, your productivity and business growth are sure to take a hit.
But hiring a bookkeeping assistant with Wishup equals cost-efficiency. Since our VAs work remotely, you don't have to cover overhead expenses like office and equipment, and you don't have to worry about insurance and salary benefits. Besides, they are highly trained, which also helps you cut back on training costs.
Highly-trained professionals
When it comes to your business' finances, it's important to work with a highly qualified, knowledgeable, and trained professional. We don't just connect you with freelance professionals – we take pride in creating a workforce that best matches your work requirements.
Our virtual assistants undergo an excellent training program to help them learn the various aspects of their job. They have access to the best industry tools and courses to improve their skills and be the best at their work. You can rest assured about handing your finances to a trustworthy professional.
Access to top-quality, global candidates
When you hire a bookkeeping assistant remotely with Wishup, you get access to a global pool of talent based on their skills and qualification. The best part? Wishup only works with the top 1% of talent, ensuring you get quality services. We have a rigorous screening and vetting process in place to help you choose the best fit, depending on your budget and preferences.
Data security
At Wishup, we understand how important it is to keep your data safe. That's why we take the necessary steps to ensure the highest level of data security. We go thorough background checks on all our employees and keep your information safe with digital, physical, and administrative checks.
Rest assured; you're in good hands!
Easy onboarding
As a business owner, you know how long it can take to find and hire a suitable employee that fits your preferences. But being a key business activity, you simply cannot afford to put your budgeting tasks on hold till you find the right candidate.
But not with Wishup. Once you sign up and take free consultation, you can choose a skilled virtual assistant from hundreds of profiles and onboard them within 24 hours. You don't have to worry about the time-consuming process of screening and recruiting candidates – we already take care of that for you! And the best part? If you're not satisfied with the services of our VA, we offer you an instant replacement – no questions asked.
Over to you
Looking for a reliable bookkeeping assistant to create and manage financial budgets? Look no further than Wishup! Our virtual bookkeeping assistants help you improve your bookkeeping practices – from handling payroll to organizing financial statements, they'll skillfully handle all!
To test our services, schedule a free consultation or drop a mail at [email protected] today.