Struggling with Keyword Research? Hire an SEO Virtual Assistant
You cannot expect your customers to find your site among a sea of similar web pages if it isn't optimized based on your audience's search queries and intent. Keyword research is necessary, and here's how a virtual assistant can help.
According to a survey conducted by UpCity and Pollfish, only one in two small and medium-sized businesses had a dedicated SEO strategy. Fewer still make keyword research the cornerstone of their strategy. The result? Unoptimized pages that don't rank, lesser organic traffic, and fewer sales.
Now, you could throw in the towel, and hail SEO is dead. But the truth is, you cannot expect your customers to find your site among a sea of similar web pages if it isn't optimized based on your audience's search queries and intent.
Keyword research can help, but if you've ever tried to accomplish this mammoth task with a small team size, you know it can become a time-sink.
For perspective, here's a look at the time-consuming tasks during keyword research.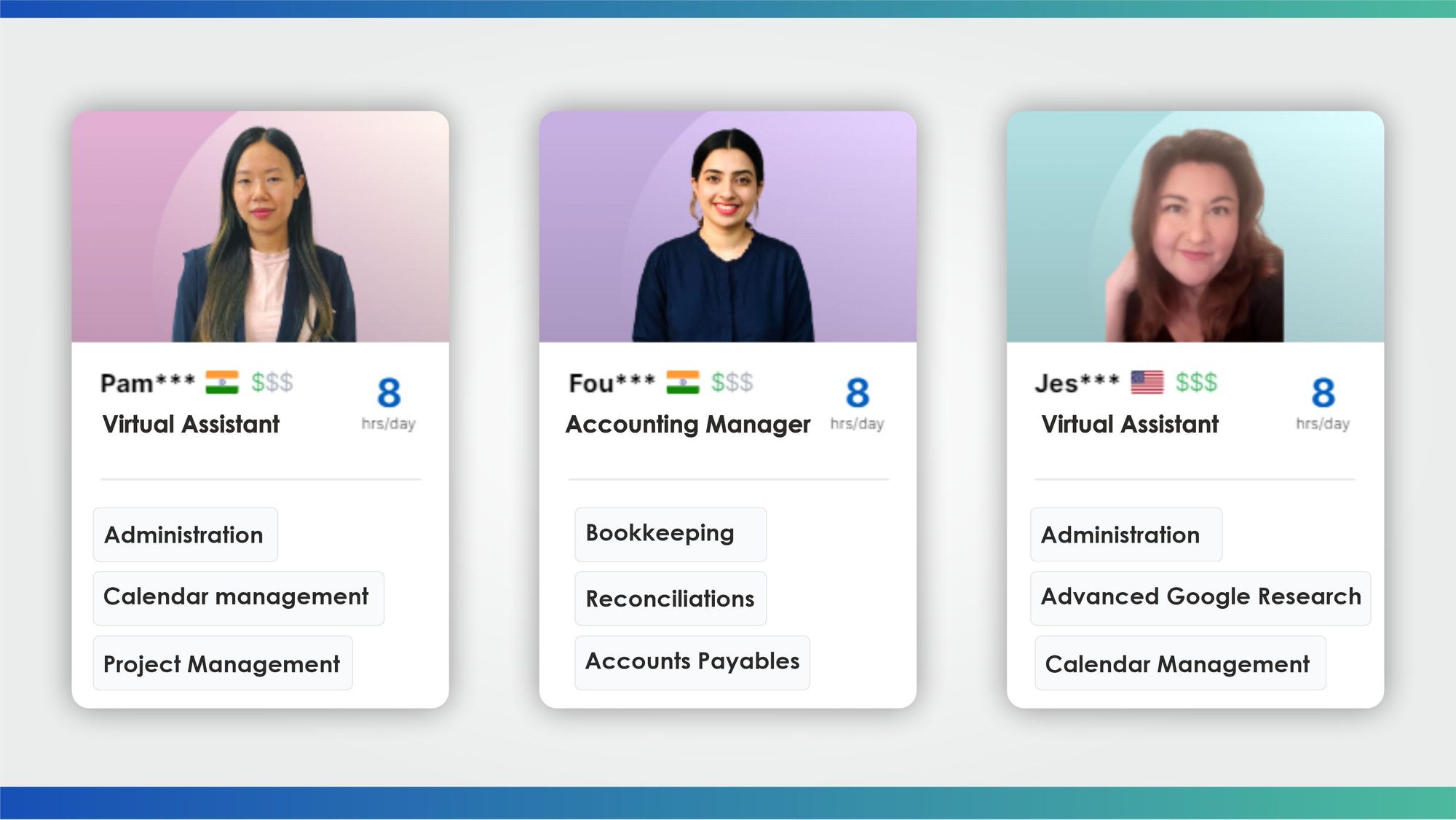 Keyword research: 3 activities that eat up time
Understanding the target audience
While knowing the audience is key to understanding their intent and, thereby, their search queries, researching the audience takes copious amounts of time.
First, you need to understand where your audience is. Are they on your website? Do they interact with you or companies like yours on social platforms? Once you determine your sources, you use tools to retrieve audience information. Post that, you need to start compiling that information and generating insights from them.
These tasks can take several hours if yours is a small business selling niche products. However, understanding your target audience can take much longer if your business is looking to target customers across demographics.
Competitor research
This is another common SEO task that small teams classify as a time sink. After all, it involves getting into the nitty gritty of your competitor's SEO strategy, right from the content, top pages, and their target keywords to the backlink profile.
The idea here is to determine what aspects of your competitor's SEO strategy pay off and implement them. And while doing this is easy when you sell a niche product, it's infinitely harder if you're aiming to position yourself as an authority figure in a saturated market.
Analyzing keywords
An understanding of the target audience, when coupled with competitor research, might give you an idea about the keywords you need to focus on. But you need to select the right ones for your business. This requires keyword analysis by comparing metrics such as search volume and keyword difficulty, which you can figure out using the tool.
The next step is to understand if the selected keywords can help you grow your business, directly or indirectly. This involves matching keywords with business value and checking their potential for improving brand awareness, backlinks, and more. Together, these activities could take days to weeks, depending on SEO strategy. What's more, they need to be done time after time.
Unless yours is a niche business with a limited target market, you cannot expect your current employees to shoulder the burden of such time-consuming keyword research tasks. Besides, your employees may be learning SEO from scratch to perform these tasks, wasting even more time.
What you need is a freelance SEO expert on your team to help you save time and effort and reduce costs. In this blog, we go into how an SEO virtual assistant can help with keyword research.
Who is an SEO virtual assistant?
An SEO virtual assistant is a freelance professional offering SEO services to companies remotely. They take the burden of routine SEO tasks, including keyword research, content optimization, metadata management, and more, to ensure your SEO pipelines run smoothly.
They are equipped with the skills of a seasoned SEO professional and have the expertise to back them up. The best part? They even have the tools to perform their tasks, meaning you won't spend your company budget on additional tools.
Today, you can get SEO virtual assistant services on multiple platforms at a fraction of the cost of hiring a full-time SEO expert. Here's why you should do it too.

What can an SEO virtual assistant do for you?
Tasks that can be outsourced to an SEO VA | Source

Audience research
An SEO VA proficient with the latest tools can help you save the total time spent on understanding your audience for SEO.
They can identify potential customers on your website, social media, and competitor websites, segment them based on their intent and demographics and generate insights about buyer intent from them. This data can be used thereafter to identify potential keywords.
Remember, the SEO VA is not another generalist on your team. They are a professional who streamlines your current audience research SEO practices and improves their accuracy and efficiency.

Competitor research
An SEO virtual assistant can conduct more comprehensive competitor research. They can help you identify keyword strategies used by your direct competitors, market leaders, and established players. But that's not all.
An SEO VA goes the extra mile analyzing your competitors' content, and pages, the strengths and weaknesses of their current strategy, and keyword gaps. This can help you make amends to your existing strategies, bringing you more website visitors.

Keyword analysis
When you hire an SEO virtual assistant, you get streamlined keyword analysis services as well.
The virtual assistants use specialized tools to sort keywords by keyword difficulty, profitability for the business, search volumes, and current trends. This reduces the hours your employees would otherwise spend on the Google Analytics Search Control Queries dashboard scouring for keywords and lets them focus their energy on more important tasks.

Keyword localization
If you didn't know already, research suggests 46% of searchers are looking for location-specific information on Google. So, if you want to increase your in-store footfall, you need to invest time in local SEO or outsource it to an SEO freelancer.
An SEO virtual assistant optimizes your website, so it is visible to people looking for related products near your business. They do this by unifying business listings, including location-specific details, and optimizing your online presence on various platforms.
Additionally, they optimize Google My Business, online directories and citations, source quality inbound links, and engage with the local community. All these activities improve your business' ranking on local search engines giving your website more traction.

Backlink building
Building backlinks is a crucial part of SEO optimization, and it is a task that takes hours on end. A virtual assistant takes this load off your employees' backs, just like a freelancer, albeit more cost-effectively.
They create anchor texts for linking content, research websites that accept guest postings, and even hire copywriters to write these guest posts. Not just that. SEO virtual assistants also negotiate with guest posting package websites to promote your brand and product and replace broken links of your competitors with working links, bringing more customers to your webpage.

Despite all these advantages of hiring a virtual assistant for your business, you might be skeptical about getting one. After all, how can you verify the virtual assistant is qualified to handle your SEO? How do you know if they are trustworthy? Which platforms should you use to hire a virtual assistant?
Well, Wishup can help. Here's why you should hire your next SEO virtual assistant from us.

Why partner with Wishup to hire your SEO virtual assistant?
Access to hundreds of vetted and trained SEO professionals
Unlike other freelancer forums like Upwork or Fiverr, Wishup provides pre-vetted and trained SEO virtual assistants.
This means you never have to spend additional time training your hires or checking their qualifications. Instead, all you need to do is check if they are a good fit for your team and match your budget.
Affordable and location-agnostic virtual assistant services
At Wishup, we understand that different businesses have different budgets. This is why we offer virtual assistants catering to different budget ranges. Not just that.
You can avail of quality virtual assistance from anywhere worldwide with Wishup. This means you can hire a VA from a different time zone if you want additional time savings or a virtual assistant from your time zone to ensure you can communicate more effectively.
Risk-free trial period
Not satisfied with a virtual assistant you hired? You can avail of a 7-day trial before hiring an SEO virtual assistant. This way, you can evaluate if a candidate is a right fit for your company before hiring them.
Additionally, if you aren't happy with the services, you can also request a replacement on our platform. We provide an instant replacement virtual assistant, no questions asked.
Data compliance promise
At Wishup, we understand that our virtual assistants will be handling sensitive company data from time to time. This is why we ensure all our VAs sign NDAs before you hire them on our platform and perform thorough background checks on them.
Simple onboarding
Hiring a virtual assistant with Wishup is simple and fuss-free. All you need to do is follow three simple steps.
Identify why you want a virtual assistant
Schedule a virtual consultation on our website
And choose a suitable virtual assistant from our options.
Improve your online presence with a virtual assistant
An SEO virtual assistant can take over time-consuming keyword research tasks, allowing you more time to optimize your company's SEO practices and improve your ranking on SERP. What's more, unlike permanent employees, you can hire VAs on a project basis. So, you can enlist a professional's services for a short period without stretching your company budget.
Wishup's SEO virtual assistants can help your team with the following tasks.
Keyword research
Backlink Building
Local SEO services
Competitive Research
Industry Research
Interested in hiring a virtual assistant from Wishup? Schedule a free consultation with us or send an email to [email protected].