Hire a Content Writer - Tips, Best Practices, and Where to Hire
Our experience in content hiring lets us know what works and what doesn't. We have brought our experience to this blog to tell you all about content writing. At the end of this blog, you, too, will be able to hire a professional writer to create content for you.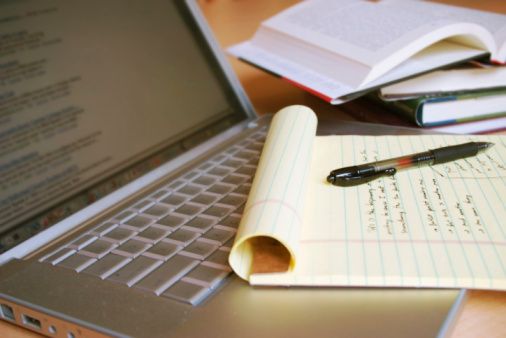 'Content is king' is something people have been saying for a long time. Content is truly king in today's digital world. People consume content of various types. If you can offer content people like, it would help you reach out and engage with them. It is the best strategy to improve your online presence. Creating quality content is not easy. You need professional help with this.
However, content writing is an art that requires a very strategic approach to be successful. Around 70% of marketers believe that SEO has a bigger effect than PPC. A virtual assistant content writer will have expertise in creating SEO-based content and be able to masterfully weave these keywords into your blogs and articles without making them seem too tacky. However,  73% marketers believe that social media marketing is an effective way to boost your brand organically. But it's a job seeker's market – at least, that's the sentiment 62% of employers, and 86% of recruiters seem to share. So, businesses need to bring their A-game to attract the best talent. According to statistics, 76% of employers admit that attracting the right candidate is their biggest challenge. Potential candidates are careful where they submit their resumes. After all, they want to associate with companies that can help them grow professionally.
You can hire content writers to help you create the best quality content readers want. A professional content writer is not easy to find, so we curated this blog for you. Our experience in content hiring lets us know what works and what doesn't. We have brought our experience to this blog to tell you all about content writing. At the end of this blog, you, too, will be able to hire a professional writer to create content for you.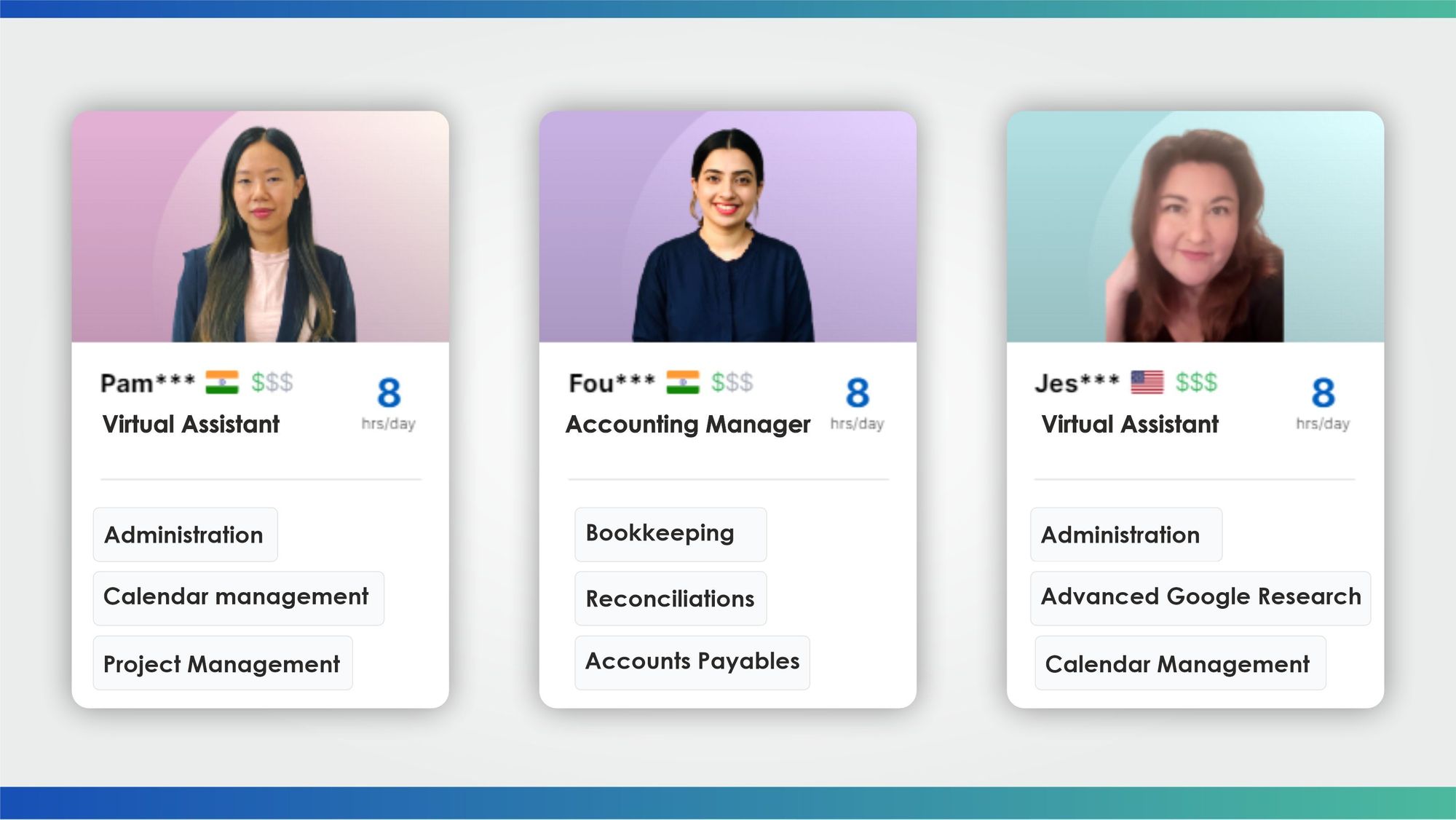 Why Hire a Content Writer?
A content writer helps you create professional content that you can use for your marketing and other purposes. The following explains why you should hire content writers for your business.
Improve the quality of your content
Businesses use content for marketing. The content you showcase on your website, social media account, or blog should be attractive. It must help you engage with your customers. For that to happen, you need quality content. A content writer is a well-experienced professional. They know exactly what readers want and will help you create such content.
Save time and effort
In today's competitive world, you must focus on your core work. Supporting functions like content writing can be outsourced. Not only will it help you get quality content, but it will also save time and effort.
Attract and engage your target audience
The content you create must attract your target audience. If that happens, they will engage with you. This approach will help you get leads for your business. You can then convert the leads to improve your sales.
Build your brand and online presence
Good quality content will help you establish your online presence. Google gives a higher ranking to websites with original and quality content. It will also establish you as a brand that provides value-adding content.
Generate more leads and sales
Content marketing strategy helps you gain leads. People who consume your content are more likely to get in touch with you. It thus helps you get leads and sales.
10 Best Places to Hire Content Writers
If you want to hire a content writer for your business, go through the list below. We have compiled the ten best places from where you can find the best writers for your content needs.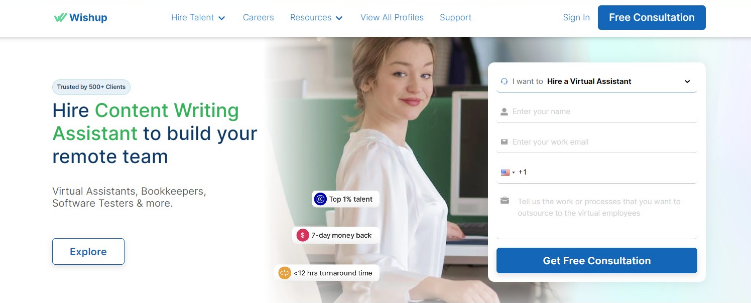 Wishup is a leading virtaul assistant company which provides content writers for hire. If you want to hire a content writer and are unwilling to settle for anything other than the best, Wishup must be your first choice. With rich experience having catered to 500+ clients, Wishup selects only the top 1% of applicants. You are thus assured of quality.
Services offered: Wishup's content writers provide 100% original and well-researched content that perfectly meets your needs. Hire social media manager who's services include blog writing, social media content, product description, and email marketing.
Special benefits: You can get a 7-day risk-free trial before you start. An instant replacement is available, no-questions-asked. Wishup appoints a dedicated account manager to take care of all your needs.
Pricing: Wishup pricing is $999/month for the 4-hour package and $1799/month for the 8-hour package.
How to hire: For hiring a virtual assistant content writers, schedule a free consultation. Wishup's team will get back to you and help you find the best content writer. Onboarding happens in 24 hours, and you can get going with your work.
Upwork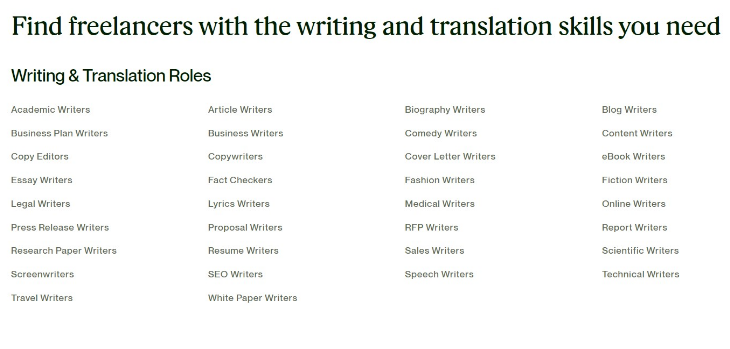 Upwork is a leading work marketplace where you find content writers for hire. You can get content writers, copywriters, editors, and other professionals on their platform.
Services offered: From articles and blogs to books and e-books, you can fulfill all your requirements at Upwork.
How to hire: The hiring process is simple. Register on Upwork and post a job. You will get responses from writers across the world. Upwork screens the writers and ensures their portfolios and qualifications are available for you to check. Their algorithm helps you find the best writer. You can chat with them, check references, and sign a contract.
Pricing: it depends on the writer chosen. You can either opt for an hourly contract or a fixed price contract for the entire project. You will get an online space to manage your project, receive files, and make payments online.
Fiverr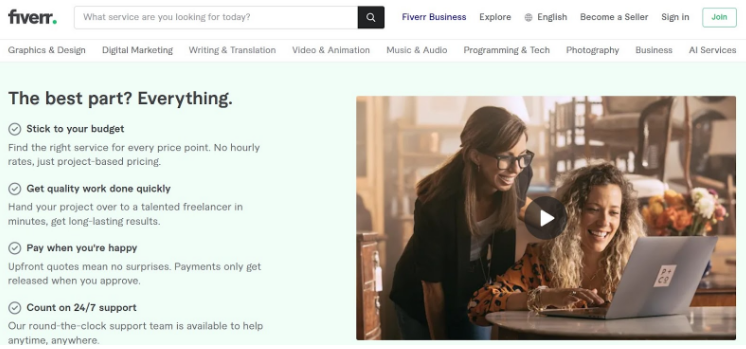 Fiverr is a freelancer marketplace that helps you find a freelance content writer for hire who meets your needs.
Services offered: You can get writers to write articles, blog posts, website content, books, creative writing, etc. Being a marketplace, there are many freelancers listed on the platform. You can choose from any of them.
You can search for writers after signing in to Fiverr. Read reviews of the writers that give you feedback for their past work. Go through their portfolio and understand if they can take up your work. You can interact with shortlisted writers before choosing one.
Pricing: Since it is a freelancer marketplace, prices vary depending on the writer's experience.
How to hire: Once you finalize a price, you must pay the money in advance. Fiverr makes the payment to the writer only after the work is complete. Fiverr ensures payment is released only if you certify work completion.
Freelancer
Freelancer is a marketplace for freelance professionals. Thanks to this website's vast number of profiles, you will find hiring content writers easy.
Services offered: You will find content writers to write website content, SEO content, blogs, articles, e-books, guides, and other such content. There are many experienced content writers who can do a great job for you.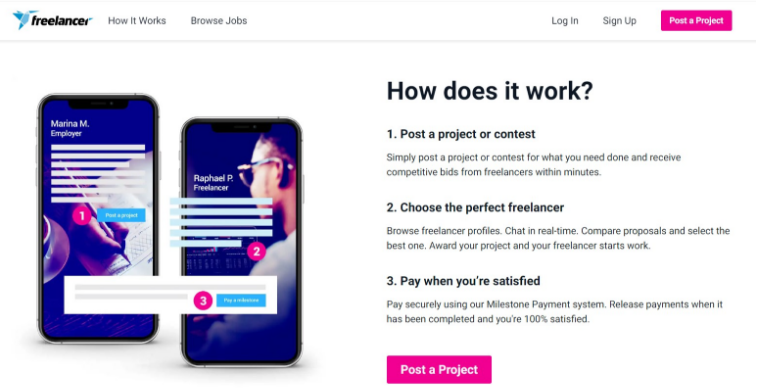 Pricing and how to hire: Working with Freelancer is easy. Sign in and post a project outlining your requirements. You will get quotes from different writers. Evaluate the quotes, review the writers' portfolios, and choose the best writer. You can choose based on the lowest price quoted or any other criteria. You can break up your project into milestones and pay only on completion of the milestone.
Since there are thousands of content writers on this platform, you are assured of finding one who can work for your needs and budget. The platform has options to help you track the progress of the work. You can pay a fixed price for your project or an hourly fee.
Semrush Content Marketplace
Semrush is a marketing place that focuses on content creation. Semrush has partners with rich experience in content development. Once you give them an order, they will get it done through their partners. You can expect 100% original quality content.
Services offered: You can get quality content of any type, from articles to infographics and website copy to e-books.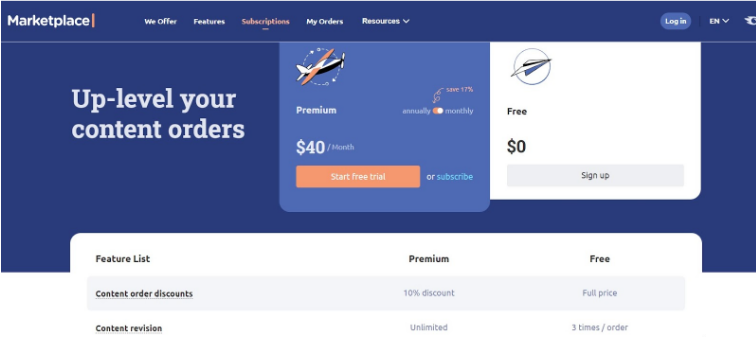 Pricing: You must subscribe to access Semrush's services. They offer a free 14-day trial to help you evaluate their services. They have a free plan where you can get revisions only thrice. The premium plan is priced at $40 per month and entitles you to unlimited revisions. You also get a discount on the price of each order.
You can choose your writers and collaborate with them in the workspace. Use the white-label content in whatever way you want.
Crowd Content
For hiring content writers, Crowd Content is a good option.
Services offered: It has two solutions on offer. One is a marketplace where you can hire experienced writers to complete your work. The other is a managed solution ideal for businesses with ongoing orders. With over 6,000 writers on their platform, Crowd Content is known for its fast turnaround.
Pricing: Prices vary from 3 cents a word to 13.9 cents a word, depending on your desired quality level. A dedicated content manager will work with you to ensure your work happens smoothly. The writers on this platform are vetted and have expertise in various sectors.
Their 'pay as you go' model is convenient for businesses. The quality levels of writers are decided based on client feedback and not by the platform. You can also choose editing services to fine-tune the content and make it top-notch.
Brafton
If you are looking for a content writer for hire, Brafton's platform can help you. Brafton is a content marketing agency specializing in different types of content for its clients.
Services offered: Their content creation services include copywriting, graphic design, blog writing, e-book creation, etc.
Once you decide to work with them, they will first understand your brand and style. They will then understand your needs and convert them into quality content that helps promote your brand. Each piece of content is optimized and monitored to ensure it meets goals.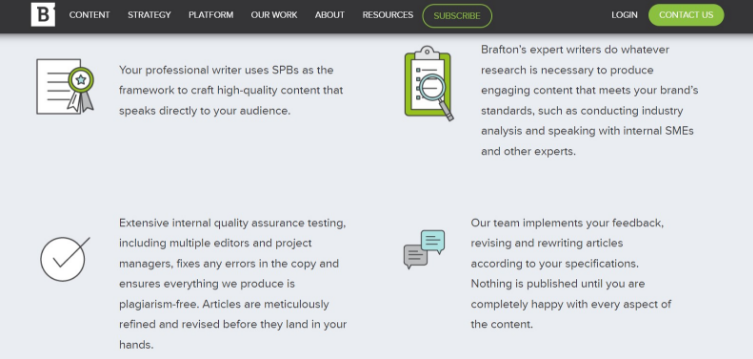 Pricing: Once you contact them, they will share the pricing details. As per market information, they charge $1 per word for their services. The price includes content creation, SEO services and access to a dedicated content manager.
Scripted

Scripted is a content solution provider offering a range of services, including content strategy and content creation. They have worked with top companies like Adobe, IBM, Healthline, and Adidas. They offer customized solutions to help you create the best quality content for your business. The Scripted platform allows you to get the content of your choice.
Services offered: Experienced writers are available for different writing topics. The specialization allows you to find a writer who perfectly meets your needs.
How to hire: You can get started by registering for a 30-day free trial. The trial option allows you to get content for a month without having to pay.
Pricing: If you are satisfied, choose from their various plans that start at $199 per month and go up to $5000 monthly. Choose the plan of your choice depending on your needs.
Express Writers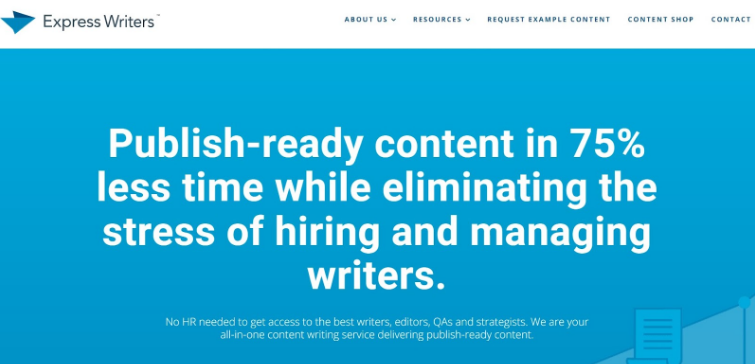 Services offered: Express Writers offers two different models for customers. One is self-serve, where you can order custom content that meets your specific needs. The other option is managed content, where you can get large orders serviced from this platform. They are an experienced content agency and offer high value to clients.
How to hire: You can request a sample content piece before you start. If satisfied, choose the content type you want, order online, and send all your details. Expert writers will prepare your content; you can review it, get it revised, and approve it.
Pricing: it depends on the article type and specific requirements. General blogs start at $50, while expert blogs are priced starting at $57. Ebook pricing starts from $112. A range of options is available for your needs.
LinkedIn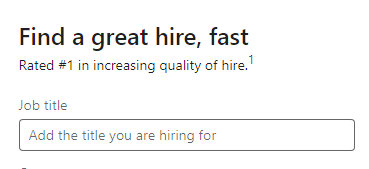 LinkedIn is a very popular social media platform for professionals. It also allows you to hire professionals, including content writers. It has a jobs page where you can post jobs for your business.
How to hire: You can post a job related to your content writing work. The job would be displayed to all LinkedIn members looking for content writing work.
You can also share a post from your profile indicating that you are hiring. It is a free option for which you need not pay. If you want to increase the reach of your job, you can post an ad using a 'pay per click' model. Another option is to search for content writers using the search tool.
You can reach out to writers after verifying their profiles. Share your requirements with them and negotiate prices and get started. It is a simple process to get your content work done.
Tips for Hiring Content Writers
We have tips to help you hire a content writer for your business. These tips will help you get the best results from your selected content writer.
Define your content needs and goals
The first thing is to decide your content needs. Decide if you want content for your website or offline sources. If it is website content, it must be SEO optimized. The type of content decides what kind of writer to choose. Also, decide your goals. Why are you creating the content? The answer to this question will help you define your goals.
Review writing samples and portfolios
Once your shortlist content writers, check their portfolios. Check their work samples. It will help you understand if their writing meets your needs. You can understand their writing style and whether it suits your business.
Check for experience in your niche or industry
You need experienced writers with experience in your industry. Find out if the content writer has worked in your niche and check for samples. You can get feedback from their previous clients before going ahead.
Test their writing skills and communication
If you are particular about quality, then test the writer's skills. You can ask them to write a sample piece of content for you. Use the content to understand how well they communicate and if it meets your needs.
Establish clear expectations and guidelines
Once you choose the writer, let them know your expectations. It would ensure that the content writer does the work per your needs. List your guidelines clearly so the writer knows how the content should be.

Conclusion
A content writer is a professional who can provide you with valuable content for your business. Whether for your website, blog, or marketing material, a content writer can help you create quality content so that you can reach out to your target audience. You must clearly define your content goals and guidelines. It will help you identify the best content writer to provide value-adding content.
The guidelines given below will help you choose the best place to get your content writer. You can hire content writers using the service of virtual assistant company like Wishup. To get started, schedule a free consultation or send us a mail to [email protected]
Hire a Content Writer Frequently Asked Questions
How much do content writers charge?
The charges of content writers depend on the level of the writer or the quality of work expected. Also, charges vary depending on the platform from which you hire and the type of content. Content prices can vary from 0.25 cents per word to $1.5 per word.
How can I hire a Content Writer?
You can hire a content writer online through various content writing platforms. It is best to find a good quality writer at the best prices.