How to Build a Remote Marketing Team Fast
Marketing teams play a massive role in the success of a startup. Yes, tech and sales teams are important. But not building a marketing team at the right time is a decision you may regret later. Read to learn more about building your remote marketing team fast.
Marketing teams play a massive role in the success of a startup. Yes, tech and sales teams are important. But not building a marketing team at the right time is a decision you may regret later.
And what better way to build your marketing team than going remote. Think about successful companies like Buffer and Zapier. They're prime examples of the power of remote teams.
Remote marketing teams:
- are easier to put together
- you can find global talent
- cost-effective
- hassle-free
All of this provided that you build your marketing team the right way. So, if you wanna learn more about building your remote marketing team fast, then you have come to the right place.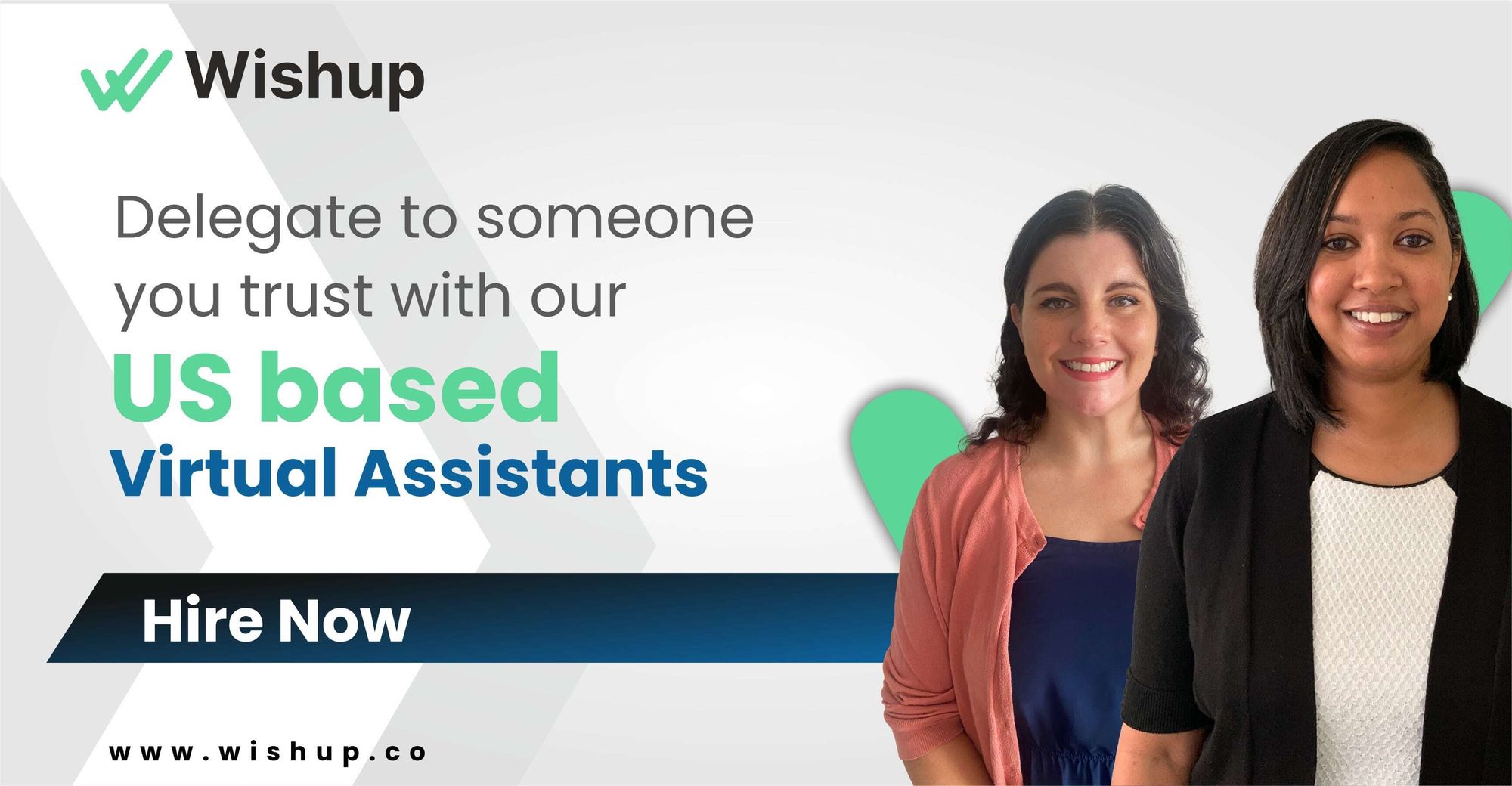 1. Choose the Right Roles for your Remote Marketing Team
Assembling a remote marketing team is like putting together a winning sports squad. Each role adds unique skills and functions.
However, the roles you might consider hiring entirely depend on your business goals. Here are a few common marketing roles you should consider:
1. Social media manager - They help you drive engagement on your social media platforms and strengthen your digital footprint.
2. SEO experts - They help your brand gain more organic traffic & better visibility on Google search results.
3. PPC expert - They help you with paid ad campaigns on platforms like Google and Meta.
4. Virtual marketing assistants - They are the versatile players of your team. They can support multiple roles and tasks, from managing social media and content creation to handling marketing automation or lead generation. You can use Wishup, which helps you find a virtual marketing assistant in 24 hours.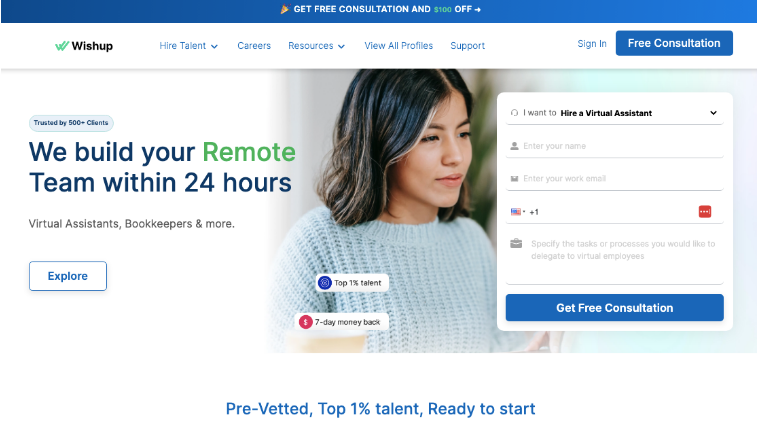 5. Content creator - They are responsible for creating engaging content for social media, blogs, marketing emails, etc.
6. Graphic designer - They help you design graphics and ads for organic social media, social media ads, blog posts, etc.
7. A video marketing expert can enhance a marketing team's effectiveness by creating compelling and engaging brand videos that effectively communicate the brand's message, captivates the target audience, and drives conversions and brand awareness.
8. Data analyst -  They're responsible for interpreting data on key metrics like social media ROI and website traffic. They review performance data, spot trends, make recommendations, and provide a strategic roadmap.
9. Email marketer - They manage your email campaigns, nurture leads, and keep your customers engaged.
10. Outreach specialists contribute to a marketing team by strategically identifying and engaging with potential leads, fostering meaningful relationships, and consistently generating high-quality leads that fuel business growth and revenue.
2. Set Clear Goals and Expectations
Once you have decided on the roles you want to hire for, the next step is to set clear goals and expectations for what you'd like to achieve from a remote marketing team.
For example, if your business needs a strong online presence, a social media manager or a versatile virtual marketing assistant should probably be your first hire.
Or, if you are looking to optimize your existing sales funnel, hiring a funnels specialist first may be a good option.
Also, set expectations for each role.
- What tasks will they be responsible for?
- How will their performance be measured?
- Clear expectations give your team a roadmap to follow.
Doing this will help them understand how their work contributes to your company's larger goals.
By defining your goals and setting clear expectations, you set your team up for success. You also make the hiring process easier. When you know exactly what you're looking for, you're more likely to find it. And when you find the right talent, you're one step closer to achieving your marketing goals.
3. Look at the Right Places to Source Talent
Once your goals are set, it's time to find your team. But where do you look? Think of online platforms as talent markets.
LinkedIn, Indeed, and Upwork are great places to start. They host a myriad of professionals looking for opportunities, just like yours.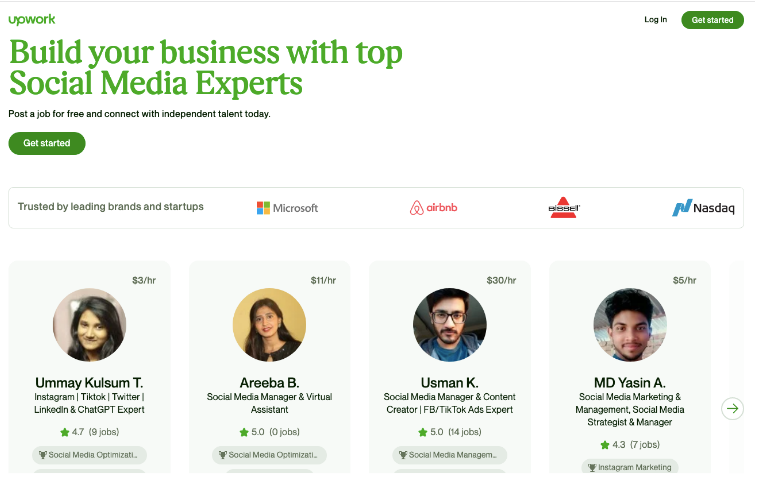 To make the hiring process quicker and more efficient, consider leveraging LinkedIn automation tools. These tools can help you streamline tasks like searching for candidates, sending connection requests, and even initial outreach. This means you can focus more on evaluating candidates rather than getting bogged down with administrative tasks.
Also, consider your needs when sourcing.
Need an SEO expert? Look at their profile and past projects.
Need a content creator? Check their writing style and creativity.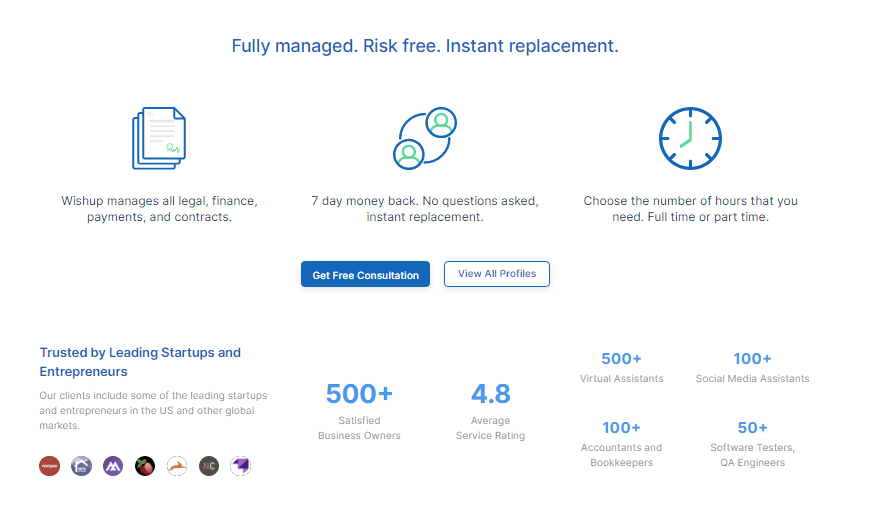 4. Conduct Virtual Interviews and Pick the Right People
After identifying potential talents, the next step is interviewing. Virtual interviews are the norm in remote hiring. Platforms like Zoom or Google Meet can be your meeting room.

You can start by preparing a list of relevant questions. This helps you gauge the candidates' skills and fit.
Take a content creator, for example. Ask them about their writing process. Maybe ask for a sample piece. Their responses can tell you about their creativity and work ethic.
Assessments are equally important. They validate the skills seen on paper. For instance, for a social media manager, give them a scenario. Ask how they would handle a social media crisis.
The process of sifting through resumes and proposals and choosing the right candidates can seem overwhelming. You can make use of recruiting apps or project management tools to streamline these processes.
5. Build a Remote Company Culture
Hiring remote marketing teams may be easy. But it is important to ensure that your company enhances and supports remote work culture. This ensures more productivity and better results from your remote employees.
One way to build culture is through regular virtual meetings. These are opportunities for team members to interact. You can make use of webinar tools to host weekly virtual meetings or training sessions.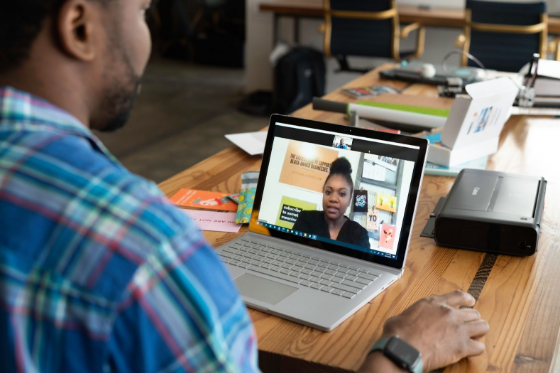 Communication tools also play a crucial role. Platforms like Slack or Microsoft Teams facilitate easy communication with your team. They can host channels for work-related talks and casual chats.
In essence, a remote company culture makes a team out of individuals. It gives them a sense of belonging. It makes them feel valued. This motivates them to perform better, making your team more effective.
6. Create an Onboarding Process
You've hired your remote marketing team. Next comes the onboarding process. This step is crucial as it makes your remote marketing team feel more welcoming, ensures better efficiency,
Onboarding includes providing clear guides and resources. Think of it as a toolbox. It should equip your team members for their tasks. This can include style guides for content creators or analytics tools for SEO experts.
Organizing an online team meeting is another great idea. It allows new members to meet their colleagues. This can also serve as a platform for any questions they might have.
As a part of the onboarding process, you should also train your remote marketing team members on the processes and workflows that they must follow. This may include introductions to your sales funnel or your social media approval process.
Effective onboarding ensures your team members hit the ground running. It sets the tone for your work environment. It fosters a sense of belonging, which is crucial for remote teams.
7. Focus on Continuous Training and Development
Building a remote marketing team doesn't stop at onboarding. It's an ongoing process. An integral part of this process is continuous training and development.
Regular training can keep your team updated with the latest trends and strategies. For instance, a webinar on the latest SEO best practices can keep your SEO experts sharp.
You should also consider training your remote marketing team on the latest marketing tools and how they should make the most out of them. You can train them on the most common types of digital marketing tools, such as lead generation tools, CRM tools, email marketing tools, etc.
Personal development sessions can also be beneficial. They can range from leadership training to time management workshops. These can enhance your team's soft skills, improving overall productivity. There are many online learning platforms with numerous opportunities for further education in marketing and also the possibility to start your own academy.
Investing in your team's growth has many benefits. It not only equips them with the necessary skills but also shows that you value them. This can boost their morale, motivating them to give their best.
8. Track Performance Metrics
Building a remote team requires clear performance metrics. These serve as yardsticks for success. They tell you if your team is on track or if there's room for improvement.
You can track some common metrics to gauge the performance of your entire remote marketing team. This could include metrics such as conversion rates from your sales funnel, the success of your email marketing campaigns, etc.

Some performance metrics may vary depending on the roles. For example, for content creators, a metric could be the number of blog posts per week. For social media managers, it could be audience engagement levels. Setting clear metrics ensures everyone knows what to aim for.
Regular check-ins are also vital. They serve as touchpoints with your team members. It could be a weekly team meeting or one-on-one catch-ups. These check-ins allow you to address any issues early.
Performance metrics and check-ins are your feedback mechanisms. They help maintain high levels of productivity. They also foster open communication within your team. This leads to better problem-solving and a more cohesive team.
Conclusion
That's a wrap! Now you have a roadmap for building your remote marketing team. It is important to remember that building remote teams doesn't end with hiring the right people. It also extends to onboarding, training, and performance tracking.
So, follow the guidelines provided in this guide, and you'll be able to build a highly successful remote marketing team in a short period of time.
Author bio
Eduard Klein is an International Digital Growth Marketer, Blogger, and Entrepreneur with a global mindset. He is the founder of RocketGrowth and guides through the process of starting and growing a digital business, and riding the wave of digital technology and marketing without getting swept away.
Headshot: