How to Save 6 Hours a Week Using the 10+ Best Scheduling Apps?
No more hours wasted in scheduling appointments. Select the best scheduling app from these 10 tools or hire a VA!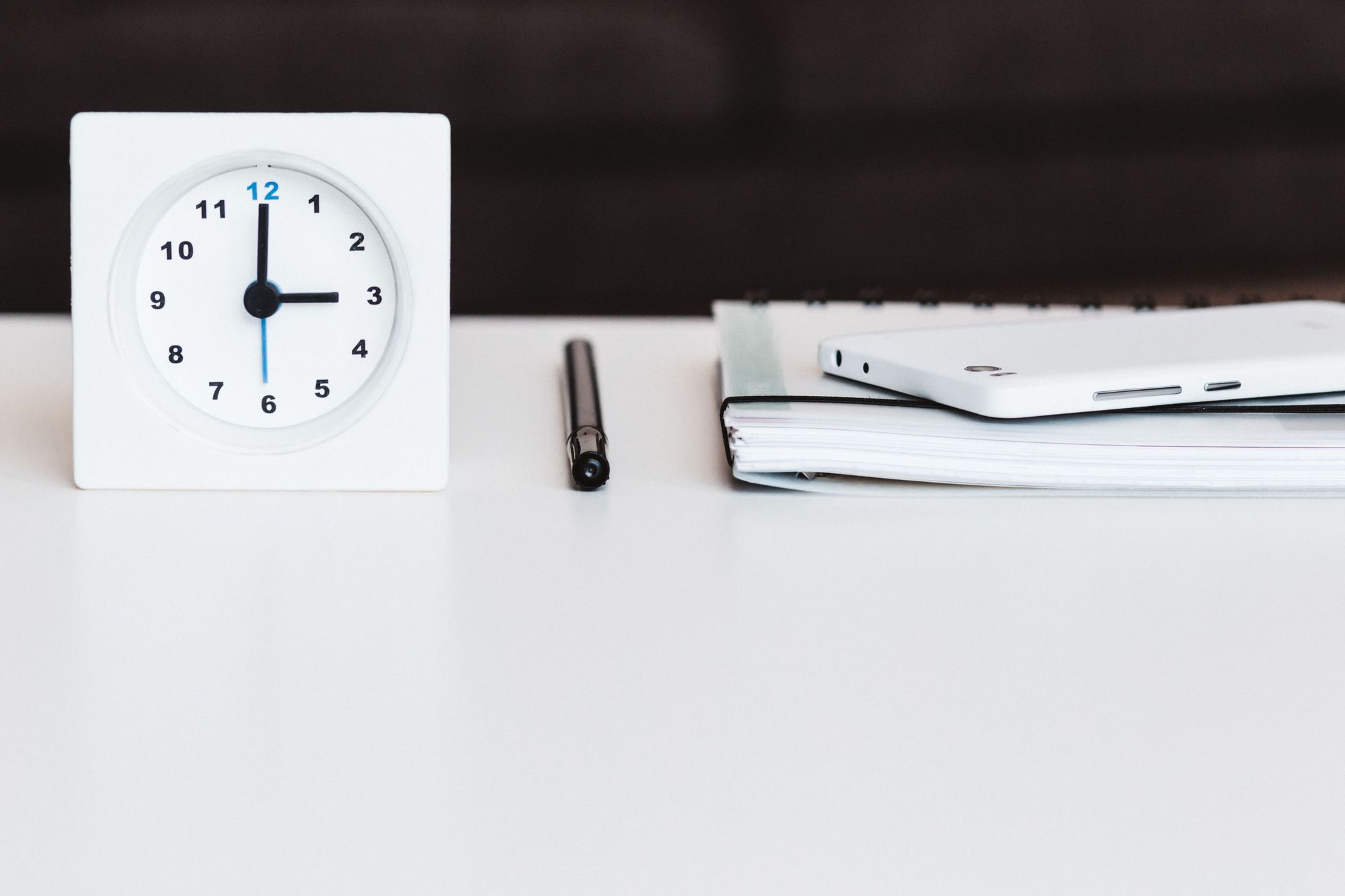 Do you know that scheduling a meeting is one of the low-value tasks? On average, we spend about 6 hours a week scheduling meetings.

What is the solution?

They say work hard, but you have to agree that working smart is the key to success, especially in the fast-paced and remote work setups. For example, scheduling an appointment in a virtual setting seems more manageable and feasible than in-person meetings. That's a myth!

You start with asking everyone in the team - when is the good time? Then you finally find out that one slot when everyone is free. Half of your energy and at least an hour goes down the drain. As a small business owner, you cannot spend hours like this doing managerial work.

The next step is to look for scheduling apps on your device. But, most of us end up with more confusion and questions than before because these searches throw many suggestions. So, where should you start to get an accurate solution to your scheduling problems?

What can a good scheduling app do for you?

Whether small or huge, all business owners are interested in "Return-On-Investment". Hence, you should know why they need to invest in scheduling software.

The best scheduling app can primarily reduce your sales cycle length. But the benefits don't stop there. These apps for appointment booking can significantly lessen the burden of admin tasks.

Here are three characteristics to look for in a good appointment scheduling app.

It should cut down on the number of emails you have to send to arrange a meeting.
In addition, it should come with a calendar sync option.
Finally, it should send appointment reminders.

What more to expect from a scheduling app?

You'll find an answer to this in this blog that lists scheduling apps and compares their free & paid versions. You can accelerate your sales process by reducing unnecessary back-and-forth emails and allowing your team to book online meetings when it's best suited for them.

Furthermore, many of these applications sync with your calendar and send automated meeting reminders, ensuring that neither you nor your client misses out on a great chance.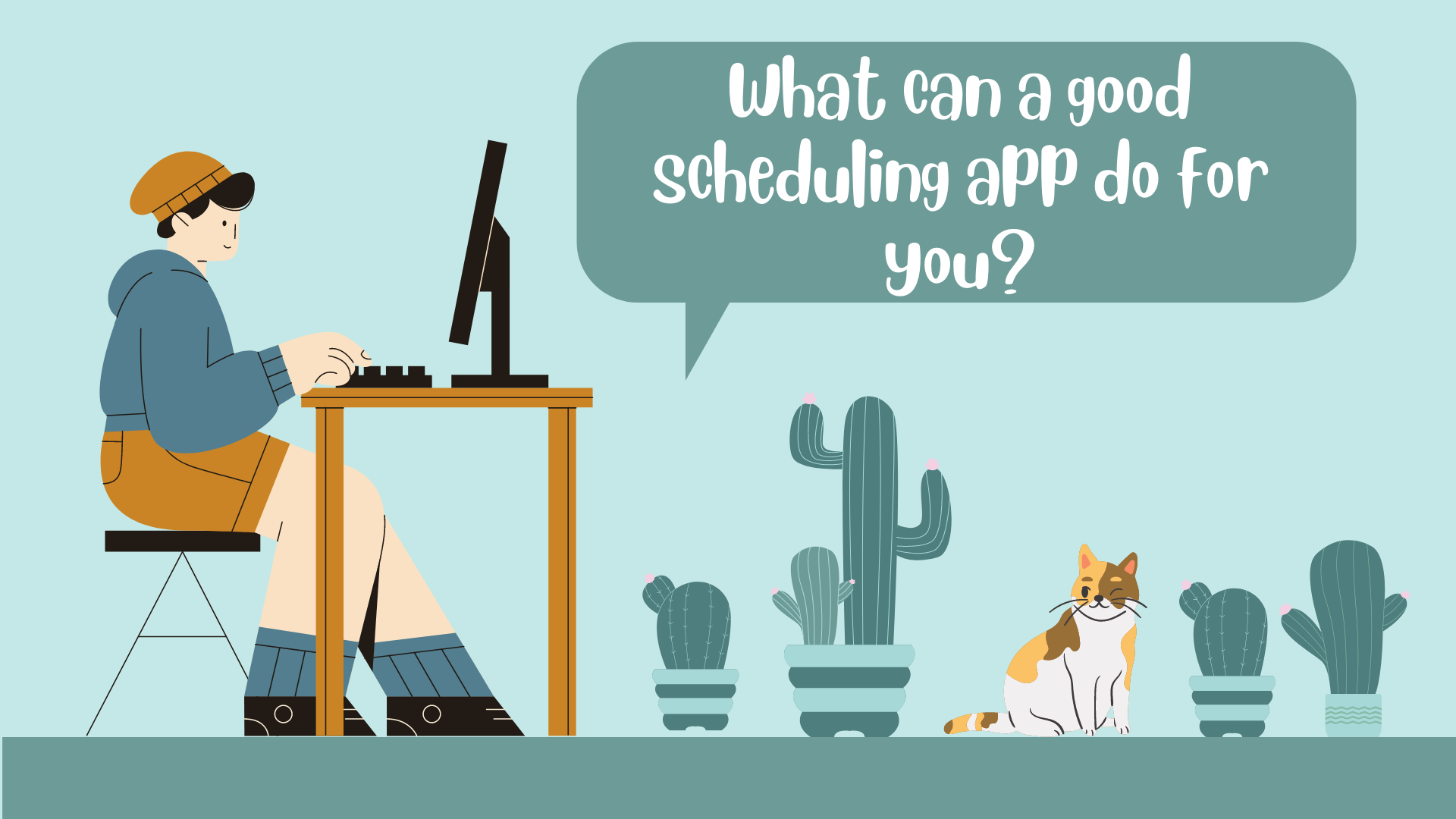 Best Appointment Scheduling Apps

An app available in 32 different languages, offering integration with more than 12 payment processing services - that's SimplyBook.me.

Isn't that simply wow?

You can set up clear instructions that include steps for creating appointment types and add-on services. There are easy customizations, and the app recognizes the most relevant features based on your activity - cherry on top.

Along with international businesses, the app is also ideal for those who have their business based on Instagram and Facebook. In addition, SimpyBook supports Google Calendar and Outlook and allows many integrations, becoming a real problem solver for entrepreneurs.  

Pro Tip & Pricing: You can start with a free or basic plan to have a hang of it. Free, $9.90/month (Basic), $29.90/month (Standard), and $59.90/month (Premium) are the plans.

Timely is undoubtedly more than a standard appointment scheduler. It consists of exciting features such as building mini websites, selling product options, rewards programs, and more.

For example, you can go to setup < promote in the menu and select mini-website. The one-stop solution app also allows you to work with significant customizations.

It changes into a website with navigation, a booking button, and a contact form. Clients can schedule appointments on the website or Facebook/ Instagram through a booking button.

You can keep track of appointments, sales, clients, average appointment value, and customer retention through the Timely app's analytics and dashboard. Moreover, you may check metrics by department/employee and set goals to encourage your team. You can automate more business tasks with smooth integrations. It supports Google Calendar.

Pricing: Starts from $15/month for one bookable person and basic features.

You can sync your Google Calendar or Office 365 calendar with the HubSpot Meetings Tool, set your availability, and voila - it is that easy to book meetings with clients.

You can add form fields to your meeting page to collect contact information like name, phone number, email address, and more. You can include the meeting page in an email as a link or incorporate it on a website or landing page.

The app sends an automated confirmation to the booked client and blocks off the time in the calendar. As a result, it makes the scheduling process more manageable, allowing you to schedule more meetings in less time.

Furthermore, it is directly integrated with the CRM, allowing you to keep track of your connections and meetings. HubSpot builds new records for new people as prospects arrange meetings.

Pricing: HubSpot's meeting scheduler belongs to Sales Hub, and you can begin with it for free. HubSpot also provides premium features with Starter, Professional, and Enterprise editions of Sales Hub for more advanced features to help automate and scale your sales operations.

Customize your booking process and make it easier with Acuity Scheduling, a part of Squarespace. When you create your booking page, you can give your clients the option of scheduling recurring appointments, filling out an intake form, and paying for services in advance. You can also provide clients with the option to add services to their appointments, such as a hair spa.

You may use the tool to send personalized confirmations that match your brand or use email or text messages to provide appointment reminders and follow-up messages.

Acuity Scheduling is highly-customizable and offers ease of use, making it easy for business owners to run a business smoothly. In addition, you can easily integrate it with other business tools.

Pricing: Emerging plan: $14/month for one calendar, Growing plan: $23/month for six calendars, Powerhouse plan: $45/month for 36 calendars.

Organize your business with 24/7 automated online booking, reminders, payments, and more - that's how the setmore site first introduces you to the platform.

Setmore is a free appointment scheduling and payment software that lets you set up a public booking website. Your team may start booking meetings with the free account, which allows up to 20 employee calendars and logins. You may also send automatic appointment reminders to those who schedule time with you.

Pricing: You can get a feeler with a free plan. Premium starts at $9 /user/mo and Pro starts at $5 /user/mo.

Square Appointments is a flexible booking and payment platform that's worth trying if your business requires you to schedule an end number of meetings daily. You can create a free client booking website, set up automated text and email reminders, charge cancellation costs for no-shows, and accept integrated payments - all from one platform with Square Appointments.

Pricing: You can start with a free basic plan to set up your new business, and when you are ready, upgrade it to get advanced features at $29.

Everything else is already so challenging in a business; booking an appointment should be the least of your worries as a business owner - that's the mantra of Appoinlet. Salespeople can customize their availability, create booking pages, and distribute them to prospects and clients through Appointlet.

In addition, you can link your website, landing pages, and emails to the booking page. Appointlet does have a subscription tier; however, the free version is always available. In addition, there are no limits to the number of bookings, meeting kinds, or form fields that you can create.

Pricing: Essential plan is free, and Premium starts at $8 / month.

You can get client-ready quickly and free with Picktime. The free plan of this scheduling app includes unlimited appointments, two locations, three team members, and useful integrations.

The sidebar menu and Calendar option allow you to view all your scheduled appointments, classes, and resources. To personalize your booking page, scheduling rules, and booking questions, go to Online Booking.

The professionally-designed booking page can get you started in minutes. Your clients can make bookings from anywhere through the in-built widgets for Facebook and Google Maps. You can also open the Overview dashboard inside the app through the sidebar. It lets you see all details - total appointments, confirmed, projected, and total revenue - in a glance. In addition, Picktime supports Google Calendar, Microsoft Outlook, iCloud, Microsoft Exchange.

Pricing: Free for up to 3 team members and unlimited bookings; paid plans begin at $9.99/month and include additional team members, locations, payment processing options, integrations, and more.

Client Portal and Scheduling are two cloud-based solutions in vCita's range of business applications for booking and managing appointments. It's simple to get started with vCita, albeit it's a little more difficult to tailor the app to your specific needs.

vCita offers an extensive range of cloud-based business tools. Two of them are for booking and managing appointments: Client Portal and Scheduling. You can quickly get up and running with vCita, though it might be difficult for some to customize the app.

It also includes billing & invoicing lead generation and marketing campaign tools for email & messaging.

You can develop better customer relationships with vCita. For example, it allows you to add attachments with notes, check your customer's history, and even import your client list from another app.

In addition, vCita provides you with an inbox where you can communicate with consumers about appointment rescheduling, cancellations, and other data. You can send out a campaign of emails and text messages to your client list to advertise new services existing special offers or just remind them to make their next visit.

Vcita works with Wix, WordPress, Zoom, QuickBooks, Weebly, and other tools. You can also make different seamless integrations. In addition, it supports Google Calendar, iCloud, Microsoft Outlook, and Yahoo.

vCita Pricing: You have to pay $19/month (billed annually) for scheduling only one team member. Fully-featured plans start from $45/month.

Booknetic is the best WordPress appointment booking plugin that comes with a wide range of features to help you streamline your booking process. By connecting the booking calendar with Google Calendar, you can reflect events on both calendars and accept bookings for only available time slots.
You can also create coupon cards and gifts from the admin dashboard. Zoom integration is a unique feature that lets you host virtual events or consultations for your wellness service. Booknetic has a comprehensgive notification system where you can send automated reminders for any change within the appointment booking loop.
Payment integrations with the most secure and popular payment gateways allow you to accept online payments and charge upfront fees. This also helps to reduce cancellations and no-shows. You can also set up reminders for upcoming appointments and events.
Pricing: The Regular plan costs a $79 one-time payment for all features. While Booknetic SaaS costs $489 for one-time payments where you can create multiple booking vendors within your website. You can get Booknetic plans at Envato Market.
Appointment booking app Genbook sets itself apart from other apps in its class in one significant way: it's the only service listed here that offers a "Last Minute Bookings" feature designed to help you optimize your schedule.

Genbook automatically fills your empty and expiring appointment slots with paying customers by providing last-minute discounts when you enable this feature. You can select whether the discount is applicable "today only" or for the following 24, 48, or 72 hours and have complete control over the discount. In addition, the Genbook booking app and your booking homepage will promote and emphasize this last-minute availability.

You can see many small and unique features on Genbook. For instance, you can set a status - block, offline, or a way - to indicate your availability. It is different from other apps that make you manually "block" appointments or click into the details of each day. You can also set up a waitlist and a priority reservation window for waitlist consumers, allowing them to secure an appointment before the rest of the world.

Customers may make appointments through your website, the Genbook app, Facebook, and Instagram. You can also include a "Book Now" button on your website.

Additionally, the Analytics tab gives you a high-level overview of income and appointments by service or personnel and a more specific view of revenue by daily averages, appointment averages, and more as the appointments start coming in. Genbook supports Google Calendar, iCloud, Microsoft Outlook.

Pricing: Starts from $25/month (billed annually) for the Solo plan and one user.

And you can select the tool that suits your requirements best. But, if we have to guess what you are thinking right now, it must be - which tool gets the job done quickest and without a single glitch.

To burst your bubble - no tool comes without the hassles. You have to spend most of your day setting up a tool and doing customizations. Every minute counts for business owners, so how can they deal with the problem of scheduling meetings in the most effective way?

Virtual Assistant for Scheduling

Yes, hiring a virtual assistant for scheduling is a smart move. Because when you scale your business, you need someone by your side to help you.

A virtual assistant can become the ace scheduler you need to manage your business efficiently. They can help you in three prominent ways:

Save Costs
You can note the cost of scheduling apps from the sections above. There are apps for all such tasks - calendar management tools, software to manage inbox, etc. Now, think about how much you can spend on the paid version of the tools. Obviously, you will override your budget by choosing paid individual apps for all the tasks.

When you hire a virtual assistant for scheduling, you can save such costs and make the most out of the free version of scheduling apps. How? Follow the next part.

Help you Scale Your Business.
A scheduling virtual assistant often has access to paid versions of scheduling tools. Secondly, they have immense experience in handling administrative tasks like scheduling. Trust them because they have handled many tasks similar to yours.

In addition, you massively save the costs because you pay the VAs hourly charges. In short, they make the job quick and economical.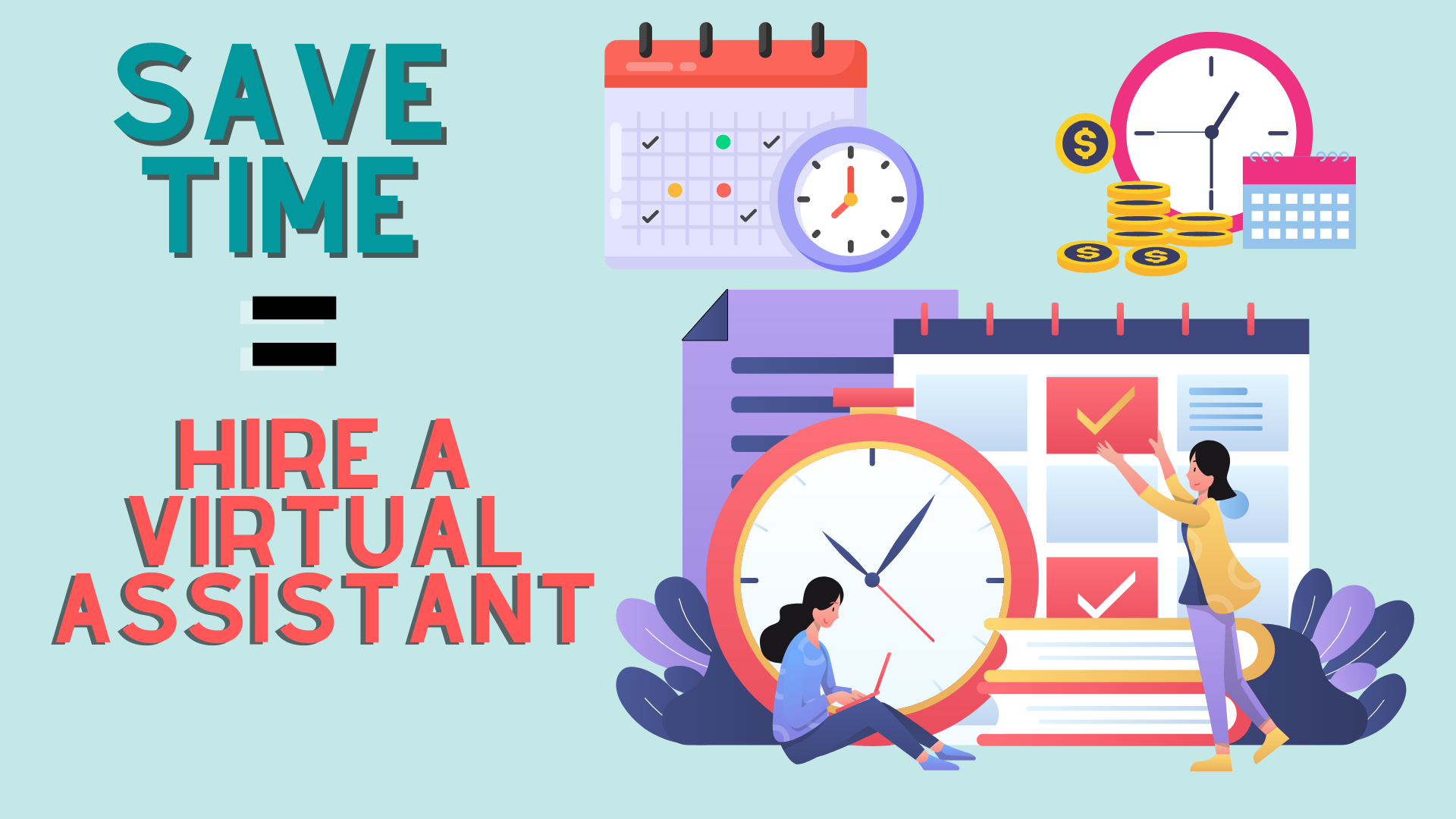 Improved Scheduling
A scheduling virtual assistant will never make a mistake and ensure that you get a customized schedule for your needs. So then, when you are on top of your schedule, the chances to miss a meeting, double book appointments, or just end the day exhausted due to overscheduling are minimal.

How do Virtual Assistants schedule meetings?

Professionals may have a different process for scheduling, but some steps are standard.

Step 1: Making a List of Appointments
Step 2: Analyzing the Time an Appointment Requires
Step 3: Coordinating with the Attendees
Step 4: Adding all Appointments to a one Calendar

With VAs, the work becomes smooth and effective. They understand your work preferences and set your schedule accordingly, while you can focus on the essential business tasks and core areas. Your scheduling assistant can also adopt a scheduling policy to help you with the meetings - setting the number of appointments you have in a week.

A full-time hire may take anywhere from four days to a few months. On the other hand, you can hire a virtual assistant at Wishup within 30 minutes. Just mail us at [email protected], let us know your requirements, and we will match you with your ideal business fit!