Want to Stay Organized & Manage Time Better? Get a Virtual Productivity Assistant!
Struggling to stay organized and manage your time effectively? A virtual productivity assistant could be the solution. Discover the benefits of hiring a virtual assistant to help you boost your productivity and take your work to the next level.
Are you constantly swamped with administrative tasks, customer service, and project management to the point where you can't even find time to eat?
Well, you're not alone. In fact, 70% of small business owners say they're in the same boat!
But here's the real kicker: all of these tasks are taking up so much time that there's little to no time left to focus on important things like drumming your revenue. So, it's time to make a change and free up your schedule so you can focus on the bigger picture. You should hire a virtual assistant.
Email assistants are skilled professionals who can take on various tasks, from managing your calendar and emails to social media marketing and bookkeeping. Not only do they have the expertise to handle these tasks efficiently, but they also provide a cost-effective solution to the problem of overwhelming workloads.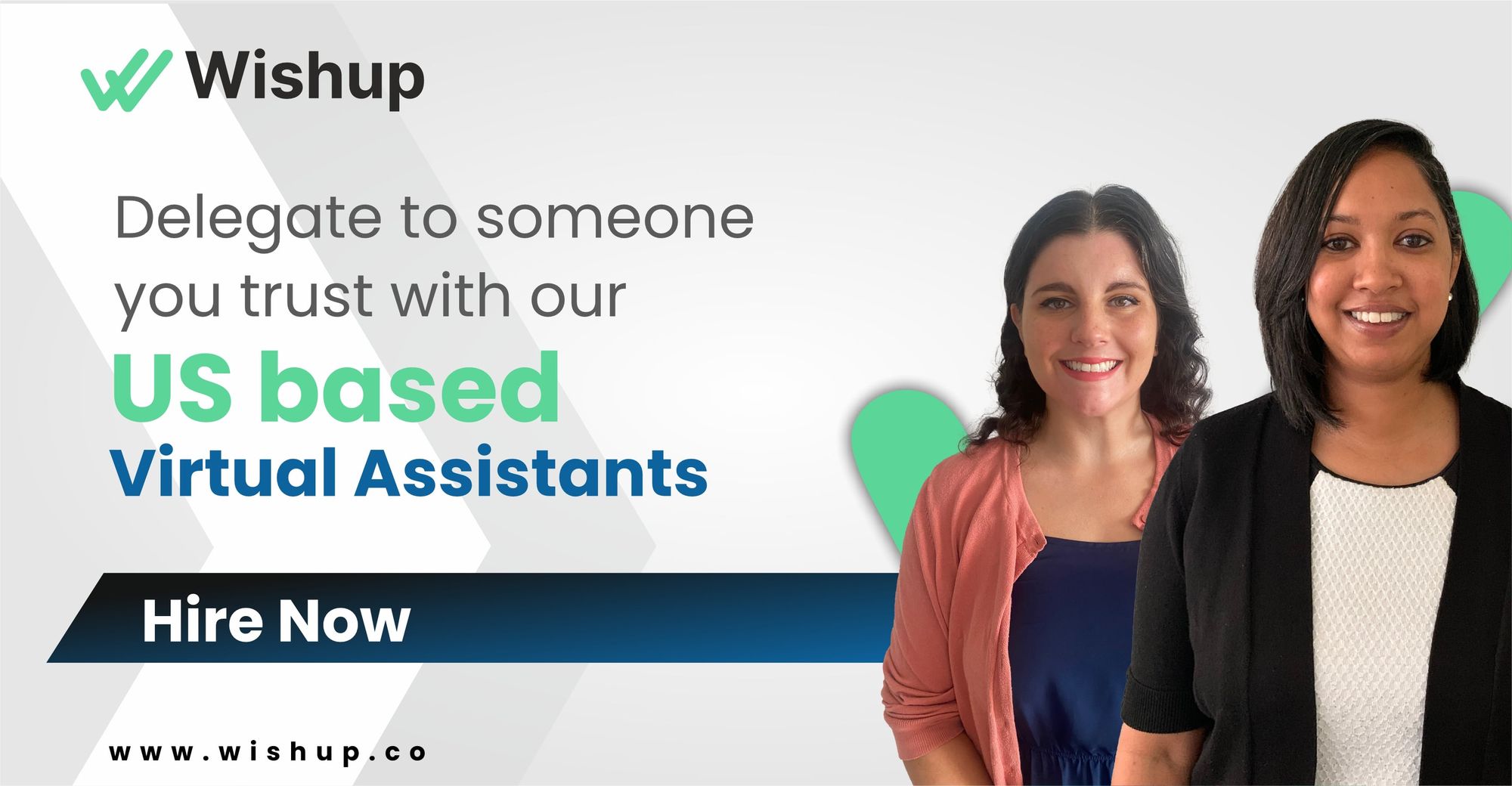 So what can a virtual assistant do? The possibilities are endless! We'll explore the various tasks they can perform for you and provide tips on how to manage them effectively. So, let's get started!
3 signs that you need to hire a virtual productivity assistant
A virtual assistant can help entrepreneurs to keep their heads above water. But how do you know when the time is right? Here are a few signs to look out for:
1. Limited expertise
Let's face it – as an entrepreneur, you wear a lot of hats. But just because you can do something doesn't necessarily mean you should. By delegating tasks that aren't your strong suit to a virtual assistant with the skills and expertise to handle them efficiently, you can free up time to focus on what you excel at and grow your business.
2. No time to catch your breath
When you're buried under a mountain of work, taking a break can feel like a luxury you can't afford. But studies show that breaks are essential for maintaining an innovative mindset. Therefore, if you find yourself struggling to keep up with deadlines, emails, calls, and meetings, it might be time to bring a virtual assistant on board to help ease the load.
3. Work-life imbalance
We all know a healthy work-life balance is essential, but it's easier said than done when running a business. If you're sacrificing too much of your personal life for your professional life, it's a sign that something needs to change. A virtual assistant can help you relieve some of this pressure and give you more time to spend with loved ones or pursue hobbies and interests outside of work.
Who are virtual assistants?
Virtual assistants are skilled professionals who can perform a wide range of tasks remotely. This allows businesses and individuals to save time and focus on more important aspects of their work.
Some of the common tasks that a virtual assistant can help with includes:

Email management
Travel arrangements
Administrative tasks
Appointment scheduling
Social media management
They can also provide specialized services depending on your business needs.
Overall, virtual assistants can help entrepreneurs and professionals to be more efficient, effective, and productive when they work. Plus, from a financial perspective, you can cut your operating costs.
How can hiring a virtual assistant help your business?
There are various tasks a virtual assistant can perform for you. Here are some of the things a virtual assistant can do for you.
1. Email Management
Keeping up with email can be daunting for entrepreneurs, especially when focusing on other important business activities. A virtual assistant can help manage your inbox by sorting and organizing emails, responding to routine emails, and flagging those that require your attention. With a virtual assistant handling your email, you can concentrate on more important tasks.
2. Calendar management
Managing a busy schedule can be overwhelming. But hiring a virtual assistant for calendar management can solve this problem.
A virtual assistant can keep track of your schedule, reminding you of upcoming meetings and appointments. Additionally, they can schedule calls and appointments and even make travel arrangements for you. This service frees up your time and ensures you don't miss important engagements.
3. In-depth research
Researching potential leads and prospects is an essential part of business development. However, it can be time-consuming and requires a lot of effort. Virtual assistants can use their research skills to find the information they need. Whether it's finding contact information, conducting market research, or collecting data for a report, they can help with it all.
4. Digital marketing
The online world can be a jungle, but you don't have to navigate it alone. A virtual assistant with a deep understanding of digital marketing can help you increase traffic, improve conversions, and boost your brand's online presence.
They'll develop and implement strategies for SEO, social media, email campaigns, and more to make sure your business stands out from the competition and reaches its full potential.
5. Data entry
Do you dread the thought of sifting through stacks of paperwork and entering data into spreadsheets? Let a virtual assistant take care of it!
A virtual assistant can help you input data into your preferred software. They can also assist with digitizing paper documents, making storing, accessing, and sharing information easier. They're good at taking all those tedious but necessary tasks off your plate.
6. Bookkeeping
Keeping track of finances is crucial for any business. However, bookkeeping can be time-consuming as well as requires specialized knowledge.
A virtual assistant can help with tasks such as invoicing, reconciling bank statements, and tracking expenses. They can also help with tax preparation, ensuring that your books are in order and ready for the next filing period.

How to manage virtual assistants?
Virtual assistants can work from any corner of the world. But how to manage virtual assistants effectively when they are based overseas? Fear not. Managing them is not as complicated as it may seem. Here are some handy virtual assistant tips to keep in mind.

Set clear expectations: Clearly define the tasks and responsibilities of your virtual assistant and communicate them clearly. Make sure they understand what you expect of them and when you expect it. This includes outlining your preferred communication methods and time frames for a response.
Provide feedback: Regular feedback is critical to ensure your virtual assistant meets your expectations. Provide constructive feedback regularly and offer praise for good work.
Keep communication channels open: Stay connected with your virtual assistant regularly. Schedule regular meetings to discuss progress and address any concerns or issues. You can use your preferred communication channels like WhatsApp or Slack.
Identify potential obstacles: Be aware of potential challenges that may arise, such as language barriers or cultural differences. Knowing what to avoid can save time and prevent wasted efforts.
Develop trust: Building trust with your virtual assistant is essential to the success of your working relationship. Be reliable, respectful, and supportive.  

"Did they forget to mention training?" you may ask.
The truth is, we didn't forget at all. We get how crucial training is. But we also understand that it can come with a hefty price tag. That's why we ensure to train all our virtual assistants in-house, so you can save and spend hard-earned money on something else more important.
That's just the beginning of the benefits you'll receive when you hire a virtual assistant from Wishup.
Benefits of hiring a virtual productivity assistant through Wishup
Whether it be a social media or a bookkeeping virtual assistant, they will be dealing with sensitive information. And we realize how extremely important it is to safeguard your information. That's why we prioritize safeguarding your data by ensuring that our virtual assistants sign an NDA before starting work with you.
1. Top 1% of talent
Our pre-vetted virtual assistants are part of the top 1% of talent. They are extensively trained in various tools and techniques to get the job done right from day one.
2. Get an instant replacement
Worried about the risks of hiring a virtual assistant? Don't be! Wishup offers a 7-day money-back guarantee and instant replacement without any questions asked.
3. Customizable plans
At Wishup, we understand that no two businesses are alike. That's why we offer customizable plans to fit your unique needs, whether you require a full-time or part-time virtual assistant.
4. Fully trained
Our virtual assistants are in-house trained, so you don't have to spend time or money on training. Plus, it's easy to get started with just three simple steps!
3 steps to hire from Wishup
Step 1: Assess Your Needs
The first step in hiring a virtual assistant is to assess your needs. What tasks do you need help with? Do you need someone to manage your calendar, handle customer service, or prepare your taxes? Once you've identified your needs, you'll be able to find a virtual assistant with the right skills and expertise to match.
Step 2: Schedule a Consultation
The next step is to schedule a consultation with a virtual assistant agency. At Wishup, we offer a free consultation with our sales team. During the consultation, we'll discuss your business requirements and goals and help you choose the perfect virtual assistant for your needs.
Step 3: Onboard Your Virtual Assistant
Now it's time to onboard them. At Wishup, we make onboarding hassle-free by managing your legal formalities and contracts. In addition, we'll ensure your virtual assistant is set up with everything they need to get started, so you can start delegating tasks immediately.
At Wishup, we make the process easy and hassle-free. Let us take care of the hiring process, so you can focus on what you do best.
Over to you
Efficiency and cost-effectiveness are of paramount importance for businesses today. Virtual assistants are a solution that meets both of these requirements, allowing businesses to scale up and streamline their operations. Therefore, if you feel you could use more organization, resource optimization, time management, or focus on your business, a virtual assistant can help you achieve your goals.
At Wishup, we offer top-notch virtual assistant services to help you become more organized, focused, and productive. So, if you want to boost your business success, why wait? Hire a virtual assistant today and take the first step towards a more organized and brighter future!