How Wishup Ensures the Security of their Clients' Data
92% of Americans are concerned about the security of their private information on the internet. This blog discusses the measures we At Wishup take to protect your sensitive information and gives you some tips and suggestions you can make from your end to ensure that your data is protected.
The number one priority of any business is its data security.
92% of Americans are concerned about the security of their private information on the internet.
This concern becomes even more critical when working with a remote team.
After all, you trust your virtual assistant with your most sensitive information, such as passwords and banking details. Therefore, choosing a virtual assistance agency that prioritizes their client's data security needs is essential.
At Wishup, we understand these concerns. This blog discusses the measures we take to protect your sensitive information and gives you some tips and suggestions you can make from your end to ensure that your data is protected.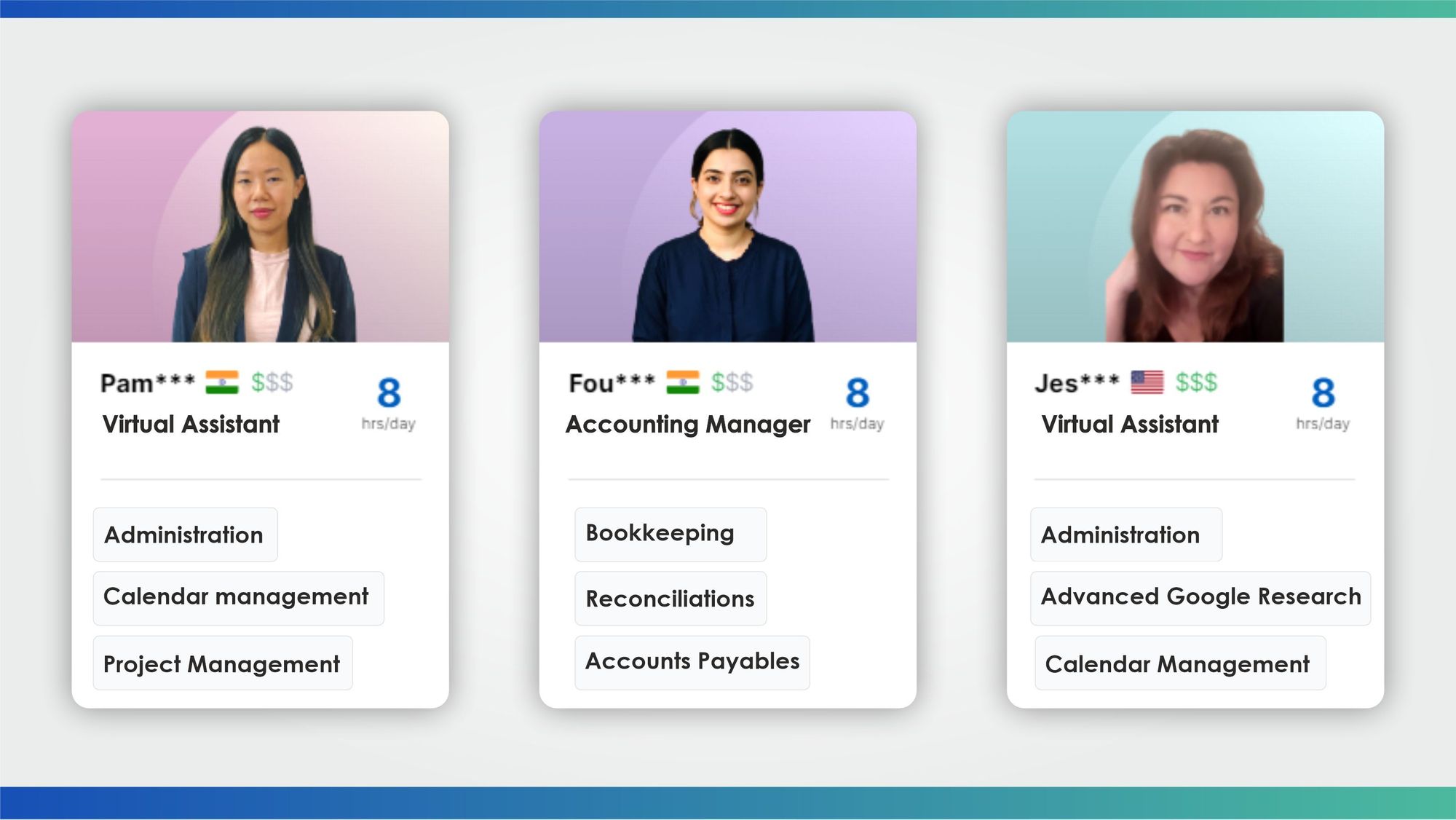 Working with a Virtual Assistant
A virtual assistant's role is similar to a regular executive assistant who works in an office. They often assist in both professional and personal tasks regarding administration, customer service, bookkeeping, and marketing. The only difference is that a Virtual Assistant works remotely from their home office or co-working space.
Naturally, to make operations simple, you will need to share some personal details with your Virtual Assistant, which will be a part of their daily job. Depending on the nature of your business, and the kind of work you want to delegate to your remote assistant, these details might include -
Email addresses and passwords,
Phone numbers,
Banking details,
House addresses,
Any other important financial details.
Because of the sensitive nature of this information, people could be reluctant to work with a Virtual Assistant. Therefore, it's important to research and learn the measures taken by a company before working with them.
At Wishup, we value your privacy and will do everything possible to ensure your data is secure. So let's discuss why you can trust Wishup with your personal information.
Source: Unsplash
How Wishup Protects Our Client's Data
Pre-Vetted Virtual Assistants
The advantage of working with an agency, not directly with a freelancer, is that the agency takes care of the hiring process.
At Wishup, we have an intensive hiring process, bringing aboard only the top 1% of applicants. We look after multiple hiring parameters, including an aptitude test, interviews, and qualifications. Background checks are also an essential part of our hiring process. We cross-check our applicant's work histories and check with references to avoid any red flags.
Therefore, when you work with our Virtual Assistants, you are guaranteed to work with the industry's most professional, loyal, and dedicated talent.
Non-Disclosure Agreement
Whether you hire virtual assistant services for professional or personal reasons, the company you choose must set NDA rules.
At Wishup, we make sure a non-disclosure agreement is reviewed by you and signed by your virtual assistant before you begin your professional relationship.
The contract discusses the security and privacy of any company or personal data such as research, experimental work, development, design details and specifications, engineering, financial information, purchasing, customer lists, investors, employees, business and contractual relationships, business forecasts, sales and merchandising, or marketing plans.
This is a legal document, and any violation of the same will result in termination of the job contract and legal consequences.
The same NDA rules will apply if your primary Virtual Assistant is unavailable and you are working with a replacement.
Continuous Customer Support
Working with an independent contractor or freelancer might be more affordable than hiring an assistant through an agency. However, it's important to choose the quality of service over price when it comes to the safety of your data. Virtual assistants are already a more affordable choice than in-house assistants. Therefore, choosing an agency that provides quality service is essential, rather than opting for freelancer services to save costs.
With a virtual assistance agency, there is a third-party involved. Therefore, it makes the virtual assistants more accountable since it's a legal, official contract. There is also a customer success manager who oversees the project throughout its duration. You can contact them at any point with any concerns or questions regarding data security.
With these measures, we guarantee the security of your data whenever you work with Wishup's virtual assistants. The digital world is constantly evolving and growing, and we will keep evolving and keeping up with the latest security measures to ensure the best experience for our clients.
Source: Unsplash
What can you do from your end to ensure security?
While we at Wishup take the utmost measures for your data security, here are a few additional measures you can take to protect your data further, whether with Wishup or any other remote employee.
Use secure internet connections.
The benefit of remote work is that people can work from anywhere. However, even remote employees will not be able to work from home at all times. Sometimes, they might travel or simply want to work out of a cafe.
Using an unprotected Wi-Fi network is the most prevalent way to put your business at risk of an information security breach. Therefore, educating your remote teams on safeguarding corporate data wherever they work is crucial.
The most straightforward approach is encouraging employees to access a virtual private network (VPN) when working in an unknown location. Before connecting to public Wi-Fi networks, remote workers should use VPNs to encrypt their internet data and check it for indicators of infection.
Beware that not all VPNs are the same. Verify that the VPN you are using satisfies all the requirements you have it to meet (learn more at VPNBrains.com), not just last-mile encryption, to ensure that your company is implementing the appropriate VPN.
Passwords are important
A Google study found that 13 percent of people tend to reuse the same password with all their accounts, and 52 percent of people use the same one for multiple of their accounts.
If you are a person who uses the same password on all your accounts, you might want to consider better security. It's advisable to create new, unique passwords for all the accounts that you plan to share with your Virtual Assistant or other remote employees.
Providing password security instruction may be a further step in providing your remote staff with cybersecurity training. Starting with the fundamentals of password security and the significance of never repeating the same password in different accounts.
Employers and workers may reduce this risk by adopting password managers, which can generate random passwords and securely store all of them. As a result, employees won't need to battle daily to remember their passwords for various systems and accounts.
Multi-factor authentication
With MFA, anyone who tries to access your accounts must supply a variety of various sorts of information to be authenticated. Security questions, personal identification numbers, web push notifications, and biometrics are classic MFA features. Two-factor authentication is the most popular type of MFA and a simple solution to assure remote work security.
This makes sense if you work with smaller remote teams or virtual assistants. With this approach, you will be aware whenever someone logs into your accounts.
Opt for secure cloud and CRM tools
Nowadays, it's easy and affordable for small and mid-sized firms to access the best technology. Earlier, this was only exclusively available to big industry giants. In addition, several technological innovations have developed many service platforms over recent years, providing small businesses with cost-effective, simple-to-use business solutions.
Businesses should use a comprehensive customer relationship management (CRM) application to manage important customer data. G-Suite, Dropbox, and Slack are all reliable tools to help you stay connected with your remote team.
To ensure maximum security, we encourage our clients to communicate with their virtual assistants through secure encrypted communication channels, such as WhatsApp or Slack.
Monitor remote employees
While fewer distractions and workers' autonomy are some of the benefits of remote work, cloud-based applications may make monitoring easy and inconspicuous.
Time Doctor can snap screenshots of remote workers' laptops while keeping track of their working hours, the projects they're working on, and when. As a result, a better understanding of what staff members are doing is provided to business owners, who can also maintain responsibility and ensure that everyone follows the best practices for remote access security.
But, before using virtual surveillance tools, it's crucial to review local legislation rules.
Even if you are legally clear, being honest with your staff about any surveillance is a good idea. If your remote staff is aware that they are being monitored, it may make them more productive. It will also keep them from visiting websites that might endanger your data with malware and hackers.

Grow your business with our team of dedicated Virtual Assistants
Worrying about your data security while working with a remote team is natural and essential. However, here at Wishup, we take all the necessary measures to ensure that you don't have to be concerned about the safety of your personal information.
To know more about our virtual assistants and how we take care of your data privacy, schedule a free consultation today. You could also drop us a mail at [email protected] for more info.