Influencer marketing for startups and small businesses- Podcast with Gaurav Sharma
Social media channels are now everyone's favorite hangout spot, people are easily influenced by brands recommended by celebrities/influencers, making influencer marketing an essential part of every brands strategy.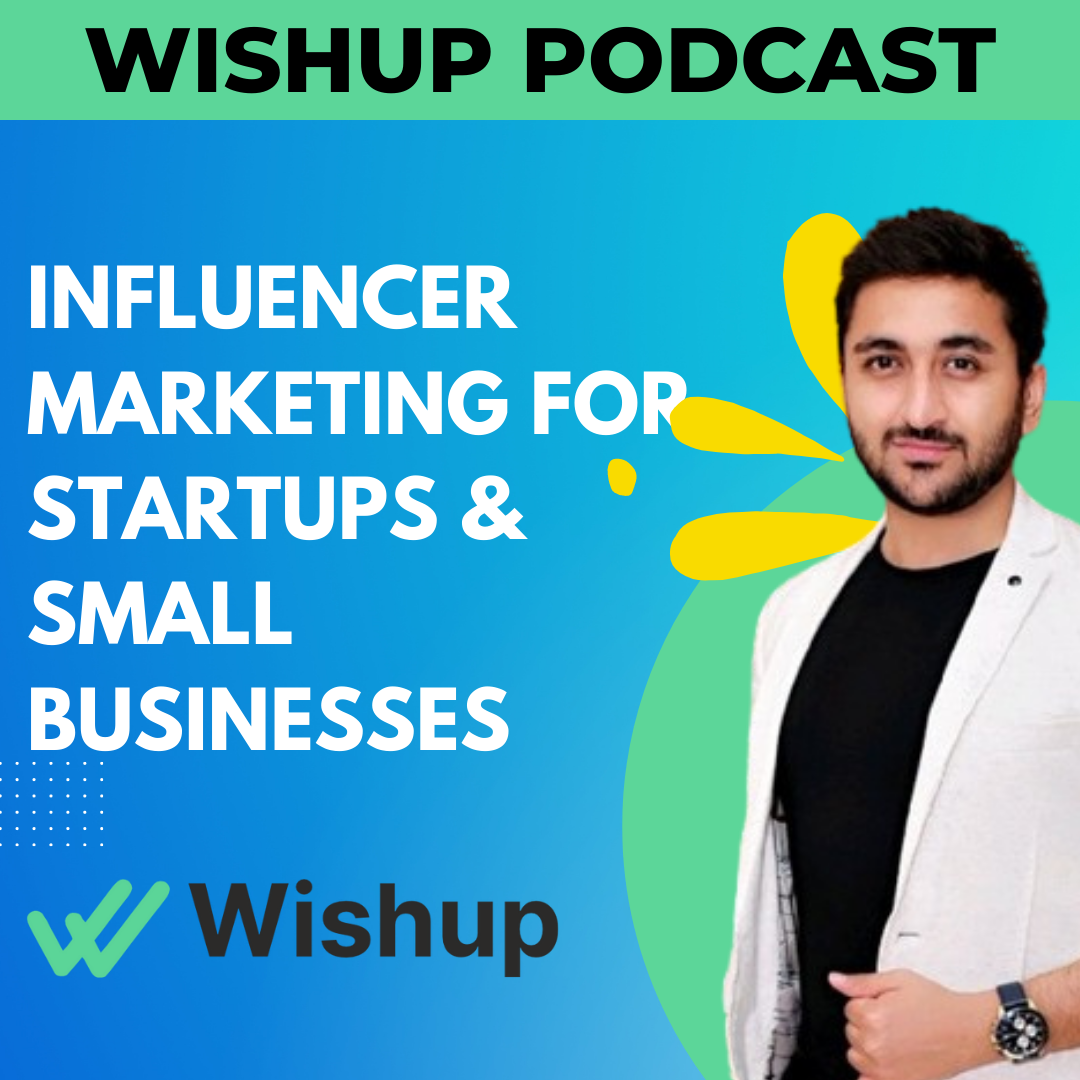 When televisions were the new cool thing, celebrity endorsements were the ultimate marketing strategy to get a brand the recognition it needed.
While times have changed and social media channels are now everyone's favorite hangout spot, people are still influenced by brands recommended by celebrities/influencers, making influencer marketing an essential part of every brands strategy.

Through influencer marketing, small businesses and startups who cannot afford expensive advertising can increase awareness about their product or service.

Why is Influencer marketing important?
People are increasingly spending more time on social media platforms for all their entertainment, news, and social bonding needs. They are also looking at though leaders to guide them on the best options available to them, giving rise to a new brand of celebrities known as social media influencers. Products and services endorsed by influencers are high in demand due to the trust factor people associate with these influencers. All this is leading to an increasing focus on influencer marketing and building strategies that involve the same.

Influencers are proven to amplify the awareness of your brand among their followers better than any form of advertising. In addition, people tend to be influenced by the decisions of their favorite content creators better than celebrities as they are more relatable. Now that you've understood why influencer marketing is essential, let's take a look at how you can implement this in your marketing strategy!

Source: Unsplash

Where to find the right influencer or affiliate for your brand?

There are thousands of businesses and startups investing in influencer marketing each day. However, a few years ago, before influencer marketing was not well known, the only way to find the right influencer for your brand was through research, finding the right hashtags on social media, and tracking down the influencer that suits your niche.

But today, many agencies or platforms make influencer marketing and affiliate tracking more accessible and less time-consuming. You can visit their websites and provide the information that you desire in your ideal influencer, such as:

Desired platform- Facebook, Instagram, Pinterest, TikTok, or Tumblr
The follower count that you want- typically a range of followers, setting the minimum bar as well
The target location that the influencer's audience should be of/ or the location that you wish to target
Engagement rate of the influencer
The desired niche that resonated with your business or startup
The languages they speak, and you wish to target

After you've entered the description, you'll be provided with a list of influencers that match your requirements to analyze their profile. To get started, on identifying the best influencer suited for your brand, first, review the content they post, and the engagement levels they have among their followers. This step is crucial as some influencers tend to buy their followers, which is not the right practice. Most of their followers maybe bots, and fake accounts, which will neither bring you any engagement nor will it help you grow.

Which are the best platforms to find influencers?
Several websites can provide you with information and a list of suitable influencers. However, you must find the right platform to get authentic influencers in your desired location. To get you going, some of the best platforms to find and manage influencers have been shortlisted by our team for you.

HYPRBrands- This platform is built for marketers and helps connect you and your business to the best influencer in your niche and helps you save time and effort.
Heepsy- Helps connect you with an influencer on Instagram or YouTube.
Grin.co- This is a creator management and affiliate marketing website that works to build awareness. This website has everything in one place, including tools and systems to calculate the engagement and everything a brand needs.
Fourstarzz- helpful for small and medium-sized businesses and retailers to find the right influencers and audience in their niche

Source: Unsplash

Things to remember while looking for influencers?
Like any other industry, the influencer industry has specific rules to remember before investing. Here are a few that you should look out for

Real followers- if you find the perfect influencer through an agency like Tiddle.io, you need not worry about their profile or engagement as you can hold the agency accountable for whatever they do. Still, if you find one, be sure to check their followers and engagement. A genuine influencer account will have an engagement where likes and comments are believable. This is not that difficult but needs to be kept in mind.

Engagement rate- Engagement is crucial for any campaign to be successful. Make sure that the influencer's engagement is good. The formula to calculate engagement is to add the number of likes and comments on a recent post and divide that by the number of followers that is their total engagement.

Quality of content- Most influencers are popular because of their lifestyle, habits, or talents. If you want someone who could add value to your business, you need to access the content on their handles.
A perfect selfie or their dog's picture isn't taking your brand anywhere. Not accessing your influencer's content can also send a negative brand image, which is not good in the long run.

Find the influencer who would be perfect to be the face of your brand!
Now that you know how to find the best influencer for your business, remember to keep your expectations right! It is very important to do an influencer analysis before making your decision. Influencer marketing is a great way to spread awareness about your brand and get people talking but does it bring leads? Yes! But not always.

If you're a B2C business, then yes, the chances of landing more leads and increase in sales are possible. But if you are a B2B business owner, influencer marketing campaigns will bring your awareness but not direct leads.

To get more sales, you have to be patient and, build a sales funnel that will guide your potential customer from being just a website visitor into a loyal client forever.