6 Lessons Small Businesses Can Learn From Fortune 500 Companies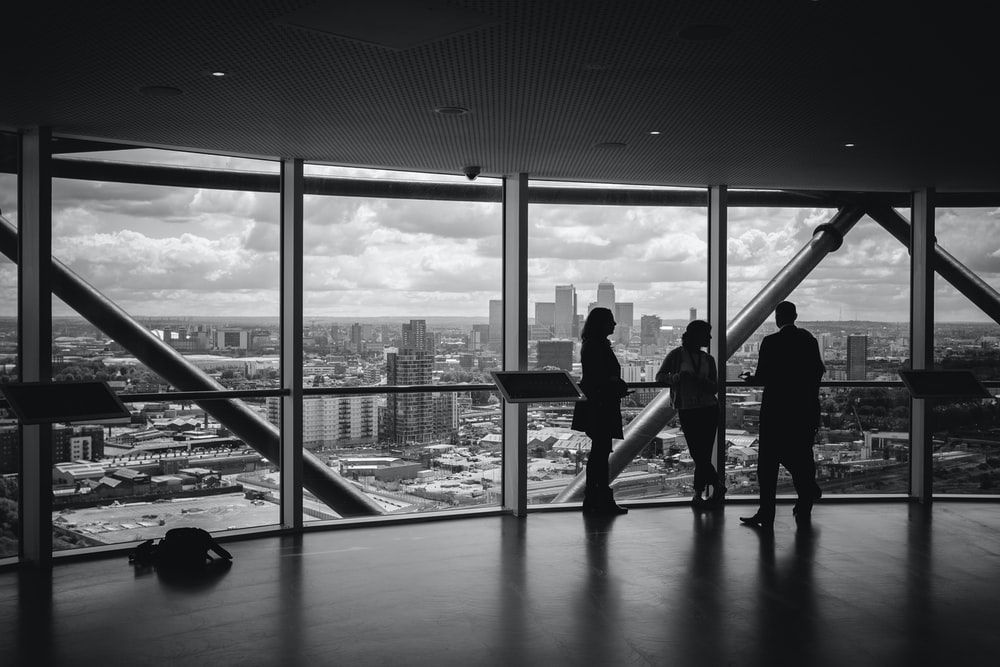 What comes to mind when you think of a Fortune 500 company?
Success, resilience, money, and power might be some of the first words that come to mind. You may love or hate these titans of industry, but you definitely can't ignore them.
The pandemic has hit a lot of businesses, but the Fortune 500 companies have managed to adapt, face adversities and withstand any hardships that came their way. Tough times like these are when we look at success stories to inspire us to keep sailing through the storm.

And who better to learn from than industry leaders? That is why we've put together a list of valuable lessons from the coveted Fortune 500 list that will help you grow your business.
What is a Fortune 500 Company?
Widely associated with business success, the Fortune 500 is a list of the largest companies in the United States, by revenue, for a particular fiscal year.
The top 10 companies from the list for 2021 were
Walmart
Amazon
Apple
CVS Health
UnitedHealth Group
Berkshire Hathaway
McKesson
AmerisourceBergen
Alphabet
Exxon Mobil
It is definitely a list that every ambitious company in the United States aspires to reach.
Lessons to Learn From Fortune 500 Companies
The coveted title of a Fortune 500 Company is not easy to get. Companies that make it to the list have gone through their fair share of failures, trials, and tribulations. There are many lessons to be learned, especially for small businesses, on how to run your organization successfully.
Leadership
We always associate Fortune 500 CEOs and founders with success, determination, and power. They have strong leadership skills, which helped them lead their companies to fame and success. A business can only be as successful as its leader, who sets the tone of the company culture.
What separates successful leaders from the rest is their vision. They have ambition, an idea of where they want their company to be in the future, and the skill to convey that message to the rest of the company. In addition, they understand people and know how to make them see the significance of their role in its growth.
They also respect each position within the company and know that no role is too big or too small, and everybody contributes to the success of the business at the end of the day.
Investment in Branding
Take a minute to think about some of the most famous Fortune 500 names, such as Apple, Amazon, or Walmart. Take away the logo from their advertisement campaigns, and you'll still be able to recognize their branding. That is because of their recognizable fonts, color schemes, and company messaging.
Here's a small exercise - go through these ten Fortune 500 companies, and we guarantee you'll recognize their logos just by looking at their names. This is the power of branding. To be able to get into the audience's subconscious through design thinking.
It is understandable that as a small business, you may not have the resources to hire the top design agencies in the world to build your brand as a small business. However, as a company leader, you should help your marketing team establish your brand by building a brand voice choosing the right company colors, logos, fonts, and typographical styling. Having a firm stand on these decisions will create a consistent and positive consumer experience for your customers.
Make The Most Of Collaborations
Mergers and acquisitions - we see them all the time with big industry names.
Disney and Pixar/Marvel
Google and Android
AT&T and Time Warner
Verizon and Vodafone
Heinz and Kraft
These are just some of the names that have profited from collaborations with other brands.
While mergers at this scale are not possible for a small business, it's always a good idea to step out of your comfort zone, look across industries and find business prospects with the help of other companies in the market. Of course, it's good to stay focused on your niche and expertise, but it does help to interact and get a fresh perspective, to ensure that you don't get stuck in a rut.
Here are some ideas for small business collaborations that will help both parties involved -
Cross-promotion on social platforms
Social media is becoming the best way to raise awareness about your company and engage with potential customers. Collaborating with another small business will help you double your audience.
The key is to find a group of like-minded small businesses whose values complement each other and promote each other by sharing Facebook posts, collaborating on Instagram, or retweeting. Finding the right companies to collaborate with is essential because you'll be able to reach an audience that is more likely to buy from your company.
Giveaways
One of the most straightforward and inexpensive ways to market is organizing giveaways with other brands. By collaborating with another brand, you lessen the burden of your company's cost and double the exposure. It's a win-win situation. Including conditions like having the participants follow both brands to participate will also help you organically grow your audience.
Guest posts
Blogging is the best way to assert your expertise in your business. In addition, by collaborating with other brands through guest posts, you will reach a wider audience, hopefully resulting in more customers for your brand.
While blogging, make sure you make the most of SEO and don't forget to backlink to your website to help your site appear in Google search results.
Organize Events Together
If you are in a B2B space, co-hosting an event with another company is an excellent opportunity to promote your brand.
While hosting events together, it's crucial to choose a brand whose values and goals complement your own, but at the same time, not a brand that's not in direct competition with you. For example, if you are in real estate, it would be wise to collaborate with financial advisors and solicitors.
A Shared Vision
Earlier, we spoke about brands like Apple, Amazon, and Walmart and the impact of their branding on consumer mindset. Similarly, let's take a second to look at their company missions -
Amazon's Vision Statement - "Our vision is to be earth's most customer-centric company; to build a place where people can come to find and discover anything they might want to buy online."
Walmart's Vision Statement - Walmart Inc.'s corporate vision is to "Be THE destination for customers to save money, no matter how they want to shop." This vision was officially articulated in the company's 2017 investment community meeting
Apple's Vision Statement - "Apple strives to bring the best personal computing experience to students, educators, creative professionals, and consumers around the world through its innovative hardware, software, and internet offerings."
These are some of the biggest and most successful companies globally, but when you look deeper, at the root of their business is a simple mission that describes their core values and competencies. Not only these three, but all Fortune 500 companies have an integral mission statement that helps them drive their company to success.
Why is a vision necessary for the success of a business?
Your vision statement is a simple way to convey to your employees and the public what your company stands for and what values lie at its core. It should resonate in all your transactions, influence your team and guide the hiring process.
Having a single vision will help everyone within the company to stay focused and work towards achieving a common goal. It will also be the success benchmark employees will strive to reach.
For the same reason, your vision statement needs to be short, crisp, and to the point. There is no need for fancy words or eloquent prose. Instead, it should be honest, from the heart, and goal-oriented. Again, this will help keep everyone on the same page, keep your employees motivated, and be something towards which they can work.
Invest in Employees

Quality employees are the backbone of any successful business. And no, this does not just mean hiring the most educated or the most qualified person for the job.
At the White House panel, Apple's CEO Tim Cook said that "Our company, as you know, was founded by a college drop-out. So we've never really thought that a college degree was the thing that you had to have to do well. We've always tried to expand our horizons."
Additionally, Elon Musk took to his Twitter account to share that Tesla will be hiring 10,00 recruits through 2022, and a college degree is not a criterion to work with the company.
In recent years, there has been a massive shift in how Fortune 500 companies hire employees in recent years. While having a college degree is an asset to anyone's professional life, it's not the only criteria companies look at while hiring people for their team. In addition, skills, passion, and growth potential are necessary qualities that should be looked at while selecting candidates.
The same applies to small businesses as well. Hiring a well-qualified individual who lacks passion may cost your company more than someone with passion and no degree. So our advice would be to broaden your horizons and think about the big picture while making hiring decisions.
Another aspect to consider while thinking about your employees is upskilling. Nowadays, managers and business owners quickly replace their employees when they need someone with better technical skills. Instead, opt for upskilling existing employees. This will cost less, and your team will be more loyal to your company's growth at the end of the day.
Take Calculated Risks
Fortune 500 Companies have been around for years. They have had the time and the financial resources to experiment, try, fail and succeed at business strategies. Any successful CEO will tell you that while risks in business are encouraged, they should be calculated, especially if you are a small business with limited financial means.
Everything we previously mentioned in the company comes into play while making any decisions for the company's future. As a leader, you should study market trends industry patterns and learn from Fortune 500 companies who have gone through hardships to avoid repeating the same mistakes.
While it's easy to get caught up in the present, research has shown that companies who created long-term management strategies were more successful, earned more market capitalization, and created more jobs than short-term planning companies.
"If you want to be successful in this world, you have to follow your passion, not a paycheck." - Jen Welter.
The secret to a successful business is the passion and drive behind it. You cannot support and lead a team towards a goal you don't fully believe in. We hope you enjoyed these lessons and will implement them in your management style to grow your business.
If you want to grow your business with a remote team of highly qualified and motivated global talent, reach out to us at Wishup to hire a virtual assistant by clicking here or dropping us a mail at [email protected].