What can an SEO virtual assistant do for your budding business? A lot of things.
In fact, you can outsource a variety of tasks for an SEO virtual assistant rather than hiring an in-house employee. He can play a major role in executing your digital marketing strategy without being on your payroll.
Business service outsourcing has seen tremendous growth in recent years and Statista estimates, its global market size will be more than $587 billion by 2027.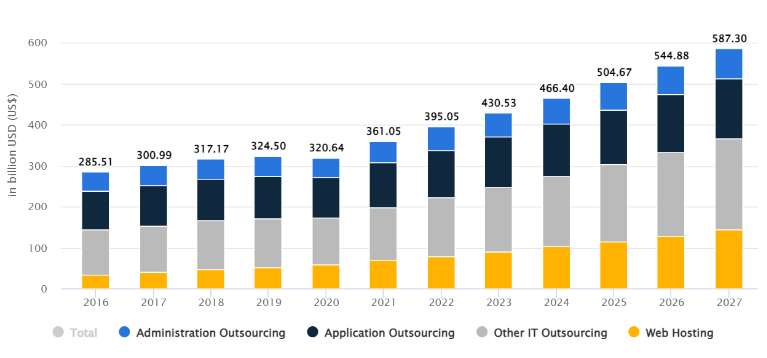 Image via Statista
Virtual assistants are the go-to option for employers in all kinds of industries, be it education, healthcare, hospitality, finance, or marketing.
When we specifically consider the market size of freelancers in SEO services, the future looks quite promising. With a CAGR of nearly 21%, the industry is expected to be worth $25.37 billion by 2026.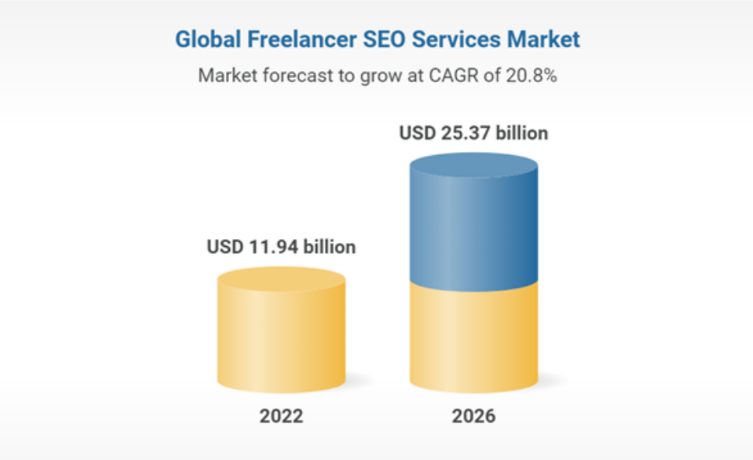 Image via Research and Markets
In other words, more businesses will hire SEO virtual assistants to create stellar search engine optimization strategies to boost their online presence and search ranking.
If you have been considering hiring an SEO virtual assistant for your small business, I would say, it's a great idea. But before you do, it is necessary to determine the scope of work and the tasks for your SEO virtual assistant.
Listed below are the 10 essential tasks your SEO virtual assistant can handle for you and help your business climb the SEO ranking ladder.
Let's dig right into it.
10 Top Tasks to Assign to Your SEO Virtual Assistant
An SEO Virtual Assistant can be a part of your remote team and handle multiple digital marketing-related tasks. Here are 10 tasks you can assign your Virtual Assistant and expect great results.
1. Research Keywords
If you want to achieve strong online visibility for your business, one of the fundamental tasks for an SEO virtual assistant would be keyword research.
No matter how compelling your website content is, if you have not optimized it for the right keywords, you may never achieve higher search rankings.
That's where your SEO virtual assistant can step in and conduct extensive keyword research using tools like Semrush. If you are wondering whether it is the right tool for you or not, you can quickly go through this Semrush review by Attrock and decide.
A Virtual Assistant can not only help you identify high-volume keywords but also assist you in developing new user-centric keyword ideas.
2. Optimize Website Structure and UX
Google loves a well-structured website and it is your SEO virtual assistant who can help in creating a structurally strong and well-optimized website.
One of the important tasks for an SEO virtual assistant is to create a checklist and organize your website accordingly. Some of the vital elements are:
Strategic color scheme
Well throughout visuals
Seamless navigation
Responsive design
Clear CTA
Along with structure, the Virtual Assistant should also strive to enhance the UX of your website. To establish authenticity, he can suggest embedding Google reviews and your awards on the home page.
An expert SEO virtual assistant should be able to spot the gaps in your website structure and elevate it to impress search engines.
3. Build Quality Backlinks
Backlinks are a critical ranking factor for Google. Monster Insights says that the website ranking first in search results has almost three times more backlinks than the website in the second position.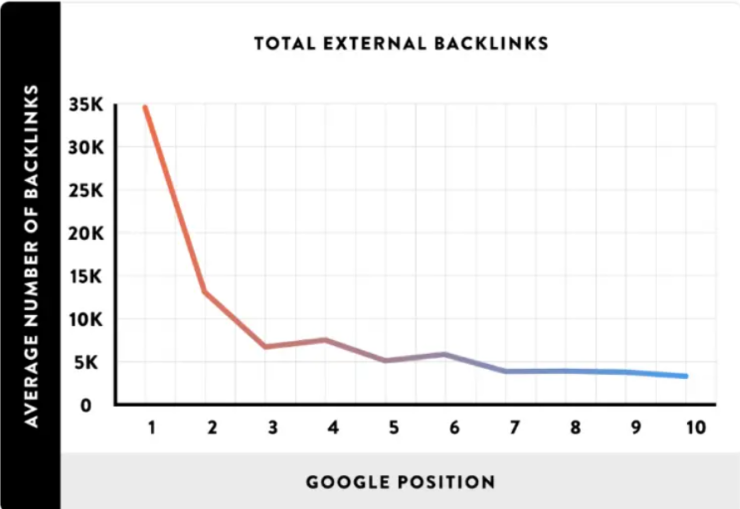 Image via MonsterInsights
Thus, one of the important tasks for your SEO virtual assistant is to build plenty of quality links. Having several high-authority links pointing at your website will immensely boost your authority and credibility.
An expert Virtual Assistant should be able to identify those reputable websites and create a strong content marketing strategy to earn the finest trust votes for your website.
4. Competitor Analysis
As you would audit your website with a tool or strengthen your sales funnel based on CRO audit, you need to conduct a thorough competitor analysis as there is plenty you can learn from your competitors.
An SEO virtual assistant is your best asset for extensively researching your competitors and analyzing their SEO strategies.
By assigning such tasks for an SEO virtual assistant, you can not only gather quality data but also save plenty of time. Analyzing this data can help you identify the top keywords, the most suitable target audience, the pain points they are addressing, and so on.
When these elements are incorporated into your strategy, you can stay ahead of your competitors and rank higher.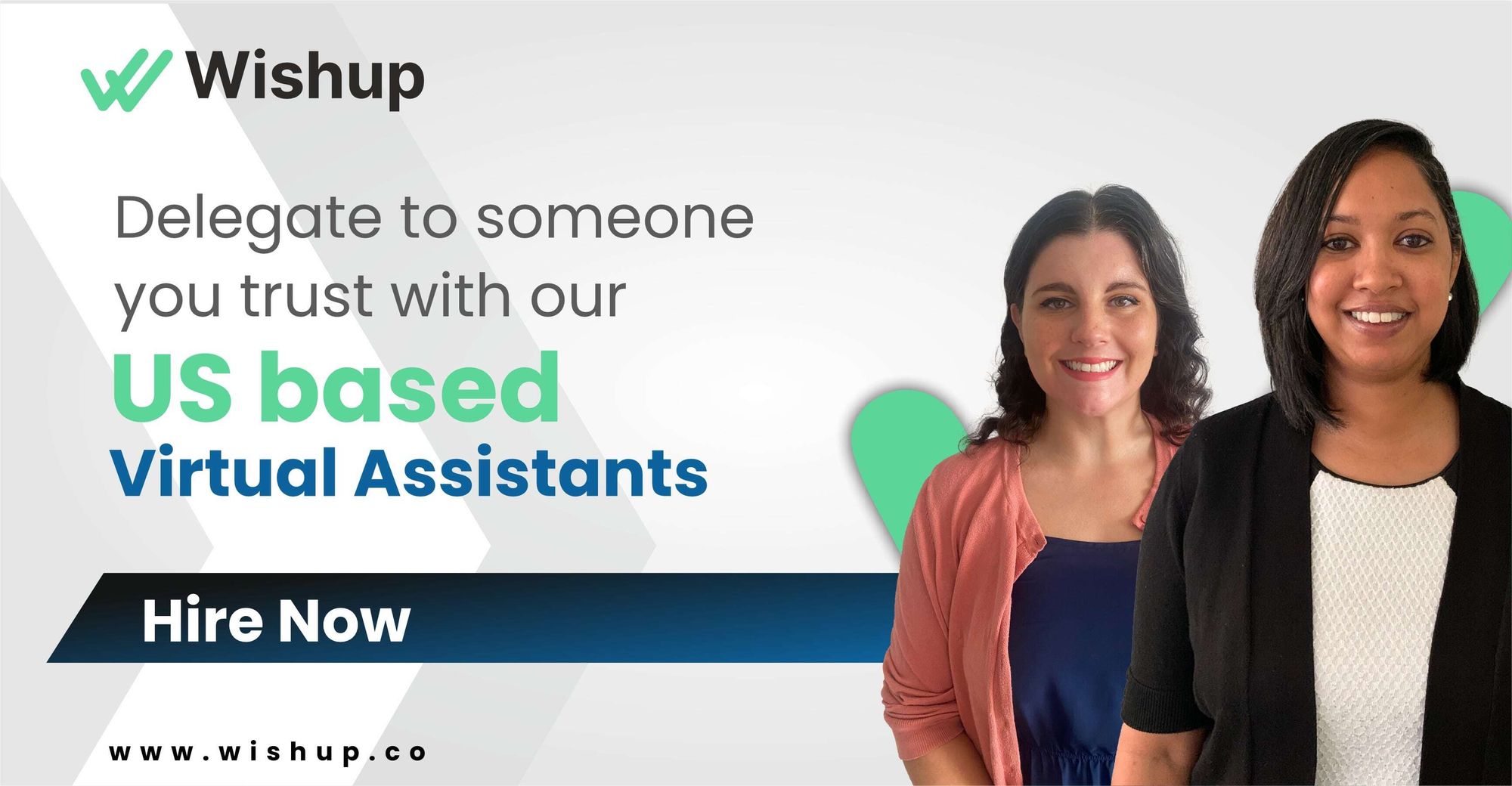 5. Guest Posting
One of the most widely used and successful SEO tactics to build backlinks is guest posting or guest blogging. One of the essential tasks for your SEO virtual assistant is to take care of guest posting.
To come up with user-centric keywords and engaging topics to establish a good link exchange network, a Virtual Assistant should be well-versed in the entire process.
Once the guest post is ready, he should optimize the content and submit it to high-value websites.
When planned strategically, an SEO virtual assistant can build plenty of high-quality backlinks for your business.
6. Track Content Performance
If content sharing is one half of the deal, tracking the performance of your content is essential too.
You might be creating a variety of content, including blogs, guest posts, infographics, videos, press releases, and so on. But if they are not fully optimized and tracked, it is difficult to analyze the success of SEO efforts.
Thus, while assigning tasks for your SEO virtual assistant, ensure that he is tracking the performance of all your content and analyzing the data to quantify the ROI and understand whether your work is making an impact on overall marketing goals.
He should also be able to identify the gaps in your content marketing strategy and suggest solutions to pave the path to success.
7. Optimize for Local SEO
Local SEO means a lot to local businesses and optimizing for it is one of the important tasks for an SEO virtual assistant. And when your online presence is fully optimized for local SEO, your business could appear in the local search results as we see in this image.
Image via Google
As Local SEO has plenty of challenges, make sure the Virtual Assistant you hire understands it like the back of his hand.
Some of the vital components of local SEO include:
Claim your Google Business Profile listing
NAP citations
Optimize online business listings and directories
Create local content
Gather more ratings and reviews
Add a locations page on your website
Engage with local communities
Thus, by optimizing your website for local SEO, virtual assistants can generate qualified leads for your small business.
8. Social Media Management
Social media marketing is an integral part of your digital marketing strategy. It is a great idea to include SMM among the tasks you assign your SEO virtual assistant.
Creating a social media profile on Facebook, Instagram, or LinkedIn and posting a few posts now and then is not social media marketing. You need an expert to develop a robust strategy to reach more audiences, engage, and convert them into leads.
Your SEO Virtual Assistant could come in handy to optimize your social profiles, curate and share relevant content, run influencer marketing campaigns, and build a strong bond with your audiences.
When you establish a strong social media presence, it would also impact your SEO positively.
9. Setup SEO Tools and Track Results
When you are assigning tasks for your SEO virtual assistant, remember that his work is not limited to implementing SEO strategies. The Virtual Assistant is also responsible for monitoring the performance of those strategies.
One of the tasks for an SEO virtual assistant is to set up different SEO tools to track results. Tools like Google Search Console, Google Analytics, Bing Webmaster, Hubspot Website Grader, etc, can be set up on your website to monitor its SEO performance.
By gathering data from such tools, the Virtual Assistant can identify the gaps in your SEO strategy and fix the issues on the go.
10. Generating SEO Reports
Lastly, the list of tasks for an SEO virtual assistant should also include report generation. The Virtual Assistant you hire to handle your SEO must generate a comprehensive report at the end of every month.
SEO involves a lot of technicalities and analytics. it is the responsibility of the Virtual Assistant to consolidate all the performance-related information and present it in an easy-to-understand manner.
He can use any of the good SEO report-generation tools to save quality time and better manage business expenses. Based on these reports, you can plan your next SEO moves.
Are You Ready to Hire a Good SEO Virtual Assistant?
It is evident that you can assign a variety of tasks for an SEO virtual assistant to establish a strong online presence for your company.
Working with a Virtual Assistant comes with its own benefits. As he brings his expertise to the table, he can provide an objective perspective, help build your brand credibility, and generate more leads for your business.
What's more, you can save thousands of dollars annually by working with VAs.
So go ahead and determine the important tasks for your SEO virtual assistant and utilize his expertise to establish a solid online presence.

Author Bio - Gaurav Sharma
Gaurav Sharma is the founder and CEO of Attrock, a results-driven digital marketing company. Grew an agency from 5-figure to 7-figure revenue in just two years | 10X leads | 2.8X conversions |  300K organic monthly traffic. He also contributes to top publications like HuffPost, Adweek, Business 2 Community, TechCrunch, and more.

Social Accounts: Twitter, LinkedIn, Pinterest & Instagram , Facebook
Subscribe to Wishup Blog | Remote Teams | Remote Employees
Get the latest posts delivered right to your inbox