Why is SEO crucial for startups and small businesses? - Podcast with Lidia Infante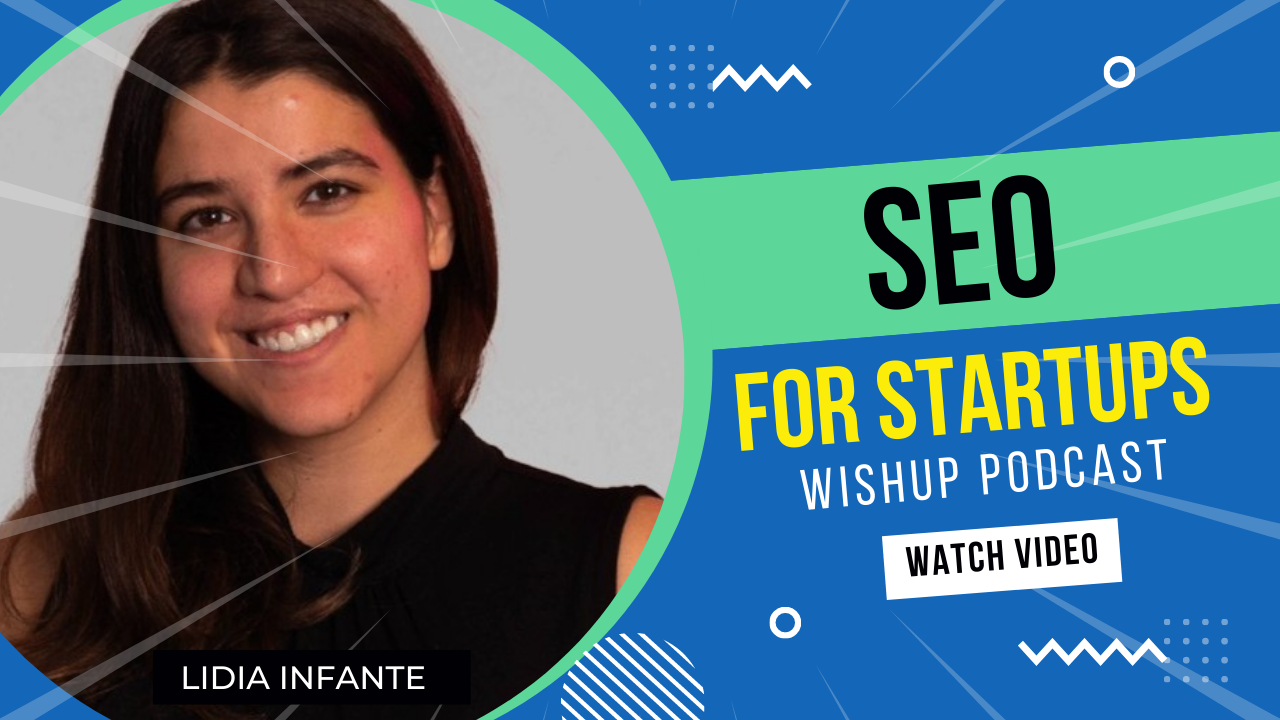 When was the last time you scrolled over to the second page of a web search result when looking for an answer or simply searching for something? Unfortunately, over 75% of users don't look at the second page, which is why you need a strong SEO team to grow your business to the next level.
The competition on digital platforms is endless, and you need a solid strategy to find your way to your audience. Unfortunately, many small businesses have been shifting their focus to social media platforms for advertising and not focussing on SEO which is not good in the long run.

To understand the importance of SEO better, we need to look at how SEO works:
Source: Unsplash
How does SEO work?
If your website isn't ranking on top of your competitors, you must find out why! The main factors that determine the ranking of a website are:
Keyword placement and analysis
Creating high-quality content

Keyword placement and analysis
Words hold the potential to rank your website or blogs high as well as nowhere on the search results page! Keywords are words or phrases users frequently use to find what they need.
To get ahead of your competitors and step up your SEO game, research the most relevant keyword to your business and work on strategically placing them in your content. Google trends API will help you know how often a keyword is searched on Google within a specific time.
That will help Google algorithms to recognize your content as the perfect solution for the users when they type that particular keyword or phrase. The critical factor to remember in this is to do your research right. Spend ample time on research, analyze which keyword would suit your business best, and use it in the content you create.
Building backlinks
Building backlinks by using link building tools for SEO is an effective way to improve the SEO score of your website. Stating facts, figures, or even statistics from the source of information increases the credibility of your content.

If done correctly, strong backlinks can make your website more credible in terms of information by the users.
Creating high-quality content
Content is the main element of your website. Nothing works better than good-quality content. Strong, well-researched content can bring you the right audience and new leads, but you need to optimize your website and deliver the most appealing content.
With the advancement in technology, content has taken many new forms, such as;  blogs, website content, infographics, social media posts, podcasts, newsletters, and much more. The right content helps you reach your customers with the right message and help them know more about your products and brands.
There are several reseasons why startups should focus their investments on SEO. Here are a few:
Source: Unsplash

#Best way to attract organic traffic
SEO is the best way to make your business visible to people on the internet who could be your potential customers. With a strong SEO strategy, people on the internet can easily find you and your business and get converted.

Therefore, SEO is an essential tool in digital marketing. Unlike other tools, SEO does not require any investment and gives promising results in the long run.

#Building authority and credibility
The end goal of SEO is to give users a good experience and become more easily discoverable among your competitors. Building trust and credibility through your business, products, and content takes time. But, like SEO, credibility and authority will benefit the business in the long run.

Source: Unsplash
# Gives promising ROI
Return on Investment (ROI) is quite crucial in digital marketing. With the help of a well-built SEO strategy, you can achieve a better ROI on your digital marketing activities. According to a study, leads through search engines offer a conversion rate of 14.6%, which is 12% higher than traditional marketing.

Unfortunately, if you do not manage to rank on the first page of the search through SEO strategies, your website is unlikely to be noticed by potential customers. This is where SEO offers the most advantage. It helps rank your website higher than your competitors through optimized titles, backlinks, and user experience and helps get more leads.

# SEO targets all marketing funnels
SEO strategies include content that targets all stages of the marketing funnel, which helps in the long run. For example, the blogs posted at the top or the middle of the marketing funnel will not convert in the initial stages but will successfully help build brand awareness and loyalty.

# It's free and works as a long-term investment
You cannot always rely on paid advertisements to get good clients. Most startups struggle to find new customers and expand but initially get a boost in sales through paid advertisements, which is not economical in the long run. SEO is an investment that will help you generate new leads, expand the business, reach new customers and build brand awareness.

Finding SEO specialists within your budget is not as difficult as you think! Most businesses prefer hiring virtual assistants to handle their website's SEO. It costs them only a fraction of what they would have to invest in a full-time employee or an agency.
In conversation with Lidia Infante

Could you start by telling us a bit about yourself and your experience in the SEO industry?
So, my name is Lidia Infante I've been working in the SEO industry for nine years now; it's going to be nine years in August. I started in my 20s where I started by creating a women's rights magazine. Since then, I've been working in-house for SaaS companies and B2B. I've been working agency side and with publishers, and it's been an absolute blast seeing this industry grow like it has.
How do you manage to stay on top of all the latest trends and news and updates?
So I do a combination of following the right people on Twitter and subscribing to the right SEO newsletters. One of my favorites is SEO FOMO by Aleyda Solis. It's super easy to find because it must be the biggest in the industry, and she connects you to the right people on Twitter.
She shares a section on official Google News, a section on SEO news, and a free tool every week or more; sometimes, there's more than just one; people to follow and general marketing content. So it is really, really amazing.
It is incredibly difficult to keep up to date with the SEO industry. There were a hundred updates in 2021 to the algorithm cause it's not always the major update that right now; I would say it comes every quarter; yeah, there are several minor tweaks to the algorithm.
Which parts of SEO would you say one should specialize in?
If I had to divide SEO into parts, it would be Content, Authority, and Technical; depending on the niche that you're on, you might have local SEO to worry about, or you might have specifics from eCommerce SEO that you have to worry about.
If you're in a highly regulated market, you better have a good project manager in your team cause otherwise, your content is not going anywhere. But if I had to summarize, there would be three parts, right? So we've got technical SEO to help users enjoy your pages and search engines to understand your pages, access your pages, index them, render them correctly, and so on.
So on the technical side of things, we've got web performance optimization, we've got UX, and we've got role management, indexation management, technical SEO, and hygiene.  That's what enables users and search engines to go and read your content.
So in marketing, content is King, something we've repeated for the last ten years. I think that's what it means, it's the content that's there to satisfy user intent, and it's the content that users are going to engage with, read, and convert on.
So when it comes to content, some people are doing amazing work when it comes to entities. Topic SEO, I think most companies just need a basic good content strategy delivered. Like 'what are your topics?',  ' Why do you care about this?', and why does your audience care about this and just cover them comprehensively with expert authors.
You've got the link side of things, which is huge, and it's boomed into the digital PR industry.
You need to ensure that you put our company in front of the right audience by pitching the right stories through the right publications, and then those publications, if they're very nice, send links back to our website, and our content gets to rank better. So technical and links are working together for better content visibility.
As compared to other marketing endeavors, in your opinion, how important is it for startups to focus on SEO as compared to social media marketing or PR or influencer marketing, and so on?
Every startup should take a look at SEO not necessarily as a 'let's work and invest on SEO' but let's make sure we're not making the wrong SEO decisions that are going to hinder our growth in the long term.
So when you're building your website, choosing your domain, and choosing your TLD or your domain name. When doing all of that, you need to ensure that you're not making the wrong choice in terms of SEO.
So you need to be a little bit mindful at the very beginning and how relevant it will be for you. It depends on the startup and the model. If you're trying to improve scalability, definitely focus on  SEO before you focus on PPC.
Focus on organic channels before you focus on paid channels because that's where the scalability is. Growing your list of email marketing subscribers is something that can prove that you own all those contacts, and you can nurture them by getting in touch regularly.
Paying for clicks on social's not going to have the same effect. So I think startups that want to sell or get financing just focus on improving scale. Startups that are trying to, you know, be profitable in the now, which is almost none. They should probably combine those efforts.
Can you name one or two things entrepreneurs need to remember while selecting a domain name?
Yes! A very big thing I would say, is your company global? Are you going to serve the whole world on a .com or one of those special domains like .io or .is. Is your company going to internationalize on a specific country-level domain?
Because if you're trying to specialize in country-level domains and you're in a very high authority niche, you would not want to start specializing with those country-level domains. You want to do a .com and then use folders.
If you are addressing a very particular market, then yes, you're probably better off with the country-level domain.
I would also say try to pick domain names that will not be offensive in any language or sound stupid in any language, just in case you're trying to grow. Again, you don't want to be the case study like a marketing master.
Could you tell us how does an entrepreneur go about building an SEO strategy for their business? What are the things to consider, and what should one look out for while getting started?
That's a very good question! The very first thing is, what are you trying to get out of SEO? Are you trying to get direct revenue? Are you trying to leverage SEO to nurture the top of your funnel? So if you're in SaaS, which I would say at this point is a little bit my specialty, you will want to create lots of content around the top of the funnel and brand recognition and help your users before you even try to sell anything to them.
But if you're in eCommerce, you're probably better off optimizing the technical aspects of your eCommerce to make sure you're not having duplication problems, that you're leveraging your categories and tax the best that you can, and that you are making all of your products very findable, right?
So the first thing would be to find the objective, then identify your competitors and see what you need to do in your niche to do better than your competitor. Because at the end of the day, we have ten spots on the first page, and we have to be better to be in the top 10! To do that, we need to understand what others are doing, which I recommend as the first step.
So if you go back to what was previously said about SEO being technical, content, and links, if you want to approach your market with that perspective and using that framework, try to understand what your competitors are doing and how you compare to them.
In terms of technical, in terms of content, and in terms of links. Because it might be that you need only one of those three, the three at the same time or maybe just two right, or maybe you're on top of the line in everything else, and you need to work on your brand, not on SEO, it depends.
A business or a startup builds their SEO team in-house, or should they outsource it to an agency? What's your opinion on that?
So, you've got pros and cons for each model, right? And you also have the consultancy model. When you have your team in-house, you are bringing the cost of SEO tools in-house, right? If you wanted to have the range of an agency in terms of SEO tools, you'd be like shelling out thousands of dollars every month to pay for your monitoring tools, like Content King, to pay for your colors like Screaming Frog, to pay for your research and they are not cheap. So you would be investing a significant amount!
A wider variety of tools is a good thing that an agency can bring. Another good thing that an agency can bring, versus building your team in-house, is a varied talent pool, so there's going to be someone in that agency somewhere that has done something with your competitors or something similar to your product or knows about that very specific problem.
That very rare problem that you have, or maybe you have your platform,  your shop on Shopify, and you need to fix a specific Shopify thing, or you have it on BigCommerce, and someone's going to come in there and be like, " Yeah I've done BigCommerce before this is how you set it up, whatever" So that is an advantage that comes from working with agencies. But if you're working with agencies, typically, you get a team that is not completely committed to your project, right?
It's an outsourced team. Agencies work very much on a rinse and repeat approach that makes them more profitable. So if they can make a process into a very streamlined thing, they will apply that. So it's not going to be fully personalized to you, it's not going to be a team fully dedicated to you, and they might not necessarily have a directed background that's perfect for your product.
You can scale it up, you can scale it down, it's that easy, and you get access to all of the nice tools. Then if you're building it in-house, you're making a very upfront investment in your team, but at the same time, they get to know your product deeply, and they are able to affect change because an agency in a big organization they're not going to change much.
They're going to be providing the deliverables, but they're not the ones who are going to go to the CMO or the CEO and say, we've been doing this bit wrong; we need to change the tech stack. That requires deeper relationships.
So there needs to be at least one person in the team who will build those relationships and communicate those SEO changes to senior leadership. But yeah, you can't scale it back and down easily as you can with an agency.
You can't say I need a tech product project. I don't have a tech person in-house; let's use this budget for the tech project. It doesn't work like that. The consultant model is a model that I have started appreciating more lately.
It is somewhat scalable because you're buying their time, they're freelancing for you, and likely they will have access to some of the tools because they're doing this. In addition, they'll likely be highly skilled, highly specialized, and very good at talking to senior leadership.
But there will come a single point of failure, so if anything goes wrong with your consultant, they take all of the knowledge and take it away, and you've got nothing.
Are platforms like WordPress and Wix SEO friendly? What is your opinion?
So I was once with a huge company CMO, and he said, " I don't know why people spend so much on CMSs if the best CMS in the world is free," where he meant WordPress. WordPress has many advantages; although there have been some security concerns, the URLs are highly personalized on WordPress.
If you just go on to the right section of the settings. I really think WordPress is an excellent starting point. Wix has done such an amazing job lately with their SEO capabilities; they launched an SEO knowledge hub and brought in some SEO processes.
When you onboard onto their tools, you're like be mindful of your URLs; They're one of the best CMS to bring in specific microdata markup and schema. So I absolutely love Wix. In fact, my website, my personal one, is with Wix.
Just because the team is doing such an amazing job, also they have one of the smartest SEOs for web performance optimization that I have ever met. You don't actually need to spend a fortune on your CMS; you just need to know how to use it