Why Is Wishup Better Than Prialto?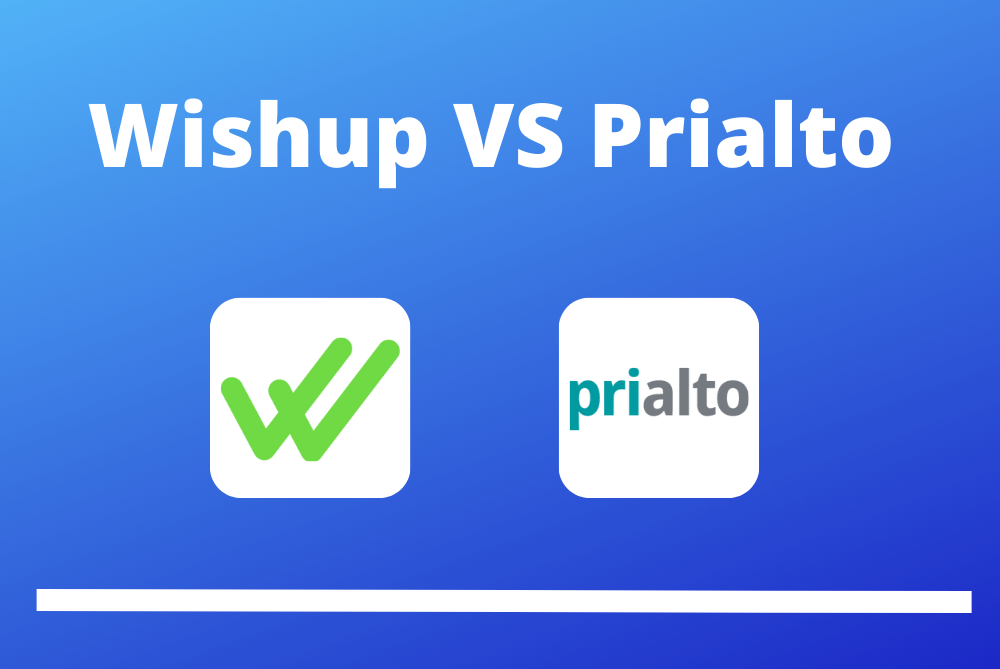 Small business owners are increasingly using virtual assistants to help them manage their growing workload.

As a business owner, you might know how challenging it can be to manage all the tasks necessary to run a successful small business.

The good news is that virtual assistants can handle some or all of these duties, giving you more time to focus on what matters: expanding your business!

They let you focus solely on clients and strategic development initiatives while handling all non-core responsibilities, allowing you to spend time on tasks that no one else can complete. This will guarantee that your company continues growing as quickly as possible.

However, with so many virtual assistant service providers across the globe, how do you decide which one to choose from?

We have made it pretty simple for you.

This blog will briefly overview two of the most popular virtual assistant companies – Wishup and Prialto. Then, you can decide which one suits you best.

But first, let's explore the role of virtual assistants elaboratively.

Who are virtual assistants?

Virtual assistants, or VAs, are online employees who work from a distance to help with various tasks. Most businesses hire virtual assistants on a contract basis, which means they only pay for the work completed.

Depending on the person's skill set, the specific services provided by a virtual assistant can range from administrative to technical. In addition, while some assistants hold multiple employment contracts, others work for a single staffing company.

The following are typical tasks carried out by a virtual assistant:

Making calls
Organizing schedules
Bookkeeping
Providing customer service
Creating and maintaining databases
Performing research
Creating accounts on social media
Proofreading and editing essential internal and external documents
Managing logistics administration
Assisting with online orders, invoices, and payments
Assisting with transcription

The advantages of hiring a virtual assistant

Time management
The greatest advantage of hiring a virtual assistant is not financial but rather time-saving. It is difficult for one person to manage all operations simultaneously, respond to customers, and resolve minor issues. That is why specific tasks must be delegated.

For example, it is crucial to delegate tasks when working with a lot of written information or even when writing a dissertation. Therefore, the best course of action is to assign this task to a qualified virtual assistant who will produce flawless results. As a result, you will have more time to concentrate on expanding your company while your virtual assistants take care of your non-core tasks.

Financial saving
A virtual assistant enables you to increase productivity while spending less money. A virtual assistant can be hired in place of expensive office staff who need to be paid regularly to support the expansion of the business. They usually charge by the hour or task, so you only have to pay for working hours.

Additionally, the business owner is spared the expense of investing in the skill development of a virtual assistant. So he can invest in services that will aid in the expansion of his company, significantly cutting costs.

Suitable for short-term risks

Hiring a virtual assistant would be a great alternative if you want to try something new but are hesitant to commit yourself to a full-time employee. It enables you to collaborate with someone via phone and email and allows you to get a lot done while still having free time.

The first step is to find the best candidate for your business based on their abilities, background, and personality. Then, all that is left to do is find the ideal person for your business and give them modest responsibilities until they can prove they can handle more responsibility.

Zero infrastructure

There is no need to buy a laptop, a phone, headphones, or anything else because virtual assistants work from a distance, and you do not need to prepare a working space.

You can be confident that your VA already has the tools he requires for practical work. To ensure a prospective VA is prepared for work, some virtual assistant companies even ask applicants to send them a picture of their home office.

Increased scalability

With the help of virtual assistants, you can quickly scale up your business operations.  

They allow you to hire talent on a project-by-project basis, allowing you to meet rising workload demands without hastening your hiring process.

You can hire virtual assistants to handle your project when its scope unexpectedly grows and terminate the arrangement when your business needs to reduce its scope.

Expertise onboard

Hiring a virtual assistant can be the best option if you find yourself in a situation where you don't have enough work to support a full-time employee but need a specialist in a particular area. Most virtual assistants specialize in a particular field, and in addition to setting up meetings and making travel arrangements, they can also assist with jobs that call for a depth of knowledge and expertise, such as software development and bookkeeping.

Now that you know all about virtual assistants, let's dive deeper into the virtual assistant services provided by Wishup and Prialto to help you choose the most appropriate services for your business.

Business whizzes Neelesh Rangwani and Vivek Gupta collaborated to create Wishup, a platform that links US-based business owners with pre-screened and pre-vetted virtual assistants.

This innovative company was established in 2015 and is headquartered in Delhi, India. It is gaining popularity in the US and other countries around the world. It recruits seasoned remote workers to fill out its unconventional talent pool and trains them to function as virtual assistants for companies worldwide.

It offers committed and experienced virtual assistants who assist with data entry, customer service, bookkeeping, and other administrative tasks. The company aims to support small-business owners and independent contractors in managing their operations successfully and effectively.

Services offered by Wishup

Wishup aims to connect aspiring business owners with committed experts who can organize and prioritize their workload. These experts help you run your business two times better by helping you with their insights and finishing your unfinished, repetitive tasks.

From Wishup, you can hire a virtual assistant for:

Administrative Assistance

Wishup's virtual assistants can assist you with all of your administrative tasks, including:

Inbox administration
Calendar management
Scheduling appointments
Data entry
Internet research
Travel preparation
Project administration
Voicemail administration
Transcription
Customer service
Organizing your to-do list
Client interaction
Event preparation
Maintaining databases
Upkeep records for eCommerce
Designing presentations
Maintaining meeting minutes
Gift assortment

And much more!

Bookkeeping Assistance

Tracking your finances can be difficult, but not with the Wishup Advantage! Our virtual assistants can help you with the following:

Payment of Bills
Making invoices
Customer payment reminders
Payables and receivables management
Creating financial statements
Completion of year-end documents
Managing rogue or delinquent accounts
Assisting with tax filings
Creating sales tax reports
Data maintenance in your preferred software
General ledger preparation
Bank and credit card statement reconciliation

Project Management Assistance

Wishup VAs can help you with the following to effectively handle your project management needs:

Quality control
Keeping projects on schedule
Controlling participants in a project
Tracking work progress
Finalizing the project
Formatting reports
Developing SOPs
Making spreadsheets and presentations
Managing deadlines

Social Media Management Assistance

Managing your social media postings while also managing your business can be chaotic. The Wishup VAs can help you with the following, so take this opportunity to offload this to them:

Scheduling posts
Online research
Creating accounts
Monitoring metrics

E-commerce Assistance

Hire a virtual assistant from Wishup to assist you with the following tasks:

Including all of your products on your online store
Classifying the listings
Helping with returns and exchanges
Order processing
Shipment and invoice management
Product description writing

The advantages of using Wishup virtual assistants

Hiring within 24 hours with no hassle

Wishup's VAs have undergone extensive background checks and verifications. Furthermore, because they have already been pre-interviewed and vetted, you will not have to waste time on the lengthy interview and onboarding processes. Instead, simply employ a virtual assistant in under a day.

Outstanding talent

Wishup matches you with virtual assistants in the top 1% of selected candidates. These professionals have advanced degrees. You don't need to consider things like taxes, relocation, or other concerns; you just need to choose a qualified candidate.

Experience before onboarding

With a free 7-day trial, you can examine how the company's virtual assistants perform and how well they mesh with your workplace. In case of dissatisfaction, the company provides a prompt, no-questions-asked refund.

Experts in more than 70 no-code tools

Before working with clients, Wishup virtual assistants receive training and gain more than 200 different specialties. Additionally, they know all the most recent no-code tools to aid your productivity.

Full-time virtual assistance

Wishup guarantees that clients will always have access to a virtual assistant; if the one assigned to them is unavailable, another one will be provided without delay. Customers won't ever need to worry about their virtual assistants being unavailable when they need them as a result.

Dedicated assistance

Wishup assigns a dedicated account manager to walk you through the hiring process from start to finish so that you have ongoing support for problem-solving or process management at every stage.

Global Resources

You can choose a virtual assistant from Wishup based on your location and your company's needs. Wishup offers US-based virtual assistants and overseas ones.

Privacy and security are ensured

Before being assigned to clients, all Wishup VAs sign a Non-Disclosure Agreement to ensure the security and safety of clients' data.

Wishup pricing plans

Wishup provides its customers with very affordable pricing options. Hourly rates start at $10, with monthly plans of either 4 or 8 hours available.

The monthly cost for a 4-hour/day plan is $999.
The cost of a monthly 8-hour/day plan is $1799.

How to hire an assistant from Wishup?

You can hire a virtual assistant in only three steps:

1. Consultation

First, you must schedule a free consultation with the Wishup team. A customer success manager will be provided to assist you with this step.
2. Communicate your requirements

You can now share your task list with the success manager and discuss your company's specific needs.

3. Pick a profile

The Wishup team will carefully match your needs with virtual assistants and shortlist the best candidates for you. You can now choose the virtual assistant of your choice, and they will be ready to join your team within 24 hours.

With these three easy steps, all you have to do is unwind and relax while Wishup matches you with your ideal virtual assistant!

Eric Taussig established Prialto in 2010 to provide managed administrative services. The business has its headquarters in Portland, Oregon, but it was founded in California under the name Prialto Personal Outsourcing.

These days, it has service hubs in Manila and Guatemala. The founder of the business claims that Prialto was born out of his desire to bridge the gap between the abundance of opportunities in the United States and the abundance of talent in Asia and Latin America.

They hire, educate, and manage VAs (whom they refer to as Productivity Assistants) as full-time employees, similar to many other VA service providers. Prialto also handles employee administrative issues, such as benefits, tools, equipment for assistants, and professional development.

Services offered by Prialto

Managed Admin Staffing Services

Get admin staffing services for your enterprise and get the following tasks done:

Executive Management
Back-office Activities
Personal Tasks
Specialized Tasks
Time management
Workflow management
Data entry
Relationship management

Virtual Sales Support

Specific services catering to sales professionals include the following tasks:

Outreach support
Calendar management
Prospect research
CRM management
Expense tracking
Data entry
Online research

Managed Executive Assistant Services

The tasks that a virtual executive assistant does include:

Calendar management
Event planning
Email and phone screening
Travel planning
Professional networking
Personal tasks

Real Estate Assistance

Campaign Support
Contact Management
Coordinating Key Parties
Document Preparation
Listing Support
Research

Insurance Assistance

Campaign Support
Contact Management
Proactive Communication
Document Preparation
Sales Support
Customer Services

Managed Venture Capital Assistance

Backups for Continuity
Performance Management
Engagement Management
Scalability
Enterprise Security

Benefits of hiring virtual assistants from Prialto

Engagement manager

Along with your assistant, you'll be assigned an Engagement Manager who serves as your productivity thought leader and offers advice on how to assign tasks effectively.

In-house training

Weeks of initial training are given to each Prialto Assistant on top of their existing education.

Quick replacement

They handle your Prialto assistant's transition expertly if she goes on a brief vacation, gets a promotion, or quits. In addition, its managers ensure your Prialto support is maintained, and a Prialto assistant is available to fill in when necessary.

Prialto's pricing plans

The service provided by Prialto is solely dedicated to full-time assistant offerings. Based on your staffing needs, they provide three tiers of pricing plans:

Individual Monthly Plan: One assistant provides 55 hours of assistance per month; prices begin at $1350.
Team Monthly Plan: starting at $4050/month, includes 3+ assistants and 165+ hours of monthly support.
Monthly Plan for the Organization: 8+ assistants providing 440+ hours of support per month (pricing not mentioned on the website)

Unused hours do not carry over to the following month, but they provide backup help and do not start charging overages until you routinely go 20–30% over your allotted hours. For Prialto to begin, a minimum commitment of 90 days is needed.

How to hire from Prialto?

You fill out a brief survey to specify what the assistant should do, and the team proceeds from there.

You only need to devote an hour or less to an onboarding call.

Our verdict

Both companies have their own incredible advantages. For instance, Prialto approaches providing committed assistance in a team-based manner. A backup assistant will take over if a VA is unable to perform their duties.

However, the hourly rates for a virtual assistant might be more expensive than average. Plus, there are no free trials like Wishup provides to test the virtual assistant services.

To help you better understand the price difference, an hour's service from Prialto would cost you around $24.5, and if you get the same service from Wishup, it would be around $10.

Pretty clear which one will suit your budget better?

Furthermore, compared to Wishup, Prialto offers no money-back guarantee for its services. Here, Wishup has the edge over Prialto.

Wishup has a pocket-friendly pricing structure, so you won't have to worry about investing much money. Moreover, Wishup offers an instant refund in case of dissatisfaction and has a 7-day free trial, along with a zero-inquiry money-back guarantee.

Finally, another disadvantage is that Prialto does not clearly mention its hiring process and different services on its website, making it difficult for solopreneurs or organizations to select what they want and take a step further. Meanwhile, Wishup has an easy three-step onboarding process to get you going.

Wishup vs. Prialto: bottom line

Virtual assistance is an incredible service to streamline your business operations while helping you grow your business multifold.

Choose Wishup for world-class services: you can test it out for free with a 7-day trial and a money-back guarantee! To learn more, please get in touch with us at [email protected] or schedule a free consultation with one of our experts.