The dental industry is becoming increasingly competitive and technologically advanced, and dentists are looking for inventive ways to enhance their practices. One of these solutions is to hire a dental virtual assistant.
Dental virtual assistants are highly-skilled professionals who work remotely to assist dentists with managing their practices. They are well-versed in administrative and clinical tasks and can help dentists boost their efficiency, productivity, and patient care.

Recently, demand for virtual dental assistants has skyrocketed as more and more dentists take advantage of their numerous benefits. In this blog post, we learn about the skills, advantages, and responsibilities of hiring a dental healthcare virtual assistant.
What is a Dental Virtual Assistant?
Dental virtual assistants are remote professionals who take care of all the administrative and clinical duties for dentists. These experts are well-versed in multiple skills, including appointment setting, billing and coding, insurance verification, patient communication, and social media management.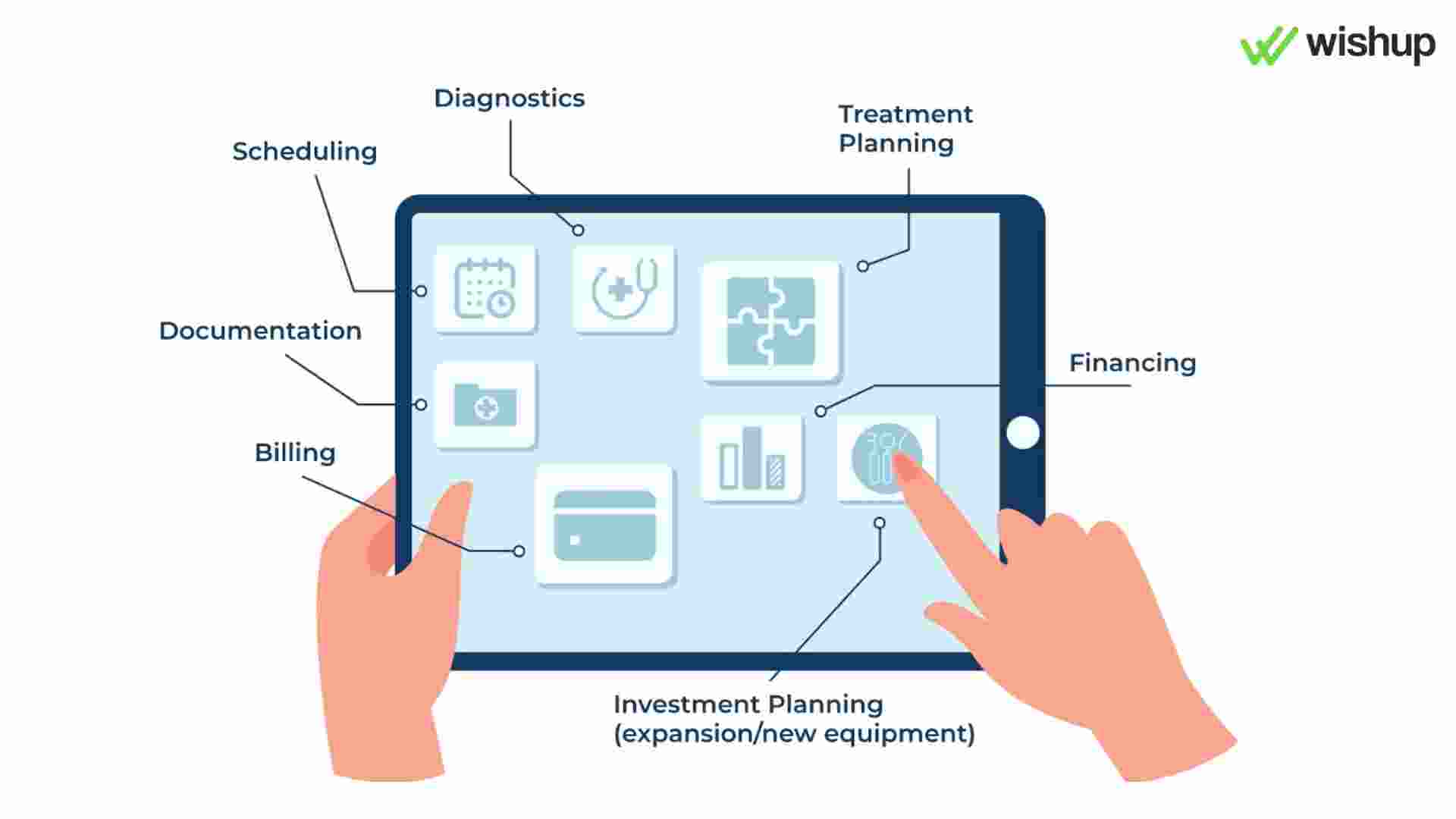 Further, they stay in touch with the latest technology. This way, they can seamlessly keep up with their clients, handle their issues, and offer top-notch customer service. In other words, a dental virtual assistant helps dentists focus on providing excellent patient care without worrying about the nitty-gritty of running a dental practice.
What are the skills that a Dental Virtual Assistant Should Possess?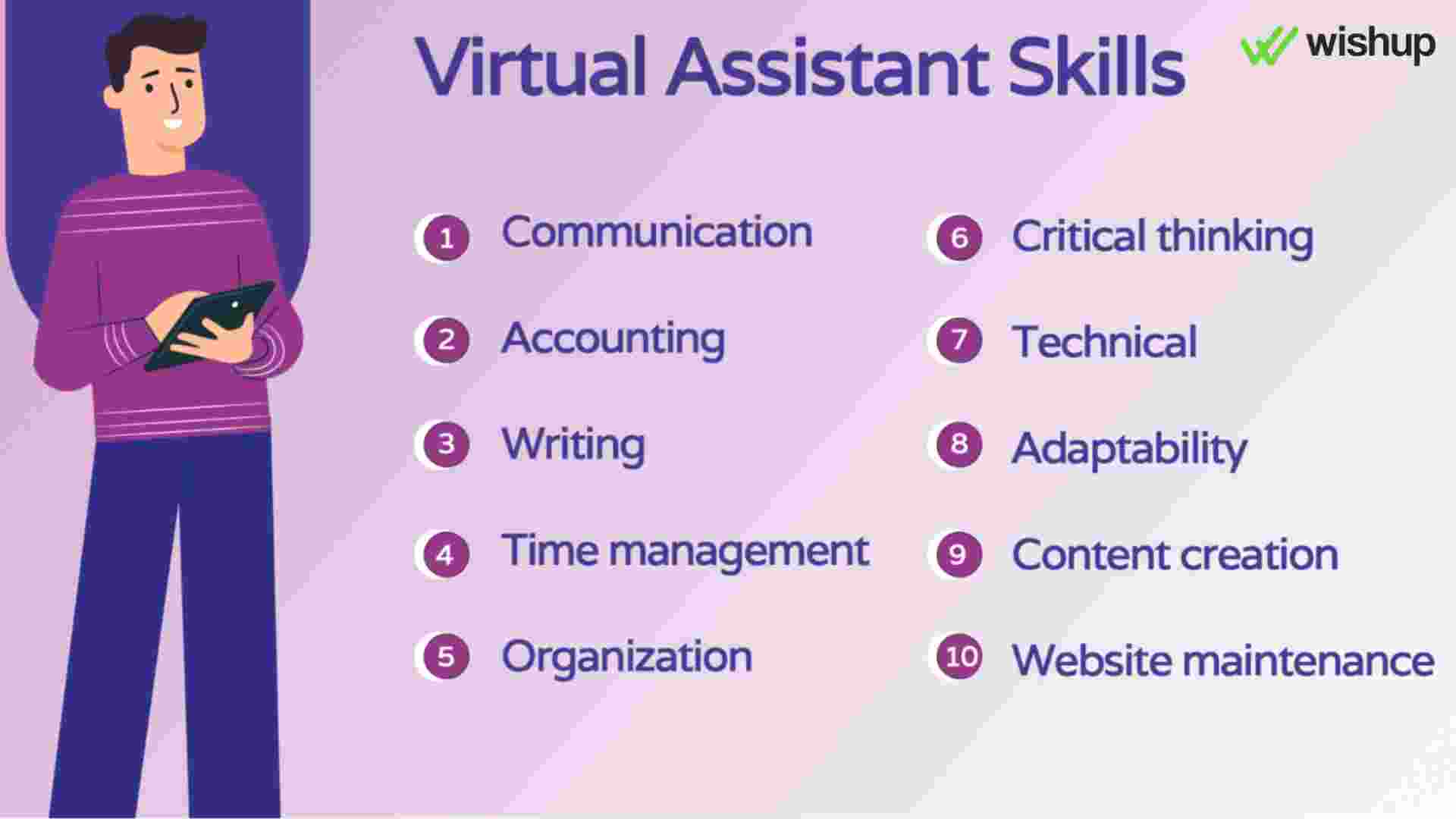 Top-notch dental virtual assistants should possess a wide range of skills. Let's have a look at the important ones:
Industry knowledge
Virtual dental assistants need to be well-versed in the dental field. From the dental terminology to the procedures and regulations, they should be aware of everything to offer top-notch services to dentists.
Communication skills
Another essential skill that a virtual dental assistant should possess is excellent communication skills. They should communicate well, both in writing and verbally, to be able to talk to patients, coworkers, and other people involved in the process.
Computer proficiency
An excellent virtual assistant for dentists should possess complete computer proficiency.
They need to know their way around dental software and tools, like practice management, electronic health records, and billing and coding software.
Proficiency with these tools helps the VAs is performing their duties in the best manner.
Leadership skills
When choosing a virtual assistant for dental office, pick a professional with good leadership skills. Dental virtual assistants must have strong leadership skills to perform their jobs quickly and efficiently.
What are the Top Benefits of Hiring Dental Virtual Assistants?
Saves money
Hiring a dental virtual assistant is a great way to save money for dentists! With them on board, you don't need to invest in pricey office equipment, software, and other resources. In addition, since virtual assistants work remotely, there is no need to spend money on overhead costs as they use their equipment and resources.
It gives you ample time.
Having a virtual dental assistant gives dentists more time for their patients, learning new things, and running their practice. You don't have to get all the administrative and clinical tasks done. Your virual assistant can take care of all that and more!

Works as per your time zone
When you choose a dental office virtual assistant, you can pick a professional from anywhere. This allows you to hire a professional who can work as per your time zone, offering convenience and round-the-clock support.
Reduce work overload
As a dentist, you can turn to dental virtual assistants if you feel overwhelmed with the workload and want to take some of the pressure off. This can help you prevent burnout and take time for your hobbies while ensuring you are still growing professionally and personally.
What are the Responsibilities of a Dental Virtual Assistant?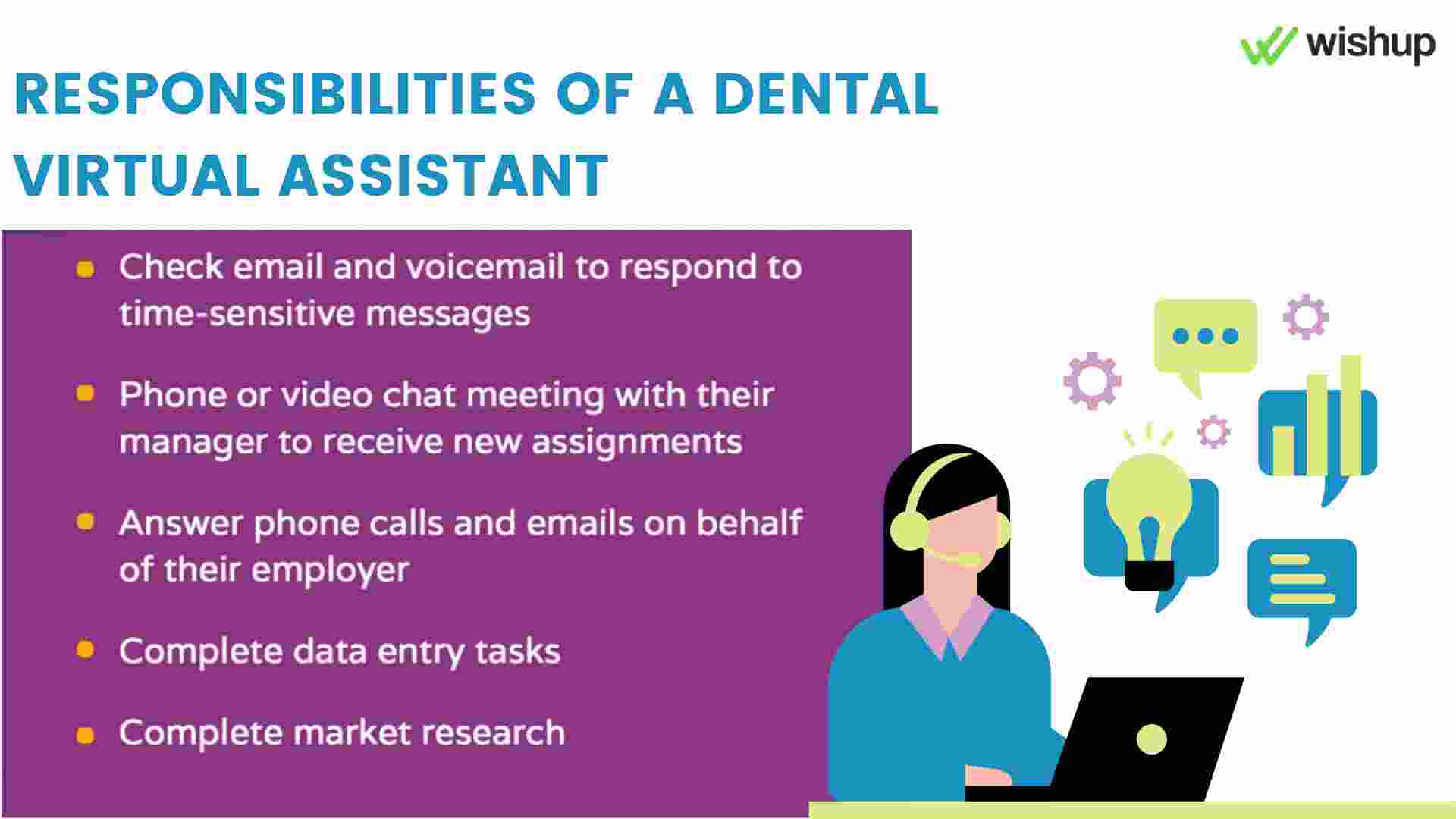 A virtual assistant for dental offices can be a real asset to any dental practice. They come armed with various administrative and clinical skills that help make the dentist's job easier. From patient record-keeping to scheduling appointments, these professionals can handle many tasks.
Some of the things a dental virtual assistant typically does include:
Handling claims
A work at home dental virtual assistant takes care of all the insurance claim paperwork - ensuring it is accurate and submitted on time. They analyze the claim from start to finish and follow up with the insurance companies. Plus, they work with patients to ensure they understand their insurance coverage and payment responsibilities.
Scheduling appointments
One of the most crucial responsibilities of dental VAs is to ensure the dental office's appointment schedule is up-to-date and running smoothly.
They are responsible for confirming patient appointments, giving information about the office and services, and addressing any questions or worries. Further, they ensure that rescheduling or cancellations are handled quickly and efficiently.
Managing patient records
The dental virtual assistant also helps dentists keep patient records highly organized. These professionals are responsible for entering new patient details, ensuring existing records are up-to-date, and ensuring everything is accurate.
Marketing support
The assistant can help develop and execute marketing campaigns, such as sending out newsletters or creating promotional materials.
Data entry and analysis
The assistant can enter and analyze data from patient surveys, helping the dentist understand patient needs and preferences.
Billing and invoicing
The assistant can generate invoices and process payments for services rendered, ensuring the practice runs smoothly financially.
Social media management
A virtual dental assistant can help manage a dentist's social media presence, creating posts and responding to comments and inquiries.
Handling emails and calls
A dental virtual assistant is a reliable first point of contact for patients, providing professional and timely responses to emails and calls. They are also available to address any inquiries or concerns and can coordinate with the dental staff when needed.
Calendar management
A dental VA is an invaluable asset in organizing the day-to-day operations of a dental office. They are responsible for managing the calendar, making sure appointments are appropriately scheduled, and keeping the dentist's schedule running smoothly. In addition, they collaborate with other staff members to guarantee that everyone is aware of the schedule.
Check authorizations and policy details
A dental online assistant is a go-to person when it comes to making sure treatments are covered. They verify patient insurance coverage, check policy details, and get insurance authorization. They also make sure patients have all the necessary information required to take advantage of their insurance benefits.
Wishup: Your Partner for all Virtual Assistant Requirements
After learning about who a virtual assistant dental service provider is, you might want to hire one for your clinic. After all, with the host of benefits and expertise they bring to the table, hiring a dental VA seems natural.
However, when it comes to hiring a VA, finding the right professional is never easy. While there are multiple virtual assistant service providers available out there, you can never know which is the right fit for you.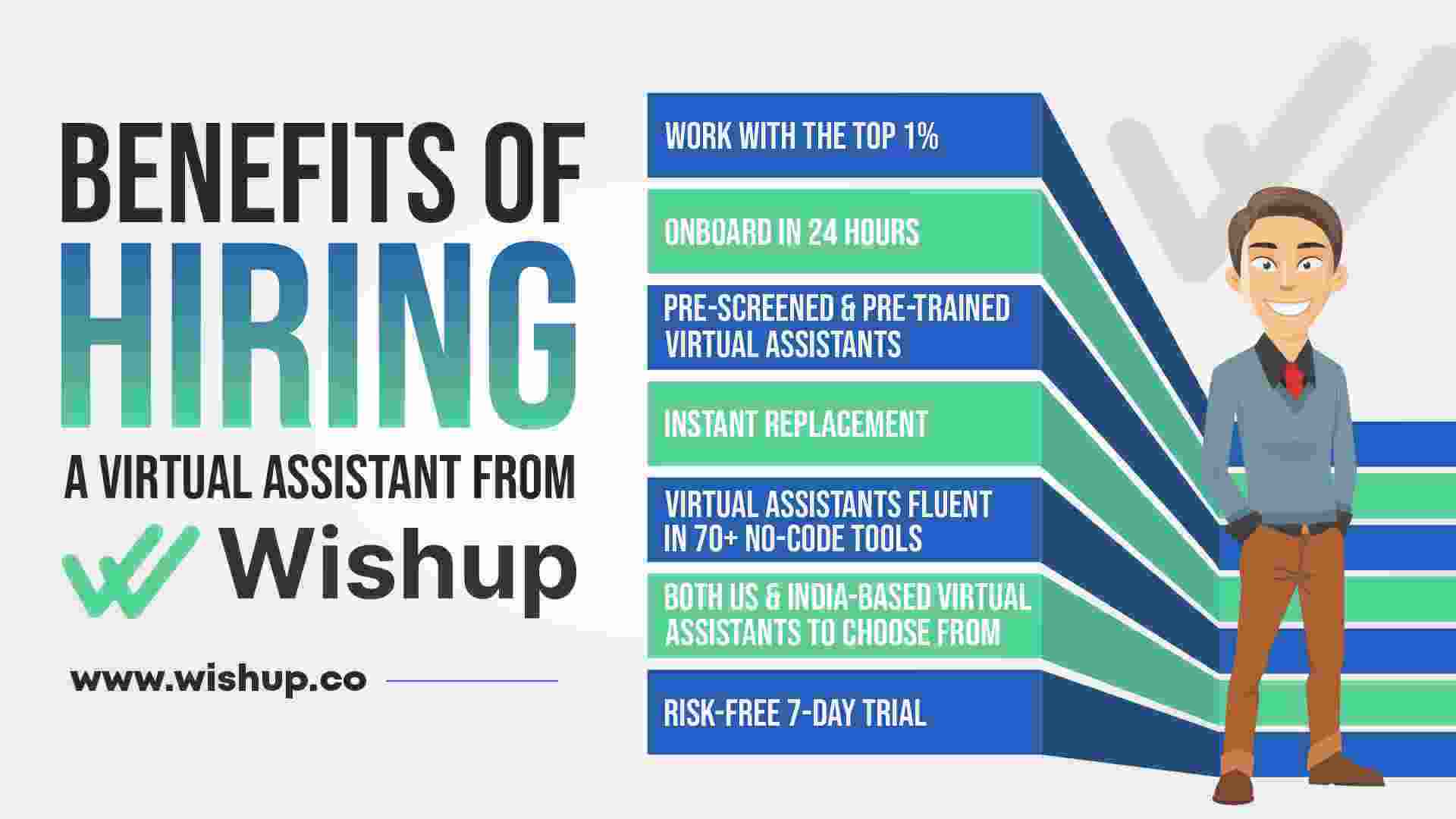 If you're looking for a virtual assistant partner to help you out, Wishup is here for you! We offer cost-effective, reliable VA services to businesses of all sizes. Our easy onboarding process and talented professionals ensure customer satisfaction and great results. Let's look at the significant benefits you can enjoy when you choose us as your VA service provider:
Cost-effective
If you want to save some bucks when it comes to administrative tasks, Wishup's virtual assistant services are a great option! In addition, we offer competitive prices, meaning you can save a bundle compared to hiring full-time employees. So why not give it a try?
Easy onboarding
Getting started with Wishup is a breeze! We have a simple onboarding process to get businesses up and running with their new virtual assistant. You can get onboard with a free consultation to determine the best areas to give you a helping hand.
Then, we give the assistant a full briefing and complete training to ace the job! Not only this, but we also enable you to onboard your dental VA within 24 hours!
Experienced and talented professionals
At Wishup, we have the best of the best regarding virtual assistants. Our selection process is challenging, and only the cream of the crop makes it through. We only hire the top 1% of all applicants. Our VAs have the expertise, resources, and experience to take on any task.
Customer satisfaction
For us at Wishup, customer satisfaction is a top priority. Our virtual assistants are well-trained to give the best service to all our clients. We also allocate you a dedicated account manager to ensure all your requirements are met.
Data confidentiality
Wishup is committed to keeping your data secure and private, so we have established stringent policies to safeguard it. We also offer non-disclosure agreements to ensure our clients' information stays confidential.
Outstanding results
At Wishup, we are proud of the excellent results that our VAs can give to our clients. They perform their job quickly and accurately, so businesses can save time and work smarter. Their efficiency is top-notch, and our VAs always provide outstanding results for their clients.
The testimonial and reviews of our previous clients speak volumes about the high-quality services that our VAs offer. Check it out yourself!
Immediate replacement policy
If you're ever not happy with your virtual assistant from Wishup, no worries! We have an immediate replacement policy to ensure you always get the support you require for your business to operate smoothly. You can get an instant replacement without the need to answer any questions. It's quick and completely hassle-free!
7-Day free trial with a money-back guarantee
One of the significant benefits of picking Wishup is that you can try out our virtual assistant services without any risk. We offer a full 7-day free trial with a money-back guarantee! You can work with our VAs without the need to make any long-term commitments!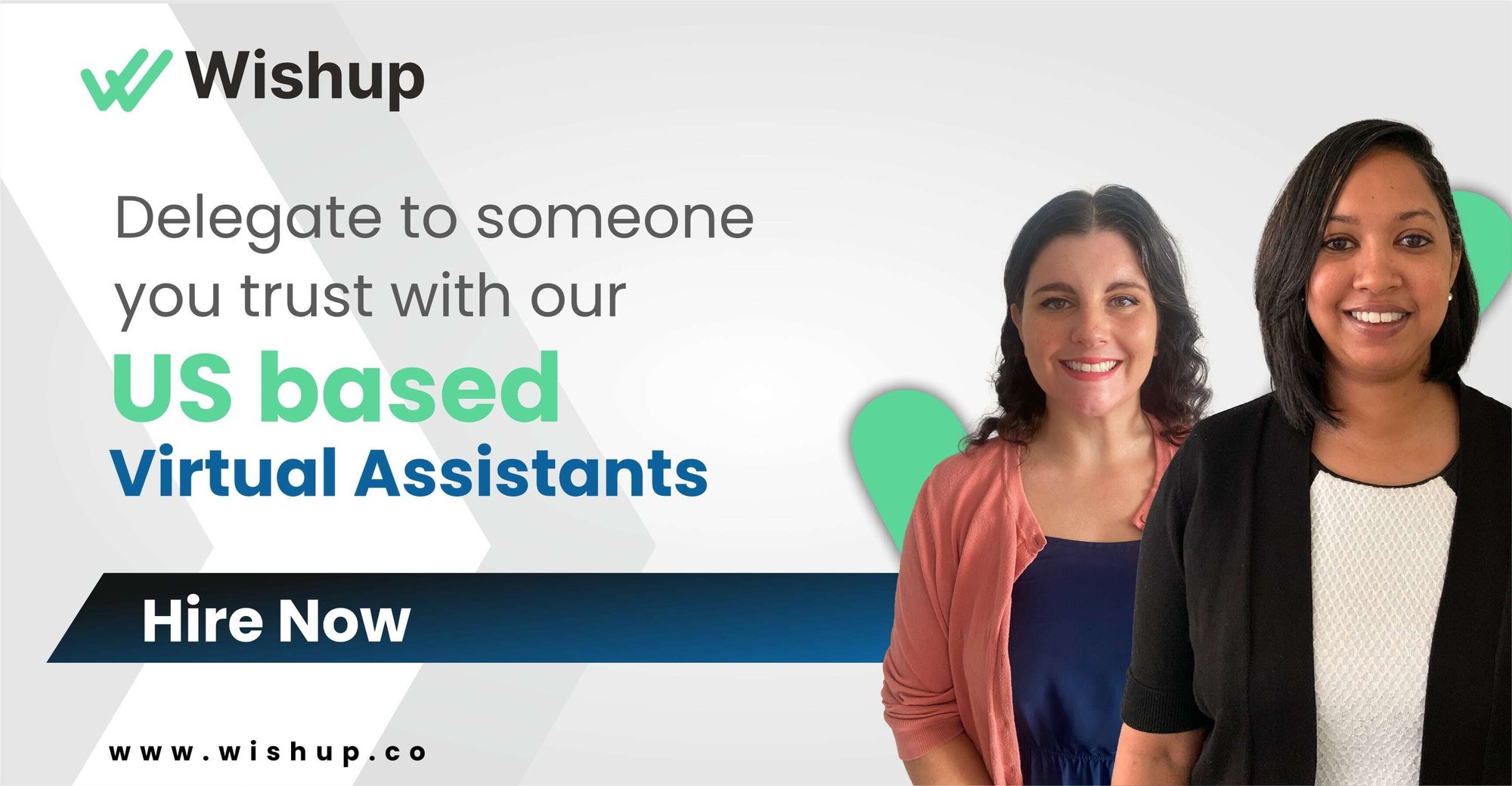 Conclusion
To sum it up, getting a virtual dental assistant can seriously transform how your dental office works. Their organizational knowledge lets you focus on giving your patients the care they need and expanding your practice. Consequently, they help you save time and money, and their services lighten your workload. Plus, they can work according to your time zone, making them the perfect option for any dental practice.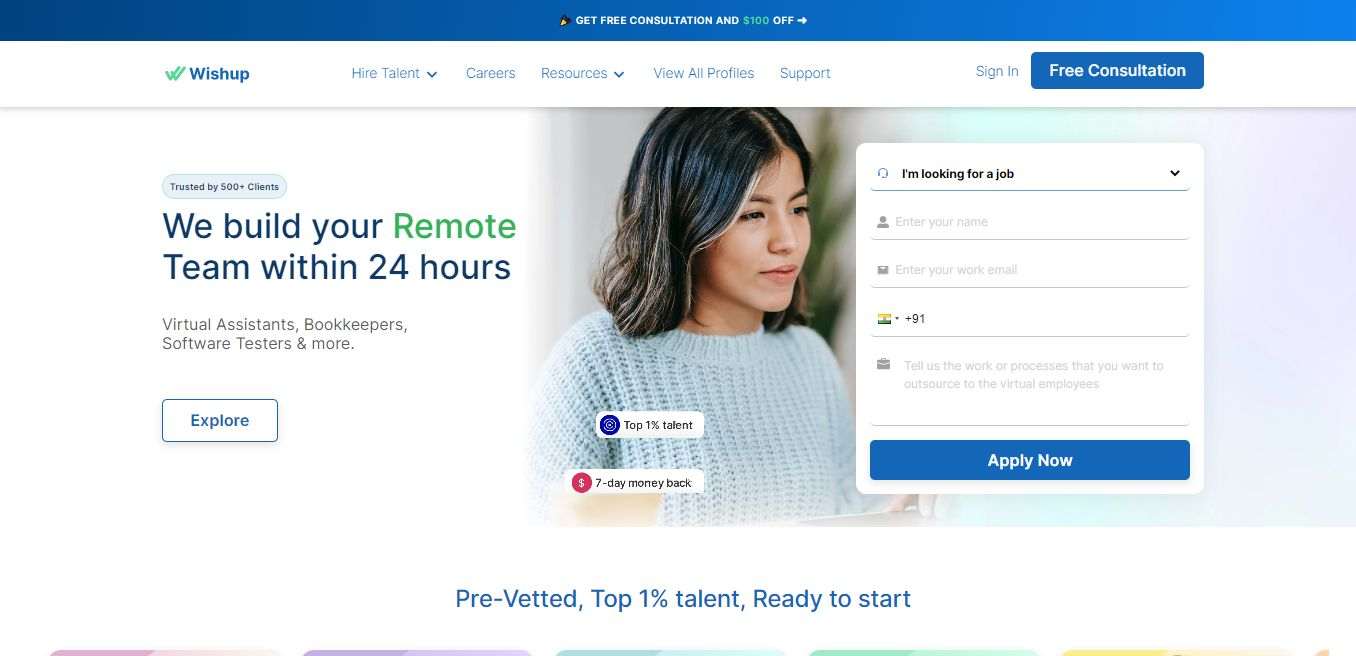 So, if you are searching for a virtual assistant to help with your dental services, Wishup has you covered! Our in-house team of experienced VAs can take care of all your admin needs - from scheduling appointments, managing patient records, and handling emails and calls. In addition, we promise to provide top-notch customer satisfaction and data security, so you can be sure your patients' information remains confidential.
So, what are you waiting for? Visit the Wishup website to book a free consultation. You can also email us at [email protected].
Dental Virtual Assistant Frequently Asked Questions
Who is eligible for a virtual assistant?
Anyone running a dental practice, big or small, is eligible to get a virtual assistant. A VA would be a valuable addition to their team, helping them perform routine tasks and reducing their workload.
What is the job of a dental assistant?
A dental assistant is quite important for any dental office, providing both clinical and administrative support. They can perform several tasks, from scheduling appointments to managing patient records and even assisting the dentist during treatment. And now, with the help of virtual assistants, many of these same duties can be done online without the need to be present in the office in person.
Is virtual assistant a good side job?
Yes, becoming a virtual assistant can be a great way to earn extra income on the side. You have the flexibility to work anywhere with an internet connection. To become a dental virtual assistant, you must have some specialized skills and experience. It can include knowledge of dental terminology, insurance billing, and dental software.


Subscribe to Wishup Blog | Remote Teams | Remote Employees
Get the latest posts delivered right to your inbox