How to Use Video Content to Improve Remote Work's Internal Communications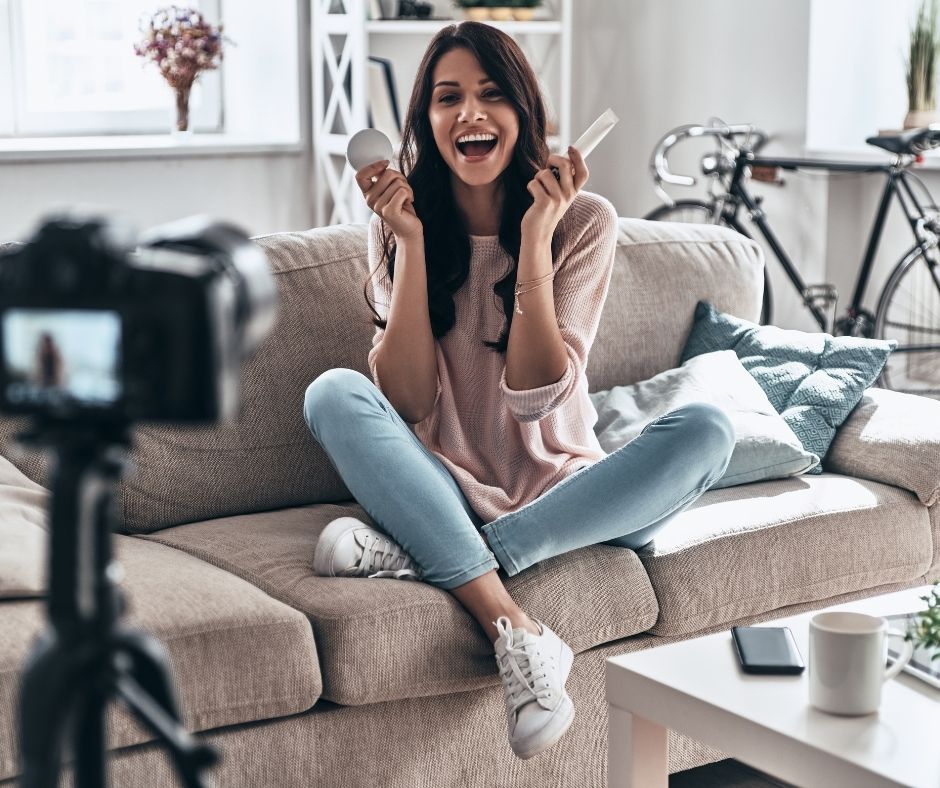 As exciting as transitioning to a remote work model has been for most companies — goodbye early commute and traffic jams, hello multitasking on your PJs — we can't deny the change also brought some unique challenges.

No longer can you pop by your supervisor's door for a quick yes-or-no, double-check with your buddy in the next cubicle how you were supposed to format a given report, or simply talk about the new Marvel movie for a couple of minutes around the water cooler.

Fortunately, video content has picked up the slack and made the transition smoother! For example, video conferencing tools help keep everyone in touch in real-time, while content like explainer videos and How-to video tutorials ensures employees always have the info they need to accomplish vital tasks.

However, those things are only possible if you learn how to put the pieces in place to leverage video in ways that contribute to the remote work model… and that's precisely what we'll be talking you through today!

Getting the Most Out of Video Conferences
Real-time, two-way communication is essential to keep any business running smoothly, so online meetings have become the new normal for remote employees.

While they may be unable to have in-person, face-to-face discussions, these video meetings still allow for team collaboration and coordination, letting managers and supervisors inform and coordinate their teams without overwhelming them with unnecessary emails or chat messages.

That said, hosting a successful video conference takes a bit of getting used to, so let's start by going over how you can get the most out of this powerful remote work tool!
1) The Right Tool for the Job
Different video conferencing tools provide unique features and benefits that make them more or less appealing to your team and company.

Some popular platforms include Zoom, Google Hangouts, Teams, TrueConf Online, Skype, FreeConference, and Slack Video Calls. You'll first want to check what each platform brings to the table and choose one that best fits your team's needs.  

2) Plan an Outline Beforehand

Whether in-person or online, all meetings need to have a planned agenda outlining what will be discussed. An agenda will also help ensure that important topics are fully covered within a specific timeframe without leaving anything important out.

Few things can be more troublesome (productivity-wise) than wasting time in unnecessary long or meandering team meetings. When you are conducting them remotely, the risk of wasting time increases.

Drafting a solid outline before a remote work meeting (and sometimes even sharing it with those who will be attending) will improve time efficiency and keep everyone on the same page despite the technical challenges of the medium.

3) Educate Your Staff on Remote Meeting Protocols

Attendees should adhere to video meeting etiquette during remote call conferences. This includes (but is not limited to) allowing others to finish speaking before contributing opinions and being mindful of any surrounding noises/distractions that could interfere with the meeting.

A good starting point is to make sure everyone mutes their mics if they are not talking and set up a signal or process when people have something to contribute (especially useful/necessary when experiencing delay issues). To get more professional, make sure to use a GDPR-compliant video conferencing API which will keep the video interactions safe for your staff.
4) Keep Your Meetings Concise

Online meetings need to be straightforward and centered around relevant topics to be effective. This is another aspect that a well-planned agenda can assist you with. You have important things to do, and so do your employees. Holding a conference should delegate tasks and coordinate efforts, ensure everyone understands what they need to do, and give room to address any questions or concerns. More than that, and you'll probably be straying away from a productive call.
5) Record The Meeting

One of the key benefits of video conferencing is that you can record live meetings. Your team can significantly benefit from these recordings as they allow them to double-check anything covered. For example, there may have been some tasks and/or instructions that weren't entirely clear or some data and references that could be useful to return to.

While you'd need to figure out storage and accessibility for the recordings, it's still worth recording your online meeting. These can always be saved and uploaded to a platform such as Google Drive for people to access.

Improve Information Delivery and Employee Engagement with Video Content
Companies rely on videos to keep their audiences informed and engaged when working remotely — especially during high-activity periods, like the launch of a new product line. However, not enough businesses leverage the same medium's power to keep their employees up to par with the tasks they'll need to tend to!

Once you transition to a remote work model, it's easy for critical (and sometimes simple) information to get lost in translation. More so when your team has to sift through copious amounts of information in texts, manuals, and guides while also adapting to working remotely. One of the biggest challenges of the remote working model lies in effectively communicating in-depth or abstract topics that you would originally handle through in-person presentations. To address this challenge, consider utilizing educational videos, and for the whole team, you may even want to consider options like translating audio to English to ensure clear comprehension. This inclusivity not only bridges language barriers but also enhances the overall learning experience, fostering a more cohesive and productive remote work environment.

Leveraging tried-and-true styles of educational videos, like how-to guides and animated explainers, can overhaul the way you communicate with a remote workforce, providing evergreen, optimized content that gets everyone on the same page about topics critical to your organization's productivity.

A few good areas of communication to start optimizing through video content include

Upcoming company initiatives.
Operational policies and processes.
Report summaries.
Employee FAQs.
Training programs.

Recruiting, Onboarding, and Training Made Easy with Videos
Using video content to assess and train new employees is becoming increasingly popular in today's corporate environment.

For example, instead of having in-person interviews, companies request that candidates send through short video recordings of them answering interview questions. This puts less constraint on them so they can provide a more genuine impression of who they are and what they can bring to the table. Moreover, these videos assist recruiters in the long run, allowing them to screen more candidates in a shorter time frame.

Onboarding new talent remotely can be made easier with suitable types of videos. For example, when teaching new hires how to perform recurring tasks, providing them with instructional video tutorials can complement the real-time calls and guidance you'll have to give them. Also, software for screen recording allows current employees to create narrated videos that demonstrate how to perform different tasks and explain why they're done in a particular way.

The added bonus is that these videos are scalable, as you can use a single good piece to train future recruits, saving valuable company time.

Last but certainly not least, employee training is another area where video content has a huge impact. Training videos have become a popular way to help employees grow and develop their skills.

Many companies that have shifted to the remote work model are launching e-learning initiatives to educate their workforce through video infographics and courses, saving the company time and resources by eliminating the need for in-person, extensive training programs.

Nurture Your Company Culture, Even Remotely!
Company culture plays a massive role in attracting potential employees, investors, and even customers in today's business landscape. If you want to attract top talent that helps you reach your goals and appeal to people as a company worth doing business with, you must showcase your organization's best side!

But nurturing and sharing your company's excellent working environment, values, and philosophy can be tricky when you handle most things remotely. But once more, leveraging video content can give you effective avenues to help.

You can organize and host events on social media platforms like LinkedIn, where employees discuss topics related to their niche or simply share common likes or hobbies they share. For example, a marketing agency could have its copywriters host a live stream focused on tips to improve business writing skills, while a tech startup may gather once a week to discuss a new gadget that just hit the stores.

Social media managers often showcase company culture by uploading culture pieces that portray the brand and its employees in the best possible light on platforms like Facebook or Instagram. I suggest videos that round up an average workday in the organization or light-hearted chats with employees discussing a common interest.

Lastly, you can invest in video content to improve and display company culture. High-quality productions that educate remote employees on the key benefits of working with your company (mental health days, cafe hangouts, your remote working platform, etc.). These videos usually include employee testimonials and spotlights of the people that comprise your company sharing their experiences.

A Few Pro Tips on Leveraging Video in a Remote Working Setup
By now, you probably have many ideas bouncing around in your head on how to start producing video content that helps you improve your company's remote working experience. But before you go, we wanted to add a few extra tips you'll want to keep in mind to make the most out of those videos you'll be making!

Create an Effective Distribution Medium
Putting all that effort into making awesome videos your team can't access easily would be pointless, so you must ensure your videos are readily available to your employees.

You can include these videos in regular internal newsletters for both on-site and remote workers to enjoy. Another way to make sure they are easily accessible would be to upload them to an online hub like Google Drive or Wistia. There, different videos can be categorized into different folders (i.e., instructional videos, company culture videos, employee FAQs) and accessed easily at everyone's convenience.

Ask for Feedback!
The types of videos we've been talking about are meant to be educational, motivational, and all-around useful for your employees, and the best way to know if you are hitting the mark (and improving your content) is to ask for feedback.

You can email anonymous online surveys to workers to make it easy for them to provide feedback on your content. You can also add forms at the end of your videos (using platforms like YouTube or Wistia) to ask them whether the content was informative and, if not, what problems were there and how to improve it.

Brand Your Videos
Ensuring every video you produce is being branded adequately conveys a higher sense of professionalism and consistency and unifies the content in your employee's eyes. The idea here is that the videos themselves convey a tone and feel that represents your brand and makes the whole thing feel unmistakably yours.

An essential starting point is to include the company logo within the video, use the brand colors in its design, and maintain a consistent tone and voice across all your branded videos. If your content makes the viewer feel like they're a part of the product and the company, you are halfway to getting your message across before you've even started explaining.


Summing Up
As you can see, when used correctly, video content becomes a powerful and convenient tool to inform, educate, and motivate remote workers. In addition, it gives you an effective and reliable way to communicate with people that might be on a different continent but are still working toward achieving the same goals!

However, since video content is so diverse, you need to make sure you are using it to streamline internal communications with remote workers in ways that add to your efforts.

Luckily video technology has opened new avenues for interaction that make effective remote working a reality many are already benefitting from, and it's time to add your organization to that list!