Upwork vs. Fiverr: Which is better? (And other alternatives)
Freelance platforms like Upwork and Fiverr have revolutionized the way we work, but which one reigns supreme? Dive into a detailed comparison of Upwork vs Fiverr and explore other alternatives to find the perfect fit for your freelance needs.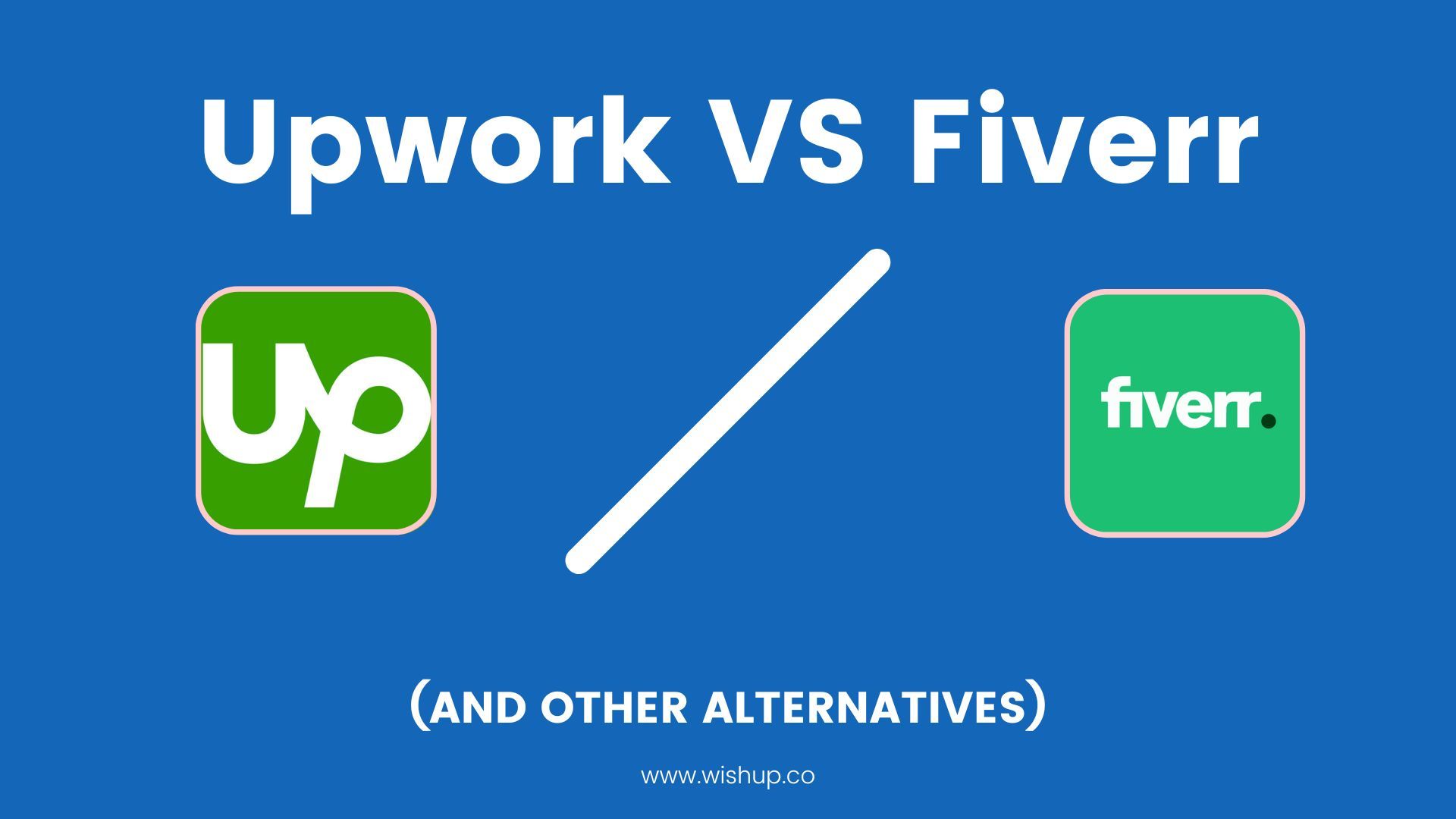 As businesses grow, they often find themselves burdened with an increasing number of tasks that are essential to their operations but are not necessarily their core competencies. These tasks, such as data entry, social media management, and customer support, can be time-consuming and distract from the company's primary focus. That's where outsourcing comes in.
Outsourcing these recurring tasks to freelance platforms can be a great way for businesses to save time and money while still getting high-quality work done. Two of the most popular freelance platforms are Upwork and Fiverr. This blog post will closely examine these platforms and compare their features, pricing, and hiring processes.
But Upwork and Fiverr are not the only options in the freelancing world. We'll also explore alternative outsourcing platforms like Wishup, which provides businesses with access to skilled executive virtual assistants who can help with various tasks. By the end of this blog post, you'll better understand the differences between Upwork, Fiverr, and Wishup and which one might be the best fit for your business needs.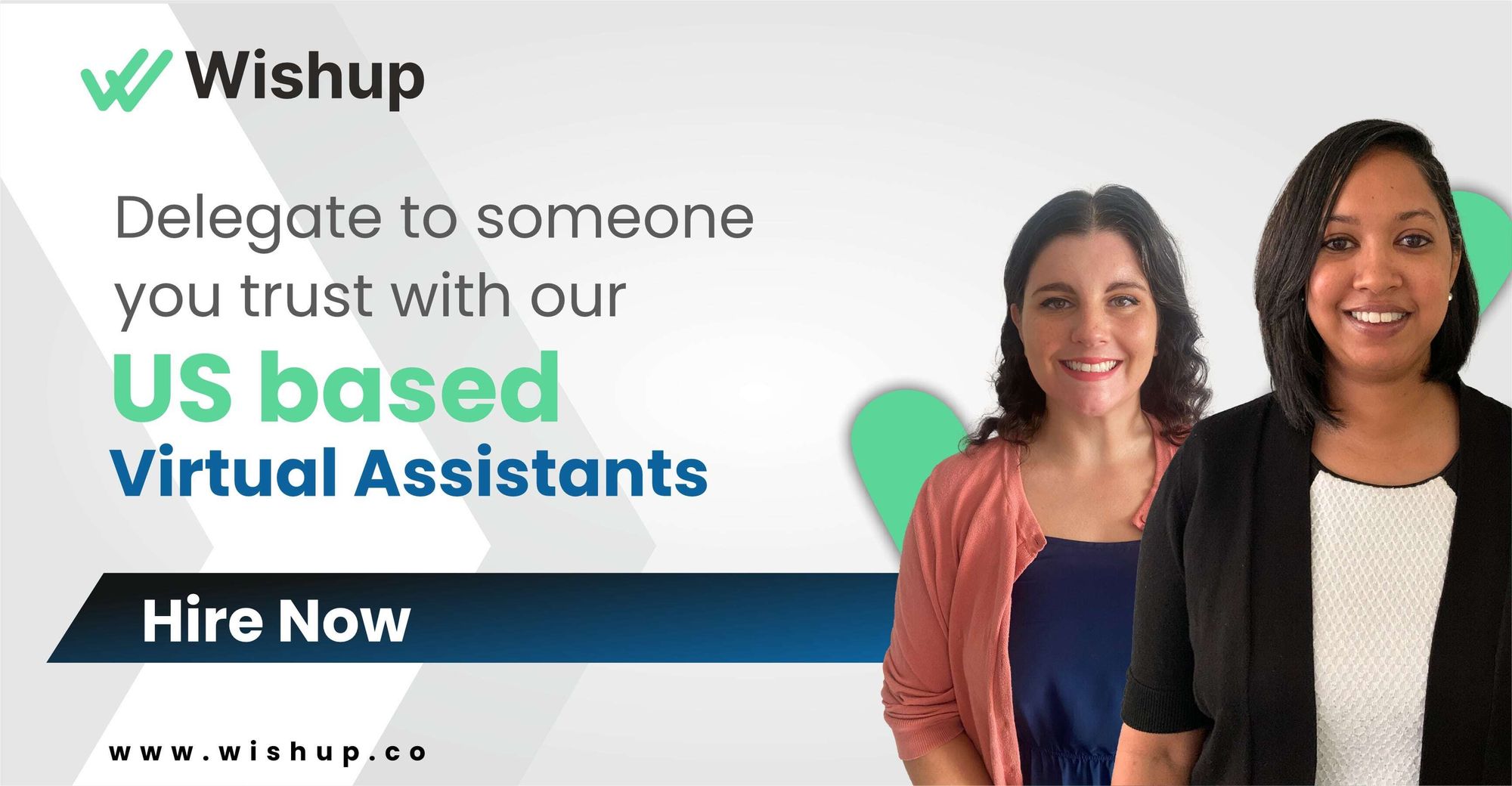 A changing workforce: Why hiring freelancers is the way to go
The traditional model of hiring full-time employees to handle all aspects of a business is no longer the only option for companies. There has been a growing trend toward outsourcing work to freelancers in recent years, and for good reason.
One of the primary benefits of hiring freelancers is the flexibility it provides. Companies can hire freelancers on a project-by-project basis or for specific tasks without committing to a long-term employment contract. This can save businesses significant amounts of money, as they only pay for the work that needs to be done.
Another advantage of hiring freelancers is access to a broader pool of talent. Rather than being limited to hiring employees within commuting distance, businesses can hire freelancers from all over the world. This provides access to diverse skills and expertise that may not be available locally.
In addition, hiring freelancers allows businesses to be more nimble and responsive to changing market conditions. Instead of being locked into a fixed workforce, companies can easily scale up or down as needed by hiring or letting go of freelancers.
Overall, the changing nature of work means businesses must be more flexible in hiring practices. Hiring freelancers can be an innovative and cost-effective way to meet business needs while staying agile in a rapidly changing market.
Upwork vs. Fiverr: A Quick Summary
Upwork:
The largest freelancing platform with over 18 million highly skilled freelancers and 5 million registered clients.
Offers a variety of services, including web and mobile development, design, writing, and more.
Allows for long-term contracts and hourly or fixed-price projects.
Offers tools for tracking Upwork freelancers' work and managing payments.
Has a project management system to keep communication centralized and efficient.
Upwork has paid over $15 billion to freelancers since its inception.
Provides a project protection feature, which ensures payment for completed work.
Supports multiple payment methods, including direct deposit and PayPal. Payment platforms like payapl charge a transaction fee. You learn more about the paypal fees using a paypal fee calculator.
Offers premium support options for clients who need extra help.
Ideal for businesses looking for high-quality work and long-term collaborations.
Fiverr:
A popular platform with over 5.5 million registered buyers and 830,000 active sellers.
Offers a variety of services, including graphic design, digital marketing, writing, and more.
Allows for fixed-price projects and packages.
Provides transparent pricing and clear seller ratings.
Offers a user-friendly interface for easy navigation and communication with sellers.
Fiverr has had over 50 million transactions since its inception.
Provides a project protection feature that holds payment until the work is completed.
Offers a mobile app for buyers and sellers to manage their accounts and work.
Provides high-quality services at affordable prices.
Ideal for businesses looking for quick, one-time projects or specific services.
Upwork vs. Fiverr: An In-Depth Analysis
Looking for top freelancer profiles? Fiverr and Upwork are two of the most prominent players in the game. But is Fiverr or Upwork better? According to Petar from Brushgalaxy that creates hair brush sets for procreate, "We love the talent pool we can access on Upwork for all sorts of design work." In this section, we'll deep-dive into both platforms, exploring their features, pricing, pros, cons, and hiring processes. By the end of this comparison, you'll clearly understand which is the right freelance platform for your business needs.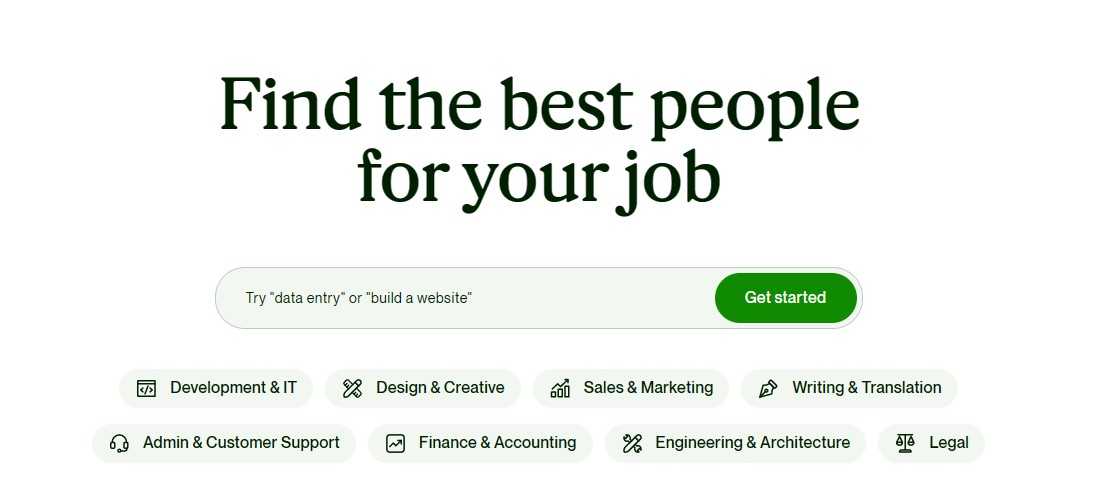 Upwork is one of the internet's largest and most well-known freelance platforms. The Upwork platform was founded in 2015 and has since then connected millions of freelancers with businesses looking to outsource work. Upwork offers a wide range of services, including graphic design, web development, content writing, marketing, and more.
Who should use Upwork:
Upwork is ideal for businesses of all sizes, whether you're a small startup or a large corporation. However, if you need to outsource work to skilled professionals, Upwork is an excellent platform for finding talented Freelancers. Freelancers on Upwork are typically experienced and have a variety of skills, making it easy to find many freelancers who can help you with your project.
Pros and Cons of Upwork:
Pros:
Large talent pool: Upwork, being a popular freelance marketplace, has a large pool of skilled freelancers from all over the world.
Customizable job postings: You can customize your job postings to attract the right Upwork freelancer for your project.
Secure payments: Upwork offers a secure payment system that protects both parties.
Cons:
High fees: Upwork charges a high fee for its services, making it expensive for businesses on a tight budget.
Competition: Due to the large pool of talent on Upwork, competition can be high for certain projects.
Limited communication: Communication between clients and freelancers is restricted to Upwork's messaging system, which can be limiting for some.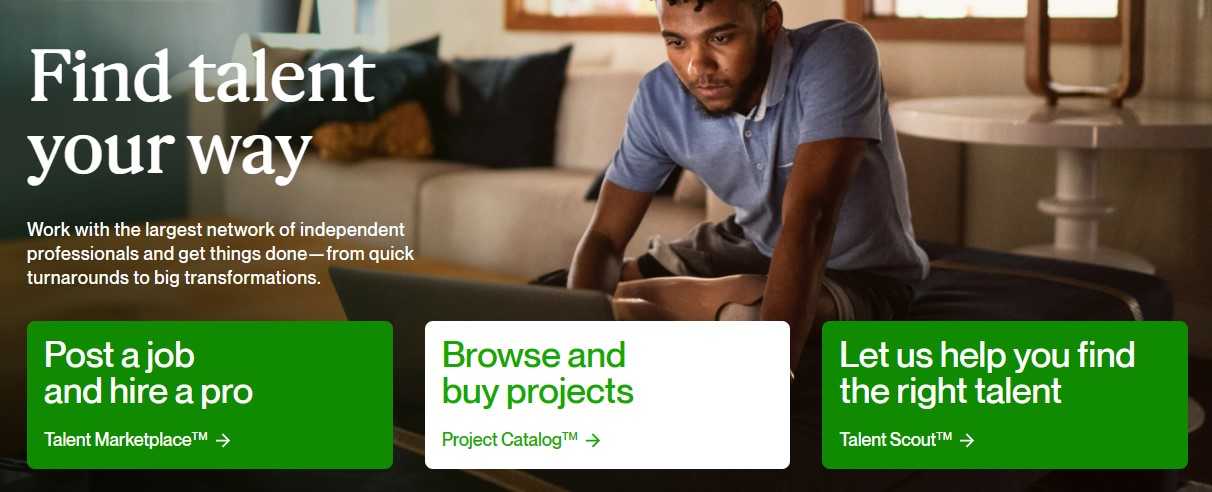 Pricing:
Upwork charges a sliding service fee based on the freelancer's earnings with a client. The service fee starts at 20% for the first $500 billed with the client and then drops to 10% for lifetime billings with the client that exceed $10,000.
How to hire from Upwork:
To hire from Upwork, you first need to create a job posting detailing the project's requirements. Once you receive proposals from freelancers, you can review their profiles, work history, and reviews to choose the right fit for your project. You can then hire a freelancer and use Upwork's messaging system to communicate and manage the project.
Fiverr

Fiverr is a leading freelance platform that provides access to a pool of skilled freelance talent globally. With over 3 million services offered and a community of over 7 million users, Fiverr has established itself as a trusted platform for businesses of all sizes.
Who should use Fiverr?
Fiverr is ideal for small businesses and startups looking for cost-effective solutions for their short-term projects. It is also an excellent platform for businesses looking for a niche freelance gig that might not be available on other platforms.
Pros and Cons
Pros:
Fiverr offers a wide range of services at competitive prices.
The Fiverr interface is easy to navigate and find the specific freelancer that's right for your business.
Fiverr provides a built-in messaging system for easy communication between clients and freelancers.
The platform offers a money-back guarantee for unsatisfied clients.
Cons:
Fiverr freelancers have to pay a 20% commission fee, which may result in higher prices for clients for hourly projects.
Quality control can be an issue, as Fiverr does not vet freelancers as thoroughly as other platforms.
Freelancers may have multiple projects at the same time, which can lead to delays in delivery times.

Pricing
Fiverr offers a range of pricing options, starting at as low as $5 per service. The pricing varies depending on the project's complexity and the freelancer's level of expertise. Fiverr also offers packages that include additional services for a higher price.
How to hire from Fiverr?
To hire a freelancer on Fiverr, clients can browse the available services, read reviews from previous clients, and select the freelancer that best fits their needs. Once a freelancer is selected, the client can communicate with the freelancer through Fiverr's messaging system to discuss project details and deliverables. Payment is processed through Fiverr's secure platform, and the client can release payment once the project is completed to their satisfaction.

Alternatives to Upwork and Fiverr
While Upwork and Fiverr are two of the most well-known freelance platforms, other alternatives may better suit some businesses' needs. In this section, we'll discuss a few of those alternatives, their unique features, and how they compare to Upwork and Fiverr. This will help entrepreneurs make informed decisions about which platform to choose for their outsourcing needs.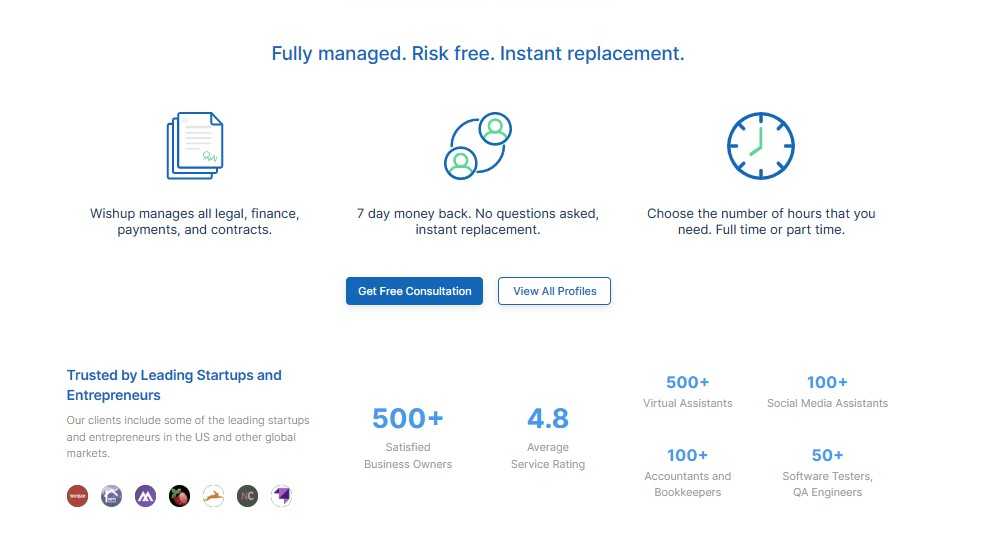 Wishup is an Indian-based virtual assistant agency offering high-quality services to entrepreneurs worldwide. The platform is known for its exceptional talent pool, sourced from the top 1% of applicants and rigorously trained in-house to handle a wide range of business tasks. Wishup's services include administrative tasks, social media management, email handling, and more, and their virtual assistants are trained in 70+ no-code tools and 200+ skill sets.
One of the standout features of Wishup is its 24-hour hiring process, which ensures a quick and easy setup for entrepreneurs. Additionally, Wishup provides an instant replacement guarantee, ensuring a worry-free experience for customers. Wishup also offers a dedicated account manager for each customer, providing personalized support and guidance throughout the hiring process.
By hiring a virtual assistant through Wishup, entrepreneurs can enjoy the benefits of a full-time employee at a fraction of the cost, without the added expenses of employee benefits. Additionally, with Wishup's highly skilled and trained virtual personal assistants, entrepreneurs can save time and resources they would have spent on training.
Compared to other virtual assistant platforms such as Upwork and Fiverr, Wishup offers a more personalized and high-quality experience. While Upwork and Fiverr may offer a larger pool of candidates, Wishup's rigorous selection process ensures that customers are matched with the most qualified virtual assistants. Wishup also provides dedicated support and guidance throughout the hiring process, which is not offered by Upwork and Fiverr.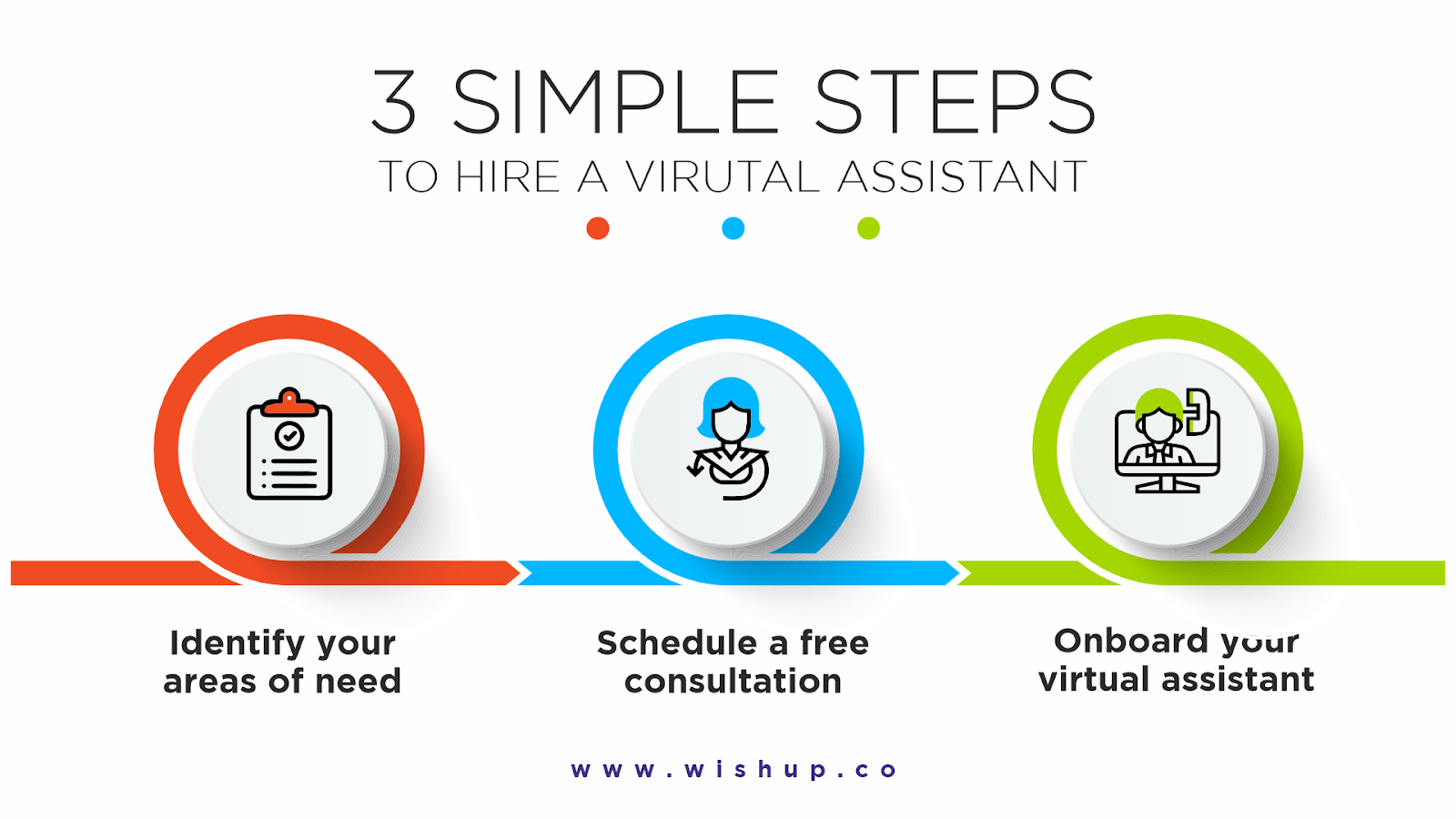 How to hire from Wishup?
If you are interested in hiring a virtual assistant from Wishup, here are the steps to follow:
Analyze your requirements: Before you start the hiring process, take the time to analyze your business needs and determine which tasks you want your virtual assistant to handle. This will help you to select the right package and virtual assistant for your needs.
Talk to our customer support: Once you have identified your requirements, you can talk to our customer support staff, who will guide you through the hiring process. They will answer questions, help you select the right package, and match you with a suitable virtual assistant.
Be prepared to onboard your virtual assistant: Once you have selected a virtual assistant, you will need to onboard them onto your team. This includes providing them with access to your systems and tools, setting up communication channels, and establishing a working relationship. Wishup's dedicated account manager will guide you through the onboarding process and ensure that your virtual assistant is set up for success.

Freelancer.com offers several unique features that set it apart from Upwork and Fiverr. One of its main selling points is its competitive pricing, which can be attractive for entrepreneurs on a budget. Additionally, Freelancer.com offers a "Milestone Payment" system that allows clients to pay freelancers in installments as they complete different project stages. This can help mitigate risk and ensure that both parties are satisfied with the work being done.
Another key feature of Freelancer.com is its vast network of users, with over 50 million registered freelancers and clients worldwide. This can provide access to a wider range of talent and expertise, especially for niche industries or specialized skills.
However, Freelancer.com does have some drawbacks compared to Upwork and Fiverr. The platform can be overwhelming and difficult to navigate, with a complex bidding system and a large number of freelancers vying for the same projects. Additionally, there have been some concerns about the quality of work on Freelancer.com, with clients reporting issues such as missed deadlines and poor communication.

Guru.com offers a unique feature called WorkRoom, which allows clients to collaborate with freelancers in real time. Clients can track project progress, send messages, and share files all in one place. This makes communication more efficient and streamlined, leading to faster project completion times.
Compared to Upwork, Guru.com has a smaller pool of freelancers, but they are highly skilled and experienced. The platform also offers better customer support and dispute resolution services. However, Guru.com charges a higher commission fee compared to Upwork.
Compared to Fiverr, Guru.com offers a wider range of freelance services and has a larger pool of skilled professionals. The platform also offers more flexibility in terms of project scope and pricing. However, Fiverr's pricing is more transparent, and clients can easily browse through a range of freelancers and services.

PeoplePerHour is a great alternative to Upwork and Fiverr because of its unique features.
One of its standout features is the ability to browse through freelancers' profiles and see their availability, pricing, and past work experience. This makes it easier for clients to find the right freelancer for their projects. PeoplePerHour also provides a "WorkStream" feature that allows clients to communicate with freelancers in real time and track their progress.
In terms of pricing, PeoplePerHour charges a commission fee of 20% on the first £250 of a project's value and 5% on the remaining amount. This makes it a more affordable option than Upwork, which charges a 20% fee on the first $500 billed with each client, and 10% fee for lifetime billings with clients between $500.01 and $10,000, and 5% for billings with clients that exceed $10,000.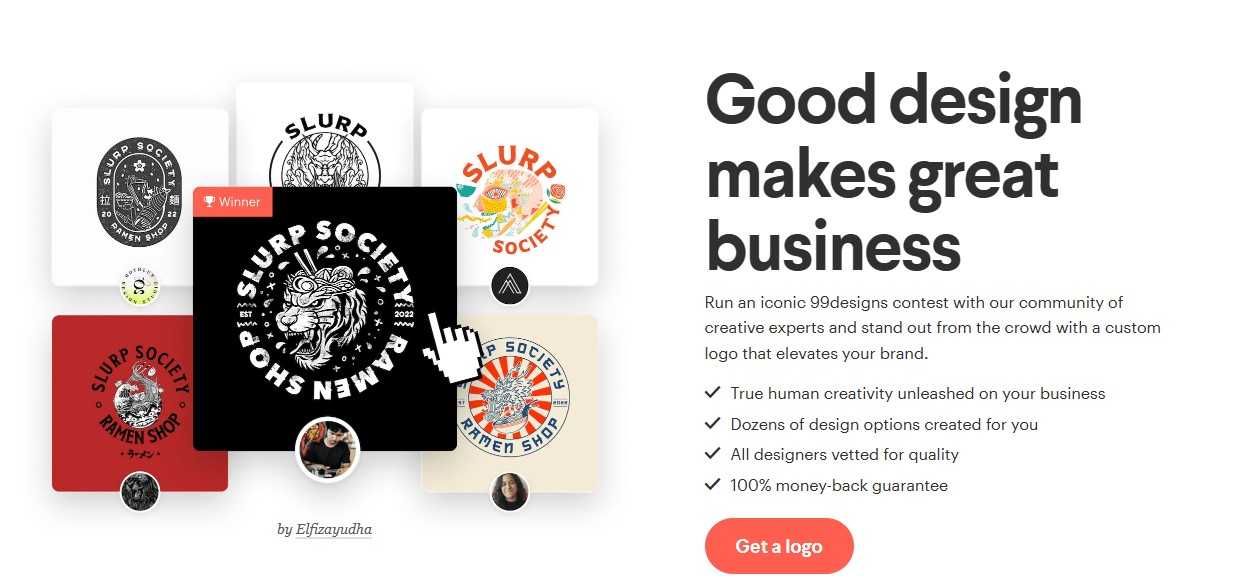 99designs is a platform that focuses on graphic design services. Freelancers can create their profiles and showcase their portfolios, and clients can browse through them and hire the ones they like. 99designs offers a range of design services, including logo design, web design, and packaging design. The platform also provides a design contest option, where clients can invite multiple freelancers to submit their designs and choose the best one.
Compared to Upwork and Fiverr, 99designs has a more specialized focus on graphic design, which may be a better fit for businesses that have specific design needs. Additionally, the design contest feature can efficiently get multiple design ideas from various freelancers. However, since it's limited to design services, clients looking for other types of freelancers will need to consider other platforms.

Freelancermap is a platform that connects businesses with freelance IT professionals specializing in services specific to the industry. Unlike Upwork and Fiverr, Freelancermap offers free job postings and does not have a bidding system, allowing businesses to contact freelancers directly for work.
The platform has a smaller pool of freelancers than its competitors, which may not be suitable for businesses looking for a wide range of services or those needing to hire quickly.
Freelancermap is a good option for businesses seeking specialized IT services and who want to save time by avoiding the bidding process. However, businesses should carefully consider their needs and priorities before choosing a platform to outsource their work.

FlexJobs is a job search platform that focuses on remote, flexible, and freelance work opportunities, making it a direct competitor to Upwork and Fiverr.
They offer a wide range of job categories and have a strict screening process to ensure that all job postings are legitimate. In addition, FlexJobs specifically targets remote work opportunities, making it a great option for businesses looking to hire freelancers who can work remotely. They also have a wide range of job categories, including freelance, part-time, and full-time positions, making it a versatile platform for businesses to find the talent they need.
However, FlexJobs requires a membership fee to access job postings, which can disadvantage businesses with limited budgets. Overall, FlexJobs is a great option for businesses looking to hire remote talent, and flexible and freelance work opportunities, focusing on legitimacy and trustworthiness.

Simply Hired is a job search engine with freelance and contract work opportunities.
The platform offers a wide range of job categories, making it versatile for businesses to find the needed talent. In addition, one of the unique features of Simply Hired is its global reach, allowing businesses to find talent from all over the world.
However, Simply Hired does not offer the same level of freelancer vetting and screening as some other platforms, which may concern businesses looking to ensure quality and trustworthiness. Another potential disadvantage is that Simply Hired aggregates job postings from other platforms, so businesses may need to navigate through duplicate or outdated postings.
Despite these limitations, Simply Hired makes sense for businesses looking for global freelance and contract work opportunities, with a user-friendly interface and easy navigation.
Conclusion
As we come to the end of our comparison of Upwork vs. Fiverr and the alternatives in the outsourcing world, it's clear that there is no one-size-fits-all solution. Instead, each platform has unique strengths and benefits, and businesses must weigh their options carefully to determine which is best for them.
At the end of the day, the key to successful outsourcing is to remain adaptable, informed, and always willing to explore new options. By staying ahead of the curve and partnering with the right platform, businesses can tap into a world of talent, creativity, and expertise that would otherwise be out of reach. And that, ultimately, is what makes the world of outsourcing so exciting and full of possibilities.
If you want to start your outsourcing journey and build a talented remote team of virtual assistants, click here to schedule your free consultation or drop us a mail at [email protected]
Frequently Asked Questions
Is Fiverr better than Upwork?
It's subjective and depends on your specific needs. For example, Fiverr may be better if you're looking for lower-priced services, while Upwork may be better if you're looking for more professional services. However, if you're looking for a high-quality virtual assistant, consider trying Wishup's services.
Who is the biggest competitor to Upwork?
Upwork has several competitors in the freelancing platform space, including Fiverr, Freelancer.com, and Guru.com. However, Wishup is a rising competitor because it focuses on quality and customer satisfaction.
Which is cheaper, Upwork or Fiverr?
Fiverr is generally cheaper than Upwork, but it's essential to consider the value and quality of the services provided. While Wishup's rates may be slightly higher than other platforms, its focus on quality and customer satisfaction, as well as features like a dedicated account manager and instant replacement policy, make it a worthwhile investment for businesses in need of hiring a VA.