What makes Wishup a better virtual assistance provider than Toptal, and why?
In this blog post, we will compare two renowned companies in the virtual assistant space: Wishup and Toptal. Both companies offer virtual assistant services, but each has unique features and pricing models. We hope to help you make an informed decision by comparing the two companies.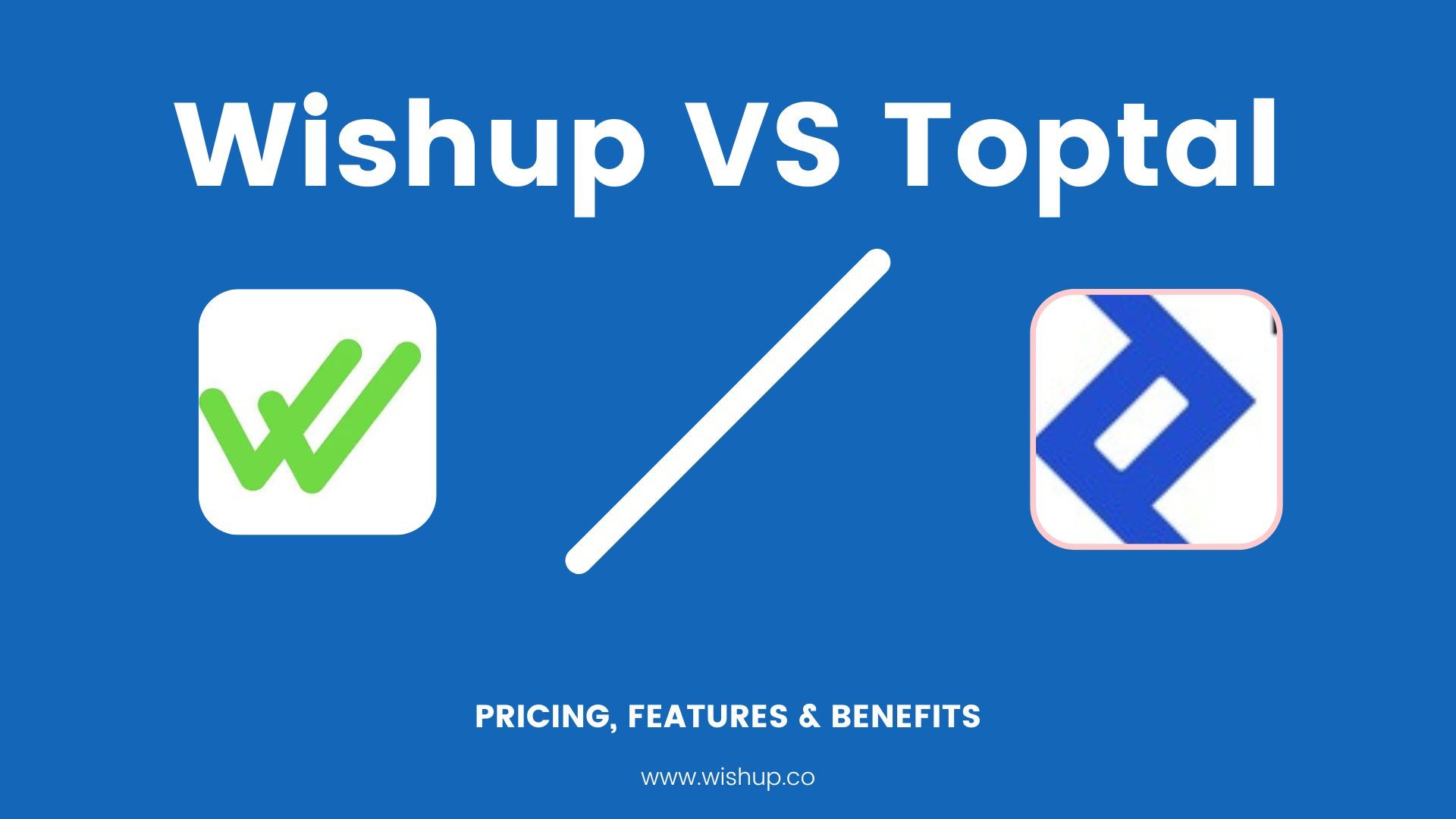 As an entrepreneur or small business owner, you know that time is one of your most valuable assets. However, you also know that there are only so many hours in a day, and you can't do everything yourself. That's where virtual assistant (VA) services come in. These services allow you to outsource specific tasks and free up more time for the more critical aspects of your business.
In this blog post, we will compare two renowned companies in the virtual assistant space: Wishup and Toptal. Both companies offer virtual assistant services, but each has unique features and pricing models. By comparing the two companies, we hope to help you make an informed decision on which virtual assistant service is the best fit for your business needs.
But first, let's explore the role of a virtual assistant and, specifically, how they can benefit small business owners.
Who is a virtual assistant?
Virtual assistants (VAs) are independent contractors who assist clients in many areas of running a business from a remote location. They work independently, usually from their own office or home, and communicate with clients via the internet, phone, and email. While some virtual assistants are self-employed, most work for an outsourcing agency, such as the two companies we are discussing - Wishup and Toptal.
Virtual assistants can take on many tasks, from scheduling appointments and managing emails to social media management and data entry. This allows entrepreneurs to focus on the more critical aspects of their business. They are an excellent option for entrepreneurs, small business owners, and busy professionals who need help with tasks that are essential to running their business but don't have the time or resources to handle them themselves.
Virtual Assistants are known for their flexibility; entrepreneurs can hire them flexibly, which means you can have them work on your schedule, whether a few hours a week or full-time. This gives entrepreneurs the help they need without worrying about the overhead costs of maintaining an office or hiring full-time employees.

Why virtual assistance makes sense for small businesses?
Increased productivity - With a virtual assistant available to take care of all the backend work, entrepreneurs will have time to focus on the more important aspects of their business.
Cost efficiency - Hiring a virtual assistant can save entrepreneurs significant money in overhead costs, office space, and equipment expenses. Additionally, the cost of hiring a virtual assistant is significantly less than that of a full-time employee, considering entrepreneurs don't need to bear costs like insurance, bonuses, or paid time off.
Flexibility - Virtual assistants can be hired flexibly, so you can have them work on your preferred schedule. Whether you need full-time assistance or part-time, you'll definitely find a virtual assistant who fits your schedule. This is incredibly convenient for businesses with clients in other timezones, as your VA can respond to their queries and concerns even while you're asleep.
Scalability - You can scale up or down your virtual assistant services as your business needs change. If there's a sudden surge in demand, you can hire more VAs without any long-term commitments, or contracts, as virtual assistants can work on short-term projects as well.
Access to industry experts - Many virtual assistants have specialized skills, such as experience in marketing or website development. While you have your own strengths as an entrepreneur, no one can be a master of all trades, and some specific tasks, like bookkeeping, are best left in the hands of experts, like virtual assistants.
Time savings - Virtual assistants can take care of time-consuming tasks, freeing up more time for business development. With a virtual assistant, you can have time to focus on business strategy, get back to a forgotten hobby, or spend time with your family.
Increased efficiency - Virtual assistants can help streamline your operations, increasing efficiency and reducing errors. They have office experience and will use their exceptional organizational skills to maximize productivity and streamline operations.
Greater work-life balance - By outsourcing tasks to a virtual assistant, entrepreneurs can achieve a better work-life balance. Say goodbye to working weekends and late night shifts, as your virtual assistant will be there to do the heavy lifting.
Increased scalability - Virtual assistants can help your business grow by taking on more tasks as needed. As they become more familiar with your organization, you can use their skills in more important parts of your operations.
Improved customer service - Virtual assistants can help manage customer service inquiries, improving customer satisfaction and loyalty. Happy customers lead to a successful business, and a virtual assistant will ensure that your clients are promptly answered, and all their concerns are dealt with.
All these benefits of working with a virtual assistant can improve your business's efficiency and profitability. They allow entrepreneurs to focus on what they do best, growing their businesses and being more productive in the process. With the help of a virtual assistant, entrepreneurs can achieve a better work-life balance and have more time to focus on their personal life. They can also help with customer service, improving customer satisfaction and loyalty, leading to increased revenue and profits.
Now that we understand who a virtual assistant is and how they can help small businesses thrive, let's explore these virtual assistance agencies in detail and compare their features, benefits, and prices.

Wishup is a leading virtual assistant company that was established in 2015 with its headquarters in India. The company is founded by Neelesh Rangwani and Vivek Gupta, an entrepreneur duo from one of the country's most prestigious colleges. The company provides various virtual assistant services to global entrepreneurs and businesses.
These services include scheduling appointments, managing emails and projects, data entry, customer service, bookkeeping, and more. In addition, the company prides itself on its ability to bridge the gap between Indian talent and global entrepreneurs by providing virtual assistants tailored to meet each client's specific needs. The best part about hiring from Wishup is that the VA will be onboarded to your company within 24 hours of your free consultation.
The virtual assistants at Wishup are hand-picked, intelligent, dedicated, and experienced professionals who have undergone a rigorous hiring process by the company. This ensures that only the top 1% of applicants make the cut, guaranteeing clients the best possible service. The company offers its clients both Indian and US-based virtual assistants.
Wishup's virtual assistants have helped over 500 businesses save time and money by handling tasks that would otherwise take up valuable time and resources. Quality of service is one of their main priorities, which is why they have received a consistently positive rating of 4.8/5 from their clients.
Wishup's virtual assistants are equipped to handle everything from administration to travel planning, so you can focus on growing your business. Overall, Wishup is a company that offers a one-stop-shop for all your virtual assistant needs and prides itself on its ability to understand the specific needs of its clients.
Services offered by Wishup
Wishup is a premier virtual assistant company that aims to empower entrepreneurs to stay focused on growing their businesses by single-handedly taking care of all the background work. Their virtual assistants are equipped to handle a broad range of tasks, including
Administration: Wishup can help you with various administrative tasks such as managing your schedule, organizing your inbox, planning travel, data entry and management, research, and CRM management.
Bookkeeping: Wishup's virtual assistants can assist you with various bookkeeping tasks, including Quickbooks management, accounts payable and receivable, reconciliations, and preparation of financial statements.
Project Management: You can delegate many project management tasks to your Wishup VA, such as team coordination, risk management, timeline management, and budget tracking.
Social Media: The virtual assistants at Wishup are experts in social media management tasks such as scheduling posts, creating accounts, tracking metrics, and monitoring analytics.
E-commerce: Wishup's VAs can also assist you with e-commerce tasks such as categorizing transaction data, processing merchant fees, and tracking returns and replacements.

Why choose Wishup?
Opportunity to work with the top 1%
At Wishup, we go the extra mile to ensure you get top-quality virtual assistance. We only hire the cream of the crop - the top 1% of assistant candidates - so you can be sure that you're receiving exceptional service from highly skilled and capable professionals.
Quick onboarding in 24 hours
Joining Wishup is straightforward and convenient; once you've completed the free consultation, you can get your virtual assistant within 24 hours. Quite impressive, don't you think?
Pre-Trained Virtual Assistants
Wishup's virtual assistants have undergone rigorous training to ensure they have all the necessary skills before working on a project. This ensures that they start providing efficient and effective customer service without any delays.
Easily available
Wishup ensures that customers can access a virtual assistant when they need one. If the current virtual assistant cannot fulfill the role, another one will be assigned without hassle or delay. This way, you can always rely on Wishup to get access to help quickly and easily. Wishup ensures that customer satisfaction remains high and any potential issues can be addressed promptly.
Trial period to test the services
Wishup allows you to sample their virtual assistant's services through a week-long free trial period before signing up for any long-term agreement. This way, customers can easily assess whether the assistant will meet their needs before making a final decision.
Client Success Manager to oversee projects
To ensure a smooth user experience, Wishup assigns a dedicated customer support manager to each client. This way, clients can get help whenever needed, and the virtual assistant is always running efficiently. As a result, customers are guaranteed to have an intact experience with the added bonus of prompt resolution to any issues which may arise.
Both US and Indian Virtual Assistants are available
Wishup lets you to choose virtual assistants from both the U.S. and India, so you can pick whichever one fits your needs best without compromising. Therefore, you no longer have to make a hard decision between the two countries.
100% Confidentiality
Wishup takes data privacy and security seriously and requires all their VAs to sign an NDA before being assigned to any client. This is done to guarantee the safeguarding of all sensitive data.
Wishup's Pricing Plans
Wishup provides a range of cost-effective pricing plans to accommodate customers' needs. For example, hourly rates are offered starting at just $10 and monthly packages featuring either 4 or 8 hours are available for those with recurrent requirements.
Get 4 hours of service daily for a whole month at only $999!
For the 8-hour daily monthly plan, the cost is $1799.

How to hire a Virtual Assistant from Wishup?
Free consultation: Book an appointment for a free consultation with the team. A personal customer success manager will be assigned to discuss your project needs and goals. Make sure to outline what you are looking for so they clearly understand your expectations.
Choose your VA: Following your cons, you'll be presented with a few virtual assistant options that meet your preferences. After selecting the one that fulfills your requirements, you can appoint them for the job.
Prepare to onboard: With a virtual assistant at your side, you're ready to start! And don't worry if you need any help or have questions during this process; your Client Success Manager is here for you.

Toptal is a global talent network in business, design, and technology. It was founded in 2010 by Taso Du Val and Breanden Beneschott and is headquartered in New York City, USA. The company's mission is to help businesses rapidly scale their teams by providing access to the top 3% of talent in their respective fields. They provide a platform for businesses to connect with, interview, and hire freelance talent in various disciplines, including software development, design, finance, and project management. In addition, they have a rigorous screening process that only accepts the top 3% of applicants, ensuring that the talent they provide is of the highest quality.
Toptal's network of freelancers comprises experts in their fields with a proven track record of success. This allows businesses to quickly and easily find the talent they need to grow their teams and achieve their goals.
Many clients use Toptal's services, and they have a dedicated team that works with clients to understand their specific needs and match them with the best talent for the job. Toptal also provides a risk-free trial period, which allows clients to work with freelancers on a project basis before committing to a long-term engagement.

Source: Toptal
What services does Toptal offer?
Source: Toptal

Software development: Toptal provides access to top software developers who specialize in various technologies and programming languages, including Java, Python, Ruby, and more.
Design: Toptal's network includes top designers specializing in graphic design, user interface design, and user experience design.
Finance: Toptal offers access to top finance professionals, including financial analysts, accountants, and investment bankers.
Project management: Toptal provides access to top project managers who have experience leading and managing projects in various industries.
Product management: Toptal provides access to top product managers who have experience in product development, strategy, and launching new products.
Toptal's Pricing Plans
Toptal does not publicly disclose its pricing plans on its website, as the cost of its services is determined on a case-by-case basis based on the specific needs of the client and the talent required for the project. The company generally works on a project basis, and the cost will vary depending on the scope and duration of the project.
It is worth noting that Toptal's rates are generally higher than those of other freelance platforms because of its freelancers' high level of expertise and experience. Their prices are said to range between $80-200 per hour.
How to hire talent from Toptal?

Talk to an industry expert - this preliminary call is scheduled for Toptal to understand your concerns and requirements.
Get introduced to talent - you will be paired with a freelancer in a couple of days.
Start working - you can begin working on a trial basis and continue the contract if satisfied with the freelancer's services.
It's time for the verdict.
When it comes to hiring virtual talent, both Toptal and Wishup are great options, but if you're looking for an affordable and versatile option, Wishup is the way to go.
They onboard the top 1% of talent, offer a wide range of skills, and can onboard new hires in just 24 hours. This allows businesses to quickly and easily find the talent they need to grow their teams and achieve their goals.
Additionally, the platform is designed to be user-friendly, making it easy for businesses to manage their projects and payments. Their in-house app lets you quickly monitor how your virtual assistant spends their time and ensures they're accountable.
On the other hand, while Toptal is known for its industry-specific hiring process that only accepts the top 3% of applicants, it comes at a premium cost. While they have some of the most qualified experts in the market, they are pretty expensive and take 48 hours to onboard, compared to Wishup's 24-hour onboarding.
In conclusion, Wishup is the perfect choice for businesses looking for a versatile and affordable solution to find the best talent for their needs. So, if you're looking for a cost-effective solution that offers a broader range of skills and a fast onboarding process, Wishup is an excellent option to consider.

Wishup - where top talent and affordability meet. Hire today!
Virtual assistants are a valuable asset to consider when it comes to increasing efficiency and productivity in a business. They can handle various tasks and can be a great help for businesses looking to delegate tasks. However, when hiring virtual assistants, businesses should settle for nothing but the best. And where better to find top talent than on Wishup? Schedule your free consultation today, or drop us a mail at [email protected] for more details.