Completing yearly renewals, filing for patents and other intellectual property can drain your time and energy big time. If piles of paperwork and virtual documents are overwhelming you, it is time to hire a virtual assistant.
As a small business owner, the two things you always lack are time and funds. While you can arrange funds in multiple ways, time management is something that keeps slipping out of your hands.

In addition, if your business is contract-based and deals with copyrights, trademarks, etc., you need a solid contract management system to handle intellectual property rights. But is that enough to grow your business?
It takes unbelievable amounts of time and resources to manage intellectual property; if you can't do that properly, prepare to face the consequences. Business owners often end up losing data and risk its safety because of data mismanagement.

How to successfully manage an intellectual property?
Data management takes plenty of time, resources, and skills. While operating a small business, you can't master all the areas. This is where a virtual assistant enters. They can help you with intellectual property management and establishing an effective contract management system.

How?

Virtual assistants help small business owners, CEOs, and CTOs, basically anyone who requires help remotely. They have vast experience in handling data and documents. So now you may ask questions like - with what all things can a virtual assistant help me? Where should I look for a virtual assistant? How can I trust someone with my data? And so much more.

We predicted this and have come up with worthy information that you can use when you hire a virtual assistant for document renewals, patent management, getting trademarks, and handling IPR (intellectual property rights).
Further, this blog informs you about the other virtual assistant tasks and things you should know about before hiring a virtual assistant.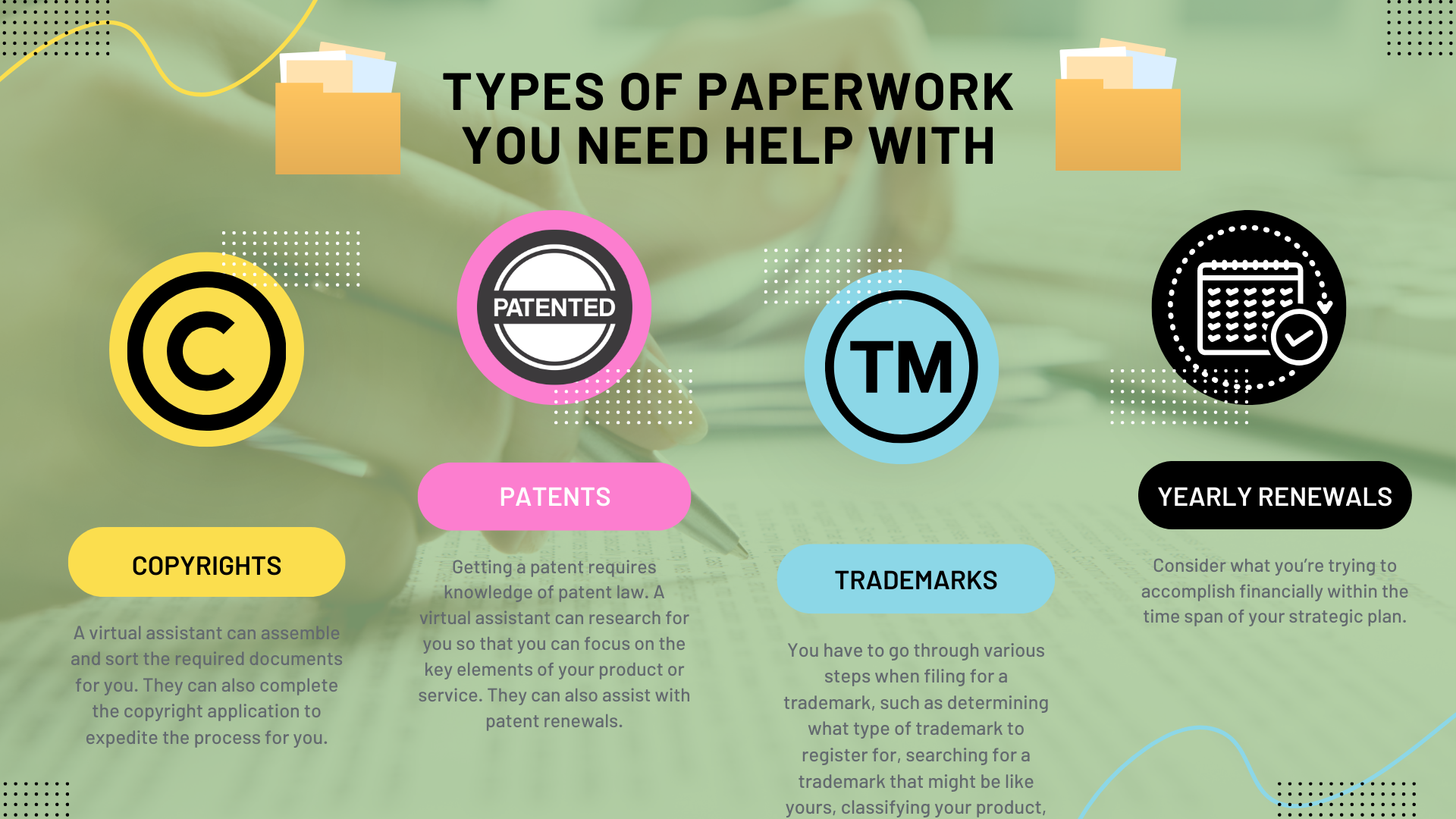 Types of Paperwork you need help with

Copyrights: Writers, authors, and other creative individuals usually need assistance to get a copyright. The US Chamber of Commerce describes copyright law as - "Copyright law applies to creative ideas that are transferred to a tangible medium of expressions, such as a piece of literature, art, music, architecture or performance."
A virtual assistant can assemble and sort the required documents for you. They can also complete the copyright application to expedite the process for you.
Patents: The United States Patent and Trademark Office (USPTO or Office) describes a patent as, "A patent for an invention is the grant of a property right to the inventor, issued by the United States Patent and Trademark Office. Generally, the term of a new patent is 20 years from the date on which the application for the patent was filed in the United States or, in special cases, from the date an earlier related application was filed, subject to the payment of maintenance fees."
Getting a patent requires knowledge of patent law. A virtual assistant can research for you so that you can focus on the key elements of your product or service. They can also assist with patent renewals.

Trademarks: "A trademark (or service mark) is a word, name, symbol, or device used in trade with goods to indicate the source of the goods and to distinguish them from the goods of others. A service mark is the same as a trademark except that it identifies and distinguishes the source of a service rather than a product." - as per USPTO.
You have to go through various steps when filing for a trademark, such as determining what type of trademark to register for, searching for a trademark that might be like yours, classifying your product, selecting your application form, etc.

Hire a virtual assistant to deal with all these steps. Your virtual assistant can research and find quick & best ways to file for a trademark for you.

Yearly renewals: Every business thrives on contracts and agreements. And year on year, they increase. It means that business owners have to spend time on annual renewals. However, as the business scales up with each passing year, time shrinks, and workload increases for you.
You can add yearly renewals to virtual assistant responsibilities. They can virtually organize all the paperwork for you, ensuring you have more time for other essential tasks.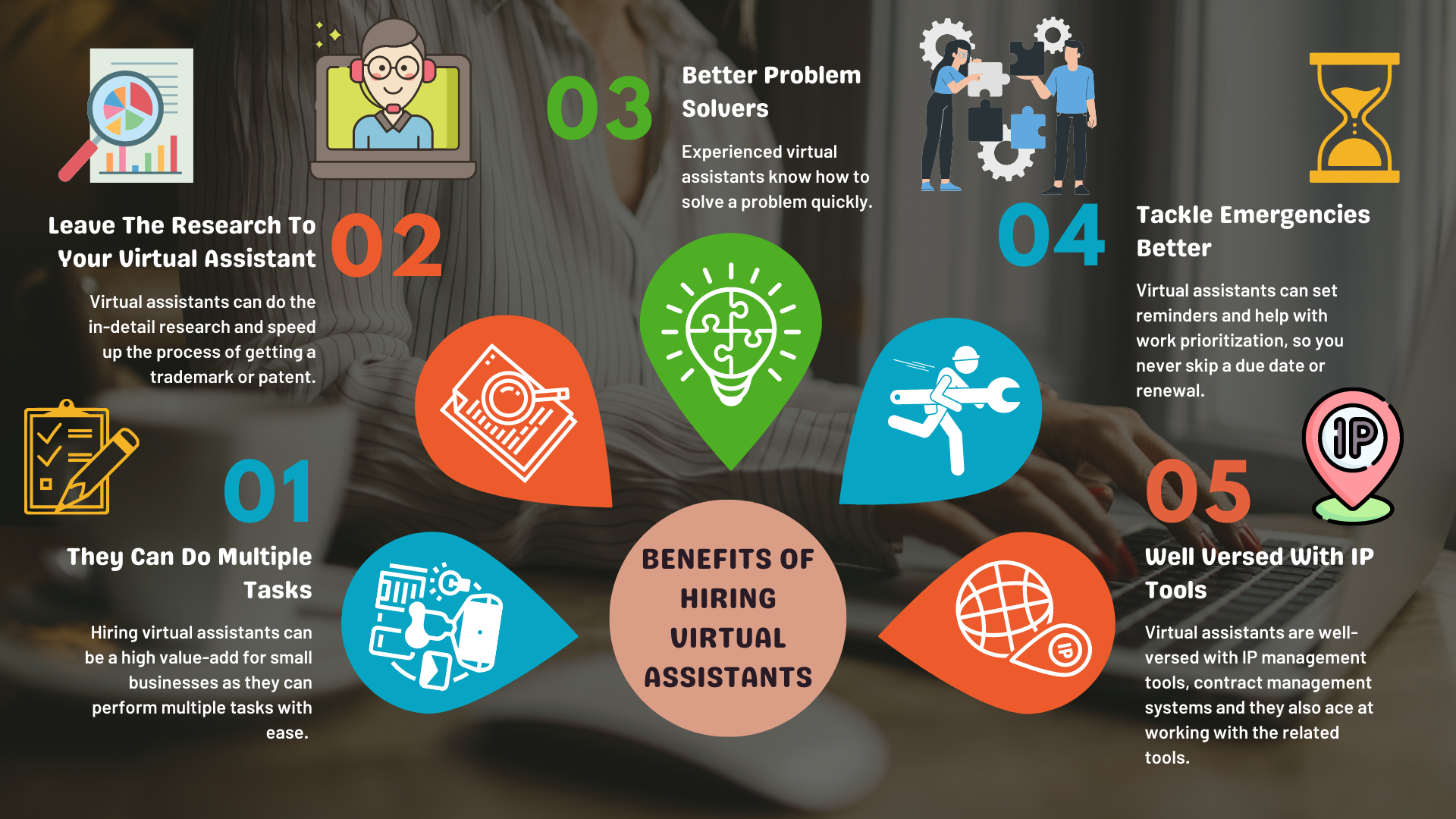 Hire a virtual assistant for these benefits
Above mentioned points are specific to Intellectual property rights. But what are the other benefits of hiring a virtual assistant?

They can do multiple tasks: Virtual assistants wear multiple hats as they can manage your calendar, book appointments, to-do list management, handle your schedule, set reminders, and do much more. As a result, hiring a virtual assistant can be a high-value add for small businesses.  

You can leave the research part to your virtual assistant: It requires much effort, time, and resources to conceive an idea and bring it to reality. Now, imagine if you have to spend additional time and energy on researching 'how to get a patent in the US for your product or service. Virtual assistants can do the in-detail research and speed up the process of getting a trademark or patent; meanwhile, you can focus and work on your idea/product.

They are better problem solvers: Virtual assistants are highly-experienced professionals. When a virtual assistant works with you, chances are that they have already worked with a client like you - handling similar data and helping with similar projects. As a result, they know the drill and can solve a problem for you quickly.

You can tackle emergencies better with virtual assistants: Your virtual assistant ensures that you avoid problematic situations like last-minute renewals and filing papers a day before the due date. Small business owners are extremely busy, and missing essential dates is common for them. Virtual assistants can set reminders and help with work prioritization, so you never skip a due date or renewal.

They are well-versed with IP tools: Tracking trademarks, copyrights, patents, and other intellectual property is made easier with the help of intellectual property management. However, you need to sit and learn the software to work on it with confidential documents.
Virtual assistants are well-versed with IP management tools and contract management systems. Not only do these tools, but they also ace at various tasks, so they know how to work with the related tools. For instance, project management tools, invoicing tools, workflow management tools, etc.  

Intellectual Property Management software for virtual assistants

Pattsy Wave is a robust, automated docketing tool with integrated IP business logic intended to boost accuracy, decrease risk, and streamline IP operations. Pattsy Wave is made for IP professionals or virtual assistants who want a piece of software that will boost their productivity and adapt to their changing needs. Pattsy Wave combines complex IP business logic with a remarkably simple user interface that supports access from everywhere, at any time.

A distinctly unique type of IP docketing solution, Alt Legal is a feasible option. Its primary goal is to simplify the work of trademark professionals. With automated docketing of USPTO and CIPO deadlines, one-click reporting, intelligent email templates, personalized email reports, calendar sync, TEAS integration, trademark watch, and collaboration software, the platform goes above and beyond what you expect from legacy docketing systems.

Cloud-based, next-generation IP management software from IPfolio aids in all facets of building and maintaining a corporate IP portfolio. By connecting IP assets to products, markets, and revenue streams, IPfolio enables IP management at a strategic level and lowers costs. It also improves visibility into the IP portfolio, facilitating collaboration and decision-making across international teams and facilitating IP management within global teams.

Through collaborative automation tools, AppColl provides a user-friendly cloud-based patent & trademark management system to increase productivity. Multinational corporations and patent agencies use it to efficiently draft and submit better patents. In addition, Appell Prosecution Manager is a cloud-based IP management tool created to significantly boost productivity while lowering the expenses and risks associated with managing a patent office or corporate IP group.

Anaqua assists businesses and law firms in using the intellectual property for their benefit. A virtual assistant can speed up the processes with this cutting-edge contract lifecycle management solution that fosters creativity, protects IP, and provides the intelligence required to make judgments in the current context. ANAQUA integrates workflow, collaboration, docketing, visualization of data, and global patent analytics in a SaaS platform to give you new levels of productivity and insight so you can make wiser, more competitive business decisions.

A high-performance cloud-based docket reminder system for intellectual property is called DocketTrak. With links to the USPTO, CIPO, AU, and EU offices, it manages your patents and trademarks. It offers daily reminder reports of approaching events and due dates in addition to providing real-time updates of your events and due dates. The most notable feature of DocketTrak, which sets it apart from other docketing systems, is how simple it is to use.

ClaimMaster is a program for checking and analyzing patents. By automatically checking patent documents for errors, this software enables you to produce integrated, holistic, and well-written patent applications. ClaimMaster also automates a variety of litigation and patent prosecution tasks. In addition, the most recent versions of Microsoft Word are fully integrated with ClaimMaster.

Decipher is a system of tools for boosting creativity, understanding your portfolio, and utilizing your intellectual resources.

The next challenge for small business owners is data security. We have already discussed above that mismanaging data can land businesses into serious troubles like wasted labor resources, enormously expensive legal costs, etc. But does this mean that you should not hire a virtual assistant? Absolutely not.

Small business owners are so busy that hiring a virtual assistant becomes necessary. Hence, some measures must be followed to ensure data safety.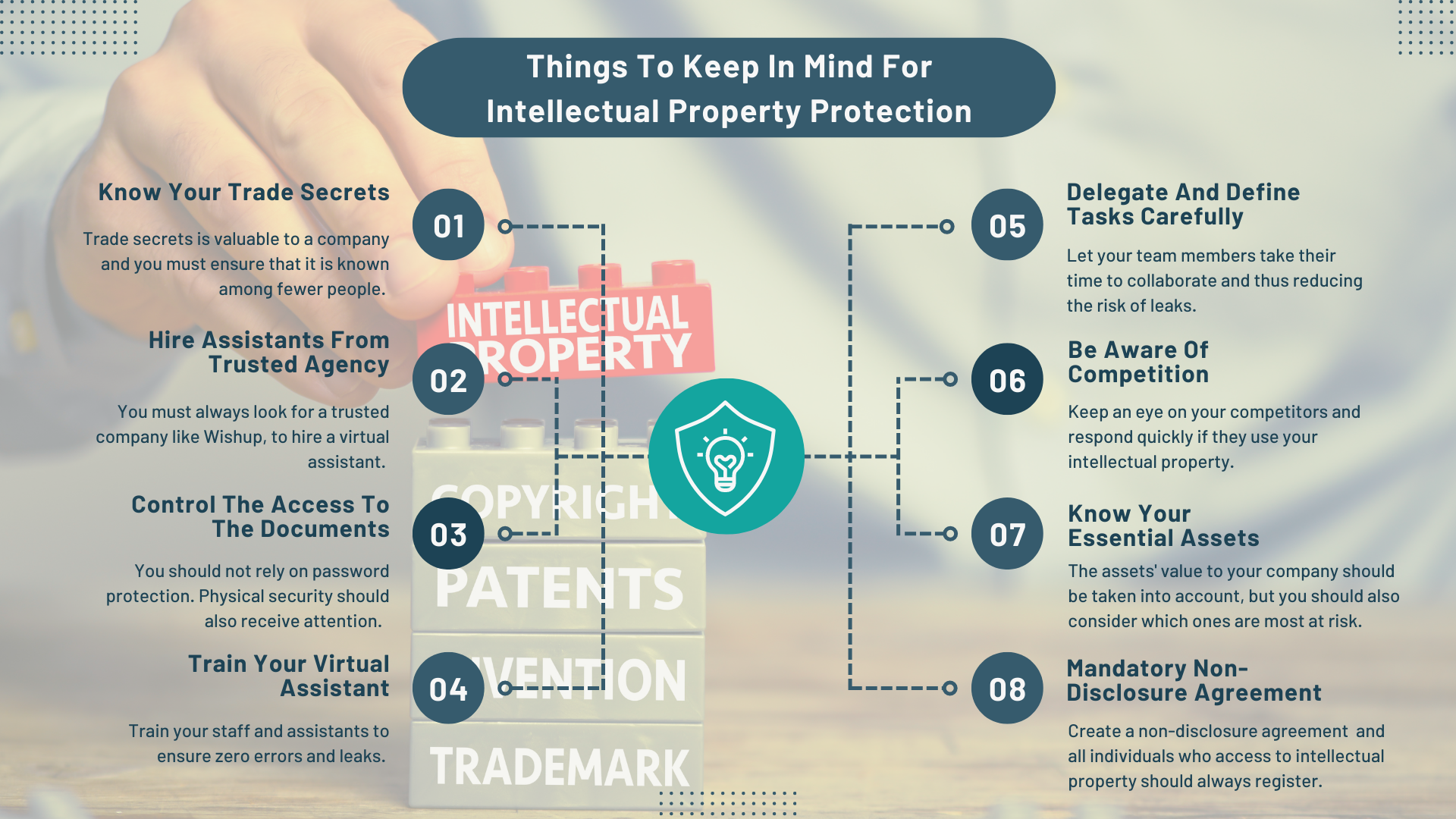 Things to Keep in mind for intellectual property protection

Know your trade secrets: A trade secret is anything that keeps you ahead of your competition. The list of such things may consist of devices, data, formulas, and patterns. A trade secret must be valuable to your company, and you must demonstrate that you have taken precautions to keep it that way, such as sharing the information with a small number of people.
Trade secrets, compared to other forms of intellectual property, are governed by state law rather than federal law.

Hire a Virtual Assistant from a trusted place: Business founders often rely on freelance networks to get a virtual assistant. It may prove to be a wrong decision because freelancers lack reliability. You should always look for a trusted virtual assistant company like Wishup to hire a virtual assistant.
A virtual assistant company provides complete hiring solutions, so you don't have to spend time selecting, shortlisting, training, and onboarding a virtual assistant. Know the benefits of hiring a Wishup virtual assistant in the section below.

Control the access to documents: Credential compromise is the primary cause of most breaches. Put money in a security system that at least requires two identity verification steps; adaptive authentication is preferable. You should never rely solely on password protection.
Physical security should also receive equal attention. Lock up spaces where information about your intellectual property is kept, and only permit access when necessary.

Keep track of your intellectual property: Any instances where intellectual property leaves the location where it is safely stored should be noted. The use of a printer, scanner, or copier, for instance, will probably result in the device storing a copy of the document.
Especially if the system is connected to a virtual management system, it is necessary to remove these records from memory.

Train your Virtual Assistant: Employee training is one of the most important things you can do because, most of the time, leaks are caused by human action, whether it be a mistake or an intentional choice. Ensure that you do not entirely rely on the knowledge of your virtual assistant to protect intellectual property.

You should address potential accident causes and the significance of data protection for the sake of your business. Information sharing via instant messaging, email, a collaboration tool, or file sharing is the primary cause of accidents. For example, a tool might not use encryption, an employee might send a message to the incorrect person, or the recipient might forward the message.

Delegate carefully and define all virtual assistant tasks: It is challenging for a rival company to discover something like a trade secret if no one in your team has the complete picture. Implementing this is simple if your company has teams based in various locations and is midsize or large. It implies that a series of errors would need to be made by several individuals to leak the information. Several workers from various teams would need to collaborate, take time, and hence, reduce any risk.

Be aware of your competition: You must keep an eye on what your rivals are doing if you want to respond quickly after a competitor uses your intellectual property. We have mentioned some amazing intellectual property management tools for this specific purpose.

Know your most essential assets: It gets harder to equally protect all of your intellectual property as your business expands. It is important to decide which one requires priority attention if you want to ensure your initiatives are cost-effective. The assets' value to your company should be taken into account, but you should also consider which ones are most at risk.

Make non-disclosure agreement mandatory: Create a non-disclosure agreement that is enforceable in law and that all individuals who obtain access to intellectual property should always register. If applicable, you can include language regarding intellectual property in contracts for employment, licenses, and sales.

Why should business owners trust Wishup?
The previous section may sound like an alarm, especially because data security or cybersecurity is a growing concern for small businesses. However, this is where companies like Wishup enter the scene. Here are some reasons to trust Wishup virtual assistants with your documents.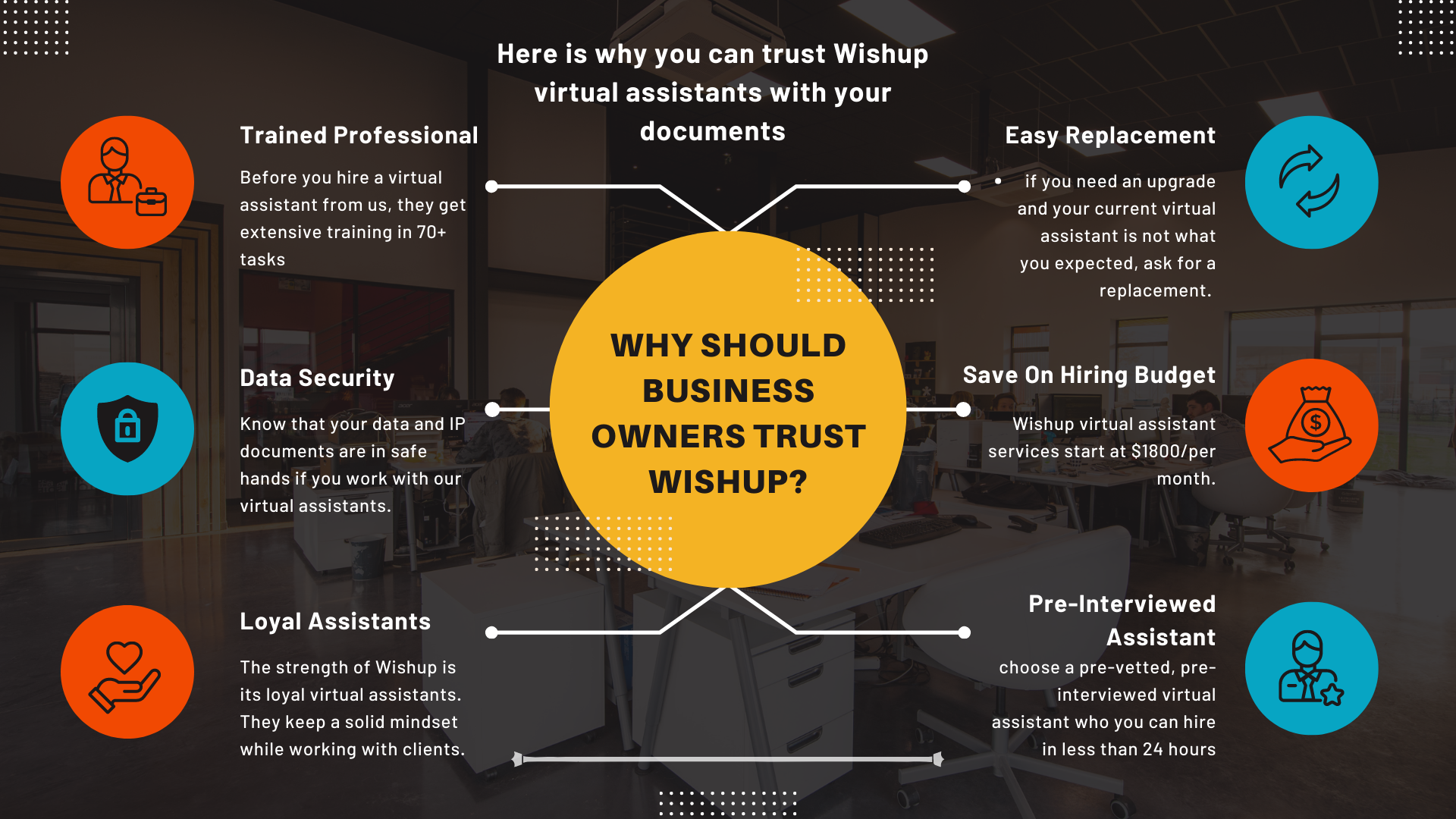 Our virtual assistants are loyal: The strength of Wishup is its loyal virtual assistants. They keep a solid mindset while working with clients, never backing away from signing NDA or other necessary agreements.

Assured Data Safety: Know that your data and IP documents are in safe hands if you work with our virtual assistants. They never disclose, share, or reveal any information without the required permission from the clients.

Get a trained professional for your team: Before you hire a virtual assistant from us, they get extensive training in 70+ tasks like inbox management, advanced excel management, appointment scheduling, calendar management, and more. As a result, we ensure that you get assistance with maximum efficiency.
You can ask for a virtual assistant replacement: Yes, if you feel like you need an upgrade and your current virtual assistant is not what you expected, you can always ask for a replacement.

Save big on your hiring budget: Wishup virtual assistant services start at $1800/per month. You can compare it to other virtual assistants service providers that aim to burn your budgets.

Hire a pre-interviewed virtual assistant: If you are fortunate enough, you can hire a new employee in an average period of 36 days. Instead, choose a pre-vetted, pre-interviewed virtual assistant who you can hire in less than 24 hours and start with work delegation immediately.

We hope that these benefits and other sections of this blog help you grow your business.

Lastly, remember that your business growth is the ultimate line, and you can reach there by taking the right step. Hiring a virtual assistant for yearly renewals and intellectual property rights management is that step. Companies like Wishup make it easier for businesses to hire a virtual assistant, even when it is their first time.
You can set up a free consultation, share what you expect from your virtual assistant, and get your best fit in less than 24 hours. So hire a virtual assistant today!
Subscribe to Wishup Blog | Remote Teams | Remote Employees
Get the latest posts delivered right to your inbox