Data is precious and will outlast the systems that store it. This is not a general statement but the opinion of Tim Berners-Lee, the father of the World Wide Web. But what good is longevity if it can't be understood? The data is doomed to remain forever useless.
Data mining is the process of making sense of data. Data mining is important to your company's growth from collection to analysis. All the core business activities like research, marketing, and sales use data. While you can manage the data on your own, it is better to outsource data mining to a virtual assistant.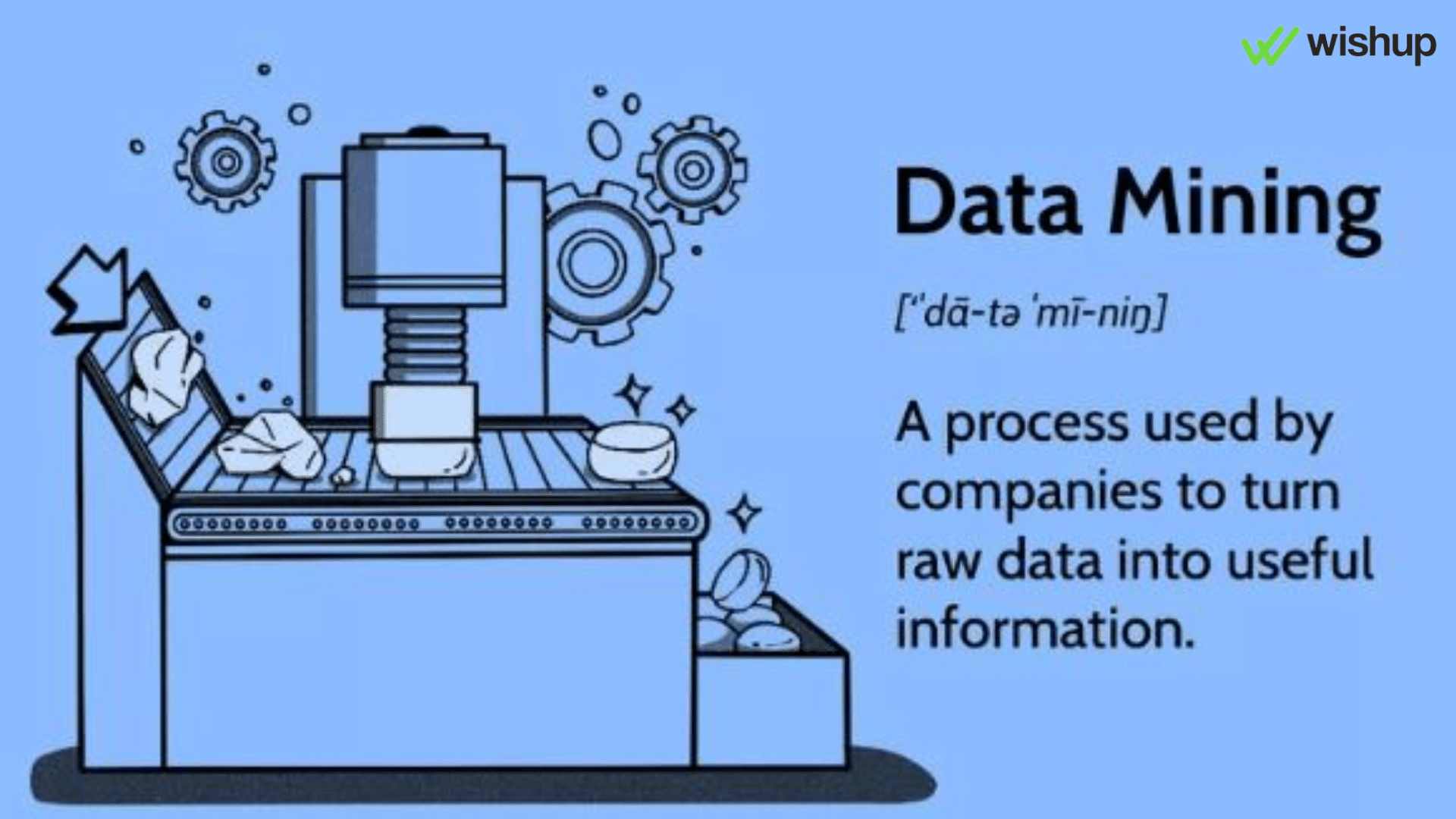 There are many reasons for this. First, most professionals dedicate 93% of their time to the activity. To be ahead of the competition, you must spend that time on business ideas and strategies.
Second, it is wise to let the experts handle their areas of expertise. For example, a trained data mining assistant can better collect and analyze your data than you.
This blog will explain data mining and the benefits of outsourcing to a virtual assistant platforms like Wishup.

Types of Data Mining Services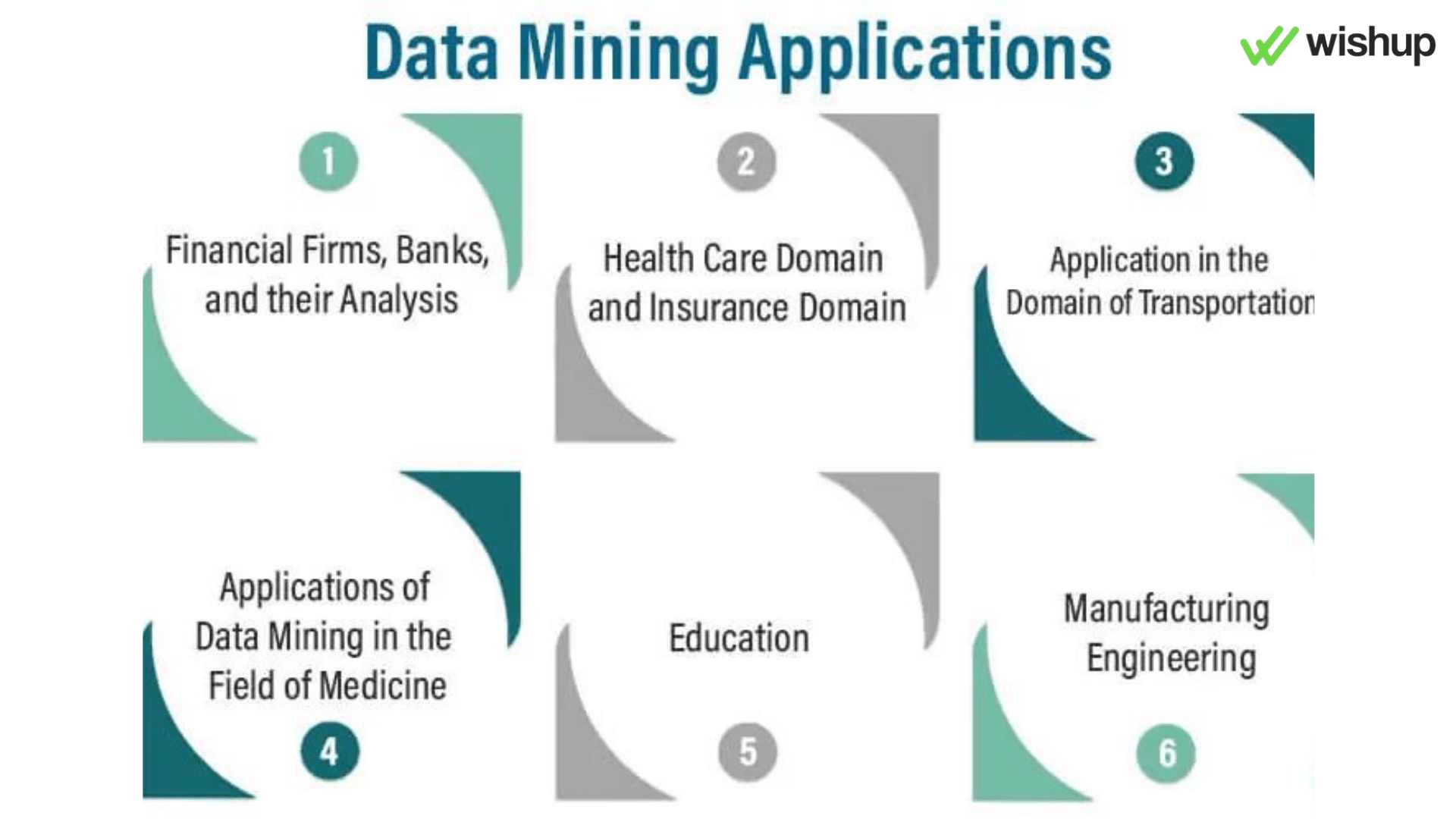 The nature and use of data differ from industry to industry, sector to sector. For example, healthcare data will not find much use in a financial company. Even the way that data is processed will be different.
Here is a rundown of the various types of data mining:
Healthcare Data Mining
Hospitals and clinics deal with data related to patient records, medicine logistics, and more. Data mining in healthcare helps doctors improve their treatment plans and diagnostics. It also helps medical institutions organize patient data and track their recovery.
eCommerce Data Mining
To be successful in the online business industry, companies need to analyze data. This helps them in developing and promoting their products better. In addition, data mining allows a company to measure customer experience and provide better service.
Financial Data Mining
Mining data is critical in the financial industry. It helps companies in various ways, like increasing profits, reducing costs, gaining user insights, and more. In addition, with the help of this information, companies can boost their business model for more growth.
Web Data Mining
The internet is a goldmine of data. However, it is difficult to strike the right spot. Data mining collects the correct information a company needs from blogs and websites. It then analyzes the data to boost your web presence through SEO and keywords.
SQL Data Mining
Many companies use the SQL programming language to support their applications. For example, SQL serves as a tool for storage. These days, SQL is also used for data mining. It helps in classifying user data and predicts many outcomes.
Word Data Mining
Data mining is a valuable tool for decoding unstructured data. Using advanced methods, data mining assistants can study words (or text) and identify meaningful insights and patterns. Companies can learn about the relationships hidden within their unorganized data.
Data Mining from Online Marketplace
Online shopping or marketplaces use data mining a lot. First, it helps them understand their customers better. They can track the latest trends to determine which products work and which don't. It allows companies to provide better customer service.
Social Media Data Mining
Today, social media is one of the biggest platforms for promotion. It is also a treasure of user insights. Data mining helps companies to study consumer behavior on social media. Then, it allows them to develop strategies to lure their customers.
Open Source Data Extraction
An open-source database is free to download and use. It allows users to modify the software according to their needs. Data mining allows open-source developers to study how people are using their software. It helps them make their software better for the users.
Image Data Mining
Data mining for images has many applications. For example, it helps hospitals store patient X-rays. Image mining is also helpful in other industries like surveillance, engineering, business, gaming, and entertainment.
Top Benefits of Outsourcing Data Mining Services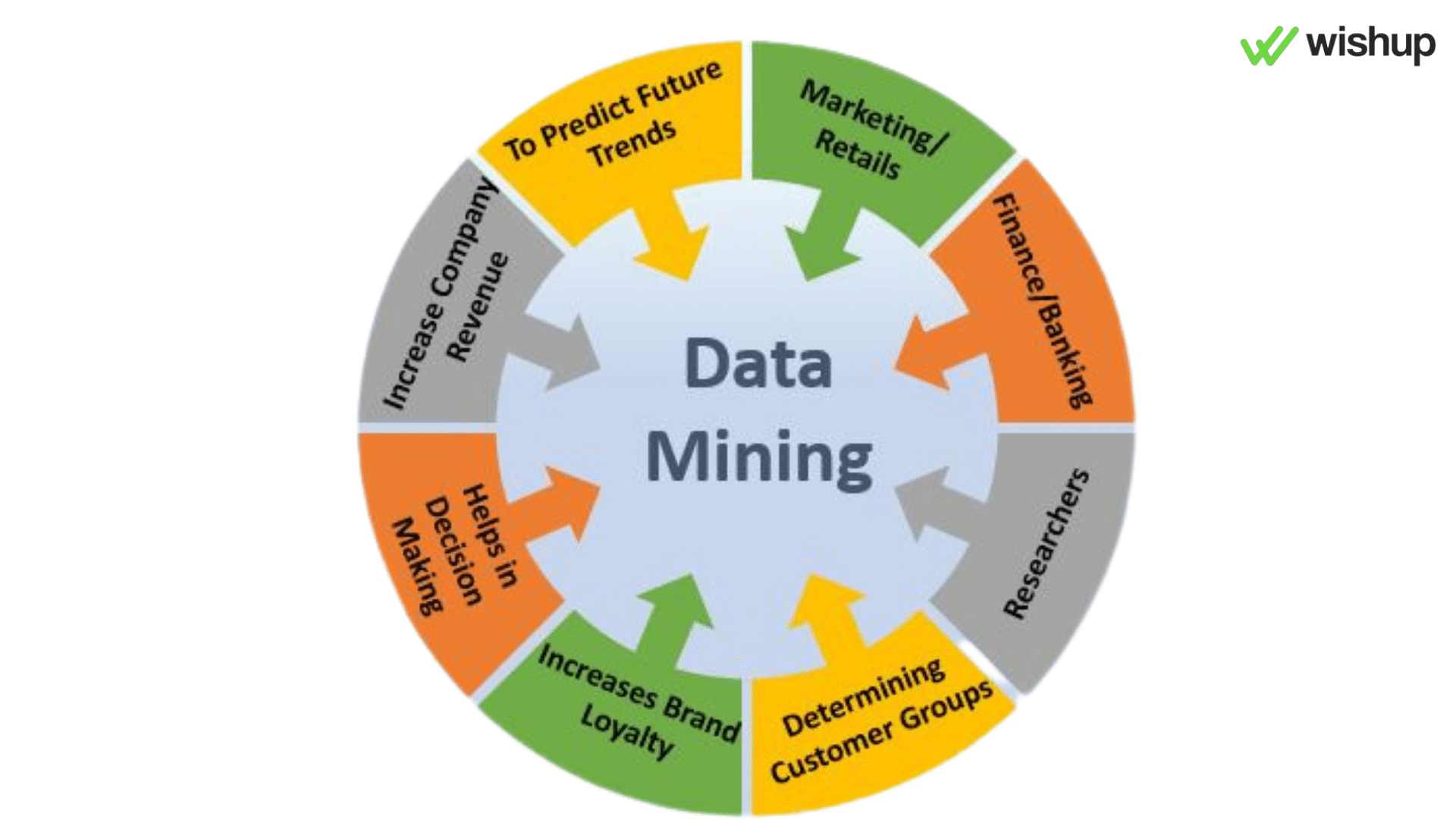 Data mining is a complex process. It requires a team of experts and technicians to accurately collect and analyze the data. Therefore, it is always better to outsource your data mining needs for the best results.
Here are the advantages of outsourcing data mining:
Access to skilled professionals
When you outsource data mining, you get access to highly skilled assistants. These assistants or professionals specialize in data mining. If you give this role to a less experienced employee in your office, the analytics quality may suffer.
Better Forecasting
Your business must forecast the results and problems to enjoy long-term success. The outsourced team follows the best practices and uses the latest technology to analyze your data. Then, they make accurate predictions that go hand-in-hand with your strategies.
Cost-Effective
You will spend a lot of money if you create a data mining team in your office. Building such a team requires hiring, training, upgrading, and continuous monitoring. Outsourcing is cheaper and doesn't need your involvement all the time.
Advanced technology
Upgrading your technology and equipment frequently is expensive. It is an expense you should avoid. Leave that to the outsourced company. They update their tech and tools often to stay in the business. Use your money for other essential activities, like marketing and finance.
Data Safety
Outsourced virtual assistant companies have strict data protection policies. Since they deal in data, securing it is their most important priority. They use strong passwords, encryption, and data backups to protect your data. Such companies also keep all your information confidential.
Fraud Detection
Outsourced companies are transparent in their activities. They will tell you the source of data extraction and mining. There is no chance of fraud. Many companies use data mining to detect fraud. Transparency also makes organizing and accessing data easier.
Improved Decision Making
Since they are experts, outsourced companies give you the analytics you can trust. They thoroughly examine the data and offer valuable insights. This allows you to make better business decisions. Outsourcing also takes the stress of data mining away from you.
Factors to Consider While Outsourcing Data Mining Services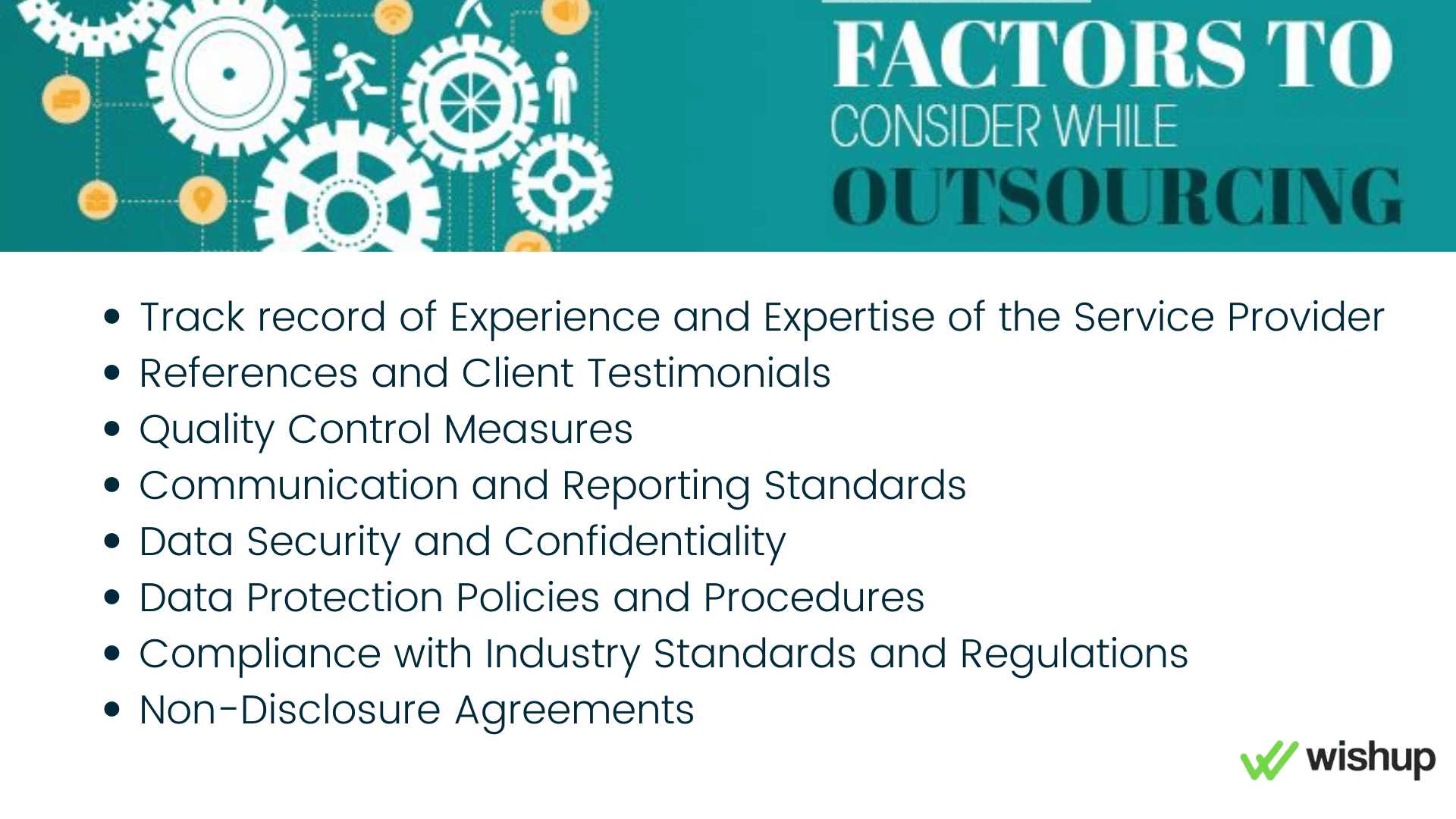 Now you understand the importance of data mining outsourcing. Refer to the following factors before outsourcing your data mining needs:
Track record of Experience and Expertise of the Service Provider
Ensure that the data mining service has the skill and experience to handle your data type. Check if they have worked with other companies in your industry. The outsourced company should have the staff and resources to deal with any kind of challenge that may pop up.
References and Client Testimonials
Most companies prefer long-term relationships. You don't want to keep changing your vendors, which will cost you. To ensure the data mining service is good, check the feedback their previous clients gave.
Quality Control Measures
Be clear about the kind of quality you expect from them. You don't want any delays in data processing—the company you outsource to should respect deadlines. You may have to check on them frequently in the initial stages.
Communication and Reporting Standards
The company should communicate clearly. Transparency is crucial. You should be informed about the status of your data at every stage. The company should also have a strong audit team. They will check the results for accuracy.
Data Security and Confidentiality
Ensure the company takes all the critical steps to keep your data safe and confidential. The company should have multiple security layers to prevent data leaks. In addition, they must keep all your information confidential.
Data Protection Policies and Procedures
The company should inform you about its data protection policies and methods. These policies explain how the company plans to keep your data safe. If there is a data loss or leak, the company should take full responsibility and solve the issue.
Compliance with Industry Standards and Regulations
The United States government has set up industry standards and rules, like GDPR, HIPAA, and SOX. Your outsourced company should follow those rules. The government can take strict action against the company if they violate the law.
Non-Disclosure Agreements
NDAs have become an essential part of business deals. They ensure your data remains confidential—the company you outsource to should have this facility. If the data gets leaked in their possession, you can take legal action against them.
Steps to Follow When Outsourcing Data Mining Services
Determine Your Business Goals
You must decide the purpose of data mining. Do you wish to track patterns and predict future results? Or do you want to organize data and correct the errors? To answer these questions, consider where your company is and what it needs the most right now.
Identify the Data You Need
Get together with your team and list the data you require. For example, do you need the data to measure program or worker performance metrics? Program performance shows how close you are to reaching your company goals. Worker performance shows how your workers are adding to the project's success.
Define Your Research Questions
Research questions help you define what you are looking for. They help calculate your data needs as well. What type of data do you need? Why do you need data mining? How will you use the results? You must answer these fundamental questions.
Determine Your Data Mining Techniques
Different mining techniques produce different results. For example, if you want to classify data, you need classification analysis. To understand the relationship between different variables, you need association rule learning. Similarly, there are many other mining techniques. Let the outsourced company know what you need.
Set Your Performance Metrics
How often do you want progress reports? This depends on how frequently you update your business strategies. First, clearly define when and how you want to see the mining results. Then, come up with deadlines on your calendar.
Conduct Market Research
Go online to look for the best mining vendors. First, make a list of the vendors who meet your data requirements. They should be able to provide the services you need. You can also ask your clients for good vendor recommendations.
Shortlist Potential Vendors
Make a list of potential vendors. Check their credibility by looking at their client testimonials. If they have positive reviews, contact them through email or phone. Clearly explain what you expect from them and state your quality standards.
Evaluate Vendor Proposals
After you reach out to potential vendors, they will get back to you with their proposals. Discuss this with your team. To select the right vendor, consider their experience, cost, and expertise. Take your time during the evaluation.
Negotiate Contracts and SLAs
Once you choose the right vendor, negotiate pricing and expectations. This is where you make everything clear. Set the standard for quality and responsibilities you expect from them. To prevent any disagreements in the future, clear all doubts and queries during the negotiation stage.
Sign Agreements and Establish Communication Protocols
After a successful negotiation, complete the necessary paperwork. Before you start working together, decide how you will keep in touch. Will it be through emails, phone calls, or a specific software/app? Stick to these communication protocols.
Why Outsource Data Mining Services to Wishup?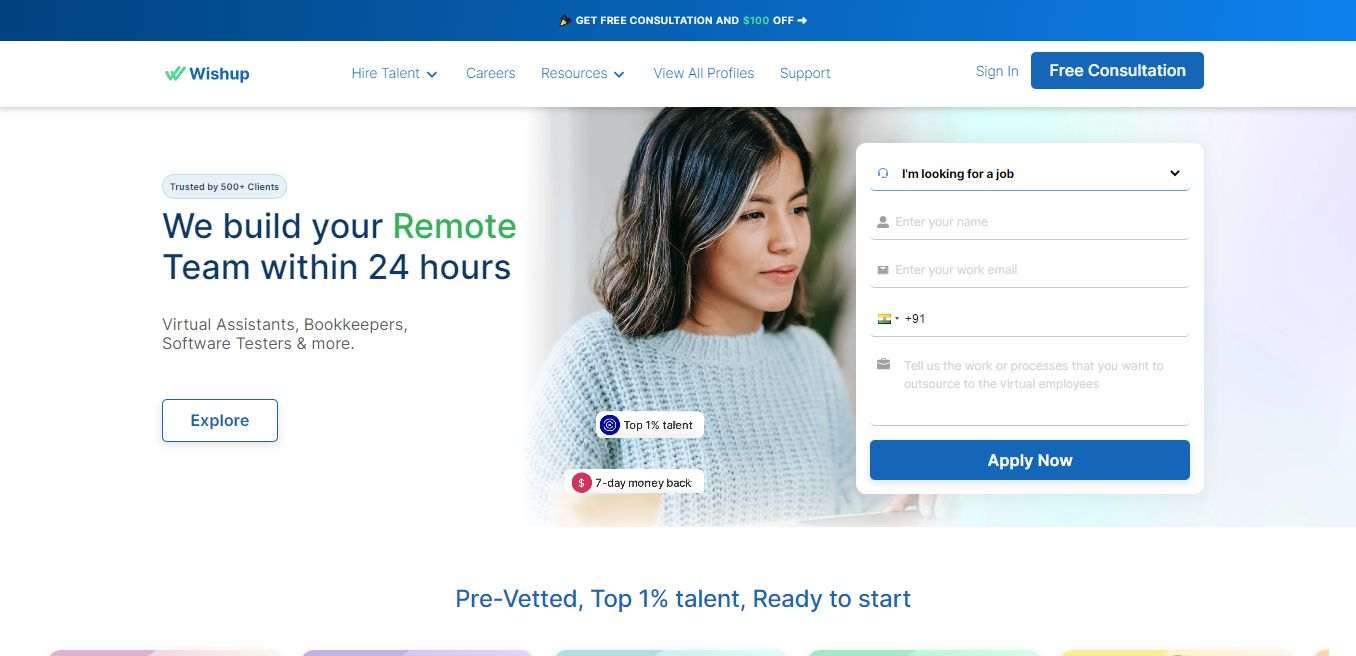 Wishup hosts some of the best virtual assistants for data mining work. In addition, our data mining service offers many benefits, such as:
Advanced-Data Mining Techniques
Our data entry virtual assistants are trained in many advanced mining techniques. At Wishup, we regularly update their skills to keep up with the latest developments. Our assistants also receive training in 70+ no-code tools and 200+ skill sets.
Proper Grouping of Data
Organizing and grouping data is vital to make a proper analysis. Only then can you come up with business strategies that work? Our virtual assistants understand this and manage your data accordingly. In addition, they will prepare and edit the data in the format of your choice.
Expertise in Predictive Data Mining
Wishup virtual assistants excel in predictive data mining. First, they collect the data from reliable sources. Then, they analyze the results to predict trends, errors, and more data. This prediction allows you to make successful long-term plans.
Expertise in Descriptive Data Mining
Our virtual assistants also provide descriptive data analysis. They analyze a given data set to draw relationships between variables, establish correlation, and more. Such analysis reveals data behavior patterns. It also lets you check for irregularities in the data.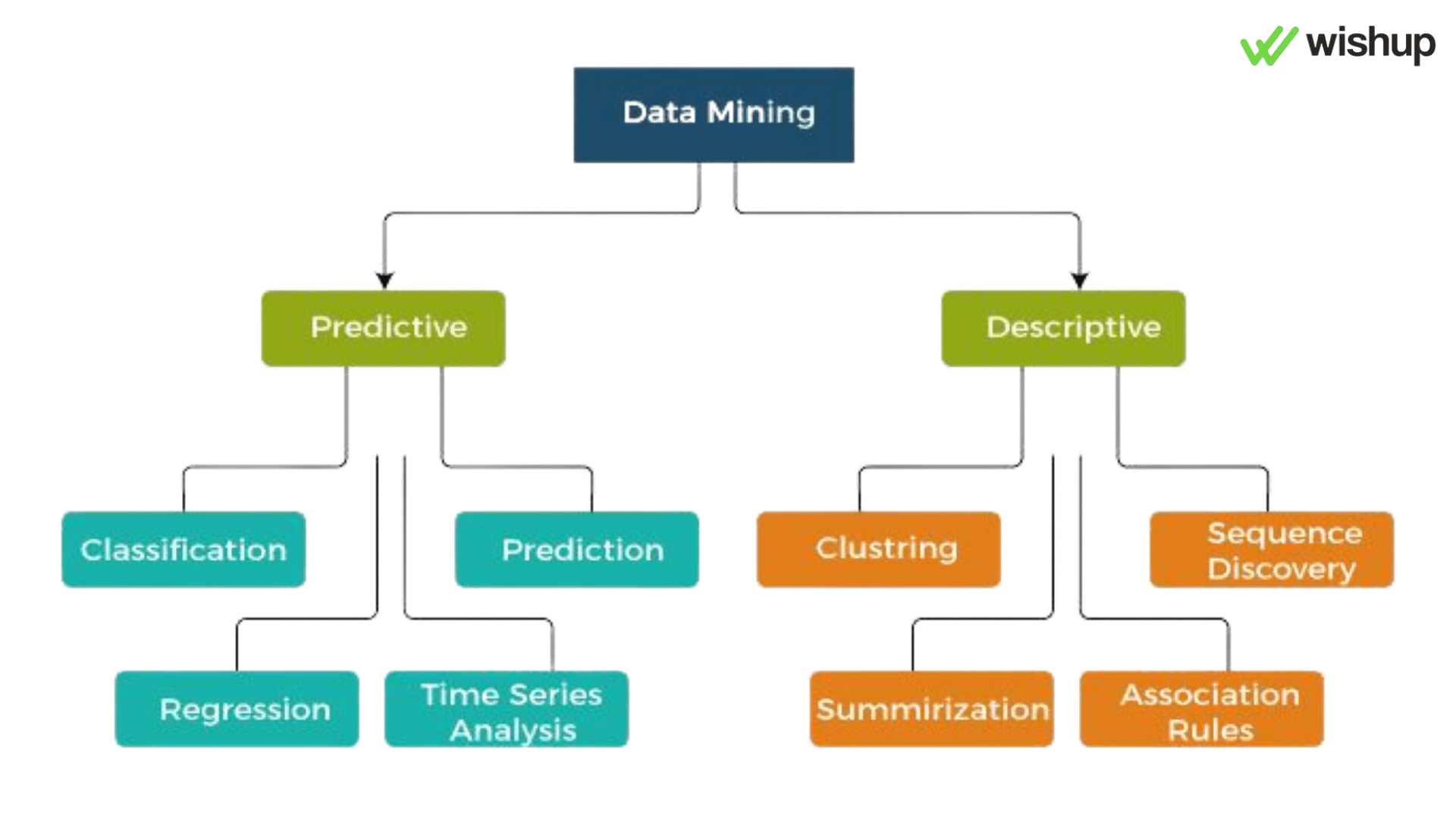 Advanced-Data Mining Tools
The virtual assistants at Wishup use the latest data mining tools. They keep upgrading their skill set with the changing times. Advanced tools give you more accurate results and predictions. They also help you find errors in your data.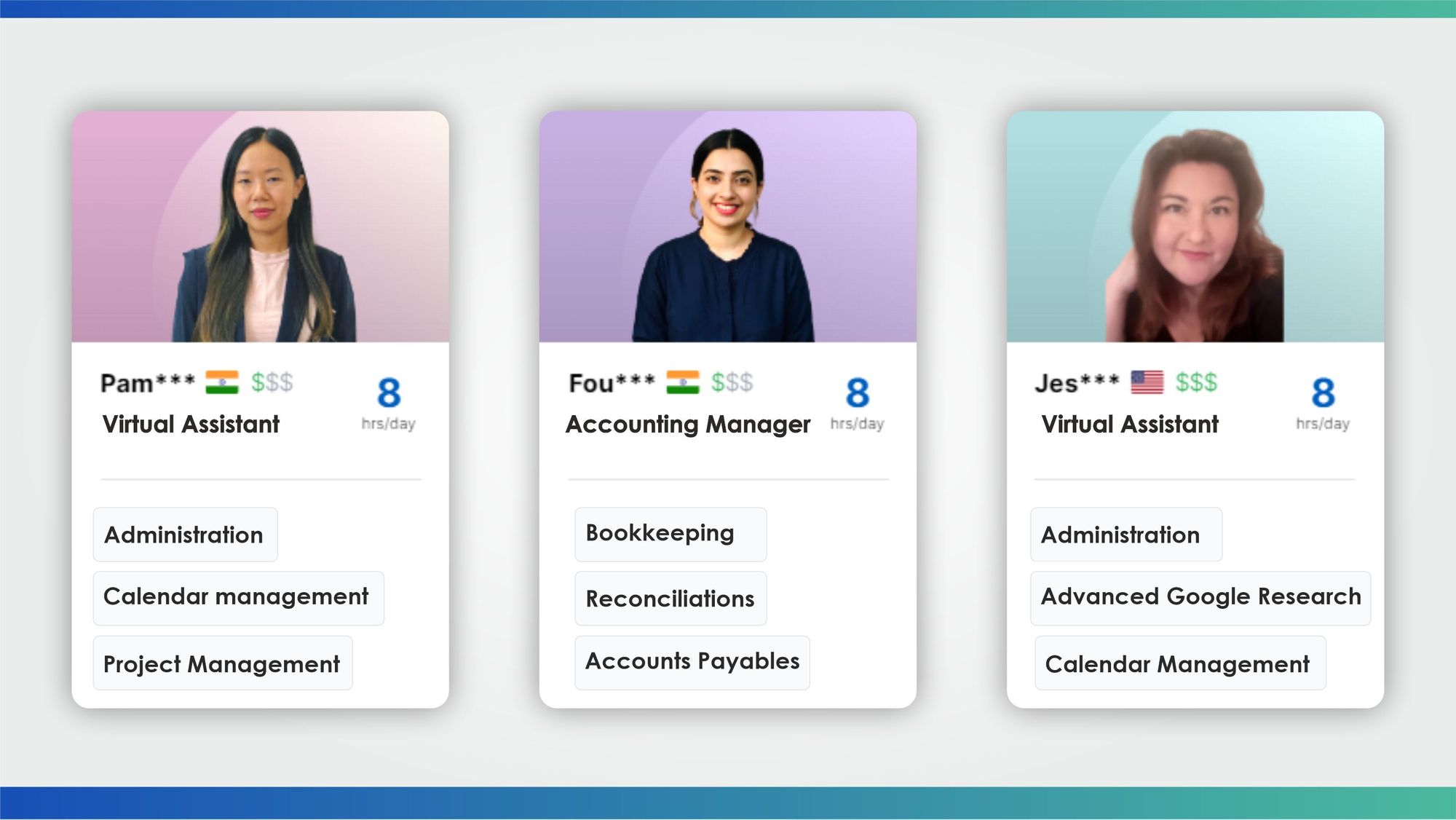 Experienced Data Mining Professionals
Our virtual assistants have all the skills to handle data mining. In addition, they come with the experience of working in different fields. On top of data mining, Wishup assistants can perform administrative tasks, create content, generate leads, and more.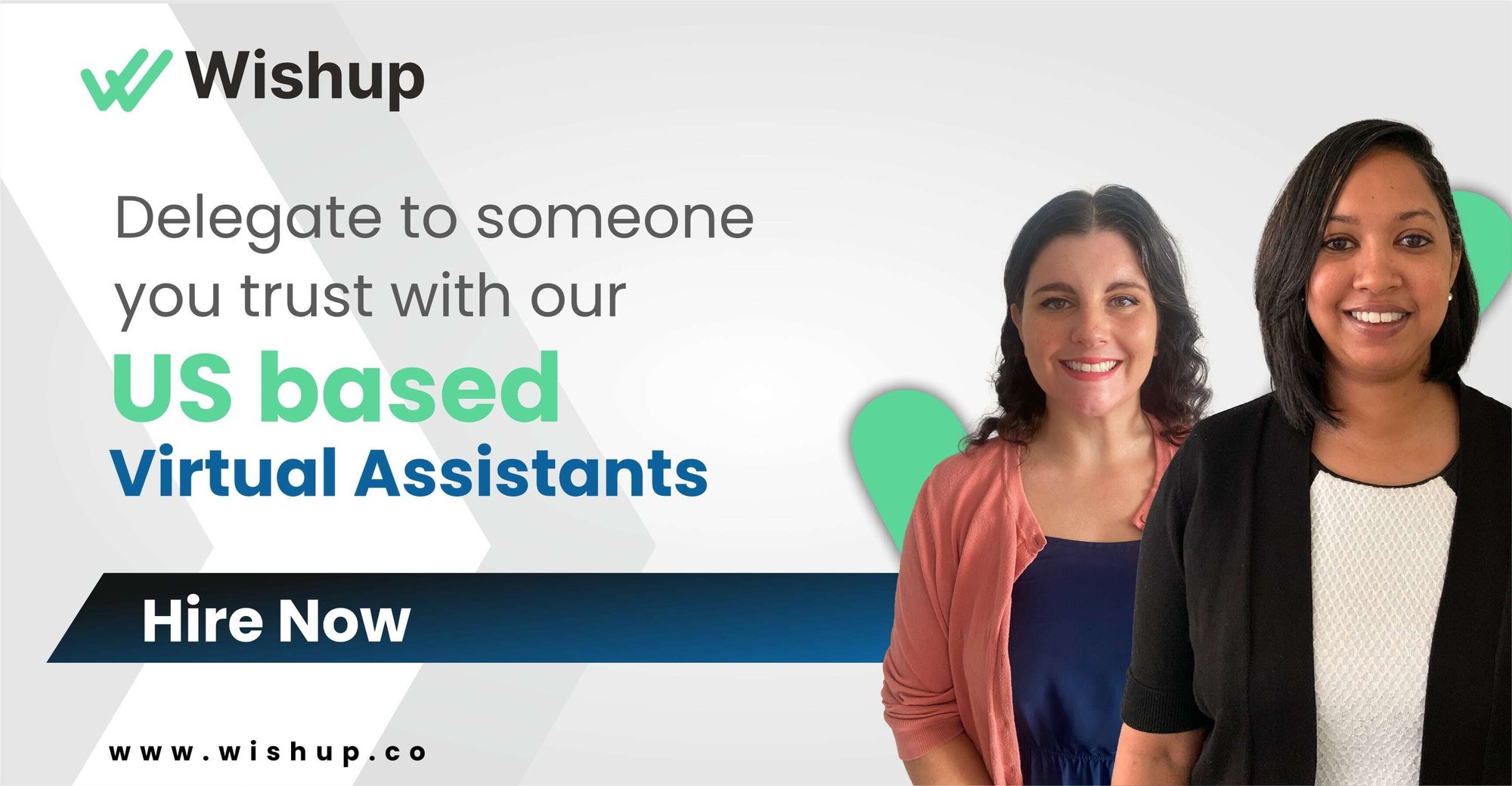 Conclusion
Data mining is essential to build business strategies and plans. The process collects and analyzes data to identify trends and future outcomes.
While you can build your mining team, it is always better to outsource to another company that specializes in the field. Doing so will be cheaper and guarantee much better results. Outsourcing also gives you the following:
Access to advanced technology
Data protection
Better predictions
Better detection of fraud
At Wishup, you can find expert virtual assistants to look after your mining activities. Our assistants excel at the latest mining techniques and tools, providing accurate results. And, of course, we also keep your data safe and maintain strict confidentiality.
Don't wait to enjoy the benefits of data mining; schedule a free consultation today. You can also reach us at [email protected].
Frequently Asked Questions
Can data mining be outsourced?
Absolutely! Outsourcing is much better than hiring a team in your office.
What does it mean to outsource data?
It means partnering with another company that will handle data mining for you.
Why do we outsource data processing?
Outsourcing offers many benefits, like reduced costs, better safety, and access to skilled professionals.

Subscribe to Wishup Blog | Remote Teams | Remote Employees
Get the latest posts delivered right to your inbox