Are you dealing with a hectic schedule or surrounded by tasks that leave you no time to focus on your business's core segments? If yes, then virtual assistants can solve your problem. Tim Ferriss' pearls of wisdom in the outsourcing bible, The 4-Hour Workweek, ring especially true for modern entrepreneurs.
In addition, the worldwide outsourcing economy is growing by leaps and bound every year – in 2018, the global market size of outsourced services stood at USD 85.6 billion. Been wanting to take a baking course or learn a sport, but hadn't got the time? Well everything's possible if you get a virtual assistant.
Though most of us know how helpful a VA can be, most entrepreneurs and business leaders avoid having one. The primary reason is the lack of consultation and confusion regarding the working style of virtual assistants. Email assistants work across various time zones and their skill sets range from have generic like email management, calendar management, sending flowers/gifts, making travel plans, fixing appointments etc., to specialized skills such as content creation, book-keeping, web development etc.
Several outsourcing agencies help you narrow your search for VA and provide the assistants possessing the skills you require for your projects. In addition, these outsourcing agencies will prove profitable to you when you know how to hire a virtual assistant.
In this blog, we cover why outsourcing agencies are beneficial for you while looking for VAs.
Why Do You Need A Virtual Assistant?
When people hear "virtual" associated with an assistant, they often misunderstand it as an artificial assistant. But in reality, virtual assistants are real people working remotely and literally from anywhere in the world.
Given below are some benefits a VA could provide you:
You don't need to have any workspace or office space and equipment.
VAs are more affordable than hiring a full-time employee.
You have access to top-notch talents across the globe.
VAs prevent burnout and stress.
With a virtual assistant's industry knowledge and experience, you get a fresh perspective, suggestions and ideas related to your business or project.
You get a range of skills that your team lacks.
Great option for startups looking at scaling their business while minimizing costs.
Selecting and editing product images. e.g., background removal
Managing profiles on eBay, Magneto, Amazon and Shopify
Performing remote receptionist tasks such as checking messages,  leaving voicemail greetings, or answering calls
Help out in inbox management
Help you negotiate better prices with vendors, from local web design to IT support
In conclusion to the benefits, VAs are overall a cost-effective alternative for entrepreneurs.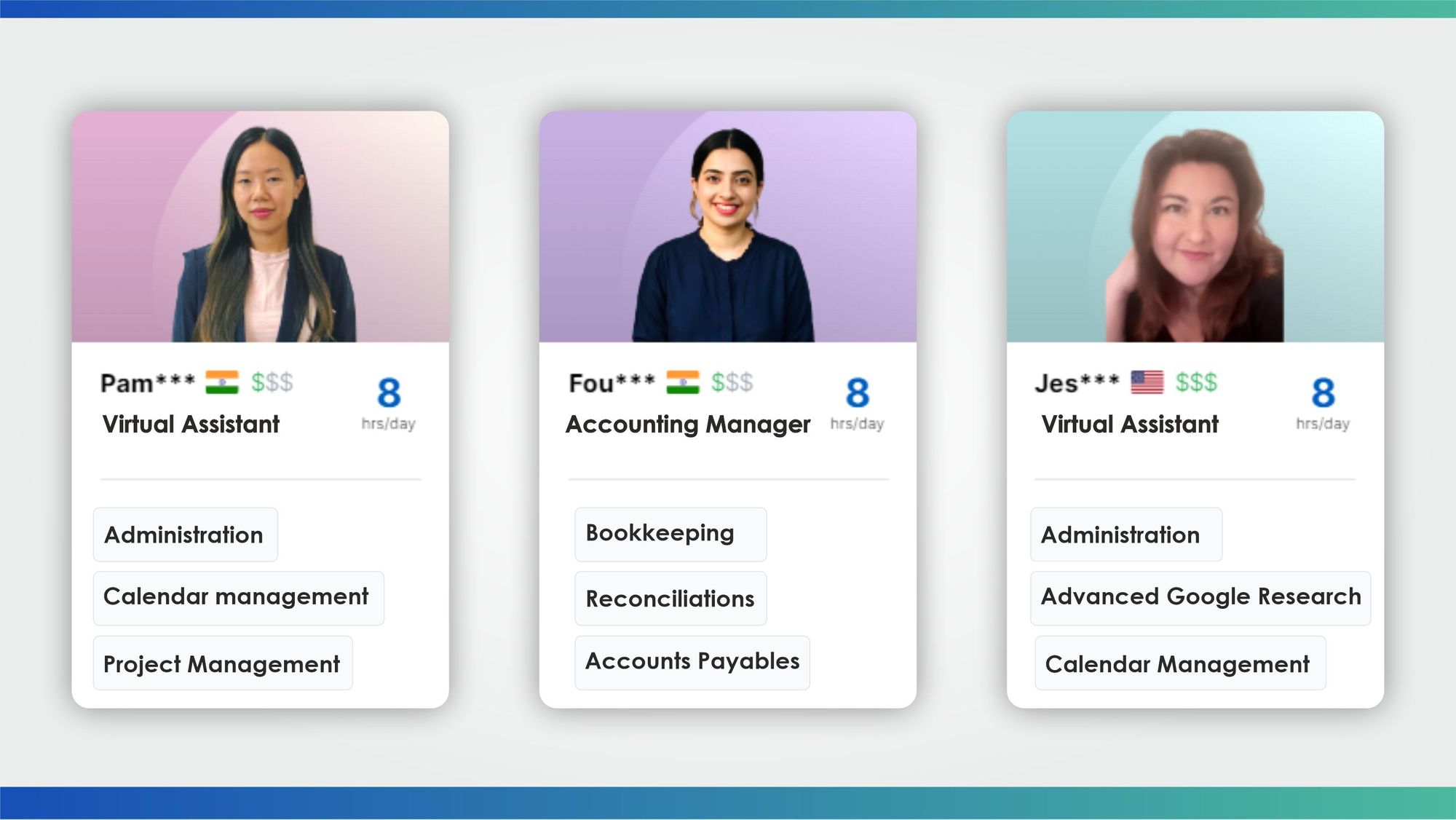 Steps To Hire A Virtual Assistant
Before jumping straight into the hiring process, you need to know a few criteria to help you throughout the interviewing and hiring phase. You can use business presentations to introduce a new product/service, discuss a new marketing strategy, pitch for business, and even onboard your new team members. For some really great ideas on creating a presentation, check out his article on presentation techniques by Apple. Creating an excellent business presentation is all about having good communication skills and showcasing your product/service in an exciting way that will induce your audience to engage with you and your business. Given their expertise and experience gained designing presentations for different clients over the years, they are the best resource you can use to design your presentation. As a businessman and entrepreneur, you need to inspire confidence in your audience while presenting a presentation.
Decide What Tasks You Want To Delegate To Your VA:
Among multiple tasks you handle, you need to be clear on what tasks you will delegate to your VA and what tasks you manage by yourself. When you have an accurate idea of the same, it is easy to decide what skills you must search for in your candidate.
It is also essential to decide which tasks you outsource your VA right from its initial stage and which projects you want to take over from half.

Here are some popular virtual assistant services offered by Canada
Despite having plenty of tasks, you want to allocate to your virtual assistant, avoid handing all of them as it may get heavy on your pockets. A better way is to assign only a few tasks you struggle to manage.
To decide how many task allocations would fit your budget, know the charge of your VA. Discussing your budget in the initial discussion can eradicate much confusion that can occur later if you skip it.
Create A Proper Orientation Program:
Proper orientation of your VA will help them better understand their task and your expectations from them. Moreover, it also provides them with training before starting their work.
You can document your orientation or training to showcase everything your VA should know. In addition, this orientation program helps them understand it better if you allocate them a half-done task.
Where To Find A Virtual Assistant:
Apart from the hiring procedure, you can face another concern: where to begin your search. The three primary options that you have are:
Freelancing platforms.
Outsourcing agencies.
Job websites and portals.
These platforms offer you VAs with different expertise from around the world. In addition, the platforms mentioned above have distinct specialties, such as secure payment gateways in freelancing platforms, consultation from agencies, and more exposure to job websites.
Writing a Suitable Job Description:
Delivering what and how you want the work to be accomplished by VA is crucial. If you consult an agency, you have to document your requirements precisely. On the other hand, if you plan to hire a VA on your own, you will have to write a precise job description for the applicants. There are plenty of websites where you can post your job requirements for a virtual assistant. However, you will have to write a detailed job description with the skills and tools knowledge you require, along with work hours and salary details on platforms like LinkedIn and Craigslist.
A perfect job post consists of:
What work do you want them to execute?
What skills do you want them to have?
What qualifications do you want them to have?
It is also important to include questions like their salary expectations, time availability, and more.
Here's a lowdown of the best virtual assistant services in the USA.
Before hiring a VA, you can add the step of conducting their interview. You can utilize this session to discuss things in-depth or the points not appropriately explained in the job post.
It allows both parties to clarify their doubts and expectations. Depending on the platform you use to hire a VA, you can conduct it via call or video conferencing, as some platforms have certain restrictions.
Create A Test That Showcases Your VA's Expertise:
Conducting a short test related to the work you are looking for is a good idea. It helps you analyze each applicant's understanding and ease your decision-making process.
The test should allow you to judge applicants' skills, attentiveness, ability to work independently, and many more. For example, you can create a short test if you aim to hire a general assistant. While if you are looking for a VA with a specific specialization, you can also ask them to share their past work and portfolio.
Trial Is The Best Policy:
There is nothing that an interview or a test can reveal about the candidate until they start working with you. Therefore, instead of hiring a VA on a long-term basis, run them through a trial first.
It is easier to follow when you hire a VA through an agency, as they allow you to work with a VA for a few days as a trial period. But if you hire them using other platforms, it is better to keep other candidates as a backup if you don't like the services of the candidate you recruit.
Keep Your Expectations Practical:
Of course, having certain expectations from your VA is obvious, but keep them rational. Everyone undergoes a learning curve initially, gradually improving and getting you the best or close to the best result. So, if you expect your VA to deliver you the best services as soon as they join, it is time for you to get real.
Professional and experienced VAs are generally expensive. Thus, many startups go for beginners. Hence, if you hire a beginner instead of a proficient VA, you cannot expect them to work like an experienced one. Remember that they need some time to learn and adjust to the workflow, and eventually, they will improve their service. However, consider it a red flag if their performance graph is constant or reduces even after a particular time.
Have A Versatile Approach:
Sometimes, business leaders keep changing their VAs one after the other, but none seem a good fit. If it sounds like you, it is time to re-evaluate your approach.
Check if the instructions you provide to your VA are precise because failing to do so would confuse the best ones. Next, you must check how frequently you communicate with your VA and share feedback.
While hiring through freelancing platforms, job websites, and job portals, you can imply these steps. But what about consulting and hiring a VA through an outsourcing agency? Let's discuss it as well.
How Do Outsourcing Agencies Work?
Outsourcing agencies are the agencies that set up a contract with an external party to handle and manage specific tasks rather than hiring full-time employees or delegating tasks to the existing employees. From bookkeeping to social media management or setting appointments and data entries, there are so many facets to a virtual assistant job.
It is a popular strategy that many businesses follow to reduce their operational costs and align operations while handling other vital tasks. As a result, you might need to outsource an assignment once in a while. For example, you need to create your company's brochure quarterly.

Here are some reasons why outsourcing agencies should be your priority:
It Minimizes The Expenses
Outsourcing agencies help you prevent the cost you would need when hiring an employee; therefore, you can use it on resources and other investments.
When you hire a virtual assistant through an outsourcing agency, you save much maintenance and operational cost and get access to numerous skills. How cost efficient are virtual assistants? The answer is very. Each company has its own payment or subscription models based on how they forecast their revenue but generally, it ranges from hourly to monthly or even annual basis. Some companies also allow you to discuss your requirement and present you with customized payment options.
2. It Saves Time
Hiring is not an easy process and requires much effort and time. However, you don't have to worry about the process when you consult an outsourcing agency. You must tell the agency your requirements and leave it up to them.
They search through multiple candidates and find the most suitable match for you. It also provides additional time by eliminating time-consuming tasks such as interviewing, screening, training, and selection. Surely running a business is a lot to take on for one person alone. But, as an aspiring entrepreneur and startup owner, you might feel the need to do everything yourself. It could be because you don't have the resources, or you don't trust that anyone could do the job better than you. This will eventually lead to mental and physical burnout. Did you know that the average entrepreneur spends up to 28% of their week answering emails, which equals 11 hours? This is eleven hours that could be spent growing your business.
3. It Fetches You Instant And Effective Results
Outsourcing agencies reduce the burden and stress on entrepreneurs by sharing the selection process. In addition, because they have access to multiple professionals, they get your projects done in less time.
As a result of the broad exposure to talent and skills you get from an outsourcing partner, you get effective and desired results. A virtual assistant can assist you in conducting thorough research for your startup. They can, for example, gain insight about your consumers before a sales pitch.
4. Help You To Maintain Continuity And Manage Any Risk
Outsourcing agencies help you maintain continuity and reduce the possible risk of substandard operations. On the other hand, yielding a high employee turnover can bring inconsistency and uncertainty to your business. With a virtual assistant, you will free up a lot of time by outsourcing the job of replying to queries, reacting to comments, or posting to social platforms with relevant keywords.
Outsourcing agencies help you continue your functions without hindrance, even if your manager is unavailable. Understand it in this way, suppose the manager resigns or goes on medical leave. You will need time, resources, and money to find a replacement or hire a new manager.
You can manage the replacement procedure effortlessly and for the short-term and long-term, as per your requirements through an agency.
5. It helps in promoting growth.
Some operational tasks can cost you a lot, but you cannot ignore them if your clients need them to be done. Some jobs are also related to customer experience, growing and promoting your business, or competing with your competitors.
Outsourcing is an excellent option to reduce the cost and, simultaneously, want to get those tasks done and aid in growing your business.
Conclusion
Hiring a virtual assistant demands your attention at every level of the hiring process. Thus, it is better if you are clear on what your expectations are from them and what skills you want in them. Dr Milkman's research study claims that when you tell another person you're setting a goal and ask them to hold you accountable, you're more likely to achieve your goals, and here's where your VA can become your partner and keep you on the right track. In fact 80% of people who make New Year's resolutions eventually break them, a third don't even make it till the end of January. Now you may ask why? 40% claim that they just have too much to do.
However, both parties should make efforts, not just from your VA's side. You should provide your assistant with a healthy working environment where they can maximize their productivity and creativity.
As for the outsourcing agencies, there's no doubt that they can reduce your workload of hiring a VA up to a great extent. But for that to happen, you must deliver your requirements clearly, or else you will fail to get proper help from the agencies.
If you are looking for a professional and trusted outsourcing agency, Wishup could be your best option. Visit our website to get access to multiple experienced virtual assistants excelling in different niches and free consultation from our experts.
Subscribe to Wishup Blog | Remote Teams | Remote Employees
Get the latest posts delivered right to your inbox