Outsourced CFO Services: A Comprehensive Guide
Recently, we have noticed a change from relying solely on our personal computers for storage to embracing the Cloud.
This change in strategy has spawned a new breed of companies that serve the requirements of these smaller organizations. As a result, small businesses now have a bigger talent pool to choose from when hiring rather than being limited to those in their immediate vicinity.

Surprisingly, this trend is not limited to small businesses. Many big companies have come to acknowledge the value of seeking advice from outsourced professionals regarding financial matters, including the Chief Financial Officer (CFO) role. The Global Virtual CFO market is expected to proliferate between 2023 and 2030.

If you are considering CFO outsourcing , you must know everything related to these services.

What exactly is a CFO?

What are the benefits of outsourcing CFO?

How to hire?

If you need an answer to all these questions, you are in the right place! This blog will talk about all the nitty gritty details of CFO outsourcing. Let's begin with who an outsourced CFO is.

Who is an Outsourced CFO?

An outsourced CFO is a financial guru who works with businesses flexibly, whether by the hour, part-time, or through a contract. These professionals have been around the financial block, working in high-level positions for private and public companies, whether just starting or well-established.

Their job?

They support businesses of all sizes and types with crucial financial tasks like future planning, financial scenario analysis, dissecting costs and profits of individual company divisions, creating financial forecasts, and whatnot.

Consider them your financial partner in crime, ready to tackle any financial challenge your company may face.

Types of outsourced CFO services

Financial planning and strategy  

Outsourced CFOs work closely with business owners to craft an intricate financial plan. They dive deep into a company's financials, analyze market trends, and explore future growth opportunities. With all this insight, they develop comprehensive plans that outline financial objectives, budgeting strategies, and the precise actions a business must take to attain its goals.

Financial reporting

These experts compile all of your financial information and produce reports that are super easy to understand. These reports include income statements that display how much money is coming in and balance sheets that list your assets and liabilities. But here's the exciting part: they do not stop at reports. They also design custom financial dashboards. Colorful charts and graphs allow you to see key numbers and trends at a glance.

Budget vs. Actuals

Your budget serves as a financial plan for your startup. You are setting monthly goals for your company's performance to meet your projected results. Your outsourced CFO serves as your financial watchdog. They compare your actual financial results to what you planned in your budget. If your CFO knows your business well, they might recommend improving your budget.

Monitoring Cash Flow

Money is what keeps everything alive as it flows in and out. Your outsourced CFO is a financial doctor who is constantly checking the pulse of your company. They keep a close eye on the money that comes in and goes out.

Having some extra cash tucked away is a bit like having a safety net for your business. It's there for those unexpected moments when you need to cover unexpected expenses, pay off any debts, or seize exciting opportunities that unexpectedly pop up. This financial cushion is like a shield that keeps your company secure and provides room for growth and prosperity.

Cost Evaluation

Your CFO looks for ways to cut costs without sacrificing quality. They go over all expenses, including production, labor, overhead, and marketing. They identify areas where you can cut back without negatively impacting your business. It is similar to discovering hidden treasures in your business budget; these savings can add up over time.

Liaison with the Legal Team

Your outsourced CFO also serves as your legal advisor. To provide you with accurate financial statements, they must be fully aware of your contracts and legal commitments. They will collaborate with your legal team to ensure everything is in order. While they are at it, they will put on their detective hat and examine your legal documents. They will guarantee that those documents serve your company's interests to the fullest.

Projections and forecasting

Your outsourced CFO studies the present and examines the past to make future predictions. It is like having a map that leads your company through the financial landscape. It outlines what to anticipate so that you are ready for whatever comes your way.

Risk Control

Your CFO develops strategies to safeguard your company while keeping an eye out for potential financial threats. It is similar to having a shield against market fluctuations. They might advise taking out financial insurance, diversifying your investments, or using financial tools to protect against unforeseen events.

HR Monitoring

Consider your CFO to be the team's budget protector. Typically, your team is the most expensive. So, the CFO will collaborate closely with your HR manager to determine how changes to your team may affect your budgetary objectives. They will suggest ways to reduce staffing costs without compromising quality if necessary. They are also great at assisting you in putting together a lucrative pay package that is competitive.

Customer Contract Review

Your outsourced CFO is more than just a number cruncher; they are also your financial guardian. Thanks to these experts, you can negotiate better deals with your clients. They will examine the contract terms from a commercial standpoint to see if they benefit you and offer suggestions for improving their profitability.

Services not to be performed by an outsourced CFO

Accounting and bookkeeping

Some people request that their outsourced CFO manage ongoing bookkeeping and accounting duties. However, CFOs are typically better suited for higher-level financial work. It is like asking a skilled chef to chop vegetables with a fancy knife – indeed, not the best use of their expertise.

Delegating routine financial tasks to a virtual bookkeeper or accountant is smarter. This allows your CFO to focus on more strategic and valuable projects. If you prefer to outsource CFO accounting services, look for a finance solution that has specialized teams for each role.

Fundraising and crowdsourcing

Although some advocate using an external CFO outsourced services for startups to handle fundraising, the founder must represent the startup in investor meetings. Investors often place their faith in the founder's vision and passion.

However, by putting together documents and financial models for these meetings, CFO outsourcing services can be a big help. It is like having a support group that makes sure everything runs smoothly.

When does your business need outsourced CFO services?

From startups to large corporations, there are numerous situations where an outsourced CFO is precisely what's needed. Here are a few scenarios that may sound familiar:

The busy entrepreneur: You are an entrepreneur on the go, juggling a million things as your business grows. There simply is not enough time to dive into budgets, forecasts, and crunching numbers between meetings, emails, and making things happen.

The subject matter expert: You own a small to medium-sized company and know your customers and products like the back of your hand. However, when it comes to finances, you would instead delegate the heavy lifting to someone else. Sometimes, you should trust your instincts instead of delving deeply into financial data.

The venture capitalist: Congratulations, you have secured some venture capital to help your company grow. Now, you must demonstrate to your investors what is going on in terms of profit margins, customer costs, and other key figures. But you are not sure how to put it all together.

The unexpected departure: Your small finance team has lost a key player in charge of everything financial. You have a reliable bookkeeper, but those financial statements they give you? They could just as easily be written in code. You suspect your company could benefit from more financial planning and analysis, but you are unsure where to begin.

The lost case: You have someone handling finances speaking a different financial language. They prepare financial statements, but you can not quite figure out what they mean.

The improvement seeker: Your company is not performing as well as you think it should. You have a nagging feeling that something is not quite right, but you are unsure what is wrong or what needs fixing.

What to look for in your outsourced CFO?

Financial know-how: First and foremost, your outsourced CFO should be well-versed in all aspects of finance. They must be able to easily handle everything - from budgeting and forecasting to financial analysis.

Industry experience: It is a plus if your CFO has prior experience in your industry. They will recognize the unique challenges and opportunities that come with it, making their advice even more valuable.

Strategic vision: Your CFO should be a bit of a fortune teller, assisting you in charting the financial course for your company. It's important to have financial advisors who can predict market trends and help you set realistic financial goals that align with your long-term vision. This way, you can stay on track and confidently achieve your financial aspirations.

Problem-solving ability: Financial roadblocks will arise, and your CFO should be an expert at finding solutions. They should be able to identify problems and recommend appropriate solutions, much like a detective.

Communication skills: A good CFO can translate complex financial jargon into simple English. They should be able to explain financial issues so you can make informed decisions clearly.

Tech savviness: According to recent research, more than 65% of finance leaders expect half of their tasks to be automated by the end of 2023. Financial tools and software are essential to the game in today's digital world. Your CFO should feel at ease using these tools to improve financial processes and reporting.

Compliance: Dealing with tax compliance can be time-consuming, draining, and stressful, which is something none of us want. So, when looking for an outsourced CFO, you want a financial expert who knows the ins and outs of taxes and has been there and done that.

Adaptability: The business world is in constant flux. As new financial challenges and regulations emerge, your CFO should be able to adapt.

Mastery of multitasking: Running a business requires juggling many tasks, and your CFO should be a multitasking expert. They should be able to handle a variety of financial responsibilities without falling behind.

Scenario modeling: For your company, scenario modeling is similar to writing a number of "what-if" scenarios. Consider it as planning for alternative business opportunities, particularly during uncertainties like a pandemic, an economic downturn, or other significant global shifts. An outsourced CFO skilled in scenario modeling can help you envision what might happen in the future and inspire your team to think big and boldly.

Resource handling: Trust is why you want to look into their resource management experience. You want to ensure that you can trust them as much as you trust your own team. If you do not trust them, you will add "double-check the CFO's work" to your already-exhausting to-do list – something you definitely don't want.

How do you outsource CFO services?

Outsourcing the best virtual CFO services is a critical business decision. Here's a step-by-step guide to getting started:

Determine why you require CFO services. Is it for financial planning, compliance, fundraising, or something else?
Recognize the budget you have available for hiring a CFO. Consider both the hiring cost and the potential ROI.
Create a detailed job description that includes responsibilities and qualifications.
Post the job and recruit potential CFOs from reputed outsourcing platforms.
Interview candidates to see if they are a good fit for your company.
Contact references to confirm their experience and reputation.
Discuss terms such as compensation and scope of work.
Integrate the CFO into your team and give them the required access and resources.
Communicate your expectations and key performance indicators (KPIs) for the CFO's role.

Wishup: Hire Expert Virtual Assistants for your CFOs

Your outsourced CFO might need an extra pair of hands when it comes to bookkeeping and accounting. That's where Wishup can help you!

Wishup takes pride in providing top-tier outsourced accounting services that are second to none.

Our highly skilled professionals with diverse industry experience are ready to meet your specific requirements. We collaborate closely with you to thoroughly understand your particular needs and provide tailored solutions.

Our virtual assistants are more than just helpers; they are accounting and bookkeeping experts. They handle everything from meticulous expense tracking to meticulous financial statement preparation. And there is more. They can work remotely and on a temporary basis, making it a cost-effective way to keep your financial records in order.

Wishup stands out from the crowd of virtual assistant services for several compelling reasons:

We are incredibly selective, only selecting the top 0.1% of applicants. Our virtual assistants have over 200 skill sets and are proficient in over 70 no-code tools.
We believe in ongoing training for our virtual assistants to ensure they stay updated with industry trends.
We have an instant replacement policy. If your virtual assistant is unavailable, we will promptly provide a replacement.
With our seven-day free trial, you can put our virtual assistants to the test and see what level of support they can provide.
We offer several options, depending on whether you prefer offshore or US based virtual assistants.
All our virtual assistants sign NDAs to protect your sensitive information.

Wishup is ideal for those looking to outsource their accounting and bookkeeping tasks. Our hiring procedure is as simple as 1-2-3:

Step 1: Arrange a call with our customer success team member.
Step 2: Select the best-suited profile for your specific needs.
Step 3: Prepare your remote employees for onboarding, which will begin within the next 24 hours.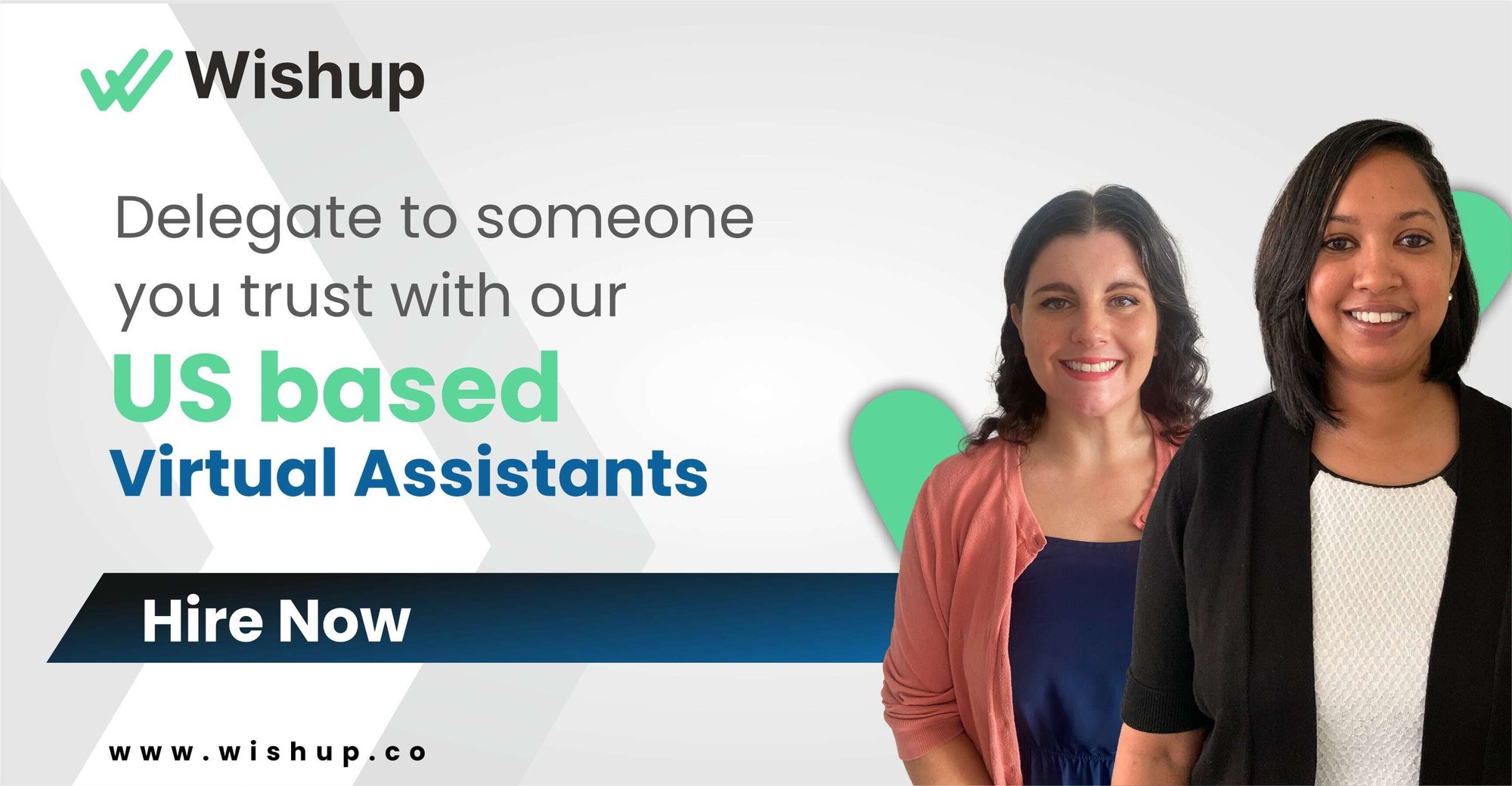 Outsource your business' CFO services today!

Outsourcing CFO services bring financial expertise and guidance to your door, regardless of your company's size or stage.

So, as you chart your business's course, remember that while your ideal financial partner may not be in your office, they are certainly within reach. Outsourced CFO services are a practical and adaptable way to meet your financial needs, ensuring a smoother journey on your entrepreneurial journey.

Need help with tedious accounting and bookkeeping? Wishup is there to your rescue! Contact us today by mailing us at [email protected] or booking a free consultation with our customer success team.

FAQs related to Outsourced CFO Services

What are the advantages of outsourced CFO services?

Outsourced CFO services provide significant benefits. They bring in experienced financial experts who can assist businesses without committing to hiring a full-time CFO. This method is less expensive because you only pay for your required services. Outsourced CFOs can offer an unbiased perspective and have a wide range of industry experience.

Why hire an outsourced CFO?

When you outsource cpa services for startup, you can gain access to top-tier financial expertise without making a long-term salary commitment. They offer your financial strategy an objective, outside perspective, which can be extremely helpful.

What is CFO Consulting Services?

CFO consulting services entail bringing in experienced Chief Financial Officers on a temporary or project basis to provide businesses with financial guidance and expertise.