Finding the right talent for your business is difficult, and hiring virtually might seem even more daunting. However, the good news is that hiring remotely is easier since you can pick from a broader talent pool and are not restricted by location.
Still, while the role of a virtual assistant bookkeeper is no different from an in-house bookkeeper, there are slight differences in how they operate. The Bureau of Labor Statistics predicts a 7% increase in demand for accountants between 2020 and 2030.
If you're considering hiring a Virtual Bookkeeping Assistant, you probably have many questions. Furthermore, to have a smooth and seamless professional relationship, you'll want to ensure you are hiring the right person for the job.
To make things easier, we've put together a list of interview questions for bookkeepers that will help you narrow down your list of candidates until you find your perfect fit.
These bookkeeper interview questions will not only give you a perspective of your bookkeeping candidate technical knowledge and communication skills but also let them know how serious you are about this position, increasing their efficiency throughout the interview process.
But first, let's understand the roles and responsibilities of a virtual bookkeeper.

Who is a Virtual Bookkeeping Assistant?
A Virtual Bookkeeping Assistant is a qualified accounting professional who operates remotely and helps your company manage its financial statements by regularly making financial reports and tracking accounts receivable and payable. They have the knowledge needed to operate bookkeeping tools and latest bookkeeping software.
They save entrepreneurs significant time and money by taking care of menial and tedious routine tasks that are still important and need to be done.
The only significant difference between an in-house accountant and a Virtual Bookkeeping Assistant is that a virtual bookkeeper does not work from your office but operates from their own house or a co-working space. However, thanks to modern technology, they can still be part of important company meetings through video conferencing.
Tasks a Virtual Bookkeeping Assistant does-
Making sure your bills are paid on time
Preparing Balance Sheets Or P&L accounts
Reconciling bank statements
Preparing invoices and general ledgers
Sales Tax Reporting
Mailing invoices to customers
Managing financial statements
Making financial reports
Entering accounts receivable and payable
Skills possessed by Virtual Bookkeeping Assistants

System organizations skills for recording financial reports and financial statements.
Time management skills to complete all of their tasks.
Problem solving skills to deal with any shortcoming.
Current bookkeeping practices in order to maximize performance.
Knowledge of online databases and spreadsheets.
Updated with the current market trends
Knowledge of the latest accounting software and bookkeeping tools
Now that you are aware of the role, let's get back to the bookkeeper interview questions to be asked during the interview process.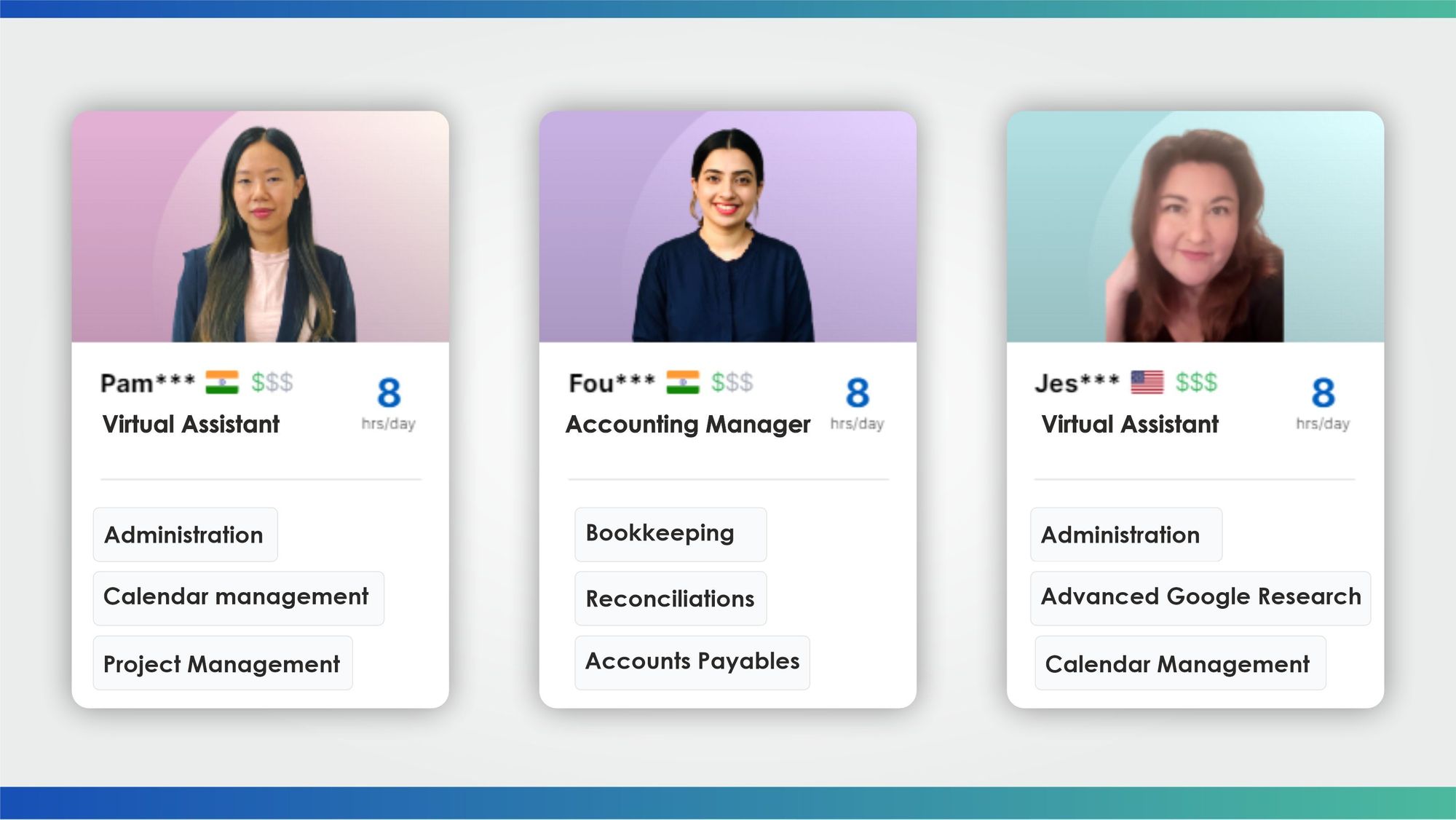 11 Interview Questions for Bookkeepers
What are your working hours and availability?

Virtual Assistants work from all over the world. For example, your office could be based in Los Angeles, and your Virtual Assistant could be based in India. Therefore, having clear communication on work hour expectations is very important.
You will also need to discuss the hours you expect them to work for your business. Since they are not permanent employees, you can decide their workdays based on your budget and workload size.
If you hire from a virtual assistance agency like Wishup, you can find a Virtual Assistant who works your preferred schedule. So timing is not an issue. You will get all those financial reports and financial statements on time, no matter where you are.
What to search for in a response:
Devotion and dedication towards work
Timeliness
Schedule management
How will we communicate?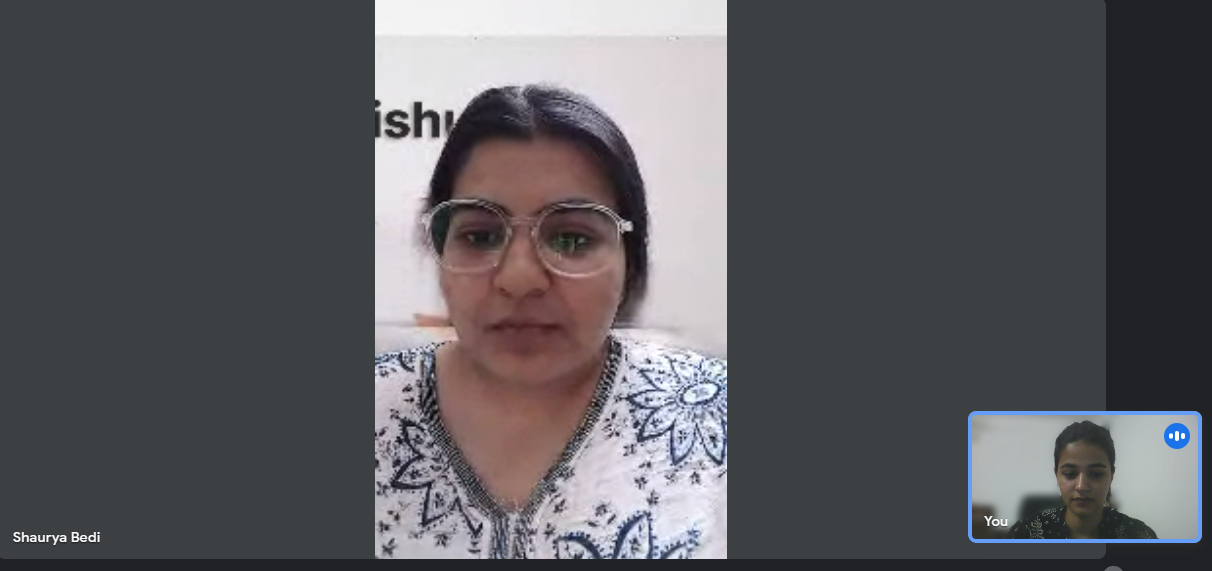 With a Virtual Bookkeeping Assistant, deciding the means of communication is crucial for your working relationship. This is one of the most important bookkeeper interview questions. You will need to find a Virtual Assistant who can accommodate and adjust to your means of communication.
You will also need to discuss how often you communicate with your Virtual Bookkeeping Assistant. Analyze your virtual assistant's communication skills throughout the interview process to get a clear picture of how well they will communicate each and everything with you in the long term.
At Wishup, our virtual bookkeepers file an end-of-day report daily that lets you know how they spend their time at work. This way, even if you don't communicate daily, you'll still be aware of what work is completed by your assistant.
What to search for in a response:
Personability, including a friendly, amiable demeanor
Availability
Speaking with clarity and expression
Tell me about your past work experiences and area of interest/expertise.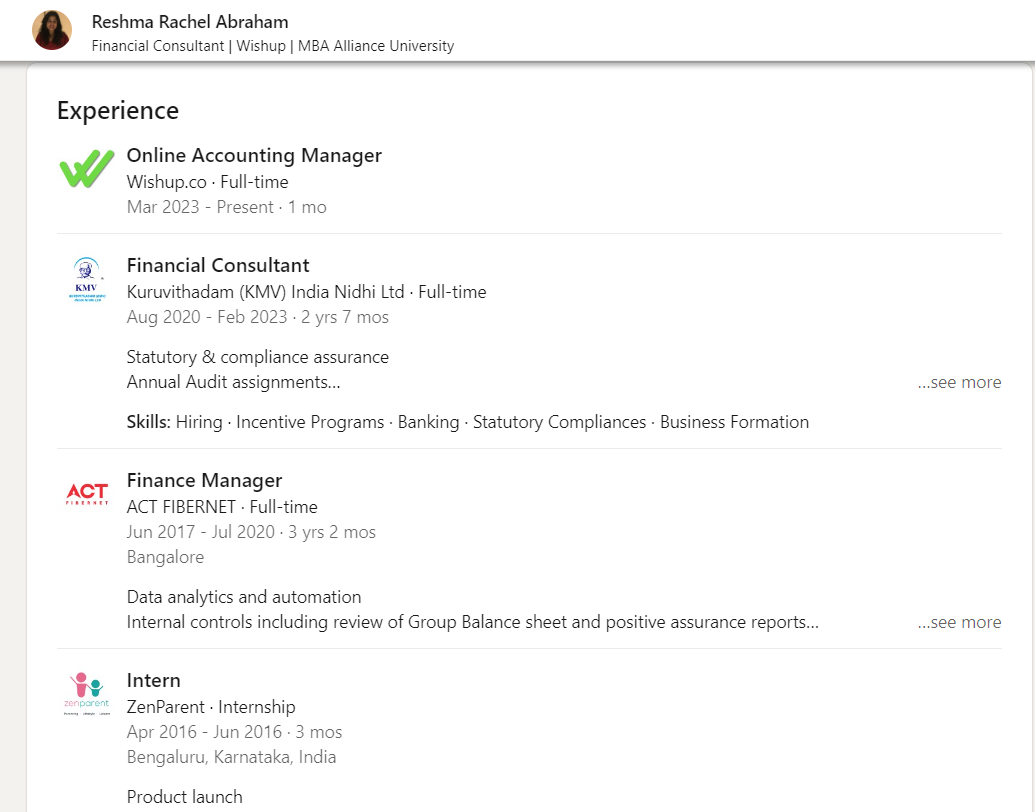 Much like hiring an in-house bookkeeper, it is preferable to hire a virtual bookkeeper with the right technical knowledge and experience working in similar environments to your business. This is one of those bookkeeper interview questions that will make or break the interview decision.
Additionally, you want someone on your team who is genuinely interested in the type of work you do. Only then will it be a mutually beneficial working relationship, where both parties can help each other grow.
Pay attention to the way they speak when they answer these questions. If they sound enthusiastic and interested in the opportunity, it's a good sign. Another good sign is if your potential Virtual Assistant asks you questions and is eager to learn more about the position.
What to search for in a response:
Relevant professional experience and history
Knowledge and abilities in bookkeeping and accounting
The inclination toward mathematics and numbers
Tell me a time when things didn't go according to plan and how you tackled that.
Everything isn't always going to be smooth sailing in a business. There are bound to be times when things go wrong, deadlines are missed, or unexpected mishaps happen. Even if you hire the most qualified person, things might be beyond their control. Thus, asking these bookkeeper interview questions becomes necessary.
However, what is in your hands is hiring someone who can keep their head on your shoulders when things go awry.
At Wishup, we have a challenging aptitude test to test a candidate's problem solving skills and select only the top 1% of applicants, who are then trained on various aspects of the job and how to handle any difficulties that may arise. We also ensure that our Virtual Assistants are equipped with proper tech and have backup arranged in case of an emergency.
What to search for in a response:
Problem-solving skills
Analytical reasoning
Situation-handling skills
How are you going to be a proactive member of the team?

Though they work remotely, a virtual bookkeeper will still need to maintain close relationships with certain members of your team, as accounting needs to work with different departments in the company. Therefore, you will need a team player who will contribute to your business's success.
A proactive virtual bookkeeper will identify things that can be improved and pinpoint inefficient processes that can be streamlined. This will help your company save time in various ways - such as cutting down meetings, improving communications through various software, finding more affordable vendors, and more.
At Wishup, we hire college graduates with previous office experience. Though they work remotely, they have worked in various office settings before and can use their vast experience to help streamline operations and make them more efficient.
What to search for in a response:
Willingness to work in different scenarios
Capability to streamline processes
Team player demeanor
What actions do you usually take to boost sales, cut expenses, or free up time?
There are three main reasons why businesses hire people: to increase sales, reduce costs, or save time, which is the same as saving money. Even though this question specifically addresses it, every answer you receive should show how the respondent has all the money-saving and time management skills.
Additionally, even though their response is retrospective, it should still address a problem that your business might encounter, demonstrating their research and analytical abilities.
What to search for in a response:
Time-management skills
Money-saving capabilities
Research abilities
What are your salary expectations?
Money can be a tricky subject to bring up, especially in a virtual interview.
Just remember the budget you have set aside for hiring a virtual assistant bookkeeper and start from there. Doing your own research is a good starting point before you begin interviewing candidates.
By choosing a Virtual Assistant, you eliminate expenses like paid leaves, insurance, and additional costs of having an in-house assistant. To put things in perspective, a regular bookkeeper might cost you close to $45,000 a year, whereas a Wishup virtual bookkeeper will cost you only $20,000.
Thus, even if you choose to work with a qualified virtual bookkeeper, you will still be saving money compared to if you were hiring an in-office bookkeeper.
What to search for in a response:
The salary expectations
Is it aligned to your budget?
What would you do if you didn't understand an assignment?
Communication with your virtual bookkeeper is not as often as with someone who works in the office. Therefore, you will need a person who is not afraid of admitting their shortcomings and is willing to face challenges and gain technical expertise on the job.
Note their response to this question. A good virtual bookkeeper may have never been given an assignment they didn't understand. But a great virtual bookkeeper is one who faced a new challenge, wasn't afraid to admit their shortcomings, and was ready to learn something new.
At Wishup, we understand that and try to equip our virtual bookkeepers with all the necessary knowledge they'll require for the job. Our in-house training program covers over 70+ crucial skills and accounting software that will come in handy to them on the job.
What to search for in a response:
Challenge acceptance
Willingness and eagerness to learn
Fault acceptance
What is your turnaround time?
You want someone who works quickly and can meet short deadlines without making mistakes. Of course, you must have reasonable expectations of your virtual bookkeeper. You want someone ready to occasionally go the extra mile and be an asset in times of need. That's what makes a great employee.
At Wishup, we assign a success manager to every client who oversees the project and the work of the virtual bookkeeper. We value and trust your business and will ensure no missed deadlines.
What to search for in a response:
How they work with deadlines
Willingness to put extra efforts
How can I trust you with my data?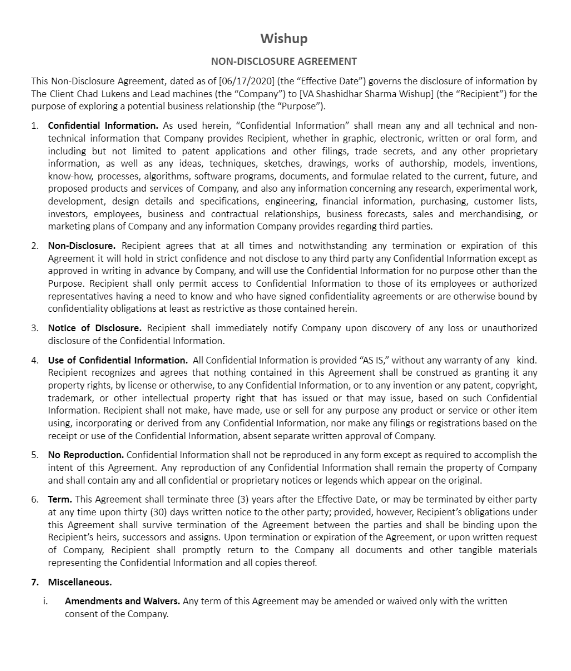 Working with a virtual bookkeeper essentially means trusting them with really important and sensitive information, such as your passwords, financial statements, and bank details. Naturally, therefore, you're bound to be worried about the security of your data, and rightfully so.
With freelancers, there is a risk of misusing your information unless proper contracts are signed, and a third party is involved. This is why people prefer to work with Virtual Assistant service providers rather than hiring freelancers.
At Wishup, we take your privacy seriously. We have set rules and guidelines set in place and a non-disclosure agreement that all our Virtual Assistants sign. Therefore, you can rest assured that your data and information are in safe hands.
What to search for in a response:
Trustworthiness
If the agency has an NDA policy in place.
Do you have any terms/conditions of business?

Lastly, find out their usual terms and conditions, if any. This covers regular aspects like trial periods, minimum and maximum delivery time frames, contract length, payment processors, and any other details you might want to discuss.
Your time is valuable, something we at Wishup understand too well. This is why we schedule a short, free consultation with our clients. We discuss your expectations and needs and pair you with the perfect virtual bookkeeper. The whole interview process takes less than 24 hours, and you will have a bookkeeping assistant ready to start the job.
What to search for in a response:
Do they offer any perks?
All the formalities of onboarding

Grow your business with a Virtual Bookkeeping Assistant now!
These interview questions for bookkeepers are to provide you with a convenient way to go about hiring the best virtual assistants for bookkeeping.
Hiring a bookkeeper is challenging, but we can make it simple. If you are interested in growing your business with a remote team of talented bookkeepers, join our team of over 500 happy clients and schedule your consultation today! You could also drop us an email at [email protected], and we will get back to you at the earliest.
Subscribe to Wishup Blog | Remote Teams | Remote Employees
Get the latest posts delivered right to your inbox