Initially - when you have just started your company - tasks like invoicing, receivables & payables, and bookkeeping used to be easy. But as your small business grows, bookkeeping seems like a gigantic task. And one point, it becomes nearly impossible to handle all the bookkeeping tasks by yourself. It is a challenge for small business owners across the world. According to a study by Owl Labs, 16% of companies operate remotely, and even more, are operating in hybrid models - a mix of both in-office and virtual employees.
This is where the role of a bookkeeping virtual assistant becomes important.
A virtual bookkeeper is a remote professional. They offer a cost-effective way to manage your financial records. They can handle a variety of tasks, like reconciling bank statements, preparing financial reports, etc. This that business owners can concentrate on growing their businesses.
However, the real question is - what tasks can a virtual bookkeeper do for your business? Read on to find the answer!

Who is a Virtual Bookkeeping Assistant?
Before we talk about the 14 tasks a VA bookkeeping service provider can do for you, let's understand what is virtual bookkeeping. We will also talk about who is an online bookkeeping professional. Although in-house bookkeepers work from an office, only some of their time is spent productively. A study of around 2,000 full-time employees revealed that people are only productive for 2 hours 23 minutes out of an 8-hour work day. The rest of the time is spent on useless things like social media, gossip, smoke breaks, eating, and reading the news. Unless you are ready to micromanage, there is no way to ensure that your workers are entirely productive.
In simple terms, virtual bookkeeping is a financial management service that is conducted remotely. It is usually done with the help of cloud-based accounting software. The role of a bookkeeping or accounting virtual assistant is to assist business owners with the management of finances. From tracking transactions and expenses to creating financial reports, they can help keep finances in check.
Additionally, they can work with different accounting software. This helps them streamline processes, making them more efficient and ensuring accuracy.
Benefits of Hiring a Virtual Bookkeeping Assistant

Virtual bookkeepers offer a large number of benefits to entrepreneurs. The common benefits offered by such professionals include better finances, saved money, improved cash flow, increased financial transparency, and specialized skills.
That said, let's have a look at the top benefits of hiring a virtual bookkeeper:
1. Better Finances
Having an online bookkeeper assistant can be a huge help for entrepreneurs when it comes to taking care of their finances. Almost 31% of business owners trust their bookkeeper and accountant. They take their advice about financial matters.
These assistants can create accurate financial reports, manage cash flow, and spot areas that could be improved. This helps entrepreneurs make the right decisions for their businesses and avoid any financial troubles in the future.
2. Saved Money
Hiring a virtual assistant bookkeeper is a great way to save money in the long run. They can help entrepreneurs keep track of expenses, and identify areas for cost-cutting. This ultimately reduces unnecessary costs - resulting in increased profitability. A bookkeeper's base salary starts at $40,000 per year.
3. Improved Cash Flow
Working with an online bookkeeper is an excellent way to improve your cash flow. These professionals can manage your accounts payable and receivable. They can also help with invoicing clients, and ensure that payments are made on time. It helps you avoid cash flow problems that can cripple your business in the future.
4. Increased Financial Transparency
If you want more clarity into your finances, hiring a virtual accounting assistant is the way to go! These assistants can provide you with better insight into their finances. They can offer detailed financial reports. It enables entrepreneurs to track their spending and pinpoint areas of improvement.
5. Specialized Skills
Virtual bookkeeping professionals are experts at what they do. They can bring their specialized knowledge to the table to help entrepreneurs manage their finances in a better way. They can also offer tax-related advice, help you with tax filing, and more.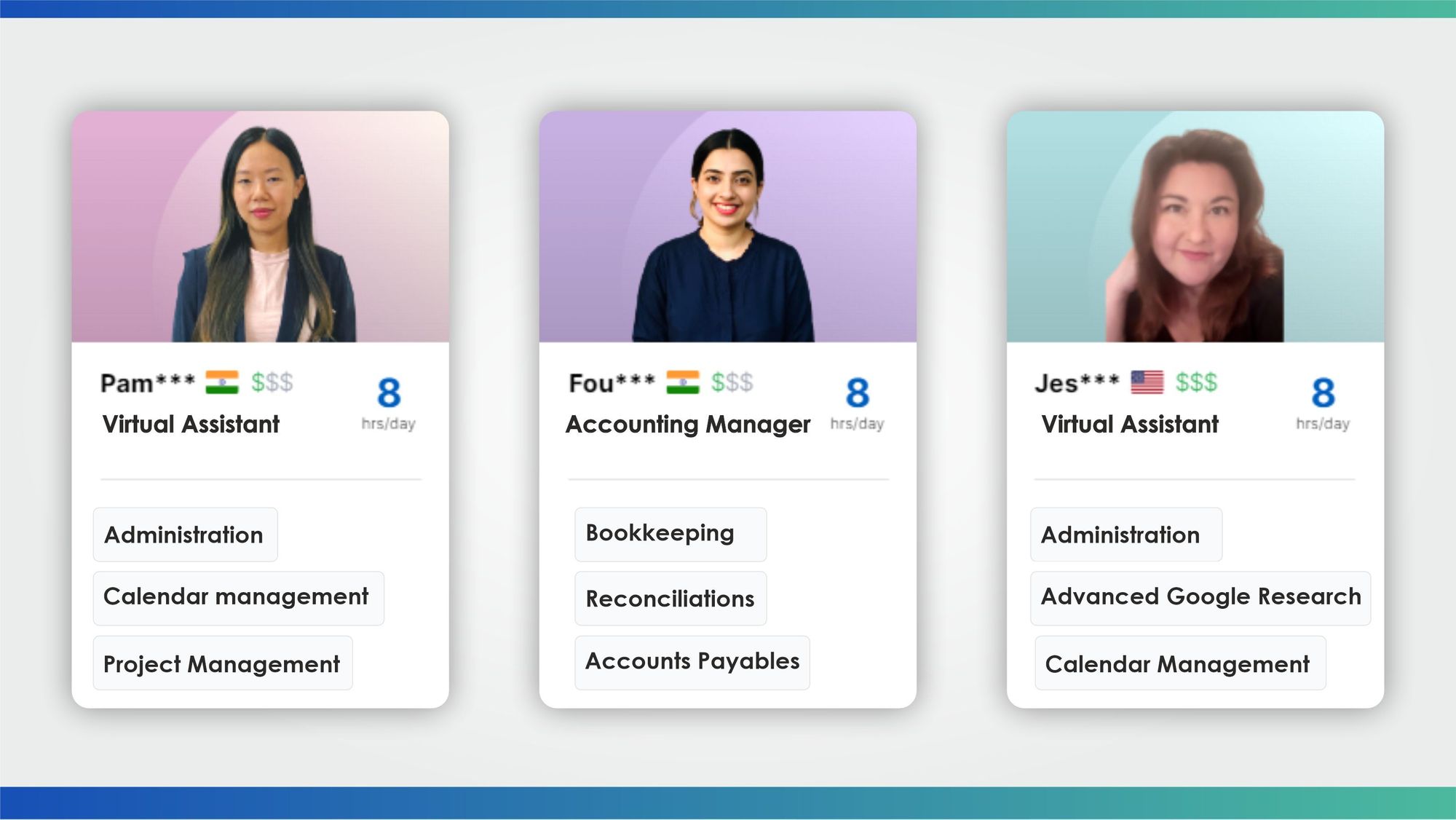 14 Tasks To Delegate To A Bookkeeping Virtual Assistant

1. Ensuring Your Bills Are Paid On Time
A virtual assistant bookkeeping provider can make paying bills as simple as possible. They are trained and qualified to perform all accounting operations, including bill payment and payment collection.
Vendor bills and other payables can turn into a large pile, and you must guarantee timely payment. Otherwise, late bill payments may lead to the disinterest of vendors and eventual business abandonment. An online bookkeeping professional can set reminders and directly make payments that do not require your intervention.
2. Preparing Balance Sheets Or P&L Accounts
Business owners know the importance of financial statements such as balance sheets, trial balances, and profit/loss statements. These are essential documents to ensure that your business runs smoothly.
A bookkeeping expert can create and archive these records for you, so they are available for examination and use. Yearly financial statements are significant for the tax rebate, and most importantly, you can crack funding with your financial records.
3. Reconciling Bank And Credit Card Statements
Reconciling your financial records and business bank accounts is a difficult task. You can easily make mistakes if you do not have experience reconciling bank statements.
A virtual assistant bookkeeper can assist you in avoiding errors and keeping your accounts in good standing. Business owners have well-maintained records from a legal point of view too. Moreover, governments in various countries often lay out beneficial schemes for entrepreneurs with proper financial records. Even investors show great interest in businesses with well-maintained records.
4. Preparing Invoices
Every business requires an invoice preparation service. It is legal proof that a business owner sold their products or services to a customer. However, business owners do not have the time to mention the technicalities - quantity, price, date, and other details - after a sale.
In addition, some businesses require bulk invoice preparation. However, preparing bulk invoices is out of the question for entrepreneurs, as it can usurp their entire time. A virtual assistant accounting provider can solve this problem by handling invoice preparation - bulk or regular. They use various invoice tools to make the task easy for business owners.
5. Preparing General Ledgers
Preparation of general ledgers can save you all the trouble of running through each receipt to identify and record revenue. General ledgers are a record of your expenses - the record you may need to look at to cut down your spending.
Since you have already posted every transaction in the general ledger, it saves you time, effort, and potential loss of money. The tricky part is ledgers take time to prepare as they are detail-oriented. A digital bookkeeper assistant has the right experience in doing such work in less time.
6. Mailing Important Documents And Invoices To Customers
Business owners should focus on providing the best services to their customers. They should leave the rest to virtual bookkeepers. The professionals send the invoices to customers for timely payment. Plus, a virtual bookkeeper can keep a track of the important documents you have to send to customers.
7. Mailing Payment Reminders
Many customers often forget to pay on time. If business founders start keeping a tally of who pays/does not pay them on time, they can end up wasting a lot of time. However, an accounting virtual assistant can do that, even multiple times if required.
8. Following Up With Customers By Phone
Many products and services require businesses to follow up with their customers. It can be a part of both pre-and post-sale. At times, there is price negotiation that happens over-call with customers.
When your clientele is smaller, you can follow up with your customers personally. However, this exercise becomes extremely hectic when the number of clients increases. A virtual assistant can ensure that your customer relationship is never tarnished due to lack of time.
9. Maintaining Financial Data In Your Chosen Software Application
You must have a yearly record of your finances, well-maintained and updated. It is essential to have it to track your company's growth at a glance. A bookkeeper virtual assistant can help you maintain the financial data in the software you like. They can record it in a format easiest to understand and analyze.
10. Entering Payables And Receivables
All the figures involved in your business ventures can be a challenge to keep track of. A virtual bookkeeping expert can compute, classify, and record this data. They can provide it to you in an easy-to-work-with format.
Also, note that financial data entry is not an easy task. Small businesses can have copious amounts of financial information. It can become time-consuming and non-manageable to record.
11. Sales Tax Reporting And Submission
Sales tax reporting is a complicated matter that requires expertise and experience. Unfortunately, many business owners do not exactly understand how to calculate taxes. Hence, they consider tax calculation, report creation, and submission a nightmare.
Virtual bookkeeping assistants are trained in tax preparation and can keep you updated about the taxes to pay by organizing them quarterly or annually.
12. Helping To Interpret Financial Statements
Business founders - who do not come from a finance background - find it difficult to interpret financial statements. As data multiplies, it becomes even more challenging to understand.
In addition, similar to other departments, finance has technical terms that a qualified bookkeeper can help you understand.
13. Dealing With Delinquent Or Bad Accounts
Businesses should always make some scope for delinquency. It is because not all clients you acquire tend to be fair. Dealing with these bad accounts may not be easy because other tasks take priority.
A bookkeeping virtual assistant can tackle these lawless accounts. And inform you about the decisions that need you to interfere.
14. Ensuring Document Completion Before Year-End
Annual document completion takes a toll on entrepreneurs worldwide. It is a challenging task that may require you to run from pillar to post, even if it is for a single document.
A virtual bookkeeping assistant can save you time by handling this responsibility. They ensure paperwork & documentation is sorted right from the beginning. As a result, you no longer think about financial documents or any potential legal action.
What Qualities Should You Look For In A Virtual Bookkeeping Assistant?

When hiring a bookkeeper, you must look for several qualities. Here are the top 5 ones:
1. Relevant Industry Experience
A good virtual bookkeeper should have the necessary industry experience. Look for professionals who have worked with businesses in your industry. Opt for experts who have at least a few impressive reviews and testimonials to their name.
2. Good Communication Skills
Having good communication is key for online bookkeepers. It enables them to get a good grasp on what you need, update you effectively, and provide you with the top-notch service you deserve.
3. Attention to detail
Make sure to choose a VA bookkeeper who has a keen eye for detail. This is because accuracy and precision in financial records are paramount, and it keeps your books free of mistakes.
4. Relevant Technical Skills
When looking for a virtual bookkeeper, look for someone with good technical know-how. This will enable them to work with different accounting software efficiently.
5. Trustworthiness
An online bookkeeper will have access to a lot of sensitive financial data of your company. They should be reliable and trustworthy.
Is Bookkeeping Important For Small Businesses?
Yes, bookkeeping is incredibly important for small businesses. It allows them to keep track of expenses, monitor cash flow, and generate precise financial reports. With this information, small business owners can make well-informed business decisions and avoid potential financial issues in the future.
Here are some of the ways in which a skilled and experienced online bookkeeping services can help your small business:
1. A Bookkeeping Assistant Keeps Your Books Error-Free
An online bookkeeper can ensure the accuracy of your financial records. They can do this by closely monitoring transactions, recording expenses, and creating reliable financial reports. This helps to keep your books error-free and ensures they remain up-to-date.
2. Online Bookkeeper Can Securely Keep Data
Online bookkeepers can keep your data safe. They can securely store your financial records using cloud-based accounting software. Further, they can also provide an extra layer of protection by backing up data regularly. This ensures that entrepreneurs need not worry about the security of their financials or the issue of physical storage.
Why are Virtual Accounting Services the Best Solution For Entrepreneurs?
As an entrepreneur, managing finances can be a daunting task and take up precious time and resources. This is why monthly accounting services are one of the best solutions for busy business owners. They offer entrepreneurs a more efficient and cost-effective option for managing their financial records.
Firstly, entrepreneurs can benefit from the flexibility and customizability offered by these services. Unlike traditional accounting services, virtual accounting services are tailored to the specific needs of every business. They allow entrepreneurs to pay only for the services they require. It removes unnecessary costs and ensures that businesses receive the exact level of assistance they need.
Secondly, virtual accounting services enable you to access your financial records anytime, anywhere. With cloud-based accounting software, virtual bookkeepers can store your financial data online securely. So, you can manage your finances no matter where you are - without being stuck in one spot or having to worry about specific working hours.
How to hire a virtual bookkeeper?

1. Freelance:
Freelance bookkeepers are independent contractors who take on projects as they come. They are highly flexible and cost-effective. You can find freelance bookkeepers on a variety of online freelancing platforms.
2. Agencies:
Top-notch VA agencies like Wishup offer a team of bookkeeping experts. They provide a range of services like tax preparation, financial analysis, and forecasting. Plus, these agencies are highly reliable and secure. With regard to flexibility and affordability, virtual bookkeeping services may benefit both the company and the bookkeeper.
Benefits Of Hiring A Bookkeeper Online From Wishup
Cost Saver: Having an in-house bookkeeper is more expensive than having a remote bookkeeper. You can save more than half of your costs when you hire virtually. Expert virtual assistant agencies like Wishup offer virtual assistant services hourly, ensuring that you pay only for the time required.
Pre-Trained Bookkeeper: Hiring a virtual bookkeeper from Wishup means working with trained professionals skilled in more than 70 tasks, ranging from calendar management to inbox management. These qualified professionals bring industry-specific experience to help clients worldwide and in different industries.
Pre-Interviewed Bookkeeper: It may take you from a few days to months to hire an ideal bookkeeper for your company. Wishup considers this and tries its best to save clients' time by pre-interviewing the professionals and picking only the top 1% of professionals, best at bookkeeping.
Less Onboarding Time: According to SHRM, the average time to hire a new employee can take up to 36 days. Keeping the points above in consideration, there is no doubt that with Wishup, it would take you less time to hire a bookkeeper than with traditional methods. Hiring typically means creating a job description, publishing it on multiple platforms, and waiting for a suitable candidate to arrive. Then, you can look at a portfolio of qualified candidates and pick the best one with us.
Experienced Professionals: We ensure that only knowledgeable professionals, who have previously worked on various challenging projects, handle your project. You can benefit from the experiences of a bookkeeper, ensuring that your business moves in the right direction.
No Employer Liabilities: Wishup provides the best online bookkeeping services at highly competitive prices. However, another significant benefit of hiring an online bookkeeper is that business owners do not have to bear any employee liabilities such as insurance costs, office setup expenses, utility charges, etc.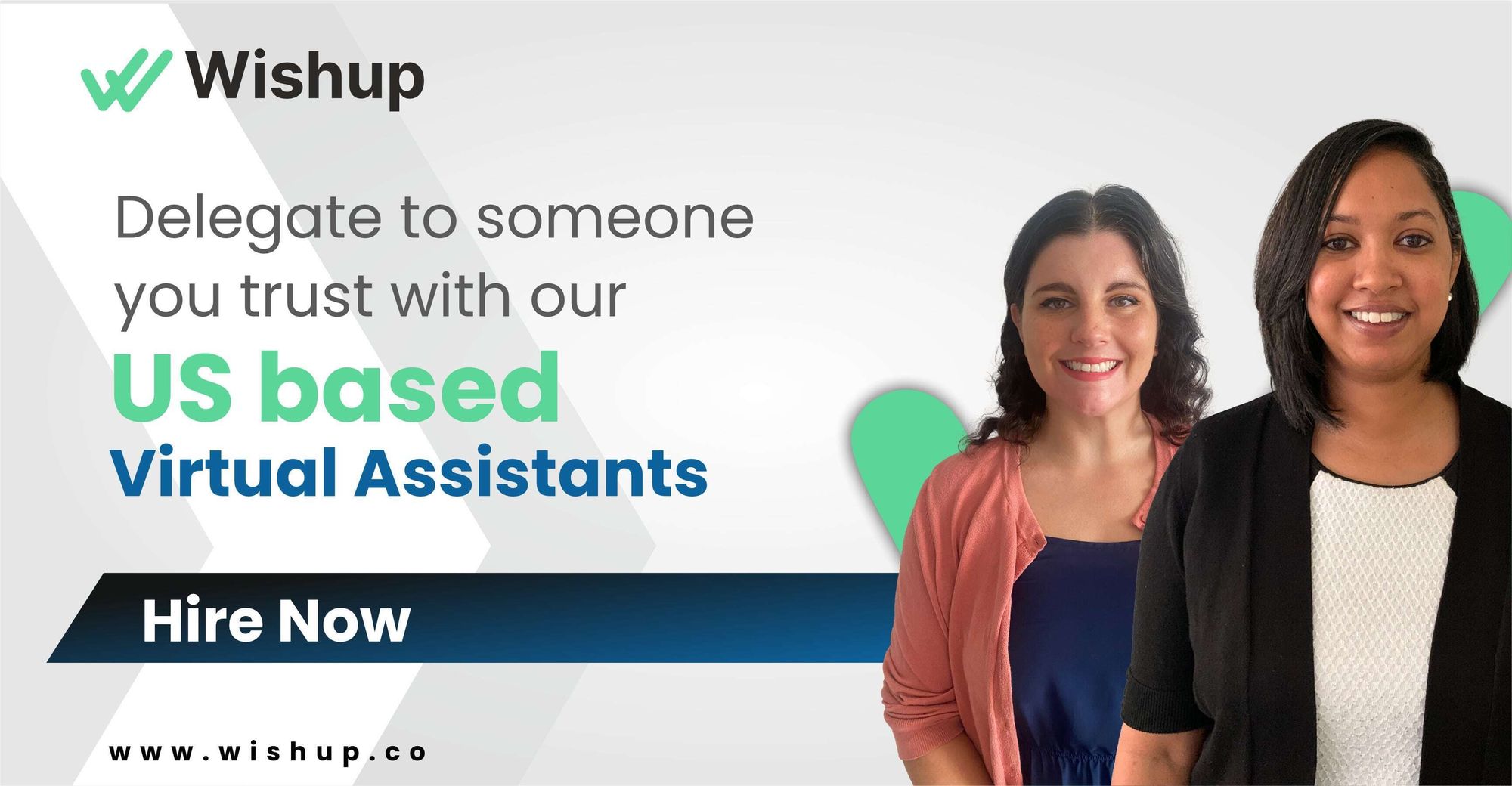 Conclusion
Are you an entrepreneur looking to get your finances in order and boost your bottom line? If yes, hiring an online bookkeeping expert could be exactly what you need! They will help you keep your financial records accurate and up-to-date. This, in turn, will help you make smarter business decisions and prevent any money-related issues in the future.
Click here to register on our website. That will help you schedule a free consultation with our team.
Get in touch with Wishup to schedule a free consultation. You can also email us at [email protected], to hire a bookkeeping assistant today and start taking control of your finances!
Subscribe to Wishup Blog | Remote Teams | Remote Employees
Get the latest posts delivered right to your inbox