Why Wishup is Better than Upwork?
With numerous virtual assistance services available, choosing the right one for your business can be challenging. This blog will compare two of the most widely-used VA companies, Wishup and Upwork, to assist you in making the right decision.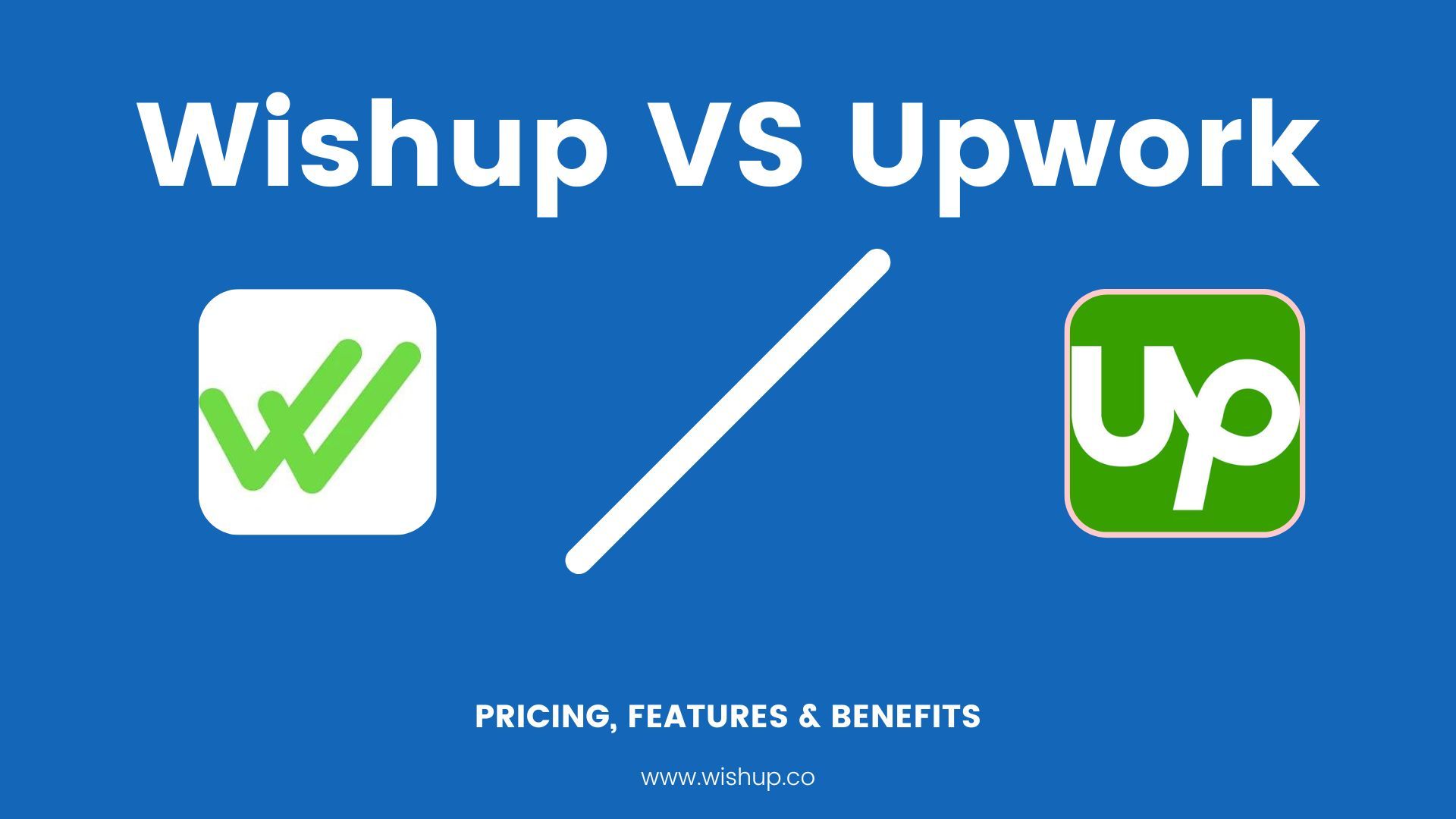 Entrepreneurship is a rewarding yet challenging path that demands extensive effort, commitment, and determination. In the current swift business environment, entrepreneurs encounter a never-ending array of tasks and duties that can prove too much to handle on their own.

Here is where Virtual Assistants (VAs) step in to help. They support entrepreneurs in managing their businesses by handling tasks that don't require their specialized skills.

With numerous virtual assistance services available, choosing the right one for your business can be challenging. This blog will compare two of the most widely-used VA companies, Wishup and Upwork, to assist you in making the right decision.

However, before delving into the comparison, let's start by understanding who virtual assistants are and the benefits they bring to your business.

Who is a virtual assistant?
A Virtual Assistant (VA) is a highly-skilled individual who offers administrative, technical, or creative support to clients remotely. Virtual Assistants offer various services, including appointment scheduling, email management, market trend research, data entry, customer support, bookkeeping, and travel planning.
Virtual Assistants offer versatility, allowing entrepreneurs to hire them on a flexible basis, either for a few hours per week or full-time. This provides entrepreneurs with the support they require without incurring the expenses of having a physical office or employing full-time staff.
Outsourcing tasks to a Virtual Assistant enables entrepreneurs to allocate their time and resources more efficiently and concentrate on the most crucial aspects of their business.
In the blog's following section, let's delve deeper into virtual assistance's advantages.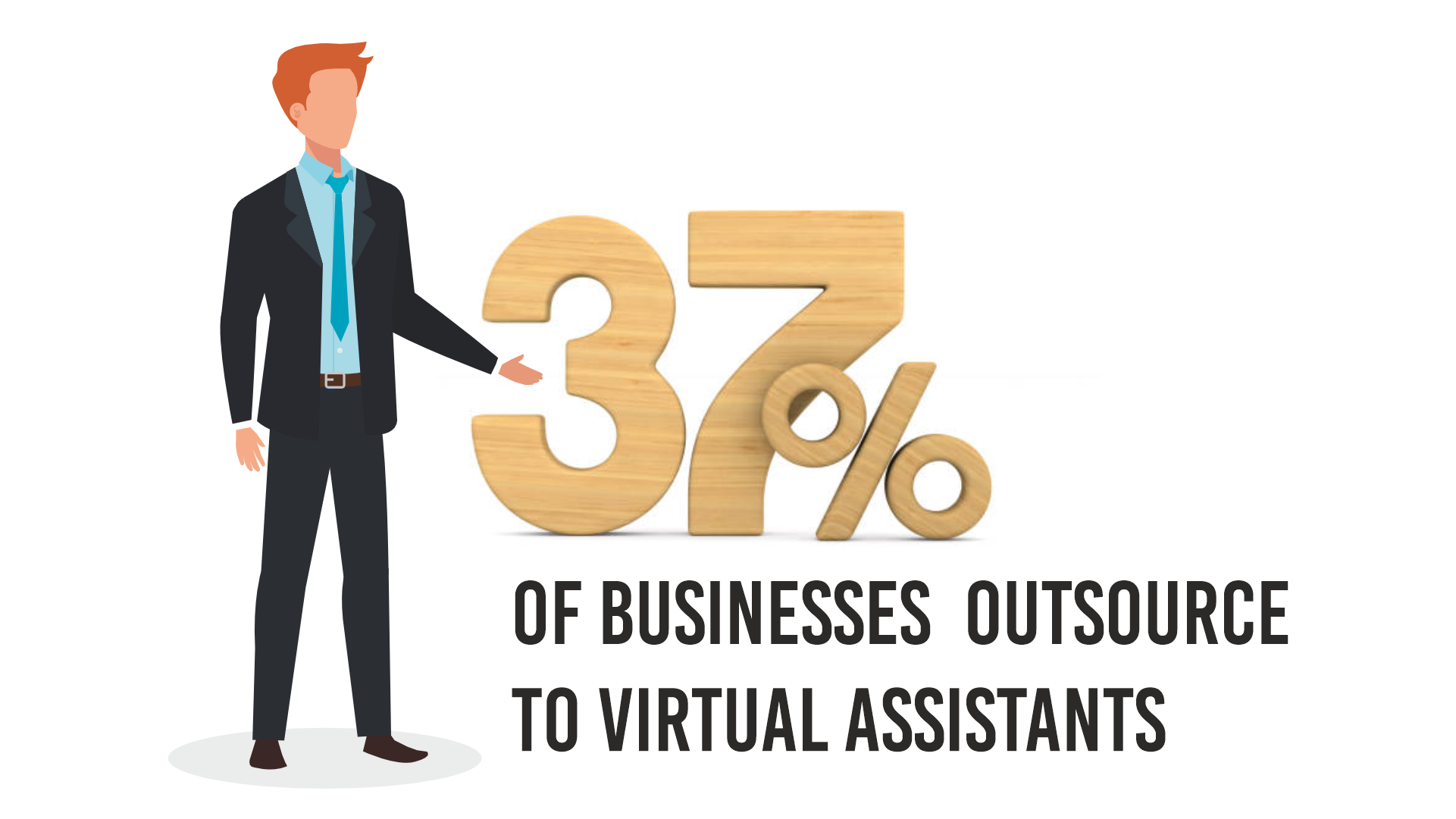 5 Benefits of using the services of Virtual Assistants
Small businesses can greatly benefit from partnering with a virtual assistant, as it enhances productivity and enables business owners to concentrate on expanding their ventures.
Let us explore the top 5 benefits of Virtual Assistants -
Enhanced Efficiency
Virtual assistants can boost efficiency by taking on tasks that would otherwise divert your attention from crucial responsibilities.
By managing routine tasks such as data entry, appointment scheduling, and customer service, virtual assistants allow business owners to allocate their time toward more vital tasks.
Improved flexibility and scalability
Virtual assistants are a scalable and versatile solution that can be tailored to meet the demands of your business, enabling you to increase or decrease resources as necessary.
Flexible aspect enables small businesses to access support outside of normal working hours, which can prove valuable for businesses serving clients in varying time zones.
Save time
Virtual assistants enhance time management by enabling you to prioritize and concentrate on critical tasks. Virtual assistants can handle tedious tasks, freeing up time for business growth.
By working with a virtual assistant, you can allocate time to focus on business strategy, revive a neglected hobby, or spend time with your family.
Cost Savings
Small businesses can save money by hiring a virtual assistant as it eliminates the cost of extra office space, equipment, and benefits.
Furthermore, virtual assistants usually work on a contractual basis, allowing businesses to pay only for the services they require.
As per statistics, hiring virtual assistants results in a business saving up to 78% in labor expenses compared to employing an in-house staff member.
Skilled Personnel
Virtual Assistants offer the essential expertise to elevate your business.
Small businesses can acquire specialized skills and knowledge from Virtual Assistants that may otherwise be challenging or costly to obtain in-house.
Now, let's examine virtual assistance agencies and their individual features, such as advantages and costs, in greater detail.
Wishup is a Virtual Assistant company that recognizes your business requirements and delivers customized relief. IIT alumni Neelesh Rangwani and Vivek Gupta founded this company in 2015 with a vision to elevate the virtual assistance industry.
Wishup provides a comprehensive suite of virtual assistant services to entrepreneurs, including appointment scheduling, email and project management, data entry, customer support, accounting, and more.
Wishup's virtual assistants possess not only proficiency in executing tasks, but also have a significant amount of experience. Wishup has implemented a stringent recruitment process to ensure that only the top 1% of candidates are selected, providing clients with the highest quality of service possible.
Wishup assists in reducing the use of valuable time and resources by taking care of tasks that would otherwise consume them.
Initially offering virtual assistance from India, the company has now broadened its services to include virtual assistants based both in India and the United States.

The services provided by Wishup are-
As a leading virtual assistant company, Wishup's goal is to support entrepreneurs in their business growth by assuming responsibility for all behind-the-scenes tasks, allowing them to concentrate on their businesses.
Virtual Assistants handle a diverse array of tasks, including -
Bookkeeping-
Keeping your finances organized can be challenging, but the benefit of working with Wishup makes it a breeze!
Wishup's virtual assistants offer support for various bookkeeping responsibilities, such as the management of QuickBooks, accounts payable and receivable, reconciliation, and the creation of financial reports.
Administrative services
With Wishup, you can get support for various administrative duties such as scheduling appointments, organizing your email, arranging travel plans, conducting research, managing data, and overseeing customer relationship management.
Project Coordination and Supervision
Wishup's virtual assistants are equipped to handle various project management responsibilities such as coordinating with team members, assessing and managing risks, overseeing project timelines, and monitoring budgets, freeing up your time to concentrate on other important aspects.
E-commerce Operations and Management
Wishup's virtual assistants provide support for e-commerce operations, such as organizing transaction information, handling merchant fees and monitoring returns and exchanges.
Social Media Management
Wishup's virtual assistants excel in social media administration tasks, including planning and scheduling posts, establishing and managing social media accounts, measuring performance metrics, and analyzing data insights.
Advantages of Using Wishup

Speedy Onboarding Process within a Day
One of the prime advantages of utilizing Wishup is having a virtual assistant ready to begin their work within 24 hours of scheduling a free consultation with them.
The Exceptional Virtual Assistant Experience
Wishup only employs the cream of the crop when it comes to virtual assistant candidates, guaranteeing that you receive the finest service possible.
By doing this, clients receive virtual assistants who are highly skilled and capable.
Committed Assistance
At Wishup, a designated customer support manager is assigned to each client to manage projects and guarantee a seamless experience.
With this arrangement, clients have access to assistance at any time and the virtual assistant is able to work effectively.
Highly skilled Virtual Assistants
Wishup's virtual assistants are trained in a wide range of tools and skills, with expertise in over 70 no-code tools and 200 distinct skill sets. This makes them equipped to handle any task that comes their way and provide efficient and effective customer service.
Guaranteed privacy and security
Wishup VAs are required to sign a non-disclosure agreement prior to working with clients, to ensure the protection and confidentiality of client data.
Risk-Free Testing Period
A 7-day risk-free trial period is provided to clients by Wishup, allowing them to evaluate the services before making a long-term commitment, ensuring they can make an informed choice.
Committed Customer Service
Wishup ensures that its clients have a hassle-free experience with their virtual assistant by assigning a dedicated customer support manager to each client.
This manager provides guidance and assistance as needed, ensuring that any issues are promptly resolved and resulting in a seamless experience.
Wishup: Customized Pricing for Your Comfort!
Wishup provides hourly pricing starting from as low as $10, making it effortless for clients to select a package that suits their financial plan.
Enjoy 4 hours of daily service for an entire month at just $999!
The monthly plan with 8 hours of daily service is priced at $1799.
The recruitment procedure at Wishup-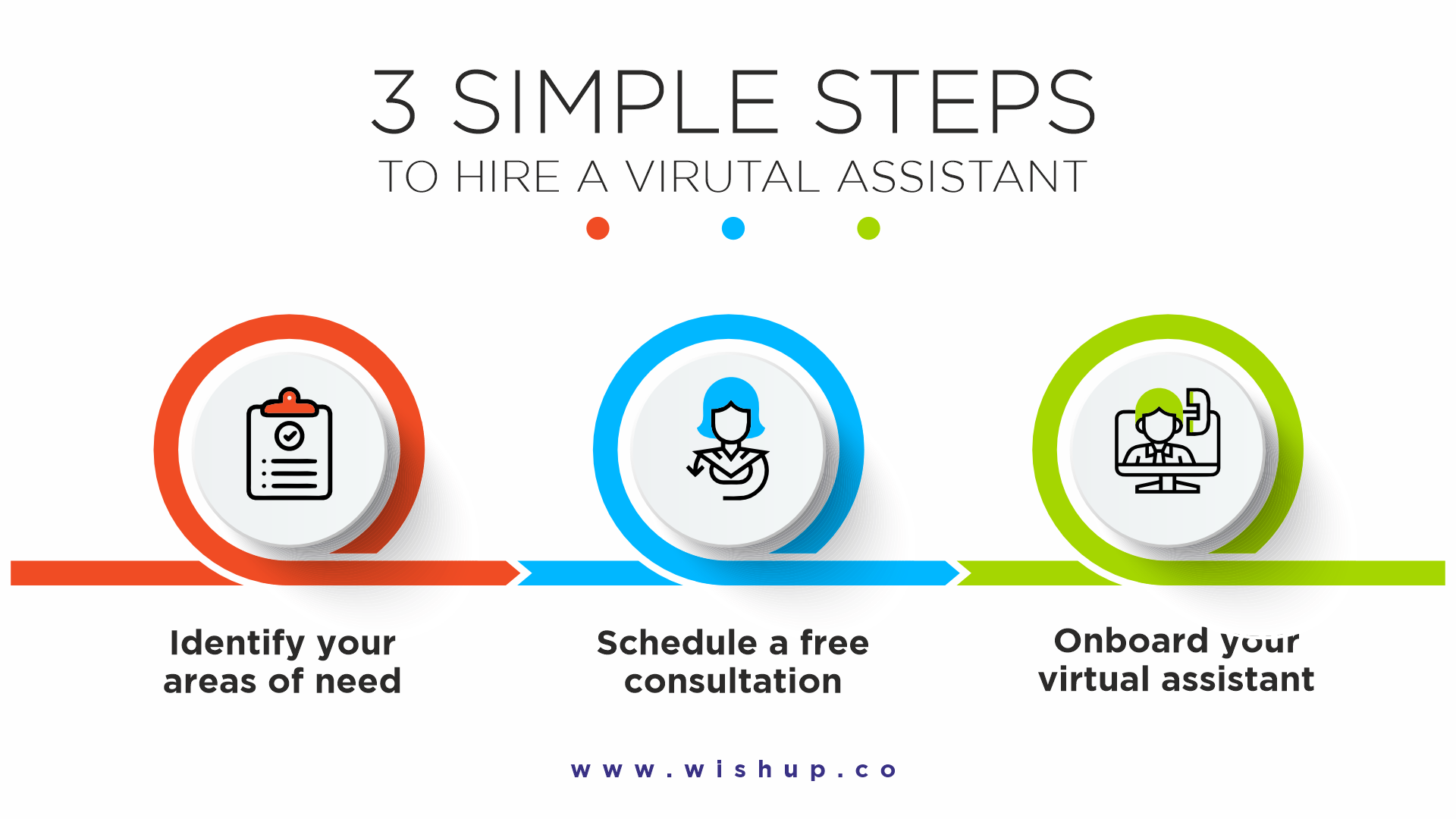 No-cost consultation session-
Schedule a session with the Wishup team for a complimentary consultation. A dedicated customer success representative will be appointed to discuss your project requirements and objectives.
Tailored Virtual Assistant Matching-
Based on your conversation, a few virtual assistant options that match your criteria will be presented to you, and you can choose the profile that you believe is the best fit.
Smooth Onboarding Process-
Pair up with your exclusive virtual assistant, and you're set to start working together with ease. Your customer success manager will always be accessible to address any concerns or respond to any inquiries you may have.
By following these three straightforward steps, you'll be on the path to having a Wishup virtual assistant to assist you with all your business requirements.
Upwork
Upwork is a global freelancing platform that links individuals and organizations with skilled freelancers. It has a network of over 10 million freelancers who are available to work.
It offers a range of categories, such as Graphics & Design, Video & Animation, Music & Audio, and many more. The platform places emphasis on fostering strong and lasting connections between clients and freelancers.
It is typically ideal for a business or company seeking a freelancer for a longer project and wants to establish a long-term relationship.
To assist clients in selecting the appropriate freelancers, Upwork displays the skills and success rate of projects completed on the freelancer's profile and, occasionally, the amount earned through the platform.
The platform facilitates file sharing and multiple forms of communication. It also provides clients with the Upwork Protection guarantee, ensuring payment only for work completed and included in the agreed-upon scope.
Services offered by Upwork-

Accounting & consulting
Admin support
Customer service
Data science & analytics
Design & creative
Engineering & architecture
IT & networking
Legal
Sales & marketing
Translation
Web, mobile & software development
Translation
Writing
Benefits of hiring from Upwork-
Expansive Talent Pool - Compared to other options, Upwork boasts a vast talent pool, providing you with an extensive range of freelancers to choose from.
Low Initial Costs - Posting jobs on Upwork is free of charge, with only a 3% fee imposed for usage. However, you will need to upgrade your account and pay a monthly fee to access advanced hiring tools.
Upwork's user-friendly dashboard - Streamlines the process of searching for, hiring, and overseeing freelancers. After a few minutes of posting a job, you will receive a pool of candidates.
Pricing at Upwork-
On Upwork, freelancers establish their fee by bidding on a project-by-project basis or by charging by the hour, depending on their preference.
The Upwork team generates revenue by levying a fee on each completed project. This fee is included in the quote given by the freelancer, which might result in a higher price to cover the expense.
On Upwork, the majority of fees are typically absorbed by the freelancers. As a client, you are only responsible for paying a 3% fee for payment processing.
Nevertheless, many freelancers on Upwork frequently adjust their rates to include their fees.
How to hire from Upwork?
The platform pairs a project with a roster of freelancers who possess expertise in the specific area of the project.
To assist clients in making informed selections, Upwork displays the abilities and the proportion of projects successfully completed on the freelancer's profile and in some cases, the total amount earned through the platform. Follow the below steps to hire from Upwork-
Discover professionals who provide over 90 services across 12 industries.
Publish job postings in the Talent Marketplace.
Acquire services through the Project Catalog.
Establish contracts, make hires, and compensate skilled freelancers.
Seek assistance from experienced Upwork Talent Scout recruiters.

What do we conclude?
When considering virtual assistance, both Wishup and Upwork possess noteworthy strengths. Both organizations offer a broad spectrum of services and have a demonstrated history of assisting entrepreneurs and businesses in increasing efficiency and reducing costs.
Ultimately, Wishup emerges as the superior service provider.
What distinguishes Wishup from Upwork is its personalized packages. Wishup collaborates with each client to design a package that meets their unique requirements.
Whereas Upwork provides services related to a defined set of abilities. On Upwork, when a client posts a job opening, freelancers compete for the project by submitting individual proposals and cover letters.
Another aspect that sets Wishup apart is its immediate replacement policy. If a client encounters any issues with their virtual assistant, Wishup will swiftly arrange for a replacement. This guarantees that clients consistently receive the optimal experience.
Wishup, with its affordable pricing, efficient onboarding process, and dedicated customer support, serves as a comprehensive solution for all virtual assistant requirements.
Why settle for anything less when you can have a superior virtual assistant experience with Wishup?
Efficiency at its peak - Wishup Virtual Assistance Services
In the contemporary fast-paced business environment, delegation is crucial for growth. At Wishup, we offer customized virtual assistant packages, individualized service, prompt replacements, and the top tier of applicants to enable entrepreneurs to concentrate on their area of expertise.
Send us a mail at [email protected] or book a free consultation with the Wishup professionals to know more about our virtual assistant services.