Why Wishup is a better Virtual Assistant Service than Belay
With so many virtual assistance services available, how to pick the best one for your business? In this blog, we'll compare two of the most popular VA companies - Wishup and Belay, to help you make an informed decision.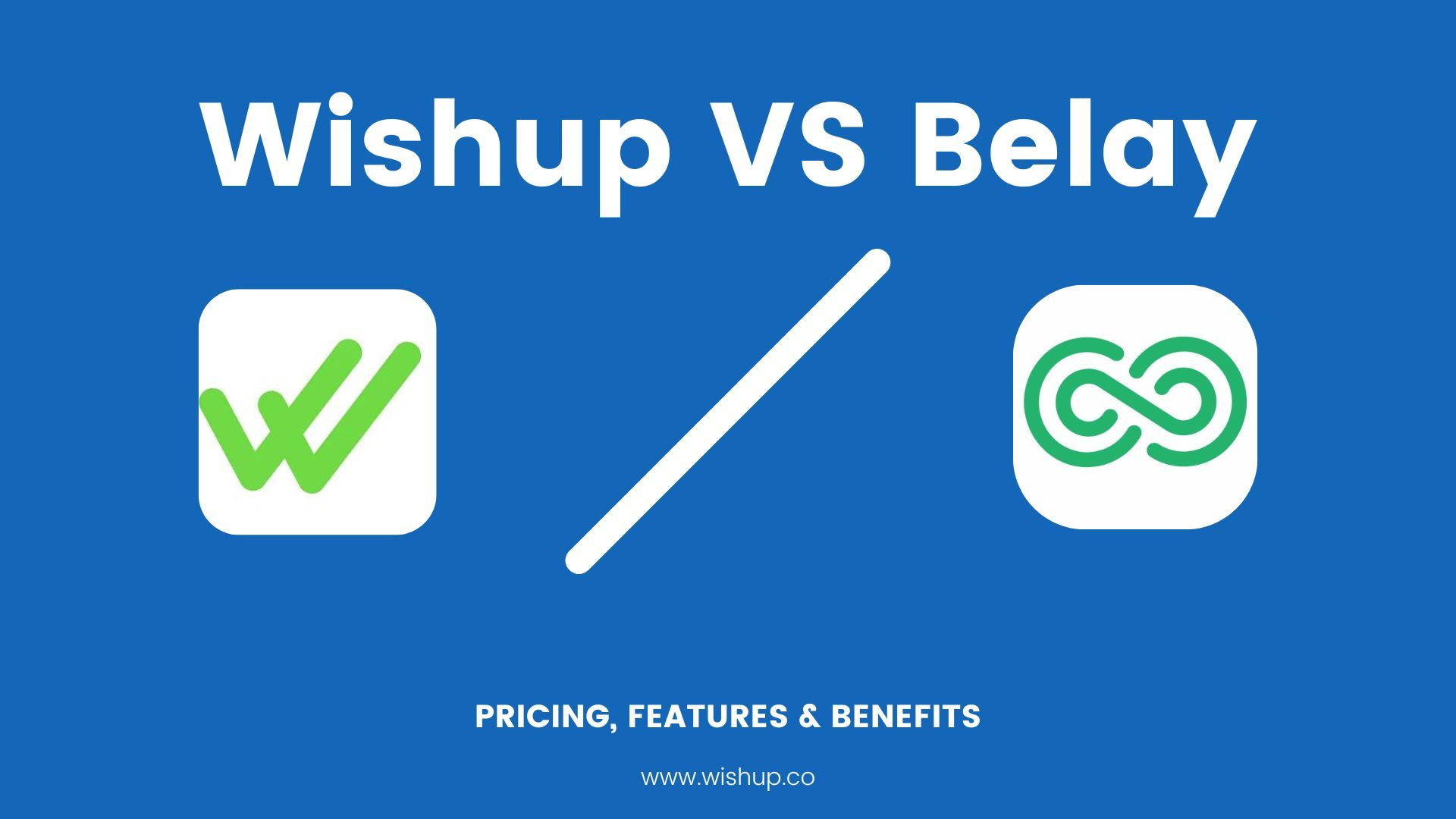 Being an entrepreneur is a fulfilling but demanding journey that requires a great deal of hard work, dedication, and perseverance.
In today's fast-paced business landscape, entrepreneurs are faced with an endless list of tasks and responsibilities that can be overwhelming to manage alone. From customer service to project management and marketing, entrepreneurs are expected to wear many hats and be a jack of all trades.
What if there was a way for entrepreneurs to ease the burden and focus on what they do best - growing their business?
This is where virtual assistants (VA) come in. Virtual assistants can help entrepreneurs manage their businesses by taking on tasks that don't require their direct expertise. With a virtual assistant, entrepreneurs can focus on what they do best - growing their business - while their virtual assistant handles the rest.
But, with so many virtual assistance services available, how to pick the best one for your business? In this blog, we'll compare two of the most popular VA companies - Wishup and Belay, to help you make an informed decision.

But first,
Who is a Virtual Assistant?
A virtual assistant (VA) is a skilled professional who remotely provides administrative, technical, or creative assistance to clients. They typically work from their home office and communicate with their clients via phone, email, and other digital platforms.
Virtual assistants can provide a wide range of services, such as scheduling appointments, managing email and researching market trends, data entry, customer service, bookkeeping, and even travel planning.
They are independent contractors and not employees, allowing them to work with multiple clients and providing flexibility for the VA and the client. Most of the time, they are hired from outsourcing agencies, such as Wishup or Belay.
Virtual assistants typically have vast experience and a background in administration, marketing, or other relevant fields.
By delegating tasks to a virtual assistant, entrepreneurs can free up their time and resources and focus on the most critical aspects of their business.
What are the benefits of hiring a virtual assistant?
Working with a virtual assistant can be a valuable asset to small businesses, helping to improve efficiency and allowing business owners to focus on growing their businesses. Some of the benefits of outsourcing to a virtual assistant include the following -

Cost-effective
Hiring a virtual assistant can be cost-effective for small businesses as it eliminates paying for additional office space, equipment, and benefits. In addition, virtual assistants typically work on a contract basis, which means businesses only pay for the services they need.
Increased Productivity
Small business owners can focus on growing their business and increasing productivity by outsourcing tasks to a virtual assistant. Virtual assistants can handle routine tasks such as data entry, scheduling, and customer service, freeing up the business owner's time to focus on more critical tasks.
Scalability
Virtual assistants can easily scale their services to meet the changing needs of a small business. As the business grows, virtual assistants can take on more responsibilities and provide additional support as needed. In addition, entrepreneurs can onboard more VAs easily as the hiring process is significantly quicker than a traditional employee.
Access to specialized skills
Virtual assistants are typically qualified and experienced professionals with specific areas of expertise. As a result, small businesses can access specialized skills and knowledge that may otherwise be difficult or expensive to find in-house.
Flexibility
Virtual assistants provide flexibility for small businesses as they can work remotely and on a schedule that suits their needs. This allows small businesses to have support even outside of traditional working hours. This can be highly beneficial for businesses working with clients in different time zones.
Now, let's take a closer look at both the virtual assistance agencies and their individual features like benefits and prices.
Founded in 2015 with its headquarters in India, Wishup is a virtual assistant company that provides a wide range of services, such as scheduling appointments, managing email and project management, data entry, customer service, bookkeeping, and more. They focus on giving their clients nothing but the best; hence, only the top 1% of applicants make the cut.
The company was founded to bridge the gap between Indian talent and global entrepreneurs. It is based on providing virtual assistants to clients who can work with them to understand their specific needs and tailor their services accordingly. While initially started with Indian virtual assistants, the company has now expanded to offering both Indian and US-based VAs.
Wishup's virtual assistants are intelligent, dedicated, and experienced professionals. They are hand-picked by an internal team through a rigorous hiring process. As a result, they can help you save time and money by handling tasks that would otherwise take up valuable time and resources.
Services offered
Wishup aims to help entrepreneurs stay focused by single-handedly taking care of all the background work. They take care of a broad range of tasks, such as -
Administration
Trust Wishup to help you with administrative tasks such as -
Managing your schedule
Organizing inbox
Planning travel
Data entry and management
Research
CRM Management
Bookkeeping
Wishup VAs can assist you with various bookkeeping tasks like -
Quickbooks management
Accounts payable and receivable
Reconciliations
Preparations of financial statements.
You could also read our blog - Hire a Bookkeeping Assistant and Give your Business a Boost - to learn more about how Wishup virtual assistants can help your business.
Project Management
You can delegate the following tasks to your Wishup VA -
Team coordination
Risk management
Timeline management
Budget tracking
Social media
Wishup can take care of social media management tasks like -
Scheduling posts
Creating accounts
Tracking metrics
E-commerce tasks
Categorize transaction data
Process merchant fees
Track returns and replacement

Benefits of Hiring from Wishup
The Elite Virtual Assistant Experience
Wishup only hires the top 1% of virtual assistant candidates to ensure you're getting the best. This ensures that clients get the most skilled and capable virtual assistants available.
Onboarding in 24 hours
One of the most significant benefits of hiring from Wishup is having a VA ready to start working within 24 hours after you schedule your free consultation.
Pre-Trained and Upskilled Virtual Assistants
Wishup virtual assistants have already undergone training and have additional skills before working with clients. This allows them to start working efficiently and effectively right away.
Always Available
Wishup guarantees that a virtual assistant will always be available to clients; even in case of unavailability of the assigned virtual assistant, another one will be provided, no questions asked. This ensures that clients never have to worry about their virtual assistants not being there when they need them.
Try Before You Buy
Wishup offers a 7-day trial period for clients to test the virtual assistant before committing to a longer-term contract. This allows clients to see if the virtual assistant is a good fit for their needs before making a decision.
Continued Dedicated Support
Wishup assigns a dedicated customer support manager to each client to guide them through the process and provide assistance as needed. This ensures that clients have a seamless experience with the virtual assistant and can resolve any issues quickly.
Choose Between US or Indian Virtual Assistants
With Wishup, you don't have to pick between a virtual assistant based in the United States or India. Instead, they have virtual assistants from both countries, so you can pick and choose based on your preference.
Security guaranteed
All Wishup VAs must sign an NDA before being assigned to clients to ensure their data is safe and secure. Read our blog to learn more about the measures taken by Wishup to protect clients' data.
Wishup Pricing Plans
Wishup offers flexible and customizable pricing plans for its clients. Their hourly rates start at $10, and you can choose monthly plans of either 4 or 8 hours.
The price for a 4-hour/day monthly plan is $999.
The price for an 8-hour/day monthly plan is $1799.
How to hire a Virtual Assistant from Wishup?
Connect and Consult: Schedule a free consultation with their team, where you'll be paired with a dedicated customer success manager. Share your wish list of tasks and let them know your expectations.
Select the profile: based on your call, you will be given a few VA options that best match your criteria, and you can select the profile that you think best fits the bill.
Onboard: Get paired with your very own virtual assistant, and voila! You're ready to start working together. Of course, your client success manager will always be available to clear any doubts or answer any questions you may have.
With these three simple steps, you'll be on your way to having a virtual assistant from Wishup to help you with all your business needs. So just sit back, relax and let the magic happen!
Founded in 2010, Belay is headquartered in Birmingham, Alabama. They offer a wide range of services, including administrative assistance, bookkeeping, website management, and social media management.
Belay hires all their virtual employees in-house and is an entirely remote company. The VAs are trained before being assigned to clients. You can choose and create customized packages depending on your business needs.
Belay aims to help entrepreneurs increase their efficiency by providing assistance with backend tasks that don't require the business owners' time and expertise.
Services offered
Virtual Assistant services
Research
Inbox management
Travel planning
Project Coordination
Accounting
Update financial information
Accounts payable and accounts receivable
Monthly and annual reports
Social media
Content
Strategy
Reporting and planning

Benefits of Hiring from Belay
Based in the US
All Belay virtual assistants are based in the US if you are looking for a person to work in the same country as you.
Completely remote
All VAs work from their own homes, so there are no overhead costs.
Get a guide
A guide is provided by the company to guide you through the entire process in case you have any questions.
Matching is done internally
The internal team at Belay handles all the pairing, and clients are paired with VAs within one week.
Belay Pricing Plan
Belay is considered a premium virtual assistance service, starting at $1,380 per month for 30 hours, averaging $46 per hour.
How to hire a virtual assistant from Belay?
The process for hiring a virtual assistant from Belay Solutions typically includes the following steps:
Contact Belay Solutions: Reach out to Belay Solutions to express your interest in hiring a virtual assistant, and list your needs.

Consultation call: Belay will schedule a consultation with you to discuss your specific needs and determine the best virtual assistant for your business. During this consultation, you can discuss your specific requirements, such as hours of availability, skills needed, and more.
Match with a virtual assistant: After the consultation, Belay will present you with a virtual assistant that matches your criteria. This process will take a week.
Onboarding and training: Once you have selected a virtual assistant, Belay will handle the onboarding process and ensure that your virtual assistant is adequately trained to handle your specific tasks.
What's our verdict?
It's clear that both companies have their own strengths and are great for specific tasks and businesses. Belay's strengths lie in offering a wide range of services and catering to more specialized and niche tasks. Wishup caters to more generalized tasks such as administration, bookkeeping, and social media. Still, their USP lies in their personalized service, attractive pricing plans, and perks like instant replacement and a trial period.

When it comes to hiring a virtual assistant, however, it's essential to find a company that not only provides top-notch service but also fits within your budget. And that's where Wishup comes out on top!
With its competitive pricing, quick onboarding process, and dedicated customer support, Wishup is like a one-stop shop for all your virtual assistant needs. Add to that the ability to choose between US and Indian-based virtual assistants; it's like having a personal genie at your beck and call. And the cherry on top? Wishup offers a 7-day trial period, so you can try before you commit.
So why settle for second best when you can have the elite virtual assistant experience with Wishup?

Wishup Virtual Assistants: The ultimate sidekick for your business. Hire today!
In conclusion, hiring a virtual assistant is like adding a secret ingredient to your business recipe. So, whether you're looking to outsource, save time, or simply improve your productivity, Wishup is your go-to virtual assistant provider, don't just take our word for it; try it yourself with their 7-day trial period. So, don't wait any longer; hire a Wishup virtual assistant today by scheduling a free consultation or dropping us a mail at [email protected]