Hire a Bookkeeping Assistant and Give your Business a Boost- Wishup
Money management is a very important aspect of every business. Hiring a professional virtual bookkeeping assistant helps in the long run. Here is a list of 9 ways a virtual bookkeeper can boost your business!


Whether you run a small startup, a home business, or a corporate conglomerate, all businesses have one thing in common; they need to manage their money well to see success.
While business owners excel at founding entrepreneurial ventures and are true visionaries, they may still need to gain the skills to reconcile, report, and allocate funds correctly. In business, embracing your strengths is important, but it is even more crucial to accept your shortcomings and hire the right resources to fill those gaps. For example, nowadays, small businesses opt for outsourced accounting services to assist them with their bookkeeping needs.
All businesses need precision and accuracy when it comes to accounts. Hiring a virtual bookkeeping assistant can help you to achieve that.

Get Your Online Accountant Here
Who is a virtual bookkeeping assistant?

A virtual bookkeeping assistant is similar to a traditional bookkeeper in all aspects but one. Instead of working with you from an office, they will assist you with keeping your finances in order from a remote location. They can be hired independently but are more commonly outsourced from a virtual assistance agency. Unlike traditional bookkeepers, bookkeeping virtual assistants are paid hourly and can be onboarded more quickly.
You can communicate with your virtual bookkeeping assistant through any channel you like - the most common ones being Zoom, WhatsApp, or Slack. They are skilled, organized, dependable, and work well independently. You'll need to give them access to your files and tools, and they are ready to start.
Source: Unsplash
How does a virtual bookkeeper work?
A virtual bookkeeper job role is similar to that of a traditional bookkeeper. However, they operate from home or a co-working space instead of an office. This gives them the independence to choose their work hours, and they are more flexible with their work schedules than traditional bookkeepers.
Security is not a concern since most of the documents are handled within the bookkeeping software, and the virtual bookkeepers sign a non-disclosure agreement before they begin working.

Some of the tasks a virtual bookkeeper can assist you with include QuickBooks management, sending out invoices, data entry, and managing accounts payable and receivable.
Why you need a virtual bookkeeper?
Every entrepreneur has their strengths and weaknesses. Some might be excellent leaders, great at coming up with new ideas, managing large teams of employees, or having the communication skills that enable them to network with influential people.
But, running a business requires people with different knowledge and experience to come together to make it a success. Unfortunately, one person can't master everything, and even if they are, there is not enough time in the world for one person to juggle all the responsibilities.
Bookkeeping is one such field where you cannot compromise on skill or knowledge. Unless you have previous experience and expertise in accounting, you cannot handle a company's finances. And as the owner, if you lack these skills, it will be beneficial for the company if you hire a person with the right skill set for the job.
Even if you are familiar with accounting, there's no denying that maintaining books, managing payments, and handling data entry are time consing tasks. If all your time goes into accounting, when will you do the other things required to handle a business - focus on marketing, growth strategy, and networking?
That is why it makes sense to hire a virtual bookkeeper, so you can have time to focus on the work that matters most and requires your expertise while being confident that your accounting needs are taken care of by a professional.
But why opt for virtual assistant bookkeeping services? First, let's explore the benefits of outsourcing your bookkeeping needs compared to an in-house bookkeeper.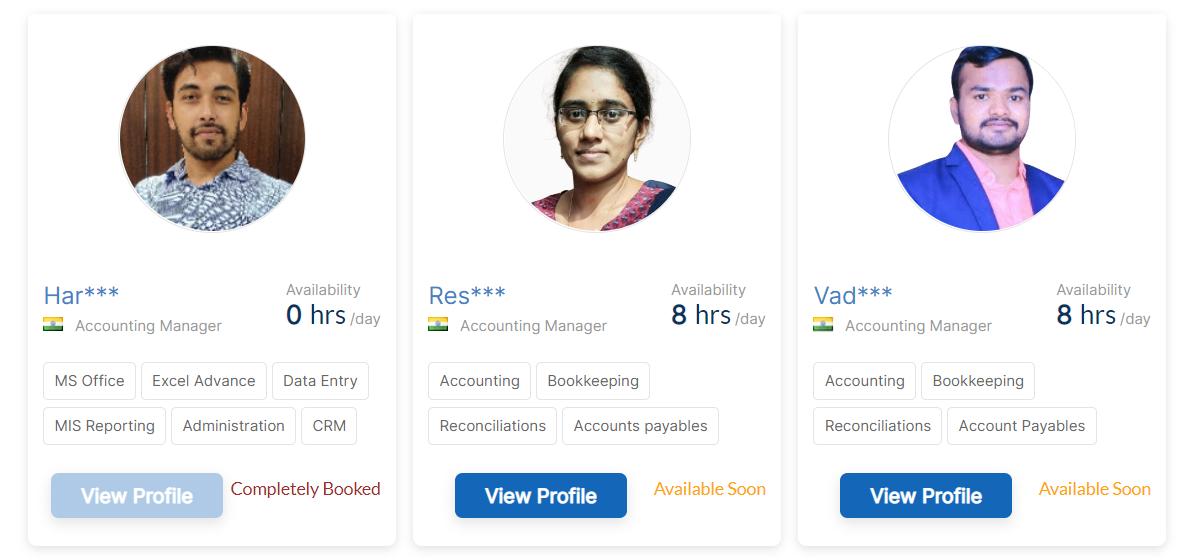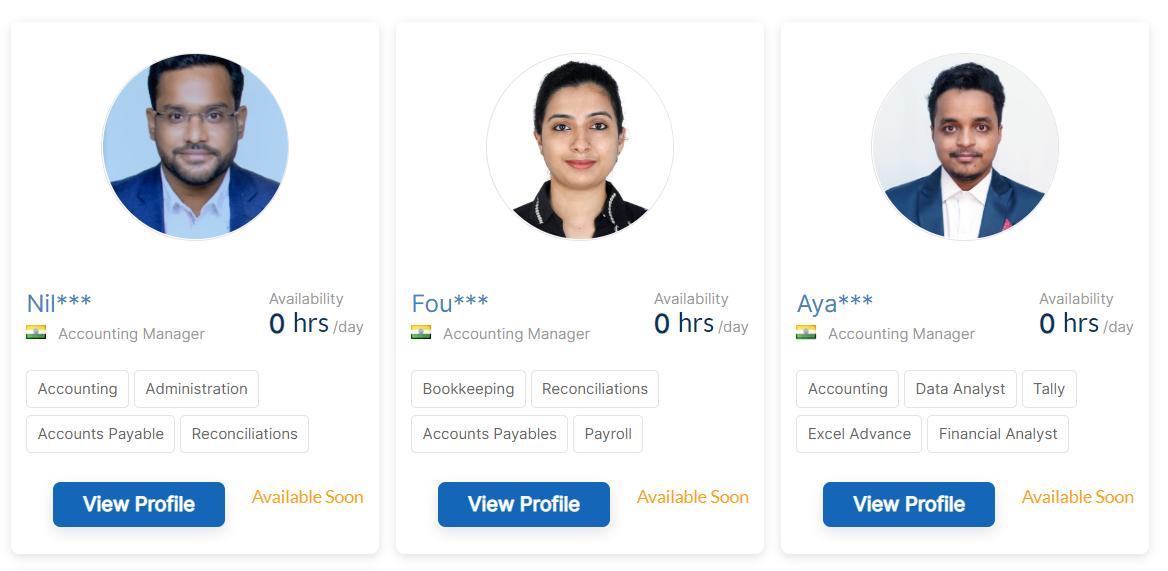 What are the tasks you can outsource to a bookkeeping assistant?
Let's look at what tasks you can outsource to a virtual assistance bookkeeping service.
QuickBooks management
A virtual bookkeeping assistant can help you with QuickBooks management by performing the following tasks-
Keeping books of accounts up to date.
Setting up auto reminders.
Setting up auto payments.
Data entry
Data entry can be long and burdensome and take up a large portion of your time. Instead, dedicate this task to your virtual accounting assistant and let them assist you with -
Accurately recording all transactions
Classifying them under the correct ledgers
Precisely summarizing records
Maintaining adequate documentation of financial transactions.
Accounts Payable management
Let your bookkeeping assistant take care of accounts payable tasks, such as -

Purchase order generation
Vendor management
Invoice management
Expense tracking
Timely payment of invoices
Accounts receivable management
A virtual bookkeeping assistant can help you with filing claims, due payments, and other accounts receivable tasks such as -

Creating invoices
Maintaining customer records
Tracking collections
AR Ageing analysis
Debit/Credit notes
Creating provisions
Reconciliations
Your virtual bookkeeper can assist you in comparing records, ensuring no errors. Some of the reconciliation tasks they can do are -

Vendor payment reconciliations
Bank reconciliations
Credit card reconciliations
Assist in preparing Financial Statements
Your virtual accounting assistant can help you prepare financial statements such as -
Income statements
Balance Sheets
Cash flow statements
How to hire a virtual bookkeeper assistant in 3 easy steps?
Convinced you need to hire a virtual bookkeeping assistant?
Wishup's hiring process is really simple and can be done in three easy steps.
Step 1: Identify the areas you need assistance with in managing your bookkeeping tasks
Take a step back and see precisely what bookkeeping services you need. That will help you find a virtual bookkeeper who specializes in those exact tasks instead of just going in blindly.
Write down the routine bookkeeping tasks of your office
List the tasks currently managed by your team.
Note down the tasks or areas that require assistance/expertise
Step 2: Schedule a free consultation
Schedule a free consultation with our customer success managers. Communicate your expectations, such as -
Level of skill
Level of experience
Number of hours you want your VBA to work a week
List of tasks you would like the virtual bookkeeper to manage on your behalf.
Step 3: Get ready to onboard your virtual bookkeeping assistant
In about 24 hours, your virtual bookkeeping assistant will be onboarded. Take a couple of days to be in close contact and communication with them to resolve doubts and queries, and brief them on processes.
After that, relax and let your virtual bookkeeper handle the heavy work.
9 Benefits of Hiring a Virtual Bookkeeping Assistant
Virtual Assistant Bookkeeping services are more affordable
Hiring a virtual bookkeeping assistant is more cost-efficient than hiring a traditional bookkeeper. According to QuickBooks, a bookkeeper's base salary starts at $40,000 per year. Naturally, if you want a more qualified and experienced person, their salary will be higher.
On the other hand, a bookkeeping virtual assistant from Wishup only costs $20,000 a year, making it the more viable option for small businesses, home businesses, and solopreneurs.
Virtual bookkeeping assistants are more productive
Although in-house bookkeepers work from an office, only some of their time is spent productively. A study of around 2,000 full-time employees revealed that people are only productive for 2 hours 23 minutes out of an 8-hour work day. The rest of the time is spent on useless things like social media, gossip, smoke breaks, eating, and reading the news. Unless you are ready to micromanage, there is no way to ensure that your workers are entirely productive.
With virtual assistant bookkeeping services, you will not have this issue. Since they are paid by the hour, they need to be accountable for every minute of their work. Additionally, Wishup's virtual bookkeeping assistants will send you a detailed end-of-day report showing how they spent their day.
Virtual bookkeeping assistants are more flexible
You need more than a 9-5 commitment in a fast-paced, growing environment. For example, suppose you are working with international clients. Then, you will need someone to work the night shift to help you take care of any financial issues or hiccups that might occur. Unfortunately, finding a traditional bookkeeper ready to work beyond regular hours is difficult.
On the other hand, a virtual accounting assistant can even work the night shift since they are working remotely and possibly from a different time zone. Depending on your client's location, you could hire a virtual bookkeeper from the same region to make things convenient.
Virtual bookkeeping assistants are easier to hire
Hiring in-house bookkeepers can take weeks or even months. Making job listings, reading resumes, shortlisting candidates, scheduling interviews, and preparing assignments and tests, the whole process is tedious and overwhelming. And there is no guarantee you will find the perfect fit even after all this hard work.
By hiring virtual assistant bookkeeping services, you are eliminating all these steps.
How?
Since the virtual assistance agency handles the hiring, you are freed of the hiring workload. When you hire from a  virtual service provider like Wishup, your virtual bookkeeper can be onboarded in less than 24 hours.
Opportunity to work with global talent
When hiring bookkeepers to work in the office, you are often restricted to hiring a person who lives close by. Therefore, you are limiting your hiring options, and you often settle for the best person available at the moment rather than the most qualified person.
With virtual assistance, there are no restrictions. In addition, you can hire someone from another city, state, or country since they will work remotely. Therefore, when you hire a virtual bookkeeper, the only criteria you need to look for are skill and qualifications, nothing else.
Virtual bookkeeping assistants are pre-trained
Hiring a bookkeeper is just one part of the problem. After they join your team, you will also need to train them in the various tools, software, and processes used within your organization.
With virtual assistant bookkeeping services, that problem is taken care of by the agency. For example, at Wishup, after we hire a virtual bookkeeper, they go through an intensive 4-week training program where they learn about various processes in bookkeeping that will help prepare them for the job. They are additionally trained in multiple commonly used accounting tools like QuickBooks and FreshBooks.
There is no need to micromanage virtual bookkeeping assistants
No one likes to micromanage, but sometimes employees leave us no choice. The main downside of micromanaging your employees is that you have no time to focus on the things on your agenda, which is why you hired them in the first place.
A virtual bookkeeper is a motivated self-starter and works best independently. Since they are accountable for everything they do, you can find time to focus on the more important tasks on your schedule and not worry about your finances.
Working with virtual bookkeepers guarantees confidentiality
Whenever you hire a bookkeeper, there is a worry about the safety of your confidential financial information. When working with a virtual bookkeeper, you don't have to worry about them misusing your data.
They work primarily from home, reducing the risk of compromised information.
At Wishup, we make our VBAs sign a non-disclosure agreement, making them legally bound to keep your data private.
To learn more, read our blog -  How Wishup Ensures the Security of their Clients' Data.
9.  Upscale and downscale with ease
When there is a sudden influx of work - possibly due to a new client or the holiday season - hiring a new bookkeeper for a brief period is difficult. There are contracts and legal procedures in place.
But with virtual assistance, this process becomes easy. You can hire as many VBAs as you like and easily grow your virtual team. When the project is done, it's just as simple to terminate the process since there are no long-term contracts.
Source: Unsplash
Frequently Asked Questions
How do I know if I need virtual business accounting services?
The primary reason to hire a bookkeeper is to help maintain accurate records and file taxes, and online bookkeeping services are no different. If you are a growing business, you can hire our online accounting services to manage all your accounts efficiently and accurately.
What software will my online business accountants use?
Whether you are looking for QuickBooks bookkeeping services, Zoho, FreshBooks, or Xero; our online accountants are fluent in multiple bookkeeping software and tools.
What if my online bookkeeper is not available during an emergency?
By choosing Wishup's accounting services for small businesses, if your primary virtual bookkeeper is unavailable in an emergency, we can pair you with a backup assistant. You also won't have to pay any additional charges.

Virtual Bookkeeping Assistants make life easy!
A virtual bookkeeper can provide some much-needed expertise to your company and relieve you of the stress of handling your finances yourself. Let your virtual bookkeeping assistant take care of your books while you focus on growing your business. Click here to schedule a free consultation today, or drop us a mail at [email protected]