Executive Assistant to CEO: Role, Responsibilities, and Job Description
In this blog post, we will dive deep into the role of an executive assistant to CEO, how it has changed over the years, and why it's so important in today's business world.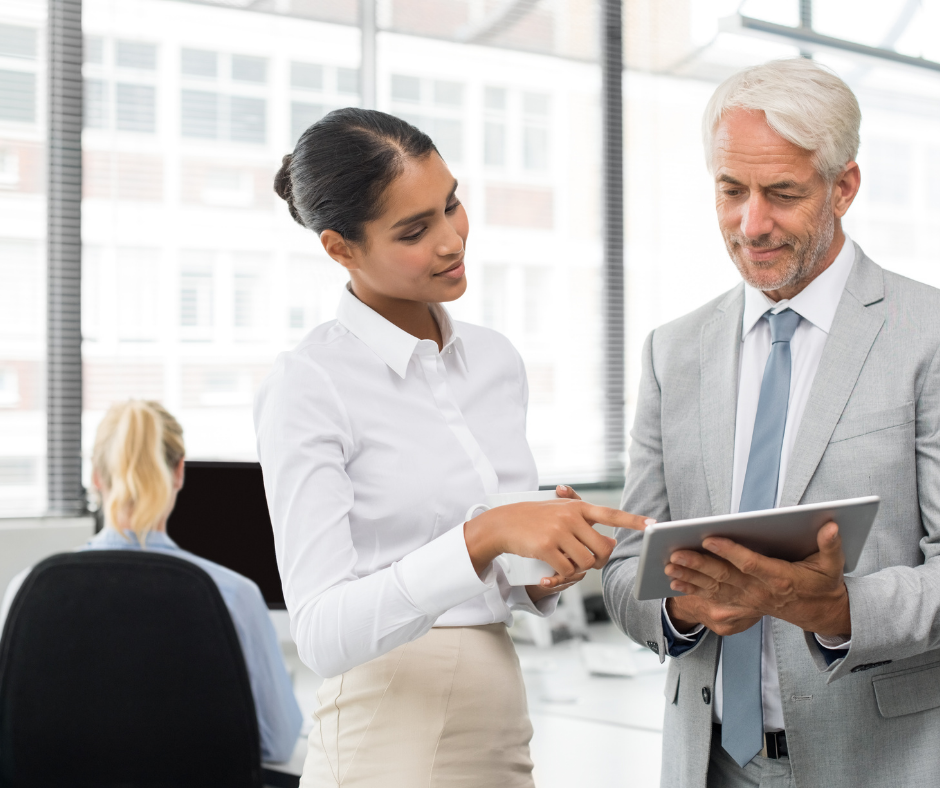 A CEO's success often relies on the hard work of their Executive Assistant (EA). An EA is a vital part of any organization, and their importance for entrepreneurs and business owners is immense. They're responsible for ensuring the CEO's office runs smoothly, connecting different departments, and keeping the operation running like a well-oiled machine.
In this blog post, we will dive deep into the role of an executive virtual assistant to CEO, how it has changed over the years, and why it's so important in today's business world. We will also discuss the CEO's assistant qualification, roles and responsibilities, job description, and the benefits of hiring a virtual assistant. Read on!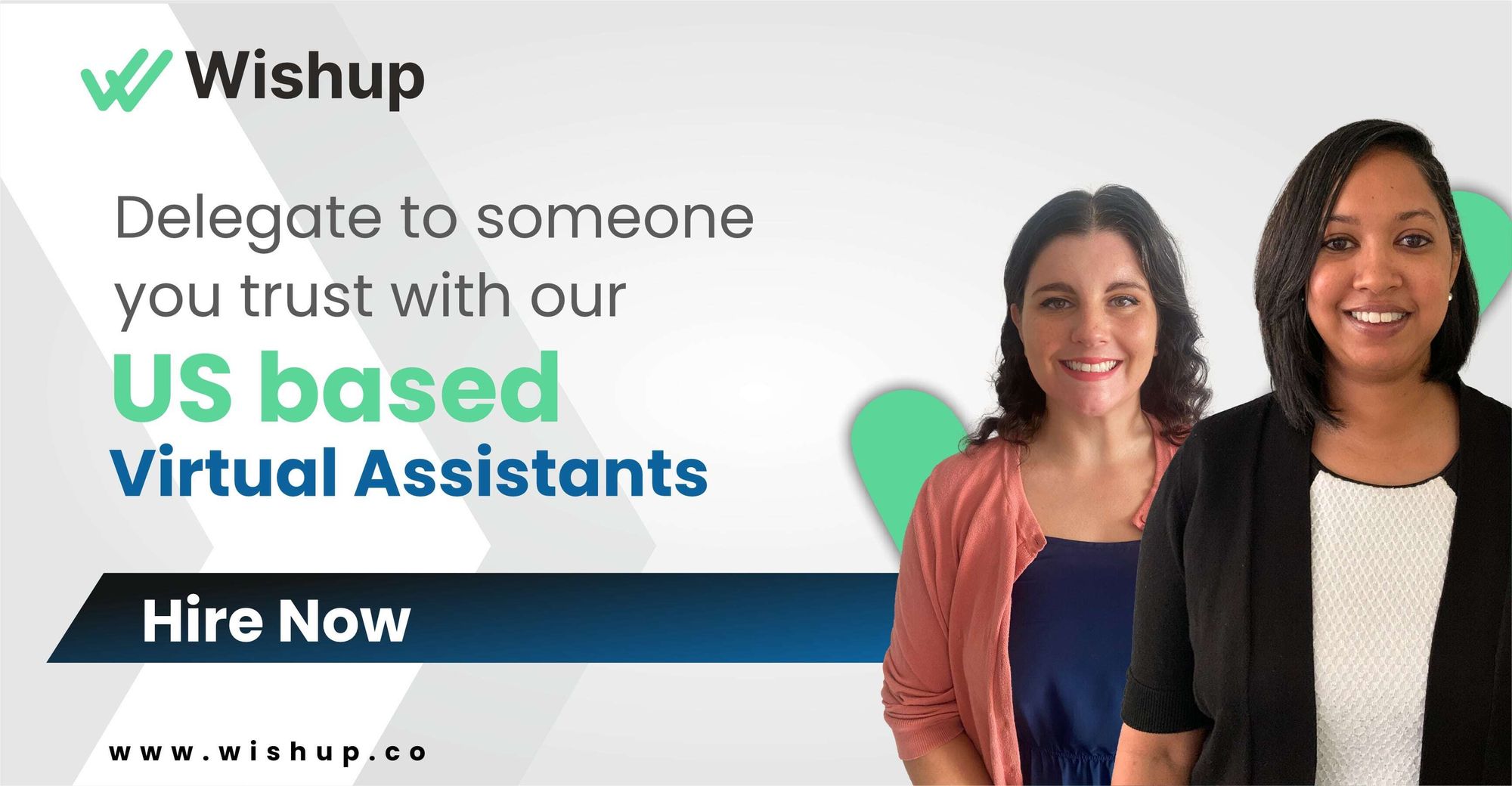 What is an Executive Assistant to a CEO?
Definition and Overview
The role of an executive assistant to a CEO is to provide support and assistance to them. These professionals are tasked with providing administrative support to high-level executives, managing the daily operations of their office, and coordinating with other departments.
Ultimately, their goal is to alleviate the workload of the CEO by taking on administrative tasks that would otherwise take up a great deal of their time. This enables the CEO to focus on the more important aspects of their job.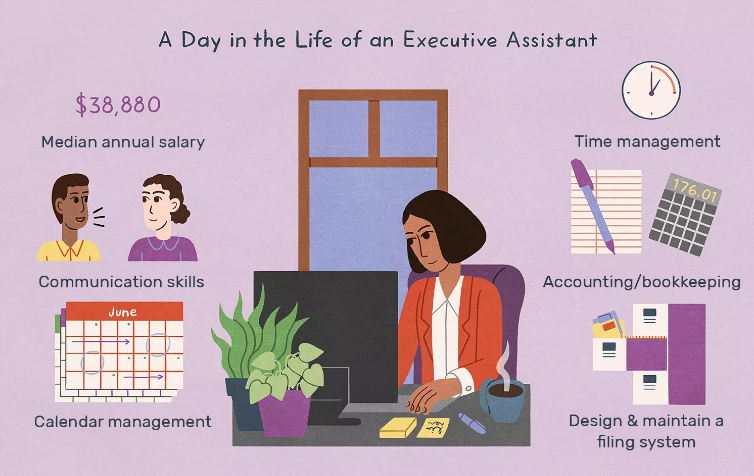 Importance of the Role
An executive virtual assistant for CEO plays an incredibly important role in the corporate world. They juggle multiple responsibilities, like organizing the CEO's calendar, liaising with different departments, taking care of travel plans, and overseeing various projects. Without an effective EA, the CEO's daily agenda and efficiency would be greatly compromised.
Evolution of the Executive Assistant Role Over the Years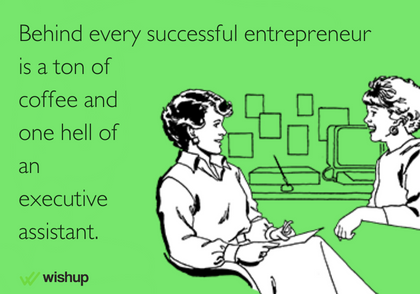 Technological advancements
The role of an executive assistant has seen a tremendous transformation thanks to technological advancements. Remote work, quick access to data, and effortless communication with other departments have all become possible due to the use of advanced tools such as Microsoft Office, Google Suite, and project management software. These advancements have enabled EAs to work faster and more productively.
Flexibility and Remote Work
After the COVID-19 pandemic, remote work has become more popular than ever before. As a result, the role of a virtual executive assistant is becoming more and more common. This enables businesses to tap into the global talent pool and hire top talent no matter where they live. Virtual EAs can do their job from anywhere, which is great for businesses that span different time zones or have people all over the globe.
Cost-Effective Solutions through Virtual Executive Assistants
Hiring a virtual Executive Assistant can be a great way for businesses to save money. No extra office space or equipment is required for the virtual EA to handle their workload, which helps to keep overhead costs low. That way, businesses can use those funds to invest in other areas of the company.
Roles and Responsibilities of an Executive Assistant to a CEO
An Executive Assistant to a CEO plays a major part in keeping an organization running smoothly. They handle multiple administrative and other tasks. Here are some of the key responsibilities of an EA to CEO:
Managing the CEO's Calendar and Schedule
An EA's key responsibility is keeping the CEO's calendar and schedule in order. This includes setting up meetings, making appointments, and more. The EAs also ensure the CEO's schedule aligns with the company's goals and objectives.
Acting as a Liaison between the CEO and Other Departments
A CEO assistant is like a bridge between the CEO and other departments, ensuring all the information flows smoothly and efficiently. They need to be good at communicating, being clear and to the point so that the CEO has all the info they need to make the right decisions.
Travel Coordination and Logistics Management
Another responsibility of the executive assistant to the CEO is to take care of all the travel arrangements for the CEO. From booking flights and hotels to sorting out ground transport, they make sure that everything is in order.
Communication and Correspondence Management
An EA takes care of all communication and correspondence for the CEO - emails, phone calls, letters, and more! It is their responsibility to make sure nothing slips through the cracks.
Handling documentation
An Executive Assistant looks after all the paperwork - drafting reports, creating presentations, and managing contracts. They make sure everything is correct, good-looking, and organized.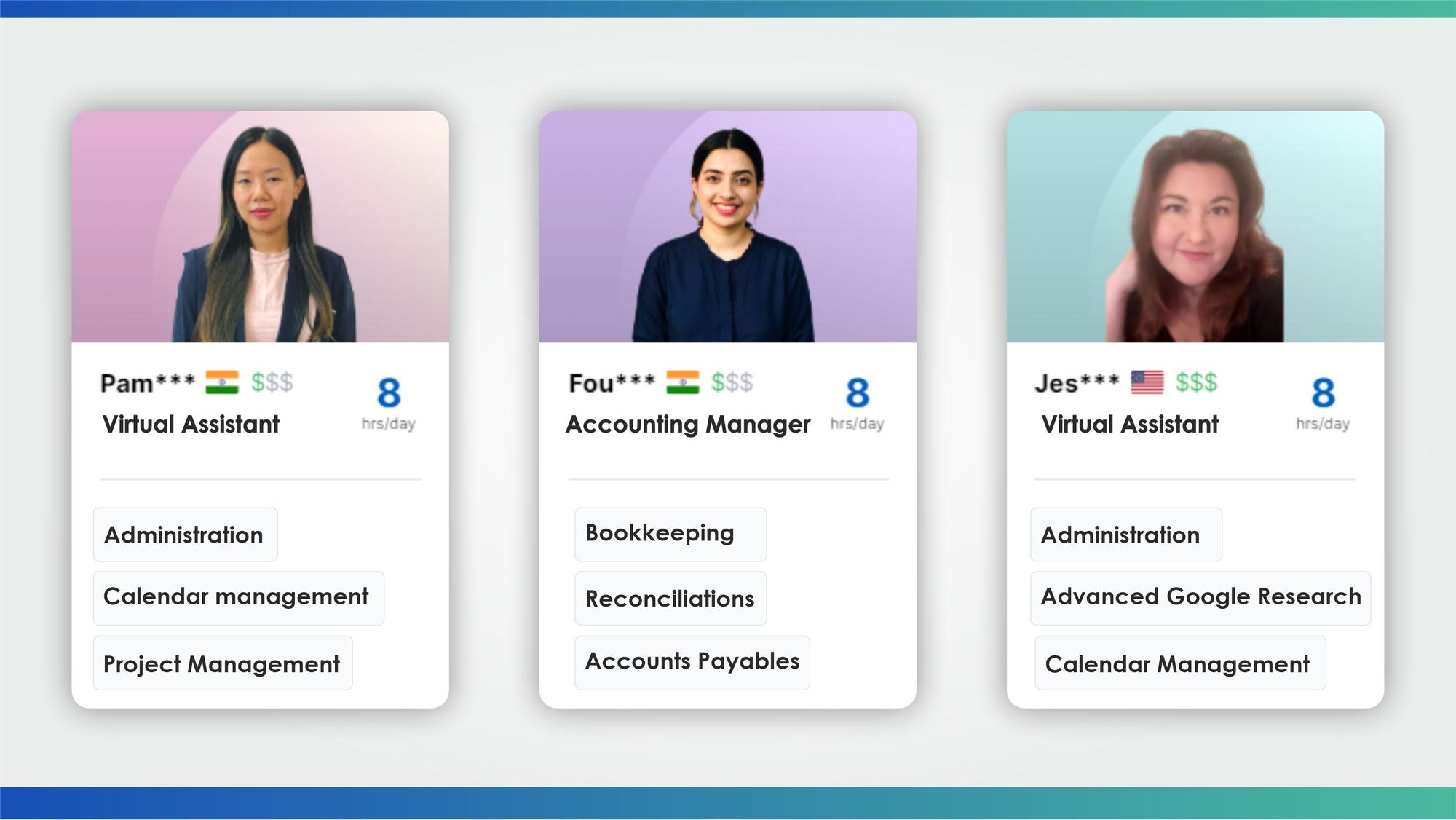 Skills and Qualifications to Look for When Hiring an Executive Assistant to a CEO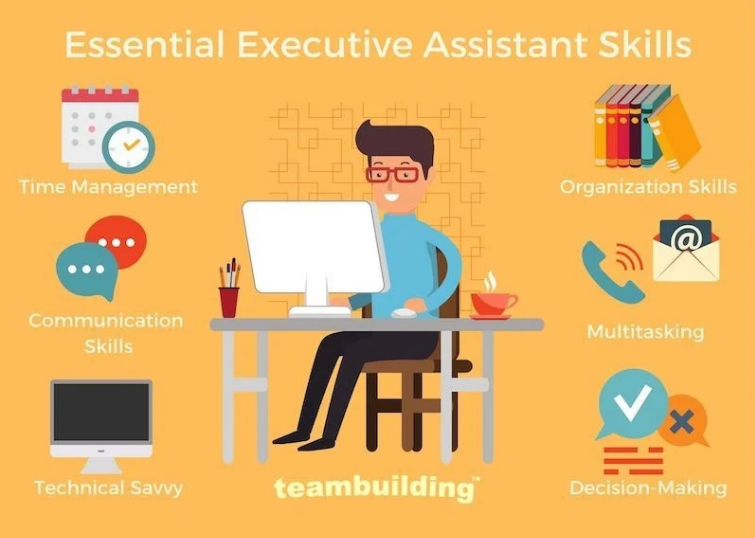 A successful EA must have the right mix of soft and technical skills, along with the necessary experience and education. Here are some key skills and qualifications that an EA must have:
Soft Skills
Communication Skills
Effective communication is a must-have skill for any executive assistant. They should be able to write emails that get to the point, draft reports, and accurately relay their CEO's messages. Clear and concise communication with colleagues, clients, and partners is essential to success in this role.
Interpersonal Skills
An EA should have good interpersonal skills and be able to work with their team, clients, and partners. They should be able to handle tricky conversations with poise and diplomacy and stay calm in a high-pressure environment.
Problem-Solving Skills
An EA must be able to think innovatively to come up with solutions to tricky situations. They should be able to anticipate potential problems and create backup plans for any potential issues that might arise.
Technical Skills
Computer and Technology Skills
An EA should be tech-savvy, know how to operate computers, and work on applications like Microsoft Office, email, video conferencing, etc. It's also helpful if they have a basic understanding of hardware and can troubleshoot common technical issues.
Project Management Skills
Having good project management skills is also necessary for an executive assistant. They should juggle multiple projects, prioritize well, and ensure deadlines are not missed. Further, an EA also needs to monitor the progress of their tasks and keep the CEO and other key people in the loop on said progress.
Research and Analytical Skills
An EA should have top-notch skills for researching, analyzing data, and creating reports to help the CEO make their decisions. It's vital to be able to get the facts together from different sources and present them in an easy-to-understand way.
Experience and Education
Relevant Work Experience
An EA should have some experience in a related role, like an Executive Assistant or Administrative Assistant to a CEO or high-ranking executives. They should be familiar with the duties of a CEO assistant and be able to jump into the role quickly.
Educational Qualifications
A bachelor's degree isn't always essential, but an EA with a degree in business administration or a related field gets an edge in the industry. Additionally, EAs with certifications like CAP or CEA are likely more desirable.
Executive Assistant to CEO Job Description Template 1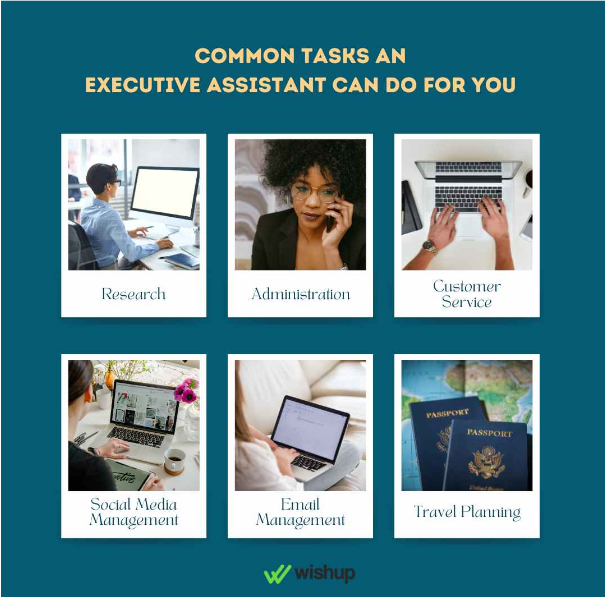 Job Overview
We seek a reliable and organized Executive Assistant to give our CEO comprehensive administrative support. The ideal candidate must have excellent communication skills, along with an eye for detail and the ability to manage their workload effectively.
Roles and Responsibilities
Handle the day-to-day tasks of the CEO
Coordinate travel arrangements and logistics
Handle confidential information and sensitive materials with care
Draft high-level reports, presentations, and other documents
Conduct research, analyze data, and prepare reports
Job Requirements
Bachelor's degree or equivalent experience
3+ years of experience as an EA to a CEO, Managing Director, or any other senior executive
Excellent written and verbal communication skills
Expertise in Microsoft Office Suite
Executive Assistant to CEO Job Description Template 2
Job Overview
Are you a proactive and detail-oriented person who has exceptional organizational skills and a strong sense of initiative? We're looking for an experienced part-time Executive Assistant to support our CEO by managing their calendar, coordinating meetings, and handling their correspondence on a part-time basis. We'd love to hear from you if you think you're up to the task!
Roles and Responsibilities
Managing the CEO's calendar and schedule
Assessing the priority of different appointments and scheduling and reallocating them as required
Coordinate internal and external meetings and events
Manage the CEO's correspondence and communication, including emails and phone calls
Participate in high-level meetings and conferences and prepare reports as needed
Job Requirements
Master's degree or equivalent experience
5+ years of experience as an EA to a CEO
Ability to network and build relationships with board members, business partners, and other stakeholders
Executive Assistant to CEO Job Description Template 3
Job Overview
We're seeking an organized and tech-savvy Executive Assistant to provide virtual CEO assistance. The perfect person should have great communication skills, be detail-oriented, and have the capacity to handle multiple tasks in a fast-paced remote environment. As a virtual EA, you will be an important part of our team, offering top-level admin support to our CEO and making sure our virtual operations run smoothly.
Roles and Responsibilities
Manage the CEO's virtual calendar, including scheduling virtual meetings and appointments
Oversee virtual projects, including delegating tasks and managing timelines
Act as a point of contact for virtual clients and partners
Job Requirements
Bachelor's degree
2+ years of experience as a virtual EA to a CEO
Proficient in virtual communication tools such as Zoom, Microsoft Teams, and Google Meet
Ability to prioritize and manage multiple tasks effectively while working remotely
How to Hire an Executive Assistant to a CEO
When looking to hire an executive assistant to a CEO, there are several approaches to take. Here are some of the places from where you can start your search:
1. Virtual Executive Assistant Services like Wishup
The popularity of virtual executive assistant services has been growing with the increasing popularity of remote work. Virtual assistant outsourcing services like Wishup give businesses access to experienced EA who can work remotely and take care of various tasks.
2. Temp Agencies
These agencies can be a great option when looking for a temporary or contract executive assistant. They can provide pre-screened candidates who can begin work right away.
3. Referrals
If you're looking for an Executive Assistant, referrals can be a great way to find a suitable candidate. You can connect with your network of professionals, such as colleagues, friends, and family members. Inquire if they know anyone who might fit the job well.
4. Job Posting Sites
Posting a job advertisement on sites such as LinkedIn, Glassdoor, or Indeed can enable you to reach a broader crowd and draw in competent applicants.
To ensure that you get the most suitable candidates, ensure to include a comprehensive job description, qualifications, and requirements for the position.
Benefits of Outsourcing Executive Assistant Services to Wishup
1. Cost-efficient
Hiring a full-time EA can be expensive and take up a lot of your time. But with Wishup, you can save money on salaries, benefits, and office space. Plus, our prices are competitive, and we offer flexible payment plans that can fit your budget.
2. Quick onboarding
Onboarding an executive assistant for your business can be time-consuming - but not with Wishup!
Our virtual Executive Assistants have already experienced professionals ready to start working with you immediately. Once you pick your VA, we enable you to onboard them within 24 hours!
3. Confidentiality
At Wishup, we understand how important it is to secure your confidential information. That's why we have strict measures in place to ensure your privacy is protected when you use our virtual executive assistant services.
4. Loyal and dependable employees
At Wishup, we only bring on the cream of the crop when it comes to hiring our Virtual Executive Assistants. Our team is the best of the best - they're loyal, reliable, and always going the extra mile to make sure our clients are satisfied with the service they receive.
5. Pre-trained industry experts
When you choose us, you won't have to spend any resources on training them. Our team is made up of pre-trained pros, fluent in 70+ no-code tools and 200+ skill sets, who know their stuff and have the background to tackle a variety of tasks.
6. Work with the top 1% of applicants
At Wishup, we only select the top 1% of our applicants to join us as Virtual executive assistants. So, you can rest assured you'll be working with top-notch talent!
7. 7-Day risk-free trial with a money-back guarantee
Try us out risk-free for a week! We are confident in the quality of our virtual assistant services. Thus, we offer a money-back guarantee if you're not satisfied. See how we can help your business – no strings attached!

Conclusion
To sum up, an executive assistant to a CEO is an invaluable part of any successful business. Over the years, their role has grown tremendously. Modern-day EAs encompass an array of abilities, from communication and interpersonal capabilities to technical skills, etc. All this can greatly benefit CEOs, free up their time, and help them grow their business.
However, bringing on a full-time Executive Assistant can be expensive in both time and resources. Outsourcing the role to a virtual assistant company like Wishup can prove to be a cost-effective and flexible solution where you can access highly qualified personnel without breaking the bank.
If you want to learn more about our services and how our VAs can help your business, book a free consultation with us today! You can contact us at [email protected]