Why you need to hire a Virtual Assistant For Dropbox Management
Dropbox management is tedious and requires a lot of time, which busy entrepreneurs don't have. In this blog, we'll discuss the importance of file management for remote working systems and why you need to hire a virtual assistant for Dropbox project management to store your files efficiently.
As your business grows, so will your paperwork and files.
Earlier, Dropbox project management was simple, and people stored their documents on a single hard disk. However, that is not possible today. In a remote or hybrid working environment, file management is even more crucial.
With people working in different locations, and everyone needing access to files at all times, companies need to adapt to make file storage convenient for people to collaborate and work together seamlessly.
Dropbox is a renowned cloud platform with 700 million users that allows you to store data "in the cloud," which means you can access and backup your data no matter where you are, which makes it suitable for remote and hybrid work environments.
However, Dropbox management is tedious and requires a lot of time, which busy entrepreneurs don't have. In this blog, we'll discuss the importance of file management for remote working systems and why you need to hire a virtual assistant for Dropbox project management to store your files efficiently.

What is Electronic Document Management System?
It is a well-known truth that paperwork hinders productivity. This is because manually searching for files and documents takes up hours every week.
According to recent research, the typical worker spends 400 hours per year looking for paper documents. Considering the average professional works a 48-hour work week, it equates to more than eight weeks every year!
That's eight weeks that you can spend on more productive endeavors.
Here's where EDMS comes in handy. Electronic Document Management System (EDMS) is a cloud software program that organizes and stores various types of files. This more specific document management system assists users in organizing and storing paper or digital documents. EDMS is a software system that manages digital documents rather than paper documents while also handling digitized or scanned reproductions of original paper files.
Of all the EDMS systems available in the market today, Dropbox is one of the most popular storage tools. Dropbox integrates seamlessly and allows users to back up data between devices, making information available from anywhere. With the help of Dropbox project management, users can also exchange files with others to make collaboration easy.
Why hire a Virtual Assistant for Dropbox management?
The whole point of a cloud documentation system is to make it easier for people to store and access files. But without a proper system, it can get chaotic and complex for people to organize and find the necessary documents. Hiring a virtual assistant for Dropbox management is the best solution for creating an efficient system.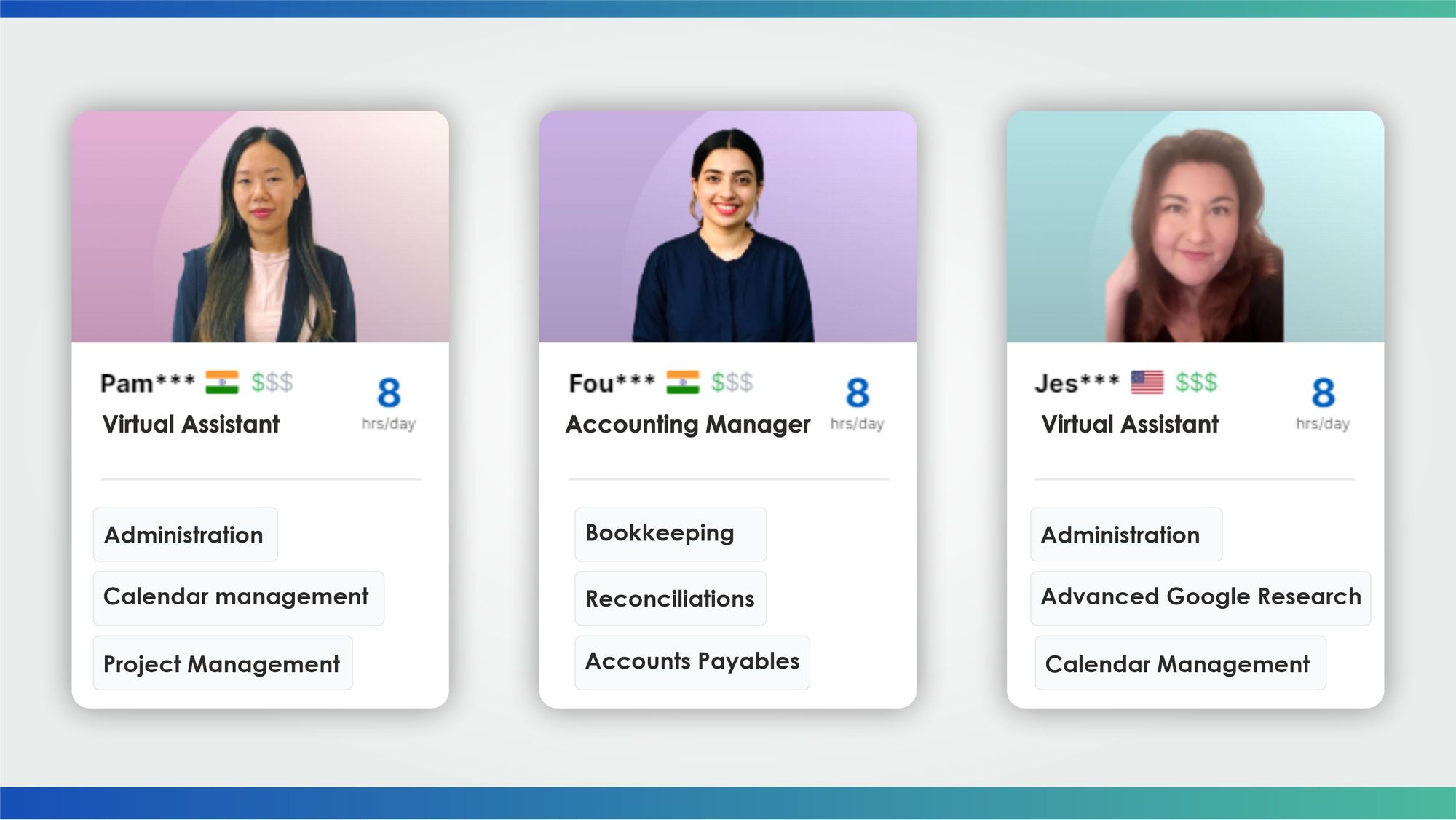 Who is a Virtual Assistant?
A virtual assistant is a professional assistant hired either on a freelance basis or through an outsourcing agency, which assists your business in many fields, such as administration, communication, customer service, data entry, marketing, and more.
They work hourly and do not incur any additional benefits of a full-time employee, such as insurance or paid leaves. This makes Dropbox virtual assistants a much more affordable hiring option, best suited for aspiring entrepreneurs and small business owners. In addition, they give you the time to focus on business-core activities, ensuring that your Dropbox project management is taken care of.
What makes a Virtual Assistant perfect for Dropbox Management?
People frequently believe that since a Virtual Assistant (VA)  works remotely, they cannot assist with document management. While there certainly are limitations to how much VAs can help with hard copies, they can do a lot to aid online document management in your company.
If you started your company a while ago, you might already have a set system for file organization. A virtual assistant for Dropbox management can quickly adapt to your existing workflow. However, since they have excellent organizational skills, they can help you devise a new method of systematic Dropbox project management to make it easier for team members to access them.
Here are some essential qualities of Dropbox virtual assistants and why you should consider virtual assistance for Dropbox project management.
They have administrative experience - Virtual Assistants are usually people who have previously worked in offices, held administrative roles, and have experience handling documentation. In addition, they organize for a living, so you can trust their expertise to get the job done well.
Excellent communicators - working in remote environments can sometimes make room for miscommunication and misunderstandings. Sometimes, people might save files in different formats or in the incorrect folders, which makes them difficult to find later on, especially if that person leaves the company. A virtual assistant can establish organizational rules for everyone to follow.
A systematic approach to working - because different teams have different working styles, it can be challenging to get everyone to store files systematically. However, because of their administrative skills and experience working with large teams, Dropbox virtual assistants can help create uniformity by introducing a simple and easy-to-understand organizational system to help your team collaborate and work together better, even remotely.
Dedicated multi-taskers - as an entrepreneur, your day is packed with meetings and client calls, and you also need to oversee the work of every department. This leaves no time for file organization, even though it's integral to any successful business. This is why you need a virtual assistant for Dropbox management who will make data organization a part of their daily duties, among the many other administrative tasks they help with within the company.
Experts in their field - like any other industry, data storage is an ever-evolving field, especially in the day and age where remote work is becoming the new norm. This means that there are constantly new tools and techniques for data storage, which can be difficult for a busy entrepreneur or executive to keep up with. Part of a virtual assistant's job description is to be tech-savvy and stay updated with the latest tools in the market to make your digital storage simple and secure.
Virtual Assistants do more than just File Management
Virtual assistants are undoubtedly the best asset for Dropbox project management any entrepreneur can have. But did you know that when you hire a virtual assistant, they can do much more for your business than just Dropbox project management and organizing files and documents? Let's look at some of the various other tasks you can delegate to your virtual assistant -
Project Management - Dropbox virtual assistants are skilled and efficient organizers who can aid you in developing a methodical project management system to monitor your team's progress. In addition, they are up to date on the newest software and technologies to assist you in handling several projects simultaneously and tracking each team member's performance without constantly having to schedule meetings and follow-ups.
Manage your calendar and to-do list - As an entrepreneur, your days and weeks are usually jam-packed with meetings and calls. A virtual assistant can help you arrange meetings, organize your calendar, handle your to-do list, and guarantee that no appointments are missed. In addition, in the case of sudden emergencies, they can coordinate and reschedule your missed meetings keeping your existing schedule in mind.
Manage your travel arrangements - Frequent travel becomes a part of the daily life of any busy business owner. Nevertheless, no matter how frequently you plan a trip, it never gets simpler. Allow your virtual assistant to organize your journey, from purchasing tickets to organizing hotel stays and transportation. They may also plan your meetings so that you have ample time to recover and settle in. They also can research the best places to visit and restaurants for you to have meetings at. With a virtual assistant, you'll never have to enter a new city unprepared.
Manage your inbox - A messy email is part and parcel of a busy entrepreneur's life. Virtual assistants can organize your inbox effectively and guarantee that no essential emails go unopened or ignored. They can also categorize the existing data in your inbox into labels, making it simpler to find when needed. They may also design basic email text templates so you can save time responding to internal teams and clients. Finally, they will unsubscribe from irrelevant emails, allowing you to keep your inbox spam-free.
Conduct market research - Regular research is an essential component of every organization. Keeping current on market trends, consumer behavior habits, and your rivals' operations is critical. A remote assistant is knowledgeable about various research strategies and can deliver their findings in a clear and comprehensible manner.
Take down minutes of meetings - with a jam-packed schedule and multiple meetings to attend every day, it's easy to forget what was discussed in each meeting. Your VA can attend the meetings virtually and take down notes to send you later, so you're not lost before your next meeting.
Data entry - Data management is essential to every successful organization, but it is time-consuming. Your virtual assistant can categorize data, cross-check it for inaccuracies, preserve project records, and translate that data into several presentation formats for client meetings.
Proofread your emails and documents - When interacting with high-level clientele, you must ensure that your communication is error-free. Otherwise, it may make your company appear unprofessional. A virtual assistant may review and correct your emails and drafts before they are released to ensure they are grammatically correct.
Filing bills and managing finances - Allow your virtual assistant to file bills and send out invoices precisely while you focus on closing deals with clients. They are aware of the best invoicing tools and can compile and deliver invoices to clients and follow up on unpaid bills. They may also assist you in keeping track of your funds by keeping precise spending reports.
Why choose Wishup for your Virtual Assistant needs?
With so many different ways to hire a virtual assistant, how do you know the right hiring approach for you? Here are the ten things that set Wishup apart from other outsourcing agencies or freelancers in the VA market.
We hire only the top 1%
It's natural for every entrepreneur to want the best for the business. At Wishup, we understand that and make an effort to ensure you get only the top talent for your company. We have a rigorous screening process, and only the top 1% of applicants get hired. Additionally, we go the extra step to check their previous work experience and references to ensure their qualifications and credentials are in check.
Our virtual assistants are pre-trained and ready to work
Companies hire because of increasing demands, but the hiring and training process is long, and it takes months for your assistant to get onboarded and trained for the job before they can start. At Wishup, our virtual assistants go through an intensive four-week training program where they learn various skills and tools to ensure they are ready for the job as soon as they are hired.
Dedicated team players
Wishup's Dropbox virtual assistants are college graduates with relevant work experience. They are intelligent and quick on their feet and will go above and beyond to ensure you achieve your business goals. Instead of just following orders, they can use their experience to give you a fresh perspective on tackling any business-related challenges you may face.
Excellent communicators
Your virtual assistant is going to be your representative and communicate on your behalf with both internal and external teams, as well as clients. Therefore, you want someone with impeccable communication skills. Our Dropbox virtual assistants are well-educated and trained by us in corporate communication. Therefore, you can rest assured that they will deliver your message appropriately because of their excellent written and verbal communication skills.
They are reliable
The most significant risk of hiring freelancers or contractors from gig platforms is that there is no guarantee they won't flake on you in the middle of an important project. With Wishup, we personally screen and vet each virtual assistant and guarantee they will stick around throughout your contract.
Onboarding in less than 24 hours
Did you know that the average hiring period is 36 days? In a fast-paced business environment, it's not practical to wait that long before you hire a good candidate and then train them before they start working. Luckily, you won't have that problem with Wishup's Dropbox virtual assistants. Once you sign up for a subscription, your virtual assistant will be ready to start working within a day.
Instant replacement
If you are unhappy with your virtual assistant or don't feel you have a good work dynamic, you can reach out to our team, and we will arrange an instant, no-questions-asked replacement. A new virtual assistant will be assigned to you within hours.
Get a virtual assistant according to your requirements
There's no one-size-fits-all when it comes to businesses. Each company and business owner has individual needs and requirements, and they need a virtual assistant with the appropriate skills, be it organizational, communication, or research. This is why we have an in-depth discussion before we allot you a virtual assistant to understand your needs and expectations. We then try to find you a virtual assistant with the right skill set for the job.
They are tech-savvy
Every organization has an existing workflow and its own set of apps and tools for internal communication and collaboration, such as Dropbox. Our Wishup Dropbox virtual assistants are trained in 70+ tools and can adapt to your organization's work style effortlessly. Additionally, they can introduce and train your team to use new tools that help improve the quality of their work.
Over 500 happy clients
Of course, we can go on about why our Dropbox virtual assistants are a class apart, but our work does the talking. Because of our exceptional service, we have an average 4.8-star rating and over 500 satisfied clients in our repertoire. You can look at these client testimonials to better understand what clients love about working with our virtual assistants.

How to hire Dropbox Virtual Assistants from Wishup?
Hiring a virtual assistant for Dropbox management from Wishup is a really simple process.
All you will need to do is schedule a free consultation with our team. This is an introductory call where you have a chance to list your requirements from your Dropbox virtual assistant and help us understand us to understand your expectations better.
From then, we take care of everything else. Based on your input, we will pick a virtual assistant from our roster of talented and qualified VAs that best suit your business needs. There are no recruiter costs or time spent interviewing candidates.
In 24 hours, we will assign your virtual assistant for Dropbox management to you, and you can start working with them.
We recommend being available during the initial days of their work to brief them about the various operations in your company and guide them on their everyday duties.
Frequently Asked Questions
Is my data secure with my Dropbox virtual assistants?
Yes, all our virtual assistants sign an NDA before taking on a client, so you are assured of total confidentiality.
2. Is there a way to try out virtual assistant services before I pay?
Yes, we offer a 7-day trial, so you can try our services before deciding.
3. What if my virtual assistant is unavailable?
In the rare case that happens, we provide a no-questions-asked instant replacement, so your work is not affected.
What are you waiting for?
William Feather rightly said that "the primary asset of any business is organization."
A good businessman is a master at doing everything himself, but a great businessman knows that delegation is key to success. There are countless benefits of hiring a Dropbox virtual assistant for your business beyond Dropbox management. We hope you found this article helpful and will consider growing your business with the help of our talented virtual assistants.
To hire a virtual assistant, click here to schedule a free consultation with a member of our team today!